With Fall activities in full swing and pumpkin on the brain, Halloween on Long Island has become a season unto itself. As Halloween seems to get bigger and bigger each year, so do the decorations and the events! As soon as September rolls around, it's all about pumpkin picking, apple picking, and apple cider donuts. But many Long Islanders also being to think that "it's almost time for Halloween spooky season!"
The decorations begin to come out, as do the Halloween events, haunted houses, parties, spectacular displays, and more!! Whether you're looking to be frightened or looking for some really wonderful family time, Halloween on Long Island definitely has something to offer for everyone!
*NOTE: This has been UPDATED FOR 2021
This list continues to evolve, so check back regularly for updates on all the family attractions, every haunted attraction, signature events, pop-ups, and more!! There are just so many family activities, haunted activities, recreational activities, it can make your head spin!
I will do my best to sort it all out for you! Also, always be sure to check with the venue to see if you can purchase advance tickets to make things a little easier and maybe save some money, too.
Don't forget to enjoy some Long Island Pumpkin Beer (53 in this list) during this fun time as well!
Again, be sure to keep checking back I keep adding new events and places whenever I come across them to give you as many options as possible!
Haunted Houses
Want to visit Long Island haunted houses? I know I do. It's just such a fun time to get creeped out at some of these spots. Some are scary, some are gory, and some are meant for more relaxed, family fun. Whichever experience you seek, the Island keeps coming up with more and more spots to enjoy!
With a haunted house attraction like the Bayville Scream Park (and many more) and spooky drive-thrus abound and there is so much to see and experience!!
Check out The Local's Guide to Long Island Haunted Houses to see what all the…screams…are about!
Bayville Adventure Park transforms into The Bayville Haunted House and Scream Park for the season! This is a local favorite for sure! There's a scary version and a not-so-scary version! Find out how this Bayville Ave mainstay does Halloween right here here!
RELATED: Find out about the reality great Gateway Haunted Playhouse
Bwahahahaha….enjoy the guide!
Family Friendly Halloween on Long Island
Here's a continuously growing list of fun, somewhat spooky, but family-friendly and kid-appropriate events that you can get out to and enjoy with the whole crew!! Some of these became an annual event, while others are brand new! Some last for a month or more and some are just one day. Take a look and see what works with your busy calendar!
Dark Night Halloween Trail
This is all about bringing fun back to Halloween, combining a classic haunted trail walk with the culture of the 1990s. Taking place outdoors on the grounds of the Long Island Community Hospital Amphitheater in Farmingville.
The trail is open Fridays through Sundays, Oct. 1 through Oct. 31 from 7 PM to 11 PM on Fridays and Saturdays, and 7 PM to 10:30 PM on Sundays. It's open Thursday, October 28th from 7 PM to 10:30 PM.
Tickets are $35. Kids 4-12 are $15. You can also pay $45 to jump to the front of the line.
1 Ski Run Lane, Farmingville, L.I., NY 11738
Find out more by visiting darknightli.com.
Fall Harvest at Hicks Nurseries
At Fall Harvest at Hicks Nurseries, mom and dad can fill their carts with fall decor favorites while kids enjoy fun festival activities. Otto the Ghost stars in his own walkthrough adventure, "Otto's Sweet Journey," all month long.
The tale follows Otto as he travels the world in search of tasty treats to share with his friends. Otto the friendly ghost is available for socially distanced picture-taking weekends September 18 through October 31 from 10 AM – 4 PM.
Fall food is available, as well as children's games, farm animals, and a pumpkin weigh-off contest are also planned. 
RELATED: Enjoy Halloween…and get ready for Hicks Nurseries Christmas!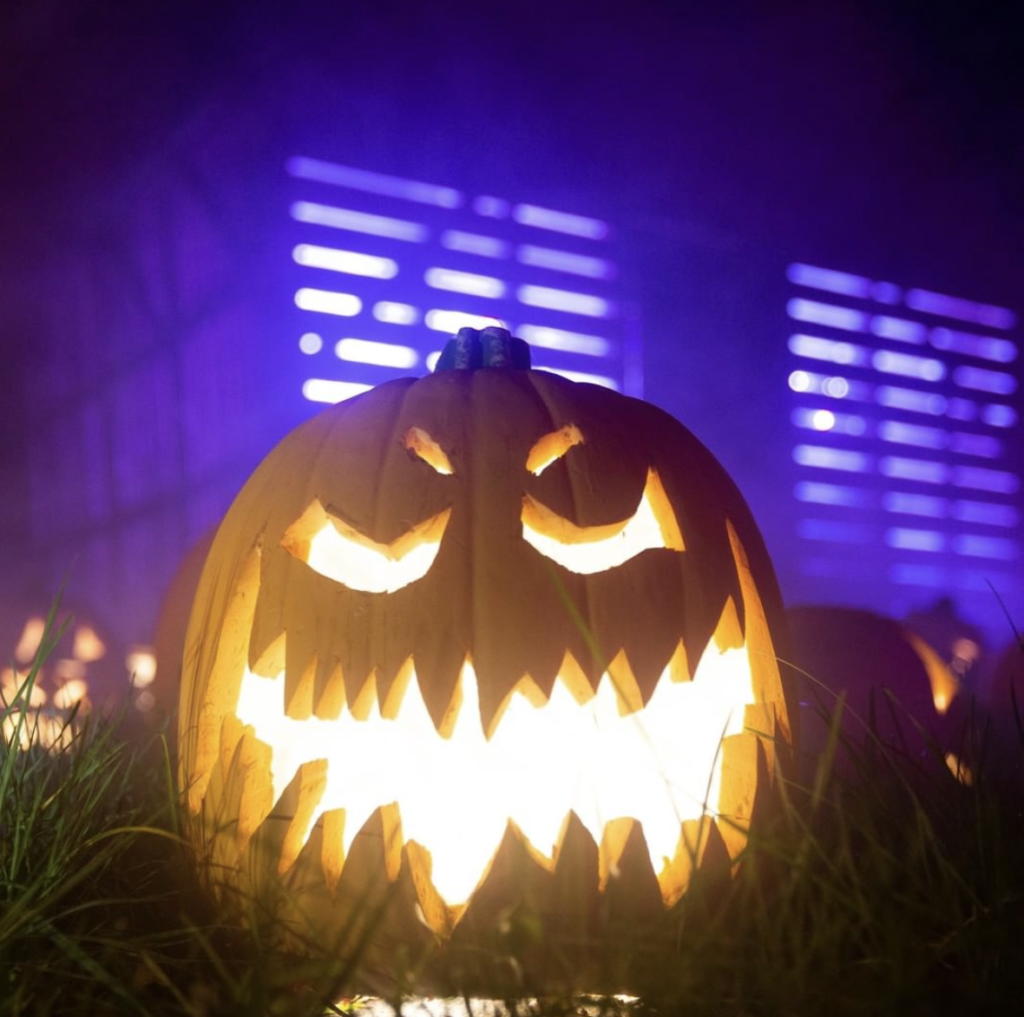 The Great Jack-O'-Lantern Blaze (Long Island)
The Blaze, maybe the area's most spectacular fall event, is returning to Long Island for a second year! Visitors can see over 7,000 intricately hand-carved pumpkins as they illuminate the night at Old Bethpage Village Restoration. This event just SCREAMS Halloween. Seriously good time.
RELATED: More info about the awesome Old Bethpage Village Restoration
The Great Jack O Lantern Blaze is a self-guided, touch-free experience set on the grounds of a historic 19th-century village, complete with synchronized lighting and an original soundtrack. 
With amazing sites at every turn, an amazing pumpkin path, and more than 7,000 illuminated jack-o'-lanterns, which are designed and hand-carved by 1,000 volunteers, this is an epic Halloween event on Long Island.
New features for 2021 include an 80-foot circus train and an incredible sea monster!
The event will run from September 22, 2021 – November 7, 2021
1303 Round Swamp Rd, Old Bethpage, L.I. NY 11804
Find out more by calling 914-366-6900 or visiting pumpkinblaze.org/blaze-long-island.html
RELATED: More information on The Great Jack O' Lantern Blaze
Halloween Drive-Thru at Stew Leonard's
Beginning October 1st through October 31st, the Harvest Drive-Thru will also feature inflatable pumpkins, a spooky tunnel of spiders, and Halloween cartoon characters.  Customers can also tune their car's radio to a special radio station where Clover the Cow's spooky Halloween soundtrack!
Cars can follow a farm animal-themed Harvest Drive-Thru experience in the parking lots of Stew Leonard's Farmingdale and East Meadow locations.  
Find out more by visiting stewleonards.com/harvest-halloween-events-at-stews/
Haunted Hollow at Adventureland
Every Saturday and Sunday this October, Adventureland will become the source of a ghoulishly good time! Headed to the Adventureland stage are frightfully fun family-friendly Haunted Hollow Magic and Illusion shows.
2245 Broad Hollow Road (RT. 110), L.I., Farmingdale, NY 11735
Find out more by calling 631-694-6868 or by visiting adventureland.us
Halloween House Long Island
Halloween House Long Island is an immersive, walk-through attraction that celebrates all things Halloween. Each room is decorated to the smallest detail. You'll see creepy spiderwebs, ghouls, and graveyards, but nothing scary.
If you love the decor of a haunted house, but don't want the stress of being touched and scared, Halloween House Long Island is for you.  And if you do love haunted houses, you'll love a brand-new holiday experience, too!
Ticket for Kids 10 and under are $25, adults are $30.
1500 Old Country Road, Westbury, L.I., New York 11590
Find out more by calling 516-745-6065 or by visiting halloweenhouselongisland.com
Harbor Haunts Walking Tour
At The Whaling Museum & Education Center in Cold Spring Harbor, discover the eerie tales of Bedlam Street on this guided tour with cider and snacks. The 6 PM walking tour is a spookier version. This event is light rain or shine.
Tours are at 4:30 PM and 6 PM. Tickets are $12 for an adult, $8 for a child.
301 Main Street, Cold Spring Harbor, L.I, NY 11724
Find out more by calling 631-367-3418 or by visiting cshwhalingmuseum.org
The Long Island Monster Gallery
Long Island Monster Gallery is Long Island's first immersive gallery dedicated to horror and Halloween movies. Featuring two floors, this cinematic gallery showcases more than 30 life-size monsters accompanied by theatrical sets, lighting, and music. Each monster has been handcrafted by artists from around the world. The Monster Gallery is not a haunted house.
There are no live actors while inside. There is no age limit to enter, however, children under 12 must remain with an adult at all times. Each reservation allows for 45 minutes in the gallery.
Every Friday, Saturday, and Sunday from September 18th through October 31st. Each session is 45 minutes long.
Tickets are $25 for those 12 and older, $20 for those 5 – 11 years old.
47A Roselle Street, Mineola, L.I., NY 11501
Find out more by visiting longislandmonstergallery.com
Milleridge Halloween Village
I love this place. It's just such a great little oasis in the middle of Nassau County. And I love when they do it up for the holidays! This annual Halloween Village at the Milleridge Inn features a variety of ghoulishly good activities, including a haunted house, pumpkin patch, spooky train, funhouse maze, escape room, hay maze, and more.
The Halloween Village is open on Fridays: 4 PM – 6:30 PM (kid-friendly) 7 PM – 9 PM (scarier), Saturdays: 12 PM -2 PM and 2:30 PM – 4:30 PM (kid-friendly) 7:30 PM – 9:30 PM (scarier), Sundays: 12 PM – 2 PM, 2:30 PM – 4:30 PM and 5 PM – 7 PM.
NOTE: These are cash-only events with different prices for events, POP tickets, and more. There is a reservation fee of $10 per person. Events are weather permitting.
585 North Broadway, Jericho, L.I., NY 11753
Find out more by calling 516-931-2201 or by visiting milleridgeinn.com
Spooky Fest at CSTL
Starting October 8th, The Center for Science Teaching and Learning (CSTL) celebrates Halloween with Spooky Fest! Taking place at the Tanglewood Preserve in Rockville Centre, Long Island, sixteen acres of grounds are transformed into a family-friendly Halloween event.
A Halloween trail on wooded paths, exhibits, and festivities on the preserve will be featured, with eerie lighting, special effects, and characters along the way. Everything is perfectly spooky and some are very scary. Creatures of all kinds inhabit the woods, the strange and beautiful will draw you into the eerie paths!
Tickets are $12 for the 1-hour long session, rain or shine.
1450 Tanglewood Rd, Rockville Centre, L.I., NY 11570
Find out more by visiting cstl.org/spooky-fest
Single Day Events
Bats, Barnacles and Broomsticks at the Long Island Aquarium
Join the Long Island Aquarium as it celebrates Halloween. Enjoy safe trick-or-treating, giveaways, animals in costumes, and more. There's a full Halloween party included with admission.
Plus, don't miss the Eye Opener exhibit! "Buoys" & "Ghouls" 12 and under in costume get half off admission when dressed in a costume!
The event will be held on Saturday, Oct 23, 2021 beginning at 11:00 AM.  Tickets per person are $29.77 for children 3-12 and $39.99 for adults 13-61.
431 East Main Street, Riverhead, L.I., NY 11901
Find out more by calling 631-208-9200 ext. 426 or by visiting longislandaquarium.com
The Great Jack-o'-Lantern Sail at Belmont Lake State Park
The Great Jack-O'-Lantern Spectacular Sail returns to Belmont Lake State Park. The first 50 carved pumpkins are placed on flotation devices with candles inserted inside and sailed around the lake behind kayaks. 
Children's activities include crafts, games, inflatables, funny photos, and trick-or-treat stations. They can also visit the not-so-scary 'Spooky Den'. 6:15 PM – Pumpkin Sail begins
The event will be held on Saturday, Oct 23, 2021, from 3:00 PM to 6:00 PM.
Southern State Parkway Exit 38, North Babylon, L.I., NY 11703
Find out more by calling 631-667-5055 or by visiting facebook.com
Halloween Fest in Riverhead
Halloween Fest in downtown Riverhead transforms Main Street into a Halloween wonderland! Activities throughout the weekend include the Haunted Ale-Trail at local breweries and distilleries, spirited shows at the historic Suffolk Theater, Coffin Races, Trick or Treating, Goblin Parade, and more!
Coffin Races on Griffing Avenue 3pm-4 pm
Trick or Treat on Main Street 4pm-6pm
Goblin Parade on Main Street 7pm
The event will be held on Sat Oct 23, 2021, beginning at 11:00 AM (rain date October 24).  The event is mostly free, with some events that require tickets.
Find out more by visiting downtownriverhead.org/halloween-fest
Sweetbriar Nature Center
Tales, Trails, and Treats
Kids can enjoy close encounters with animals, a ghostly garden, games, and a special trick-or-treat trail complete with animals, characters, and a storybook. Halloween fun is intended for families with children ages 2-7. 
The event will be held on Sunday, Oct 24, 202 at 1:00 PM Tickets are $10 per child for children age 2-7.
Halloween Spooktacular
All ghoulies, ghosties, and other Halloween creepies are invited to the Sweetbriar Nature Center for an evening of fun and excitement. 
Enjoy eerie animal presentations, a ghostly graveyard, creepy games, scary music, and spooky night trails. Refreshments are available for purchase. 
The event will be held on Saturday, Oct 30, 2021, at 7:00 PM. Tickets are $15 per person ages 7 and up.
62 Eckernkamp Drive, Smithtown, L.I., NY 11787
Find out more by visiting sweetbriarnc.org
The Rise of the Jack O'-Lanterns – CANCELLED FOR 2021
Unfortunately, this wonderful Halloween on Long Island event will not be running this year once again. Hopefully, 2022 will be the year for their triumphant and widely-missed return.
The wondrous and beautiful historic grounds at Old Westbury Gardens are magically turned into a pumpkin wonderland! This family-friendly event shows off more than 5,000 hand-carved illuminated jack o'-lanterns creatively arranged along a scenic walking path and set to music.
During the month of October, Rise of the Jack-O'-Lanterns features animated jack o'-lanterns, non-scary jack o'-lantern characters who talk and sing along the trail, and live carving demonstrations.
71 Old Westbury Road, Old Westbury, L.I., NY 11568
Find out more by calling or visit therise.org for tickets
Scary And Non-Scary Attractions
Yaphank Trail of Terror and Fall Family Festival
This event checks both the family-friendly and adult-scary boxes. The daytime family festival is geared toward our younger audience with a not so haunted trick or treat through the woods, food, and craft vendors, inflatable bounce houses, DJ, and more!  
The nighttime Trail of Terror is a 20-minute walk through the woods with various terrifying scenes around every corner.  Once you leave the woods you're only halfway done as now you come face to face with our haunted maze.  Before or after you enjoy the trail visit our concession stand, bonfire, and human hamster ball inflatable track.  
65 Main Street, Yapank, L.I., NY 11980 
Find out more by calling 631-282-8223. or by visiting yaphanktrail.wixsite.com/
Grown-Up Halloween on Long Island
If you are looking for a…killer night, immersive horror experience, a little fright, or just want to have a special night, then these grown-up events may be for you! Have the spookiest time! 
Schmitt's Farm Haunt
The haunt came to life in 1994 when the Schmitt brothers, Bill and Ferd, had a brand new, greenhouse that was empty after the flower growing season in the spring. Now, the Haunt and the Haunted Corn Maze are Halloween on Long Island staples!
12 PM – 5 PM Saturdays, Sundays, and Columbus day features a lights-on walk-through of the haunt and haunted corn trail with no actors inside.
The Schmitts Farm Haunt comes alive from 7 PM until midnight every Friday, Saturday, and Sunday featuring both the haunt and the haunted corn trail. Both attractions include live actors, animatronics, and plenty of surprises to scare even the most seasoned haunt fan.
On select nights, the lights in the haunt are turned out and guests must navigate the rooms with only a tiny lantern to guide their group. Check the calendar on the site for special holiday events.
Tickets are $39.99 and include (1) admission to The Haunt and (1) admission to The Haunted Corn Trail.
The event will run from October 1st – October 31st.
26 Pinelawn Road, Melville, L.I., NY 11747
Find out more by calling 631-271-3276 or visit schmittsfarmhaunt.com/
Hocus Pocus Pop Up Bar
On select dates in October, Main Street Social in Farmingdale will transform itself into a Hocus Pocus-inspired Witch Craft Halloween Pop Up, complete with a "Pick Your Poison" cocktail and mocktail menu, seasonal dishes from the "Salem Eats" Harvest menu and a performance by the Sanderson Sisters themselves!
Wednesday to Friday, the Dinner session is 6 PM – 10 PM. After-hours drinks are 10 PM – 12 AM. Saturday and Sundays offer a brunch session from 12 PM – 4 PM, a dinner session from 4 PM – 12 AM, and After Hours drinks from 12 AM – 2 AM.
Tickets are $20-35 per person, sold are 90-minute sessions for a party of two.
300 Main St, Farmingdale, L.I. NY 11735
Find out more by calling or by 516-779-4461 visiting exploretock.com/witchcraftpopup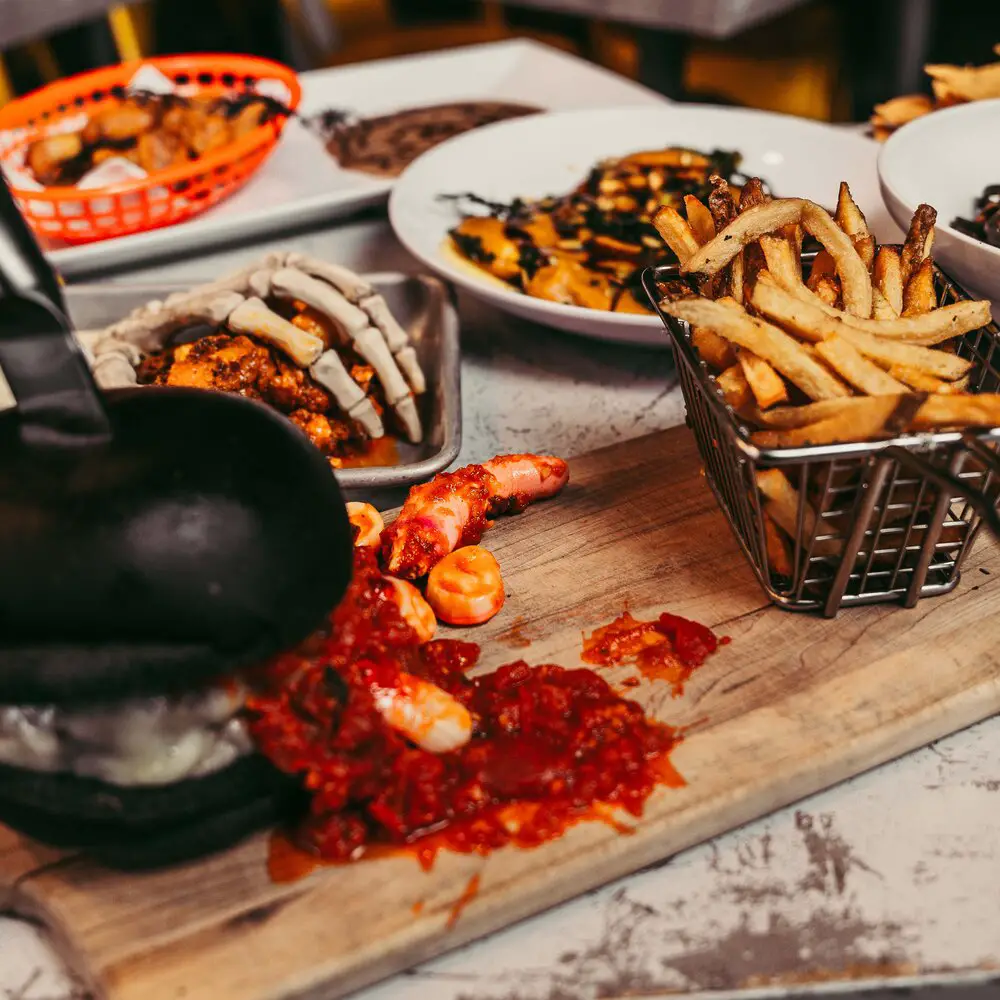 A Nightmare on Beech Street
Nightmare on Beech Street is a haunted dining experience, unlike anything Long Island has seen before. The Beach House will be fully transformed by the Blood Manor team to create a spooky atmosphere that everyone will love this Halloween season. Visitors can expect a fully immersive experience from the waitstaff to the actors who will wander the dining room, interacting with guests and delivering fun scares! 
The meal is $60 per person and includes Appetizer or Salad, Entrée, Dessert, and Blood Manor Specialty Cocktail.
Running from October 8th through November 1st.
912 W. Beech Street, Long Beach, L.I., NY 11561
Find out more by calling 516-916-2929 or by visiting nightmareonbeechstreet.com
Halloween Off The Island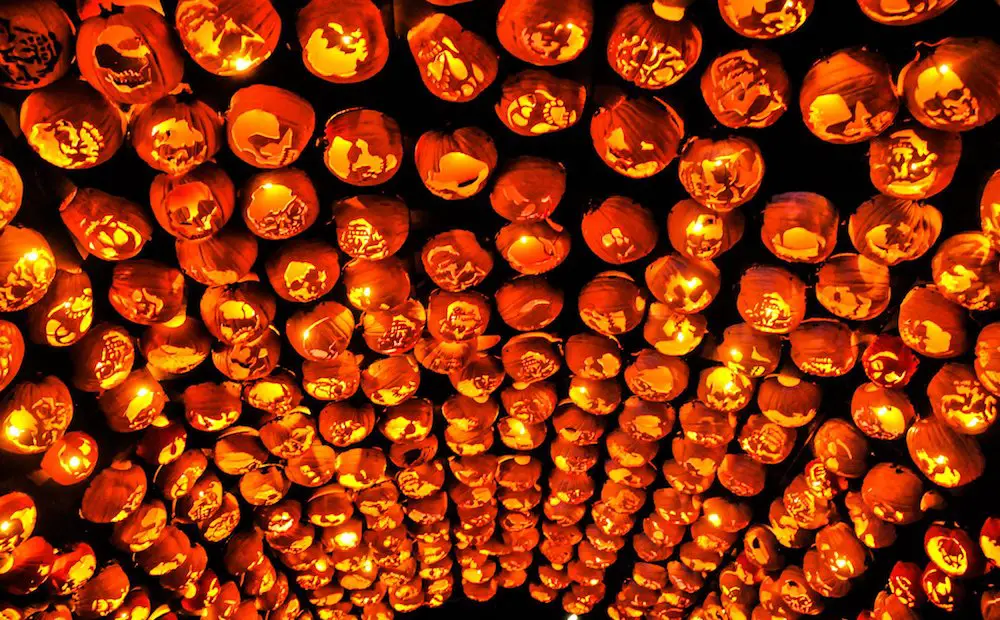 The Great Jack-O'-Lantern Blaze (Hudson Valley)
The annual Great Jack-O'-Lantern Blaze is back again in the Hudson Valley at Van Cortlandt Manor in Croton-On-Hudson.
With amazing sites at every turn and more than 7,000 illuminated jack-o'-lanterns, which are designed and hand-carved by 1,000 volunteers, this is an epic Halloween event on Long Island.
Blaze is a self-guided, touch-free experience on a marked trail throughout the grounds of an 18th-century estate. In addition to Blaze favorites, see new surprises like a fire truck making a rescue and witches stirring up a spell.
The event features larger-than-life, spectacular outdoor displays, complete with synchronized lighting and an original soundtrack.
Open September 17 – November 21, 2021. Ticket prices for timed entry tickets: Adult  $48.00, Senior (65+)  $48.00, Student (18-25 w/ID), $48.00, Child (3-17)  $40.00.
525 S Riverside Ave., Croton-on-Hudson, NY 10520
Find out more by calling 914-366-6900 or visiting pumpkinblaze.org/blaze-hudson-valley.html
Hollowed Harvest
Experience the spooky family fun of Halloween at the Hollowed Harvest! The Hollowed Harvest brings to life more than 7,000 incredible Jack-O'-Lanterns creating stunning landscapes and larger-than-life displays designed to amaze audiences of all ages! Alternatively, the Hollowed Harvest: Wicked Labyrinth features 1,000 intricately carved Jack-O'-Lanterns celebrating the attention to small details that make Jack-O'-Lanterns the beloved fall art tradition they've come to be!
Wherever you choose to attend, the magic of Halloween awaits you at the Hollowed Harvest! Enter your zip code below to find your nearest event, then select your preferred venue from the list provided.
Tickets for the Hollowed Harvest at the Altamont Fairgrounds are limited and sold in time slots so be sure to pick your day/time
The Altamont Fairgrounds, Rt 146 and Arlington St., Altamont, NY 12009
Find out more by visiting hollowedharvest.com
Village Halloween Parade
Unfortunately, this event is canceled this year due to COVID, but keep this in mind for next year! Keep tabs on the site, as there might be some virtual event happening.
Halloween night in the Village. Considered one of the nation's largest and most creative Halloween parades, the mile-long event will wind through some of Manhattan's most vibrant neighborhoods in its 47th year.
Enjoy the raucous fun of hundreds of Giant Puppets, more than 50 bands representing music from around the world, dancers of all styles, artists with explosive imaginations, and thousands of New Yorkers in costumes of their own creation!
This event is held on Halloween night.
Find out more by visiting halloween-nyc.com/.

Luna Park's Halloween Harvest
Visit mythical Coney Island and its iconic Luna Park amusement park for its Halloween Harvest event! This family-friendly event features special Halloween-inspired events, like magic shows, The Monster Mash dance stage, stilt walkers, pumpkin carving, trick-or-treating, character appearances, and more. Your Halloween Harvest pass includes entitlements to Halloween-themed activities including Pumpkin Decorating, Tractor Racing, and Trick or Treating! (1 entitlement each)
This event runs weekends from September 25th to October 31st. Watch the carving masters carve our giant pumpkin LIVE on October 23rd, 2021!
Luna Park in Coney Island, 1000 Surf Avenue, Brooklyn, NY 11224
Find out more by calling 718-373-Luna (5862) or visit lunaparknyc.com/halloween-harvest/
Boo at the Zoo
The Bronx Zoo is amazing all year round and this annual Halloween tradition is back! There are a number of family-friendly activities to enjoy including an Extinct Animal Graveyard, Costume MASKerade (amazing costumed entertainment by stilt walkers and Halloween-themed puppets), pumpkin carving demos, pumpkin and candy trails, and a scavenger hunt.
Tickets are required and must be reserved in advance. Free for WCS members.
2300 Southern Boulevard, Bronx, NY 10460
Find out more by calling 718-220-5100 or visit bronxzoo.com/boo-at-the-zoo
Hersheypark in the Dark
This wonderful Pennsylvania amusement park is close and warrants a visit for Halloween! It gets a seasonal makeover for three fall weekends. Guests have the chance to experience a trick-or-treat trail, Treatville at the Boardwalk, and a glow-in-the-dark dance party with Hershey characters.
Enjoy a day or a weekend packed with thrilling rides and coasters, a chocolatey trick or treat adventure, wild zoo visits, festive Hershey Character experiences, and FREE treats for kids.
Open October 15-17, 22-24, & 29-31. Check the website for hours and details.
100 W. Hersheypark Drive, Hershey, PA 17033
Find out more by calling 717-534-3900 or visit hersheypark.com/explore-the-park/halloween.php
More From The Long Island Local
Maybe grab a freshly brewed beer at these Long Island breweries!
And how about all the wonderful Wölffer Estate Vineyard events and tastings?! Or maybe check out some Long Island oyster farms! How about these guides to Long Island Coffee Shops and Long Island coffee roasters!! Check out these 16 Long Island Boardwalks! Take the ferry over and enjoy these Fire Island restaurants! Let's not forget about the best tacos on Long Island and these 32 great Long Island pizza places either!! Here are 21 great spots to enjoy Long Island Gelato!
Be sure to find out about more things to do on Long Island as well as more great spots to eat and drink! Maybe take a stroll in one of these amazing Long Island arboretums and gardens! There are even this great Long Island kayaks and paddleboard guide to exploring!
Long Island Farm Guides To Explore
Suffolk County agriculture includes over 560 farms with 4,600 people that generate more than $226 million in sales annually. Long Island knows farming as well as Long Island farmland preservation!! How about enjoying some wonderful Long Island hiking trails!
Check out more Long Island Farm coverage on The Long Island Local!
Explore our Guide to organic farms on Long Island and our Guide to CSA on Long Island.
Read about great events like the Tulip Festival at Waterdrinker Farm and all that the Golden Earthworm has to offer!
What about this massive list of Long Island farmers and farms you need to visit!
How about Long Island Oyster Farms, the last Long Island Duck farm, or the only fresh American snail farm Peconic Escargot!
When the season's right, explore our Long Island Christmas Tree farm guide and our list of great Long Island pumpkin picking farms!
Check Out Long Island Wine
If you're in the mood for great wine, be sure to check out our Complete List of Long Island Wineries and Long Island Vineyards.
Check out the absolute best Long Island Wine Tours!
If you can't make it to a tour, why not do some wine tasting at home with Bedell Cellars!
I know you're getting hungry, so be sure to also check out the best wineries on Long Island for some great food!
While you're in the area, be sure to check out these 9 relaxing things to do in the North Fork!
When you're done with all of this wine drinking and relaxing, how about making it a weekend? Here are 10 great North Fork Long Island hotels to enjoy as well.
Things To See and Do on the South Fork
I always recommend seeing as much of the South Fork as possible!! 
The Hamptons and Montauk is a world-renowned beach resort destination for good reason! There is just so much to see, do, and enjoy! Here are just a few of them:
Check out this Guide to the Best Beaches in Montauk! Also, check out this Guide to The Hamptons best beaches!!
Check out some luxury homes in The Hamptons!
Maybe you will love it so much, you'll want to check out some Hamptons wedding venues!
Enjoy some of the world-class, amazing art in The Hamptons!
While You're Enjoying the Outdoors
Be sure to find out about more things to do on Long Island as well as more great spots to eat and drink and wonderful places to stay on Long Island!
Check out this guide to Long Island driving ranges, including this feature on the popular Heartland driving range! Go have fun at one of these great Long Island skate parks!
Make It A Weekend
The East End of Long Island is a really special spot. If you think you'd want to check it out and maybe even stay a while…that wouldn't be such a terrible idea.
If you wanted to consider different options for staying on Long Island, be sure to check out these great places to stay in Montauk, 11 Hamptons hotels, 10 North Fork Long Island hotels, and this Guide to Sag Harbor hotels! Enjoy reading up on and hopefully exploring these wonderful Shelter Island hotels and let me know if you decide to make it a vacation!