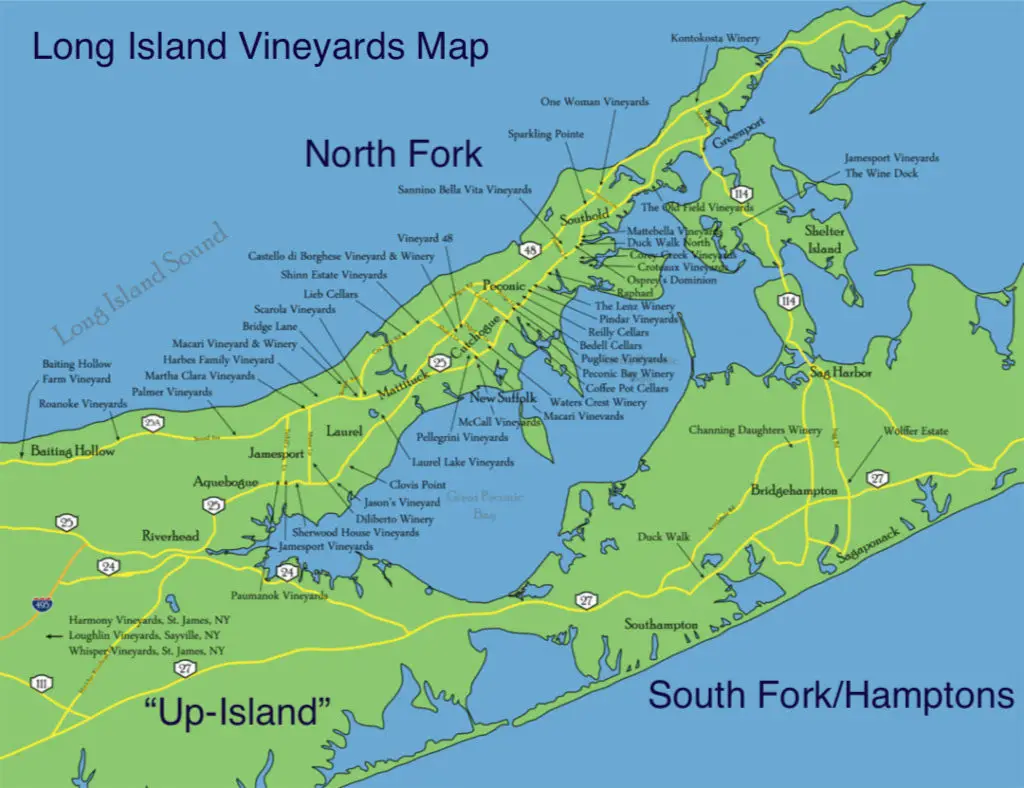 Map of North Fork Long Island
Are you are looking for a Long Island Vineyards map? This map of North Fork Long Island will hopefully be what you are looking for!
The North Fork of Long Island is located on the eastern part of Suffolk County. It's called the North Fork becuase the island spilts in two on the East End. The South Fork, or Hamptons is other fork of the split. In the middle of the two forks is Shelter Island and Gardiner's Island (private).
The South Fork and western parts of Long Island have a number of wineries and vineyards. However, the North Fork has the vast majority of them, as you can see in this Long Island Vineyards map!
Long Island is a big place, so here's a Long Island map to help you understand where the East End lies.
Long Island has some wonderful wineries to visit. Some even offering some great food to go along with that wine! There are even a cluster of breweries to visit, too.
The vineyards and wineries have sprouted up from potato and corn fields over the past 40 or so years. The wines are becoming more refined and more well-regarded with each year's vintage.
There are so many working farms, farmsteads, restaurants and more on the North Fork and Hamptons. It's a beautiful, bucolic, and really fantastic place to visit!
The number, names, and sizes of the wineries and vineyards change often. I will try to do my best to keep this map as current as possible. Forgive me if I miss some updates!