Are you looking for beautiful Long Island arboretums to take a stroll on a sunny afternoon? It's the perfect time to get out there and enjoy these wonderful places. Trust me, it's a great idea! And there are a lot of botanical gardens in both Suffolk and Nassau Counties that will fit your criteria and probably exceed your expectations.
Not only are these naturally gorgeous places perfect for connecting with nature and enjoy a quiet me-time, but they also provide plenty of learning and entertainment opportunities, such as concerts, yoga classes, and lectures on gardening.
So here's The Local's guide to 20 Long Island arboretums and the finest gardens of Long Island! Some of these amazing places aren't classified as one of the Long Island arboretums, but no matter. They are all amazing! I guarantee you'll have a hard time choosing as they are all magnificent.
8 Suffolk County, Long Island Arboretums
Avalon Nature Preserve
Created by The Paul Simons Foundation in 1997, Avalon Nature Preserve consists of 216 acres of fields, forests, and wetlands; 140 acres out of 216 became available for public access in 2001. Nowadays, the park is a great place to hike or walk as it offers a total of five miles of trails. The preserve also hosts a variety of events throughout the year, such as Youth Programs, Native Habitat Garden, yoga and meditation classes, and more.
Avalon Park is open from Tuesday to Sunday all year round (opening hours depend on the season) and is free for everyone.
200 Harbor Road, Stony Brook, L.I., NY 11790
To find out more, visit avalonnaturepreserve.org or call 631-689-0619.
RELATED: For more info, please check out this Avalon Park and Preserve in Stony Brook detailed guide!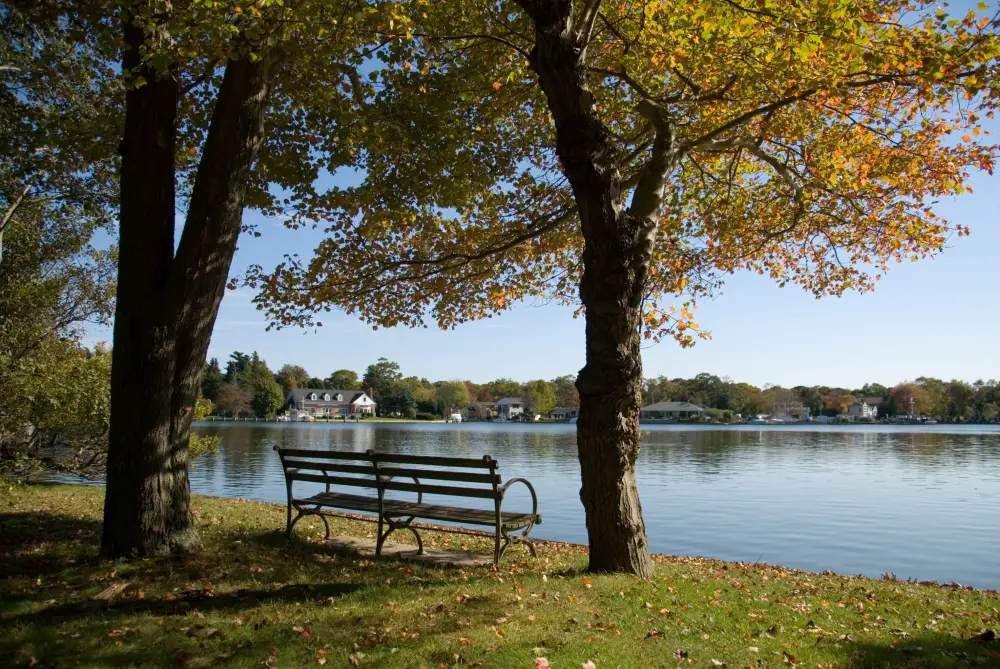 Bayard Cutting Arboretum
A 691-acre state park and one of the most famous of the Long Island arboretums, Bayard Cutting Arboretum consists of an arboretum with 13 distinct plant collections, a historic mansion, and a CSA farm. It used to be an estate of the Cutting family and was gifted by them to the Long Island State Park Region in 1936 to provide "an oasis of beauty and quiet" to the public. This enormous arboretum is indeed a place of incomparable serenity, relaxation, and learning opportunities. There is a variety of nature trails, guided tours of the grounds and mansion, education programs, art workshops, and plenty of other activities. You can also have a wedding ceremony or photo shoot at the park, but you'll need to acquire a permit first.
You can visit Bayard Cutting Arboretum Tuesday through Sunday; the opening hours are 10 a.m. through 4 a.m. For access to the arboretum, you'll have to pay an admission fee of $8 per vehicle; no tickets are required for the Manor House.
Please note that Bayard Cutting Arboretum isn't exactly a park but more like a "museum of trees", so no pets, picnicking, camping, swimming, kayaking, bicycling, active games, or sports. It's truly one of the amazing Long Island arboretums that takes it's mission and role on Long Island very seriously!
440 Montauk Hwy, Great River, L.I., NY 11739
Visit bayardcuttingarboretum.com or call 631-581-1002 to find out more.
Bridge Gardens
Bridge Gardens is a 5-acre public and demonstration garden established in 1988 by Harry Neyens and Jim Kilpatric who donated it to the Peconic Land Trust in 2008. Since then, the garden has evolved into a horticultural haven, cultural and educational center. As you take a stroll there, you'll enjoy a large rose garden, an expansive demonstration vegetable garden, and a unique herb garden that consists of culinary, medicinal, ornamental, textile, and dyeing plants.
Usually (during the pre-covid times), Bridge Gardens hosts a variety of educational and recreational events – art classes, music performances, gardening tips, and more. But currently, most of the programs are available only online; click for more information on upcoming events.
Bridge Gardens are open from 10 a.m. to 4 p.m. seven days a week, all year round. There is an admission fee of $10, which you don't have to pay if you sign up for their yearly membership. Another way to check out the garden is to take a virtual self-guided tour via the TravelStorys app. It's free, and you'll get to learn all about Bridge Gardens' history in the comforts of your home.
36 Mitchell Ln, Bridgehampton, L.I., NY 11932
Visit peconiclandtrust.org/our-work/projects/bridge-gardens or call 631-537-7440 to learn more.
Landcraft Garden Foundation
We owe gratitude for the magnificent Landcraft Gardens to two people – Dennis Schrader and Bill Smith – who bought 17 acres of land in 1992 to create a garden of unusual plants on Long Island. Their vision did come true, but like with any brilliant creations, it grew past their expectations and into a horticulturally diverse gorgeous garden that brings people joy with its bright colors all year long. It's also a place of knowledge; to learn more about the plant world, you can participate in The Landcraft Garden Foundation's events and lectures.
To visit the Landcraft Gardens, you'll have to buy a ticket; the prices are as follows: $15 for adults, $12 for students/senior citizens, and $5 for children under 12. The official opening date of the garden for 2021 is June 10th until October 16th. Soft opening dates are May 7th to July 3rd. You can head to Landcraft Gardens any time between 10 a.m. and 4 p.m. every Friday and Saturday. It's also possible to rent this stunning space for your private event or photoshoot.
4342 Grand Ave, Mattituck, L.I., NY 11952
Find out more by visiting landcraftgardenfoundation.org or calling 631-298-7216.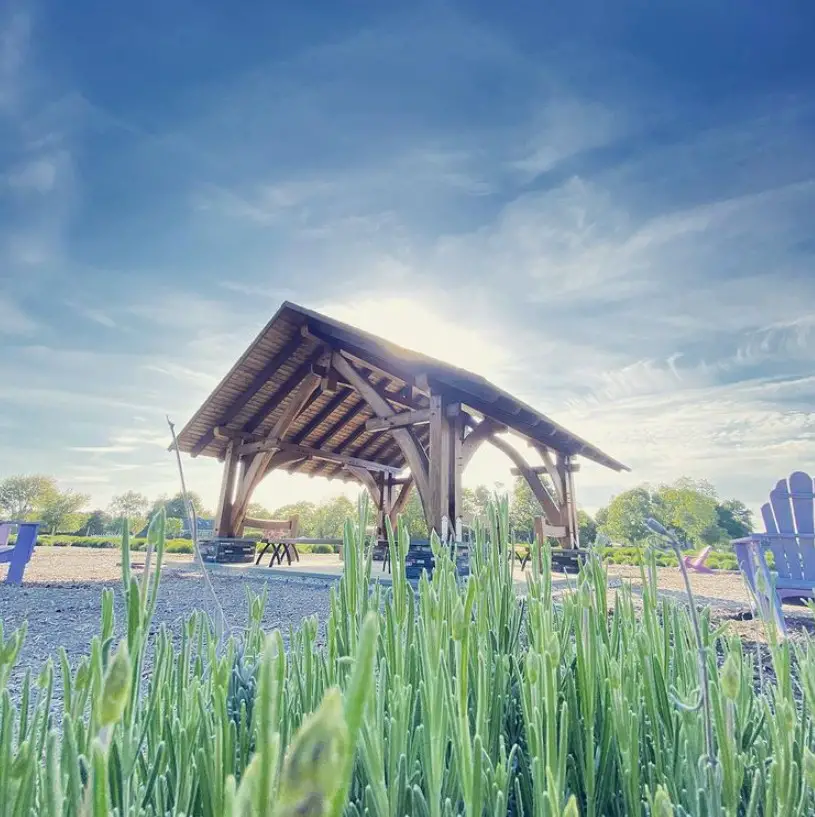 Lavender By the Bay
A family owned and operated business, Lavender By the Bay was established in 2002. What started as a hobby turned into a 17-acre farm with over 80,000 English and French lavender plants. The best time to check out this flower paradise is of course during the blooming season – usually, it's during the first two weeks of July, but nature only knows. Some of the plants bloom in mid-June and mid-September, so if you can't make it in July, there is still time. Tickets are normally $10-$12, and the farm releases them closer to the bloom Subscribe to Lavender By the Bay's newsletter or follow them on Facebook for updates.
7540 Main Rd, East Marion, NY 11939
Learn more by visiting lavenderbythebay.com or calling 631-477-1019.
RELATED: Check out this more detailed guide to this Lavender Farm Near Me: Lavender By The Bay!
LongHouse Reserve
Founded by textile designer and collector Jack Lenor Larsen, LongHouse Reserve is a museum, garden, and sculpture park that provides a unique learning experience for anyone who comes here with an open mind. The 16-acre reserve features permanent and seasonal artworks, Peter's Pond, and several gardens – The Red, Purple, Grass, and White Gardens. But don't think that visiting LongHouse once is enough; the setting and atmosphere of this place change day to day – the planting schemes, exhibitions, performances, and programs. So you'll get to see and experience something new every time you come to LongHouse Reverse.
The park encourages learning by providing many educational resources – free docent-led school tours, internships, community service opportunities, online materials, and videos. Also, high school and college students and children don't have to pay the admission fee, which is $15 for adults and $10 for seniors for Open Days (Wed, Sat, and Sun).
133 Hands Creek Rd, East Hampton, L.I., NY 11937
Visit longhouse.org or call 631-329-3568 to find out more.
The Madoo Conservancy
The Madoo Conservancy (madoo means my dove in the Old Scots language) is one of the ever-changing gardens of Long Island created by artist and writer Robert Dash. Much like his paintings, the garden turned out a masterpiece that continues to inspire its visitors after 50 years from its date of establishment. The 2-acre horticultural oasis features a grove of ginkgo Biloba trees, Tudor, High Renaissance, early Greek, Oriental influenced gardens, and the Telephone Pole Path made of reclaimed sliced telephone poles. Also, make sure to check out the Madoo events, exhibitions, and classes.
You can visit Madoo Conservancy from 11 a.m. to 5 p.m. on weekdays, noon to 5 p.m. on weekends. Although the admission is free (donations are appreciated), the park can only accept visitors by appointment, which you can make here.
618 Sagg Main St, Sagaponack, L.I., NY 11962
For more information, visit madoo.org or call 631-537-8200.
Rottkamp's Fox Hollow Farm
Not exactly an arboretum or designated garden area but just a farm in Baiting Hollow, Rottkamp's Fox Hollow Farm, nonetheless, has plenty of flowers growing on their property – a whole maze of sunflowers, to be exact. Just imagine how pretty it would be to walk among 4.5 acres of these bright yellow flowers! But only do the sunflowers provide a perfect backdrop for your Instagram pictures, the farm also arranges a few photo ops scattered throughout the field.
Rotthkamp's Fox Hollow Farm's sunflower maze is open from 11 a.m. to 7 p.m. during the season (follow the farm on Facebook for updates). The admission fee is $5 for anyone older than 5 years old.
2287 Sound Ave, Calverton, L.I., NY 11933
To find out more, visit facebook.com or call 631-727-1786.
RELATED: Find out more about great farm and it's Long Island pumpkin picking and pick your own strawberries in addition to the beautiful gardens!
12 Nassau County, Long Island Arboretums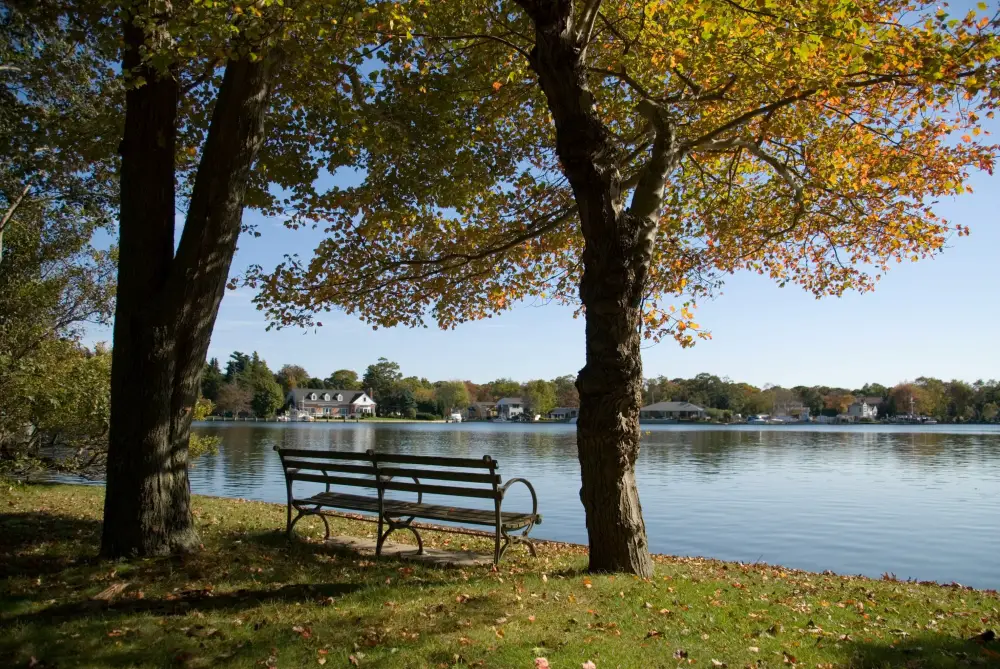 Bailey Arboretum
Once home to a philanthropist and horticulturalist Frank Bailey, Bailey Arboretum is a 42-acre accredited arboretum, where you can find a rare garden treasure – The Dawn Redwood trees. Another of the most well-know of the Long Island arboretums, It's a magnificent place on Long Island to relax while reading a book by the ponds, hike, walk, or paint. It's also a place that can teach you a lot about trees; throughout the year, the garden hosts many educational events for families, students, and scouts. And you can book Bailey Arboretum for children's' birthday parties, weddings, and other private events (for 2021, all events should have no more than 50 guests).
Bailey Arboretum is open to visitors Wednesday through Sunday, from 9 a.m. to 5 p.m. all year round. For arboretum members, the admission is free; for everyone else, it's $5 for a car or $2 for walk-ins. Note that the park will close the admission gate once the parking lot is full and open them again when there are enough parking slots available; to avoid the wait, consider visiting on Wednesday, Thursday, or Friday. This is just a classic, Gold Coast version of our beloved Long Island arboretums and it's just so magical!
194 Bayville Rd, Locust Valley, L.I., NY 11560
To learn more, visit baileyarboretum.org or call 516-801-1458.
Clark Botanic Garden
Established in 1969 on the former estate of Grenville Clark, the 12-acre Clark Botanic Garden contains approximately 5,000 plant species, two ponds, a community gardening area, and a small gift shop. It also includes 12 specialty gardens that consist of over 1000 labeled trees, shrubs, and garden plants; some of the collections you can find in Clark Botanic Garden are daylilies, roses, native spring wildflowers, conifers, butterfly plants, herbs, and more.
Clark Botanic Garden is open every day from 10 a.m. to 6 p.m. There is no admission fee, however, donations are greatly appreciated. Or, if you don't mind not emerging in nature, you can take a virtual tour of the garden here. And be sure to check out the upcoming special events and education programs; not only will you learn a lot about gardening, but you'll also have tons of fun.
193 I. U. Willets Rd, Albertson, L.I., NY 11507
For more information, visit http://www.clarkbotanic.org/ or call 516-484-2208.
Great Neck Steppingstone Park
Located in the Great Neck Park District, Steppingstone Park is a 12.8-acre park with a stunning view of Long Island Sound. Unfortunately, it's only open for Great Neck residents with park cards. But if you are a resident or know someone who is, then consider yourself extremely lucky to be granted access to this gem. The park has plenty of different facilities and amenities for your comfort – children's playground and playscape, picnic tables, benches, chairs, a snack bar, and more. In summer, the park is full of things to do – outdoor yoga, fishing, kayaking, sailing, archery classes, festivals, concert series in July and August, and more. In winter, people tend to be less willing to go out, but if cold doesn't bother you, you can visit the park to enjoy the view and the peaceful environment.
Steppingstone Park is open from 8 a.m. to 10 p.m. daily.
Kings Point, Great Neck, L.I., NY 11024
To find out more, visit gnparks.org/Facilities/Facility/Details/Steppingstone-Park-2 or call 516-355-8656.
Hofstra Arboretum
Imagine being a student in a University that is also one of the great Long Island arboretums! That is just so wonderful, wouldn't you love your campus? But likely for us, you don't have to sign up for a degree to enjoy the beauty of Hofstra University Arboretum.
The 240-acre campus received its recognition as one of the Long Island arboretums in 1985 and was named a Tree Campus USA in 2015. The botanical garden features more than 1,200 deciduous and evergreen trees, 625 varieties and species, a sensory garden for disabled visitors, easy-care perennials, and ornamental grasses. There is also a bird sanctuary that takes about two acres of the garden (although it's currently closed).
There is no admission fee for Hofstra Arboretum (donations are appreciated, though), it's open for visitors all year round, and you can check it out any time from dawn to dusk.
Hempstead, L.I., NY 11549
To learn more, visit hofstra.edu/facilities-operations/arboretum.html or call 516-463-6623.
The John P. Humes Japanese Stroll Garden
We all wish we could have the teleportation ability, the ability to get some other place momentarily, like in superhero movies. Well, there is one garden of Long Island that can grant you that experience. While The John P. Humes Japanese Stroll Garden can take to only one destination- Japan – and only for a short time, but the trip will be worth it. This 7-acre beauty features a traditional tea house, stone water basins, stepping stones, lanterns, koi-filled ponds, bamboo, and more. It's not big, and you can complete the walk within 30 minutes, but even within half an hour, the park will be able to bring clarity to your thoughts and soothe your anxiety.
You can visit The John P. Humes Japanese Stroll Garden on weekends only. On Saturdays, it's open from 10 a.m. to 2 p.m.; on Sundays, it's 1-5 p.m.
347 Oyster Bay Road, Mill Neck, L.I., NY 11765
Learn more by visiting northshorelandalliance.org/humes-stroll-garden-events or calling 516-676-4486.
LIU Post Community Arboretum
LIU Post Community Arboretum is another university campus that boasts a beautiful 20-acre botanical garden. Another campus to be included on the list of Long Island arboretums, The LIU Arboretum features more than 110 trees and 62 species, including some of the largest and unusual on Long Island – a 105-foot tulip tree, a Japanese pagoda dogwood tree, a 90-year-old American Elm, and more. Apart from these rarities, you'll also find formal gardens, rolling green lawns, shrubs, and a wide variety of flowering plants (among them 50,000 tulips and daffodils).
LIU Post Community Arboretum is absolutely free for everyone to enjoy, and you can check it out on any day from dawn to dusk.
LIU Post, 720 Northern Boulevard, Brookville, L.I., NY 11548
For more information, visit here or call 516-299-3500.
Muttontown Preserve
Muttontown Preserve is a 550-acre beauty that stands on grounds of three former Gold Coast mansions and consists of ponds, fields, and woodlands. The most notable – the 40-room Chelsea mansion – is a gem of the Muttontown Preserve and is worth a visit; however, you won't be able to access the historic building in case of a wedding or private event. But don't feel bad; the nature preserve has miles and miles of marked and unmarked trails full of trees, flowers, plants, birds, animals, and more. But note that it's easy to get lost because the territory of the preserve is enormous, so take a photo of the map at the entrance.
The Muttontown Preserve is open daily from 8:30 a.m. to 4:30 p.m.
Muttontown, L.I., NY 11791
To learn more, visit this page or call 516-571-8500.

Old Westbury Gardens
This place is just amazing. It's majestic, it's beautiful, it's amazing. Old Westbury Gardens is a must-visit place for all history and nature lovers. It's a 200-acre magnificent land of formal gardens, woodlands, ponds, lakes, landscaped grounds, and of course, Westbury House, a charming Charles II-style mansion. Whether you come here for architecture, gardens of 7,000 tulips, hyacinth, daffodil, or their education programs, you'll leave this extraordinary place feeling content and happy.
Old Westbury Gardens is open for visitors from April 1st until October 31st. On weekdays (except for Tuesdays), the opening hours are 11 a.m. – 6 p.m. On weekends, it's open from 10 a.m. to 5 p.m. The general admission fee is $14, and it's $12 for seniors and $8 for children under 17 years old.
Note that you have to buy tickets in advance. Group tours are available. Also, be sure to check out their events calendar; there will surely be something you will like, be it yoga or Tai Chi in the gardens, The Great Pine Railway exhibition, or Sunday concerts. Old Westbury Gardens can also become your wedding or photoshoot venue; click for more details.
71 Old Westbury Rd, Old Westbury, L.I., NY 11568
To find out more, visit oldwestburygardens.org or call 516-333-0048.
Planting Fields Arboretum
One of the few surviving estates on Long Island and one of the finest of the Long Island arboretums, Planting Fields is 409 acres of beautiful formal gardens, extraordinary plant collections, rolling lawns, greenhouses, and the 65-room Coe Hall, which used to be home to William Robertson Coe and his wife. The brilliance of Planting Fields Arboretum is that everyone can find something to do, and some things might even take you days to explore fully, such as the extensive collection of 12 gardens. The park is surely a jewel of Long Island arboretums.
Planting Fields Arboretum is open 9 a.m. – 5 p.m. every day all year round. Tours of the estate and exhibition take place Wednesday through Sunday and cost $10 for adults, $5 for kids between 11 and 17 years old. And if you are interested in checking out the Main Greenhouse, you can do so from 11 a.m. to 1 p.m. Thursday through Sunday.
1395 Planting Fields Rd, Oyster Bay, L.I., NY 11771
Visit plantingfields.org or call 516-922-9210 to learn more.
Robert F. Ench Teaching Gardens
Robert F. Ench Teaching Gardens is a creation of the Department of Urban Horticulture and Design at Farmingdale State College. Since 1930, students and faculty have been developing a series of themed gardens. In the area of more than four acres, you'll find The Annual Beds, The Grass Garden, The Rose Garden, The Beech Hedge Garden, The Herb Garden, The Tropical Garden, and more.
You can visit this enchanting place Monday through Friday, 8:30 a.m. to 4:40 p.m. Please respect nature during your visit: no pets, no sports activities, and no picking plants.
Farmingdale State College, 2350 NY-110, Farmingdale, L.I., NY 11735
For more information, visit this page or call 934-420-2711.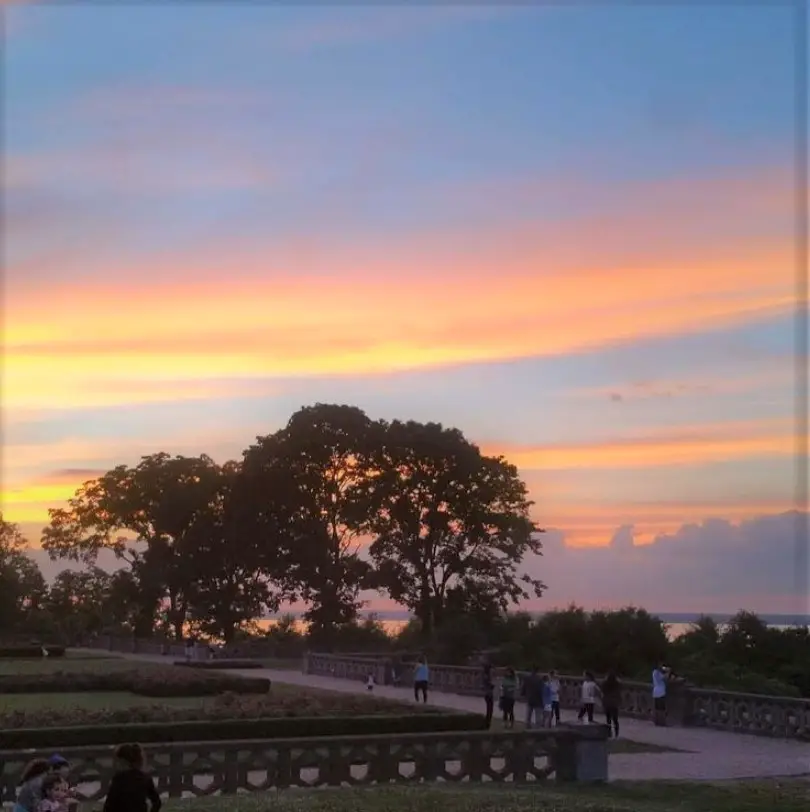 Sands Point Preserve
Sands Point Preserve, which stands on the grounds of the former Guggenheim Estate, is an enormous majestic 216-acre park. On the grounds, there are three Gold Coast Mansions, including the inspiration source of F. Scott Fitzgerald's The Great Gatsby – Hempstead House. But the fabulous Gold Coast mansions aren't the only thing worth checking out in the preserve. To name a few, there is The Rose Garden with 1,500 red roses bushes, Woodland Playground, The Great Lawn, striking views of Long Island Sound, six marked trails for hiking and jogging. Sands Point Preserve also hosts a variety of events: cultural, educational, mansion tours, fitness activities, and more. Their calendar is always full.
When you visit Sands Point Preserve, you'll pay $15 for a car or $4 per person for walk-in. Click here for more information on the opening hours of the park.
127 Middle Neck Road, Sands Point, L.I., NY 11050
To learn more, visit sandspointpreserveconservancy.org or call 516-571-7901.
Tanglewood Park and Preserve
Tanglewood Park and Preserve is an 11-acre gorgeous land of a pond and nature trails. The pond is surrounded by a beautiful brick walkaway and has been restocked with fish by The NY State Bureau of Fisheries. If all this fish talk made you want to go fishing, you'll be glad to know that you can do it at the preserve, and kids under 16 don't need to have a fishing license. In October, the park hosts a Spookyfest that lasts for four weekends; it's a family-friendly Halloween-themed fun that costs about $15.
Tanglewood Park and Preserve is open daily from 10 a.m. to 4 p.m.
1 Tanglewood Rd, Rockville Centre, L.I., NY 11570
Find out more by visiting nassaucountyny.gov/2911/Tanglewood-Park-and-Preserve or call 516-764-0045.
Check out the South Fork
These amazing gardens of Long Island are awesome! I never get tired of visiting Long Island arboretums, but be sure to take full advantage of all awesome the outdoor activities on Long Island!
The Hamptons and Montauk is a world-renowned beach resort destination for good reason! There is just so much to see, do, and enjoy! Here are just a few of them:
Check out some luxury homes in The Hamptons!
Maybe you will love it so much, you'll want to check out some Hamptons wedding venues!
Enjoy some of the world-class, amazing art in The Hamptons!
Enjoy some great Hamptons restaurants, including delivery!
Check out Shelter Island! Shelter Island is only accessible by the Shelter Island Ferry. The South Ferry connects to North Haven on the South Fork. Find out more about Shelter Island, it's different towns and more by checking out this page that includes a handy Shelter Island Map!!
Explore Long Island Wine
Depending on where you are enjoying your Long Island kayaks and paddleboards, you're likely pretty close to Long Island Wine Country! It's another great part of visiting the island. If you're in the mood for great wine, be sure to check out our Complete List of Long Island Wineries and Long Island Vineyards.
Check out the absolute best Long Island Wine Tours!
If you can't make it to a tour, why not do some wine tasting at home with Bedell Cellars!
I know you're getting hungry, so be sure to also check out the best wineries on Long Island for some great food!
While you're in the area, be sure to check out these 9 relaxing things to do in the North Fork!
When you're done with all of this wine drinking and relaxing, how about making it a weekend? Here are 10 great North Fork Long Island hotels to enjoy as well.
Make It A Weekend
The East End of Long Island is a really special spot. If you think you'd want to check it out and maybe even stay a while…that wouldn't be such a terrible idea.
If you wanted to consider different options for staying on Long Island, be sure to check out these great places to stay in Montauk, 10 Hamptons hotels, 10 North Fork Long Island hotels, and this Guide to Sag Harbor hotels! Enjoy reading up on and hopefully exploring these wonderful Shelter Island hotels and let me know if you decide to make it a vacation!
More From The Long Island Local
After a fun day explore Long Island arboretums and those beautiful gardens of Long Island, you could use some relaxation! Maybe grab a freshly brewed beer at these Long Island breweries and when you've had your fill of vino!
The bounty of great food on Long Island seems endless! From great steakhouses on Long Island to great Shelter Island restaurants to Long Island lobster rolls and Long Island bagels, there's so much to enjoy. And how about all the wonderful Wölffer Estate Vineyard events and tastings?! Or maybe check out some Long Island oyster farms! How about these guides to Long Island Coffee Shops and Long Island coffee roasters!!
Be sure to find out about more things to do on Long Island as well as more great spots to eat and drink and our Guide to Long Island kayaks and paddleboards, too!