Best Pizza and Dive Bar has one of those names that speak volumes. Have you been on a quest for the best pizza in Montauk? You've come to the right place! Best Pizza and Dive Bar is your stop for mouthwatering pies. Best Pizza is one of our favorite spots in town, always great food and a relaxed atmosphere.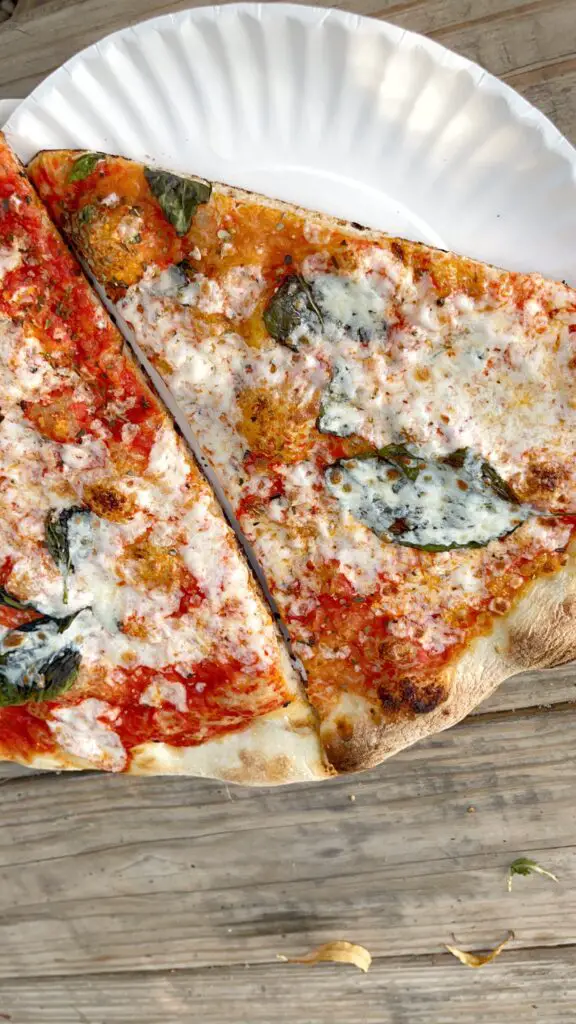 The Food
Best Pizza in Williamsburg, Brooklyn is an old-school throwback that greatly helped in bringing back the classic NY pizza places that focus on quality slices. To me, that never went away, but still. They take this formula of thin crust, fresh mozzarella, fresh basil, and bright sauce out to the beach in Montauk. Here, the slice of pizza is king!
Best Pizza takes pride in their food, from simple pizzas with pepperoni and cheese to great Sicilian pizza. There's also wonderful mix of pizza, including specialty pizza pie involving everything from grilled chicken to shrimp scampi. The white and grandma pies are to die for, so fresh and tasty.
Best Pizza also serves up some tasty meatball subs, garlic knots, arugula salad, and more that are highly recommended if you're looking for a hearty meal. This is just a really good, NY type of place. One we all know and love and want in our neighborhood. Thankfully for Montauk, I think their local joint has finally arrived on the Napeague Stretch! It's part of a mini string of restaurants in the Napeague Stretch including iconic spots like "Lunch" and The Clam Bar.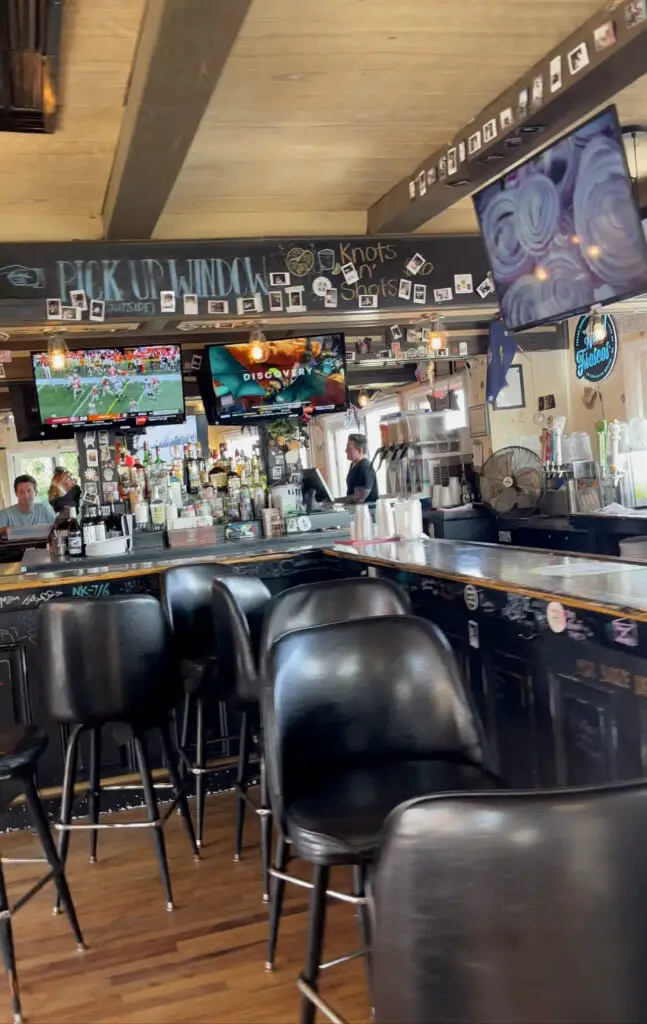 The Bar
Here you can enjoy what can only be described as the most delicious pizza inside the walls of a casual bar that is the perfect setting for a fun summer night. A pool table and flat-screen TVs that run major sports games won't let you get bored even if you don't drink. The restaurant welcomes you for dine-in, but pickup and delivery to Montauk and Amagansett are available, too. 
It's has pizza and dive bar in it's name for a good reason. The indoor, front of the house looks like an old-school, honky tonk kind of beachy bar with graffiti and stickers covering up just about all surfaces. There's a wraparound bar and even a cigarette machine! Don't like the rough looks fool you, plenty of kids hang out here as it's really just a relaxed spot that's all about having a good time and a great spot to enjoy some laughs and some fine alcoholic beverages.
The Outside
The pizzeria kicks in out back. Best Pizza has about four or five tables available for outdoor seating where you can sit and enjoy your meal. Best Pizza also offers delivery but it's always best to call ahead of time to ensure availability because this outdoor seating can fill up fast. There's also games like pop-a-shot and corn hole to enjoy while you're outside, too! This is an ideal spot if you are looking to adhere to some social distancing, too.
Best Pizza is the perfect pizza joint to go if you're looking for good food, great prices, or just simply a great place to hangout, Best Pizza is definitely worth checking out. It's just a great place with making an outstanding pizza pie. What's not to love?
RELATED: Here's huge list of all of the great Montauk restaurants!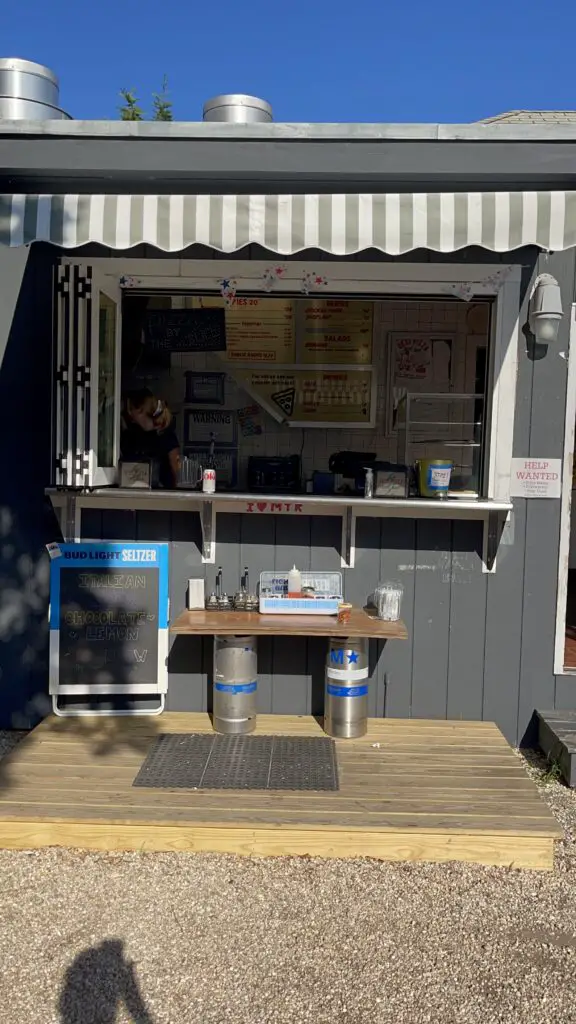 Important Best Pizza and Dive Bar Information
Best Pizza & Dive Bar is open from Noon – 9 PM Monday through Friday, from 12 PM – 10 PM on weekends.
2095 Montauk Highway, Amagansett, L.I., NY 11930
To find out more, visit bestpizzadivebar.com or call 631-668-8378.
Check Out Long Island Wine
If you're in the mood for great wine, be sure to check out our Complete List of Long Island Wineries and Long Island Vineyards.
Check out the absolute best Long Island Wine Tours!
If you can't make it to a tour, why not do some wine tasting at home with Bedell Cellars!
I know you're getting hungry, so be sure to also check out the best wineries on Long Island for some great food!
While you're in the area, be sure to check out these 9 relaxing things to do in the North Fork!
When you're done with all of this wine drinking and relaxing, how about making it a weekend? Here are 10 great North Fork Long Island hotels to enjoy as well.
Things To See and Do on the South Fork
I always recommend seeing as much of the South Fork as possible!! 
The Hamptons and Montauk is a world-renowned beach resort destination for good reason! There is just so much to see, do, and enjoy! Here are just a few of them:
Check out this Guide to the Best Beaches in Montauk! Also, check out this Guide to The Hamptons best beaches!!
Check out some luxury homes in The Hamptons!
Maybe you will love it so much, you'll want to check out some Hamptons wedding venues!
Enjoy some of the world-class, amazing art in The Hamptons!
While You're Enjoying the Outdoors
Be sure to find out about more things to do on Long Island as well as more great spots to eat and drink and wonderful places to stay on Long Island!
Check out this guide to Long Island driving ranges, including this feature on the popular Heartland driving range! Go have fun at one of these great Long Island skate parks!
Make It A Weekend
The East End of Long Island is a really special spot. If you think you'd want to check it out and maybe even stay awhile…that wouldn't be such a terrible idea.
If you wanted to consider different options for staying on Long Island, be sure to check out these great places to stay in Montauk, 11 Hamptons hotels, 10 North Fork Long Island hotels, and this Guide to Sag Harbor hotels! Enjoy reading up on and hopefully exploring these wonderful Shelter Island hotels and let me know if you decide to make it a vacation!
More From The Long Island Local
Maybe grab a freshly brewed beer at these Long Island breweries!
And how about all the wonderful Wölffer Estate Vineyard events and tastings?! Or maybe check out some Long Island oyster farms! How about these guides to Long Island Coffee Shops and Long Island coffee roasters!! Check out these 16 Long Island Boardwalks! Take the ferry over and enjoy these Fire Island restaurants! Let's not forget about the best tacos on Long Island and these 32 great Long Island pizza places either!! Here's 21 great spots to enjoy Long Island Gelato!
Be sure to find out about more things to do on Long Island as well as more great spots to eat and drink! Maybe take a stroll in one of these amazing Long Island arboretums and gardens! There are even this great Long Island kayaks and paddleboard guide to exploring!