Topgolf Long Island is a new family-friendly golf entertainment complex in Holtsville, which opened less than a mile from exit 62 off the Long Island Expressway. If you like golf, then this is a place to check out. Topgolf Entertainment Group is a technology-enabled, global sports and entertainment community that looks to connect people through the experiences they create, the innovation they champion, and the good that they do.
RELATED: Check out this guide to Long Island driving ranges, including this feature on the popular Heartland driving range!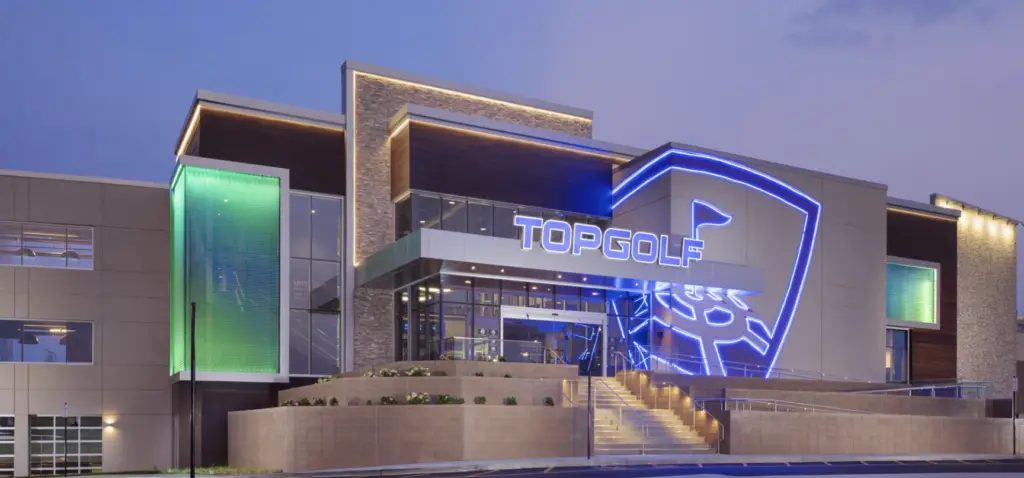 The Venue
The 70,000-square-foot, three-storied facility features 102 private climate-controlled hitting bays that each hold up to six players. Guests can play a variety of indoor golf games that extend to a 215-yard outdoor driving range. This is a really large facility unlike anything on Long Island right now. The amazing space also offers over 200 HDTVs, Free Wi-Fi, a rooftop terrace with fire pit, and private event spaces & meeting rooms
Perhaps the most fun part of Topgolf is the wide variety of play options offered. This is more just that a typical golf driving range. There are several games to choose from: Topgolf, TopPressure, TopShot, Quick 9, TopScore, TopChip, TopDrive, TopScramble, and Closest to the Hole. Each game is designed with the skill levels (beginner, intermediate or professional) of the player in mind.
The namesake game Topgolf is the most popular of the games. The goal is to hit close to the furthest targets in the outfieldThere are targets in the outfield to get points.
The Tech
Topgolf Long Island is all about making the best use of technology to improve the experience and enjoyment of the player. Each golf ball is tracked with an RFID chip and the score pops up on a flat-screen TV at each bay. Every player gets 20 balls per game and each score is tracked to each golfer at their individual bay.
A computerized tutorial will explain how to operate the system and bay hosts are available for those that need assistance.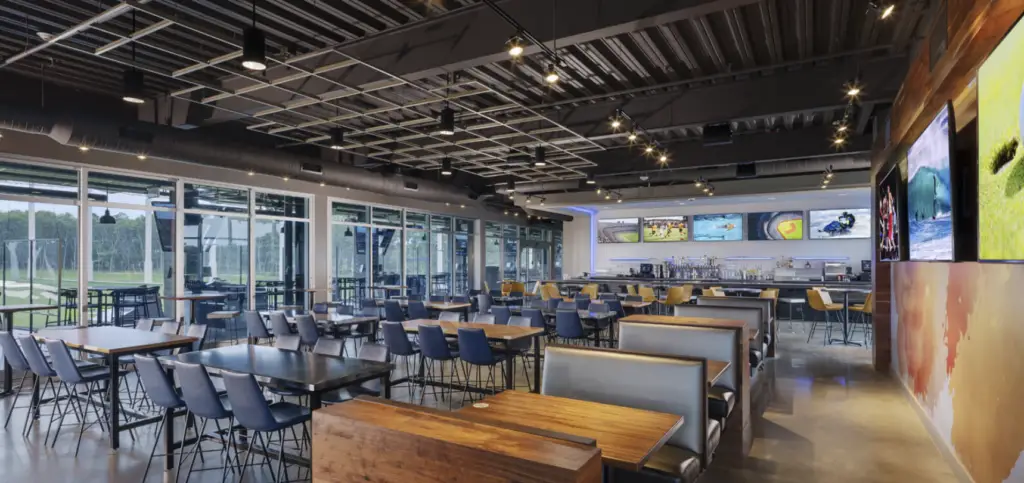 Food and Drink
All aspects of Topgolf seem to take things up a notch. Food and top-shelf drinks can be delivered to each bay which has high-top tables and chairs for lounging. Enjoy American bar food staples like burgers, wraps and sandwiches. You can even, uh, swing by for breakfast, too! 
There's a full bar with 14 beers on tap. Their signature drink is appropriately called "The Golf Bag." And it's a good one. For $18, you can enjoy a 30 oz. shareable cocktail in a souvenir cup the shape of a golf bag that lights up with two golf club plastic straws. Yes, I know it sounds like it's a bit much…but you'll like it if you try it. 
Guests can pull up a seat at the main bar on the second level to watch sports across nine flatscreens, play a game of shuffleboard or just sit down for dinner in one of the common areas. For a complete open-air rooftop experience, visit the third floor where 34 bays and a terrace bar await.
Topgolf Long Island Hours
The Holtsville location of this golf entertainment chain is the 73rd to open since 2000 and the first in New York State. 
Topgolf is open seven days a week from 10 a.m. to midnight (extended to 1 a.m. on Fridays and Saturdays). Reservations can be made up to seven days in advance, however, walk-ins are welcome. The facility is available for private parties or corporate events.
The cost is: $40 per hour from 10 AM-Noon; $50 per hour for a bay from Noon-5 PM; $60 per hour for a bay from 5 PM-close). 10 AM-noon on weekdays, the bays are $20. Tuesdays are half-price all day.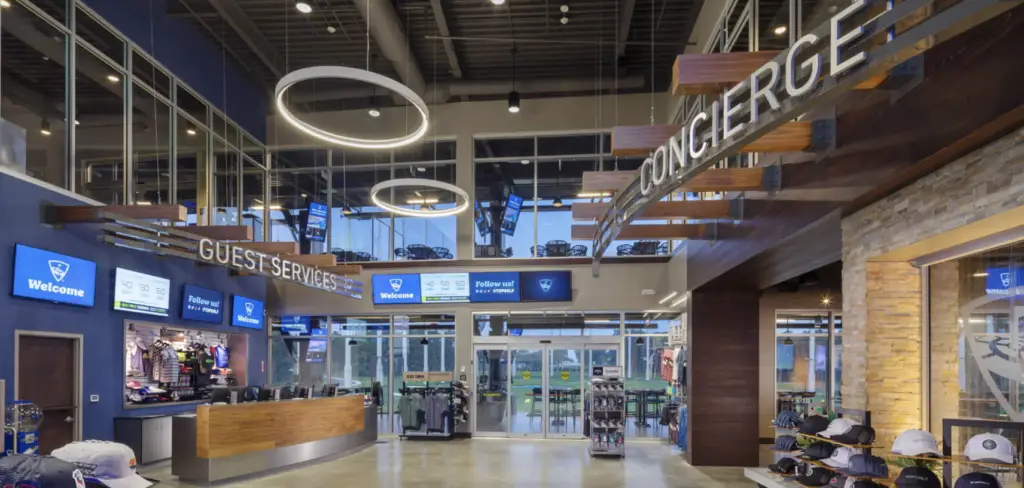 More Information
This premier entertainment destination is really a great place where you can come for birthday parties, bachelor or bachelorette parties, corporate events, date nights, or just a night out with friends, and everyone will have a great time.
Open 7 days: 10 AM-midnight Sunday-Thursday, until 1 AM on Friday and Saturday night
5231 Express Drive North, Holtsville, L.I., NY 11738
Find out more by 631-977-7645 or visiting topgolf.com/us/holtsville.
While You're Enjoying the Outdoors
Be sure to find out about more things to do on Long Island as well as more great spots to eat and drink and wonderful places to stay on Long Island!
Go have fun at one of these great Long Island skate parks!
Check Out Long Island Wine
If you're in the mood for great wine, be sure to check out our Complete List of Long Island Wineries and Long Island Vineyards.
Check out the absolute best Long Island Wine Tours!
If you can't make it to a tour, why not do some wine tasting at home with Bedell Cellars!
I know you're getting hungry, so be sure to also check out the best wineries on Long Island for some great food!
While you're in the area, be sure to check out these 9 relaxing things to do in the North Fork!
When you're done with all of this wine drinking and relaxing, how about making it a weekend? Here are 10 great North Fork Long Island hotels to enjoy as well.
Make It A Weekend
The East End of Long Island is a really special spot. If you think you'd want to check it out and maybe even stay awhile…that wouldn't be such a terrible idea.
If you wanted to consider different options for staying on Long Island, be sure to check out these great places to stay in Montauk, 11 Hamptons hotels, 10 North Fork Long Island hotels, and this Guide to Sag Harbor hotels! Enjoy reading up on and hopefully exploring these wonderful Shelter Island hotels and let me know if you decide to make it a vacation!
Things To See and Do on the South Fork
I always recommend seeing as much of the South Fork as possible!! 
The Hamptons and Montauk is a world-renowned beach resort destination for good reason! There is just so much to see, do, and enjoy! Here are just a few of them:
Check out this Guide to the Best Beaches in Montauk! Also, check out this Guide to The Hamptons best beaches!!
Check out some luxury homes in The Hamptons!
Maybe you will love it so much, you'll want to check out some Hamptons wedding venues!
Enjoy some of the world-class, amazing art in The Hamptons!
More From The Long Island Local
Maybe grab a freshly brewed beer at these Long Island breweries!
The bounty of great food on Long Island seems endless! From great steakhouses on Long Island to great Shelter Island restaurants to Long Island lobster rolls and Long Island bagels, there's so much to enjoy. Check out this Huge List of Restaurants on the Water Long Island!!! How about 54 of the best tacos on Long Island!
And how about all the wonderful Wölffer Estate Vineyard events and tastings?! Or maybe check out some Long Island oyster farms! How about these guides to Long Island Coffee Shops and Long Island coffee roasters!! Check out these 16 Long Island Boardwalks! Take the ferry over and enjoy these Fire Island restaurants! Let's not forget about the best tacos on Long Island and these great Long Island pizza places either!!
Be sure to find out about more things to do on Long Island as well as more great spots to eat and drink! Maybe take a stroll in one of these amazing Long Island arboretums and gardens! There are even this great Long Island kayaks and paddleboard guide to exploring!