The new Gurneys Montauk Spa is the latest part of the now ultra luxe Gurneys Montauk resort to get the fabulous treatment. The NY Post is reporting that Gurney's Montauk's new and long awaited Seawater Spa has just capped of an ambitious $20 million facility (a bump up from the previously reported $16 million cost). This is top of the heap type work that could very well make this Montauk spa a true wellness and relaxation destination year round.
RELATED: More Montauk!!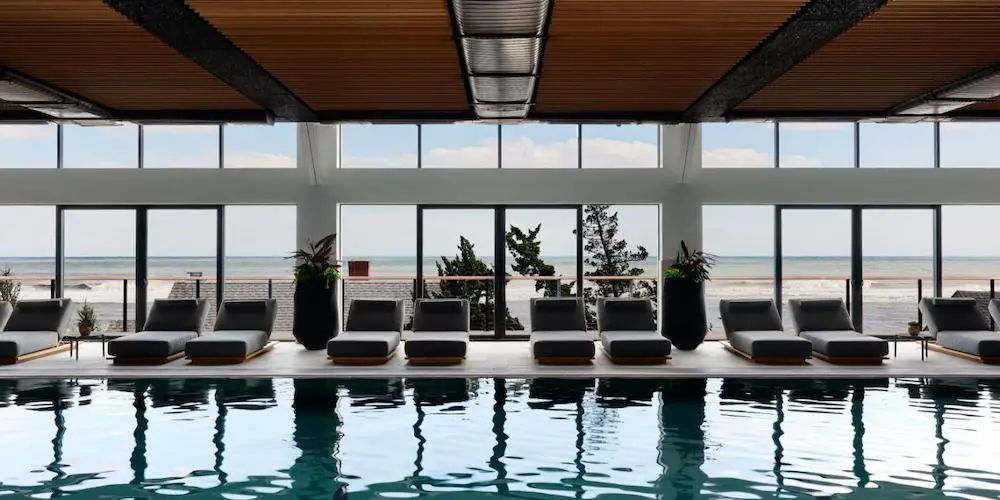 Gurneys Montauk Spa Details
Here are the details from the Jackie Cooperman of the NY Post:
Five years in the planning, the 30,000-square-foot, two-story Montauk spa includes 19 treatment rooms, with two reserved for couples.

The Himalayan salt room features a massage table built out of the prized mineral; its walls are also lined in pure Himalayan salt crystal, said to help breathing difficulties and remove skin impurities. 

Other expansive rooms open onto their own private decks, with outdoor showers and bathtubs overlooking the Atlantic Ocean, flanked by junipers and boxwoods cleverly placed for privacy.

The spa uses products by Dr. Dennis Gross Skincare and One Ocean Beauty. Facials range from high-performance LED light therapy to New Age options, utilizing amethyst crystals and reiki. 

There's a CBD-infused massage for pain reduction; a seaweed-leaf body wrap and a three-session scalp treatment that promises to create fuller, thicker hair.

In addition to the ocean-fed swimming pool, the new spa has four 12-feet-long pools, the centerpiece of its co-ed bathhouse: a caldarium set to 105 degrees, a 104-degree thermae with a waterfall, and a pair of chilly pools, set to 50 and 57 degrees.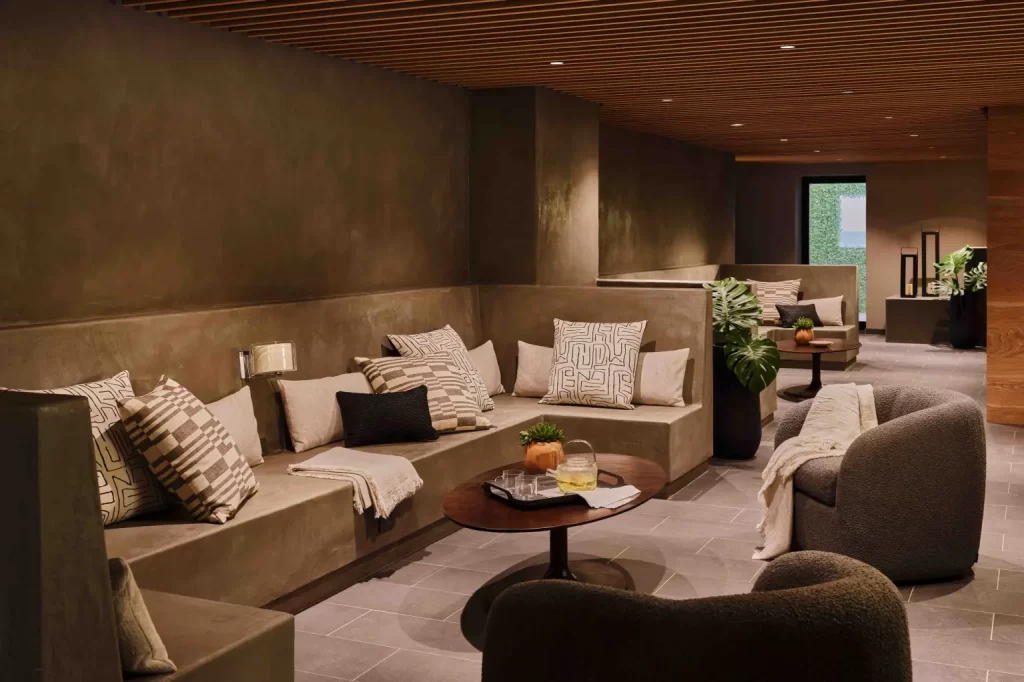 More From The Long Island Local
Maybe grab a freshly brewed beer at these Long Island breweries!
And how about all the wonderful Wölffer Estate Vineyard events and tastings?! Or maybe check out some Long Island oyster farms! How about these guides to Long Island Coffee Shops and Long Island coffee roasters!! Check out these 16 Long Island Boardwalks! Take the ferry over and enjoy these Fire Island restaurants! Let's not forget about the best tacos on Long Island and these 32 great Long Island pizza places either!! Here are 21 great spots to enjoy Long Island Gelato!
Be sure to find out about more things to do on Long Island as well as more great spots to eat and drink! Maybe take a stroll in one of these amazing Long Island arboretums and gardens! There are even this great Long Island kayaks and paddleboard guide to exploring!
Long Island Farm Guides To Explore
Suffolk County agriculture includes over 560 farms with 4,600 people that generate more than $226 million in sales annually. Long Island knows farming as well as Long Island farmland preservation!! How about enjoying some wonderful Long Island hiking trails!
Check out more Long Island Farm coverage on The Long Island Local!
Explore our Guide to organic farms on Long Island and our Guide to CSA on Long Island.
Read about great events like the Tulip Festival at Waterdrinker Farm and all that the Golden Earthworm has to offer!
What about this massive list of Long Island farmers and farms you need to visit!
How about Long Island Oyster Farms, the last Long Island Duck farm, or the only fresh American snail farm Peconic Escargot!
When the season's right, explore our Long Island Christmas Tree farm guide and our list of great Long Island pumpkin picking farms!
Check Out Long Island Wine
If you're in the mood for great wine, be sure to check out our Complete List of Long Island Wineries and Long Island Vineyards.
Check out the absolute best Long Island Wine Tours!
If you can't make it to a tour, why not do some wine tasting at home with Bedell Cellars!
I know you're getting hungry, so be sure to also check out the best wineries on Long Island for some great food!
While you're in the area, be sure to check out these 9 relaxing things to do in the North Fork!
When you're done with all of this wine drinking and relaxing, how about making it a weekend? Here are 10 great North Fork Long Island hotels to enjoy as well.
Things To See and Do on the South Fork
I always recommend seeing as much of the South Fork as possible!! 
The Hamptons and Montauk is a world-renowned beach resort destination for good reason! There is just so much to see, do, and enjoy! Here are just a few of them:
Check out this Guide to the Best Beaches in Montauk! Also, check out this Guide to The Hamptons best beaches!!
Check out some luxury homes in The Hamptons!
Maybe you will love it so much, you'll want to check out some Hamptons wedding venues!
Enjoy some of the world-class, amazing art in The Hamptons!
While You're Enjoying the Outdoors
Be sure to find out about more things to do on Long Island as well as more great spots to eat and drink and wonderful places to stay on Long Island!
Check out this guide to Long Island driving ranges, including this feature on the popular Heartland driving range! Go have fun at one of these great Long Island skate parks!
Make It A Weekend
The East End of Long Island is a really special spot. If you think you'd want to check it out and maybe even stay a while…that wouldn't be such a terrible idea.
If you wanted to consider different options for staying on Long Island, be sure to check out these great places to stay in Montauk, 11 Hamptons hotels, 11 North Fork Long Island hotels, and this Guide to Sag Harbor hotels! Enjoy reading up on and hopefully exploring these wonderful Shelter Island hotels and let me know if you decide to make it a vacation!