Are you looking to find out more about the best Long Island skate parks to enjoy now that spring is here? It's time to dust off those board and enjoy this really fun spring activity!! Summer is coming, and with its approach, Long Island skate parks grow more and more in demand as skaters of all ages take out their boards and rollerblades. It's one of my kid's favorite things to do. But not only do skateboarders and rollerbladers come to the park, but you'll also find scooter drivers and bikers there, too.
And if you are one of those free-spirited, adrenaline-loving people or you happen to be a parent of such a child, you need to read more about the best skate parks on Long Island. Why? Because the season is about to start, and it means making new friends, learning new tricks, and enjoying the warm sunny days to the fullest. Trust me, you'll want to know where and when it's all happening. You can even plan ahead to have some great food when you are out…make a fun day of it!
So read on and find out which Long Island skate park you should hit next.
Nassau County Long Island Skate Parks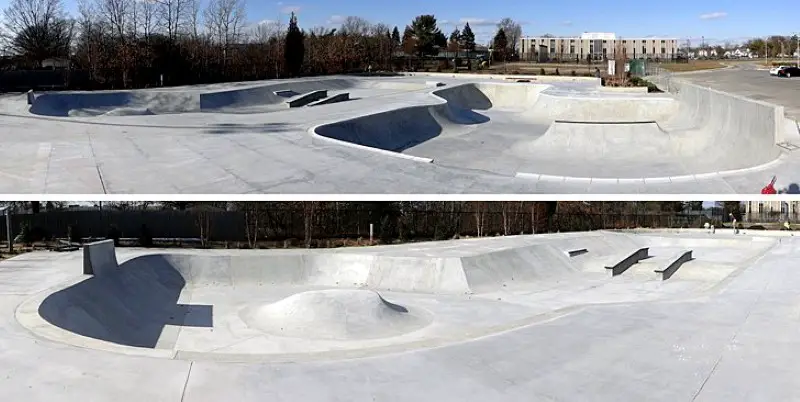 Baldwin Skate Park
If there is one place for skateboarders and inline skaters to meet like-minded fellows, it's Baldwin Skate Park. No bicycling is allowed, and there are bleachers for spectators, so the facility won't get too crowded.
The park has a smooth skating surface, ramps, bank ramps, grind rails, and spines. And it's suitable for all levels because there are sections for beginners, intermediate, and advanced skaters. Children between seven and ten years old should be under adult supervision at all times. All skaters have to wear appropriate safety equipment while at the park.
3232 Grand Ave, Baldwin, L.I., NY 11510
Learn more by visiting hempsteadny.gov/facilities/baldwin-skate-park or calling 516-379-3779.
Bethpage SkatePark
Bethpage Skate Park is a flow-style park with natural street obstacles and bowls. The skating facility is open from dawn to dusk, but there are only natural light sources, so you should visit the park when the sun is still out.
There is no admission fee and supervision, so you are basically left to your own devices. Always wear your helmet and be safe.
1001 Stewart Ave, Bethpage, L.I., NY 11714
Find out more by visiting facebook.com/BethpageSkatePark or call 516-433-7465.
Long Beach Skate Park
Long Beach Skate Park features an L-shaped boardwalk with flowy fun bowl wraps around the bottom of L, A-frame hubbas and rails, a flat bar, and more. If you've just started learning how to skate, the park is ideal for you. Though, it can accommodate skaters of all skill levels,
The park is open from dawn to dusk, but in the evening, there aren't enough adequate lights for skating safely.
98 W Pine St, Long Beach, L.I., NY 11561
For more information, visit spohnranch.com/portfolio/longbeachnewyorkskatepark/.
Manorhaven Beach Skate Spot
Located in Manorhaven Beach Park, the Skate Spot is a 10,000-square-feet facility designed by Jason Baldessari. The designer used suggestions and ideas from local teen skaters – the people who would benefit the most from the project. That's why this skate spot has everything you need – half pipes, launch ramps, ledges, stairs.
The equipment will challenge you so that you can learn and grow, no matter which level you are at.
158 Manorhaven Blvd., Port Washington, L.I., NY 11050
To learn more, visit longisland.com/business/manorhaven-beach-park.html or call 516-869-6311.
Nickerson Beach Skate Park
A free safe haven for skaters, Nickerson Beach Skate Park offers you seven ramps varying in height, two rails, and a foam box. It's suitable for all types of skaters, no matter the age or skill level.
880 Lido Blvd, Lido Beach, L.I., NY 11561
To find out more, visit nassaucountyny.gov/2802/Nickerson-Beach-Park or call 516-571-7700.
Suffolk County Long Island Skate Parks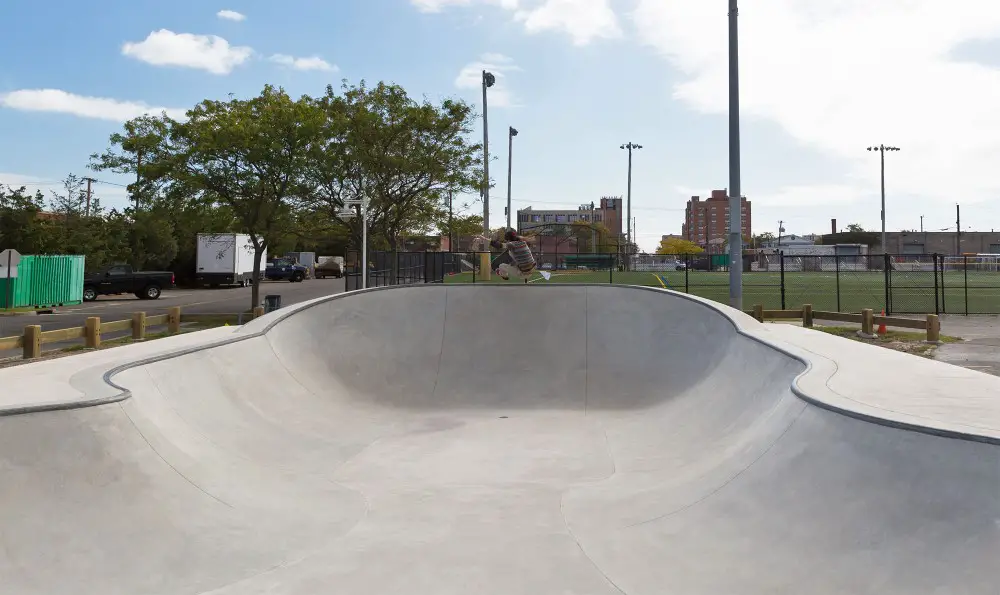 Greenlawn Skate Park
Skateboarders, rollerbladers, scooters, and BMX bikers – all are welcome at the 9,000-square-feet Greenlawn Skate Park. To keep everyone uninjured and free to roam around the park, though, there is a different schedule for the first three groups of people and BMX bikers. Skaters can visit the part around noon, and bikers can enjoy the facility from 3-5 p.m. till dusk.
Greenlawn Skate Park and its equipment, which include grind boxes, rails, spines, ramps, etc., can accommodate all skill levels. But helmets are mandatory for everyone, even for the "bestest" of the best.
Corner of Broadway and Cuba Hill Road, Greenlawn, L.I, NY 11740
For more information, visit cutt.ly/dxjVUdy or call 631-351-3089.
Greenport Skate Park
Greenport Skate Park is an outdoor 20,000-square-feet facility with an all-concrete street course, a mini ramp with a spine, and a vertical ramp. Both rumps are made of wood and steel. The park is for rollerbladers and skateboarders only. You should bring a helmet, pads, and other safety equipment.
170 Moores Ln, Greenport, L.I., NY 11944
Learn more by visiting villageofgreenport.org/skate-park-greenport-village.php or calling 631-477-0248.
Montauk Skate Park
Designed by skateboarder and skatepark builder Andy Kessler over two decades ago, Montauk Skate Park is long overdue for an upgrade. And it might get expanded and renovated soon. But for now, it features a 13' deep pool, bowls, half pipes, tabletops, and more.
Essex St., Montauk, L.I., NY 11954
Find out more by visiting montauk-online.com/?s=Fun+For+Kids/Skate+Parks.
Red Creek Skate Park
Are you looking for a skatepark suitable for beginners? Then Red Creek Skate Park is the one for you. It's a 15,000-square-feet facility with a street course, half pipes, vert walls, and more.
The park is for skaters seven years old and older. However, children under ten have to be under adult supervision. When you enter the park, you'll have to register with the supervisor and wear a helmet and full pads.
100 Old Riverhead Rd, Hampton Bays, L.I., NY 11946
To find out more, visit southamptontownny.gov/366/Skate-Parks or call 631-283-6011.
Riverhead Town Skate Park
It doesn't matter whether you are a rollerblader, skateboarder, scooter rider, or biker, and it doesn't matter which level you are at; you will be able to enjoy Riverhead Town Skate Park to the fullest.
This facility has a 13,500-square-feet area for experts and an 8,000-square-feet section for beginners. There are half pipes, grind rails, fun boxes, mini ramps, and more. For all visitors, helmets, knee pads, and elbow pads are mandatory.
Riverhead, L.I., NY 11901
To learn more, visit cutt.ly/ixkf90s or call 631-208-3826.
Veterans Skate Park
Designed for rollerbladers and skateboarders only, Veterans Skate Park has street and vertical bowl areas. The vertical section consists of two bowls; one is with varying depths of 6.5-8.5', and another one is an amoeba bowl with pool coping and tile. In the street plaza area, you'll find ramps, stairs, handrails, and more.
The park is open from 2 p.m. to dusk on weekdays, and on weekends, you'll have the whole day – from 10 a.m. to dusk.
Bellerose Ave, East Northport, L.I., NY 11731
For more information, visit huntingtonny.gov/veterans-park or call 631-351-3089.