Are you looking for great Hamptons Hotels to stay in when you visit this iconic and world-renowned resort area? Every summer, Manhattanites trade one island for another, decamping from their concrete jungle to the windswept beaches and verdant lawns of the East End of Long Island. Keep in mind, many people think Autumn is the best season Out East, and it's been growing into more of a year-round destination with each passing year.
While The Hamptons remain primarily a warm-weather haven for New Yorkers, their reputation is spreading farther afield. If you're not lucky enough to have a friend with coveted real estate in the area, these iconic Hamptons hotels give you access to everything the region has to offer, from culinary hot spots to design-savvy rooms where you can kick back and relax like a local.
Different crowds gravitate towards different areas: in Montauk it's all about the music, surfing, and late nights; East Hampton and Southampton tend to draw more refined groups, couples, and billionaires; and Sag Harbor has traditionally been more low-key and family-oriented.
The region has very stringent building regulations, so unlike many seaside holiday destinations, you won't find any hotel chains, which adds to its charm. It does, however, make it essential to plan well in advance due to limited accommodation options.
The Best Hamptons Hotels

Gurney's Star Island
The second Gurney's in Montauk, the 107-room resort that is located on the largest marina in the Hamptons. The luxury enclave features a private beach, two outdoor pools, a kids' club, and an upscale restaurant called Showfish, which has a menu built around seasonal ingredients and seafood delivered directly to the docks by local fisherman. 
Gurney's Star Island guests receive complimentary shuttle service to Gurney's Montauk Resort & Seawater Spa. This includes direct access to a 2,000-foot private sand beach. King-size daybeds can be rented for supreme indulgence.
32 Star Island Rd, Montauk, L.I., NY 11954
Find out more by calling 631-668.3100 or visit gurneysresorts.com/montauk-star-island

Mill House Inn
This historic home turned bed and breakfast in East Hampton is meticulously maintained and decorated. Although it's just a short walk from the village center, it remains a hidden gem that stays open year-round.
The owners, Gary and Sylvia, have included their personal touches in the 10 rooms and suites, right down to the stuffed Gordon Setters on each bed and photography on the walls.
The location is not directly on the beach and rooms come at a high price. The top-notch breakfast and easy walk to restaurants and shops make it a stand-out option. It's a standout, making Zagat's list of Top 50 small hotels in America!
31 N Main St, East Hampton, L.I., NY 11937
Find out more by calling 631-324.9766 or visit millhouseinn.com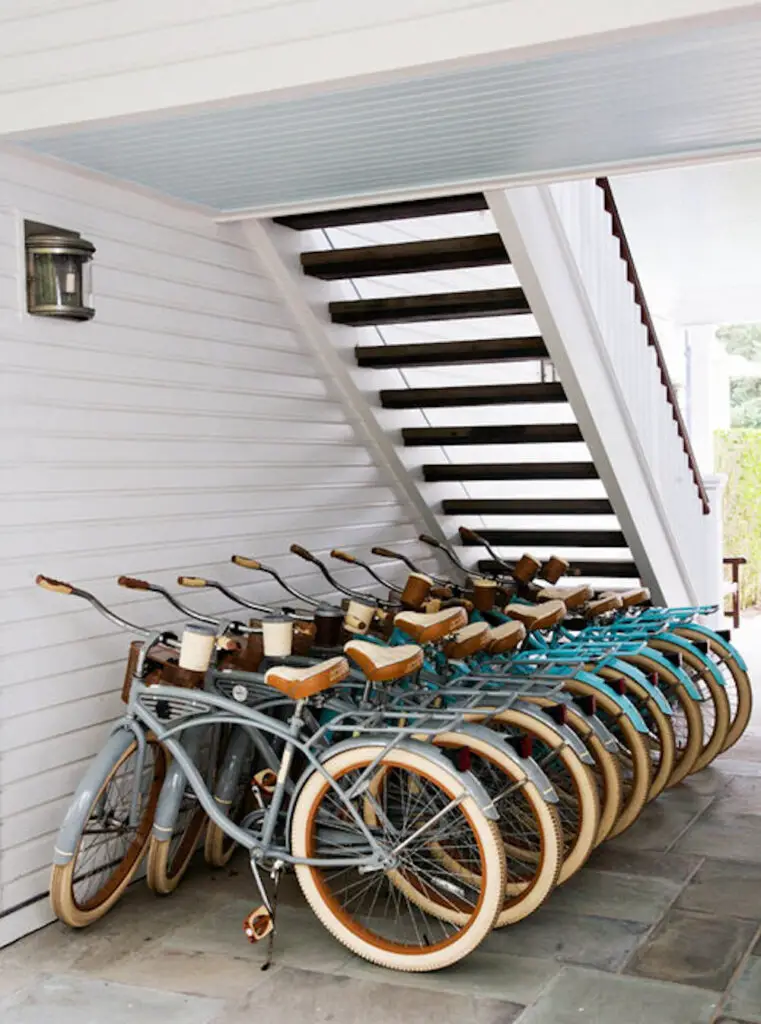 The Reform Club
A stay at Amagansett's The Reform Club feels like a dream! Think snoozing on a king-size Duxiana bed covered in Matouk linens to start.
Tucked behind manicured hedges, the understated hotel has all the charm of a bed-and-breakfast. It also has the luxury of a five-star hotel. There are seven intimate suites, three cottages, and a four-bedroom guest house called 21 House. Each have marble baths, private patios, and double-faced fireplaces.
Another perk: the inn's fleet of SUVs is available to shuttle you to nearby Indian Wells Beach. Room service lets you order from local restaurants and have it delivered to your door.
23 Windmill Ln., Amagansett, L.I., NY
Find out more by calling 631-267.8500 or visit reformclubamagansett

Gurney's Montauk Resort & Seawater Spa
Gurney's Montauk is a Hamptons mainstay, with the structure dating all the way back to 1926. This is likely the largest of the Hamptons hotels.
Inside, the entire resort has been completely renovated to five start resort levels. All of the rooms have at least a partial ocean view (the views from upper-floor units are truly excellent. Many units have private verandas or terraces. 
The full-service spa is also a highlight. Guests have free access to its facilities, which include a big indoor pool, steam rooms, Roman baths. 
A lot of been put into the food here, and it shows. From NYC-transplant Scarpetta Beach to Miami offshoot The Regent Cocktail Club to Tillie's breakfast and lunch. Food and drink is a major focus, and a success at that.
32 Star Island Rd, Montauk, L.I., NY 11954
Find out more by calling 631-668-3100 or visit gurneysresorts.com/montauk-star-island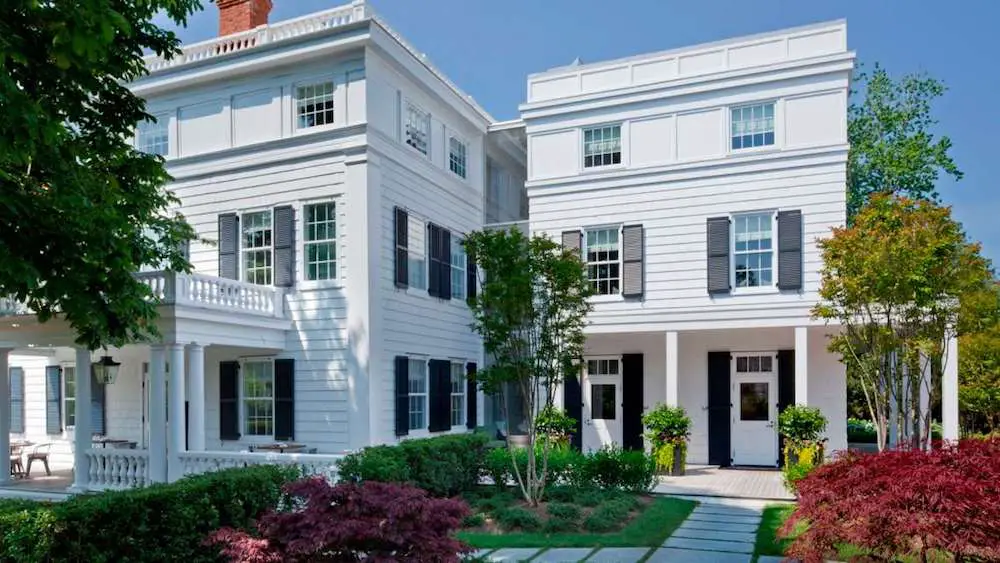 Topping Rose House
Housed in a restored 1842 Greek revival mansion, the Hamptons first full-service luxury hotel is a feast for the senses. Designed by Alexandra Champalimaud, the 22 rooms and freestanding cottages blend old and new. Think Windsor chairs, Saarinen-style tables, and art curated by New York's Winston Wächter Fine Art. The spa is completely modern, a fiberglass wing that offers botanical treatments for overtaxed nerves.
Jean-George Vongerichten's 75-seat farm-to-table restaurant is fantastic. Chef uses ingredients from Topping Rose House's organic garden in dishes like Parmesan risotto with mushrooms and herbs. 
This is one of the stateliest properties in Bridgehampton and one of the few Hamptons hotels that remain open year-round. There is a pool, a Jean-Georges restaurant, a spa, a library and a complimentary car service
1 Bridgehampton-Sag Harbor Turnpike, Bridgehampton, L.I., NY 11932
Find out more by calling 631-537-0870 or visit toppingrosehouse.com

Baron's Cove
Baron's Cove underwent a major renovation in 2015, and the result is an elegant, nautical-inspired resort with 67 guest rooms and suites.
This is wonderful hotel in beautiful Sag Harbor. Check out my article covering three Sag Harbor hotels here!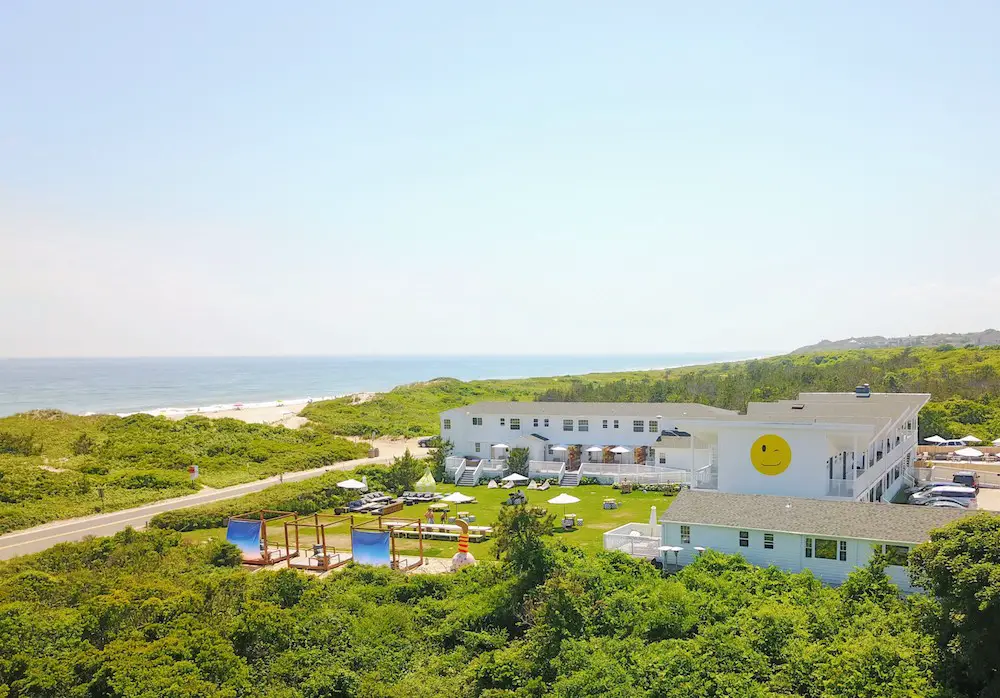 Hero Beach Club
Definitely one for younger groups and those setting out to embrace Montauk's party scene. Hero Beach Club is a low-key hotel with 34 rooms that look like they've been outfitted entirely in West Elm. It has a pool surrounded with daybeds, and is located right by the beach.
626 Montauk Highway, Montauk, NY 11954
Find out more by calling 631-668-9825 or visit herobeachclub.com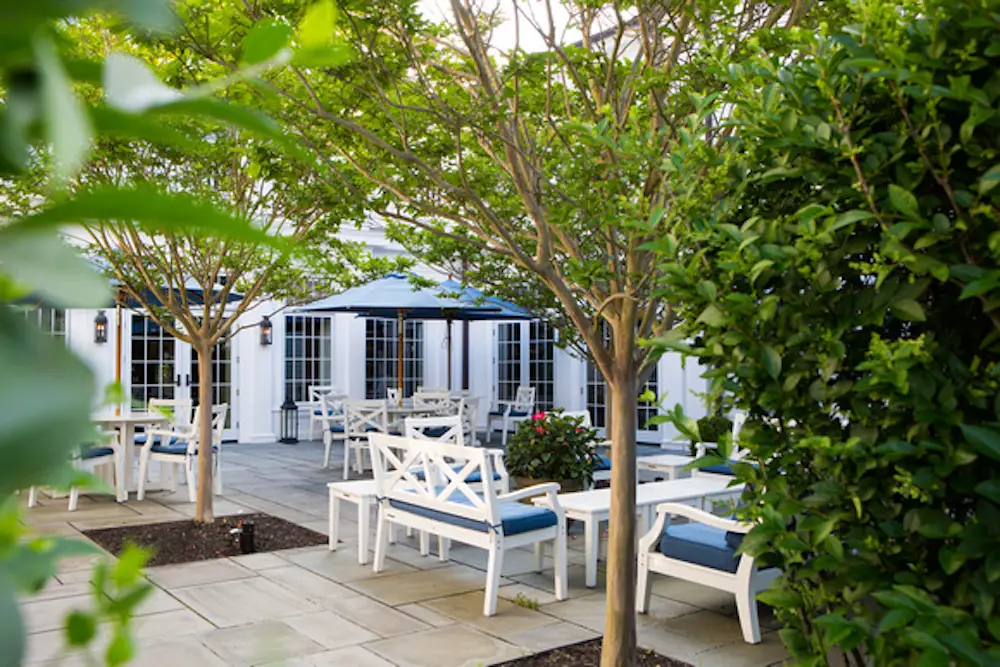 The Quogue Club at Hallock House
A 19th-century inn and farmhouse in the sleepy village of Quogue has been reborn as The Quogue Club at Hallock House. This is a stately 12-room main house plus two cottages that were restored in 2012 and redesigned by Alexa Hampton.
The picture of coastal charm, each features upholstered headboards, traditional furnishings, and indulgent amenities like Turkish cotton towels and 500-thread-count sheets.
The club is equally inviting, serving locally sourced meat and seafood in a sophisticated blue-clad dining room. In the morning, you can work off your meal on the greens at Laurel Links Country Club or on the clay at Westhampton Beach Tennis & Sport using the hotel's exclusive partnerships.
47 Quogue St, Quogue, NY 11959
Find out more by calling 631-653-0100or visit quogueclub.com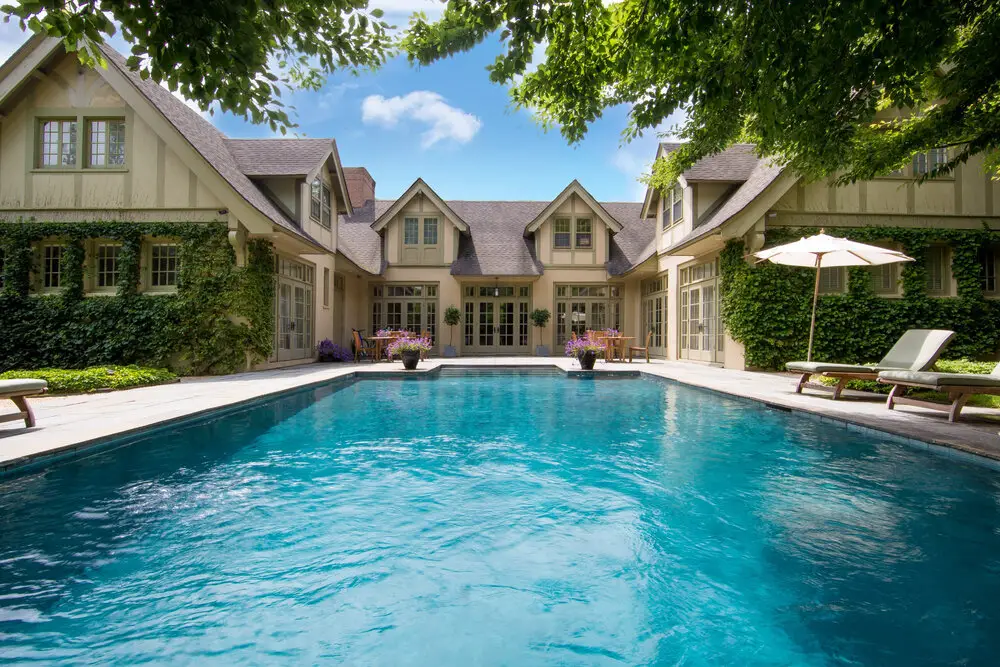 The Baker House 1650
For a taste of the Hamptons by way of the Cotswolds, consider a stay at the historic Baker House 1650 on East Hampton's Main Street. Built in the 17th century by one of the enclave's founders, the bed and breakfast has lovingly preserved its original details, including a wrought-iron staircase in the carriage house and wood-beamed ceilings, and has hosted the likes of Brigitte Bardot and playwright Edward Albee.
The gingham fabrics and floral William Morris wallpaper in the Maidstone room are enough to transport you to the country and walking through the inns rambling gardens, and it's 200-year-old wisteria tree, makes you forget just how close town is. Each room is beautiful and very distinctive.
One of the most gorgeous B&Bs in the Hamptons is Baker House 1650, which is like being welcomed into the home of a friend with excellent taste. It's cozy yet luxurious with plush furnishings, well-appointed suites, sprawling gardens, a spa, and three pools.
181 Main Street, East Hampton, L.I., NY 11937
Find out more by calling 631-324-4081 or visit bakerhouse1650.com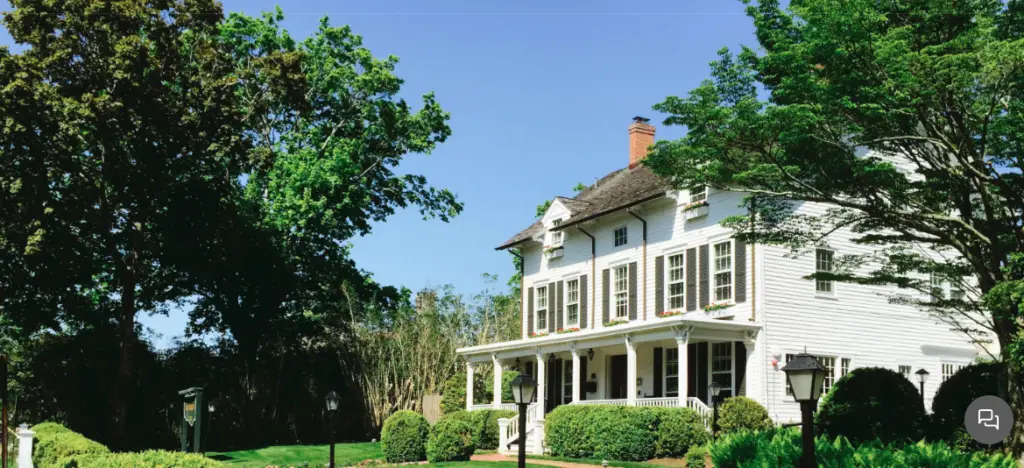 The Hedges Inn
Situated on a quiet side street in East Hampton, The Hedges Inn — an 1870 structure that retains its Victorian charm — is just around the corner from the downtown area and close to beaches. 
The 12 unique rooms are all decked in tranquil shades of blue and white, and have modern comforts such as free Wi-Fi, contemporary bathrooms, and flat-screen TVs. Several inviting common spaces include a sunny breakfast room/bar and a bright den area with a computer and jars of sweet treats. A perfectly manicured garden has an expansive terrace and the lobby has a fireplace.
The homemade free daily breakfast is creative and decadent, served with pride by the caring staff. Watching the swans glide across East Hampton's village pond from the white clapboard porch at Hedges Inn is a must.
The tranquility continues inside: the 19th-century boarding house blends historic charm and coastal chic in its 13 intimate guest rooms with whitewashed brick accent walls and soothing blue and green palettes, plus sea grass carpeting and decorative fireplaces. Drop your bags, then hop on one of the hotel's free bikes to grab lunch (only breakfast is served on site) or simply cruise around town.
74 James Lane, East Hampton, L.I., NY 11937
Find out more by calling 631-324-7101 or visit thehedgesinn.com  
EHP Resort & Marina
EHP Resort & Marina, formerly East Hampton Point, is a new Hamptons escape inspired by a modern Mediterranean ethos. Close by, yet worlds away, this iconic hideaway formerly known as East Hampton Point offers five waterfront acres to experience the most breathtaking sunset in the Hamptons.
Soak in the good life with curated activities and daily offerings, spectacular open-air drinks and dining, and bespoke accommodations crafted with effortless luxury.
Si Si Restaurant
Inspired by coastal Mediterranean dining experiences, Si Si, or "yes yes," in both Italian and Spanish, immerses you in the sun-kissed flavors of Italy, Greece, Spain, Morocco and beyond. Both innovative and timeless, this is food that celebrates vibrant, seasonal and local ingredients that elevate dishes like Si Si's signature Paella, Roasted Striped Bass or Bucatini Verde with Lobster.
295 Three Mile Harbor Hog Creek Rd, East Hampton, L.I., NY 11937
Find out more by calling 631-324-9191 or by visiting ehpresort.com.
I hope this is a helpful list of Hamptons hotels. I think this is the best spots for you to come and really enjoy all the East End has to offer.
Places to Stay on Long Island
If you are looking for a more rustic and rural escape, be sure to check out my guide to North Fork Hotels!
If you wanted a bunch of different options to stay on Long Island, be sure to check out these great places to stay in Montauk, this Guide to Shelter Island hotels, and this Guide to Sag Harbor hotels!
Check Out Some Long Island Wine
While you're on Shelter Island, you're so close to Long Island Wine Country! It's another great part of visiting the island. If you're in the mood for great wine, be sure to check out our Complete List of Long Island Wineries and Long Island Vineyards.
Check out the absolute best Long Island Wine Tours!
If you can't make it to a tour, why not do some wine tasting at home with Bedell Cellars!
I know you're getting hungry, so be sure to also check out the best wineries on Long Island for some great food!
While you're in the area, be sure to check out these 9 relaxing things to do in the North Fork!
When you're done with all of this wine drinking and relaxing, how about making it a weekend? Here are 10 great North Fork Long Island hotels to enjoy as well.
More From The Long Island Local
Maybe grab a freshly brewed beer at these Long Island breweries and when you've had your fill of vino!
The bounty of great food on Long Island seems endless! From great steakhouses on Long Island to great Greenport restaurants to Long Island lobster rolls, there's so much to enjoy. And how about all the wonderful restaurants on the water Long Island?! Or maybe check out some Long Island oyster farms!
Be sure to find out about more things to do on Long Island as well as more great spots to eat and drink!