Are you looking for great Long Island bagels? I am always on the hunt to these. It's a Sunday morning tradition of mine for years and years now. It's something that I truly hold dear and it takes A LOT for me not to make that Sunday AM bagel run! The best part of waking up is Long Island bagels with your coffee cup…or something like that. Forget that fancy brunch or that trip to the diner for some eggs! The simple pleasure of Long Island bagels with cream cheese, butter, or lox is a must try for all! Some people even combine their love of bagels with their love of bacon, egg, and cheese sandwiches. I can't be angry about that at all.
Long Island and its bagels is a love story that started over 20 years ago and will probably last forever. There are so many bagel shops here that you don't even have to walk much to find one, but despite the number of stores available, you'll find long lines in every single one of them. The lines are especially long and brutal in the best LI bagel shops because true bagel lovers can and will drive thousands of miles and wait hours to get to eat NY bagels.
What Makes Long Island Bagels Special
What makes these bagels so good that people will actually go to such lengths for them? Some believe it's Long Island water, which is kind of softer because it is low in calcium and magnesium. Some people say it's the traditional way of making bagels – hand rolling, letting the dough rest in the fridge, kettle-boiling, and then baking them. But if it's just a matter of ingredients and process, then anyone with some water from LI and recipe could have produced the same delicious bagels while being somewhere else. But no, many tried, and all of them failed. Perhaps, it's the vibe of the place and the people who live on Long Island that makes all the difference.
Long Island bagels are just as important to a Long Islander as 7-11 or Dunkin Donuts coffee, Long Island lobster rolls, and Long Island pizza!!
If you grew up on Long Island, you know how important bagels are, you live and breathe bagels, and you've probably tried all the places listed below. But if you are new or are just passing by, here are 18 amazing Long Island bagel shops that will help you understand why Long Islanders are so obsessed with bagels.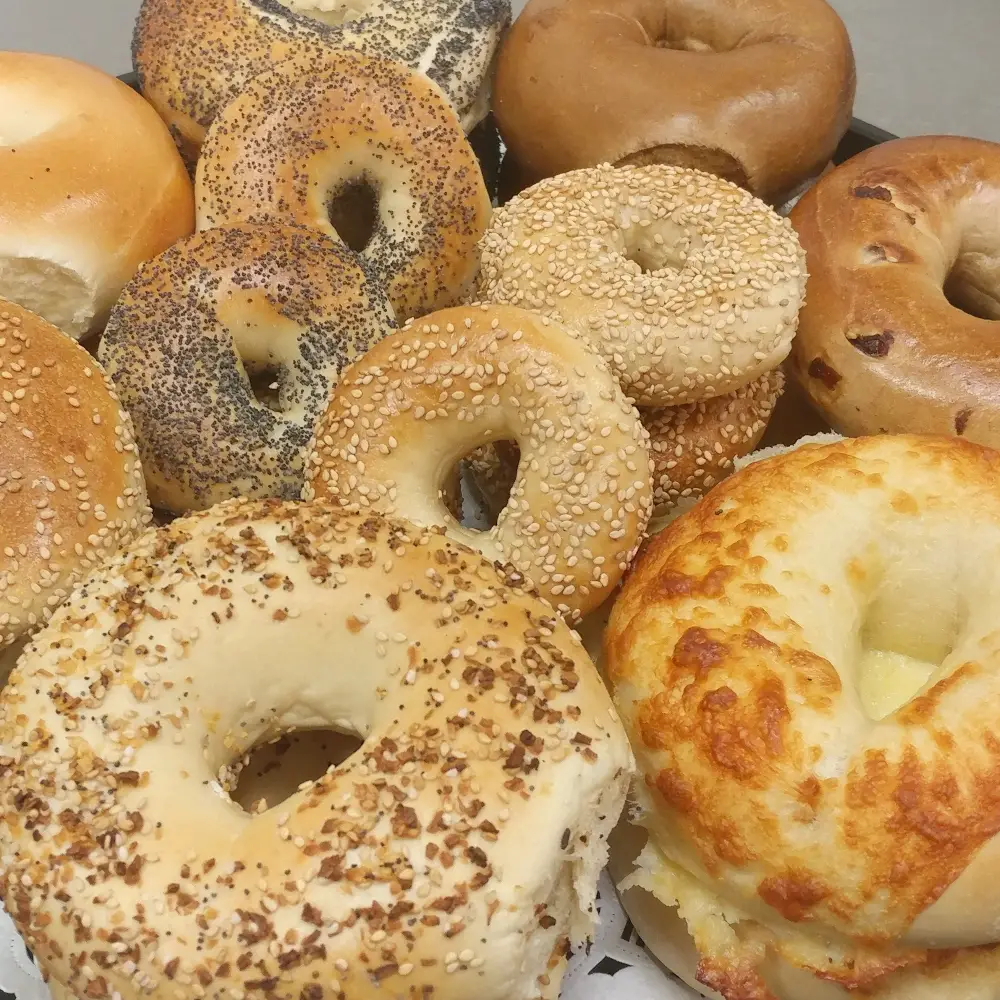 A&S Bagels
A & S Bagels is a pretty famous spot. It's open 24/7 for all bagel lovers on Long Island because you deserve nothing less. They know how delicious their kettle-boiled Kosher bagels are, so they are always ready to make your day better with this baked perfection. And perfect it is! There are plenty of flavors to choose from – pumpernickel, cinnamon raisin, everything, poppy seeded, rye, garlic, and more. The bagel shop makes their cream cheese (chocolate chip, strawberry, birthday cake, scallion cream cheese) and spreads from scratch. And there are also massive party bagels that can feed up to 24 people; forget pizzas, bagels are the next mainstream party food!
They offer a lot of different options in how you can buy their bagels. A&S Bagels are made in the authentic New York tradition.  Their bagels are kettle boiled prior to being baked.  Their bagels are Kosher and are under Rabbinical supervision.
And if you ever feel like some other shop's bagels taste like A&S Bagels, don't worry, you aren't crazy. A&S Bagels also sells its donuts to bagel shops, bakeries, schools, and other food service establishments.
761 Hempstead Turnpike, Franklin Square, L.I., NY 11010
Learn more by visiting aandsbagels.com or calling 516-326-9288.
Bagel Biz
The round beauties Bagel Biz makes are to die for and make you appreciate the fact that you live on Long Island and have access to these amazing bagels. The bagel shop has a wide range of choices – low carb, oat bran, rye, pumpernickel raisin – and a great selection of spreads, like scallion, strawberry, olive, jalapeno, walnut raisin, plain, lite plain, and more. And if you aren't familiar with the bagels yet, may I suggest you start your acquaintance (that will turn into love real quick) with an everything bagel, lox, cream cheese, onion, and tomato.
If you started getting sad because you don't live on Long Island and won't be able to eat these delicious bagels, don't jump to conclusions! Bagel Biz delivers them nationwide; just choose whichever your favorite and get it within two days.
The Long Island bagel shop is open from 5 a.m. to 6 p.m. every day except for Sunday. On Sunday, it closes at 5 p.m.
443 Walt Whitman Rd, Melville, L.I., NY 11747
For more information, visit bagelbiz.com or call 631-385-1900.
Bagel Boss
Opened in 1975, Bagel Boss is now owned by the 6th generation of bagel bakers, so if you have to trust someone to provide the best-tasting bagels for you, it's them. Their hand-rolled and kettle-boiled bagels come in various flavors – plain, garlic, poppy, cinnamon raisin, everything – and shapes, including mini bagels and flagels (flat bagel with crispier texture). Have an everything bagel with smoked salmon and cream cheese or eat a plain one without any toppings – either way, you'll love the taste!
The Bagel Boss bagels are so good that no one can get enough of them, so to prevent a hangry mob from overrunning a single bagel shop, they had to open 13 locations on Long Island. They also deliver their bagels across Long Island and the country and offer catering. With so many packages, bagel variations, and services, they are definitely the boss among other bagel businesses.
Check out the full list of all Bagel Boss locations here.
To find out more, visit theoriginalbagelboss.com or call 516-243-8928.
Bagel Master
Bagel Master, just like Bagel Boss, is true to its name. Also opened in 1975, the bagel shop makes Long Islanders' mornings not just tolerable but bright and shiny (even when it's cloudy). They offer you 36 kinds of bagels that have the perfect feel – crunchy yet chewy – and a good selection of cream cheese. And if you love your bagel with lox, you should patronize the shop because the fish at Bagel Master is always the freshest.
Apart from the heavenly bagels, the eatery offers many breakfast choices, mouth-watering sandwiches, baked goods by Balaboosta's Bakery, and they can also cater to your event. This bagel paradise is open every day from 5 a.m. to 4 p.m.
43 Cold Spring Road Syosset, L.I., NY 11791
To learn more, visit bagelmaster.com or call 516-921-9773.
Bagelicious
Bagelicious is one of those eateries on Long Island where your whole experience is never ruined, no matter how many times you visit it. The staff is friendly, quick, and pretty good at handling the constant flow of new orders. The food is amazing; it's hard to find words to describe the happiness you feel when you taste that greatness.
Bagelicious is all about the freshest water-boiled bagels, homemade cream cheese, and the most delicious smoked fish you can ever find. And their bagelwiches are art.
The bagel shop is open every day, from 5 a.m. to 5:30 p.m.
1864 Front Street East Meadow, L.I., NY 11554
Find out more by visiting bagelicious.com or calling 516-794-0552.
Bageltown
One of the oldest bagel bakeries on Long Island, Bageltown managed to stay strong and preserve its traditional recipes amidst the ever-changing food industry and new ways of making bagels. And do Long Islanders thank them for sticking with their original brick-lined oven? Yes, they do because that oven produces magical bagels that are crunchy on the outside and airy and soft on the inside. Assorted cream cheeses, multiple bagel sandwich variations, energizing coffee – there isn't anything Bageltown doesn't excel at.
The bagel shop opens at 5 a.m. daily. And it closes at 4 p.m. on weekdays, 3 p.m. on Saturdays, and 2 p.m. on Sundays.
3263 Hempstead Turnpike, Levittown, L.I., NY 11756
To learn more, visit facebook.com/bageltownlevittown/ or call 516-731-9320.
Better On A Bagel
When you see a long line in a bagel shop, it means two things. One is you'll have to wait for some time before you get to satisfy your bagel craving, and the second thing is, it's going to be so worth the effort. Better On A Bagel is that type of shop, and I'm afraid to imagine how long the wait would be if they didn't have two locations. They make their bagels from scratch every morning, and you can feel it in the light texture and the way the bagel just melts in your mouth. They also give a generous amount of spread but not too much; it seems they understand the delicate balance of a bagel and spread ratio very well.
The eatery organizes food giveaways weekly, so follow them on Facebook to be one of the lucky ones to eat their delicious bagels for free. Both Better On A Bagel shops are open from 6 a.m. to 3 p.m. daily.
Miller Place
275 NY25-A Miller Place, L.I., NY 11764
Find out more by visiting betteronabagel.net or calling 631-473-3030.
Coram
25 Gibbs Road Coram, L.I., NY 11727
Learn more by visiting betteronabagel.net or calling 631-509-4884.
Bohemia's Little Bagel Shop
Bohemia's Little Bagel Shop specializes in rack oven bagels, which honestly are the only way to start your morning, even if the morning starts at 1 p.m. for you (they serve breakfast throughout their operating hours). Their bagels are fresh, light, airy, and really tasty. There is a nice selection of cream cheese and bagel flavors, so it might take you some time to find your favorite combo. However, as they say, the journey means more than the destination, and trust me, you'll enjoy every flavor on the way.
Bohemia's Little Bagel Shop is open from 5 a.m. to 2 p.m. on weekdays. On Saturdays, they work from 6 a.m. to 2 p.m., and on Sundays, the operating hours are 6 a.m.-1 p.m.
1097 Smithtown Ave, Bohemia, L.I., NY 11716
To learn more, visit bohemiabagels.com or call 631-750-6075.
Gabby's Gourmet Bagelatessen
If when you hear the words hot fresh bagels you don't immediately think of Gabby's bagels, then it's safe to assume you haven't been to Gabby's Gourmet Bagelatessen. Open since 2000, the eatery has been a go-to place for many Long Islanders when they need comfort food. When you eat the fresh delicious bagel with a generous amount of spread and other toppings of your choice, you can't help but feel loved and comforted. Gabby's loves and accepts everyone and all, and they prove it by providing gluten-free, vegan, and vegetarian options in addition to their already pretty extensive menu.
Gabby's Gourmet Bagelatessen welcomes you for a quick bite, breakfast, lunch, and early dinner every day from 5 a.m. to 6 p.m. (5 p.m. on Sundays).
8025 Jericho Turnpike, Woodbury, L.I., NY 11797
To find out more, visit gabbysgourmet.com or call 516-496-9000.
Goldberg's Famous Bagels
The Goldberg's famous bagels call to you from the moment you lay your eyes on them, and they never stop calling to you even after you try some of them. Their deliciousness is so intense you'll have dreams about getting a bagel or a dozen pretty much all the time. So it's good for you that Goldberg's Famous Bagels has nine locations across Long Island, so wherever you are, you'll have a store close by to satisfy your hunger. Flagel or bagel, poppy, sesame, or everything flavor, butter, cream cheese, or flavored CC – they've got it all.
Most of Goldberg's bagel shops open at 6 a.m., but the closing time depends on the location. Some of them close at 3 p.m., and some work until 4 p.m.
Check out the full list of all Goldberg's Famous Bagels locations here.
Find out more by visiting theoriginalgoldbergsbagels.com or calling 631-204-1046.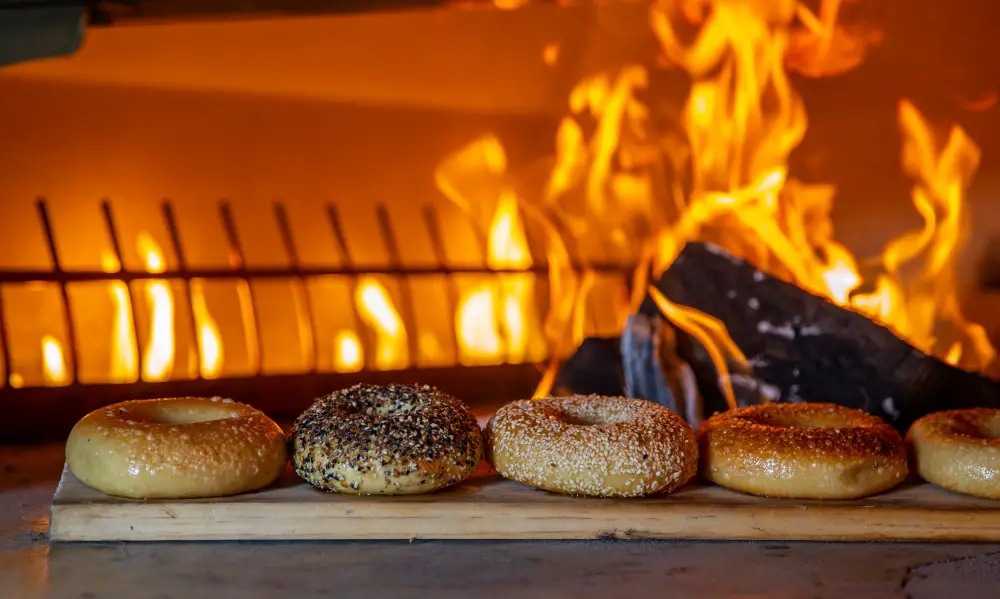 IT Bagel & Pizza
If there is a place on Long Island that treats bagels with the respect these divine baked goods deserve, it's IT Bagel & Pizza. The eatery makes their wood fire bagels from scratch and hand rolls them. They also understand that the best-tasting things in life take time, so they don't rush the bagel dough fermentation process. The result of this labor is crispy light bagels that don't only look mouth-watering but actually melt in your mouth. Get the everything bagel with avocado cream cheese, add some tomatoes and bacon, and enjoy your ten minutes in heaven.
IT Bagel & Pizza is open Tuesday through Sunday. From Tuesday to Thursday, they work from 8:30 a.m. to 7 p.m. On Fridays and weekends, they are open from 8:30 a.m. to 8 p.m.
19 E Main St, Oyster Bay, L.I., NY 11771
For more information, visit itbagelandpizza.com or call 516-628-1110.
Hand Rolled Bagels
What Hand Rolled Bagels got cooking isn't just bagels; it's happiness. This family-owned business was opened in 1997 and only keeps growing in demand. Their hand-rolled bagels are always fresh and delicious, and they use only the freshest ingredients and Philadelphia cream cheese for their homemade schmear, so you know that what you are eating is definitely the best there is. The bagel shop offers you all familiar flavors of spreads and bagels. But from time to time, they like to shake things up, so every month or so, they also make a special flavor. This month, the featured bagel is a banana choc chip; it's available for a limited time, so don't miss it!
You can enjoy the Hand Rolled Bagels goods every day from 6 a.m. to 2:30 p.m.
930 Hillside Avenue, New Hyde Park, L.I., NY 11040
For more information, visit hrbagels.com or call 516-352-1313.
Let There Be Bagels
Someone very smart said, "Let there be bagels!" and Long Island got this cute store that serves the most delicious bagels in Port Washington. Their bagels are made with a good amount of seasoning and baked to perfection. The spreads are amazing, too. Free advice: try the everything bagel with nova, cream cheese, capers, and onions. Simply life-changing. You are welcome.
Apart from these beauties, Let There Be Bagel also offers you burgers, pastries, cookies, salads, coffee, juices, and more. The bagel store is open from 6 a.m. to 6 p.m. from Monday to Saturday, 5 a.m. to 3 p.m. on Sundays.
475 Port Washington Blvd #4, Port Washington, L.I., NY 11050
Learn more by visiting ltbagels.com or calling 516-944-8822.
Long Island Bagel Cafe
The bagels created every day by Long Island Bagel Cafe are simply legen…wait for it…dary! Legendary! But that's what a bagel shop has to be to survive and thrive on Long Island, bagel heaven on Earth. So when I talk about the incredible quality and taste of LI Bagel Cafe's bagels, don't doubt me. The business has been competing and winning here for more than 20 years. Their hand-rolled, kettle-boiled, and baked to perfection bagels with all your favorite spreads are available at nine locations on Long Island.
Check out the full list of all Long Island Bagel Cafe locations here.
Learn more by visiting libc.com or call 212-619-0300.
My Three Sons Bagel Cafe
In 2002 just before the selling of their original Elmont location, they started "Hand Rolling" their bagels for their new location in Stewart Manor. Unlike machined rolled bagels, hand rolled bagels just taste better period. They have a glossy, smooth, crispy, outside and a soft fluffy inside. The shop uses the best quality flour, plus all the right and freshest ingredients, equals "the best tasting HAND ROLLED BAGELS Anywhere."
In addition to the Stewart Manor location, they have opened up in Garden City and in Garden City South. So it seems like they have the 11530 "greater Garden City area" covered in delicious Long Island bagels!
Not only do they specialize in just bagels, but they have a wide variety of homemade cream cheese and salad spreads. The cream cheese's ranges from vegetable to lox spread, and if you're feeling something spicy try our new jalapeño spread. They also make great egg sandwiches, wraps, paninis, and salads like cranberry apple chicken salad for lunch. There's also good coffee and espresso as well as an assortment of fresh-baked goods.
Find out more by visiting mythreesonsbagelcafe.com
Garden City, NY
974 Franklin Ave, Garden City, L.I., NY 11530
Find out more by calling 516-280-9210
Stewart Manor, NY
88 Covert Ave, Stewart Manor, L.I., NY 11530
Find out more by calling 516-437-4447
Garden City South, NY
295 Nassau Blvd, Garden City South, L.I., NY 11530
Find out more by calling 516-408-9998
Strathmore Bagels
Low calorie, gluten-free, and all other options are available at Strathmore Bagels, a bagel eatery on Long Island that strives to provide the best and the freshest food. And judging by the number of people frequenting the shop, they don't only strive, but they actually succeed. If you like your bagels crunchy, soft, and covered in seeds, Strathmore Bagels is the ideal place for you. There are all types of flavors, spreads, and toppings available. And no matter how complicated your order is, you can be sure they'll get it right from the first try.
Strathmore Bagels is open from 6 a.m. to 3 p.m. on weekdays, 6 a.m. through 2 p.m. on Saturdays, and 6:30 a.m. to 2 p.m. on Sundays.
1879 Lakeland Ave Ronkonkoma, L.I., NY 11779
For more information, visit strathmorebagelworld.com or call 631-585-9117.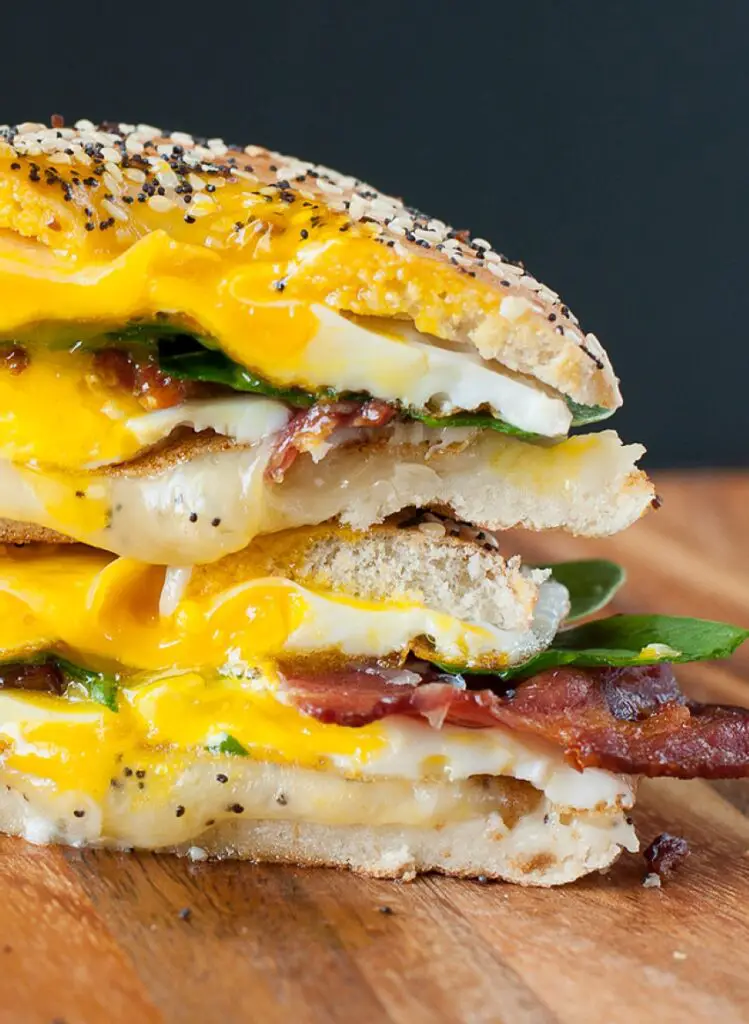 The Better Bagel
From the way they look to the way they taste, The Better Bagel creations are simply a culinary masterpiece. The outside is so crunchy, the inside is so soft and warm – it's like you find your happy place in a simple bagel. Whether you have the plain bagel with nothing on it, rye one with sun-dried tomato cream cheese, or egg bacon asiago cheese flagel, everything will taste amazing, and you'll understand why there are always so many people there.
The Better Bagel welcomes you from 6 a.m. to 4 p.m. Monday through Saturday, 6 a.m. to 2:30 p.m. on Sundays.
45 Merrick Rd, Amityville, L.I., NY 11701
Find out more by visiting thebetterbagelny.com or calling 631-608-4831.
Wally's Bagels
If I had to choose one thing to eat for the rest of my life, it'd be Wally's bagels, and you'll understand my decision completely once you try them. The bagels are oversized yet affordable, and Wally's offers a good variety of flavors, spreads, and toppings. And their rainbow bagels are just as tasty as they are colorful. Also, you should know that at Wally's, a dozen of bagels means 14; they aren't bad at math – they are just generous because they love their customers and know how much the customers love their bagels.
This lovely eatery is open every day, from 5 a.m. to 5 p.m.
1137 Deer Park Ave A, North Babylon, L.I., NY 11703
To find out more, visit wallysbagels.com or call 631-242-2060.
Find Out About Long Island Wine
In addition to great Long Island bagels, Long Island wines are wonderful and just keep getting better and better! If you're in the mood for great wine, be sure to check out our Complete List of Long Island Wineries and Long Island Vineyards.
Check out the absolute best Long Island Wine Tours!
If you can't make it to a tour, why not do some wine tasting at home with Bedell Cellars!
I know you're getting hungry, so be sure to also check out the best wineries on Long Island for some great food!
While you're in the area, be sure to check out these 9 relaxing things to do in the North Fork!
When you're done with all of this wine drinking and relaxing, how about making it a weekend? Here are 10 great North Fork Long Island hotels to enjoy as well.
More From The Long Island Local
Maybe grab a freshly brewed beer at these Long Island breweries and when you've had your fill of vino!
The bounty of great food on Long Island seems endless! From great steakhouses on Long Island to great Greenport restaurants to Long Island Irish pubs, there's so much to enjoy. And how about all the wonderful restaurants on the water Long Island?! Or maybe check out some Long Island oyster farms!
Be sure to find out about more things to do on Long Island as well as more great spots to eat and drink and wonderful places to stay on Long Island!