It's the time of year where many of us are loving the trend and asking where is the closest sunflower festival near me. My family and I do the same. We love checking all our local Long Island farms have to offer…and this is a really great option! It's just so beautiful!! A beautiful field of sunflowers is never a bad idea.
RELATED: There's so much to see and do on so many of Long Island's farms!!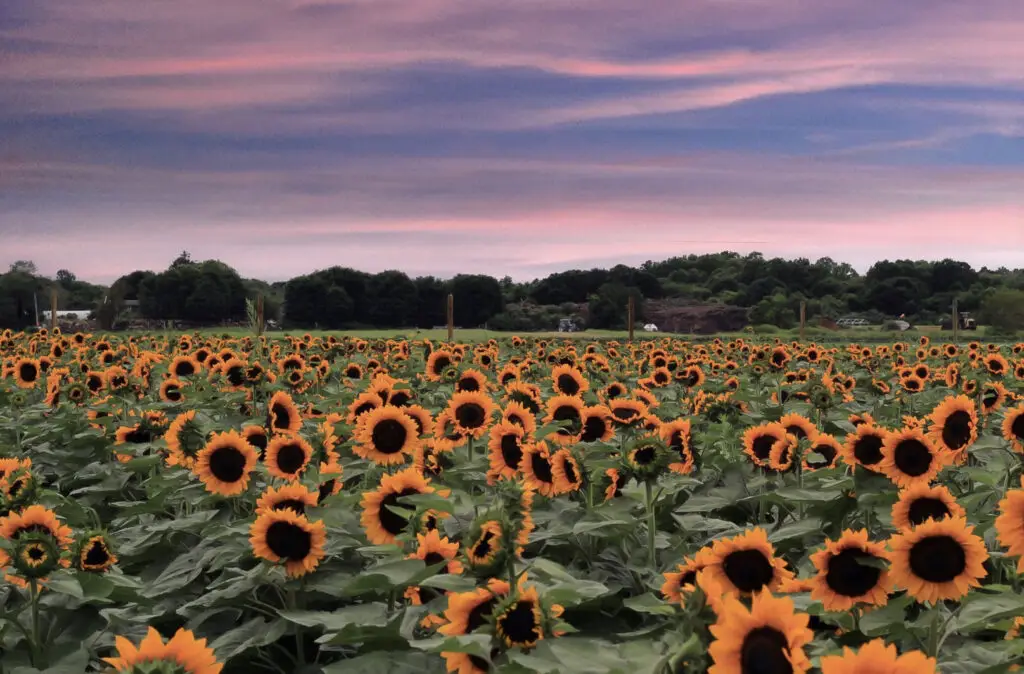 What Is a Sunflower Festival?
Every year sunflower festivals around the world celebrate sunflowers for their ability to brighten up our everyday life with suns warm and wonderful rays. Sunflowers will always face the sun all day long, welcoming it to come out from behind the clouds and shine their light down upon everything on earth. Seeing a fully grown sunflower plant can be overwhelming, especially if you look at one from afar as they're so big that they seem to take over whole fields! If you'd like to photograph sunflowers but don't have that much space then grow them in pots or containers on your balcony; even small sunflower plants look spectacular. They have such a beautiful sun-facing flower with long petals and their sunflower seeds are also edible which means you can grow your own sunflower seeds to impress – or feed – your friends!
I mean… sunflowers are so big that they seem to take over whole fields! It can be acres of sunflowers!! It is a beautiful thing to see and be a part of. This is about nature, but there's something to be said about this being the spot for a perfect photo!
Is There A Sunflower Festival Near Me
While there are a number of sunflower fields on Long Island, I wanted to focus on Waterdrinker Family Farm & Garden right now.
RELATED: There are a good number of sunflower fields on Long Island!!
Equally well known for its beautiful Tulip Festival in the spring, Waterdrinker Long Island farm always throws a pretty awesome sunflower festival as well!
Take a stroll through the Sunflower Fields and bring a friend! U-PICK Sunflower fields are also open for a limited time.  Fill up a flower bucket to take the beauty and fun home! What could be better than a bouquet of sunflowers? Visit Waterdrinker for 40% OFF PLANTS, local gifts & treats, farm-fresh produce, roasted corn, lemonade! OPEN EVERYDAY FROM 9-5 and until Sunset on Friday & Saturday!
Whether you are a professional photographer or are just looking for a new picture to send the family, these beautiful Sunflower fields are sure to make the perfect photography setting. Waterdrinker Family Farm welcomes any fun photo you can come up with – Selfies, Family Photos, Dog Photos, and more! These gorgeous yellow flowers make for nature's best photo props!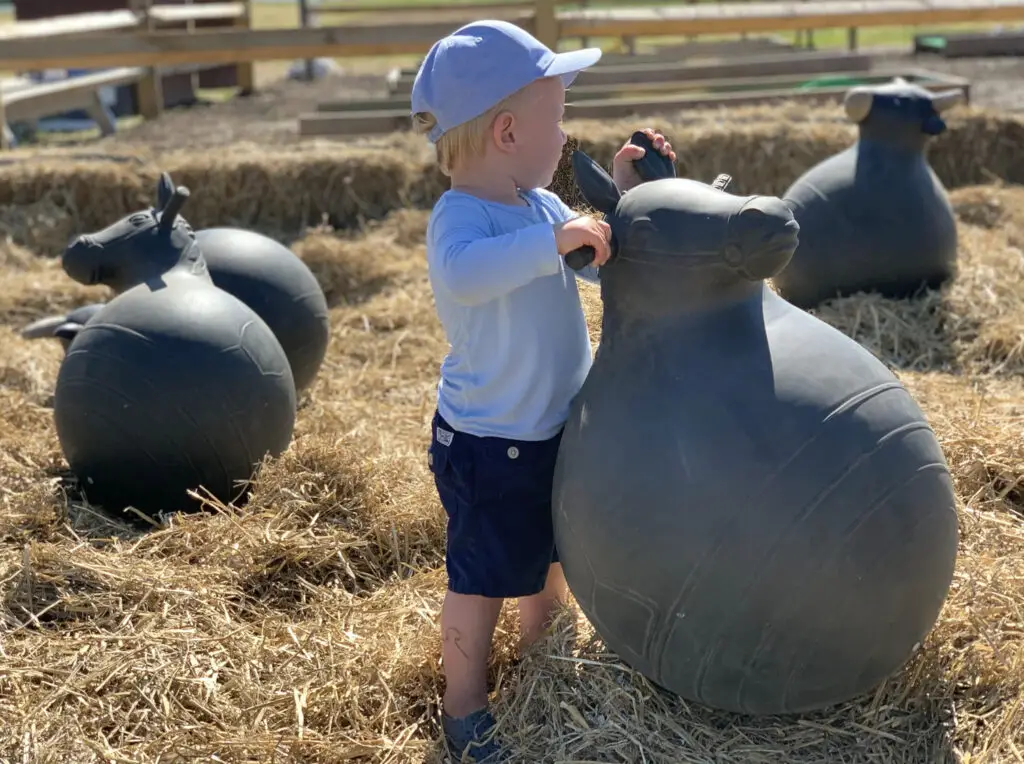 Family Farm Adventure
While you are there, don't forget to take a stroll through our Family Farm Adventure! It's just so much fun for everyone. kids and grown-ups alike! There's so much family fun on over 15 acres of beautiful fields! From Farm Animals, Mini Golf, and Tractor Pedal Cars to Obstacle Course, Jump Pad, Wooden Playland, Family Photo Spots & more! This is a great way to get the kids to come to the farm, enjoy the sunflowers and nature, but also have some active fun you and I know they really crave and love! Open from 9 AM-5 PM every day.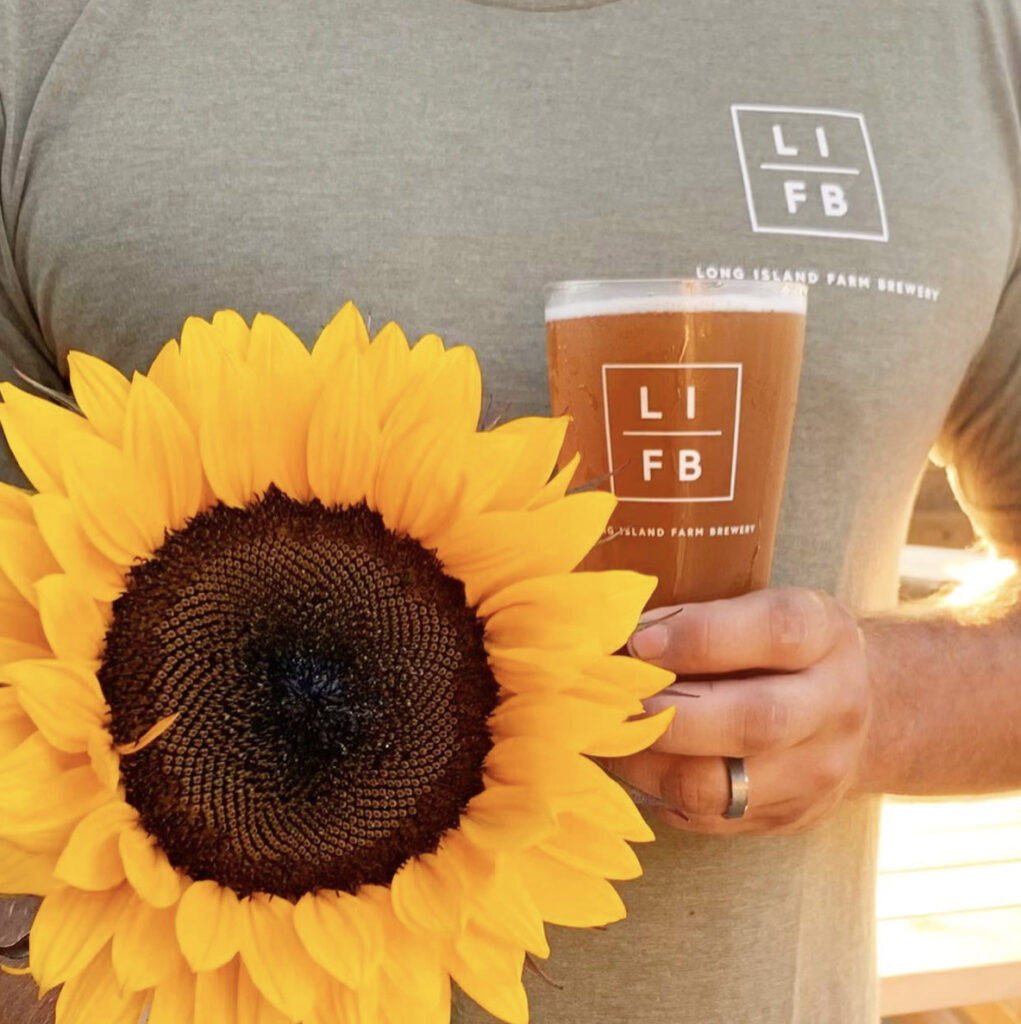 Long Island Farm Brewery
After all the family fun, this family-owned farm is still giving you more and more to enjoy! Now you can stop in for a beer at Long Island Farm Brewery in the really beautiful, black barn next to the nursery and farm!
RELATED: Complete List of Long Island Breweries
Located in a former potato barn, the tasting room and brewhouse are reminiscent of Long Island's farming past. Run by 5th generation farmers 'Barn & Raised' in the agriculture world. The brewery sits on 80+ acres, which will soon include a relocated hop field. This is definitely a one-of-a-kind brewery atmosphere.
Find Out More
Admission to the farm is $15 per person, children under 2 years old are free.
You can visit the farm at 663 Wading River Road Manorville, L.I., NY 11949. It's located at the corner of Wading River Road & South Street.
Find out more by visiting water-drinker.com or by calling 631-878-8653.
While You're Enjoying the Outdoors
Be sure to find out about more things to do on Long Island as well as more great spots to eat and drink and wonderful places to stay on Long Island! How about this guide to Long Island hiking!
Check out this guide to Long Island driving ranges, including this feature on the popular Heartland driving range! Go have fun at one of these great Long Island skate parks!

Things To See and Do on the South Fork
Something I always recommend to those on Long Island, make sure to really see as much of the South Fork as possible!! When you are in Manorville, you actually aren't too are away from the World Famous North Fork and South Fork (The Hamptons)!!
The Hamptons and Montauk is a world-renowned beach resort destination for good reason! There is just so much to see, do, and enjoy! Here are just a few of them:
Check out this Guide to the Best Beaches in Montauk! Also, check out this Guide to The Hamptons best beaches!!
Check out some luxury homes in The Hamptons!
Maybe you will love it so much, you'll want to check out some Hamptons wedding venues!
Enjoy some of the world-class, amazing art in The Hamptons!
Check out Shelter Island! Shelter Island is only accessible by the Shelter Island Ferry. The South Ferry connects to North Haven on the South Fork. Find out more about Shelter Island, its different towns, and more by checking out this page that includes a handy Shelter Island Map!!
Explore Long Island Wine
Long Island Wine Country is another great part of visiting the island. If you're in the mood for great wine, be sure to check out our Complete List of Long Island Wineries and Long Island Vineyards.
Check out the absolute best Long Island Wine Tours!
If you can't make it to a tour, why not do some wine tasting at home with Bedell Cellars!
I know you're getting hungry, so be sure to also check out the best wineries on Long Island for some great food!
While you're in the area, be sure to check out these 9 relaxing things to do in the North Fork!
When you're done with all of this wine drinking and relaxing, how about making it a weekend? Here are 10 great North Fork Long Island hotels to enjoy as well.
Make It A Weekend
The East End of Long Island is a really special spot. If you think you'd want to check it out and maybe even stay awhile…that wouldn't be such a terrible idea.
If you wanted to consider different options for staying on Long Island, be sure to check out these great places to stay in Montauk, 11 Hamptons hotels, 10 North Fork Long Island hotels, and this Guide to Sag Harbor hotels! Enjoy reading up on and hopefully exploring these wonderful Shelter Island hotels and let me know if you decide to make it a vacation!
More From The Long Island Local
Maybe grab a freshly brewed beer at these Long Island breweries and when you've had your fill of vino! I mean, after a day of searching for the best tacos on Long Island, I think you need a drink, no?
The bounty of great food on Long Island seems endless! From great steakhouses on Long Island to great Shelter Island restaurants to Long Island lobster rolls and Long Island bagels, there's so much to enjoy. Check out this Huge List of Restaurants on the Water Long Island!!!
And how about all the wonderful Wölffer Estate Vineyard events and tastings?! Or maybe check out some Long Island oyster farms! How about these guides to Long Island Coffee Shops and Long Island coffee roasters!! Check out these 16 Long Island Boardwalks! Take the ferry over and enjoy these Fire Island restaurants! Let's not forget about the best tacos on Long Island and these great Long Island pizza places either!!
Be sure to find out about more things to do on Long Island as well as more great spots to eat and drink! Maybe take a stroll in one of these amazing Long Island arboretums and gardens! There are even this great Long Island kayaks and paddleboard guide to exploring!