If you are looking for great Long Island gelato spots to enjoy a sweet, creamy treat, then you've come to the right place! Who doesn't love a trip to the ice cream parlor? I'm a huge ice cream fan, so it's always ice cream season for me! While I love classic American ice cream sandwich, ice cream sodas, and a huge banana split, there' just something about Italian-style gelato, too.
The Long Island gelato scene seems to be booming right now, with more and more authentic spots opening up all the time. Great Long Island gelato can be found in a number of different businesses, including gelaterias, bakeries, ice cream shops, and Italian restaurants. Sure, Long Island loves its pizza, bagels, and lobster rolls…but I think we really love our Long Island gelato, too! There are 18 great spots on this list, plus 3 wholesale places, too.
RELATED: The bounty of great food on Long Island seems endless! From great steakhouses on Long Island to great Shelter Island restaurants to Long Island lobster rolls and Long Island bagels, there's so much to enjoy. Check out this Huge List of Restaurants on the Water Long Island!!! How about 54 of the best tacos on Long Island!!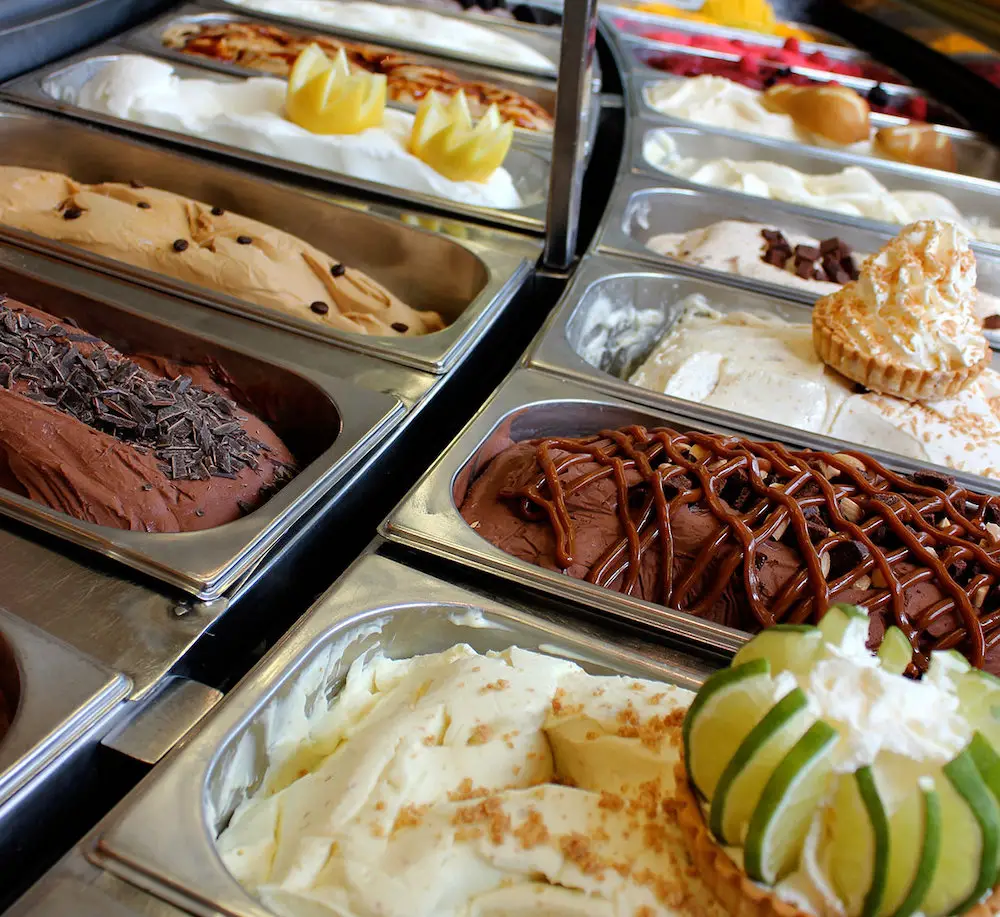 What is Gelato?
Gelato is Italian ice cream. Gelato has more milk and less fat and air than most American ice creams! This generally makes true gelato denser and creamier, with a more intense flavor. There is generally less fat in gelato since it uses more milk than cream. Additionally, it usually uses fewer egg yolks than custard-based ice creams. Less fat generally also means fewer calories, with only 150 calories for a typical small cup. 
American-style ice creams are churned fast, making the mixture 50% to 90% air. Gelato is churned at a much slower speed, so it contains only about 25% to 30% percent.
Both gelato and ice cream are effective sources of calcium, ranging from 13 to 15 percent of your daily calcium requirements Protein levels of about 2 to 4 g per half-cup serving. This is similar to a typical dish of ice cream.
What is the Basic Gelato Recipe?
Gelato is often made with a base of milk, cream, and sugar rather than gelato. The basic gelateria gelato recipe involves adding the following real ingredients:
Milk (3.5-8% of gelato recipe): gelato is made with a lot of milk to help gelato freeze faster and remain creamy
Pure Vanilla Extract (0.1-0.6% gelato recipe): gelato vanilla always has pure vanilla extract added–this helps create the classic flavors we all know
Sugar (6.5-24% gelato recipe): gelato sugar provides the gelato flavor which gives gelato its gelatariousness
Cream (15-25% gelato recipe): gelato cream provides gelato with a more creamy texture, as well as helps to keep it smooth and creamy while it is being made gelato
Other gelato ingredients (1.0-3% gelato recipe): salt, gelato sugar, chocolate chips, nuts, fruit and more! These help to create the unique flavors of each gelateria's gelato.
There is no artificial taste when it comes to true gelato. Just a quality product and delicious flavors.
Long Island Gelato Spots in Nassau County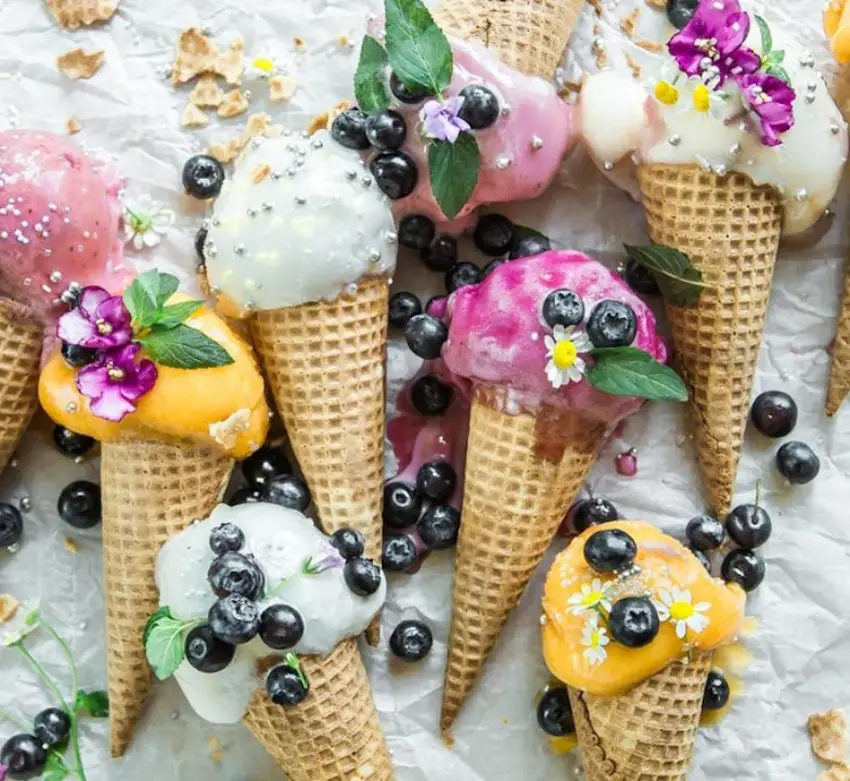 Azaleas
The former International Delight Cafe in Rockville Centre is now Azaleas. They are a culinary team driven to bring the highest quality foods to our community. Clients and friends are meant to sit in a relaxed and casual environment and taste food the way it should taste.
This homemade ice cream is all about the beauty of homemade artisan gelato and more. Pure ingredients, prepared simply with skill and care creates a certain feeling that can best be described as comforting. 
241 Sunrise Highway, Rockville Centre, L.I., NY 11570
Find out more by calling 516-766-7557 or by visiting azaleasrvc.com.
Dei Coltelli Gelato & Sorbet
Dei Coltelli Gelato & Sorbet promises a sweet reprieve from the heat from the moment you lay your eyes on the shop, and it doesn't disappoint. Established in 2005, Dei Coltelli is an expert in making the most delicious Long Island gelato and sorbet. One of its secrets is the highest quality real ingredients imported from Italy (everything except for fresh fruit).
The variety of flavors in Dei Coltelli can be a bit overwhelming, but don't worry – you can sample up to two flavors to choose the right one for you. But if you can't choose, then don't; the shop allows you to mix up to two flavors (I recommend Pistachio and bacio) in your gelato cup, which comes with a mini sugar cone (isn't it adorable?). There are also dairy-free and vegan frozen desserts, ice cream sandwiches, crepe, milkshakes, coffee, and frozen frappes. Dei Coltelli Gelato & Sorbet is open every day from 11 a.m. It closes at 9:30 p.m. from Monday to Wednesday, 10 p.m. Thursday through Sunday.
591 Willis Ave, Williston Park, L.I., NY 11596
Find out more by visiting deicoltelli.com or calling 516-801-1706.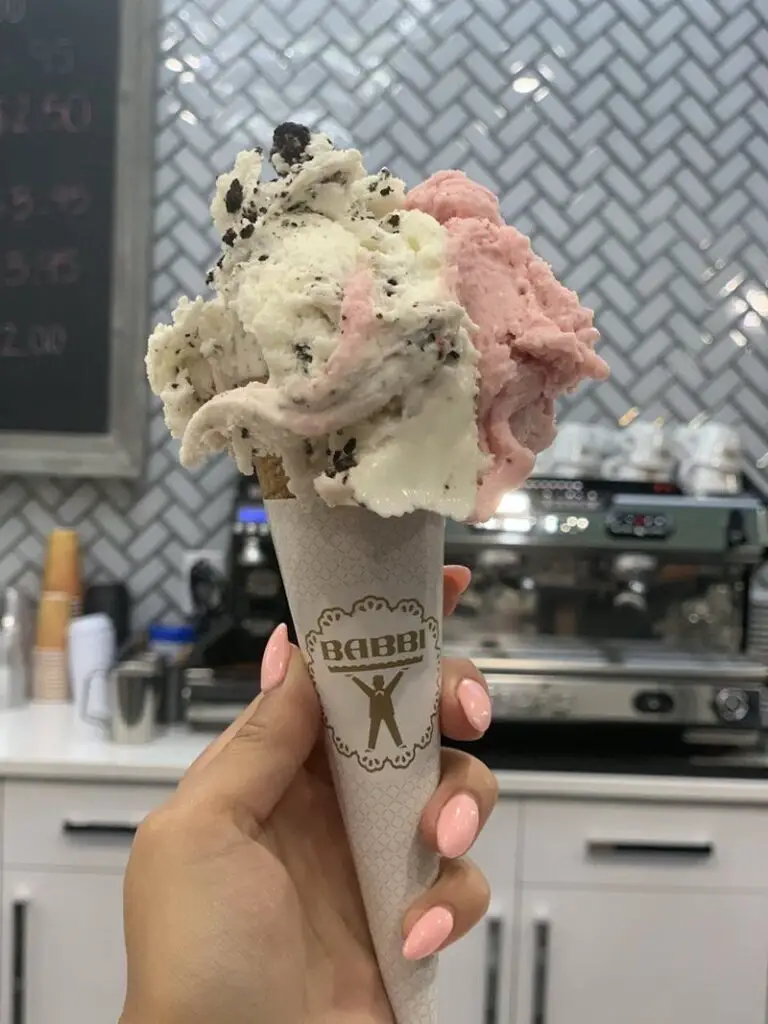 Dolce Gelateria
If you are missing Italy and its creamy frozen treats, you have to visit Dolce Gelateria, which won't be that hard considering there are two locations on Long Island. The cute brightly colored shops are the right place for authentic-tasting freshly made gelati and sorbetti that will make you feel like you are back in idyllic Italy.
Dolce Gelateria offers you more than 60 flavors, including traditional Italian and contemporary American ones. The most popular among Long Islanders are Pistachio, Nutella, Lemon, Biscotti, and more. If you can't decide, you can always ask the friendly staff for recommendations. It also helps that you can choose two to three flavors served in a cup or on a brioche bun. In addition to gelato and sorbet, the shop sells cakes, cookies, rice pudding, and coffee. Both Franklin Square and Bellmore locations are open every day from noon to 10 p.m.
Franklin Square:
220 Franklin Avenue, Franklin Square, L.I., NY 11010
Learn more by visiting dolcegelatonyc.com or calling 516-673-4994.
Bellmore:
2942 Merrick Road, Bellmore, L.I., NY 11710
Learn more by visiting dolcegelatonyc.com or calling 631-602-7273.
Gran Caffe
It's very easy to mistakenly assume that Gran Caffe is a newly opened Long Island gelato shop; after all, it does have that fresh look. But the truth is, Gran Caffe has existed since 1979 and has always been the little Italy of Lynbrook, a place where people would come for a cup of coffee at the coffee bar and a sfogliatella. In 2019, the cafe was renovated and expanded into a gelateria, so now you can enjoy artisan gelato as well as baked goods and coffee.
Gran Caffe has more than 20 gelato flavors, which change frequently, but no matter which one you choose, the richness in flavor and creaminess will make you a loyal customer of the shop. Gran Caffe Gelateria is open seven days a week; the opening hours are 8 a.m. to 10 p.m. Monday through Wednesday, 8 a.m. to 11 p.m. Thursday through Sunday.
31 Hempstead Ave, Lynbrook, L.I., NY 11563
To find out more, visit grancaffegelateria.com or call 516-887-2878.
International Delight Cafe
Who would have thought that a place with such an unassuming appearance could turn out to be the Long Island gelato paradise? But it is what it is; with more than 100 amazing flavors, International Delight Cafe is nothing less than a paradise for all gelato lovers. Of course, aside from the frozen treats, the cafe has an amazing menu of burgers, pasta, omelets, salads, and more, but its beauty really shines through the desserts. They aren't only delicious, but each of them also looks like a sugary masterpiece. Sugar-free, fat-free, vegan options are available, too.
International Delight Cafe opens the doors of paradise to you from 4 p.m. to 10 p.m. Sunday through Friday, noon to 10 p.m. on Sundays.
322 Bedford Ave, Bellmore, L.I., NY 11710
To learn more, visit idcbellmore.com or call 516-409-5772.
La Nonna Bella
La Nonna Bella – a restaurant with a lovely name that celebrates grandmothers all around the world – couldn't claim to serve authentic Italian food if they didn't get every dish right – gelato being the most important item here. But thousands of satisfied customers who come back, again and again, don't lie; the food really tastes just like it was made in Italy by a very loving grandmother. The housemade gelato is exactly the way it should be – creamy and so flavorful it'll be forever imprinted on your taste buds. But note that flavors change daily; while you might not find your favorite when you dine at La Nonna Bella, it's a great opportunity to explore, and you won't regret stepping outside your comfort zone.
The restaurant is open every day except for Monday. The opening hours are 12 p.m. – 10 p.m. Tuesday to Friday, 2 p.m. – 10 p.m. on Saturday, 2 p.m. – 9 p.m. on Sunday.
660 Franklin Ave, Garden City, L.I., NY 11530
For more information, visit lanonnabella.com or call 516-248-0366.
Leonetti Pastry Shop
Leonetti Pastry Shop is what I would call a happy place for every sweet tooth person. The bakery/cafe doesn't only have about 20 amazing gelato flavors (hazelnut and chocolate are must-try) and fruit sorbetti, but it also has multiple shelves filled with various Italian pastries and cookies made fresh daily. And they also make a beautiful delicious cake that can be decorated in any way you like. But I recommend making Leonetti Pastry Shop your destination for celebrating special occasions, otherwise, you might spend all your time and money there (not that it's not worth it).
Leonetti Pastry Shop is open from 7 a.m. every day; it closes at 10 p.m. from Monday to Thursday, 10:30 p.m. on Friday, 11 p.m. on Saturday, and 9:30 on Sunday.
82-16 Glen Cove Rd, Greenvale, L.I., NY 11548
Learn more by visiting leonettipastryshop.com or calling 516-625-8242.
Spiga Bakery
If you are in a mood for a gelato-filled brioche, there is no better place than Spiga Bakery. The upscale Italian bakery's homemade gelato is perfect – just the right amount of creaminess, airiness, and flavor. Caramel and pistachio are the most popular choices. The brioche buns are delicious on their own, but when it's combined with gelato… as I write this, I'm planning a visit to one of Spiga Bakery's locations myself. In addition to the heavenly brioche con gelato union, the bakery offers you award-winning artisan breads, cakes, sandwiches, pizza, cookies, donuts, and more. Come for just a dessert or full lunch – the bakery is good for both.
Spiga Bakery has two locations on Long Island – one in Bellmore, another one in Massapequa – and both are open from 7 a.m. to 7 p.m. daily.
2680 Merrick Rd, Bellmore, L.I., NY 11710
Find out more by visiting spigabakery.com or calling 516-557-2688.
St. Rocco's Bakery
Do you think it's okay to be in love with a place? If your first thought was, "No, that's weird!", I bet you've never been to St. Rocco's Bakery. Everyone who tries anything from this shop falls in love with it, and there have been no exceptions. This bakery sells breads and pizza prepared in a brick oven, pastries, paninis, cookies, cakes, and housemade gelato. Some customers say that St. Rocco's makes the best pistachio gelato on Long Island, but don't take their word for it; check it out yourself.
St. Rocco's Bakery is open from 7 a.m. to 7 p.m. Monday through Saturday, 7 a.m. to 5 p.m. on Sunday. Note that the cafe is cash-only.
4 St Rocco Pl, Glen Cove, L.I., NY 11542
Visit instagram.com/stroccosbakery or call 516-427-5333 to find out more.
Sugar Bae Dessert Cafe
Sugar Bae Dessert Cafe is new to the Long Island gelato scene. It's a cute and very Instagrammable establishment that was opened recently, but from the very start, it managed to learn the secret of life, which is to cherish sugar above all. The cafe serves cold and hot brews, bubble tea, mouthwatering cakes, crepes, waffles, baked goods, and plenty of gelato flavors. Order a waffle with gelato, a creme with gelato, gelato on top of gelato, and make a milkshake with your favorite gelato flavor. Too much gelato? There is no such thing. And to make your visit even sweeter, Sugar Bae Dessert Cafe offers a 10% discount on all orders made before 5 p.m. on weekdays.
Sugar Bae Dessert Cafe is closed on Monday but will gladly serve you your portion of sugary treats any time between 12 p.m. and 10 p.m.
259 W Old Country Rd, Hicksville, L.I., NY 11801
Visit sugarbaecafe.com or call 516-470-9598 to learn more.
ViAle Gelateria
If cake and gelato are two of your favorite things and the only thing that can beat both is a gelato cake, then ViAle Gelateria is the place that'll best even the wildest of your dreams. The shop is considered one of the best Long Island gelato spots, and part of its charm is its friendly, accommodating owner who makes the whole experience very pleasant. You can order a whole gelato cake, or if you don't need it, order gelato in a cup or cone (both options cost the same). The gelato is creamy and very rich in flavor, and once you try it, you'll understand why the place is always full.
ViAle Gelateria is only open four days a week, from Thursday to Sunday. The opening hours are 10:30 a.m. to 10:30 p.m. on Thursday and Sunday, 10:30 a.m. to 10 p.m. on Friday and Saturday.
424 Sunrise Hwy Lynbrook, L.I., NY 11563
Find out more by visiting yelp.com/biz/viale-gelateria-lynbrook or calling 516-442-0094.
Yolo Yogurt & Desserts
Yolo Yogurt & Desserts specializes in frozen treats – specifically, frozen yogurt and gelato – but its real achievement is the soy chocolate and soy vanilla flavors that taste just as good as dairy-based ones. So if you can't eat dairy products but miss chocolate or vanilla ice cream, Yolo's creation can grant you your wish without consequences. The eatery also has about ten sorbet and more than 30 gelato flavors, nine of which are on rotation daily, and they allow a mix of flavors without an extra fee. In addition to yummy frozen desserts, Yolo offers you crepes, coffee, tea, and milkshakes.
Yolo Yogurt & Desserts is open from 1 p.m. to 9:30 p.m. Sunday through Thursday, from 1 p.m. to 10 p.m. on Friday and Saturday.
1355 Old Northern Blvd, Roslyn, L.I., NY 11576
Learn more by visiting yoloyogurtny.com or calling 516-200-9191.
Long Island Gelato Spots in Suffolk County
Caffe Italia
Located in Deer Park, Caffe Italia is a true hidden gem that you might miss if you don't go looking for it. It's small and seems to be a part of the establishment next to it, but don't be misguided by its appearance. The cute gelato and cappuccino cafe serves incredibly authentic homemade gelato, and how could it be otherwise when most of the ingredients are imported from Italy? The flavor is rich, prices are reasonable, portions are generous, service is fast, and food presentation is on point. Nutella, rainbow cookie, and pistachio flavors are must-try.
Caffe Italia is open from 8 a.m. to 10 p.m. Monday to Thursday, 8 a.m. to 11 p.m. Friday to Sunday.
1745 Deer Park Ave, Deer Park, L.I., NY 11729
For more information, visit caffeitaliany.com or call 631-667-0201.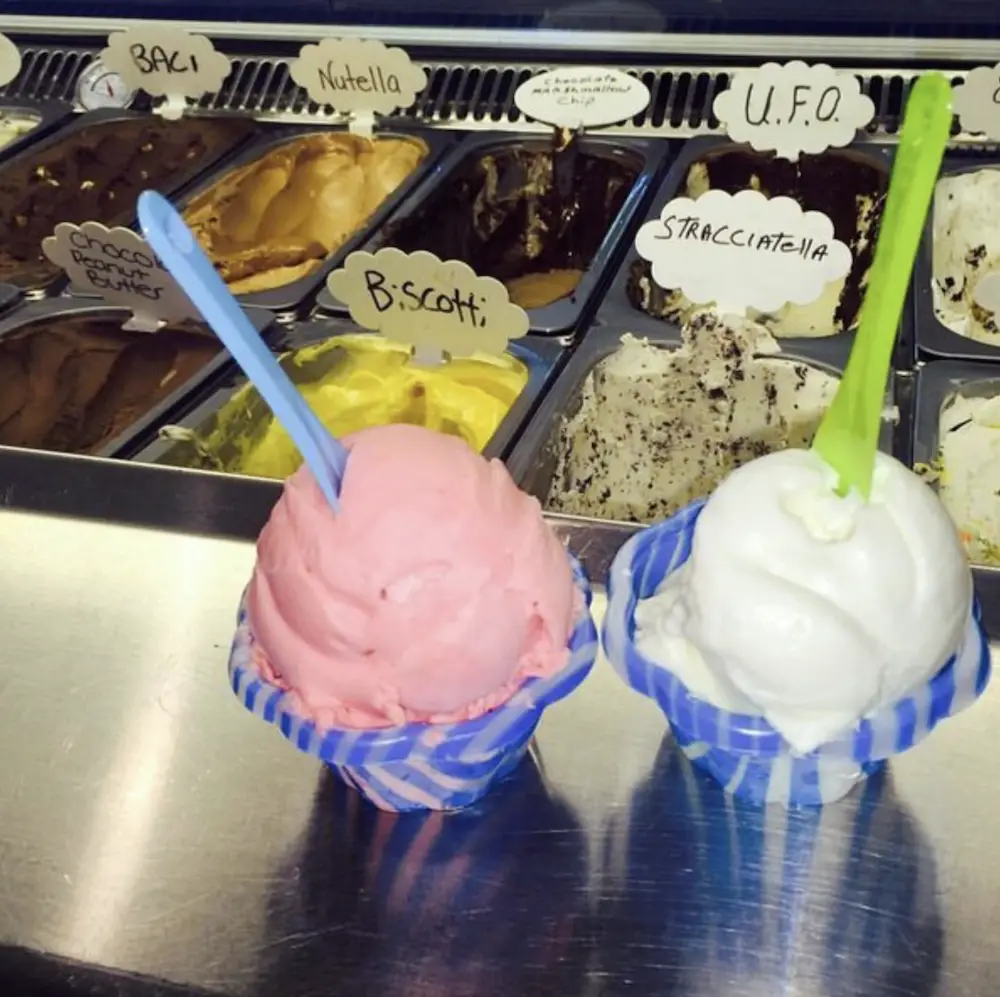 Gemelli Gelato
Even if Gemelli Gelato were bad at making gelato – which they aren't at all – they'd still deserve plenty of praise for caring so much about its customers and products. The owner of the gelateria has put a lot of thought into making the whole experience as pleasant as it should be, and the result of his labor will make you a regular at the shop. There are more than 20 gelato flavors, vegan options, various toppings, and even flavored waffle cones. All of this can be enjoyed in beautiful outdoor seating with tons of greenery, benches, picnic tables, and lawn games. A word of advice: if the Sicilian Cannoli flavor is available on the day of your visit, don't hesitate, go for it.
Gemelli Gelato is open from 1 p.m. to 10 p.m. daily. Note that the shop is cash only.
139 W Montauk Hwy, Hampton Bays, L.I., NY 11946
To learn more, visit gemelligelatohamptonbays.com or call 631-594-5600.
Fiorello Dolce
Fiorello Dolce is famous for its out-of-the-world frenagels (a union of bagel and croissant you never knew you needed) and ghost sightings (apparently, you don't stop having a sweet tooth even after death), but what you probably didn't know about this European pastry shop is that they also make delicious gelato. Some of their unique gelato flavors are pretty bold, including Candied Ginger and Rum Raisin, but you can always count on finding a few classics, like stracciatella and strawberry. I feel like I must warn you, though: you might come in for a scoop of gelato, but you'll leave with a bag full of pastries and more than a scoop of gelato – that's the magic of Fiorello Dolce (personally, I blame the ghosts).
The opening hours of Fiorello Dolce are 7 a.m. to 6 p.m. Tuesday to Saturday, 7 a.m. to 5 p.m. on Sunday, 7 a.m. to 3 p.m. on Monday.
57 Wall St, Huntington, L.I., NY 11743
To find out more, visit fiorellodolce.com or call 631-424-0803.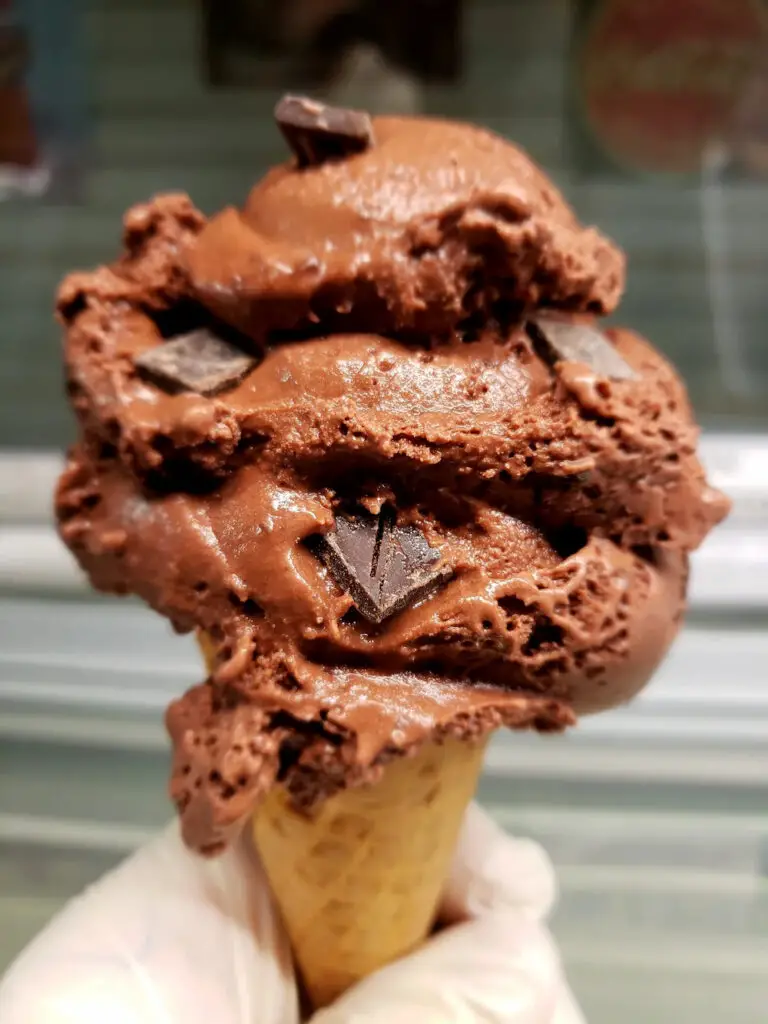 Lic's Ice Cream 
The line between ice cream and gelato has never been thinner than at Lic's Ice Cream, a locally owned and operated business that opened in 1950. As you know, ice cream is usually less dense and contains more air and fat than gelato because of the proportions, but at this ice cream shop, you won't notice the difference. They offer you more than 20 flavors of sorbet, gelato, and ice cream, which can be served in a cup or a cone. There are also milkshakes, smoothies, sandwiches, quesadillas, wraps, burgers, and more – all made to order.
Lic's Ice Cream is open from 12 p.m. to 10 p.m. daily.
74 Main St, Northport, L.I., NY 11768
Learn more by visiting licsicecream.com or calling 631-757-9099.
Long Island Gelato Spots on The East End
D'Latte Cafe
D'latte Cafe is a family-owned cafe and bakery in Greenport and brings you a delightful taste of Europe right on the East End in the form of handcrafted French pastries, espresso drinks, and homemade Italian gelato. Although the cafe offers only a handful of flavors and most of them are simple, it's not going to be a problem for you. Yes, the bakery focuses on classics, but they do it so well that they don't need creativity. So if you want to have the best Pistachio or Hazelnut gelato, you know where to go.
D'Latte Cafe is open from 7 a.m. to 5 p.m. Wednesday through Saturday, 7 a.m. to 3 p.m. on Monday and Sunday, and it's closed on Tuesday.
218 Main Rd, Greenport, L.I. NY 11944
Find out more by visiting dlattecafe.com or calling 631-477-6738.
Sant Ambroeus
Sant Ambroeus is a Milanese-style restaurant with five locations in Manhattan and one in Southampton, a chain of coffee bars, and a gelateria. The Southampton restaurant is upscale and fabulous with gorgeous outdoor seating and hence a bit pricier than you are used to when it comes to frozen desserts. But anyone who's tried this incredible gelato is willing to pay any amount of money just to enjoy the rich flavorful taste once more. Sant Ambroeus has 20 different gelato flavors; try the banana and blueberry flavors – I'm sure they will blow you away.
Sant Ambroeus is open from 9 a.m. daily and closes at 9:30 p.m. Sunday through Thursday, 10:30 p.m. on Fridays and Saturdays.
30 Main St, Southampton, L.I., NY 11968
For more information, visit santambroeus.com/restaurant-sant-ambroeus-southampton/ or call 631-283-1233.
Wholesale Long Island Gelato
Baci Gelato
If you are looking for a supplier, consider Baci Gelato. Their Long Island gelato has the perfect creamy texture and tastes amazing; their sorbet is fat-free and non-dairy, and they also specialize in making sugar-free, soy-based, vegan, alcohol-based, yogurt gelato. They use all-natural ingredients and the best equipment imported from Italy and make everything from scratch daily. And with several packaging options, Baci Gelato is suitable for all, including large businesses, restaurants with limited freezer space, supermarkets, and small cafes. You can check out the full flavor list here, and they can also help you create your own flavor. Ok, technically this is in New Jersey…but it got its start on Long Island.
57 Oak street, Norwood, NJ 07648
Visit bacigelato.com or call 201-297-7847 to learn more.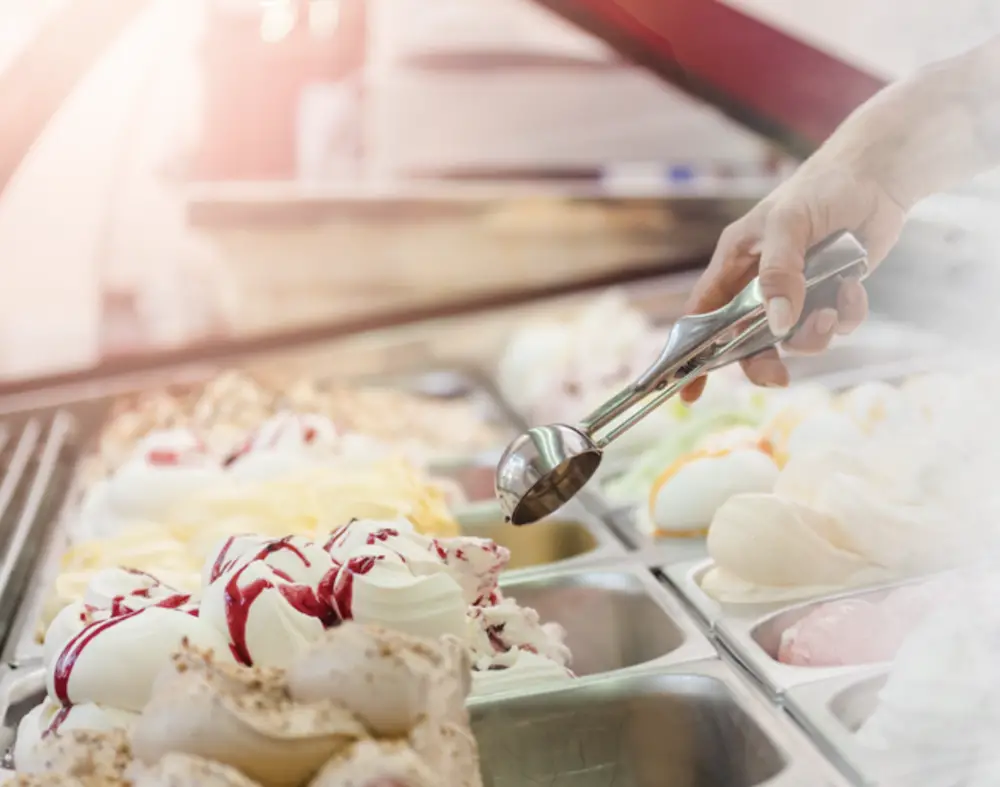 Emporio Del Gelato
Emporio Del Gelato is a master in creating unique gelato flavors for their grateful customers. And if you choose to buy from the company, your customers will be forever grateful to you for introducing them to this perfectly smooth gelato and refreshing sorbet. Besides the traditional frozen desserts, the company also provides dairy-based yogurt gelato, sugar-free soy gelato, and alcohol-based products. You can check the available flavors here. The available packaging is suitable for small and big restaurants, but it can be customized according to your needs.
591 Willis Avenue. Williston Park, NY 11596
Visit emporiodelgelato.com or call 866-770-4352 to find out more.
Gelato Kings
Gelato Kings is a wholesale company that also does catering, providing Long Island and the five boroughs with delicious artisan gelato freshly made to order in small batches. The gelato is prepared with all-natural ingredients imported from Italy, combined with Grade A pasteurized antibiotic-free whole milk, and lightly sweetened with all-natural pure cane sugar. For the dairy-free sorbet, the company uses only fresh fruits. All products are packaged in 5-liter disposable tubs and are delivered for free within 24 hours to ensure maximum freshness. Aside from wholesale and catering, Gelato Kings also has party packages that can be delivered to your home or office.
Farmingdale, L.I., NY 11735
Visit gelatokings.com or call 516- 325-5802 for more information.
Check Out Long Island Wine
If you're in the mood for great wine, be sure to check out our Complete List of Long Island Wineries and Long Island Vineyards.
Check out the absolute best Long Island Wine Tours!
If you can't make it to a tour, why not do some wine tasting at home with Bedell Cellars!
I know you're getting hungry, so be sure to also check out the best wineries on Long Island for some great food!
While you're in the area, be sure to check out these 9 relaxing things to do in the North Fork!
When you're done with all of this wine drinking and relaxing, how about making it a weekend? Here are 10 great North Fork Long Island hotels to enjoy as well.
Things To See and Do on the South Fork
I always recommend seeing as much of the South Fork as possible!! 
The Hamptons and Montauk is a world-renowned beach resort destination for good reason! There is just so much to see, do, and enjoy! Here are just a few of them:
Check out this Guide to the Best Beaches in Montauk! Also, check out this Guide to The Hamptons best beaches!!
Check out some luxury homes in The Hamptons!
Maybe you will love it so much, you'll want to check out some Hamptons wedding venues!
Enjoy some of the world-class, amazing art in The Hamptons!
While You're Enjoying the Outdoors
Be sure to find out about more things to do on Long Island as well as more great spots to eat and drink and wonderful places to stay on Long Island!
Check out this guide to Long Island driving ranges, including this feature on the popular Heartland driving range! Go have fun at one of these great Long Island skate parks!
Make It A Weekend
The East End of Long Island is a really special spot. If you think you'd want to check it out and maybe even stay awhile…that wouldn't be such a terrible idea.
If you wanted to consider different options for staying on Long Island, be sure to check out these great places to stay in Montauk, 11 Hamptons hotels, 10 North Fork Long Island hotels, and this Guide to Sag Harbor hotels! Enjoy reading up on and hopefully exploring these wonderful Shelter Island hotels and let me know if you decide to make it a vacation!
More From The Long Island Local
Maybe grab a freshly brewed beer at these Long Island breweries and when you've had your fill of vino! I mean, after a day of searcMaybe grab a freshly brewed beer at these Long Island breweries!
And how about all the wonderful Wölffer Estate Vineyard events and tastings?! Or maybe check out some Long Island oyster farms! How about these guides to Long Island Coffee Shops and Long Island coffee roasters!! Check out these 16 Long Island Boardwalks! Take the ferry over and enjoy these Fire Island restaurants! Let's not forget about the best tacos on Long Island and these 32 great Long Island pizza places either!!
Be sure to find out about more things to do on Long Island as well as more great spots to eat and drink! Maybe take a stroll in one of these amazing Long Island arboretums and gardens! There are even this great Long Island kayaks and paddleboard guide to exploring!