Are you are looking to find out about the beautiful sunflower fields on Long Island? From sunflower mazes to acres and acres of sunflower fields on Long Island, there's a lot of spots today to enjoy the golden beauty of these amazing flowers. These bright blooms of joy are great places to walk a maze, take a lot of great pictures, or just simply to take it all in and enjoy God's beauty in full bloom!
Sunflower Fields on Long Island
There are a growing number of sunflower fields on Long Island, and I couldn't be happier. It's just such an amazing thing, and I love it. I hope it's here to stay and not just a temporary trend. It's good for the soul to see these beauties!!!
Here's some of the best sunflower fields you can check out in the area!
Sunflower Fields on Long Island: North Fork
As with much of Long Island's agriculture, the North Fork seems to be ground zero for sunflower fields on Long Island. There are big farms and small, mazes, and fields. You can take your pic and "do your sunflower" like you want to do it!
Garden of Eve Farm
This is a small field within a very active farm with lots of events, programs, and activities. There's a brewery, farmstand, horse barn, garden center, family play area, and more!! They also have a well-known organic CSA program.
4558 Sound Ave, Riverhead, L.I., NY 11901
Open for u-pick daily from 9 a.m. to 6 p.m.
Find out more by visiting gardenofevefarm.com or by calling 631-722-8777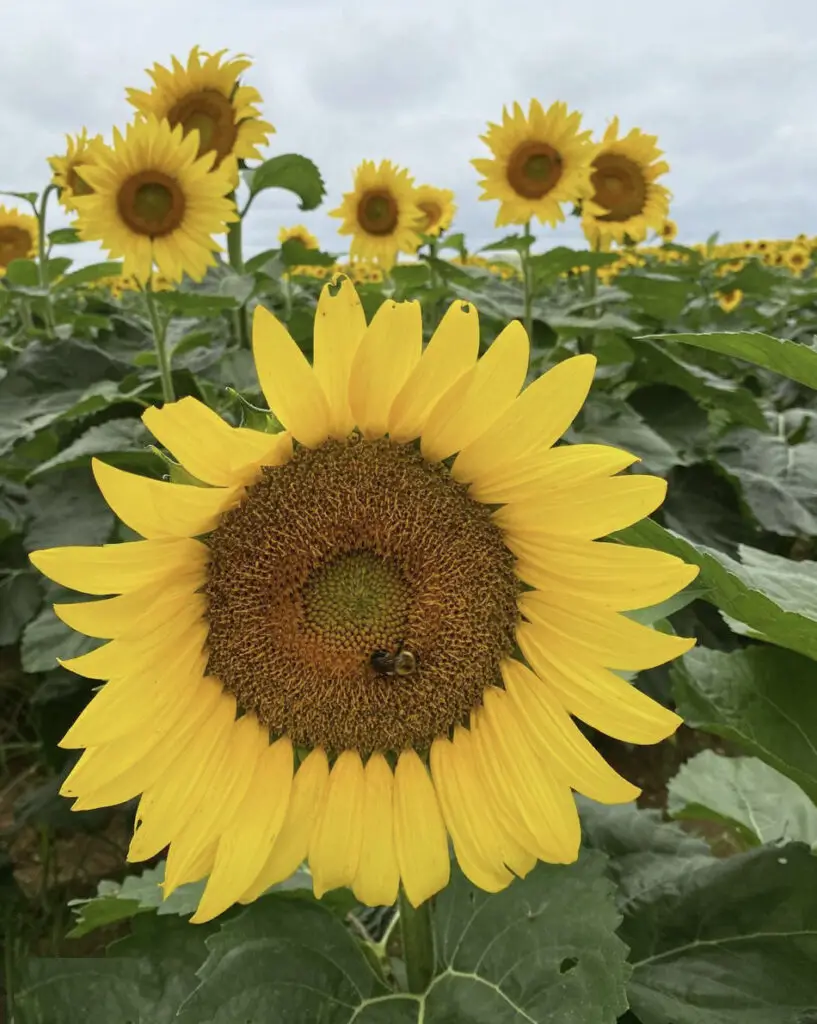 North Fork Sunflower Maze at Sidor Farms
Since 2018, the creators of North Fork Potato Chips have been pleasing visitor with fields of gold. These same fields provide the farm, who also grow the potatoes for their chips, with the sunflower oil they need to make their awesome snack. Tickets cost $8 per person (children under 10 years old are free) and include an all-day wristband if you want to leave and return to see the sunset from the fields. Check the farm's website or Instagram (@northforksunflowermaze) to make sure that the fields are open. 
Open daily, 9 a.m. to sunset. 
8350 Wickham Ave, Mattituck, L.I., NY 11952
Find out more by visiting northforksunflowermaze.com or by calling 631-644-2200
Patty's Berries & Bunches
Walk the farms beautiful flower fields in season. Schedule a farm tour "Best of Patty's Farm" for a chance to pick your own fruit and flowers! The berries are amazing…and the ice cream is some of the best around (think staples as well as unique flavors like corn).
410 Sound Ave, Mattituck, L.I., NY 11952
Find out more by visiting pattysberriesandbunches.org or by calling 631-655-7996
Pindar Vineyards
Pindar Vineyards encompasses more than 500 scenic acres. They grow 17 varieties of grapes, crafting them into some 23 varietals and proprietary blends. The winery produces 70,000 cases of wine a year, making them the largest vineyard on Long Island. But at heart they are still a family with a personal touch in every aspect of their business. Sip some delicious North Fork wine while enjoying the views of the sunflower field.
Open Sunday through Thursday 11 a.m. to 6 p.m., Friday 11 a.m. to 8 p.m, Saturday 11 a.m. to 7 p.m.
37645 NY-25, Peconic, L.I., NY 11958
Find out more by visiting pindar.net or by calling 631-734-6200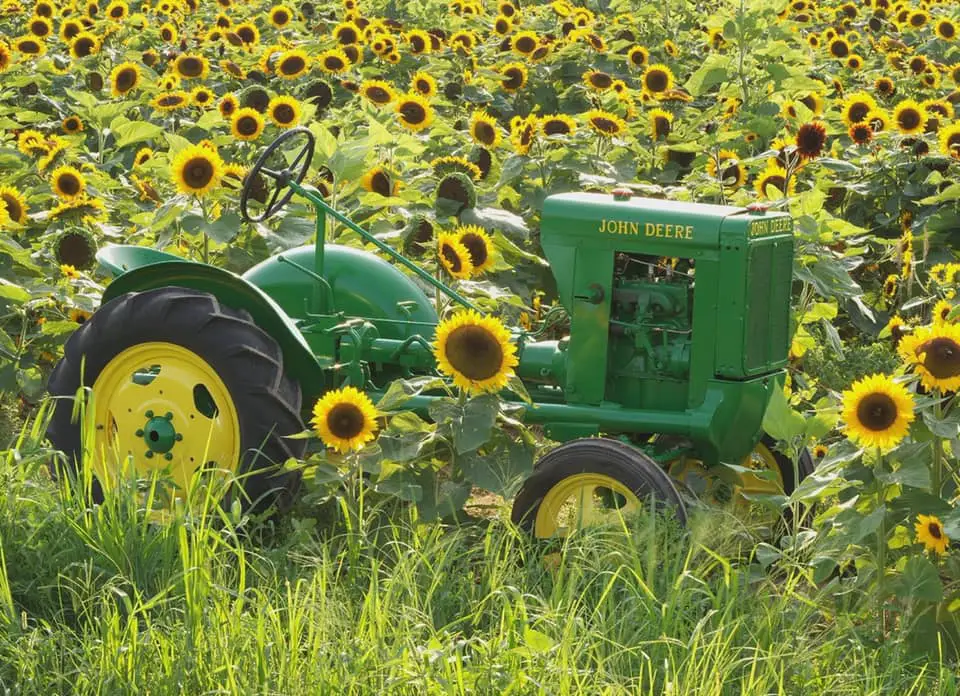 Rottkamp's Fox Hollow Farm
Located in Baiting Hollow, Rottkamp's Fox Hollow Farm strives to grow and distribute fresh quality vegetables to the local people of Long Island and NYC. This farm has a simple walking path with a few routes you can take to enjoy their blooms. Dessert truck For Goodness Cakes usually parks at the farm on weekends.
2287 Sound Ave, Baiting Hollow, L.I, NY 11933
Open Thursday through Tuesday 9 a.m. to 5:30 p.m., open until 6 p.m. on Saturday
Find out more by visiting facebook.com/Rottkamps-Fox-Hollow-Farm or by calling 631-727-1786
Schmitt Farm Stand
The sunflowers are almost blooming at this farm stand, but the cosmos are open and beautiful. Head on over there to enjoy the views and buy a bunch to take home.
Open Monday through Saturday 9:30 a.m. to 6 p.m., Sunday 9 a.m. to 5 p.m.
3355 Sound Ave, Riverhead, L.I., NY 11901
Find out more by visiting facebook.com/SchmittFarms or by calling 631-983-6565
Windy Acres Farm
Windy Acres Orchard is a family owned and operated farm. The owner is a 4th generation farmer who specializes in u-pick. Sunflower maze and u-pick is a great activity family friendly farm.
3810 Middle Country Road, Calverton, L.I, NY 11933
Find out more by visiting facebook.com/Windy-Acres-Farm or by calling 631-727-4554
Sunflower Fields on Long Island: Western Suffolk County
While most sunflower fields on Long Island are on the North Fork, there are some in Western Suffolk "Up Island" to enjoy as well.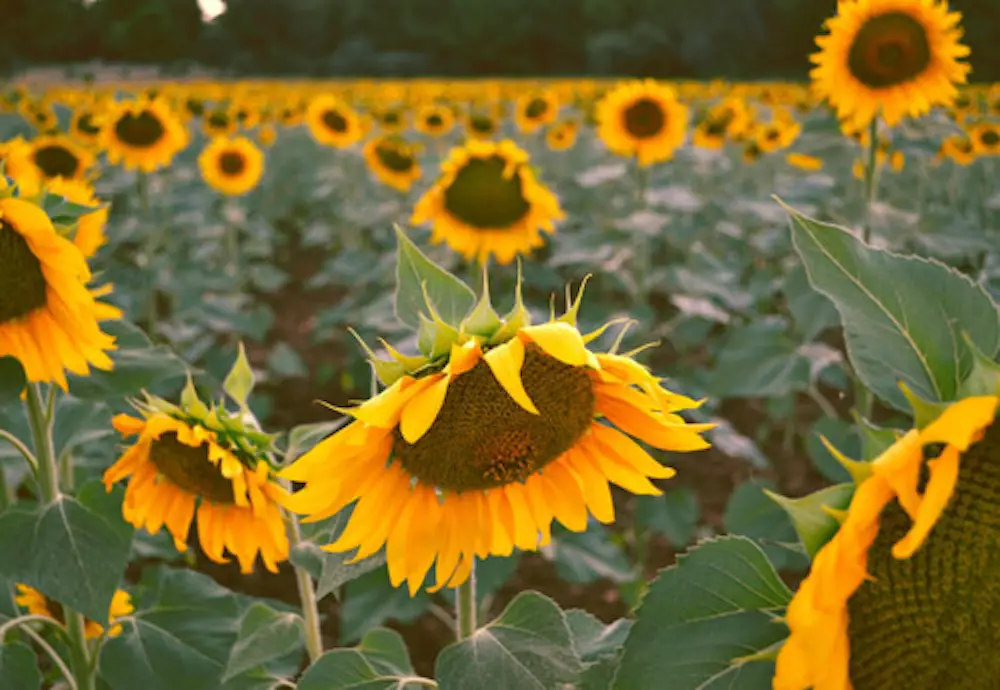 F&W Schmitt's Family Farm
Your Fall sunflower destination is F&W Schmitt's. Spend your day enjoying their sunflower field and more. F&W Schmitt's Family Farm will be charging an entrance fee of $10 per person this season. Tickets will be available at the door only. No Reservations. Admission will include: Playground Access, LI's Largest Straw Pyramid, Mini Golf, and more.
26 Pinelawn Rd, Melville, L.I., NY 11747
Find out more by visiting schmittfarms.com or by calling 631-271-3276 
Manor Farm
Manor Farm, a historical animal farm and Town of Huntington Park, is utilized by Starflower Experiences, a 501c3 organization to provide fun, educational, and environmental programming for children and adults. Programs include the Organic Sunflower Maze, Haunted Trail Nights, Easter Egg Hunt, Hiking Trails, Annual Auction, Community Yard Sale, Garden programs and Boy and Girl scout projects and much more! Our goal is to spread joy while sharing information about living in harmony with the environment. 
The farm's first ever Sunflower Festival is July 24th
210 Manor Rd, Huntington, L.I., NY 11743
Find out more by visiting facebook.com/ManorFarmHuntington or by calling
(631) 213-1927
Waterdrinker Family Farm & Garden
Just before you hit the North Fork is somewhat rural Monorville and the relatively new farm sensation that is Waterdrinker. Take a stroll through the Sunflower Fields and visit for plants, local gifts & treats, farm fresh produce, roasted corn, lemonade and their Sunflower Maze and Family Farm Adventure! After all the family fun, stop in for a beer at Long Island Farm Brewery!
U-PICK sunflower fields now open! $15 admission to enter. $2 per stem if you would like to pick sunflowers.
Open 9 a.m. to 5 p.m., with Friday and Saturday nights open later for Sunflower Sunsets!
663 Wading River Road, Manorville, L.I, NY 11949
Find out more by visiting water-drinker.com or by calling 631-878-8653
RELATED: Sunflower festival near me: Waterdrinker
Sunflower Fields on Long Island: Nassau County
There are still a few farms left in Nassau County, and you can enjoy sunflower fields in some of them!!
Crossroads Farm at Grossman's
At Crossroads, they endeavor to provide experiential agricultural education to everyone. This is done through a collaborative effort to cultivate growing on their small organic farm. Crossroads is part of the Nassau Land Trust, a not-for-profit organization, composed of a volunteer board of directors working together to manage the farm through an operating agreement with Nassau County. This is also the closest organic farm to NYC!
The farm is an integral part of the surrounding community, and it couldn't thrive without the in-kind donation of volunteer work. Volunteers are integral. There is an awesome farmer's market and farm stand as well.
480 Hempstead Avenue, Malverne, L.I., NY 11565
Find out more by visiting xroadsfarmliny.com or by calling 516-881-7900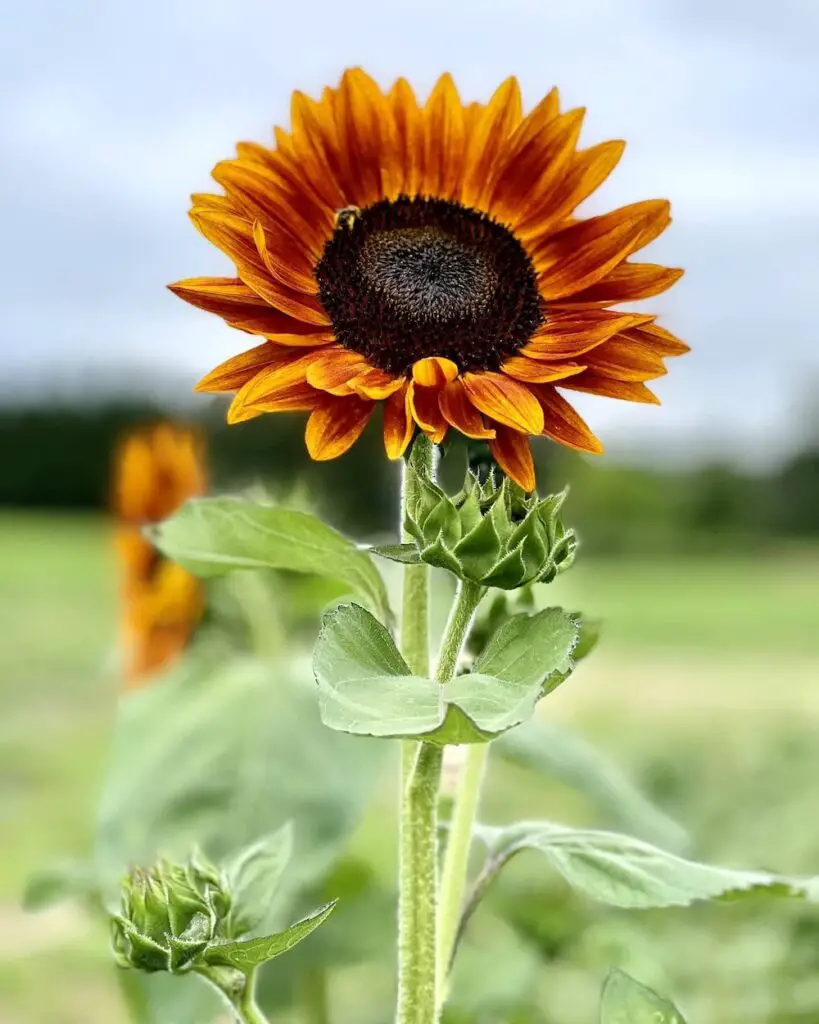 Young's Farm
Youngs Farm was founded in 1893 as a result of a marriage between the Youngs and the Hegemans (the farm is located on Hegeman's Lane). Currently the 4th and 5th generation of the Youngs Family operate and manage the business. Their awesome store specializes in selling both their own and local produce, as well as house made pies, breads, cookies, muffins and biscuits. Additionally they produce a variety of house made soups, savory pies and quiches and a series of jams and preserves. Finally, they carry a series of carefully selected grocery, gift items and traditional candy. There is a small row of sunflowers to enjoy. This place is like being Out East on the North Shore of Nassau!!
Open Tuesday to Saturday – 10am to 5pm, Sunday – 11am to 4pm, Closed Mondays
91 Hegemans Lane, Old Brookville, L.I., NY 11545
Find out more by visiting youngs.farm or by calling 516-626-3955
Things To See and Do on the South Fork
While you are out and about on the hopper bus, make sure to really see as much of the South Fork as possible!! You actually aren't too are away from the World Famous North Fork and South Fork (The Hamptons)!!
The Hamptons and Montauk is a world-renowned beach resort destination for good reason! There is just so much to see, do, and enjoy! Here are just a few of them:
Check out this Guide to the Best Beaches in Montauk! Also check out this Guide to The Hamptons best beaches!!
Check out some luxury homes in The Hamptons!
Maybe you will love it so much, you'll want to check out some Hamptons wedding venues!
Enjoy some of the world-class, amazing art in The Hamptons!
Check out Shelter Island! Shelter Island is only accessible by the Shelter Island Ferry. The South Ferry connects to North Haven on the South Fork. Find out more about Shelter Island, it's different towns and more by checking out this page that includes a handy Shelter Island Map!!
Explore Long Island Wine
Long Island Wine Country is another great part of visiting the island. If you're in the mood for great wine, be sure to check out our Complete List of Long Island Wineries and Long Island Vineyards.
Check out the absolute best Long Island Wine Tours!
If you can't make it to a tour, why not do some wine tasting at home with Bedell Cellars!
I know you're getting hungry, so be sure to also check out the best wineries on Long Island for some great food!
While you're in the area, be sure to check out these 9 relaxing things to do in the North Fork!
When you're done with all of this wine drinking and relaxing, how about making it a weekend? Here are 10 great North Fork Long Island hotels to enjoy as well.
Make It A Weekend
The East End of Long Island is a really special spot. If you think you'd want to check it out and maybe even stay a while…that wouldn't be such a terrible idea.
If you wanted to consider different options for staying on Long Island, be sure to check out these great places to stay in Montauk, 11 Hamptons hotels, 10 North Fork Long Island hotels, and this Guide to Sag Harbor hotels! Enjoy reading up on and hopefully exploring these wonderful Shelter Island hotels and let me know if you decide to make it a vacation!
More From The Long Island Local
Maybe grab a freshly brewed beer at these Long Island breweries and when you've had your fill of vino!
The bounty of great food on Long Island seems endless! From great steakhouses on Long Island to great Shelter Island restaurants to Long Island lobster rolls and Long Island bagels, there's so much to enjoy. Check out this Huge List of Restaurants on the Water Long Island!!!
And how about all the wonderful Wölffer Estate Vineyard events and tastings?! Or maybe check out some Long Island oyster farms! How about these guides to Long Island Coffee Shops and Long Island coffee roasters!! Check out these 16 Long Island Boardwalks! Take the ferry over and enjoy these Fire Island restaurants!
Be sure to find out about more things to do on Long Island as well as more great spots to eat and drink! Maybe take a stroll in one of these amazing Long Island arboretums and gardens! There's even this great Long Island kayaks and paddleboard guide to explore!