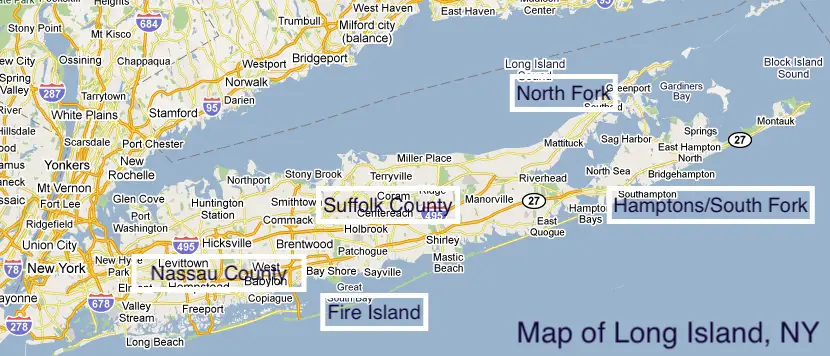 Basic Long Island Map
Here's a helpful map of Long Island. For this purposes of this Long Island map, I've highlighted the two counties considered to be "Long Island." These countries are Nassau and Suffolk.
Nassau and Suffolk are suburban counties and independent of New York City. Nassau and Suffolk each has approximately 1.4 million people each.
Areas highlighted are well-known areas like the North Fork, Hamptons, and Fire Island. These are beach towns, second home destinations, and Long Island's farm and winery areas. These are beautiful and very popular with tourists. Here's a map of wine country to help you out!
The western end of the physical island hold the New York City boroughs of Brooklyn and Queens (west to east). Nassau county shares a physical border to the west with Queens and to the east with Suffolk County.
The northern third of Nassau and Suffolk counties are referred to as the North Shore or the Gold Coast while the end is called the North Fork.
The middle third is referred to as Middle or Mid Island.
The Southern third is referred to as the South Shore and the very end is called the South Fork or Hamptons. The North Fork, South Fork, and Shelter Island (in the middle of the forks) is referred to as the East End.
The island is surrounded by bodies of water. To the North is the Long Island Sound and to the east and west is the Atlantic Ocean. To the west is the East River.
This is a good, printable map of Long Island that I hope you can use.