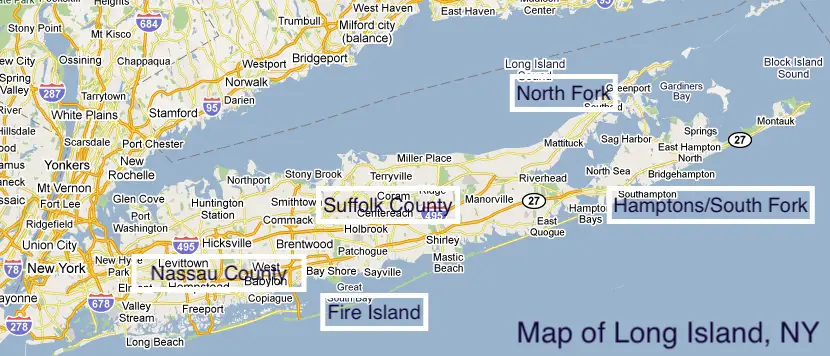 Basic Long Island Map
Here's a helpful map of Long Island. For this purposes of this Long Island map, I've highlighted the two counties considered to be "Long Island." These countries are Nassau and Suffolk.
Nassau and Suffolk are suburban counties and independent of New York City. Nassau and Suffolk each has approximately 1.4 million people each.
Areas highlighted are well-known areas like the North Fork, Hamptons, and Fire Island. These are beach towns, second home destinations, and Long Island's farm and winery areas. These are beautiful and very popular with tourists. Here's a map of wine country to help you out!
The western end of the physical island hold the New York City boroughs of Brooklyn and Queens (west to east). Nassau county shares a physical border to the west with Queens and to the east with Suffolk County.
The northern third of Nassau and Suffolk counties are referred to as the North Shore or the Gold Coast while the end is called the North Fork.
The middle third is referred to as Middle or Mid Island.
The Southern third is referred to as the South Shore and the very end is called the South Fork or Hamptons. The North Fork, South Fork, and Shelter Island (in the middle of the forks) is referred to as the East End.
The island is surrounded by bodies of water. To the North is the Long Island Sound and to the east and west is the Atlantic Ocean. To the west is the East River.
This is a good, printable map of Long Island that I hope you can use.
Things To See and Do on the South Fork
There are so many amazing houses things to do on Long Island! I always recommend seeing as much of the South Fork as possible!! 
The Hamptons and Montauk is a world-renowned beach resort destination for good reason! There is just so much to see, do, and enjoy! Here are just a few of them:
Check out this Guide to the Best Beaches in Montauk! Also, check out this Guide to The Hamptons best beaches!!
Check out some luxury homes in The Hamptons!
Maybe you will love it so much, you'll want to check out some Hamptons wedding venues!
Enjoy some of the world-class, amazing art in The Hamptons!
Check Out More Long Island Wine
You're so close to Long Island Wine Country! It's another great part of visiting the island. If you're in the mood for great wine, be sure to check out our Complete List of Long Island Wineries and Long Island Vineyards.
Check out the absolute best Long Island Wine Tours!
If you can't make it to a tour, why not do some wine tasting at home with Bedell Cellars!
I know you're getting hungry, so be sure to also check out the best wineries on Long Island for some great food!
While you're in the area, be sure to check out these 9 relaxing things to do in the North Fork!
When you're done with all of this wine drinking and relaxing, how about making it a weekend? Here are 10 great North Fork Long Island hotels to enjoy as well.
While You're Enjoying the Outdoors
Be sure to find out about more things to do on Long Island as well as more great spots to eat and drink and wonderful places to stay on Long Island!
Check out this guide to Long Island driving ranges, including this feature on the popular Heartland driving range! Go have fun at one of these great Long Island skate parks!
Make It A Weekend
The East End of Long Island is a really special spot. If you think you'd want to check it out and maybe even stay awhile…that wouldn't be such a terrible idea.
If you wanted to consider different options for staying on Long Island, be sure to check out these great places to stay in Montauk, 11 Hamptons hotels, 10 North Fork Long Island hotels, and this Guide to Sag Harbor hotels! Enjoy reading up on and hopefully exploring these wonderful Shelter Island hotels and let me know if you decide to make it a vacation!
More From The Long Island Local
Maybe grab a freshly brewed beer at these Long Island breweries and when you've had your fill of vino! I mean, after a day of searching for the best tacos on Long Island, I think you need a drink, no?
The bounty of great food on Long Island seems endless! From great steakhouses on Long Island to great Shelter Island restaurants to Long Island lobster rolls and Long Island bagels, there's so much to enjoy. Check out this Huge List of Restaurants on the Water Long Island!!! How about 54 of the best tacos on Long Island!
And how about all the wonderful Wölffer Estate Vineyard events and tastings?! Or maybe check out some Long Island oyster farms! How about these guides to Long Island Coffee Shops and Long Island coffee roasters!! Check out these 16 Long Island Boardwalks! Take the ferry over and enjoy these Fire Island restaurants! Let's not forget about the best tacos on Long Island and these great Long Island pizza places either!!
Be sure to find out about more things to do on Long Island as well as more great spots to eat and drink! Maybe take a stroll in one of these amazing Long Island arboretums and gardens! There are even this great Long Island kayaks and paddleboard guide to exploring!