If you are looking for a great place to get back into golf, be sure to check out the Heartland Driving Range at the really fun Heartland Golf Park in Edgewood, Long Island! This is just a really fun, beautiful, and well-run facility that you and the family can spend an entire day enjoying.
Executive Par-3 Course
They also have an Executive Par-3 Course with 9 holes designed to emulate famous holes. Perfect for practice. Their signature Par-3 Course was designed to replicate hole #7 at Pebble Beach, #12 at Augusta National, and the island green of #17 at TPC Sawgrass so you can feel like a professional when you play.
This picturesque executive course features 9 holes, a clubhouse with a cafe for snacks and refreshments, is only a 52 minute train ride from New York City on the Long Island Rail Road, and is open year-round (yes, even during the winter).
Course Metrics
Par: 27 // Rating: 35.5 // Slope: 90
Length: 1,220 yards (from the back tees).
Designer: Bob Retnauer

Heartland Driving Range
Heartland Golf Park has been the premier entertainment golf park for Long Island since 1994. They have a Driving Range with an automatic Tee-Up System, beautiful down-range targets, and more. They are the only golf park in Long Island that has an automatic tee-up system. While on the driving range, at any time you can take your card out and the balls you have remaining on your card will be able to be used during your next visit.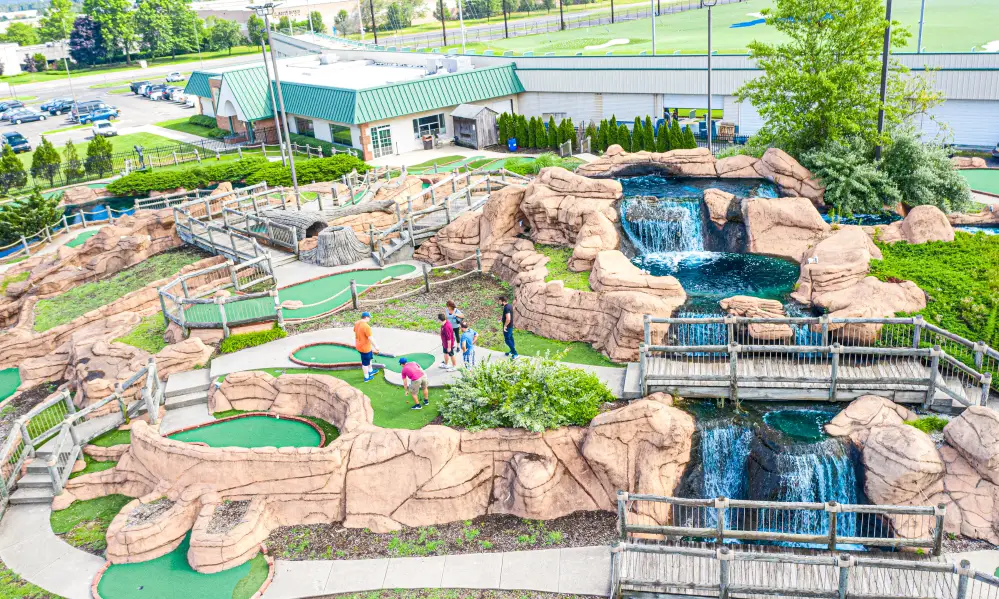 Mini Golf
A really fun family activity is mini golf. My family and I play multiples times a year and it's always a blast. It's good for everyone, too, all ages. There aren't too many things you can say that about when you have two teenagers to worry about! This really fun facility features a miniature golf mountain that is fun for all ages. Heartland boasts a complete 18-hole course with many challenging holes for all ages. Birthday parties and group outings are always welcome, too, which is really fun.
Heartland Golf Park Information
Heartland is open year-round. The facility is heated for your convenience.
1200 Long Island Ave., Edgewood, L.I., NY 11717
Find out more by visiting heartlandgolfpark.com or by calling 631-667-7400.
More From The Long Island Local
I know that getting out and golfing is a great sign of spring! Check out more what else is going on in The Local's Spring Awakening section. Here's a comprehensive guide to the many great Long Island driving ranges you can enjoy! Get your kids out to one of the great Long Island skate parks!
Maybe grab a freshly brewed beer at these Long Island breweries and when you've had your fill of vino!
The bounty of great food on Long Island seems endless! From great steakhouses on Long Island to great Greenport restaurants to Long Island lobster rolls, there's so much to enjoy. And how about all the wonderful restaurants on the water Long Island?! Or maybe check out some Long Island oyster farms!
Be sure to find out about more things to do on Long Island as well as more great spots to eat and drink and wonderful places to stay on Long Island!