If you want to know where you can rent a glamping tent with all creature comforts on Long Island, Terra Glamping is your answer. It's an event business that provides and sets up glorious tents with comfortable beds to sleep in, lounges to hang out in, and dining areas to eat in. Whether you want glamping to part of your wedding celebration or corporate team building, Terra Glamping surely knows how to make it special.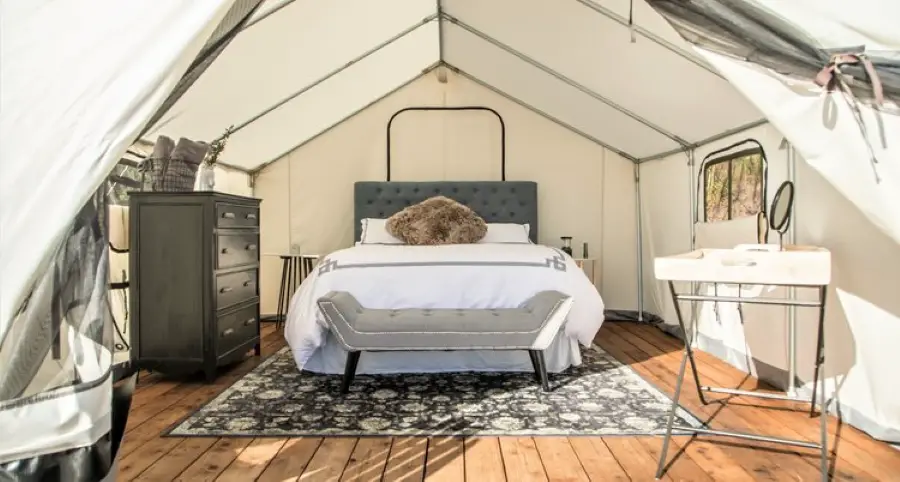 Glamping Tents for Rent
Terra Glamping's glamorous tents are a great option if you need a pop-up hotel for your wedding celebration, festival, photoshoot. There are three types of tents you can rent from the company – sleeping, lounge, and dining tents.
Terra Glamping 12×16 sleeping tents feature King, Queen, and single memory foam mattresses, down comforters, rugs, tables, and other furnishings that you can find in a fancy hotel room. If you intend to spend several days glamping in Terra Glamping accommodations, it only makes sense to rent the company's bathroom/shower trailer, too, otherwise what sort of glamping is it? The bathroom/shower trailer comes with bathroom kits, which include robs, towels, toothpaste, shampoo, conditioner, and body wash.
If you require a lounge area for your event, there are tented and outdoor options. Lounge tents are beautifully designed and equipped with comfortable couches, other seating arrangements, rugs, games, books, and cards. If you choose to have the lounge area without a tent – that's definitely a nice way to watch a sunset and the stars – it includes a plush sofa and chairs.
Renting a dining tent means you'll get a tented space with seatings arrangements (tables, chairs) for up to 24 people, plate ware, cutlery, and serving carts.
Add-ons
When you rent a tent from Terra Glamping, you also have a few add-ons to choose from – s'mores kits, yoga kits, and morning coffee & tea packages.
The s'mores kit includes a firepit, s'mores, and s'mores sticks. If you want to do yoga (you know, doing yoga while camping is an unforgettable experience), then the company will provide a yoga mat, block, strap, and blanket. A coffee and tea package offers you Chemex, filters, gourmet coffee, Tea Forte tea, sugar, creamer, and coffee cups.
Hammocks, heaters, or a telescope are also available upon request.
Glamping Tents for Sale
You can buy Terra Glamping tents for $1200. The tents the company sells are easy to set up and break down. They feature sewn-in floors that protect you from insects, snakes, and water on the ground. The tents have two doors – front and back – which are great for access and ventilation. The size of the tent is 13×16 feet. They are big enough for a king bed and a seating area or four single beds. Free shipping is for all 48 contiguous states.
Events
Terra Glamping doesn't only provide fabulous accommodations. They can also organize your whole event, be it a wedding, a birthday party, or a corporate event. Their services include a glamping butler to set the fire and serve the guests! Also, farm-to-table dinners, yoga & wellness classes. There's even live entertainment. They can also arrange such activities as hiking, biking, and horseback riding.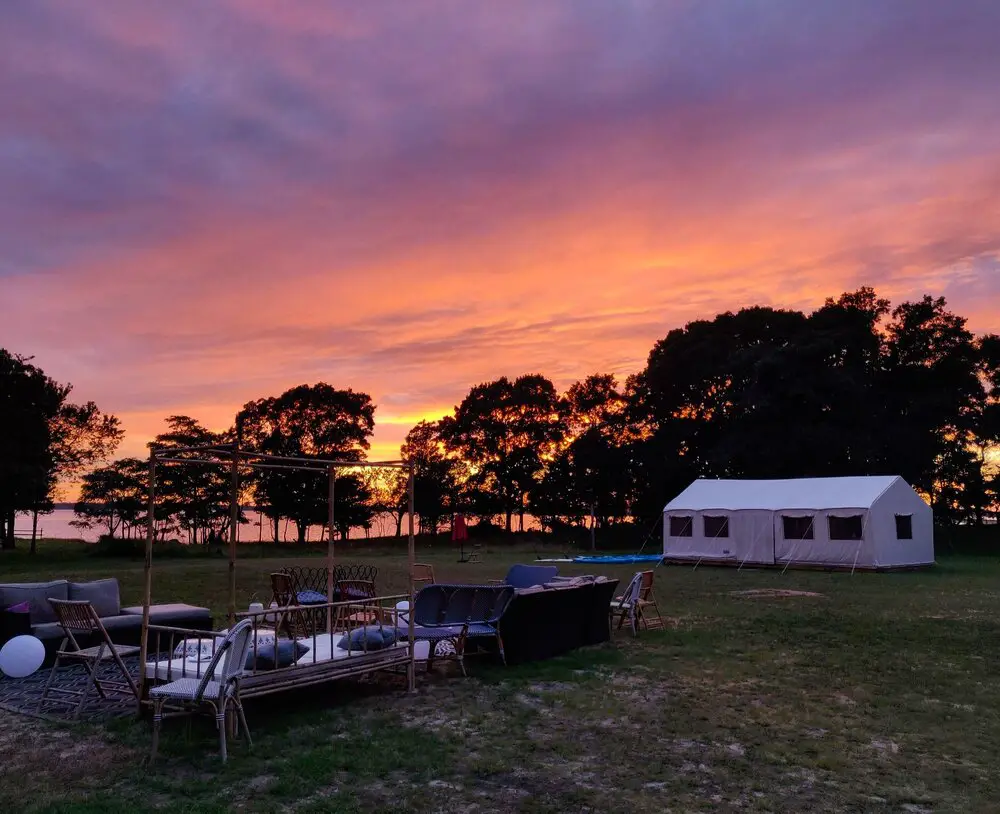 Terra Glamping: East Hampton
For Long Islander Terra Glamping offered the first glamping hotel from 2019 for a short time. It was located in Cedar Point County Park. The site consisted of 30 safari-style tents. Each tent had memory foam beds, hot showers, flushing toilets, a porch, a dining area, and more. The glamping company also offered the same accommodations on the Hudson River in Kingston, NY.
Long Island and Kingston locations were both closed. Perhaps Terra Glamping will decide to re-open these glamping hotels. Dign up for their newsletter to be the first one to know.
Learn more by visiting terraglamping.com or calling 646-801-8076.
While You're Enjoying the Outdoors
Click here to find out about all of the Long Island glamping spots, like Eastern Long Island Kampground and Wildwood State Park camping, and Long Island Glampers!
Check out this Guide to Long Island Hiking spots!
Be sure to find out about more things to do on Long Island as well as more great spots to eat and drink and wonderful places to stay on Long Island!
Check out this guide to Long Island driving ranges, including this feature on the popular Heartland driving range! Go have fun at one of these great Long Island skate parks!
Check Out Some Long Island Wine
While you're on Shelter Island, you're so close to Long Island Wine Country! It's another great part of visiting the island. If you're in the mood for great wine, be sure to check out our Complete List of Long Island Wineries and Long Island Vineyards.
Check out the absolute best Long Island Wine Tours!
If you can't make it to a tour, why not do some wine tasting at home with Bedell Cellars!
I know you're getting hungry, so be sure to also check out the best wineries on Long Island for some great food!
While you're in the area, be sure to check out these 9 relaxing things to do in the North Fork!
When you're done with all of this wine drinking and relaxing, how about making it a weekend? Here are 10 great North Fork Long Island hotels to enjoy as well.
More From The Long Island Local
Maybe grab a freshly brewed beer at these Long Island breweries and when you've had your fill of vino!
The bounty of great food on Long Island seems endless! From great steakhouses on Long Island to great Greenport restaurants to Long Island lobster rolls and Long Island bagels, there's so much to enjoy. And how about all the wonderful restaurants on the water Long Island?! Or maybe check out some Long Island oyster farms!
Be sure to find out about more things to do on Long Island as well as more great spots to eat and drink and wonderful places to stay off of Shelter Island!