Are you looking to find out more about the glamping Long Island lifestyle! It's a great way to get out there and enjoy nature a bit more than you maybe normally would. Glamping is great, but it may or may not be for you and your family. If the word glamping confuses you, allow me to explain the concept.
Glamping, a merge of the words glamorous and camping, is a dream of every couple that fights about outdoor and indoor attractions (the husband wants to be in nature while the wife wants to have the comforts of a hotel or the other way around). Well, glamping allows them both to get what they want.
Think calming, tranquil time in nature, far away from a hurried life and the constant buzz and noises, but with comforts, like cozy accommodations or electricity, or shower, or all of the above. That's glamping.
You don't need to worry about safety, struggling with wet branches to make fire, or go days without a shower. Yet you're still away from the city and your daily, more hectic life. You are in the middle of nature! You sleep on a comfortable bed with no stones under your mattress, have access to a proper toilet, shower, and maybe even Wi-Fi, yet you are still relaxing and enjoying seeing our planet in its original state.
RELATED: Check out this Guide to Long Island Hiking spots!
Glamping Long Island Sites
Glamping is the best of the two worlds, allowing you to connect with nature and have creature comforts at the same time. And you, my fellow Long Islanders, have a reason to celebrate – Long Island glamping is finally here, within our reach. And here is all you need to know to embark on this comfortable type of adventure.
Western Suffolk County Glamping Long Island Sites
I love that Western Suffolk County, with all it's great parkland, is getting into the Long Island glamping game! It's such a great option for people to enjoy, but closer to home for many Long Island and New York City residents. These are great parks with beautiful grounds that are offering services people want!
Here are a couple of parks that have recently embraced the glamping Long Island ethos…and we are all the better for it.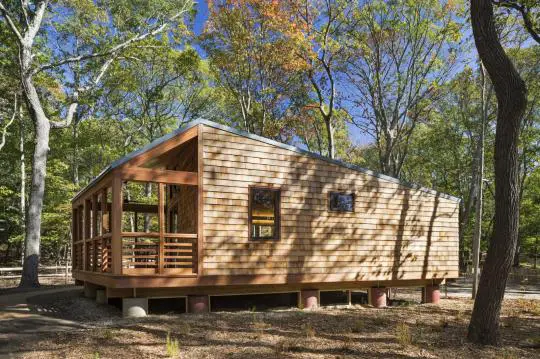 Wildwood State Park
Wildwood State Park, which is open until October 30, is your glamping destination during summer. Located near Long Island Sound, the campground has about two miles of beach perfect for swimming and fishing. And during July and August, movies are shown weekly. But summer isn't the only season when you can enjoy the park. Other than the beach, they also have 12 miles of marked hiking trails, cross-country ski trails, and a picnic area with an adjacent playground for kids. Hiking, biking, bird watching, fishing, picnicking, playing basketball or volleyball – you won't grow bored here.
When it comes to comforts offered by the campground, there is no shortage, and how comfortable you get depends on you. Wildwood State Park has ten cottages with a bathroom, kitchenette, a fire ring, and screened porch. If you want the real experience of living in a tent, there are 300 campsites that you can rent for your tent or RV. But the campground has a comfort station, dump station, showers, food concessions, and they provide firewood, so you won't be completely on your own and cut off from the civilization.
790 Hulse Landing Road, Wading River, L.I., NY 11792
For more information, visit the NY State Park website or call 631-929-4314.
RELATED: Check out my full article about Wildwood State Park camping & glamping options!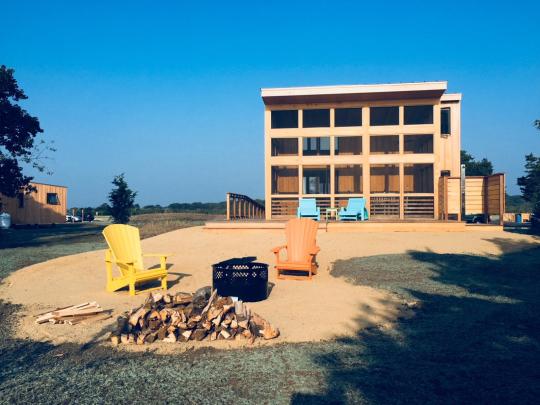 Hecksher State Park
Much similar to Wildwood State Park, Hecksher State Park is also an ideal glamping/camping spot in summer because of its location on the Great South Bay. Some of the water-related activities you can participate in while staying there are swimming, kayaking, canoeing, and sailboarding. They have large open fields that are great for soccer, cricket; their four miles of paved trails are awesome for biking, walking, and jogging. Families will have a fun time picnicking on the beach and observing nature.
For a true glamping experience, the park has 15 waterfront cottages with a living room, bathroom, full kitchen, and screened porch, and they are suitable for 2-6 people.
There are 67 campsites on the property for self-sufficient glamping, as in living in your own tent or RV. But ever for self-sufficient glampers, the campground offers all you need for a pleasant weekend in nature – comfort station, dump station, showers, picnic tables, and other services. The campground is available until October 31.
Heckscher Parkway Field 1, East Islip, L.I., NY 11730
To learn more, visit the NY State Park website or call 631-581-2100.
North Fork Glamping Long Island Sites
The North Fork is one of my favorite places on earth, with so many great farms, vineyards, and more! Of course the region would have a great Long Island glamping site…of course!
Eastern Long Island Kampground
A 20-acre campground, Eastern Long Island Kampground (ELIK) offers all types of glamping experiences. If you are interested in things that can keep your children entertained, there is a swimming pool, archery range, recreation center, moonlight theatre, Wi-Fi, and cable TV service. The campground also has laundry facilities, bathrooms, daily trash pickup, and fire barrels. As far as accommodations go, ELIK lets you get as comfortable or as self-sufficient as you want to be. There are such options as campers rental (deluxe and regular), homey cabin suites, luxurious Safari tents, and sites for your own RV and tents.
Safari tents include a queen bed, full-size pull out couch, large flat screen TV, WiFi, air conditioning/heat, refrigerator, coffee maker, microwave, gas grill, fire pit, porch extension, full bathroom, private outdoor shower, and elevated platform deck.  Safari wall tents are 16ft x 20ft plus 10ft porch extension.
They are currently building 19 Cabin Suites and a 600 sq ft Recreational Center/Pavilion to be available by June 2021.  Cabins include a master bedroom with queen bed, a second bedroom with twin-xl bunk beds, along with a queen size pull-out couch in the living area.  The bathroom is complete with a vanity sink, shower, and toilet.
And as a cherry on top, since it's located near Greenport, local beaches, and wineries, ELIK offers you and your family plenty of places to explore.
RELATED: You can click here to find out everything you'd want to know about Eastern Long Island Kampground!!
690 Queen Street Greenport, L.I., NY 11944
To find out more, visit elikampground.com or call 631-477-0022.
The Hamptons and Montauk Glamping Long Island Sites
The beautiful and glamorous South Fork includes the world-famous resort areas known as The Hamptons and Montauk. This magical place has great beaches, farms, estates, and now Long Island glamping at it's finest! What else would you expect from such a fantastic area?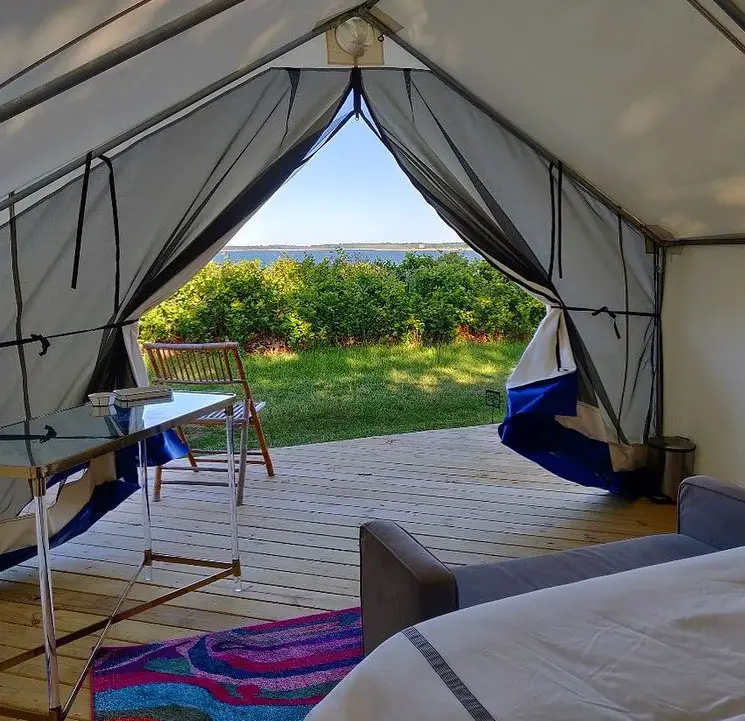 Cedar Point County Park by Terra Glamping
A 607-acre park, Cedar Point is family-friendly and great for beginner campers and people who still aren't sure about whether they like camping or not. The natural trails and sights are wonderful, and there are basic amenities, such as bathrooms with hot water, picnic areas, and basketball and volleyball courts. Also, there is a beautiful tent hotel – the very first glamping hotel in the Hamptons.
The hotel was opened in 2019 by Terra Glamping (see more about this company below). If you don't want to stay in RV or set up your own tent, you can book one of the 30 safari-style waterfront tents and get hotel-level hospitality. You'll stay in a fully furnished tent, sleep in a comfortable bed with a memory foam mattress, have access to shower and bathroom facilities, lounge tents for relaxing, have a continental breakfast every morning, enjoy a campfire with s'mores every evening, and more.
5 Cedar Point Road Yaphank-Middle Island Road, East Hampton, L.I., NY 11937
Find out more by visiting terraglamping.com/east-hampton-glamping or suffolkcountyny.gov/Departments or calling 631-852-7620.
Fire Island Glamping Sites
Fire Island is the large center island of the outer barrier islands parallel to the south shore of Long Island, New York. It's a long, slim piece of land that includes Robert Moses State park. The majority of the island really feels like you're getting away since essentially no cars are allowed on the island. Water taxis, Red Flyer wagons, and bikes are the mode of transport…and that works out perfectly.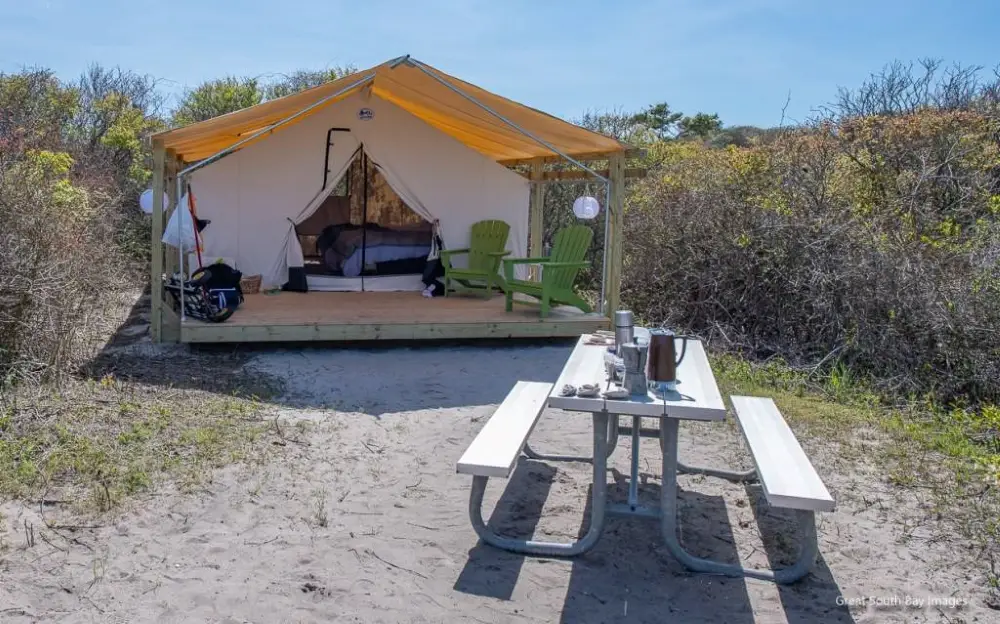 Watch Hill & Sailors Haven
Watch Hill is one of a kind when it comes to camping. While having all the necessary amenities – bathrooms, showers, dishwashing station, picnic tables, water spigots, and a restaurant – the park also offers you an opportunity to catch rare sightings of Humpback whales and dolphins. There are also plenty of things you can do by yourself – fishing, swimming, bird watching, hiking – and you can also participate in the awesome kids-friendly activities arranged by National Park Service Ranger Station.
The Watch Hill campground has 24 tent-only campsites and four glamping sites – safari-style tents with a capacity to accommodate 4-6 people. Beds with memory foam mattresses, nightstands, a throw rug, dresser, small table, and luxury packages (food, beverages, and ice) – all this and more are available for your use. You'll also have a covered porch, two Adirondack chairs, and a cooler; with these creature comforts, you will feel like royalty traveling across their lands. The daily rate starts from $135, and the last date when you can book the glamping site is October 12.
Fire Island National Seashore, Burma Rd, Patchogue, L.I., NY 11772
To find out more, visit lovefins.com/glamping or call 917-257-3652.
Popular Sites To Set Up Your Own Glamping Site
Cupsogue Beach County Park
If you are a collector of stunning sunsets and a camping lover, Cupsogue Beach County Park is the perfect place for you. It has one of the prettiest beaches on Long Island and incredible views of the ocean and the bay. Watch a sunset sitting on soft white sand and then go back to your campsite for some s'mores and campfire. Sounds lovely, doesn't it?
The camping tents and RV are allowed to camp along the access road, and the amenities like bathrooms, showers, changing rooms, water access, and picnic area, automatically upgrade your camping trip to the glamping level.
975 Dune Rd, Westhampton Beach, L.I., NY 11978
For more information, visit suffolkcountyny.gov or call 631-852-8111.
Hither Hills State Park Campground
Falling asleep in a tent listening to the sound of waves washing up against the beach is probably the most attractive association with camping, and using it, you can convince pretty much anyone from the anti-camping club to try it. Hither Hills State Park, a 190-site campground on the ocean, is where you go for this romantic experience. Apart from the sandy beach, you can enjoy a freshwater lake and woodlands for boating, fishing, paddling, hiking, horseback riding, surfing, wildlife watching, and more. In summer, there are various recreation programs, like children's theatre, movies, magic shows.
While this campground doesn't offer accommodation, as in you'll have to bring your own tent or RV, they provide bathrooms, showers with hot water, potable water, and picnic tables. The last date you can camp in Hither Hills in 2021 is November 20.
164 Old Montauk Highway, Montauk, L.I., NY 11954
Learn more by visiting the NY State Park website or calling 631-668-2554.
Montauk County Park
With exceptional fishing in the Big Reed Pond, Montauk County Park is the place to be for all fishing lovers. But even if you don't fish, nature and nearby entertainment won't leave you disappointed. You can check out the historic 3rd House and Montaukett Village, go hiking or kayaking, and the Deep Hollow Ranch located nearby will happily arrange a horseback ride to Gin Beach for you.
To enjoy Montauk Country Park to the fullest, you have to come with your own camper trailer. This campground doesn't offer lodgings and has no sites for tents. However, if you own or rent a self-contained RV, this glamping experience will turn out awesome.
Montauk Highway Victory Avenue, Montauk, L.I., NY 11954
Learn more by visiting suffolkcountyny.gov/Departments/Parks/Our-Parks/Montauk-County-Park or calling 631-852-7879.
Shinnecock East County Park
Shinnecock East County Park is a beautiful undeveloped barrier beach where you can bring your whole family for a fun camping trip. However, note that camping is permitted only for self-contained vehicles. If you own an RV and Suffolk County Outer Beach Permit, this is the place where you have to camp at least once in your life because it's gorgeous and precious. But even if you don't own any vehicle, you can still camp out in Shinnecock East County Park by renting a glamper from L.I. Glampers.
Sunbathing, swimming, surf fishing, paddleboarding – all the water-related activities you can think of will be much better with Shinnecock white sandy beach. Out of the amenities, there are fire pits, water access, and a dump station.
Dune Rd, Southampton, L.I., NY 11968
Find out more by visiting suffolkcountyny.gov or calling 631-852-8839.
Long Island Glamping That Comes To You
Sometimes amenities that make camping glamping aren't available at the campgrounds, but it doesn't mean you can't have that glamorous glamping Long Island camping experience. There are several businesses on Long Island that make it their lifelong mission to create the best, the fanciest, the most comfortable condition for your next camping trip – even if it takes place in your home.
The Glamping Party Company
Most kids tend to adore camping. For them, it's an adventure to set up and sleep in a tent, even if the tent is actually a couple of chairs with a sheet between them, located right in the living room. The founder of The Glamping Party Company, Marcella, noticed this tendency and decided that all kids who love camping deserve to do it glamorously.
The company focuses on kids, tweens, teens and provides everything – from tents to faux fur rugs – for stylish indoor glamping. They can even provide a night light that projects stars on the ceiling to enhance the camping experience. Currently, there are three themes – Glamper Chic, Under The Stars, Enchanted Teepees – that can be modified according to your needs. And you can also add a selfie station, craft packages, and sweets table for entertainment.
The Glamping Party Company makes every sleepover, birthday, and camping party fancier! Their services are available for anyone in Nassau County within a 20-mile radius of Oceanside, NY.
For more information, visit theglampingpartycompany.com or call 516-838-4041.
Glamping Teepee Party
The Glamping Teepee Party is a business with the same idea as The Glamping Party Company, but they provide their services for the whole Long Island. All kinds of parties – slumber, birthday, or camping parties – become simply unforgettable and fabulous with the glamping setup.
The company offers you six party themes and packages for 2-8 people (can be expanded for an additional charge). The packages include tents, pillows, blankets, sheets, lights, and more. Add-ons, such as a star projector, a big tent for outdoor set-up, and a movie theatre, are also available.
To find out more, visit starlightslumberparty.com or call 516-654-0033
L.I. Glampers
L.I. Glampers is the veteran-owned company you've dreamt about when you thought of all discomforts of camping. They offer you four glamorous RVs – glampers – with room to sleep for up to six people. Every glamper has different decor and personality, but all of them come with the creature comforts you so miss in nature – well-stocked bathrooms, microwave, fridge, toaster, stovetop, coffee maker, TV, DVD player, and more.
The Long Island Glampers company is an approved vendor with Suffolk County Parks, which means they meet the county's requirements for insurance and safety. This, in turn, makes your check-in a lot smoother and easier when you camp in one of the parks in Suffolk County. However, this LI glamping company doesn't service Montauk and East Hampton.
Find out more by visiting liglampers.com or calling 631-806-2152.
RELATED: Read more by clicking on this Long Island Glampers article!
Terra Glamping
Where one cannot go, someone else probably can, so for comfortable camping in East Hampton, you can book a Terra Glamping hotel. Located in Cedar Point County Park, Terra Glamping: East Hampton offers you 30 safari-style tents with memory foam beds, hot showers, flushing toilets, a porch, a dining area, and more. A booking also includes complimentary kayaks, stand-up paddleboards, and s'mores by fire.
However, Terra Glamping is more than just East Hampton accommodations. They also provide glamping tent rentals across the USA and Canada. Their tent rental types include sleeping tents, lounge tents, dining tents, bathroom/shower trailers, and outdoor lounge set-up.
In addition to arranging an unforgettable glamorous camping experience, Terra Glamping is also an event business, and it can also organize an absolutely incredible wedding, retreat, or party.
Learn more by visiting terraglamping.com or calling 646-801-8076.
RELATED: Read more by clicking on this Terra Glamping article!
Things To See and Do on the South Fork
Something I always recommend to those on Long Island, make sure to really see as much of the South Fork as possible!! When you are in Manorville, you actually aren't too are away from the World Famous North Fork and South Fork (The Hamptons)!!
The Hamptons and Montauk is a world-renowned beach resort destination for good reason! There is just so much to see, do, and enjoy! Here are just a few of them:
Check out this Guide to the Best Beaches in Montauk! Also, check out this Guide to The Hamptons best beaches!!
Check out some luxury homes in The Hamptons!
Maybe you will love it so much, you'll want to check out some Hamptons wedding venues!
Enjoy some of the world-class, amazing art in The Hamptons!
While You're Enjoying the Outdoors
Be sure to find out about more things to do on Long Island as well as more great spots to eat and drink and wonderful places to stay on Long Island!
Check out this guide to Long Island driving ranges, including this feature on the popular Heartland driving range! Go have fun at one of these great Long Island skate parks!
Check Out Some Long Island Wine
While you're on Shelter Island, you're so close to Long Island Wine Country! It's another great part of visiting the island. If you're in the mood for great wine, be sure to check out our Complete List of Long Island Wineries and Long Island Vineyards.
Check out the absolute best Long Island Wine Tours!
If you can't make it to a tour, why not do some wine tasting at home with Bedell Cellars!
I know you're getting hungry, so be sure to also check out the best wineries on Long Island for some great food!
While you're in the area, be sure to check out these 9 relaxing things to do in the North Fork!
When you're done with all of this wine drinking and relaxing, how about making it a weekend? Here are 10 great North Fork Long Island hotels to enjoy as well.
Make It A Weekend
The East End of Long Island is a really special spot. If you think you'd want to check it out and maybe even stay awhile…that wouldn't be such a terrible idea.
If you wanted to consider different options for staying on Long Island, be sure to check out these great places to stay in Montauk, 11 Hamptons hotels, 10 North Fork Long Island hotels, and this Guide to Sag Harbor hotels! Enjoy reading up on and hopefully exploring these wonderful Shelter Island hotels and let me know if you decide to make it a vacation!
More From The Long Island Local
Maybe grab a freshly brewed beer at these Long Island breweries and when you've had your fill of vino! I mean, after a day of searching for the best tacos on Long Island, I think you need a drink, no?
The bounty of great food on Long Island seems endless! From great steakhouses on Long Island to great Shelter Island restaurants to Long Island lobster rolls and Long Island bagels, there's so much to enjoy. Check out this Huge List of Restaurants on the Water Long Island!!!
And how about all the wonderful Wölffer Estate Vineyard events and tastings?! Or maybe check out some Long Island oyster farms! How about these guides to Long Island Coffee Shops and Long Island coffee roasters!! Check out these 16 Long Island Boardwalks! Take the ferry over and enjoy these Fire Island restaurants! Let's not forget about the best tacos on Long Island and these great Long Island pizza places either!!
Be sure to find out about more things to do on Long Island as well as more great spots to eat and drink! Maybe take a stroll in one of these amazing Long Island arboretums and gardens! There are even this great Long Island kayaks and paddleboard guide to exploring!