If you are looking to have a great time on Shelter Island, Long Island, you should definitely consider staying in these wonderful Shelter Island Hotels! Shelter Island is a town and island at the eastern end of Long Island in New York. It is part of Suffolk County, and it lies right between the North Fork and South Fork (it's sheltered…see?). It's a really wonderful place that feels removed from the everyday and a place to wind down and enjoy the simple things. It's even great for a day trip from the North Fork or South Fork!
Find out more about Shelter Island, it's different towns and more by checking out this page that includes a handy Shelter Island Map!!
Now…onto those promised Shelter Island Hotels. Please note, The Pridwin in under construction until 2022. The Chequit Inn and The Ram's Head Inn have both been recently sold and are undergoing renovations of their own, however they both should be open in 2021.
Some hotels are larger, some smaller, but all have a very warm and welcoming quality to them. Maybe it's just the way the island is. Enjoy reading up on these and hopefully exploring Shelter Island one day soon!
Top Shelter Island Hotels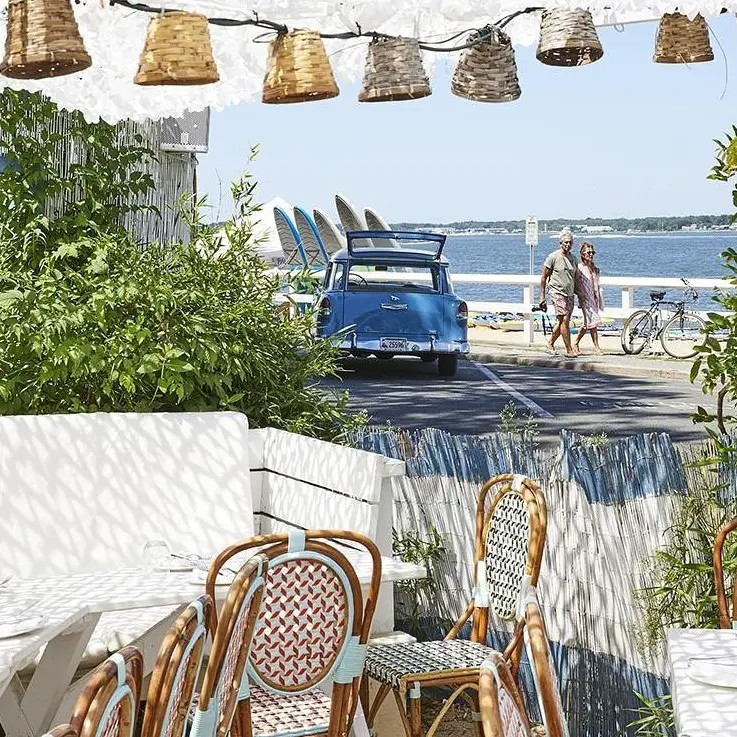 Sunset Beach
Sunset Beach is a very unique spot on Long Island, but maybe not as much on the French Riviera. When seated in the seaside restaurant of the Sunset Beach Hotel, you may momentarily think you're in France. So much about this beautiful spot is decidedly Gallic, from the restaurant to the music to the overall feel and vibe of the place. Many of the employees and guests seem to be French or European. Even the look and feel of Sunset Beach itself has that Riviera look and feel.
The Euro chic hotel was opened in 1997 by hotelier André Balazs and every room has a private sundeck with water views. The hotel has a restaurant, bar, rooftop lounge and a small boutique right on the beach. Heads up, nudity is allowed.
35 Shore Rd., Shelter Island, L.I., NY 11965
Find out more by visiting sunsetbeachli.com or by calling 631-749-2001.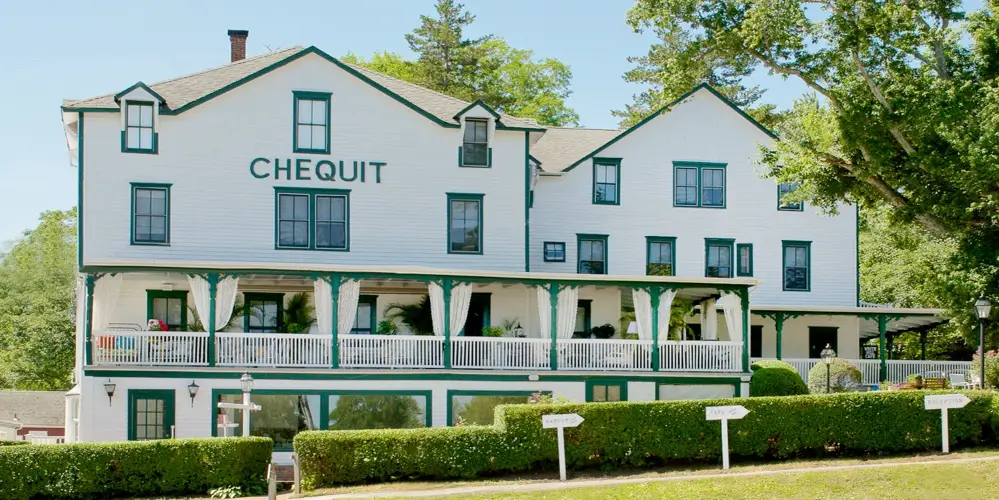 The Chequit
The Chequit Inn has been one of the most popular and well-known of the Shelter Island hotels. It's been a local institution since 1872, since it was built as a retreat for Methodists. The Chequit Shelter Island has occupied the high ground in Shelter Island Heights, the island's "downtown" area. The design, when owned by Salt Hotels, was sleek with seaside charm. However, things may be changing.
Stacey Soloviev, whose business partner and former husband Stefan owns Crossroads Ag., which has purchased more than 1,100 agricultural acres on the North Fork in recent years, just recently purchased the hotel. Stacey Soloviev helps run the North Fork's Santa's Christmas Tree Farm and the soon to reopen Peconic Bay Winery in Cutchogue for the company.
Much work is being done to bring the hotel more in line with its stellar history and reputation. The Chequit plans a partial reopening by June and has partnered with Noah Schwartz to open three new restaurants planned at the hotel. 
23 Grand Ave., Shelter Island Heights, L.I., NY 11965
Find out more by visiting facebook.com/TheChequit or by calling 631-749-0018.
Rams Head Inn
The remote (even for Shelter Island) 4.3 acre waterfront property includes the 12,000-square-foot, three-story Colonial-style manor house on Coecles Harbor, deep water docks, and eight moorings. The lawn gently slopes down to the inn's 800-foot private beach.
The 90-year old, 17 room, Ram Head Inn Shelter Island property also has  an all-weather tennis court and regulation-sized bocce court. The hotel is connected to the rest of Shelter Island by a narrow causeway and overlooks Coecles Harbor and Gardiners Bay.
In March 2021, the Ram's Head Inn was sold by the same family that owned and recently sold The Chequit Inn. The hotel is reopening up again soon, with the new restaurant having just opened recently right before Easter.
108 Ram Island Dr, Shelter Island Heights, NY 11965
Find out more by visiting theramsheadinn.com or by calling 631-749-0811.

Shelter Island House
Drawing inspiration from its original roots in the 1800s, Shelter Island House has been reinvented with luxurious modern beach flair and opulent accommodations. Style, distinction, warmth, and intimacy are combined with architecture that has maintained its historic details and chic elegance. You will discover casual sophistication and a chance to explore the local feel without sacrificing luxury.
The intimately sized hotel boasts graciously sized rooms, spa bathrooms, chic décor and local art. Guests will enjoy complimentary amenities, including Wi-Fi, Pool and Bicycles. Plus other amenities including our on-premises restaurant and bar to enhance your experience while visiting.
Be sure to check out their other property, the West Neck Guesthouse (see more below).
11 Stearns Point RoadShelter Island Heights, NY 11965
Find out more by visiting ShelterIslandHouse.com or by calling 1-631-749-1633.
Seven on Shelter Island
This newly restored award-winning inn nails the 21st-century bed-and-breakfast formula, providing guests with a low-key hideaway while offering all the luxuries a modern globetrotter needs including sustainable toiletries (from Cold Spring Apothecary), walk-in well-designed tile showers, flat-screen TVs and quality beds topped with goose-down comforters and colorful throw pillows from Capetown. The classic 1902 whitewashed farmhouse is filled with contemporary art and arresting kinetic sculptures. Guests help themselves to rental bicycles, play a lazy game of croquet, or toast marshmallows over the fire.
7 Stearns Point Road, Shelter Island, L.I., NY
Find out more by visiting sevenonshelter.com or by calling 347-326-3259.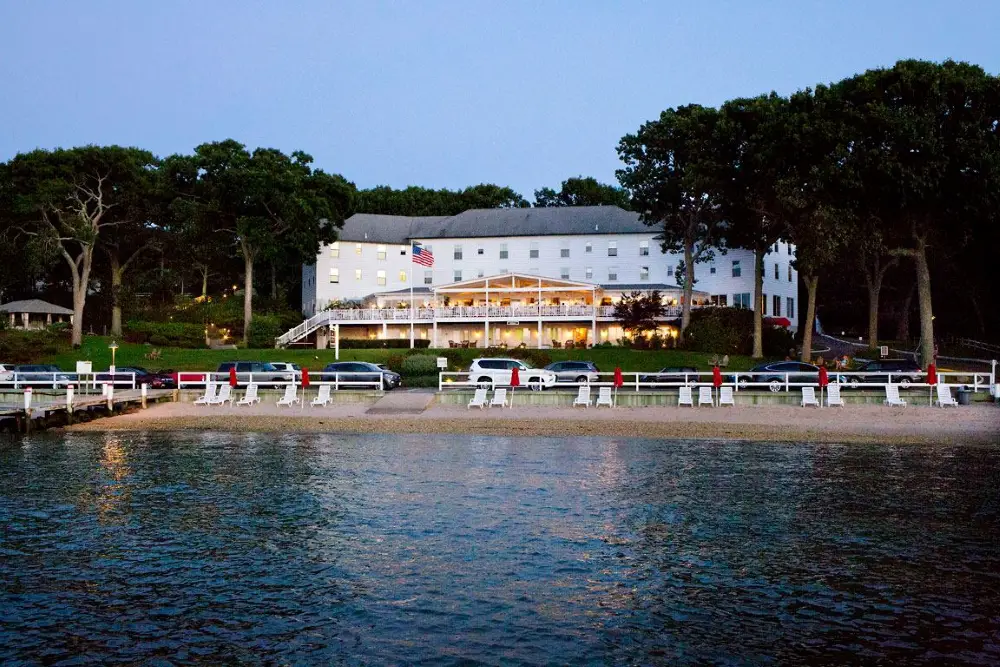 The Pridwin Hotel and Cottages
The Pridwin Hotel and Cottages opened in 1927 on nearly 10 acres overlooking the Peconic Bay. Kids and active adults enjoy the large pool, private beach, three tennis courts, kayaks and paddleboards.
The Pridwin Resort Hotel consists of 40 rooms and nine cottages.
NOTE: The hotel, currently undergoing renovations, will not reopen until 2022. The family that has owned the property since 1962 said it's the first time such a significant update has been done to the hotel. As a result, 2020 was the first time the hotel was ever closed for the summer. Most of the renovations involve increased accessibility, like moving the front desk to the first floor, installing an elevator and making the bathrooms ADA compliant.
81 Shore Rd., Shelter Island, L.I., NY 11964
Find out more by visiting pridwin.com or by calling 631-749-0476 or 800-273-2497.
The Candlelite Inn
This gracious B&B in a stunning181-year-old Victorian offers a peaceful getaway. Each of the five guest rooms has a private bath, and there is also a separate Honeymoon cottage with a King size sleigh bed and a double whirlpool bath.
The continental breakfast is wrapped and served individually.
3 S Ferry Road, Shelter Island, L.I., NY 11964.
Find out more by visiting thecandleliteinn.com or by calling 631-749-0676.
Dering Harbor Inn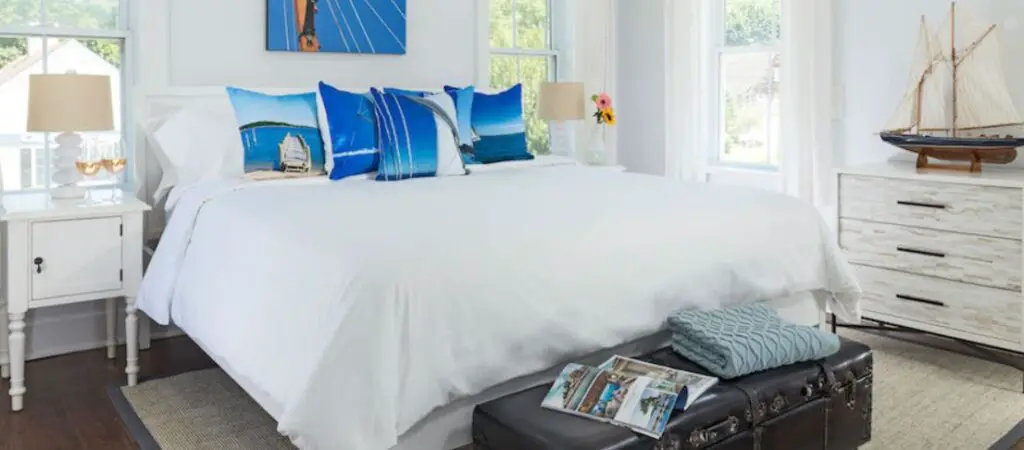 West Neck Guesthouse
The once family home has been converted to a beautifully appointed guest house and one of the more intimate places to stay on Shelter Island. This Shelter Island Inn is conveniently located within walking distance to Crescent beach, shops, restaurants and activities. Each room has it's own unique sweetness with luxurious king size beds, private contemporary baths and chic beach furnishings. Intimate and thoughtful for your perfect summer escape.
Enjoy complimentary breakfast, king beds, private baths, flat screen TV's with cable, and Wi-Fi. The backyard at West Neck Guesthouse is available for guest use and the perfect place to relax after a day out exploring Shelter Island. Sip a glass of local Long Island wine while relaxing in one of the many seating areas or grab some beach chairs and watch the sunset at Crescent Beach, a short walk from West Neck.
Their sister Property, Shelter Island House, is located just a 2 minute drive or a short walk from the property (see more above). Join for coffee, tea and pastries offered daily from 8 am-10 am in the lounge or pop in for a refreshing cocktail on your way back from the beach!
31 W Neck Rd, Shelter Island Heights, L.I., NY 11965 
Find out more by visiting westneckhouse.com or by calling 631-599-3430.
Important Shelter Island Information
Shelter Island is…an island. One of the things that makes it so unique, peaceful, and quaint is that there are no bridges linking to the island. Shelter Island is only accessible by the Shelter Island Ferry. The North Ferry connects to Greenport on the North Fork. The South Ferry connects to North Haven on the South Fork.
On the island, car service is available from Shelter Island Go-Fors. Bikes can be rented from Piccozzi's Bike Shop.
Places to Stay on Long Island
If you wanted a bunch of different options to stay on Long Island, be sure to check out these great places to stay in Montauk, this Guide to Shelter Island hotels, 10 Hamptons hotels, 10 North Fork Long Island hotels, and this Guide to Sag Harbor hotels!
Check Out Some Long Island Wine
While you're on Shelter Island, you're so close to Long Island Wine Country! It's another great part of visiting the island. If you're in the mood for great wine, be sure to check out our Complete List of Long Island Wineries and Long Island Vineyards.
Check out the absolute best Long Island Wine Tours!
If you can't make it to a tour, why not do some wine tasting at home with Bedell Cellars!
I know you're getting hungry, so be sure to also check out the best wineries on Long Island for some great food!
While you're in the area, be sure to check out these 9 relaxing things to do in the North Fork!
When you're done with all of this wine drinking and relaxing, how about making it a weekend? Here are 10 great North Fork Long Island hotels to enjoy as well.
More From The Long Island Local
Maybe grab a freshly brewed beer at these Long Island breweries and when you've had your fill of vino!
The bounty of great food on Long Island seems endless! From great steakhouses on Long Island to great Greenport restaurants to Long Island lobster rolls, there's so much to enjoy. And how about all the wonderful restaurants on the water Long Island?! Or maybe check out some Long Island oyster farms!
Be sure to find out about more things to do on Long Island as well as more great spots to eat and drink and wonderful places to stay off of Shelter Island!