It's finally time for apple picking Long Island! The summer heat is mostly behind us and the glorious Fall is here! It's time to head out to one of the pick-your-own-apple farms throughout the East End.
Apple picking on Long Island is a fantastic family activity that can get everyone involved. If you have little ones, look for farms that offer dwarf trees, amusement park-like play areas, and other kid-friendly activities. 
The apple picking season typically begins in August and runs into October. September is really when things start to rev up! Each farm and fruit stand is a bit different though so be sure to check out availability before heading out.
Places to Go Apple Picking Long Island
South Fork

Milk Pail – Water Mill
Est. 1969, The Milk Pail is celebrating over 40 years of growing high quality products. Home of the fresh Apple Cider and Apple Cider Doughnuts! UPick is open Friday to Sun from 10AM-5:30PM. Varieties available are always changing with many unique varieties only available at the Milk Pail. Currently varieties available: Gala, Jonamac, McIntosh, and MP 24 (Pink Luster).
50 Horsemill Lane, Watermill, NY 11976
Find out more by calling -631-537-2565 or visiting www.milk-pail.com/
Hank's Pumpkintown – Water Mill
Hanks PumpkinTown is not just for pumpkins! It opens Saturday, September 12 for picking. Look for a maze, playground, tractor train rides and more family fun activities, which are open only on the weekends. You will find a wide variety of apples on this farm. You can pick a one-peck bag of apples for $25 now (with a maximum of four people picking per bag). This is offered every weekend. 
Hank's Pumpkintown: ​(FALL SEASON ONLY)​​
​240 Montauk Hwy., Water Mill, NY 11976
Hank's Farmstand: ​(SUMMER SEASON ONLY)​
324 County Rd 39A, Southampton, NY 11968
Find out more by calling 631-726-4667 or visiting hankspumpkintown.com
Seven Ponds Orchard – Water Mill
The Seven Ponds Orchard is open now for apple picking in Long Island NY season. You can pick between 9 a.m. to 6 p.m. daily. They are also offering berry picking in addition to apples. Kids will love the "super dwarf" trees that are within reach for most little ones. They orchard also has family-friendly activities to extend your visit. Bring a picnic and enjoy the toy land, hayrides, corn maze and of course all the fresh baked goods available at the market. 
65 Seven Ponds Rd, Water Mill, NY 11976
Find out more by calling 631-726-8015 or by visiting facebook.com/Seven-Ponds-Orchard-160316560714096/
North Fork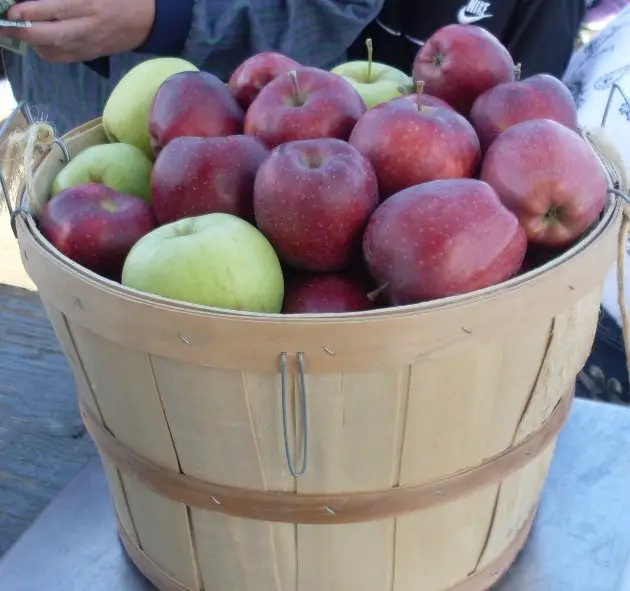 Lewin Farms – Calverton
This orchard has early apple varieties available now for apple picking Long Island! They also offer a variety of other pick-your-own fruits and vegetables too. Depending on the season, you can pick berries, pumpkins, peppers and Christmas trees! There is also a corn maze for additional family fun. Don't miss the roasted corn available at the farm stand!
812 Sound Avenue, Calverton, NY 11933
Find out more by calling 631-929-4327 or visiting lewinfarm.com/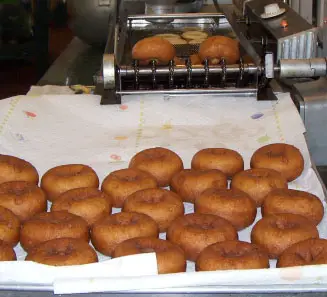 Wickham's Fruit Farm – Cutchogue
Apple picking on this this 300-acre farm starts in September. Dating back to 1661, this historic bicentennial wonder is steeped in history and is one of the largest on the North Fork. Situated on Peconic Bay, this farm offers a unique and beautiful setting for apple picking in Long Island, NY.
Kids will love the wagon ride to the apple fields as well as the delicious homemade baked goods like pies and donuts available at the market. Apple picking should be available through October from 10 am to 3pm every day except Sunday. 
28700 Main Road, PO Box 928, in Cutchogue, NY 11935
Find out more by calling 631-734-6441 or visiting wickhamsfruitfarm.com/
Harbes Family Farm and Orchard – Riverhead
The Harbes family really knows how to bring out the best for families and family time and apple picking is no exception! Harbes Orchard in Riverhead opens in September for apple picking. Their annual Apple Harvest will be on September 12 and 13 and will feature a corn maze, pony rides, and more. You can even start picking pumpkins!
The Orchard is open daily, weather permitting and masks are required. This 78 acre orchard has thought about the littlest guests too. They have a trellis system that allows smaller children to be able to reach the apples and pick them themselves!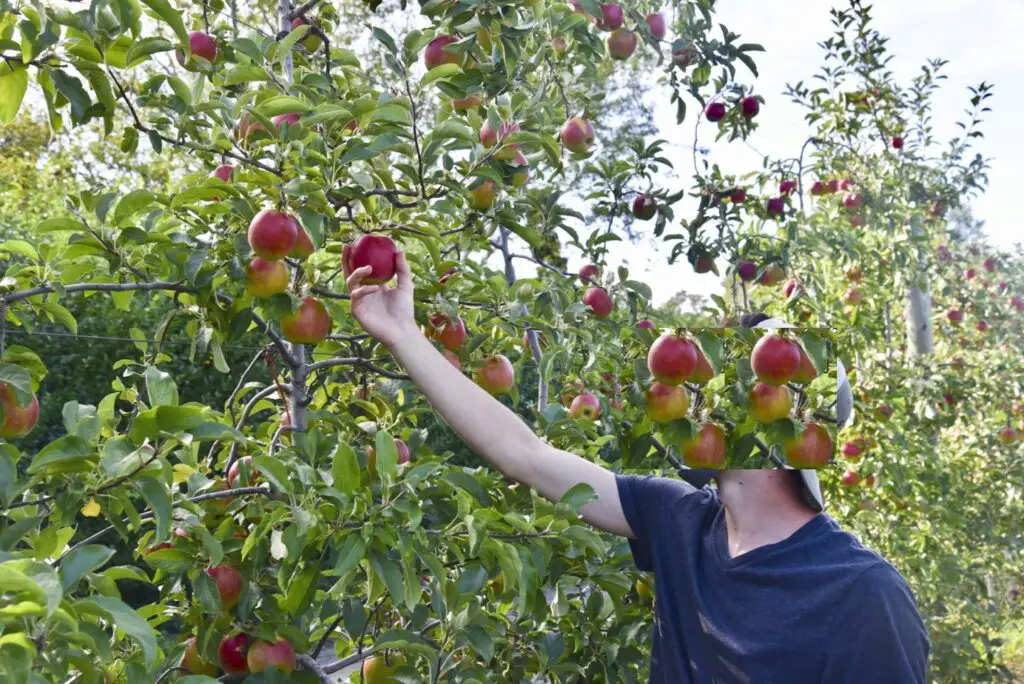 Harbes Family Farm, Barnyard Adventure & Harbes Vineyard
715 Sound Ave, Mattituck NY 11952
631-482-7641
Harbes Orchard
5698 Sound Ave, Riverhead NY 11901
631-683-8388
Open Sep & Oct
Harbes Farms Jamesport
1223 Route 25, Jamesport NY 11947
631-722-2022
Open Sep & Oct
Find out more by visiting harbesfamilyfarm.com/
Woodside Orchards
U-pick bags can be purchased on site. Just fill your bag with apples! They are peck (1/4 bushel) sized bags that hold 10-12 pounds of apples. Entrance into the Orchard is only allowed during the U-pick season of September-October. U-Pick closes a half hour before regular business hours.
The Aquebogue location is open every day but Wednesday from 11:30AM-5:30PM. Jamesport is open 10-5 Weekends only September-November. Both location offer upick, family fun, donuts and baked goods, and their amazing hard cider!
There are different varieties of Apples each weekend depending on which varieties are the ripest. Be sure to check the website as well as social media to find out what we're picking.
116 Manor Lane, Jamesport, NY 11947
729 Route 25, Aquebogue, NY 11931
Find out more by calling 631-722-5770 or visiting woodsideorchards.com
It's a Wonderful Time Outdoors
Apple picking in Long Island, NY is one of those things that aren't cancelled this year. You can get outside, feel the fresh air, taste some delicious fruit and have fun with your family in a safe way.
Please note, as if you didn't know, this year could be a little bit different than what you are used to because we are living in the time of Covid-19. Things may look differently than they have looked in the past. Check out each farm's website for guidance on masks, social distancing, and other precautions.
While you are gathering your bushels of apples, don't forget to snag some apple cider donuts, apple cider (check out my list of hard cider locations if you aren't driving), or any other delicious baked goods many of these farms offer. If you don't have time to go apple picking, you could also take a visit to the great Jericho Cider Mill for amazing products in a farm like setting!
The only questions are which farm will you visit, how many bags will you pick, how many donuts will you scarf down, and how much cider will you drink?!?