The bounty of great food on Long Island seems endless! From great steakhouses on Long Island to great Shelter Island restaurants to Long Island lobster rolls and Long Island bagels, there's so much to enjoy. Check out this Huge List of Restaurants on the Water Long Island!!!
Great Long Island Pizza in Nassau County
Check out these 19 (well, 21 if you count the multiple location restaurants) fantastic spots in Nassau County for some awesome Long Island pizza!! It's just one good pizza spot after the other!
Blue Moon
Don't you love family restaurants where the traditions, recipes, and techniques are passed through generations? If it passes the test of time and the recipes stay the same, then you know it's extraordinary indeed – no need to perfect perfection.
Blue Moon coal-fired pizza has been making Long Island pizza lovers happy with its coal-fired pizzas for more than 50 years now. Crispy crust perfectly charred at the bottom, ample toppings, and the delicious taste of fresh tomatoes and cheese in the sauce – yes, the Blue moon's pizzas are all that and more. You're welcome to this Long Island pizza heaven every day from noon to 10 p.m. except for Mondays.
26 N Park Ave, Rockville Centre, L.I., NY 11570
To find out more, visit bluemoonpizzeria.com or call 516-763-4900.
Charred Brick Oven
At Charred Brick Oven, they are very proud of their wood-fired brick oven and what it can do. Not only did they name the whole place after it, but this beautifully designed equipment is the first thing you see when you enter the restaurant. Then again, if I'm willing to write poems to every oven for bestowing pizzas upon us, perhaps, their enthusiasm is justified since Charred Brick Oven's pies are truly spectacular. Broccoli rabe, Vodka, and classic Margherita pizzas are especially noteworthy. The 12" pies come with regular or cauliflower crust.
Charred Brick Oven is ready to satisfy your pizza cravings seven days a week, from noon to 9 p.m.
3915 Merrick Rd, Seaford, L.I., NY 11783
To find out more, visit charredbrickoven.com or call 516-586-8617.
Chef Gigi's Place (formerly Naples Street Food)
When you enter Chef Gigi's, a.k.a Naples Street Food, it's easy to imagine you are in Italy mostly because of its cozy, friendly ambiance. And when you bite into their pizzas, this feeling of being there intensifies until you start to believe you teleported. This is old world pizza and pasta meets Long Island pizza at it's finest.
The small eatery has a wood-burning oven that cooks a pizza within 90 seconds; you won't have to wait long for your broccoli rabe and sausage pie there. Chef Gigi's place is open from Tuesday to Sunday, from 11 a.m. to 9 p.m.
2531, 970 Hempstead Turnpike, Franklin Square, L.I., NY 11010
Find out more by visiting naplesstreetfoodmenu.com or calling 516-673-4630.
Grandpa Tony's
Grandpa Tony's, a small piece of Italy right on Long Island, knows how to make a killer pizza in their wood-fired oven. It does kind of kills you not to eat their pies non-stop because you have only that much space in your stomach. Their homemade hand-stretched crust and phenomenal Italian plum tomato sauce make all the difference in the world.
A specialty at Grandpa Tony's is Pizza Alla Vodka; it's the perfect mix of thin crust topped with fresh Mozzarella, sauce, mushrooms, peas, and prosciutto. If you are uncertain peas belong on this Long Island pizza pie, trust me, it works. You can visit Grandpa Tony's from 11:30 a.m. to 9:30 p.m. Sunday through Thursday; on Friday and Saturday, they close at 10:30 p.m.
101 Althouse Ave, East Rockaway, L.I., NY 11518
Learn more by visiting grandpatonysli.com or calling 516-799-8669.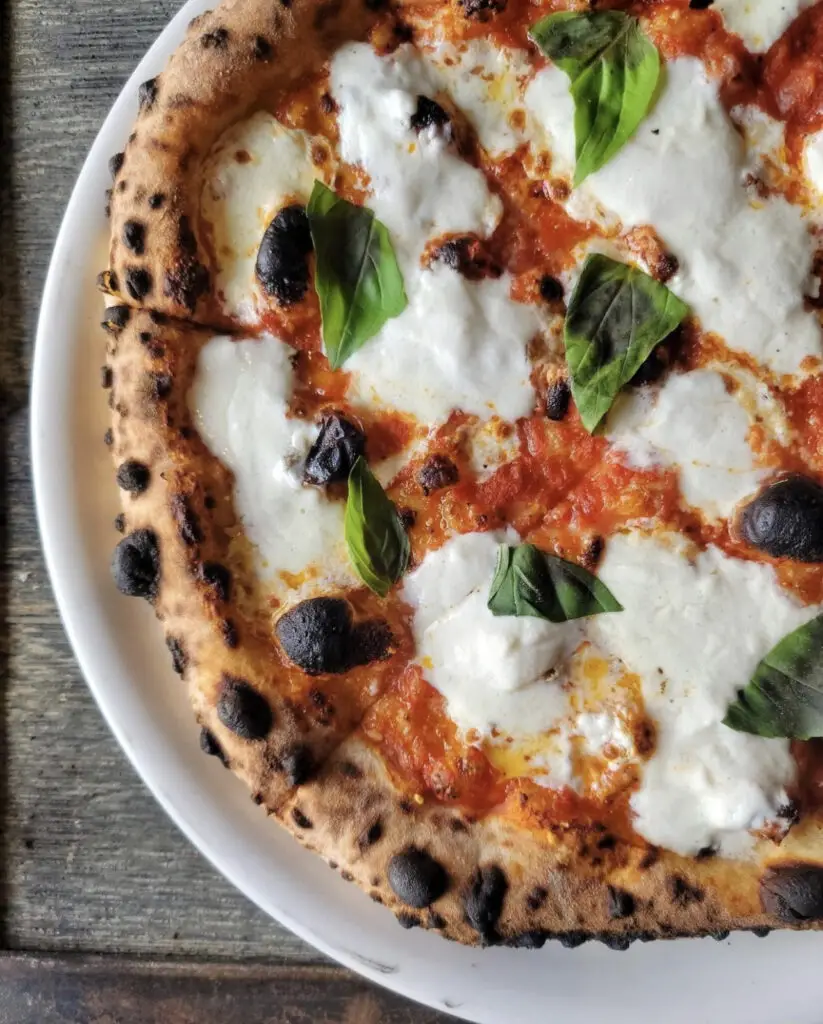 Grotta di Fuoco
If you are one of those brave souls who like challenging the rules and norms, you'll love it at Grotta di Fuoco. They put a modern spin on traditional Italian recipes, and the result is intriguing but in a great way. I don't know what they do to their crusts, but those are good enough to be eaten on their own. Although crust-no-toppings might be considered a super unique pizza recipe, Grotta di Fuoco doesn't think so. And that's a win for us because their choice of toppings is top-notch. The Zucca pie alone is a culinary masterpiece with its summer squash, taleggio, fontina cheese, mint, and hot honey.
Grotta di Fuoco is closed on Monday and Tuesday, and it's open from 5 p.m. to 9 p.m. Wednesday through Saturday, 4 p.m. to 9 p.m. on Sunday.
960 W Beech St, Long Beach, L.I., NY 11561
Find out more by visiting grottalbny.com or calling 516-544-2400.
Grimaldi's
Chosen as one of the five best pizzerias in the US by Food Network, Grimaldi's has a long list of different locations across the country and even longer history. According to the founder of chain restaurants, Patsy Grimaldi, the best pizzas come from coal-fired brick ovens, and that's how they make their hot fresh pies. This is one of the best Long Island pizza places ever. I'm talking authentic coal-fired, brick oven pizza baby that makes for a great pie and delicious crust!
Order one of the specialty pizzas (maybe the Margherita pizza?) or create your own – the result won't disappoint. There is one Grimaldi's conveniently located in the Garden City, so you can have as many of these delicious pizzas as you want whenever you want (Sun to Thu 12-9 p.m., Fri & Sat 12-10 p.m.).
980 Franklin Ave, Garden City, L.I., NY 11530
To learn more, visit grimaldisgardencity.com or call 516-294-6565.
IT Bagel & Pizza
If you ever find yourself in an argument with your partner about what to eat – bagels or pizza – IT Bagel & Pizza will come to the rescue. Not only does this cute little place have both of the best things ever invented, but they also make them in a natural, loving, and scratch-made way; no pre-packaged nonsense. Plus, they are socially and environmentally responsible.
Red or white pies, whose Italian names, Rossa and Bianca, sound much more attractive, include classic and creative choices. Traditionalists will find no flaws in IT Bagel & Pizza Margherita, which consists only of fresh Mozzarella, crushed tomatoes, and basil. For those who like their pizza with a twist, Everything Nice – kale, parmesan, EVOO, and everything bagel seasoning – will be a dream come true. This is new school Long Island pizza…and it is good.
Unlike other pizza places, IT Bagel & Pizza is open from the early morning: 8:30 – 7 p.m. Tuesday to Thursday, 8:30- 8 p.m. Friday through Sunday.
19 E Main St, Oyster Bay, L.I., NY 11771
To find out more, visit itbagelandpizza.com or call 516-628-1110.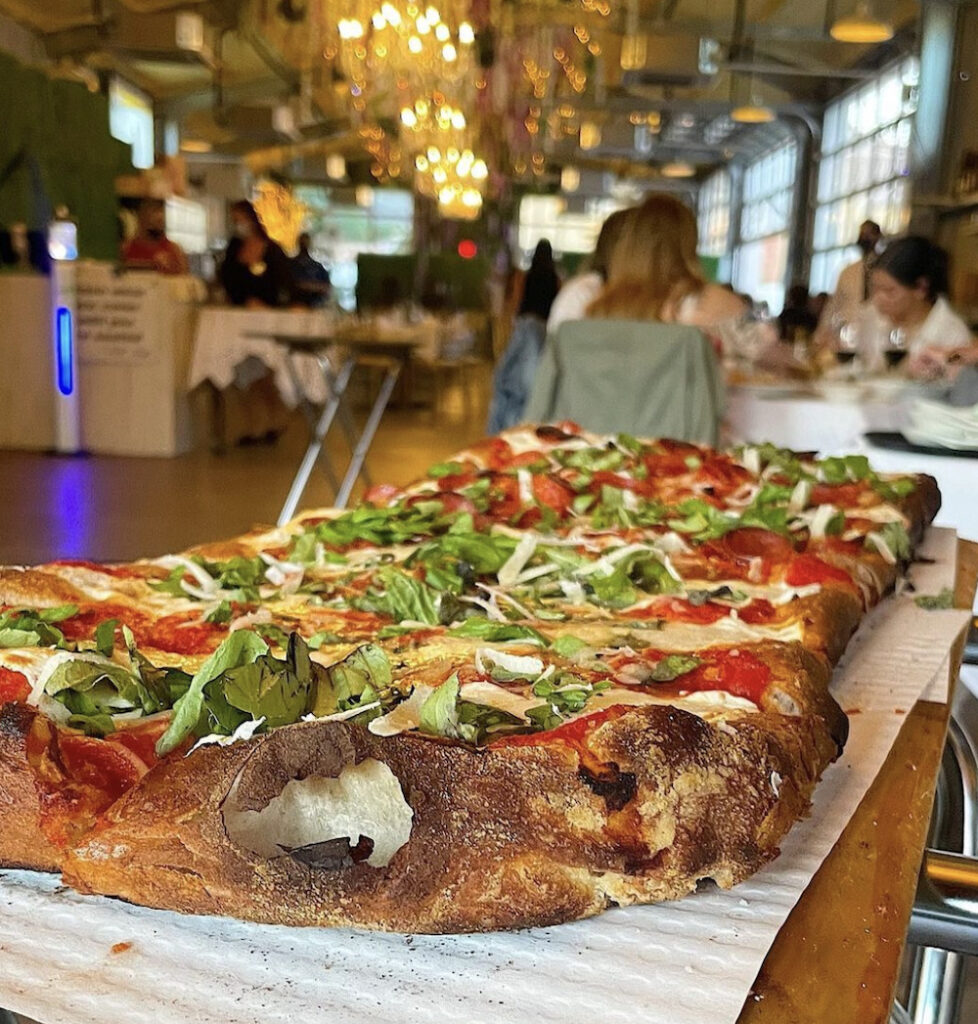 King Umberto
King Umberto evolved from a small cafe that could barely fit customers to one of the most gorgeous Italian eateries on Long Island that can accommodate everyone.
Its current owner, Giovanni Cesarano, is a guru of mixing conventional and innovative. He took the Roman way of making pies and adjusted it; with his method, pizza isn't baked in a pan but on the oven floor. He also isn't afraid of challenges and hard work, and because of this quality, he perfected the long fermentation process and complicated techniques of metro pizza. Its crust is puffy with hollow bubbles, but the best part is that it's crispy and chewy at the same time. This is OG Long Island Pizza royalty, folks. It's about decades of experience creating one of the best, top-notch businesses on the Island.
You can buy a whole pie or opt for regular, Sicilian, or grandma slices to try as many different pizzas as you can. King Umberto is open every day from 11 in the morning. From Sunday to Thursday, they close at 11 p.m.; on Friday and Saturday, it's midnight.
1343 Hempstead Turnpike, Elmont, L.I., NY 11003
For more information, visit kingumberto.com or call 516-352-8391.
La Piazza
Let me just say that the world is a better place because there is La Piazza in it. A cute Italian eatery with a friendly vibe and a beautiful brick oven, it's where you go when you need your comfort food. Create your own or opt for brick oven pizza, or order one of the specialty pies. All of their pizzas are so delicious that you don't come out of the place just comforted; you come out happy. But if you've had a really bad day, then go with the House Special. With extra cheese and seven different toppings – mushrooms, meatballs, pepperoni, olives, and more – this pizza will definitely lift your spirit.
La Piazza is open daily from 10:30 a.m. to 11 p.m.
2191 Merrick Rd, Merrick, L.I., NY 11566
Find out more by visiting lapiazzaonline.com/merrick/ or calling 516-546-2500.
Mama Theresa's Pizzeria and Restaurant
You know that saying, "You can never have too much of a good thing"? Well, Mama Theresa's eatery is one of those, and its goodness has been recognized by many Long Islanders since there are not one, not two, but three locations where you can try their pies. And are they worth trying! Eggplant Delight, Spinach & Broccoli Pie, Chicken Marsala, or Buffalo Pizzetta – everything is so fresh, so steaming hot, and so addicting. This is not only great Long Island pizza, but everything from the best grilled chicken ever (no, really) to great paninis and pasta is waiting for you!
All three of Mama Theresa's restaurants are open every day, but exact hours may vary.
Garden City:
2429 Jericho Tpke. Garden City Park, L.I., NY 11040
To learn more, visit mamatheresas.com/garden-city-park/ or call 516-747-3111.
Westbury:
1071 Old Country Rd. Westbury, L.I., NY 11590
To learn more, visit mamatheresas.com/westbury/ or call 516-334-3334.
East Meadow:
2411 Hempstead Tpke. East Meadow, L.I., NY 11554
To learn more, visit mamatheresas.com/east-meadow/ or call 516-520-5556.
Mangia Bene
Mangia Bene, which means eat well in Italian, is true to its name because that's where you go for an incredible dining experience and pizza. Even though they use an electric oven, the pies that come out of it are in no way less worthy of praise than wood-fired or coal-fired ones. Don't believe me? Just order any of the pizzas they offer – for example, Calabrese (crumbled sausages, Calabrian chilis, Mozzarella, and San Marzano tomato) or Pesto (basil pesto, smoked Mozzarella, Parmigiano Reggiano cheese, and pine nuts) – and see the truth for yourself.
Mangia Bene is open daily from 11 a.m. to 10 p.m.
14 S Park Ave, Rockville Centre, L.I., NY 11570
To find out more, visit mangiabenervc.com or call 516-447-6744.
Mario's Pizza & Restaurant
Mario's Pizza has been around for 35 years keeping everyone on Long Island fed and happy with their scratch-made pizzas, pasta, and other classic Italian fares. A family-owned restaurant, they prepare food for their customers as perfectly as if they were doing it for themselves.
The regulars at this precious trattoria love Chicken Parmigiana and Chicken Marsala. But if you decide to build your own pizza or try some other pies, Mario's won't let you down and will make sure it's as delicious as you expect it to be. The eatery welcomes you daily, from 10 a.m. to 10 p.m. (9 p.m. on Sundays).
655 Broadway, Massapequa, L.I., NY 11758
For more information, visit mariosmassapequa.com or call 516-797-1122.
The Onion Tree
The Onion Tree belongs to a couple whose beautiful union benefits every Long Islander – Raquel and Jay Jadeja. Jay has been a foodie since he was born, began his culinary career at 14, and traveled the world collecting recipes. Raquel is a certified Holistic Health Coach. When you combine their skills, you get The Onion Tree – a place where food is healthy but tastes just as good as all guilty-pleasure foods (or maybe even better).
The Onion Tree has classic Italian pizzas – Margherita, Marinara, Funghi, Quattro Formaggi, and pies with Indian flavors – Chicken Tikka Masala and Palak Paneer. I mean, this is amazing variety right here. The latter is the most delightful combination of two amazing countries in one dish. Head over to the eatery for a share of this pure happiness on any day, Wednesday through Sunday. It's open from 4:30 – 9 p.m. from Wednesday to Saturday, and on Sunday, they work from noon to 9 p.m.
242 Sea Cliff Ave, Sea Cliff, L.I., NY 11579
To learn more, visit theoniontree.com or call 516-916-5353.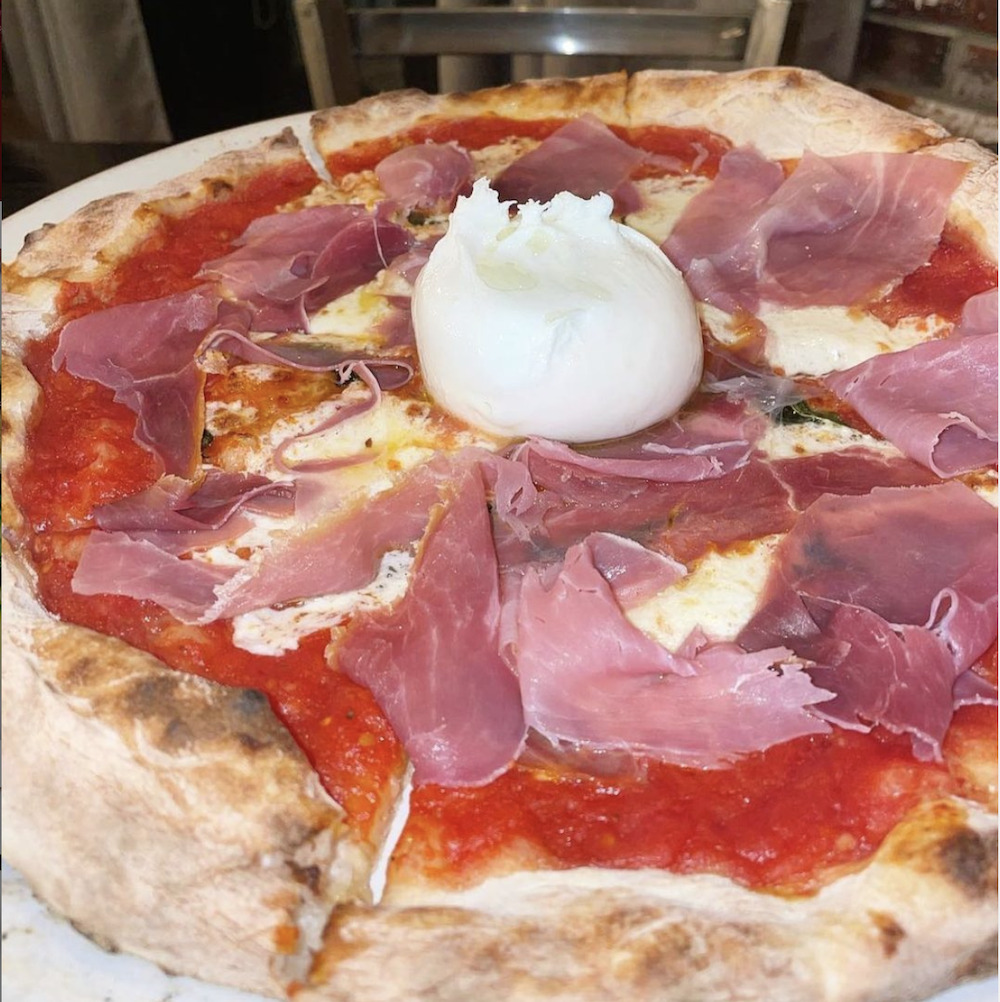 Pomodorino Rosso
Pomodorino Rosso, a sister restaurant of Uva Rossa, is a lovely Italian spot with attentive staff, a relaxed atmosphere, and delectable pizzas. Even though the place doesn't have a wood or coal-burning oven, one bite of their gas-fired pizza turns you into a regular.
While the cuisine served at the restaurant is definitely Old Neapolitan, Antonio Bove, the owner, changed a couple of things in the pies. Pomodorino Rosso's pizza crust isn't charred – instead, it's just plain golden color – and it's crispier. There are plenty of choices for both red and white pie lovers, and fried pizzas are available, too.
If you decide to visit Pomodorino Rosso, it's better to do it on a weekday because, on weekends, they work shorter hours – 5-10:30 p.m. on Saturday, 5-9 p.m. on Sunday. On weekdays, they open at 11:30 a.m. and close at 9:30 p.m. Monday through Wednesday and 10:30 p.m. on Thursday and Friday.
47 Franklin Ave, Valley Stream, L.I., NY 11580
Find out more by visiting pomodorinorosso.com or calling 516-812-6171.
Salvatore's
The first Long Island pizzeria to adopt the method of cooking pies in coal-fired ovens in 1996, Salvatore's Pizzeria has had a considerable amount of time to perfect the whole process. And that's indeed what they did. Here it doesn't take long to get your Margherita pizza, even though every pie is freshly made. And when you feel that cheese literally melting in your mouth along with a crispy touch of the thin crust, you'll be glad that it won't take long to get another pie.
The pizzeria is ready to serve you some yummy pizzas from Tuesday to Sunday. It opens at 11:30 p.m. and closes at 10 p.m. Tuesday through Thursday. The working hours on Friday and Saturday are 11:30 to 11 p.m. And on Sunday, you can enjoy Salvatore's Long Island pizza from 2 p.m. to 9:30 p.m.
124 Shore Rd, Port Washington, L.I., NY 11050
To learn more, visit salvatorescoalovenpizzeria.com or call 516-883-8457.
Saverio's
Saverio's is all about authenticity. If you wish to feel like you're in Italy while being on Long Island, then you should go to Saverio's. They use buffalo milk Mozzarella, San Marzano tomatoes, 100% Italian extra-virgin olive oil for their pies, and all of these ingredients have D.O.P certification. The pizzas are cooked in a wood-fired oven from Naples within two minutes. It honestly doesn't get more Naples than this. But fans of New York-style pizzas, don't despair; you can request your pizza to be cooked just like they make it in Brooklyn.
The following pies are recommended by owners themselves – the Margherita D.O.P., Mom's, and La Saporita – so maybe consider going with any of those? People who own this little Italian heaven probably know what they are talking about.
Saverio's pizzeria welcomes you anytime from Tuesday to Sunday, from 11:30 to 8 p.m. (8:30 p.m. Friday and Saturday).
929 N Broadway, North Massapequa, L.I., NY 11758
To find out more, visit saveriospizza.com or call 516-799-0091.
Spaghettini
In 1979, Pasquale Vetrano and his wife Lucia opened Ciros 2, a small, 900 sq. ft. pizzeria in New Hyde Park. They grew their business with hard work changing the name to Papa Ciro's. It was expanded by adding a full service Italian Restaurant, catering room with a full bar and café serving Italian pastries and authentic gelato.
In 2011, their two sons Giuseppe and Pasquale Jr. Founded a new pizza concept trademarked SKINNYPIZZA®, located in Roslyn Heights and downtown Manhattan.
The Vetrano Family opened this upscale Pizzeria in their hometown, called Spaghettini Pizza Trattoria. This causal Trattoria serves upscale Italian cuisine out of it's open kitchen and stone fired pizza ovens. The interiors have a modern Italian style with mosaic tile floors and butcher block tables. Great for lunch and dinner with either friends, family or business associates.  The Vetrano Family history will continue to grow with more generations on the way, They are sure to continue to expand while still being rooted back to their origins of Mineola, New York and Naples, Italy.
106 Mineola Blvd, Mineola, L.I., NY 11501
To find out more, visit spaghettinipizza.com/ or call 516-750-8044.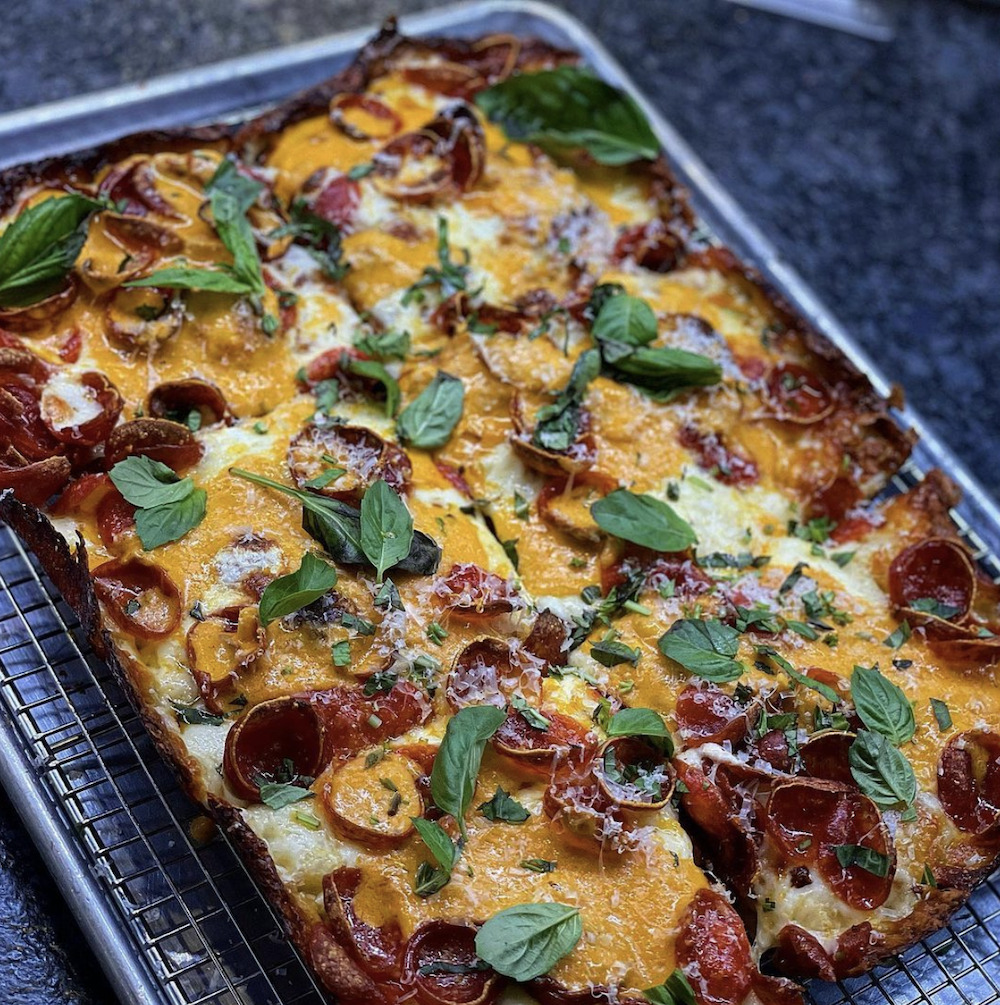 Taglio
Taglio, which means 'by the slice' in Italian, is famous for Roman-style pizzas. If you don't know what it means, let me explain. Roman-style refers to the technique of preparing and cooking pizza dough. It's first fermented for 2-3 days and then baked slowly; the whole process is time-consuming, yes, but the result is airy, bubbly crust with a crispy bottom, which goes easy on your digestive system. I can explain how good Roman-style pizzas are, but you will understand it better once you try it yourself. They even have Detroit-style pies, like the one in the pic above. It's a great variety of pizzas, including unique toppings like hot honey and my favorite…the amazing potato and rosemary white slice.
The pie loved by many is the one with potato and rosemary, but it's not available all the time. If you are lucky to visit Taglio on the day they offer this pizza, don't waste time considering other options – just order. You'll understand why later. This awesome style is unique for Long Island pizza, but man is it good.
Taglio is open every day from 11 a.m. to 9 p.m.
85 Mineola Blvd, Mineola, L.I., NY 11501
For more information, visit tagliopizzany.com or call 516-741-0379.
Vulcano 081
With a mouth-watering aroma and a perfectly round and appealingly charred appearance, pizzas at Vulcano 081 can make any person hungry, even if they've just eaten. Baked in a wood-fired oven at 1,000 degrees, these pies are to die for. The must-try pizzas are Diavola (red pie with spicy salami and Calabrian chili oil) and Valentina (white pie with mushrooms, prosciutto, caramelized onion, and truffle cream). If you aren't afraid of your mouth being on fire but actually love that feeling, then Vulcano with spicy salami, pickled jalapeno, and honey will become your favorite.
Vulcano 081 is open 4-9 p.m. Tuesday through Thursday, 12-10 p.m. Friday and Saturday, 12-9 p.m. on Sunday.
43 N Village Ave, Rockville Centre, L.I., NY 11570
Learn more by visiting vulcano081.com or calling 516-442-5858.
Great Long Island Pizza in Suffolk County
Check out these 12 fantastic spots in Suffolk County for some awesome Long Island pizza!!
1943 Pizza Bar
People who know rare pizza facts usually are the people who know all the best pizza places. And if those people actually make and sell wood-fired brick oven pizza… Well, you can't doubt the expertise of the 1943 Pizza Bar owners since their restaurant's name contains the most important date for pizza – the year when this dish, loved by so many, was born.
One of the all-time favorites at 1943 Pizza Bar is The New Haven – a magical white pie with mashed potato and bacon. If you don't find anything you like on the menu, you can create your own pizza and make it vegetarian or as meaty as possible. The place is open every day except for Wednesdays.
308 D, Main St, Greenport, L.I., NY 11944
Find out more by visiting rollingindoughpizza.com or calling 631-477-6984.

Brunetti Neapolitan Wood-Fired Pizza
Established in 2009, Brunetti is an authentic Neapolitan style pizza restaurant with locations in the West Village of New York City and Westhampton Beach, Long Island.
The origin story began when owners, Michael and Jason Brunetti, a dynamic father and son duo, decided to team up and launch a small pizzeria and wine bar in Westhampton Beach initially called Pizzeterria Brunetti. Influenced by their Italian ancestry and passion for the amazing quality and authentic products from this region, they focused on Neapolitan style pizza and small plates.
Opened in late 2013, Brunetti fans and new customers alike began to enjoy the unique tastes and experiences at both the original Westhampton location and the West Village location. If visiting the West Village location, you can grab a seat at the community bar — a marble counter at the center of all the action. There you can experience the art of pizza making, the firing of the oven, and learn about the featured wine and beer available. 
While the dough is the key essential element to perfecting the pizza, the toppings, and their quality are what makes the difference. A Brunetti mission statement is that "No corners are cut, no details ignored"! With approximately 20 different pizza options, the team uses house-made mozzarella and burrata, house-infused oils, and local, seasonal ingredients for specials. Flavors range from the simplest and most crucial staples from Naples, and each pizza has its own unique style.
61 Main St, Westhampton Beach, L.I., NY 11978
To find out more, visit brunettipizzahamptons.com or call 631-288-3003.
Caruso's Pizzeria
Even though Caruso's Pizzeria went through several owners during the 46 years it's been open, the recipes stayed the same because nobody in their right state of mind would change something that good. How good? Well, when you want to check if a pizzeria knows what it's doing, order a plain cheese pizza. If they can rock this basic pie with only cheese and sauce that can't and won't cover a badly made crust, then they can rock pretty much any kind of pizza. Trust me, Caruso's Pizzeria will pass this test with flying colors.
The eatery is open from Monday to Saturday, from 11 a.m. to 9 p.m.
1104 Old Country Rd Riverhead, L.I., NY 11901
Learn more by visiting https://www.carusospizzariverhead.com/ or calling 631-369-2850.
Cucina 25
Have you ever been reluctant about telling your friends about a truly awesome pizza place for the fear of the word getting around? Because you know they'll share it with other people, and in the blink of an eye, your favorite place will turn into one of those mainstream pizzerias where there is always a long wait. Yet, some places are just too worthy to be kept a secret because you want them to thrive and continue serving their delicious food forever. Cucina 25 is that kind of a place. Their Greek Salad pizza just blows your mind with those sweet tomatoes mixed with salty feta served on a crispy sesame seed crust. Yes, it's as delicious as it sounds.
Grab a slice any time between 11 a.m. and 10 p.m. from Monday to Saturday. On Sundays, the Cucina 25 pizzeria is open from noon to 9 p.m.
12 W Main St Riverhead, L.I., NY 11901
To find out more, visit cucina25.com or call 631-381-0388.
Donatina Neapolitan Pizza Cafe
Donatina is a versatile place that accepts all people no matter what crust you like. For lovers of thin and crispy, New York-style pizzas from Marsala Pizza Ovens will be perfect. And if you can't get enough of crust, then Detroit-style is for you. It's a rectangle-shaped airy yet thick crust with cheese surprise. It's so delicious that I want to erase my memory just to be able to try it for the first time again. And of course, there is a good variety of Neapolitan pies made in a wood-burning brick oven.
But the eatery isn't only about the pizza (although that's the most important part); it also has cute decor, a cozy atmosphere, and friendly service. Check it out on any day of the week, from 11 a.m. to 9 p.m. (Sun-Wed), 10 p.m. (Thu), and 11 p.m. (Fri and Sat).
18 West Ave, Patchogue, L.I., NY 11772
For more information, visit donatinapizza.com or call 631-730-7002.
La Margherita
Owned by Giuseppe Illiano, La Margherita still uses the same original wood-burning pizza oven since the grand opening in 1991. Its name puts some pressure on the pizzeria but judging by the taste of their pies, they have nothing to worry about.
La Margherita's pizza menu is quite extensive, and you get to choose between regular, Sicilian, or special pie. Or you can go all-in with a stuffed pie loaded with meat and cheese and served with marinara sauce. However, these options aren't made in the brick oven; for that, you'll have to choose one of their seven 12" pizzas cooked in the wood-burning oven (Margherita is one of them).
The pizzeria is open daily from 11 in the morning. Their closing hours vary, though: Monday to Thursday, it's 10 p.m., on Friday and Saturday, it's 11 p.m., and on Sunday, it's 9:30 p.m.
1231 Station Rd, Medford, L.I., NY 11763
Learn more by visiting lamargheritapizza.com or calling 631-924-0048.
La Volpe Ristorante & Anton's Pizzeria
What's started as a modest place called Anton's Pizzeria turned into one of the loveliest restaurants with authentic Italian cuisine and a charming Sicily vibe. Every slice of every pizza that comes out of this family-owned establishment is filled with love, and you can taste it (quite literally if you order a heart-shaped pizza).
If you do visit, consider trying Pizza Alla Volpe, Quattro Stragioni, Chicken Marsala, or Chicken Francese, or you can go for all four – they are worth it. Gluten-free options can be arranged.
Anton's deliciousness is available every day (except for Monday). They open at noon and close at 9:30 p.m. from Tuesday to Thursday, 10:30 p.m. on Friday and Saturday, and 9 p.m. on Sunday.
611 Montauk Hwy., Center Moriches, L.I., NY 11934
Learn more by visiting lavolperestaurant.net or calling 631-878-2528.
Lenny's Pizza & Bistro
Lenny's Pizza & Bistro is an amazing place with a homey dining room and a cute little bar in the back. The friendly ambiance of the eatery is actually all its owner and pizza maker who goes out of his way to make every customer feel welcomed. But the ambiance and friendliness wouldn't have mattered much if the food was anything short of spectacular. So what makes this Italian eatery special is that it has it all – delicious food, great atmosphere, and charming decor. If you decide to grab a slice or a pie at the trattoria, go for the Sicilian pizzas – Lenny's recipe is one of the best in the world!
You can visit the eatery on any day of the week from 11 a.m. to 10 p.m.
1451 Main Rd Jamesport, L.I., NY 11947
Find out more by visiting lennyspizzabistro.com or calling 631-722-8589.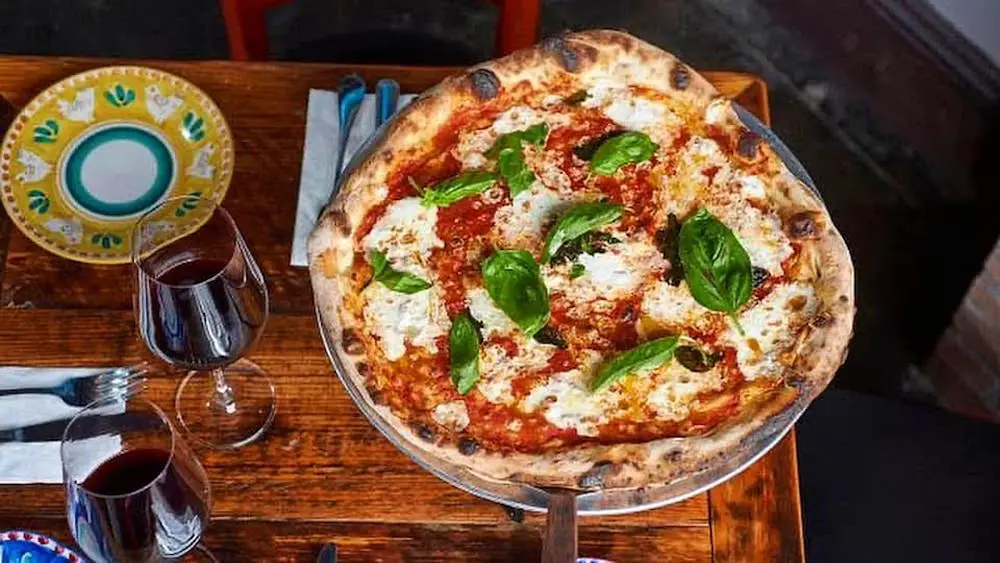 Molto Pizza
Not many pizzerias can say they have a brick oven built by the owner himself. But Molto Pizza can. The owner, Massimiliano Gargiulo, used to be a carpenter and builder before he entered the restaurant business, so he decided that the most important pizza-making equipment should be made with his hands. This and the talent of chef Mario Passante make Molto Pizza's pies taste heavenly (especially the tender yet crunchy crust).
Although there are only three types available – Margherita, Marinara with anchovies, and Four Formaggi – you won't need more options.
376 Deer Park Ave, Babylon, L.I., NY 11702
Learn more by visiting facebook.com/moltopizzababylon/ or calling 631-314-4412.
Pazzo
Pazzo is one of those precious businesses that never stop improving while fulfilling their ambition to provide the best food for their customers. After learning that wood-burning ovens are great for mouth-watering pizzas, the owners of Pazzo installed one right next to their deck ovens. Knowing that many people have different dietary preferences, they included vegan and vegetarian menus and gluten-free options. At Pazzo, they believe that everyone should be able to enjoy delicious Italian food, and they are ready to go above and beyond to make it happen for you.
When it comes to pizza options, there is plenty for any taste. There is a pie with grilled eggplant and asparagus; a pizza with short ribs, mushrooms, and cognac cream sauce; as well as classic ones, like Margherita, and genius ones, like Mac and Cheese.
Pazzo is open seven days a week from 11 in the morning. From Sunday to Thursday, they close at 9 p.m.; on Friday and Saturday, it's 10 p.m.
6278 NY-25A, Wading River, L.I., NY 11792
To find out more, visit  pazzorestaurantwadingriver.com or call 631-929-3939.
The Pie at Salvatore's
You might think overflowing delicious toppings is what makes a pizza great, but I think the heart of any pizza is its crust. And Fred Lacagnina, the owner of The Pie at Salvatore's, makes killer crusts by using a rolling pin instead of hands when stretching pizza dough. So if you appreciate the beauty and taste of a true Italian-style slice of pizza – a thin crispy crust that holds its toppings well and doesn't 'bleed' cheese and oil all over the place – pick The Pie at Salvatore's.
If you are in doubt about which pizza to order, you can always go for Original Neapolitan Pizza to make it into a fully Italian dining experience. The eatery can take you on a mini trip to Italy every day from 11:30 a.m., except for Tuesdays. They work until 9 p.m. on weekdays and Sundays and until 10 p.m. on Fridays and Saturdays.
120 E Main St, Bay Shore, L.I., NY 11706
For more information, call 631-206-1060.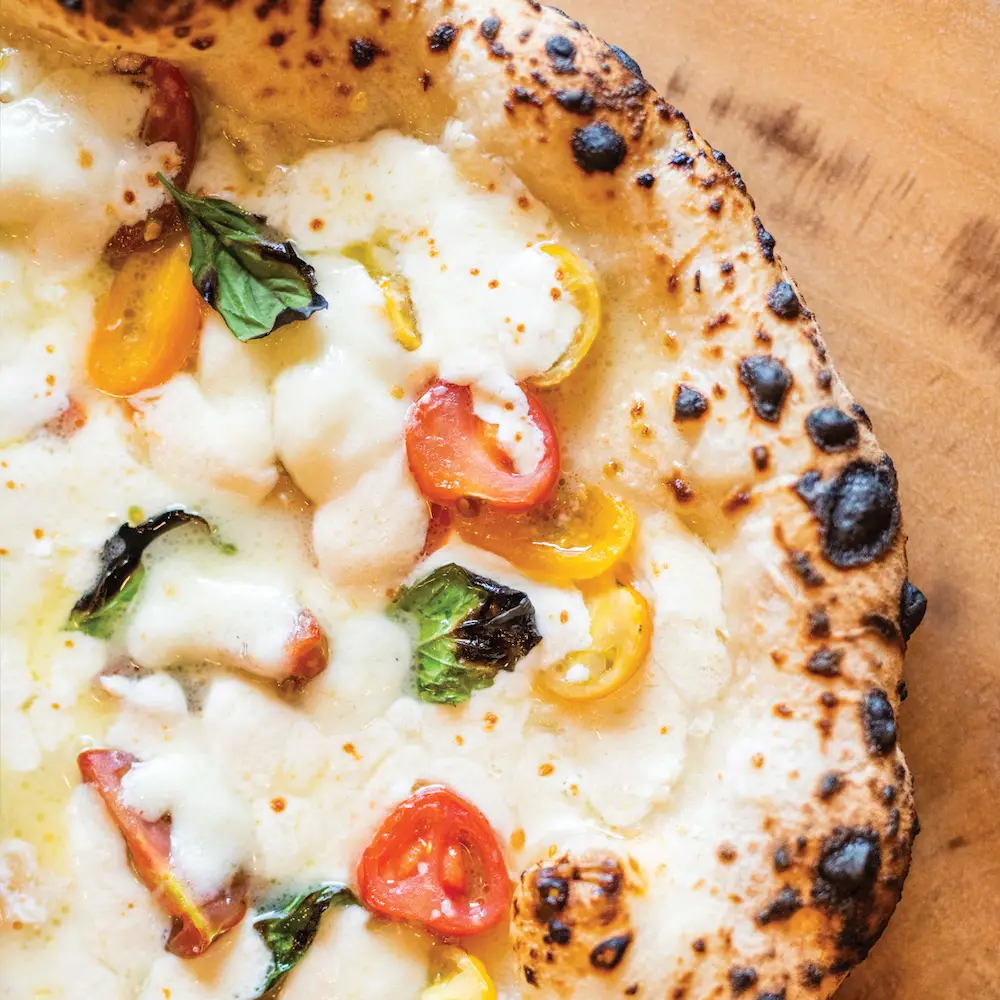 Pizza Rita
An incredible pizza with beautiful soft (and I mean soft like freshly baked bread) yet crispy crust is hard to find. That is exactly the type of pizza award-winning pizzaiolo Jeff Marrone creates at Pizza Rita. And that's why Mattituck is so lucky; they can eat these incredibly gorgeous and tasty Neapolitan-style pies every day without traveling far.
Every pizza at Pizza Rita has three main ingredients – Mozzarella, basil, and extra-virgin olive oil. The most interesting choices include the Northforker pizza (Mascarpone, Kale, Red Onion, Pine Nuts, and Pecorino Romano) and Cannolo (Ricotta, Sausage, Oyster & Button Mushrooms, Pecorino Romano, and Garlic). Pizza Rita will be glad to brighten your party, meeting, or day with their pies anytime from Wednesday Sunday, from 11 a.m. to 8 p.m.
55 County Rd 48, Mattituck, L.I., NY 11952
Learn more by visiting pizzarita.org or calling 631-315-5557.
Multiple Locations
Umberto's Pizzeria & Restaurant
Yummy, tasty, delicious, heavenly, mouth-watering, amazing, awesome, beautiful – I can go on and on about Umberto's pizzas, but all these words combined still aren't enough to describe the real taste of those pies. This isn't decent pizza, it's amazing pizza. You can choose between round and Sicilian pies and other really fresh pizza options, and you'll also be able to decide whether your want it regular, light, or well-done. There are also a lot of various toppings, ranging from veggies, like pepper and onions, to homemade fresh sausages. If you aren't happy with all these decisions and choices, you can always opt for Grandma or Vodka pie. The Sicilian pizza is amazing. 
This may be the most famous Long Island Pizza around. I mean, they have been great for decades and are said to have invented Grandma pizza…one of the best styles around IMHO.
Umberto's Pizzeria is available in five locations across Long Island, and any of them will be glad to see you any time from 10:30 a.m. to 9:30 p.m. on any day of the week.
New Hyde Park:
633 Jericho Turnpike, New Hyde Park, L.I., NY 11040
Manhasset:
429 Plandome Road, Manhasset, L.I., NY 11030
Massapequa:
1011 Park Blvd, Massapequa Park, L.I., NY 11762
Bellmore:
208 Bedford Ave, Bellmore, L.I., NY 117102
Lake Grove:
111 Alexander Ave, Lake Grove, L.I., NY 11755
Find out more by visiting originalumbertos.com or calling 516-437-7698.
Long Island Farm Guides To Explore
Suffolk County agriculture includes over 560 farms with 4,600 people that generates more than $226 million in sales annually. Long Island knows farming as well as Long Island farmland preservation!! How about enjoying some wonderful Long Island hiking trails!
Check out more Long Island Farm coverage on The Long Island Local!
Explore our Guide to organic farms on Long Island and our Guide to CSA on Long Island.
Read about great events like the Tulip Festival at Waterdrinker Farm and all that the Golden Earthworm has to offer!
What about this massive list of Long Island farmers and farms you need to visit!
How about Long Island Oyster Farms, the last Long Island Duck farm, or the only fresh American snail farm Peconic Escargot!
When the season's right, explore our Long Island Christmas Tree farm guide and our list of great Long Island pumpkin picking farms!
Check Out Long Island Wine
If you're in the mood for great wine, be sure to check out our Complete List of Long Island Wineries and Long Island Vineyards.
Check out the absolute best Long Island Wine Tours!
If you can't make it to a tour, why not do some wine tasting at home with Bedell Cellars!
I know you're getting hungry, so be sure to also check out the best wineries on Long Island for some great food!
While you're in the area, be sure to check out these 9 relaxing things to do in the North Fork!
When you're done with all of this wine drinking and relaxing, how about making it a weekend? Here are 10 great North Fork Long Island hotels to enjoy as well.
Things To See and Do on the South Fork
I always recommend seeing as much of the South Fork as possible!! 
The Hamptons and Montauk is a world-renowned beach resort destination for good reason! There is just so much to see, do, and enjoy! Here are just a few of them:
Check out this Guide to the Best Beaches in Montauk! Also, check out this Guide to The Hamptons best beaches!!
Check out some luxury homes in The Hamptons!
Maybe you will love it so much, you'll want to check out some Hamptons wedding venues!
Enjoy some of the world-class, amazing art in The Hamptons!
While You're Enjoying the Outdoors
Be sure to find out about more things to do on Long Island as well as more great spots to eat and drink and wonderful places to stay on Long Island!
Check out this guide to Long Island driving ranges, including this feature on the popular Heartland driving range! Go have fun at one of these great Long Island skate parks!
Make It A Weekend
The East End of Long Island is a really special spot. If you think you'd want to check it out and maybe even stay awhile…that wouldn't be such a terrible idea.
If you wanted to consider different options for staying on Long Island, be sure to check out these great places to stay in Montauk, 11 Hamptons hotels, 10 North Fork Long Island hotels, and this Guide to Sag Harbor hotels! Enjoy reading up on and hopefully exploring these wonderful Shelter Island hotels and let me know if you decide to make it a vacation!
More From The Long Island Local
Maybe grab a freshly brewed beer at these Long Island breweries!
And how about all the wonderful Wölffer Estate Vineyard events and tastings?! Or maybe check out some Long Island oyster farms! How about these guides to Long Island Coffee Shops and Long Island coffee roasters!! Check out these 16 Long Island Boardwalks! Take the ferry over and enjoy these Fire Island restaurants! Let's not forget about the best tacos on Long Island and these 32 great Long Island pizza places either!! Here's 21 great spots to enjoy Long Island Gelato!
Be sure to find out about more things to do on Long Island as well as more great spots to eat and drink! Maybe take a stroll in one of these amazing Long Island arboretums and gardens! There are even this great Long Island kayaks and paddleboard guide to exploring!
The East End of Long Island is a really special spot. If you think you'd want to check it out and maybe even stay awhile…that wouldn't be such a terrible idea.
If you wanted to consider different options for staying on Long Island, be sure to check out these great places to stay in Montauk, 11 Hamptons hotels, 10 North Fork Long Island hotels, and this Guide to Sag Harbor hotels! Enjoy reading up on and hopefully exploring these wonderful Shelter Island hotels and let me know if you decide to make it a vacation!