Are you looking for some great North Fork Long Island hotels? If you are looking for a quick, fun getaway, here is a list of 11 great hotels that could be the perfect home base for your stay.
Come to the North Fork to experience Long Island's wine country, breweries, cideries, and distilleries. Don't forget about the amazing, rural farm life charm and some of the best, freshest food and some of the best (Greenport) restaurants on the island. You don't have to run to the Hamptons to have a luxurious weekend in a fantastic destination.
Check out these accommodations, each very different from the others. You can stay in a newly-built glamorous hotel, a throwback 50's style motel, or a family-run inn. Each place is lovely with unique charms you will find no where else. 
11 North Fork Long Island Hotels
Within Greenport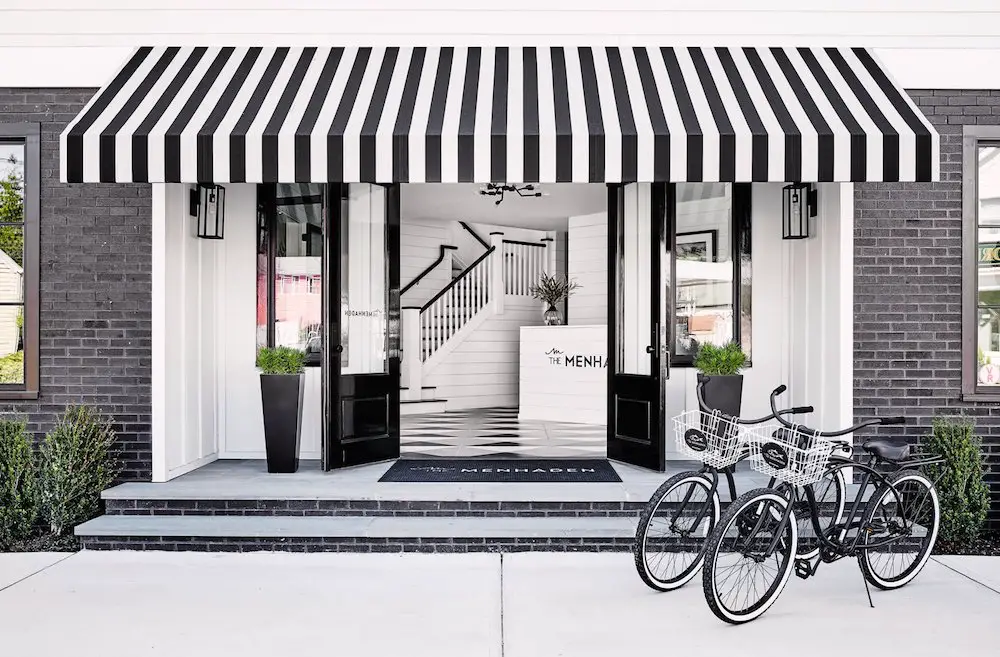 The Menhaden
This new, chic 16 room hotel fits in seamlessly to the bustling village. Guests at this cozy hotel are exclusively invited to enjoy the hotel's rooftop bar, the only one in the area. Amenities include a mini-fridge stocked with complimentary local delicacies.
Looking for something to do? The staff at the Menhaden offers loads of seasonal activities include local farm tours, wine tastings and even oyster-farming. They are committed to environmentally-conscious tourism and sustainable practices so you can feel good about your travel decisions. 
Relocated NYC French Bistro is located in the hotel.
207 Front Street, Greenport, L.I., NY 11944
Find out more by calling 631-333-2777 or visit themenhaden.com.
American Beech
The American Beech Hotel is a boutique luxury hotel nestled in the historic Stirling Square. The neighborhood is home to a variety of local businesses that benefit from our aquatic surrounding.
The reception and boutique can be found closest to the Main Street entrance of Stirling Square. Guests can shop, eat, drink, and spend the night—all within arms' reach! Stirling Square can be quite lively at night; please consider this before booking. American Beech Restaurant and the Black Llama Bar are within the hotel.
Among the other eating and drinking establishments at Stirling Square are Brix and Rye is a speak-easy style cocktail bar in Sterlin Sqaure, and 1943 Pizza Bar (some of the best on Long Island).
There are eleven rooms, two of which are two-bedroom apartments. Five of the rooms are situated above our American Beech restaurant and the other six are dispersed throughout Stirling Square.
This winter be sure to check out their new Casitas and other heated and covered outdoor dining options.
300 Main Street, Greenport, L.I., NY 11944
The Lin Beach House
The Victorian, five room inn was built in the 1970s. After a long renovation to return it to a functioning hotel and lounge, the main feel is "Play, Sip, Stay." An airy meets coastal meets modern is the relaxed and comfortably chic vibe.
The vintage charm still persists, though now informed with elements from the investors experiences in places Scandinavia, Cape Town, and Bali.
Large suites with 17-foot ceilings sport beautiful claw foot tubs, brass fixtures and wonderful antique furnishings. The original floors, fireplaces and architectural details were also restored. All of the rooms feature king-sized beds and private baths.
455 NY-25, Greenport, NY 11944
Find out more by visiting linbeachhouse.com.
Find out more by calling 631-477-6571 or visit americanbeech.com/home.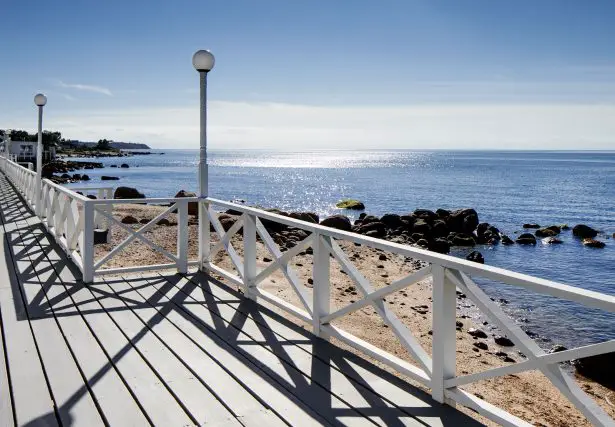 Sound View
Modern, casual and perfectly-designed for social-distancing, the Sound View is a great option for those wishing to disconnect. Each of the 55 guest rooms offer direct access to the private beach and their outside path system.
Think of this as a cool, beachy, updated motel where you can reconnect with nature. Their new procedures in 2020 let guests have a total contact-less experience if they want it. You can also enjoy the bonfires on the beach or try your hand at karaoke. 
58775 County Rd 48, Greenport, L.I., NY 11944
Find out more by calling 631-477-1910 or visit soundviewgreenport.com.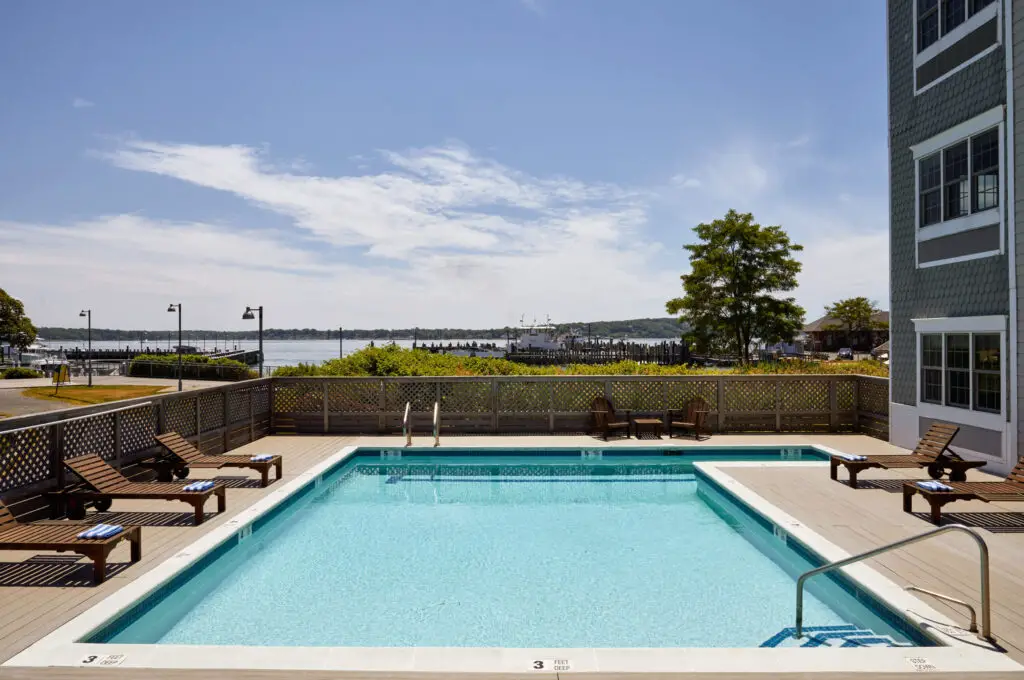 The Harborfront Inn
Visitors come to The Harborfront Inn for the relaxed vibe and scenic views of the Peconic Bay. They offer a fitness room, outdoor pool and complimentary continental breakfast and parking. Splurge on an upgraded room with a private balcony, whirlpool tub or a suite with separate living areas so you have room to spread out. The panoramic views from this destination are hard to beat!
209 Front Street, Greenport, L.I., NY 11944
Find out more by calling 631-477-0707 or visit theharborfrontinn.com.
Greenporter Hotel
Greenporter Hotel is located at the entrance to the Village of Greenport, right in the middle of all the area has to offer. Walk to restaurants, shops, and the village docks.
Since the hotel only has 30 guestrooms, visitors get to feel like they are private guests at a massive beach house.
Greenporter Hotel offers a casual, comfortable feel without giving up the posh amenities you have come to expect at these North Fork Long Island hotels. 
326 Front Street Greenport, L.I., NY 11944
Find out more by calling 631-477-0066 or visit greenporterhotel.com.
Silver Sands Motel
If you want to experience a retro getaway, then the Silver Sands Motel should be on your must-visit destination. Built in 1957, it has been home to generations of beach visitors. The Silver Sands has motel rooms as well as one and two bedroom cottages that work well for families.
The private beach and wooded nature of the 38 acre property give it a feeling of privacy hard to find on Long Island. Everything about this destination is retro, including how you book a room. You have to call via the phone to inquire about reservations!
1400 Silvermere Road, Greenport, L.I., N.Y. 11944
Find out more by calling 631-477-0011 or visit silversands-motel.com.
Outside of Greenport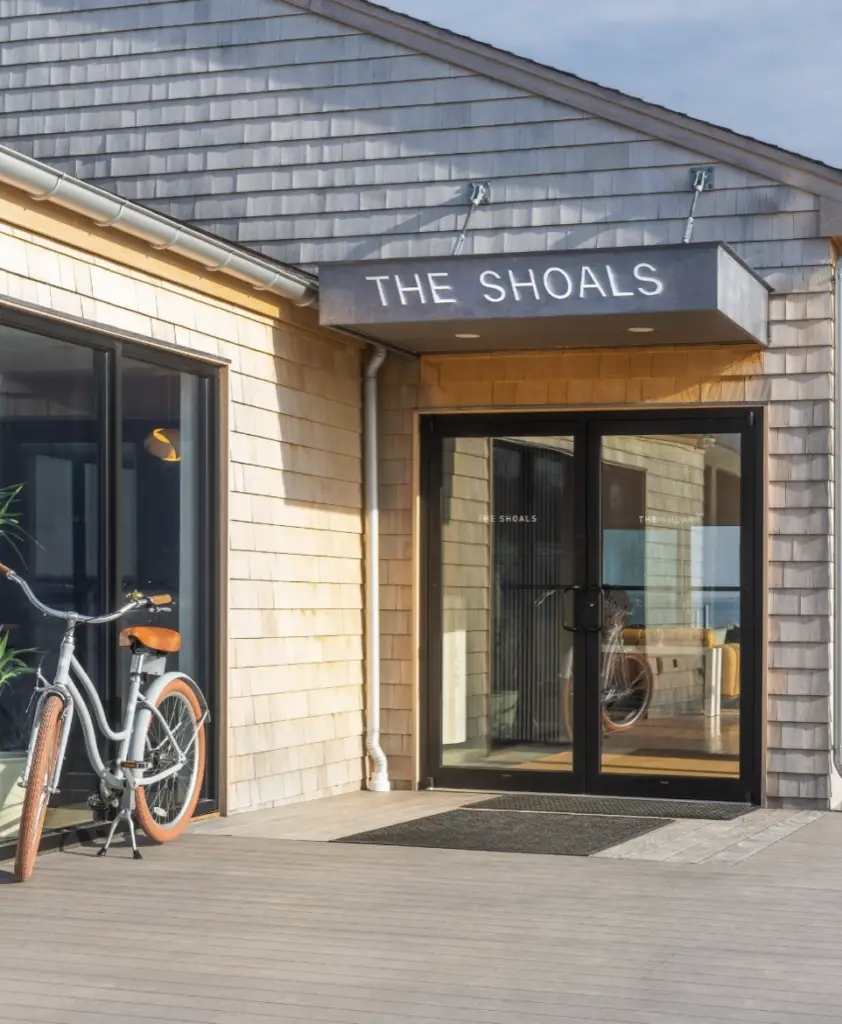 The Shoals Southold Suites and Slips
With 20 hotel suites and 20 boat slips, new waterfront hotel The Shoals is accessible by both land and sea. This New England modern waterfront gem leaves guests the option to come by train, seaplane, or boat, to hang out for the day or stay in design-led, apartment-style accommodations. Thomas Juul-Hansen-designed custom furniture, kitchenettes, and private terrace or balcony providing enviable outdoor space and beautifukl coastal views. 
61600 Main Road, Southold, L.I., NY 11971-4740
Find out more by calling 631-765-5121 or visit theshoalsnorthfork.com.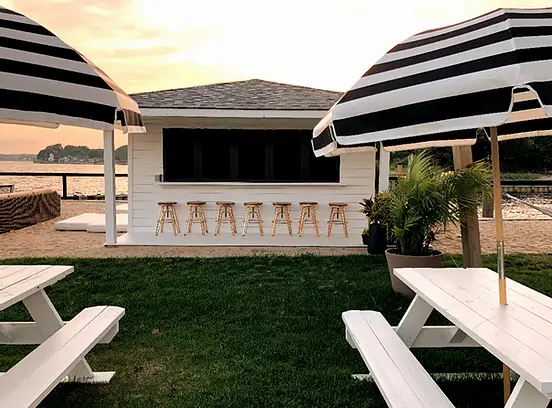 Aqua Beach Hotel
The newly renovated Aqua Hotel offers direct beach access and proximity to local wineries, farm stands, golf courses and numerous beaches. Free WiFi access is available throughout the property.   
Each room has a Bluetooth enabled speaker, a flat-screen TV, and a refrigerator. Guests can also enjoy a seating area and private en suite bathrooms. All rooms feature king or queen-size beds complete with Frette sheets, towels and robes and Maison Margiela Jazz Club bath amenities.
Guests can make use of the private beach (the hotel is situated on an acre of land directly on Peconic Bay) as well as the property's dockside lawn and garden complete with lounge area, beach chaises, hammocks and croquet. Other activities include swimming, sunning and exploring the area's many award-winning golf courses, wineries and farm-to-table restaurants.
Brought to you by the American Beech Hotel Group.
15 Bay Avenue, Aquebogue, L.I., NY 11931
Find out more by calling 631-722-3212 or visit aquahotelbeachclub.com.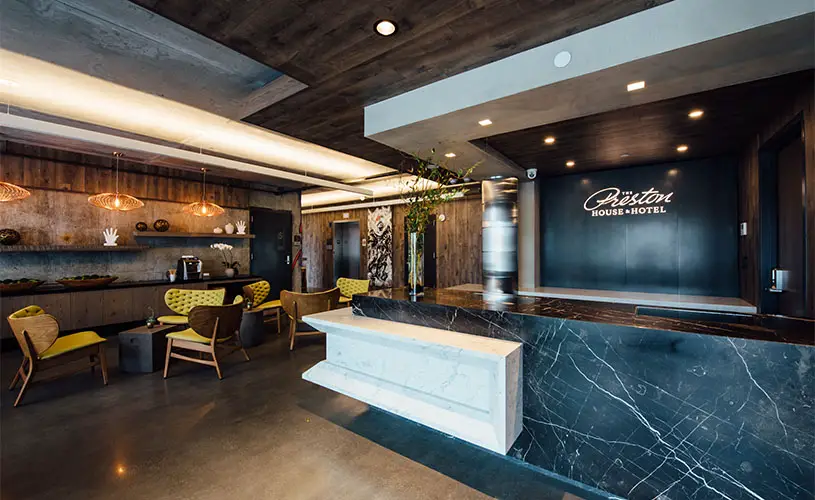 The Preston House & Hotel
Located minutes from the famed Hamptons on the South Fork and historic Wine Country on the North Fork of Long Island, The Preston House & Hotel is a beautifully reimagined hotel in downtown Riverhead. This is the westernmost hotel on our list.
This 1905 historical home once owned by Henry H. Preston, the first salaried sheriff of Suffolk County, boasts original floors, beams, fireplace, stonework, barn doors, and hardware, restored to its original elegance, with modern refinements.
Stay in one of 20 upscale rooms and suites, each offering boutique charm, original works of art, and the upscale sensibilities of their location on the East End of Long Island.
Indulge in fresh seasonal fare at The Preston House, offering an impeccable menu of New American cuisine, with scenic outdoor seating and an inviting porch.
28 East Main Street, Riverhead, L.I., NY 11901
Find out more by calling 631-775-1500 or visit theprestonhouseandhotel.com.
The Duncan Inn
This classic motel has updated rooms featuring air conditioning, a flat-screen TV with cable channels, a microwave, an electric tea pot, a shower, a hairdryer and a desk.
Located in Jamesport, The Duncan Inn has a garden. There's a grill and guests can use free WiFi and free private parking. Guests at The Duncan Inn can enjoy a buffet breakfast.
You can visit Long Island's wine country, the famous Hamptons' beaches, play a relaxing round of golf or taste the best wine, ciders and food the North Fork has to offer. Plus, dogs are welcome!
1399 Main Road, Jamesport, L.I., NY 11947
Find out more by calling 631-722-4024 or visit facebook.com.
Book Your Stay
These North Fork Long Island hotels really offer something for everyone at any time of the year. Some lean towards romance and adult fun and others geared toward families.
All of these great hotels are open year round as well as offering specific beachy fun during the summer.
Places to Stay on Long Island
If you wanted a bunch of different options to stay on Long Island, be sure to check out these great places to stay in Montauk, 10 Hamptons hotels, this Guide to Shelter Island hotels, and this Guide to Sag Harbor hotels!
Check Out Some Long Island Wine
While you're on Shelter Island, you're so close to Long Island Wine Country! It's another great part of visiting the island. If you're in the mood for great wine, be sure to check out our Complete List of Long Island Wineries and Long Island Vineyards.
Check out the absolute best Long Island Wine Tours!
If you can't make it to a tour, why not do some wine tasting at home with Bedell Cellars!
I know you're getting hungry, so be sure to also check out the best wineries on Long Island for some great food!
While you're in the area, be sure to check out these 9 relaxing things to do in the North Fork!
When you're done with all of this wine drinking and relaxing, how about making it a weekend? Here are 10 great North Fork Long Island hotels to enjoy as well.
More From The Long Island Local
Maybe grab a freshly brewed beer at these Long Island breweries and when you've had your fill of vino!
The bounty of great food on Long Island seems endless! From great steakhouses on Long Island to great Greenport restaurants to Long Island lobster rolls, there's so much to enjoy. And how about all the wonderful restaurants on the water Long Island?! Or maybe check out some Long Island oyster farms!
Be sure to find out about more things to do on Long Island as well as more great spots to eat and drink!