Are you looking to find out about the best beaches in Montauk? Montauk, locally known as "The End," is an amazing place located at the tip of the South Fork peninsula of Long Island. Considered separate from it's ritzier neighbors "The Hamptons" to the west, Montauk is 118 miles (190 km) east of Midtown Manhattan.
At the East End of Long Island, a long strip of beaches stretches all the way to "The End." This world-class, historic area is collectively as "The Hamptons" or the South Fork. Montauk is "The End" and is generally not considered to truly be one of The Hamptons.
Long stretches of powdery soft, sandy beaches, backed by undulating dunes and dotted with estates in the distance are located minutes away from popular towns, where you can grab delicious meals, visit farm stands, and stay in cozy bed and breakfast inns or luxury hotels. Accommodations offer permits that will get you into local beaches, as most of them require a permit during peak season.
If you want to find out a lot more about Montauk it's amazing parks, and more, check out this Map of Montauk! There's also a lot more information about this special place in the world!
RELATED: And while you're at it, be sure to check out the newest and best spots to enjoy in Montauk & The Hamptons Summer 2021!!
RELATED: Also check out this Guide To The Hamptons Best Beaches!
The 15 Best Beaches in Montauk
Recently named one of the 10 Best Beach Towns on the East Coast by Conde Nast Traveler:
The final stop on the eastern tip of Long Island, Montauk is appropriately known as the End. Due to strong winds, rough surf, and ample preserved land, it really does feel like the edge of the world, here. (Although some residents of Long Island's furthest out town argue that if you really think about it, it's actually the Beginning.) Montauk feels more remote and low key than its luxurious, sceney Hamptons counterparts. Every visit to Montauk should include a stop at the Montauk Point Light House, which was commissioned by President George Washington in 1796. It is still operating, and the panoramic views from the top are out of this world.

Quote source: cntraveler.com/story/beach-towns-east-coast
So, it's that's not reason enough to get out to The End, I hope this convinces you! Here's your guide to The Best Beaches In Montauk! This world-renowned beach destination has so many beautiful beaches to enjoy! When you're Out East, enjoying life on one of The Best Beaches in Montauk, you simply won't believe you are a two and a half hour (with traffic) drive away from NYC!! 
Well-Known Beaches
Many of the beast beaches in Montauk are very well-known locally, in the region, and even in the world. Here's 7 of the larger beaches we all know and love!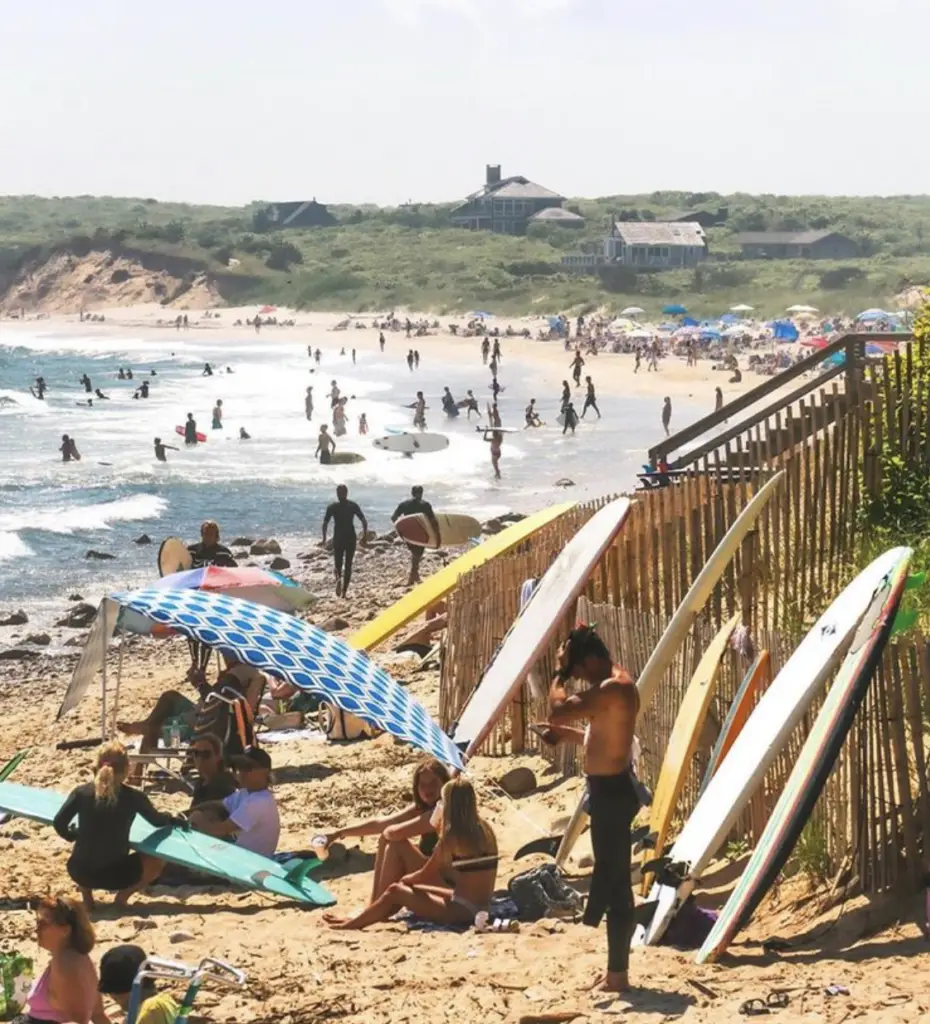 Ditch Plains
Montauk is widely considered one of the best surf towns in the whole country, primarily due to the wave-friendly rock bottom at Ditch Plains. This may be the top of the best beaches in Montauk list only because of the great waves, the amazing views, and the overall lively and wonderful atmosphere of the place.
You can also enjoy great food trucks in the area in two of the three parking lots. The Ditch Witch is a local institution. The first parking lot (when driving in on Ditch Plains Road) has some nice amenities like bathrooms and showers. The farthest lot, called Dirt Lot, isn't paved and is usually full of surfers.
This, along with most Montauk beaches, are a bit wilder and more windswept than its counterparts in Southampton and East Hampton.
There are three parking lots, all of which you need a town permit or parking pass from your hotel. Otherwise, you will need to take a cab or a bike ride here.
Surf Lessons
There are even a few different companies that offer group and private surfing lessons!! Really enjoy all that Montauk is about! I've had a lesson with Corey's Wave and it was pretty amazing! Check out Austins Surf Club, Air and Speed, and Corey's Wave for more info!
10 Deforest Road, Montauk, L.I., NY 11954
Edison Beach
Contiguous with Kirk Park beach at the heart of the Village at the end of South Edison Street, this popular beach has a lifeguard on duty during the summer months, restaurants, restrooms, and stores nearby.
Be aware, though, that there is limited public parking.
Gin Beach
Gin Beach makes the list of best beaches in Montauk because it lies on the Long Island Sound. This makes the water pretty placid and much easier to navigate with children. It's just much more calm and peaceful. There are bathrooms available in the parking lot and a food truck available during the summer months.
It is popular to walk the jetty along the inlet and watch the boats come in and out of the harbor or cast a line out and do a little fishing yourself.
Hither Hills State Park
Located at the eastern end of Montauk, Hither Hills State Park is a two-mile stretch of sandy beach allowing visitors to camp at 189 sites overlooking the beach. It's pretty special and amazing, really. As you can imagine, these campsites are very popular, with sits being booked up to nine months in advance!
In addition to the beach, enjoy hiking and biking trails, as well as fishing and bird-watching. The Walking Dunes trail is among the more popular routes in the State Park, and it takes you through a maritime forest.
While dogs are not permitted in the picnic and camping areas, you may bring them along on hikes so long as they are leashed.
Kirk Park Beach
Whether you are staying at The Montauk Beach House or The Surf Lodge or visiting from NYC, the Kirk Park Beach is a sand-dune-backed, perfect little spot right off Montauk Highway. The best part is the parking here is free. There are no chair or umbrella rentals, so bring your own if you are spending the day.
The beach has toilet and shower facilities and is patrolled by lifeguards during high season. Grab snacks, drinks, and ice at the IGA supermarket, conveniently located within walking distance, before setting up for the day.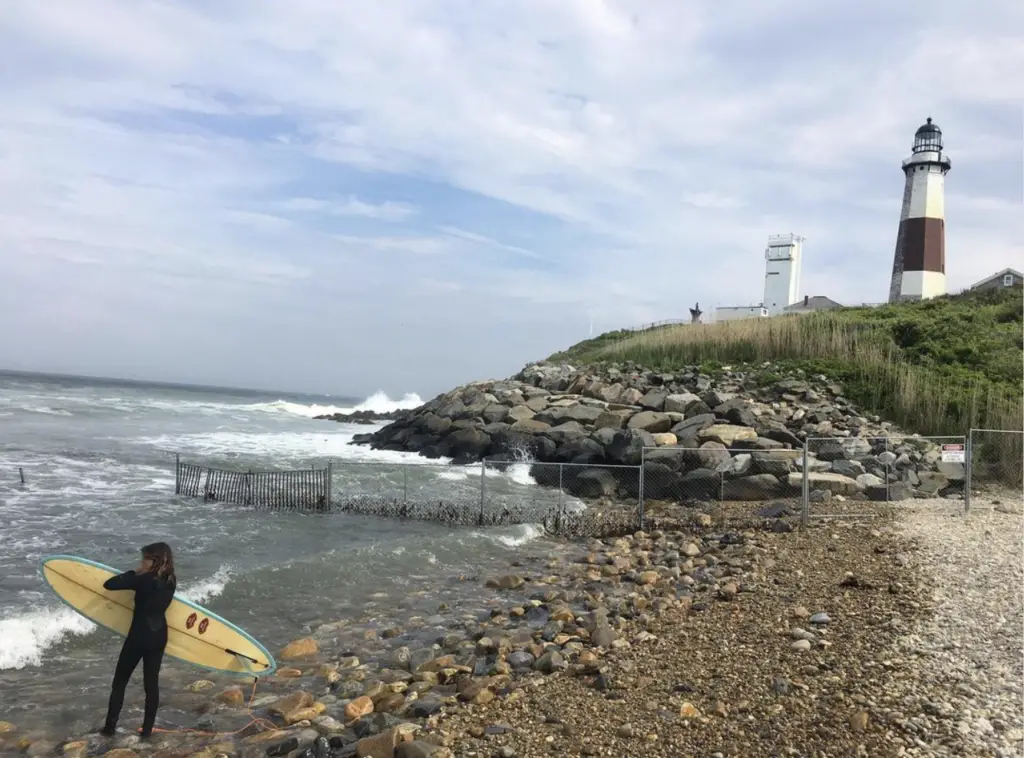 Montauk State Beach
While not a typical Montauk sandy beach, you can enjoy the rocky shoreline while checking out the endless ocean and jaw-dropping lighthouse. You'll also likely see surfers, fishermen, and other people like yourself just walking the rocks and enjoying the sights. This unspoiled coastline is the main attraction.
Turtle Cove
Located on the South and West side of the Montauk Point Lighthouse, this is another classic spot to find packs of surfers, who will tell you the waves here are almost as good as the Ditch Plains waves. The best time to come is right after a big storm, when the swells reach peak heights.
Under-The-Radar Beaches
Montauk has so much amazing beachfront, it's almost impossible to see it all. If you are looking for spots that are a little more low-key, less busy, or closer to a bar/restaurant scene, here are 7 more beaches that I think you will appreciate.
Amsterdam Beach Preserve
This 200-acre park was a joint purchase by NY State, Suffolk County, and the Town of East Hampton and is intended to be enjoyed passively. This is all about taking in Montauk's Moorland's, or natural topography and beauty. The land stretches from Ranch Road at Indian Field on the east to the Montauk Association houses and is bordered on the north by Montauk Highway and extends southward to the Atlantic Ocean and the ocean beach.
It is situated near other protected lands, such as Shadmoor, Montauk Point, and Camp Hero State Parks. Fifty-four acres of tidal and freshwater wetlands are interspersed throughout maritime shrublands. This is all critical habitat to several rare and endangered species such as the northern harrier, the spotted turtle and the Cooper's hawk, and hosts several species of spring migrating birds and other shore birds.
Gosman's Beach
On the other side of the inlet from Gin Beach, Gosman's beach is similar. There is a great food truck at this beach as well called Sammy's. There are many restaurants and shops you can walk to from the beach!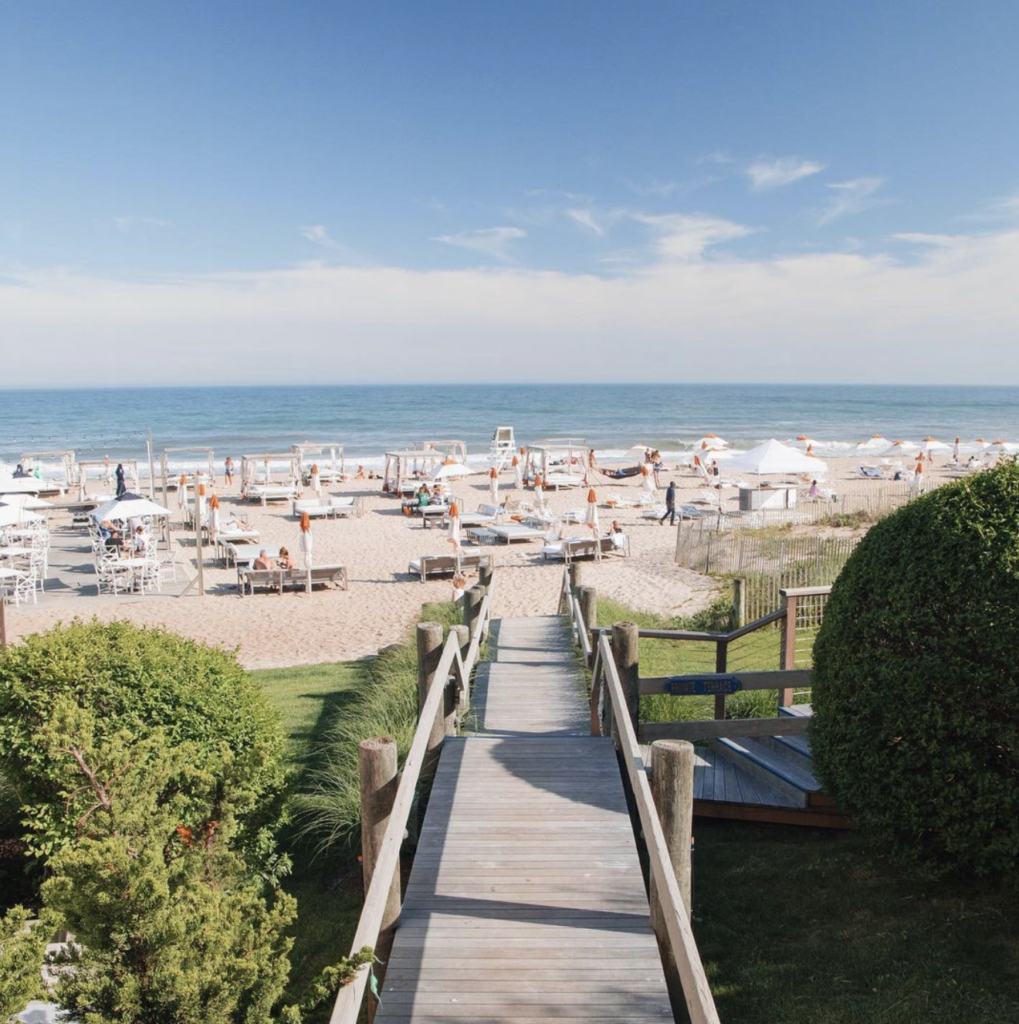 Gurney's Montauk Resort and Saltwater Spa
In recent years, the famous Gurney's Montauk Resort and Saltwater Spa has really become a truly amazing, luxury resort right on the ocean. It's a fantastic place with so many great places to relax, to eat, and just to have a fantastic time in Montauk.
If you are staying at the resort, that beach is yours! If you aren't staying there, you can still reserve a lounge chair or day bed for a fee…which is likely worth it. You also live your best Gurney's life with a Resort, Spa or All-Access Membership. From exclusive beach service to bespoke beauty treatments, you'll revel in all Gurney's has to offer.
Navy Road Beach
Navy Road is on Fort Pond Bay, a huge U-shaped bay that was occupied by the US Navy in WWII. The water is placid, so families enjoy it, but it can be very rocky. Not your typical sandy Montauk beach to be sure.
Bring your watersports goodies like floats, paddleboards, tubes, or a boat and spend the day on the water.
Nick's On The Beach
Nick's beach is associated with the Nick's On The Beach bar that lies on it. It's just a chill place to relax and have a good time. A perfect beach vibe on a beautiful beach. It's also great that Montauk's town area is not too far away in case you wanted to have a great meal or do some shopping, too.
Shadmoor State Park
Ninety-nine acre Shadmoor State Park, located one quarter-mile east of Montauk Village, features more than 2,400 feet of ocean beach accessed by two stairways. The park, named for its open, rolling geography and the shadbush that grows there, also has bluffs, freshwater wetlands that are part of the preserve, hiking trails and elevated platforms for birdwatching and enjoying the shoreline views. Visitors may picnic and saltwater fish.
Terrace Beach
Located at the gorgeous new Marram Hotel, Terrace gets its name from the old Atlantic Terrace Hotel. There are also some really great walking trails and a dog park close by.
Some Nice-To-Know Info
Lifeguard stands are located at Nick's, Kirk Park, Gin Beach, Gurney's and Ditch Plains
Drinking and bonfires on town beaches is permitted
Dogs aren't allowed on beaches from 9a-6p during the prime May-September months
You are able to drive onto the beach with a special town permit but only after 6p or before 10a (May-September)
Parking is a big deal…see below
It can be a big trip, but it's worth it…also see below
Getting to Montauk
The best beaches in Montauk are approximately two-and-a-half to three hours by car from New York City (depending on traffic). It can take much more a lot of the time, so just be prepared and know that the end goal is worth the effort.
If you don't want to brave the traffic, drive too long, or don't have a car, you can also get to by the Montauk branch on the Long Island Rail Road or the Hamptons Jitney bus. The Hampton Ambassador or the Hampton Luxury Liner are more upscale options with more comfortable seats and better amenities.
Parking
At all of these beaches, parking is something that needs to be planned for in advance. Many others are permit-only, and given the high demand…rules are strictly enforced.
More To See and Do on the South Fork
The Hamptons and Montauk is a world-renowned beach resort destination for good reason! There is just so much to see, do, and enjoy! Here are just a few of them:
Check out some luxury homes in The Hamptons!
Maybe you will love it so much, you'll want to check out some Hamptons wedding venues!
Enjoy some of the world-class, amazing art in The Hamptons!
Enjoy some great Hamptons restaurants, including delivery!
Check out Shelter Island! Shelter Island is only accessible by the Shelter Island Ferry. The South Ferry connects to North Haven on the South Fork. Find out more about Shelter Island, it's different towns and more by checking out this page that includes a handy Shelter Island Map!!
Explore Long Island Wine
While you're in Montauk, you're close to Long Island Wine Country! It's another great part of visiting the island. If you're in the mood for great wine, be sure to check out our Complete List of Long Island Wineries and Long Island Vineyards.
Check out the absolute best Long Island Wine Tours!
If you can't make it to a tour, why not do some wine tasting at home with Bedell Cellars!
I know you're getting hungry, so be sure to also check out the best wineries on Long Island for some great food!
While you're in the area, be sure to check out these 9 relaxing things to do in the North Fork!
When you're done with all of this wine drinking and relaxing, how about making it a weekend? Here are 10 great North Fork Long Island hotels to enjoy as well.
Make It A Weekend
The East End of Long Island is a really special spot. If you think you'd want to check it out and maybe even stay a while…that wouldn't be such a terrible idea.
If you wanted to consider different options for staying on Long Island, be sure to check out these great places to stay in Montauk, 10 Hamptons hotels, 10 North Fork Long Island hotels, and this Guide to Sag Harbor hotels! Enjoy reading up on and hopefully exploring these wonderful Shelter Island hotels and let me know if you decide to make it a vacation!
More From The Long Island Local
Maybe grab a freshly brewed beer at these Long Island breweries and when you've had your fill of vino!
The bounty of great food on Long Island seems endless! From great steakhouses on Long Island to great Shelter Island restaurants to Long Island lobster rolls and Long Island bagels, there's so much to enjoy. And how about all the wonderful Wölffer Estate Vineyard events and tastings?! Or maybe check out some Long Island oyster farms! Check out these 16 Long Island Boardwalks!
Be sure to find out about more things to do on Long Island as well as more great spots to eat and drink!