Are you looking for more information about the Palm Tree Music Festival or the Pine Barrens Jam? Well, you're in luck and it's not too late to get yourself some tickets! The two events are a little different. The Palm Tree Music Festival coming up this week, featuring world-famous artists. The Pine Barrens Jam is coming up in mid-September features Long Island artists you may just be finding out about now! Either way, I can't think of a better way to celebrate the tail end of summer (it's not over yet) than to go to a music festival on the East End of Long Island!!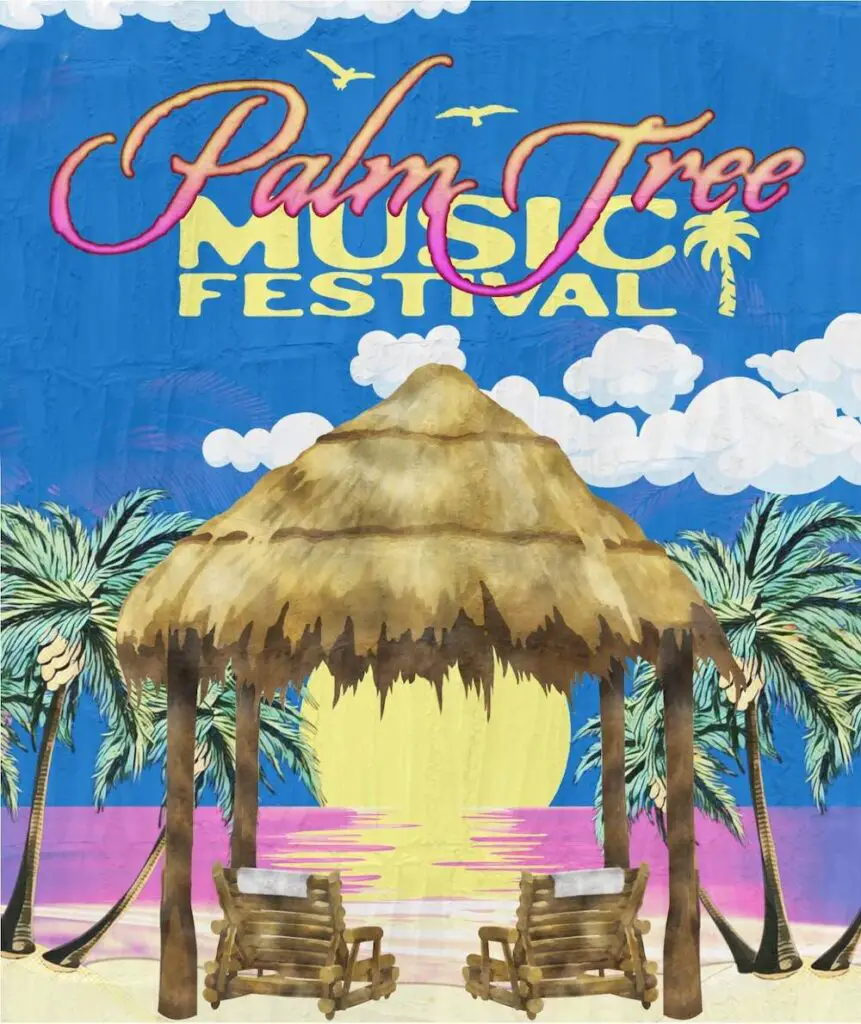 Palm Tree Music Festival
The Palm Tree Music Festival is a one-of-a-kind, intimate festival experience coming to The Hamptons!! Making stops around the world (Long Island was the first), this is a tropical dream of a music festival curated by world-famous deejay Kygo and his Palm Tree Crew! The single-day event is all about enjoying that amazing summer in paradise vibe that we all love.
This event has all the bells and whistles to make for a great experience. We are talking about beach vibes, sets by global icons, curated drink and food offerings, and more! There will also be some really great, unique brand activations as well as exclusive VIP experiences to make the day even better.
Palm Tree Music Festival in The Hamptons
Palm Tree Crew is bringing a tropical-inspired concert experience to the Hamptons at the Francis S. Gabreski Airport in Westhampton Beach on Sunday, August 29th. The single-day Palm Tree Music Festival will include sets by a lineup of global icons including Frank Walker, Forester, Gryffin (DJ Set), Zedd and Kygo.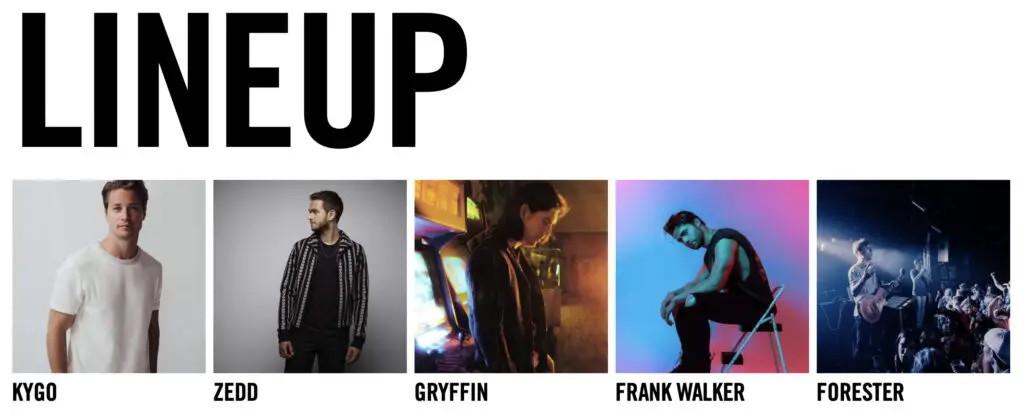 Important Information
Wristband's pick-up information will be sent to purchasers via email. Wristbands will be available for pick up on Saturday & Sunday the weekend of the festival. 
In order to attend, proof of full COVID-19 vaccination or negative COVID-19 test results will be required to attend Palm Tree Music Festival 2021. For patrons who are not fully vaccinated, a negative COVID-19 test result must be obtained within 48-72 hours of attending the Palm Tree Music Festival. If you have questions about COVID-19 vaccines or to find a vaccination location near you, please visit www.vaccinefinder.org.
Palm Tree Music Festival is a rain or shine event.
For more information click here. For tickets, click here.
Pine Barrens Jam
Nestled in one of the Northeast's greatest natural treasures, Pine Barrens Jam will feature Music, Art, Food, and the East End's premier ecosystem. Long Island's first crowdfunded festival has gathered like-minded, hardworking, LOCAL businesses & creatives to donate their time to put on a very special event.
The part that I truly love…EVERYONE that works on and performs this event will be from Long Island so we can showcase all it has to offer.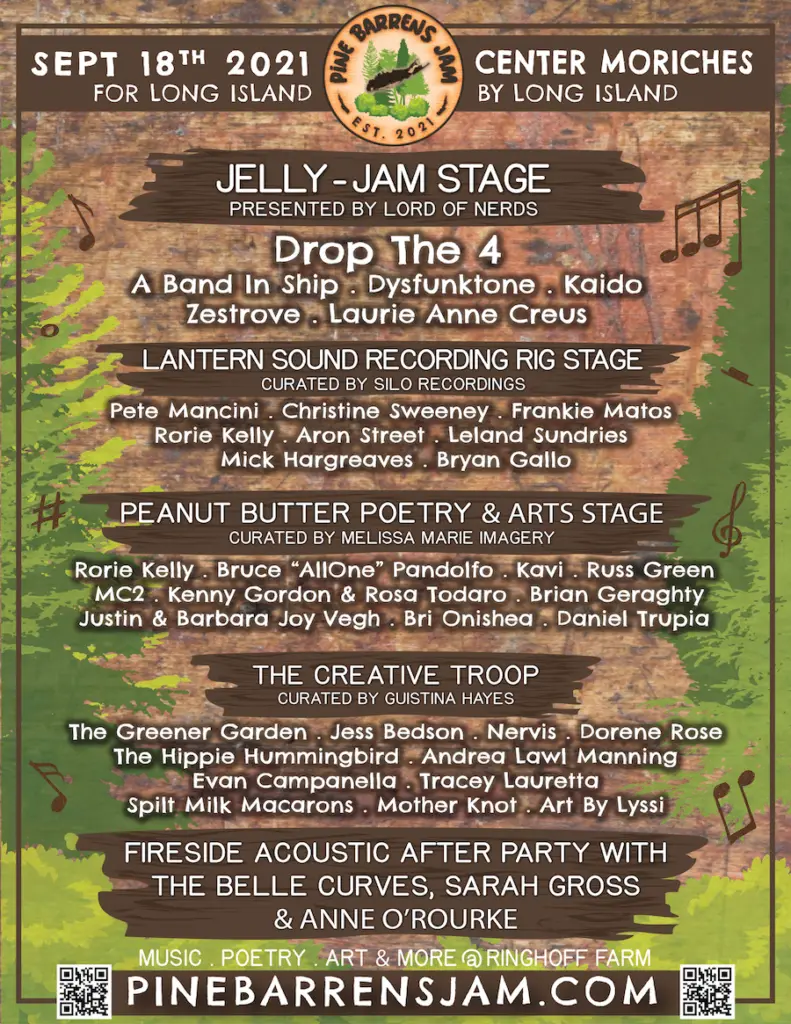 Important Information
This intimate event will be held at Ringhoff Farm in Center Moriches, NY courtesy of Lord Of Nerds Media.
Gates will open at 11 AM on September 18th, 2021. The Poetry & Arts Stage will run from 11 AM-6 PM, beginning with a free Yoga Session. Music will be from 12 PM-8 PM. Acoustic Fireside sets begin at 830pm. Festival Grounds close at 10 PM. ALL TIMES ARE SUBJECT TO CHANGE. Set times will be announced in September.
This event is BYOB. You'll have to be at least 21 (with a Valid ID) to bring alcohol into the festival grounds.
Rules regarding COVID will be ever-changing as they are updated to follow the guidelines that are set in place by New York State. At this time, it is recommended that all unvaccinated people wear a mask when not eating or drinking.
For more information click here. For tickets, click here.
Things To See and Do on the South Fork
Something I always recommend to those on Long Island, make sure to really see as much of the South Fork as possible!!
The Hamptons and Montauk is a world-renowned beach resort destination for good reason! There is just so much to see, do, and enjoy! Here are just a few of them:
Check out this Guide to the Best Beaches in Montauk! Also, check out this Guide to The Hamptons best beaches!!
Check out some luxury homes in The Hamptons!
Maybe you will love it so much, you'll want to check out some Hamptons wedding venues!
Enjoy some of the world-class, amazing art in The Hamptons!
While You're Enjoying the Outdoors
Be sure to find out about more things to do on Long Island as well as more great spots to eat and drink and wonderful places to stay on Long Island!
Check out this guide to Long Island driving ranges, including this feature on the popular Heartland driving range! Go have fun at one of these great Long Island skate parks!
Check Out Some Long Island Wine
While you're on Shelter Island, you're so close to Long Island Wine Country! It's another great part of visiting the island. If you're in the mood for great wine, be sure to check out our Complete List of Long Island Wineries and Long Island Vineyards.
Check out the absolute best Long Island Wine Tours!
If you can't make it to a tour, why not do some wine tasting at home with Bedell Cellars!
I know you're getting hungry, so be sure to also check out the best wineries on Long Island for some great food!
While you're in the area, be sure to check out these 9 relaxing things to do in the North Fork!
When you're done with all of this wine drinking and relaxing, how about making it a weekend? Here are 10 great North Fork Long Island hotels to enjoy as well.
Make It A Weekend
The East End of Long Island is a really special spot. If you think you'd want to check it out and maybe even stay awhile…that wouldn't be such a terrible idea.
If you wanted to consider different options for staying on Long Island, be sure to check out these great places to stay in Montauk, 11 Hamptons hotels, 10 North Fork Long Island hotels, and this Guide to Sag Harbor hotels! Enjoy reading up on and hopefully exploring these wonderful Shelter Island hotels and let me know if you decide to make it a vacation!
More From The Long Island Local
Maybe grab a freshly brewed beer at these Long Island breweries!
The bounty of great food on Long Island seems endless! From great steakhouses on Long Island to great Shelter Island restaurants to Long Island lobster rolls and Long Island bagels, there's so much to enjoy. Check out this Huge List of Restaurants on the Water Long Island!!!
And how about all the wonderful Wölffer Estate Vineyard events and tastings?! Or maybe check out some Long Island oyster farms! How about these guides to Long Island Coffee Shops and Long Island coffee roasters!! Check out these 16 Long Island Boardwalks! Take the ferry over and enjoy these Fire Island restaurants! Let's not forget about the best tacos on Long Island and these great Long Island pizza places either!!
Be sure to find out about more things to do on Long Island as well as more great spots to eat and drink! Maybe take a stroll in one of these amazing Long Island arboretums and gardens! There are even this great Long Island kayaks and paddleboard guide to exploring!