Are you interested in learning where you can buy the best Long Island lobster rolls now that the weather is getting warmer and summer is just around the corner? I'm happy to share some of my favorite places (about 45 places) to feed your need!! Long Island is a natural habitat for great seafood…and great seafood restaurants, and all of them make killer lobster rolls.
As any lover of these sandwiches knows, there are mainly two types of lobster rolls – Maine and Connecticut. These two types of lobster rolls are perfect as they are, but some chefs try to improve on this and create their own unique recipes. Below you'll find all types of lobster rolls available on Long Island. There are so many great places to eat and drink here, but finding a great lobster roll is one of my absolute favorite finds!
The bounty of great food on Long Island seems endless! From great steakhouses on Long Island to great Greenport restaurants, there's so much to enjoy. And how about all the wonderful restaurants on the water Long Island?! Or maybe check out some Long Island oyster farms! Also, be sure to check out these top spots Prime: An American Kitchen & Bar, Insignia, and Blackstone Steakhouse!
Caution: don't read on an empty stomach!!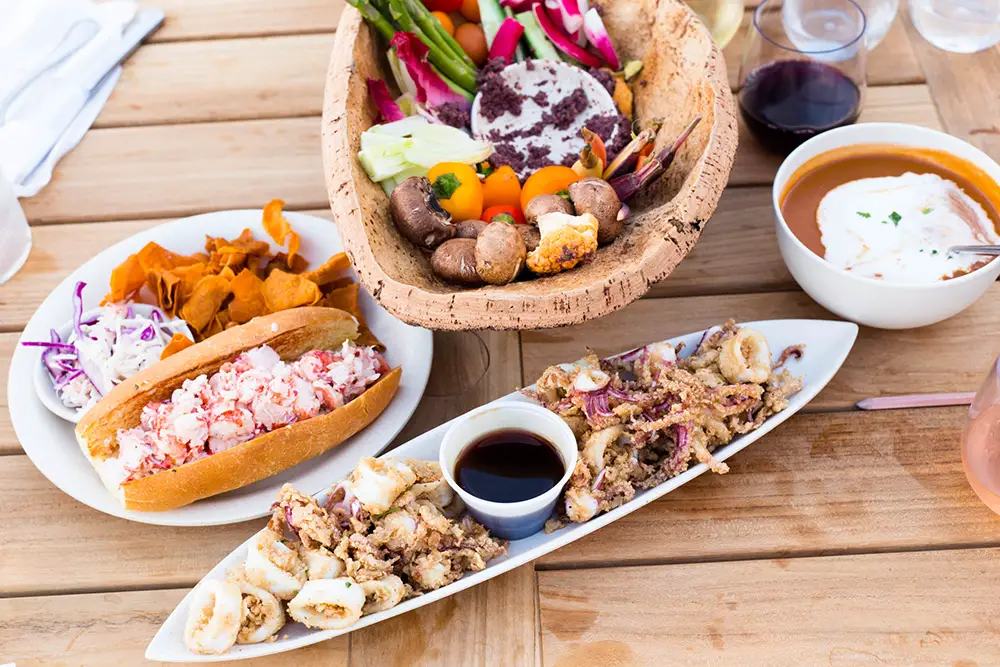 Maine-Style Lobster Rolls
The classic Maine-style lobster roll is simple and delicious. It generally consists of chopped lumps of cooked then chilled lobster meat (knuckles, claws, legs hopefully) mixed with varying amounts of mayo to create a cold lobster salad. Add a lemon wedge and a split-top hot dog bun…and there you have it. Of course there are many slight to more dramatic variations, but the most simple is the best (to me). Here are some great spots to enjoy these great Long Island lobster rolls!
Atlantic Seafood Market & Restaurant
Atlantic Seafood Market & Restaurant is definitely noteworthy and not only because of its shark head entrance. Its expertise in everything seafood – lobster, in particular – will make you a regular at this fine establishment.
The restaurant serves only Maine-style lobster rolls, as in delicious lobster salad on a toasted top split hot dog bun, but trust me, you don't need other variations. It's the perfect combination of crispy bread and savory meat. Mouth-watering just to think about it!
117 Montauk Hwy, Center Moriches, L.I., NY 11934
Learn more by visiting atlanticseafoodcompany.com or call 631-878-8406.
Bay Vue
If someone in your close circle of friends doesn't believe in love at first bite, book a table at Bay Vue and make them order a lobster roll. Don't worry; they just don't know better.
The only people who don't think anyone can fall in love with food are those who haven't tried Bay Vue's Long Island lobster rolls. Once they do taste this perfect blend of lobster, diced tomatoes, celery, light mayo, and toasted roll, they will see the truth.
854 S Wellwood Ave Lindenhurst, L.I., NY 11757
Get more info by visiting bay-vue.com or calling 631-991-3370.
Canal Café
Did you know that close proximity to water enhances the taste of lobsters? You can think it's nonsense, but the waterfront dining area's the only way to explain the extraordinary deliciousness of Canal Cafe's lobster rolls. Otherwise, why, whenever someone else makes a lobster roll using the same ingredients – lobster salad, celery, and light lemon mayo – the flavor just isn't right?
But don't take my word for it. Grab a sandwich at the restaurant and then try to replicate the recipe. If you succeed, be proud; you now hold the secret to one of the best Long Island lobster rolls.
44 Newtown Rd, Hampton Bays, L.I., NY 11946
Find out more by visiting thecanalcafe.com or calling 631-723-2155.
Commander Cody's Seafood
As all regulars of Commander Cody's Seafood know, the place isn't fancy, and it takes a while for them to prepare your order. But imagine how spectacular their food must be that so many people are willing to come back again and again! These Long Island lobster rolls are top notch!!
The delay is actually easy to explain, though. The cafe makes all food from scratch using the freshest ingredients, and in some cases, the freshest means the ingredients are still alive. So yes, you might have to wait to bite into your homemade lobster salad roll (if you don't place an order in advance), but you'll be rewarded handsomely for your patience. It's a great spot…and he will let you know via Facebook if the lobster rolls are sold out!!
41 Smith St Shelter Island, NY 11964
For more information, visit facebook.com/ShelterIslandFishMarket or call 631-749-1851.
Citarella
Citarella is probably the most favored grocer for hungry Hamptonites. They show their seafood prowess with custom lobster roll boxes for the summer.
The Lobster Roll Kit allows you to create the perfect lobster roll with those excellent ingredients the grocer is known for. Available for national delivery, in-store pick-up and local delivery.
East Hampton– 2 Pantigo Road, East Hampton, L.I., NY 11937
Bridgehampton– 2209 Montauk Hwy., Bridgehampton, L.I., NY 11932
Southampton – 20 Hampton Road, Southampton, L.I., NY 11968
Find out more by visiting citarella.com.
Duryea's
This is one of the most famous Long Island lobster rolls you will come across. And for good reason! Do you know what's better than tasting Long Island lobster rolls that bring joy to your taste buds? Doing so while watching a gorgeous sunset. That is what Duryea's about. They serve amazing Maine-style lobster rolls with just the right amount of mayo and a satisfying amount of meat. And their deck overlooks Long Island Sound, making it possible for you to enjoy a spectacular waterfront view.
RELATED: Click here to find out even more about Duryea's Montauk!!
65 Tuthill Road, Montauk, L.I., NY 11954
To learn more, visit duryealobsters.com or call 631-668-2410.
Ed's Lobster Bar
Ed's Lobster Bar is a small, cozy place with a vibe and decor that reminds you of a New England fish house. But their food will convince you that you are truly somewhere in Maine. All things lobster are that good in Ed's.
Their Long Island lobster rolls are Maine-style, obviously, with a toasted buttery bun and plenty of meat covered in a thin layer of mayo. And I know that sides aren't that important when you get to eat lobster, but a piece of advice: order two plates of fries to save yourself some time. Trust me, their fries are so amazing you'll want another plate.
1742 Bridgehampton-Sag Harbor Turnpike, Sag Harbor, L.I., NY 11963
To find out more, visit lobsterbarnyc.com/location/sag-harbor or call 631-725-1131.
Flo's Luncheonette
Flo's has been making Long Islanders happy with its toasted sandwiches since 1926 and isn't planning on stopping.
Considered one of the best Long Island lobster rolls, Flo's sandwich is a gastronomical delight, made of plump meat, mayo, dill, and a nicely toasted potato bun. Once you try it, you can't get unhooked because this lobster roll will get its claws into you and will never let go. But the good news is, you won't mind that.
302 Middle Rd, Blue Point, L.I., NY 11715
Learn more by visiting flosfamous.com or call 888-356-7864.
Gatsby on the Ocean
The word magnificent might have been invented solely because no other words could describe Gatsby on the Ocean. From its elegant castle-like appearance to gorgeous decor, from the loveliest ocean view to unforgettable food, everything about this place is just… magnificent.
And their lobster roll isn't an exception. This classy establishment serves only the classic lobster sandwich with succulent meat, light touch of mayo, and toasted split-top buns. It's any foodie's dream come true.
2000 Ocean Pkwy, Wantagh, L.I., NY 11793
Find out more by visiting gatsbyontheocean.com or calling 516-785-0012.
Gosman's Dock
Located on the water at the edge of the entrance to Montauk Harbor. Spectacular views, specialties, lunch dinner and drinks in a casual atmosphere. Walk-Ins Welcome. Good For Groups. Good For Kids. Take Out available. Waiter Service, outdoor seating, ample parking.
This is an amazing dock complex with a ton of options! Choose from Gosman's Restarant, Gosman's Topside, Inlet Seafood & Sushi Bar, Gosman's Clam Bar, and Gosman's Gourmet Fish Market.
Gosman's Dock, Montauk Harbor, West Lake Drive, Montauk, L.I., NY 11954
Find out more by visiting gosmans.com or by calling 631-668-5330.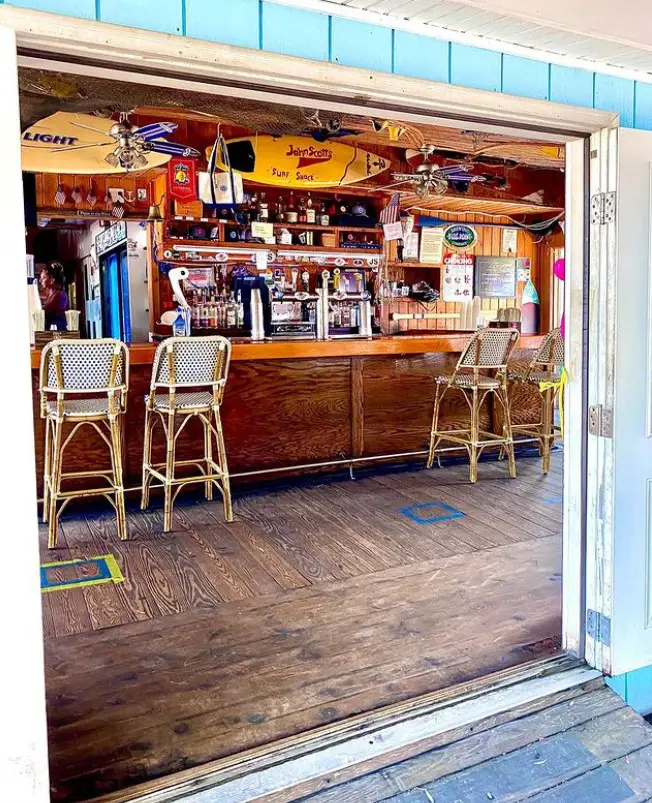 Joh Scott's Surf Shack
The best roll in the Westhampton Beach area, John Scott's Surf Shack is the place. Their lobster roll is a summer staple, served with excellent fries. While the roll is awesome, there may be even more appeal in the outstanding vibe and location of the place. This storybook shack fell with waterfront views on their patio or outdoor seating is movie scene like. Plus, Dune Road in general is such an amazing place all by itself!
540 Dune Rd, Westhampton Beach, L.I., NY 11978
Find out more by visiting johnscottssurfshack.com or by calling 631-288-5810 or 631-288-5815.
Kasey's Kitchen & Cocktails
Kasey's Kitchen & Cocktails offer you a chance to enjoy a mouth-watering lobster roll sitting on a rooftop. It's surprising how a spectacular view can make food taste ten times better.
The lobster roll served on Rooftop 32 is the chilled version with as little mayo as possible, celery, and scallions. And it's embellished with a giant lettuce leaf. With just one sandwich, you'll get plenty of protein, fiber, and vitamins.
23 N Park Ave, Rockville Centre, L.I., NY 11570
To find out more, visit kaseysrvcny.com or call 516-766-5049.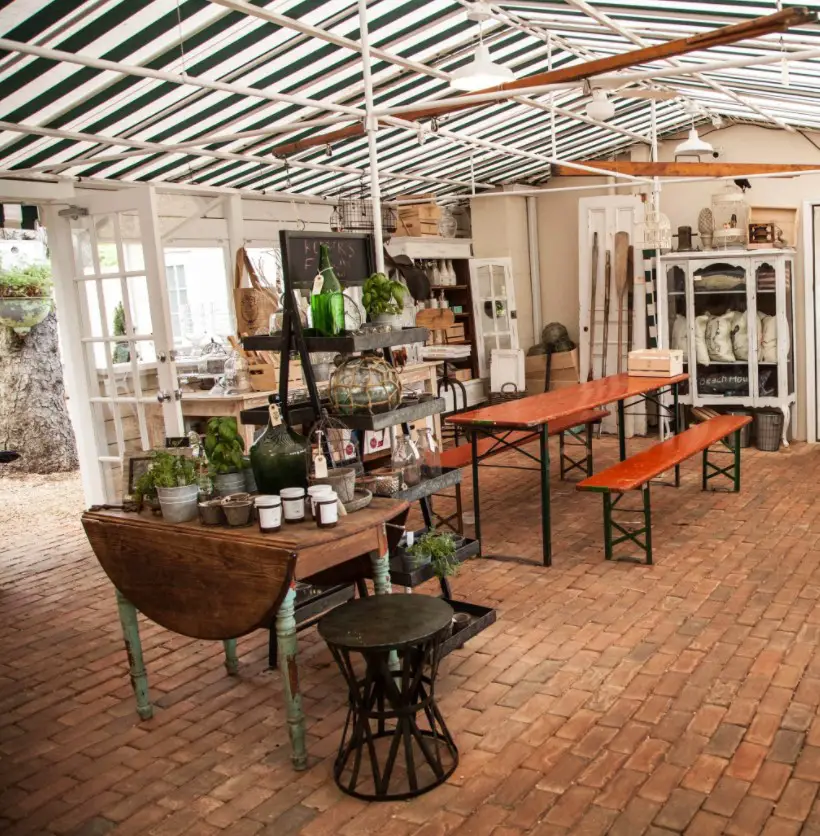 Kerber's Farm
Kerber's Farm is a cute little place with a rustic charm and the yummiest food. They have sandwiches, pies, cookies, apple cider donuts, and more. Enjoy all of that during the autumn, winter, and spring, but leave summer for lobster rolls only.
The lobster roll served at Kerber's Farm varies slightly from the traditional Maine-style sandwich. The main ingredients – toasted potato bun, big chunks of lobster, celery, and mayo – are still there. What's added is parsley and pepper, but it's a change that we can accept (actually welcome with open arms, if I'm honest)
309 W Pulaski Rd, Huntington, L.I., NY 11743
For more information, visit https://kerbersfarm.com/ or call 631-423-4400.
Louie's Grill & Liquors
Louie's Grill & Liquors is one of the pricier places on this list, but if you decide to visit it, you'll understand what you are paying for – an astounding view of Long Island sound and delicious food. Their lobster roll is one of the best items on the menu – Maine-style with tarragon mayo and a toasted brioche bun. You might save your visit for a special occasion, but trust me, you should try the lobster roll at Louie's at least one time in your life.
395 Main St, Port Washington, L.I., NY 11050
Learn more by visiting louiessince1905.com or calling 516-883-4242.
Love Lane Kitchen
If you could taste sunshine, rainbows, and happiness, you'd find that all of that tasted suspiciously similar to Love Lane Kitchen's Maine-style lobster roll. This cheerful, cozy restaurant stuffs their buttered brioche buns with plenty of lobster meat mixed with mayo and celery. But this deliciousness doesn't come alone; the garlic herb fries that accompany the sandwich make this meal exceptional.
240 Love Ln, Mattituck, L.I., NY 11952
To learn more, visit lovelanekitchen.com or call 631-298-8989.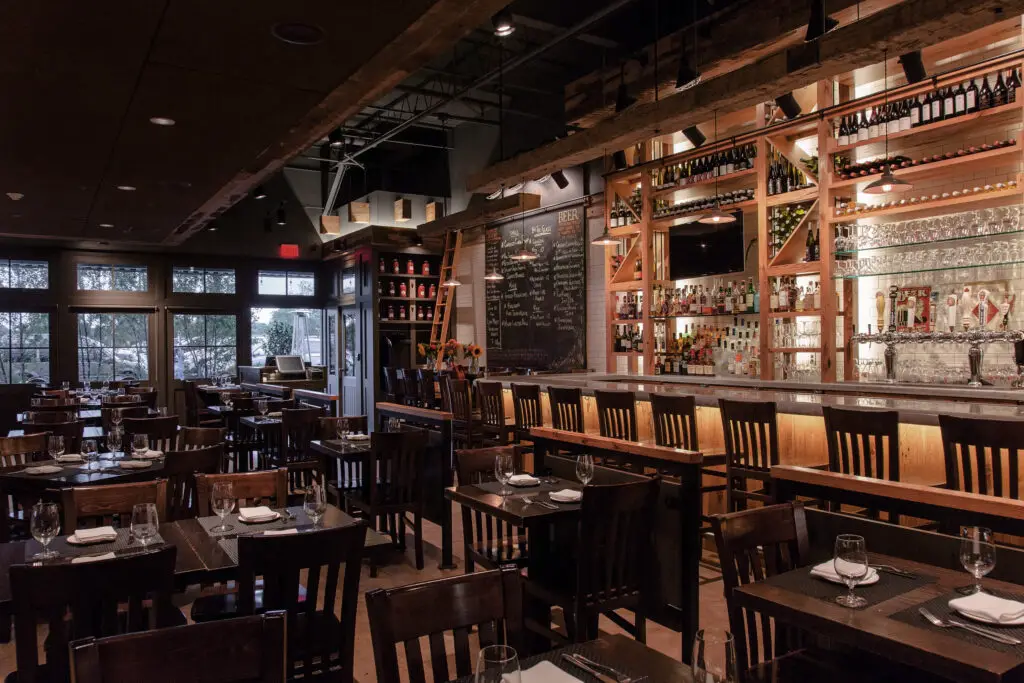 Market Bistro
Market Bistro, whose staff believes strongly in the farm-to-table concept, strives to provide their customers with meals made from the freshest, locally sourced ingredients. So whenever you dine there, you can be sure you are getting the best. But it's not only good as in fresh, but it's also good as in delicious.
The Long Island lobster rolls are served at Market Bistro is of the refreshing-in-hot-weather kind – a toasted brioche bun filled with lobster, tarragon aioli, celery, and lettuce. It's just what you need in summer.
519 N Broadway, Jericho, L.I., NY 11753
For more information, visit marketbistroli.com or call 516-513-1487.
Marty's Gourmet Seafood
A boutique seafood market in Huntington, Marty's knows how much the freshness of meat affects the taste of the whole lobster roll. If it starts getting bad, some restaurants might hide it under a hideous amount of mayo. But when at Marty's, you know the lobster is fresh enough because their Maine-style cold lobster roll has a minimum of mayo. And with that amount of meat, you'll hardly notice the toasted buttery bun, although it's pretty yummy and important, too.
266 New York Ave, Huntington, L.I., NY 11743
Get more information by visiting martysgourmetseafood.com or calling 631-673-1888.
Port Waterfront Bar & Grill
Port Waterfront Bar & Grill is a peaceful place with gorgeous scenery, outdoor seating, and lovely fire pits. It's one spot where you can eat your food in peace, watch ferries come and go, feel harmonious with the world, and focus on here and now.
The lobster roll served at this waterfront dining is a New England one. It includes chunks of meat, lettuce, lemon aioli, fresh herbs, and a toasted buttery bun.
While you're there, be sure to check out and support some of these other awesome Greenport restaurants!
104 3rd St, Greenport, L.I., NY 11944
Learn more by visiting portbarandgrill.com or calling 631-333-2501.
PORTERS on the Lane
Don't we all dream to find our one lobster roll that we'll remember years later? I'm glad to let you know that the lobster roll made by PORTERS on the Lane is exactly that kind of sandwich.
When you look at the ingredient list, nothing stands out, and nothing tells you that this roll will be the best of all times. It's just a standard package of lobster chunks sautéed in butter, dill mayo, lettuce, tomato, and golden crispy bun. But as you bite into it, your taste buds get so overloaded with joy that your brain remembers the feeling and the sandwich forever. Trust me, it's that fantastic.
19 Bellport Ln, Bellport, L.I., NY 11713
To learn more, visit portersonthelane.com or call 631-803-6067.
Salted. On the Harbor
The only reason why someone might not like the lobster roll at Salted. On the Harbor is because it's too big and too stuffed with meat for one person. Imagine, here you are, eating the most delicious sandwich, which consists of lobster, mayo, celery, lettuce, and brioche bun, in a pretty little place. You are enjoying it tremendously.
You are barely halfway through the roll when you realize with horror that you are getting full. Do you take it with you and finish it later? Do you brave through the uncomfortable fullness for the sake of this heavenly taste?
See, Salted. On the Harbor's lobster roll brings dilemmas, but they are the happy kind.
14 Woodbine Ave, Northport, L.I., NY 11768
For more information, visit saltedontheharbor.com or call 631-651-2600.
Shipwreck Tavern
Shipwreck Tavern is a pretty cool place with a nautical theme, aquariums filled with exotic saltwater fish, and an authentic tropical tiki bar. Their lobster rolls are cool, too, and feature plenty of lobster, chili-spiked mayo, celery, and grilled buttery roll. So you get an amazing water view, friendly atmosphere, exotic drinks, and yummy food. What a deal!
10 Bayville Ave, Bayville, L.I., NY 11709
Find out more by visiting shipwreckpub.com or calling 516-628-2628.
The Clam Bar at Bridge Marine
The Clam Bar at Bridge Marine is another waterside restaurant with stunning views and delicious lobster rolls. That's the Long Island charm; what can you do but enjoy? And you will enjoy the Clam Bar's lobster roll – of that I have no doubt – even though it is a simple Maine-style one, with meat, mayo, celery, lettuce, chopped onions, and toasted bun. One thing, though – you'll have to wait for this deliciousness since the restaurant will open on May 22nd.
40 Ludlam Ave, Bayville, L.I., NY 11709
For more information, visit bridge-marina.com/the-clam-bar or call 866-628-8689.
The Inlet Seafood Restaurant
Can you trust a fisherman to pick the freshest and best seafood? Well, if you can, then you can definitely trust the food quality at The Inlet Seafood Restaurant because it's owned by six fishermen. Their lobster salad roll is especially worthy of your attention. You'd think you'd get tired from reading the same list of ingredients by now – chilled lobster, celery, onions, mayo, and brioche bun – but it still manages to make your mouth water, doesn't it?
541 E Lake Dr, Montauk, L.I., NY 11954
Learn more by visiting inletseafood.com or calling 631-668-4272.
The Lake House
The lobster rolls served at The Lake House are for true lobster lovers who appreciate the taste of pure meat. Even though the lobster chunks are mixed with mayo, lemon, and chives, those flavors are barely detectable. This sandwich is all about the lobster flavor; order only if you are ready for that.
135 Maple Ave, Bay Shore, L.I., NY 11706
Find out more by visiting thelakehouserest.com or calling 631-666-0995.
The Seafood Shop
The Seafood Shop's lobster rolls are true Maine-style sandwiches that are light on the dressing and heavy on fresh lobster meat. And if you are a true foodie, you'll also recognize the notes of celery and onions in the roll. Your share of happiness will be served cold with waffle fries and coleslaw.
Oh, and if you happen to order the mini lobster roll platter with more than 20 sandwiches, nobody will judge you, but everyone will envy you and want to be you.
356 Montauk Hwy, Wainscott, L.I., NY 11975
For more information, visit theseafoodshop.com or call 631-537-0633.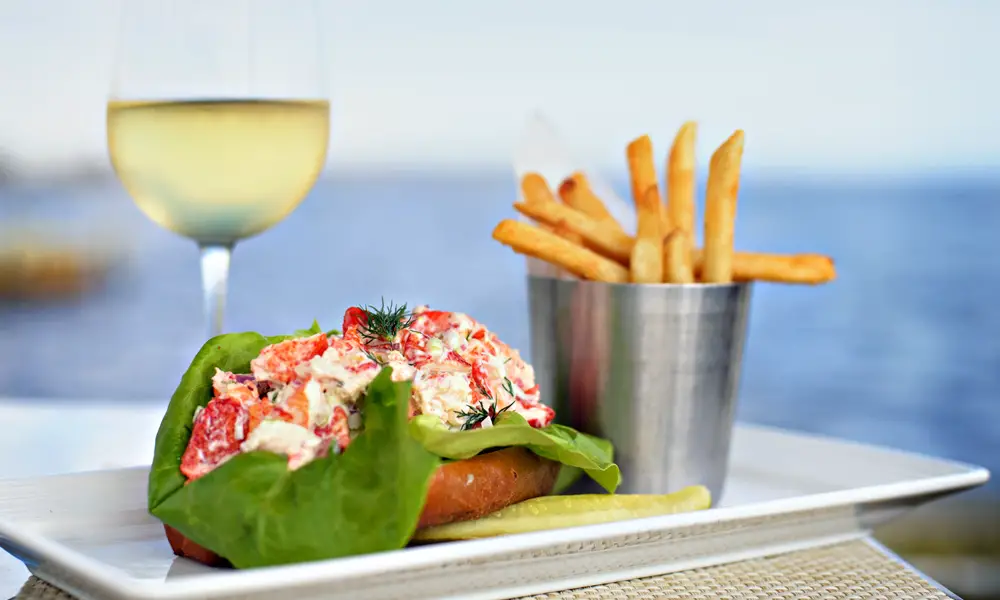 View
People go to the View restaurant for – hard to believe but yeah – the view of the Great South Bay. But what they keep coming back for is the food. Because View doesn't settle for anything less than ideal. You'll be thankful for their efforts once you taste their lobster salad roll. The mayo-coated chunks of lobster, along with the buttery bun, literally melt in your mouth.
Believe me, you'll be scheduling the next visit before you even finish the roll.
3 Consuelo Pl, Oakdale, L.I., NY 11769
For more information, visit lessings.com/corporate/restaurants/venue/view or call 631-589-2694.
Connecticut-Style Lobster Rolls
Connecticut-style lobster rolls are also delicious and maybe more for those that would like their rolls to be more like a typical lobster meal. This version is served warm, coated in drawn butter, and set into a toasted (preferably buttered) split-top hot dog bun.
The North Fork Food Truck
Let me tell you the secret behind a perfect summer day – the sun, breeze, The North Fork Food Truck, a smiling face of the chef, and your hand holding your favorite lobster roll. Yes, the Connecticut-style roll with lobster warmed in butter, just the right amount of seasoning, served on Blue Duck Bakery toasted bun.
No matter how far you have to travel, I know you'll be there when the food truck opens its window.
57225 Main Rd, Southold, L.I., NY 11971
To find out more, visit northforktableandinn.com/menu/food-truck/ or call 631-765-0177.
Shinnecock Lobster Factory
This lobster shack is on the side of the road like a proper shack should be! The chef drives to Maine twice a week to get the best and freshest lobster. You can tell that this is a place that's all about the lobster. You can get 4oz, 6oz, or 8oz rolls. The standard roll is a warm, buttered split top Connecticut-style roll loaded with meat. You can also get a number of non-traditional versions including BLT, cajun, spicy diavalo, and more.
If you prefer Maine-style, there's cold lobster salad as well! In addition to lobster bisque, lobster tacos, and lobster fritters!
The Shinnecock Lobster Factory is located on the Shinnecock Indian reservation in Southampton.
42 Montauk Hwy, Southampton, L.I., New York 11968
Find out more by visiting shinnecocklobsterfactory.com or by calling 631-259-3334.
Both Maine & Connecticut Lobster Rolls
Amici
Amici, an Italian restaurant with a cozy lounge and even cozier outdoor patio, is great for fun summer outings with friends. But beware, if you order Amici's lobster roll, you won't be able to participate in the conversation for a while. You'll be too busy enjoying your food!
Amici offers you both Connecticut and Maine styles – a warm butter lobster roll and a cold lobster salad roll. But their cold version isn't what you're used to. The meat is butter-poached instead of steamed/boiled, and instead of simple mayo, they serve it with tarragon aioli. Perhaps, I have a weakness for all lovely things, but don't you just want to try this culinary masterpiece?
304 NY-25A, Mt Sinai, L.I., NY 11766
Find out more by visiting amicirestaurant.org or calling 631-473-2400.
Babylon Burger Bar
Babylon Burger Bar knows the shortcut to food heaven because it's right in their kitchen! And they can and will gladly take you there with their Summer Lobster menu.
The traditional New England or warm lobster roll? This place has it all, so everyone gets to eat whichever is their favorite. Both dishes are served on potato rolls and accompanied by coleslaw and homemade potato chips.
The bar also offers a variety of beers and cocktails, and well, it'll be a shame to let the summer pass without finding the perfect beverage for Long Island lobster roll, won't it?
1 W Main St, Babylon, L.I., NY 11702
To find out more, visit babylonburgerbar.com or call 631-620-3362.
Billy's by the Bay
Maybe, it's the welcoming atmosphere or sitting outside on a warm sunny day, or maybe, that's just what fresh lobsters right out of the tank taste like, but lobster rolls at Billy's by the Bay are something out of this world.
Billy's cold and hot lobster rolls are served on white toasts or toasted buns. You will also have three sides to choose from – french fries, salad, or tater tots. This deliciousness, together with their signature "Crabby Mary" cocktail, will satisfy the craziest seafood cravings.
2530 Manhanset Ave, Greenport, L.I., NY 11944
To learn more, visit billysbythebayrestaurant.com or call 631-477-8300.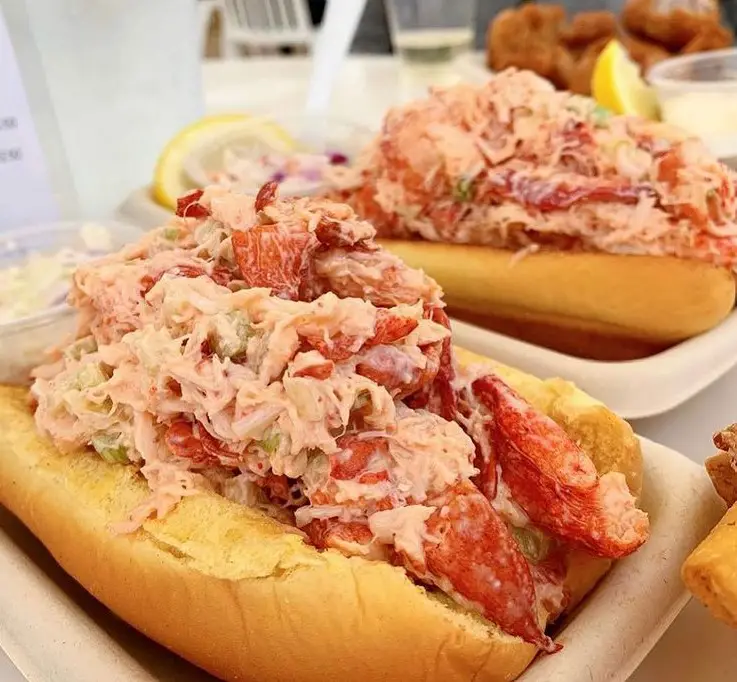 Clam Bar at Napeague
A harbinger of hot weather, cheery mood, and lobster rolls, the Clam Bar at Napeague will open on March 26th. Amazing news!
Once the staff sets out tables and seats, that's your cue to start taking Montauk Highway on your way to… pretty much everywhere. Also, leave you home an hour earlier than you usually do. Why am I telling you this? Because once Clam Bar opens, their $26 New England and $28 Connecticut lobster rolls will call to you, you will follow their siren-like voices, and you will be late to work or wherever you were going if you don't heed my advice.
RELATED: Find out more in this more detailed article about the Clam Bar Amagansett!
2025 Montauk Highway, Amagansett, L.I., NY 11930
To find out more, visit clambarhamptons.com or call 631-267-6348.
Claudio's
At Claudio's, there is no shortage of tables. If Claudio's Waterfront is full, go to Crabby Jerry's. If you have no luck there, check out Claudio's Pizza or the main restaurant. My point is, you'll always be able to find a place to sit and order. And that's the greatest news you could ever get because it means you'll always be able to get your hands on juicy lobsters served on toasted buttery buns. Hot and cold varieties are available.
RELATED: Claudio's Restaurant on Main and Waterfront Complex Information!
111 Main St, Greenport, L.I., NY 11944
To learn more, visit claudios.com or call 631-477-0627.
D.J.'s Clam Shack
D.J.'s Clam Shack's food is so finger-licking-good – especially their lobster rolls – that only one location on Long Island wasn't enough. So they opened another, and now you can enjoy delicious meals in East Northport and Wantagh. The menu and prices are the same, so just choose whichever is closer.
The place has both hot and cold lobster rolls and serves them with coleslaw. There is also an overstuffed option for those who know there is no such thing as too much lobster.
East Northport branch
1972 Jericho Tpke East Northport, L.I., NY 11731
Visit djsclamshackeastnorthport.com or call 631-486-9474.
Wantagh branch
3255 Sunrise Hwy, Wantagh, L.I., NY 11793
Visit djsclamshackwantagh.com or call 516-900-1400.
Finley's of Greene Street
People will recommend Finley's of Greene Street to you during all of the seasons because it's cozy, offers you outdoor seatings even when it's cold, and has beautiful igloos in winter. But in the summer, that's when the restaurant really shines. And it's all because of its ambrosial lobster rolls. You can try Finley's traditional cold sandwich with celery and mayo. And they also serve the hot roll with lobster poached in a lemon butter sauce. Both come with toasted and buttered split-top buns.
43 Green St. Huntington, L.I., NY 11743
For more information, visit finleyshuntington.com or call 631-351-3440.
Jordan Lobster Farms
The secret to a lobster roll so popular that people from every corner of Long Island come to enjoy it is a lot of lobster meat. And when I say a lot, I mean it. If you can't even imagine what that's like, it's time for you to visit Jordan Lobster Farms.
Whichever roll you order – Maine or Connecticut style – you'll barely see the toasted bun under all that lobster. But of course, the amount of meat isn't the only special thing about these sandwiches; they are really delicious, too.
1 Pettit Pl, Island Park, L.I., NY 11558
To learn more, visit jordanlobsterfarms.com or call 516-889-3314.
Kingston's Clam Bar
Kingston's Clam Bar is one of those places that convert everyone who visits it once into regulars. It's hardly a mystery, though. It's in our nature to stick to things that we love. And not one person has left Kingston's Clam Bar without falling in love with it first.
The place offers you hot and cold lobster rolls with coleslaw or french fries. The cold sandwich comes with amazing tarragon-dill tartar sauce, but many locals declare the hot buttery lobster roll the best on Long Island.
130 Atlantic Ave, West Sayville, L.I., NY 11796
Get more info by visiting kingstonsclam.com or calling 631-589-0888.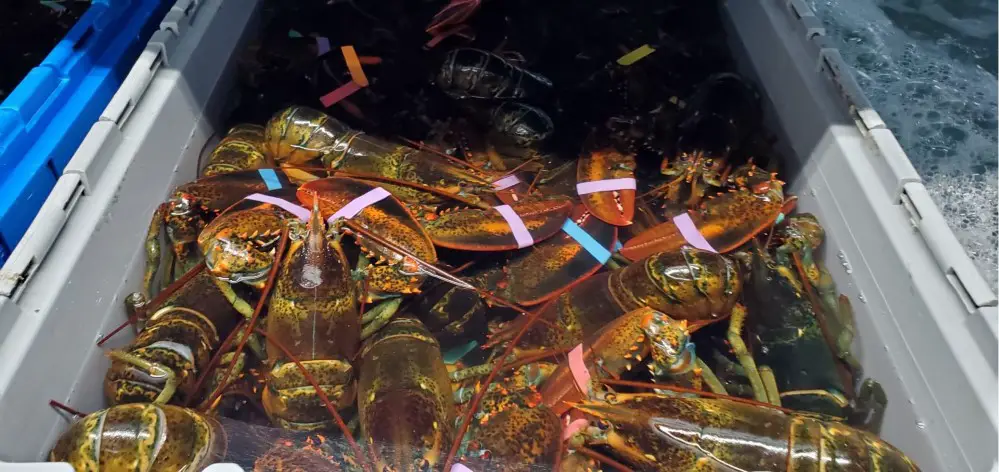 PJ Lobster House
PJ Lobster House, which specializes in live lobster, likes to keep their lobster rolls simple and let the taste of the meat speak for the restaurant's values. If you order a cold lobster roll, you'll get big chunks of meat blended with Hellmann's mayo and celery served on a toasted split-top bun. The hot version consists only of chunks of lobster tossed in butter and bread.
PJ Lobster House also sells and delivers Lobster Roll Kits, using which you can make your own lobster rolls. What's included is lobster salad, diced tomatoes, lettuce, coleslaw, and split-top buns.
134 Main St, Port Jefferson, L.I., NY 11777
Find out more by visiting pjlobsterhouse.com or calling 631-473-1143.
Smuggler Jack's
Three basic requirements for the restaurant food are to look good, to smell good, and to taste even better. Everything on top of that is just a pleasant bonus. And well, Smuggler Jack's food passes all the requirements with flying colors.
Take its lobster roll, for example. It looks beautiful with pink, green, yellow-brownish colors. It smells heavenly. And the taste – oh the taste! – the taste will leave you wanting more. As a bonus, you get to choose the mayo-based or butter-based version and chill with a fantastic water view.
157 Forest Ave, Massapequa, L.I., NY 11758
To learn more, visit smugglerjacks.com or call 516-798-6000.
Southold Fish Market
If you are out there searching for the freshest, the yummiest, the best lobster roll on Long Island, Southold Fish Market should be high on your list of places to visit. Although it does offer you outdoor seating, it's a seafood market first and a restaurant second. But humble decor doesn't affect the quality of their food; on the contrary, being a market means they have only fresh seafood.
Southold Fish Market offers you both Maine and Connecticut lobster rolls, and they stick to the traditional recipes. The cold sandwich has celery, mayo, and lobster, and the warm one has just meat tossed in butter. Why mess with recipes that are already perfect enough, right?
64755 NY-25, Southold, L.I., NY 11971
To find out more, visit facebook.com/southoldfishmarket/ or call 631-765-3200.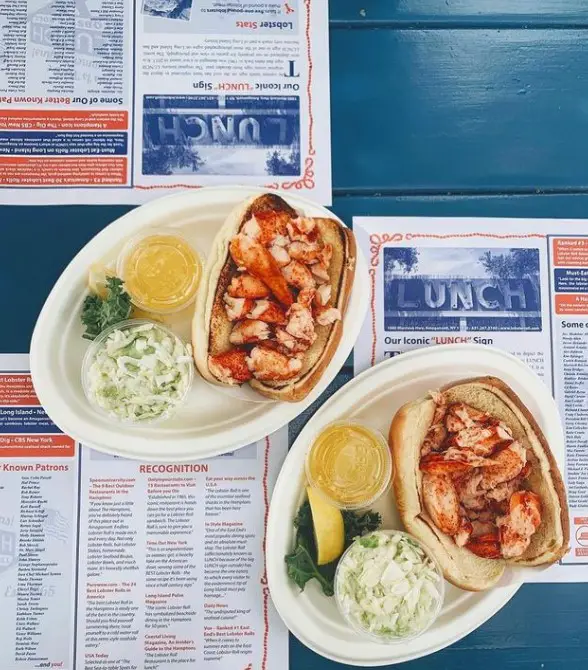 The Lobster Roll
It would have been a sad-sad reality if a place named The Lobster Roll served unworthy lobster sandwiches. Luckily for us, it's not the case. This restaurant, which you may know as Lunch, serves one of the best lobster rolls on Long Island, as expected.
You want it hot or cold, gluten-free or standard roll, with french fries or creamy coleslaw – The Lobster Roll got you covered. They also can accommodate your desire to eat a roll without bread; just order Lobster Salad Bowl with your favorite dressing. And if you want to eat the sandwich but also want to have space for other things, Lobster Salad Slider (a mini version of the roll) will come to the rescue.
1980 Montauk Hwy, Amagansett, L.I., NY 11930
To learn more, visit lobsterroll.com or call 631-267-3740.
The Reel
Even if you have made up your mind about what style is your favorite, I urge you to try the hot and cold rolls because, at The Reel, both are incredible.
The Hot Lobster Roll features butter-poached meat served on a toasted split-top bun. In the Cold Lobster Roll, the meat is mixed with celery, lemon, and mayonnaise, and the taste of the sandwich is enriched by a toasted New England bun. As for the side dish, it's waffle fries.
1 Main St, East Rockaway, L.I., NY 11518
Learn more by visiting thereelli.com or calling 516-341-7222.
The Rex Burger & Lobster
Tell me the truth, could you eat lobster rolls every day for the whole summer? I was certain it wouldn't be possible, but after having tried the sandwiches at The Rex Burger & Lobster, I'm not so sure. I mean, I can definitely see myself ordering their Classic Lobster Roll, which is five ounces of meat, chilled, with mayo, one day, then going there again the next day and ordering the same classic version but warmed with melted butter. And then, for the next two days, I'll be ordering the warm and cold Supreme Lobster Rolls (7.5 oz of meat). Yup, it's possible to eat lobster rolls all summer.
524 Jericho Turnpike, Mineola, L.I., NY 11501
Find out more by visiting therexburgerandlobster.com or calling 516-739-2747.
Unique Long Island Lobster Rolls
Bostwick's Chowder House
Even if the whole summer passes, it doesn't count if you didn't eat a lobster roll at Bostwick's Chowder House. They offer you warm lobster coated in butter, serve a cold lobster salad on a toasted hot dog bun, and even have a low-carb lobster roll with no bread. Whichever way you prefer it, there is no judgment at this restaurant, only good food, good vibes, good memories.
277 Pantigo Rd, East Hampton, L.I., NY 11937
For more information, visit bostwickschowderhouse.com or call 631-324-1111.
Catch Oyster Bar
If you are one of those indecisive people who spend half an hour deciding whether you want your lobster roll with mayo or butter, Catch Oyster Bar has come up with a simple solution for you – have it both ways!
Served on LI Blue Duck Bakery rolls and buns, Catch Signature Lobster Roll features lobster meat warmed in butter and lemon mayo. Treat yourself to this lovely sandwich where the best parts of two worlds meet; you deserve it.
63 N Ocean Ave, Patchogue, L.I., NY 11772
Learn more by visiting catchoysterbar.com or calling 631-627-6860.
Claws Seafood Market
Sometimes I feel like the fact that there are only two ways to cook lobster rolls is unfair to lobster sandwiches' potential. And I guess Claws Seafood Market agrees with me because they offer not two but five types of lobster rolls.
There is The Original West Sayville Roll with plenty of meat, light mayo, lettuce leaf, and toasted buttery bun. If you want more lobster than the bun can hold, then you should order The Double Roll. The Ruddy Roll exists for those of you who wish there was bacon in every lobster sandwich you eat. The Naked Roll is just bread, meat, and drawn butter. And if you are a spicy food lover, The FireHouse Roll with jalapenos and sriracha was created for you.
So head over to Claws when you want another lobster roll but are getting bored with the limited choice. These sandwich variations won't disappoint.
20 Main Street, West Sayville, L.I., NY 11796
Get more info by visiting http://clawsseafoodmarket.com/ or calling 631-256-5900.
Harbor Market & Kitchen
The lobster roll created by Harbor Market & Kitchen will blow your mind (and your taste buds). The story begins the way we all know it: lobster meets mayonnaise, and then both of them get along really well with a toasted split-top bun. But here is the catch – drumroll please – the meat is poached in butter first, and the whole sandwich is served warm. So no, it's not your usual Maine or Connecticut lobster roll; it's a perfect combo of both.
184 Division St, Sag Harbor, L.I., NY 11963
For more information, visit harbormarket.com or call 631-725-4433.
Lazy Lobster
Interestingly, a place with the word lazy in its name worked pretty hard and came up with several unique lobster rolls. You can have the traditional one with mayo or opt for a warm Connecticut-style sandwich served with tarragon citrus butter. There is Angry Lobster Roll, which is cold, spicy, and comes with an attitude, but it's nothing you can't handle. And there is Rock Lobster Roll for lovers of the smoked bacon and diced tomatoes combo.
You know, you can call Lazy Lobster a lot of things – the first few that come to mind are food paradise, fantastic, precious – but lazy is definitely not one of them.
10 Front St, East Rockaway, L.I., NY 11518
Find out more by visiting lazylobsterny.com or calling 516-837-8484.
Maldon & Mignonette
One of the nominees for the best lobster roll on Long Island, Maldon & Mignonette is an expert in seasonal cuisine. That explains the nomination and why so many people go crazy over their lobster rolls. After all, who can bring out the best in such a seasonal treat as a lobster if not the chef who understands what ingredients make each season precious?
Served with vinegar-salt fries, the M&M lobster roll offers you a heavenly combination of meat, garlic, lemon vinaigrette, lime zest, frisée, and toasted to perfection brioche bun.
243 Glen Cove Ave, Sea Cliff, L.I., NY 11579
To find out more, visit maldonmignonette.com or call 516-801-3250.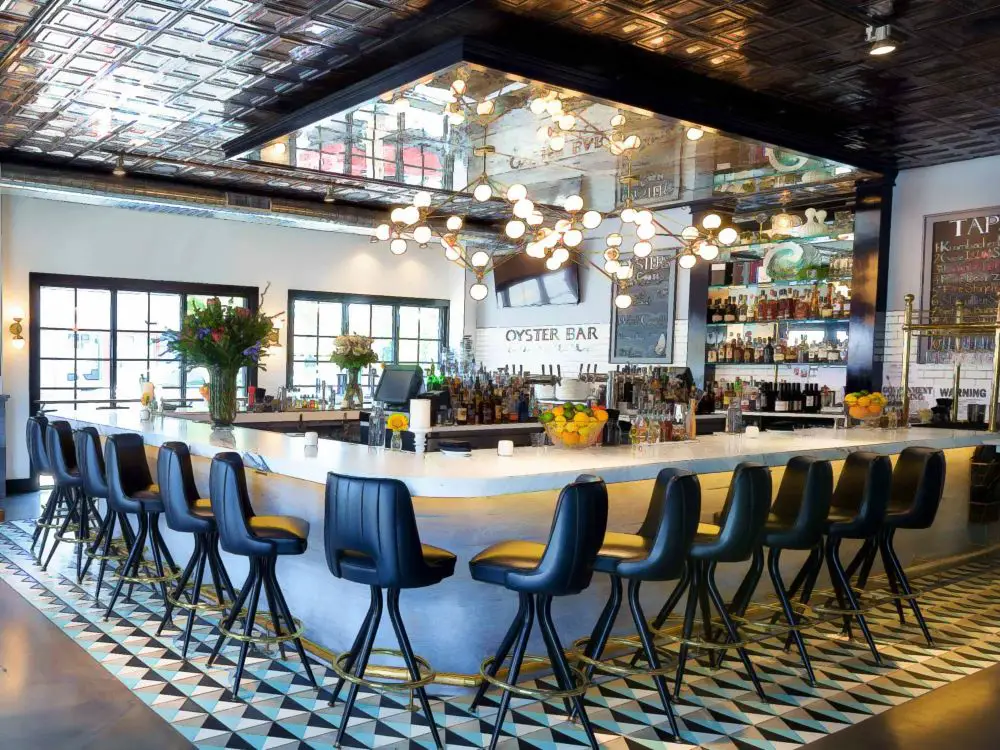 Salt & Barrel
It doesn't matter how many Long Island lobster rolls you've tried; nothing can prepare you for Salt & Barrel's Warm Lobster Roll. It's a combo of butter-poached lobster, tomato aioli, and pickled celery, all served on a magical bun that doesn't get soggy. The sandwich comes with housemade malt vinegar chips. This mix of flavors might seem a bit weird to traditionalists, and you might wonder if it works. Well, one way to find out (hint: it does).
61 W Main St, Bay Shore, L.I., NY 11706
To find out more, visit saltandbarrel.com or call 631-647-8818.
Schout Bay Tavern
Schout Bay Tavern's menu changes frequently, but their Long Island lobster rolls recipe is the same every summer. However, it's not for the faint of heart.
The restaurant decided that BLT and long island lobster rolls should get married and have a baby. The result is simply delicious – the lobster meat covered in avocado mayo lays right next to heirloom tomatoes and thick-cut bacon, and all of that is securely hugged by a toasted bun. It's something you never knew you needed.
118 Plandome Rd, Manhasset, L.I., NY 11030
Learn more by visiting schoutbaytavern.com or calling 516-627-2190.
More From The Long Island Local
Be sure to find out about more things to do on Long Island as well as more great spots to eat and drink and wonderful places to stay on Long Island!