Are you looking at Blackstone Steakhouse for your special date night and feeling uncertain it's the right place? It is, I can almost guarantee it, so let me tell you why. It's one of the finest restaurants on Long Island for a reason (or for many reasons, actually).
When Blackstone Steakhouse came on the scene, it immediately made an impression and took its place towards the head of the class. Need proof? It is one of three Anthony Scotto restaurants (the other two are Insignia and RARE650) on the Top 10 list of steakhouses. And it deserves the praise.
These three sister restaurants offer elegance, charm, and great food. They do differ, but if you've had the pleasure of eating at any of them, you know you're in for a great night when you visit the other. Although Blackstone, with its beautiful dark woods, is the more traditional looking of the three, don't think it's not innovative or modern at all. Its sushi, steaks, and chops are the best mix of the classic and unconventional.
While you're at it, be sure to check out my extensive guide to the Best Steakhouses on Long Island! Also, check out Prime: An American Kitchen & Bar as well!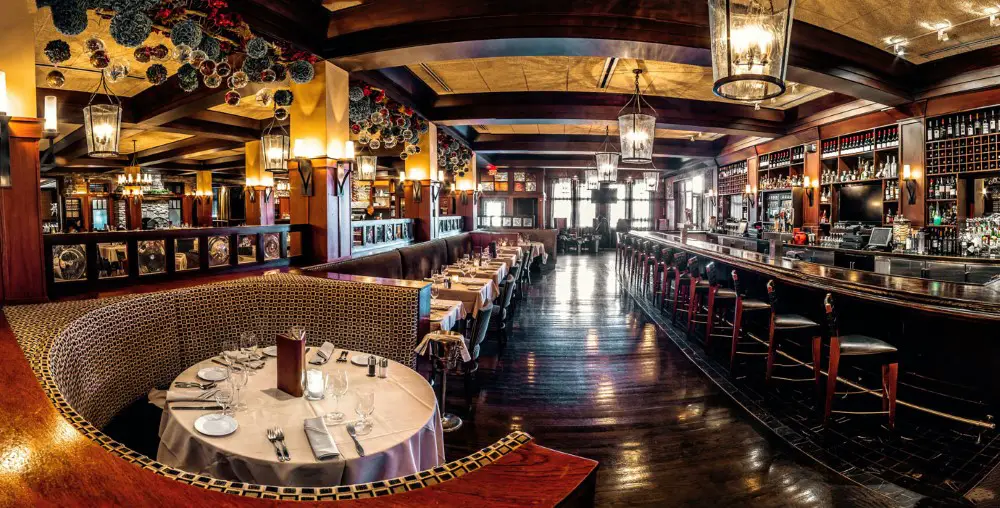 Steaks & Chops
The USDA Prime 45-day dry-aged steaks offered by Blackstone Steakhouse are truly spectacular. Which steak cut do you prefer? Not sure? Then let me help you.
For a bit of everything, order T-bone or the giant Classic Porterhouse steak if you are really hungry. For those of you who live for the most marbled parts, Bone-In Rib Steak is a perfect choice. If you are in the mood for the most tender cut of beef, then Petite Filet, Filet Mignon, or Sirloin steaks will satisfy the craving. If none of the above sparks an interest, then opt for Colorado Lamb Chops.
And there are so many steak enhancement options – truffle butter, avocado butter, Gorgonzola cheese, Lobster Baravoise, and more. Whatever is your heart's (read stomach's) desire, Blackstone Steakhouse can and will grant it.
While you're at it, be sure to check out my extensive guide to the Best Steakhouses on Long Island, including Prime: An American Kitchen & Bar.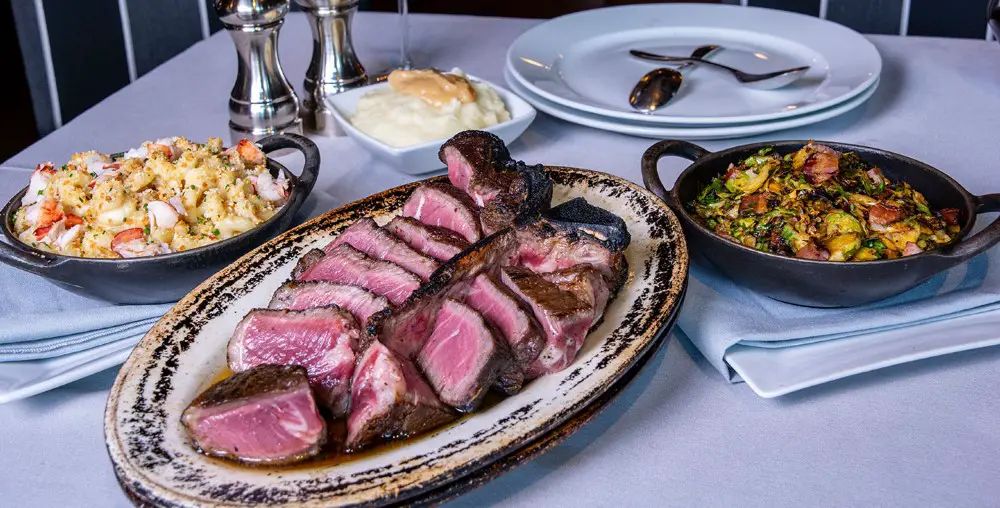 Other Options
I know that many people feel obliged to order a steak when they are in a steakhouse, but honestly, there is no shame in trying other things on the menu when you are in the Blackstone restaurant.
They offer ultra-fresh and delicious nigirizushi, as well as a huge list of innovative and tasty sushi rolls. Don't forget about the raw bar, too. And their salads – even true meat lovers will not find fault in their salads.
Blackstone Steakhouse also has a pretty solid dessert menu that includes a banana cream pie and key lime pie – great desserts that will make any sweet-toothed soul happy. And as for their beverage list, the restaurant can guarantee you'll be satisfied with their 500-bottle wine list, sake, tequila, whiskey, beer, and cocktails choices.
Hours of Operation
Blackstone Steakhouse is always open and welcomes you for a great meal, however, the exact working hours vary depending on the day of the week.
On weekdays, the restaurant opens at 11:30 p.m. and closes at 10 p.m. every day except for Tuesdays (it's 9 p.m.). Weekends see reduced opening hours, so you should take care of the reservation in advance. On Saturdays it's open from 5 p.m. to 11 p.m., on Sundays, it's 4 p.m. through 9 p.m.
Events
Blackstone Steakhouse is a place of remarkable cuisine, luxury vibe, magnificent decor, and excellent service. Does it sound like it's got all it takes to make a beautiful venue for your special event? If you think so, you think right, and the restaurant agrees with you.
You can book Blackstone – a private room or a whole restaurant – for corporate or private events; it can accommodate from 15 to 225 people.
Of note, according to Long Island Business News, Blackstone Steakhouse is the "best restaurant for a business dinner!"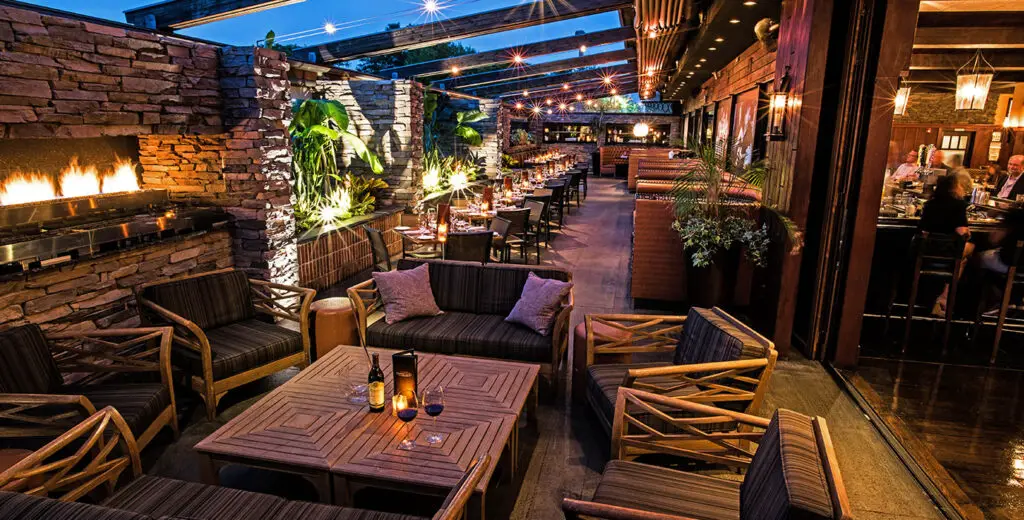 Safety Measures for COVID-19
Dining in a restaurant can become very off-putting if there are risks to your health, right? As it should be. But there are safety precautions that you and dining establishments' can take to minimize the risks.
Your part is really not hard: just wear a mask. For Blackstone Steakhouse, the matter is more complicated, but they've risen to the occasion beautifully. The restaurant staff wears masks at all times and is monitored regularly for any COVID-19 symptoms. The tables are situated with a six-foot distance between them and are sanitized between seatings. And the menus are available online or as disposable paper ones.
Currently, Blackstone Steakhouse can only accommodate a party of up to ten people per table. If your group has more people, then you'll be seated at different tables. There are also time limits for on-site dining. Two people can stay for 90 minutes, 3-4 people can dine for up to two hours, and groups with more than six people have two and a half hours.
Anthony Scotto Restaurants
Anthony Scotto Restaurants include some of the best restaurants on the Island. The concepts are constantly evolving to keep their offerings absolutely fresh and exciting. Only the finest quality, seasonal, ingredients available, regardless of cost are used. Their steakhouses offer the classics perfectly, but also expanded beyond, to include world renowned sushi and sashimi, exotic cuts of beef, flavorful composed dishes and fresh seafood flown in from around the globe.
All of the restaurants feature award winning wine lists with over 450 different vintages of wine by the bottle and 40 wines by the glass, plus creative homemade desserts imagined and prepared by their in-house pastry chefs.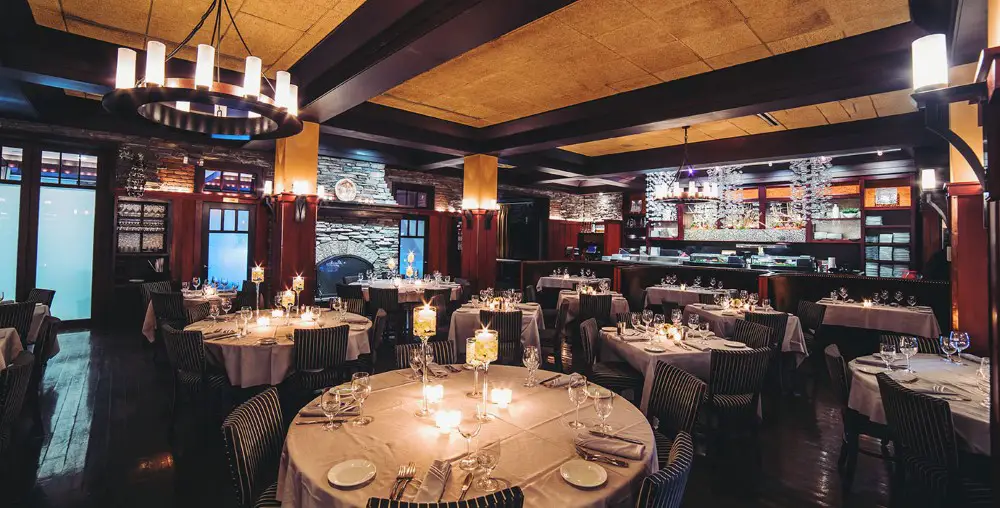 Blackstone Steakhouse Info
10 Pinelawn Road, Melville, L.I., NY 11747
Find out more by visiting blackstonesteakhouse.com/ or calling 631-271-7780
More From The Long Island Local
Be sure to find out about more things to do on Long Island as well as more great spots to eat and drink and wonderful places to stay on Long Island!