Are you looking for information about the famous Jones Beach Air Show? Well, I am so happy to share the news that the Jones Beach Air Show is back this Memorial Day weekend! Things are really beginning to feel like we are going to have an awesome, almost normal, summer!!
Jones Beach Air Show 2021 Schedule and Ticket Restrictions
The 2021 Bethpage Air Show at Jones Beach in Wantagh will be held from 10 a.m. to 3 p.m. on Saturday, May 29 and Sunday, May 30, weather permitting. Performers will also be making practice runs over Jones Beach on Friday, May 28.
The annual Jones Beach Air Show event typically draws hundreds of thousands of spectators and generates massive amounts of traffic, haha! Because of COVID-19 restrictions, Jones Beach parking is limited to 50 percent capacity for all three shows–and advance parking passes are sold out.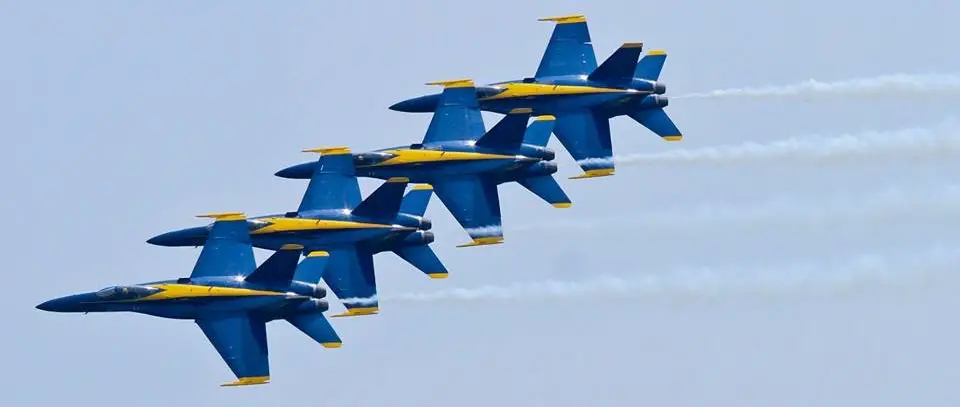 What to Expect
This should be a good place for your to get acquainted with the event and figure out how you may be able to manage it all.
Advance parking pass purchasers will be emailed a QR code needed for entry a week before the event. Those who don't receive it by Tuesday, May 25 can call 516-490-2400 or email [email protected] Taxis, ride-shares and other ride services, including individual drop offs, will not be permitted. Empire parking passes are not valid for show entry. Only Special Event Parking Pass holders will be admitted to the parking fields. All other attendees must remain on the beachfront and adhere to social distancing guidelines. 
Jones Beach State Park concessions reopen for the season for the Friday practice show.
The Performers
This year's military performers include the United States Air Force Thunderbirds, the Air Force A-10 Thunderbolt II and U.S. Coast Guard Search and Rescue. The civilian performers range from the American Airpower Museum Warbirds, the Bayport Aerodrome Society and the GEICO Skytypers to aerobatic flyer David Windmiller, aerial demonstration pilot Mike Goulian and the Farmingdale State College Flying Rams.
If You Can't Get A Ticket
People want to get back to normal, plus this is only a 50% capacity event for 2021. What does that mean, it's really difficult to get tickets. The website crashed and the available tickets sold out almost immediately. But that's ok, have no fear! There are more than one way to enjoy the Jones Beach Air Show!!
Watch It On TV
Bethpage Federal Credit Union, New York State Parks, and WABC are working together in order to broadcast a livestream of the air show at WABC-TV, as well as on WABC's connected TV apps on Amazon Fire TV, Android TV, Apple TV,  and Roku.
Take the Bus
NICE (Nassau Inter-County Express) will run N88 buses from the Freeport Long Island Rail Road station to Jones Beach about every 18 minutes from 8:30 a.m. to 8:30 p.m. on all three show days. Riders will be dropped off at the West Bath House just west of the park's Central Mall where you can walk to the beach. Bus riders are required to wear a mask or face covering and follow social distancing guidelines.
Take a Boat
Hey, we live on an island. Take advantage of all that's available to us! Enjoy a drink, sit back and relax! The Freeport Water Taxi cruises out of the Nautical Mile in Freeport. At noon on Sunday, May 30, Freeport Water Taxi & Tours' 44-foot catamaran will be leaving at 50 percent capacity (21 passengers) for a viewing party as close to the water tower as possible. The price is $60 plus cash bar.
Find out more by calling 516-521-7744 or visiting freeportwatertaxi.com.
There's another Nautical Mile option out there! The Atlantic Pearl, the Capt. Lou Fleet's 100-foot super-cruiser, is hosting viewing parties from 11:30 a.m.-3:30 p.m. May 29-30. Spectators can bring a small cooler with food and one unopened bottle of water, but other beverages need to be purchased at the boat's cash bar. Boarding at 11 a.m. The price is $55 plus cash bar.
111 Woodcleft Ave., The Nautical Mile, Freeport, L.I., NY 11530
Find out more by calling 516-623-5823 or by visiting captloufleet.com.
See the Show During Dinner
Grab a table at the beautiful Gatsby on the Ocean restaurant on the second floor of Jones Beach's West Bath House! Yes, pretty slick, I know. If you can snag an outdoor table on the patio, you are more than golden. The $75 parking voucher can be used to buy a meal from a special air show menu.
Find out more by calling 516-785-0012 or by visiting gatsbyontheocean.com.
View from a Park
Luckily for us Islanders, there's a lot of land on that South Shore of ours. And there's a lot of park and beach options, as well! Jones Beach State Park isn't the only game in town! Wantagh Park and Cedar Creek park require proof of Nassau County residence.
Wantagh Park
Check out the Jones Beach Air Show from the pier and long shoreline
1 King Road, Wantagh, L.I., NY 11793
Find out more by calling 516-571-7460 or by visiting nassaucountyny.gov.
Cedar Creek Park
3340 Merrick Rd., Seaford, L.I., NY 11783
Find out more by calling 516-571-7470 or by visiting nassaucountyny.gov.
Nickerson Beach Park
West of Jones Beach, this county park is a great place to see the action. Parking is limited to 50 percent capacity. It costs $15 for Nassau County Leisure Pass holders or $37 without a Leisure Pass.
880 Lido Blvd., Lido Beach, L.I., NY 11561
Find out more by calling 516-571-7700 or by visiting nassaucountyny.gov.
More Information
Be sure to check out bethpageairshow.com to find out more about this wonderful Long Island tradition.

Places to Stay on Long Island
If you wanted to consider different options for staying on Long Island, be sure to check out these great places to stay in Montauk, 10 Hamptons hotels, 10 North Fork Long Island hotels, and this Guide to Sag Harbor hotels! Enjoy reading up on and hopefully exploring these wonderful Shelter Island hotels!! Let me know if you decide to make it a vacation!
Check Out Some Long Island Wine
While you're on Shelter Island, you're so close to Long Island Wine Country! It's another great part of visiting the island. If you're in the mood for great wine, check out our Complete List of Long Island Wineries.
Check out the absolute best Long Island Wine Tours!
If you can't make it to a tour, why not do some wine tasting at home with Bedell Cellars!
Be sure to also check out the best wineries on Long Island for some great food!
While you're in the area, be sure to check out these 9 relaxing things to do in the North Fork!
More From The Long Island Local
I know that getting out and golfing is a great sign of spring! Check out more what else is going on in The Local's Spring Awakening section. Here's a comprehensive guide to the many great Long Island driving ranges you can enjoy! Get your kids out to one of the great Long Island skate parks! Or find out what Glamping Long Island is all about!
Maybe grab a freshly brewed beer at these Long Island breweries and when you've had your fill of vino!
The bounty of great food on Long Island seems endless! From great steakhouses on Long Island to great Greenport restaurants to Long Island lobster rolls and Long Island bagels, there's so much to enjoy. And how about all the wonderful restaurants on the water Long Island?! Or maybe check out some Long Island oyster farms!
Be sure to find out about more things to do on Long Island as well as more great spots to eat and drink!