Are you looking for some simple, relaxing things to do in the North Fork? If you are planning to visit the North Fork of Long Island or you're already here, you've probably done your research and learned about all the things you can do here. Beaches, wineries, museums – this place has every attraction to keep people of all interests entertained. 
But a true traveler's curiosity is never fulfilled unless you spend months in one place. Even a small part of a city or island, such as Greenport, has hidden gems that you might have loved to see but didn't have enough time for. Plus, learning about these less famous places might require you to befriend a local.
Luckily for you, I am that local friend who can recommend to you a couple of things to do on the North Fork, and you don't even have to buy me a drink to get this information.
Here we go, starting at the westernmost spots heading all thaw east to "The Point" of the North Fork. Keep in mind, most of these spots are very simple. The goal is to see and experience the easy beauty of the area. Sit back, relax, and enjoy the show! While you're at it, be sure to get a fantastic meal at one of the many great Greenport restaurants!
Fun Things To Do In The North Fork
Peconic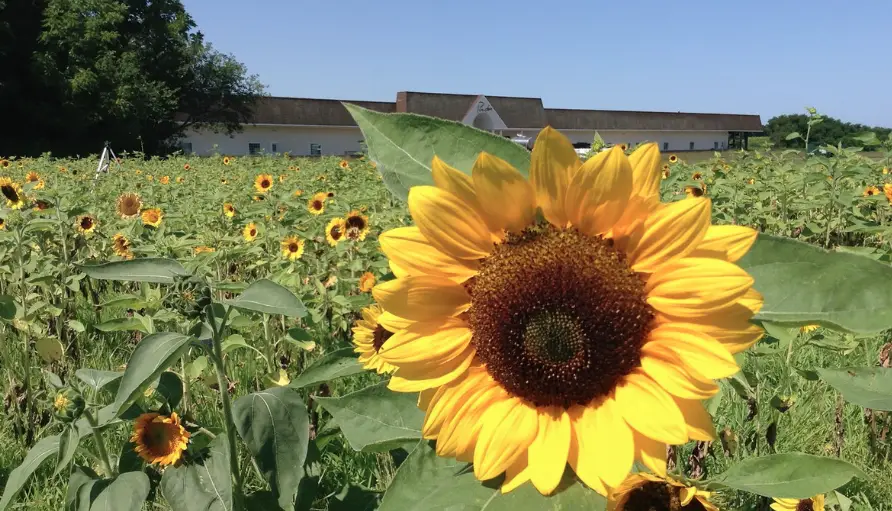 Pindar Vineyards
The best time to visit Pindar Vineyards is July and August. If you are looking for things to do in the North Fork during these months, you are in luck. Why? Because of all sunflowers, of course.
The sunflower field right next to the winery of Pindar Vineyards is Instagram-ready. Whether you are an Instagram blogger, a professional photographer, or just a person who loves taking photos, this spot filled with vivid, bright colors will help you take amazing pictures. All your followers will bombard you with questions about these fascinating photos.
And if you've missed the sunflower bloom, you still can make the best of Pindar Vineyards by tasting their wine.
Find out more about the wine collection by visiting pindar.net or calling (631) 734-6200.
37645 Main Road (Route 25), Peconic, L.I., NY 11958
Pipe's Cove, Greenport
Pipe's Cover is yet another water-related attraction that will take a special place in your heart. It's gorgeous from any point you look at it, whether you are on water or the shore. 
Local people use this spot for catching Blue Claw crabs, so if you know anyone who lives in Greenport and loves fishing (or catching crabs in this case), ask them to arrange a crab-catching activity for you. Eating a crab you caught yourself can be the highlight of your trip. 
But even if you don't go to catch crabs, Pipe's Cove will still dazzle you with its impressive landscape. 
Pipes Cove Way, Greenport, L.I., NY 11944
Use Google Maps for the most convenient route to Pipe's Cove.
5th Street Beach
5th Street Beach is one of few beaches in Greenport that doesn't require you to have a beach pass, and that offers you a lot of parking spaces.
The best time to visit 5th Street Beach is during summer, of course, so that you and your loved ones can enjoy swimming. It's safe to swim there, and there are lifeguards on duty. There are also restrooms, a playground, basketball and volleyball courts, a fishing pier, and picnic tables. 
But don't despair if your visit falls on other seasons. From this beach, you'll get a fascinating view of Shelter Island, and it doesn't change no matter which season of the year it is. 
5th Street, Greenport, L.I., NY 11944
Mitchell Park Carousel
The Mitchel Park Carousel, a.k.a Antique Carousel, is one of the things to do in the North Fork to connect with the history of Greenport, as it's estimated to be 100 years old. The horses in the carousel are vintage and hand-carved. So while your kids enjoy a ride for $2, you can admire the craftsmanship. 
However, due to the pandemic of 2020, the carousel is closed for now. You can check its schedule and updates by visiting villageofgreenport.org/carousel-greenport-village.php or calling 631-477-0248.
Location: Mitchell Park, Greenport, NY
Use Google Maps for a quick route to Antique Carousel.
Fireman's Carnival and Fireworks
If you have the freedom to choose when to visit Greenport, do it in July. Not only you'll be able to see the sunflower fields bloom, but you'll also be able to attend the Fireman's Carnival and Fireworks event hosted by Greenport Fire Department. 
You'll have tons of fun here – rides, games, and carnival food. And there will be at least one night for magnificent fireworks. 
Every year the dates of the event change, so check the schedule on the Facebook page of the Greenport Fire Department.
Polo Grounds, Moores Lane, Greenport, L.I., NY 11944
Shelter Island

Quinipet Gazebo
Take the ferry from Greenport to get to this beautiful, largely untouched island in the middle of the North and South Forks.
The beautiful Quinipet Gazebo is situated on land that belongs to Quinipet Camp and Retreat Center. It's a very photogenic and romantic place that is definitely worth a visit. 
It's also a wonderful spot to watch the sunset after a long day of exploring Shelter Island. If you don't know how to get to Shelter Island, here's a great guide to help you. 
Since the gazebo is on private property, you might want to call ahead and ask for permission to check it out. 
You can do that by visiting https://www.quinipet.org/ or calling 631-749-0430. 
99 Shore Rd, Shelter Island Heights, L.I., NY 11965
East Marion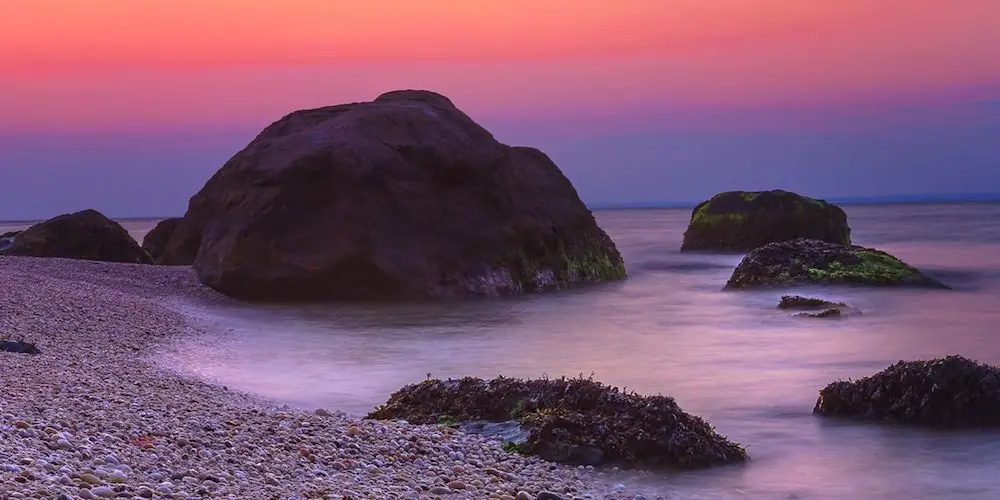 Rocky Point
Imagine this: you are sitting on a blanket listening to the sound of waves washing over the land, going back and forth. Everything around you is silent and peaceful. The sun is slowly setting, coloring the sky with pink-purple-golden colors. It's the best sunset you've ever seen, and you forget all your daily worries for a moment.
Interested in getting to experience that? If yes, Rocky Point beach should be next on your list of places to visit. 
It doesn't have a smooth sandy surface like other beaches on Long Island, and – depending on when you visit the place – it might be too cold for you to swim. But despite that, you won't regret sparing some time for Rocky Point, as it will take your breath away with its gorgeous scenery. 
Use Google Maps to get the fastest route to Rocky Point.
Dam Pond
Coming to Long Island, you should know that many great spots to visit will be near water or on the water. This spot isn't an exception.
Located within a 10-minute drive from Greenport, Dam Pond is a great place for walking, hiking, paddling, or watching birds with a stunning water view. But the best time to visit Dam Pond is during cold autumn or winter, though, unless you want to meet some all-too-friendly ticks.
I'm very pleased to note that the great Peconic Land Trust created the Ruth Oliva Preserve at Dam Pond in 2012 to forever preserve this special place.
11855 Route 48, East Marion, L.I., NY 11944
Orient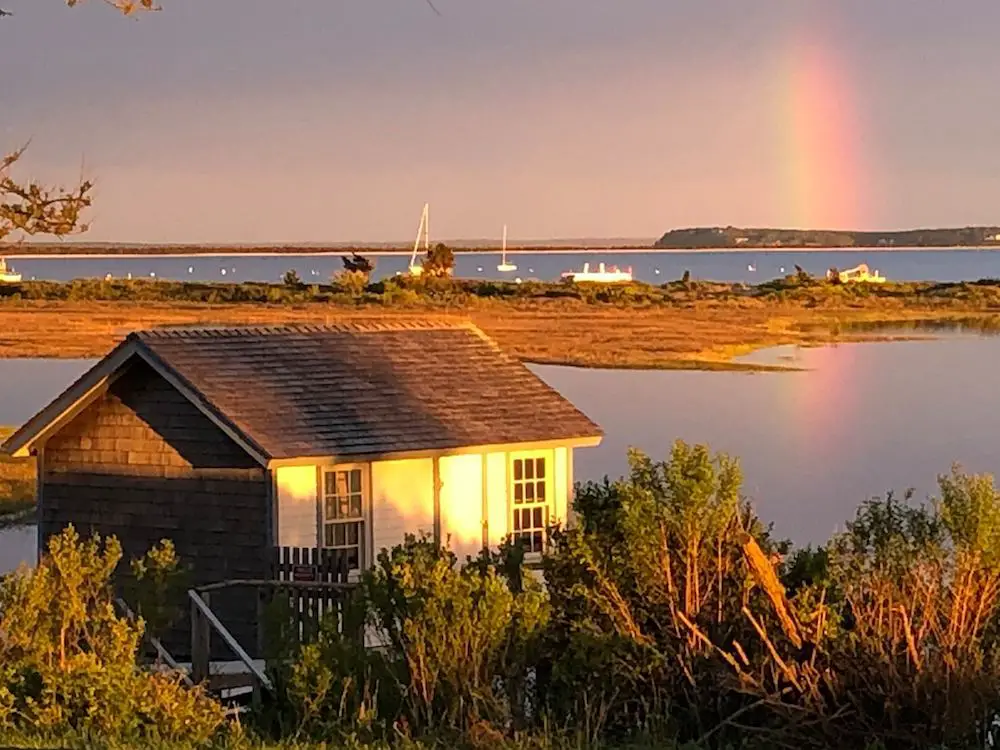 The Orient Crab Shack
Do you want to explore some of Greenport's history without stepping into a museum? Then check out the Crab Shack that is located near Dam Pond. 
It used to be a wash house for Mount Pleasant Hotel in Orient, but now the hotel is gone, and the house is still standing. In the 1960s, the shack was used as a place for gatherings and parties. 
And nowadays, it's a tourist place through which you can get a glimpse of what life was like 60-80 years ago. 
Orient Crab Shack, Orient Point, L.I., NY (the causeway leading out of East Marion and into Orient)
Hallock's Bay
If you love kayaking, Hallock's Bay is the perfect place for you to get some exercise, fresh air, and time to yourself. This quiet place protected from wind and the crowd noises will bring you tranquility and the feeling of being one with nature.
Even if you don't kayak, you can still walk around the shore and enjoy the sightings of Hallock Bay's wildlife, such as turtles and birds. And if your visit is during winter, you might be lucky enough to see some rare beasts – ice boats sliding across the frozen water.
Use Google Maps to get the fastest route to Hallock's Bay. 
So that's ten things you can do in Greenport and get to know the place not as a tourist but as a local. 
Most of these things to do in the North Fork are suitable for visits during any season of the year. If you love the area and want to make it more than just a day trip, be sure to check out these 10 wonderful North Fork Long Island Hotels, too!!!