Are you looking for some great places to view and experience Long Island Christmas Lights? How about on the East End in particular? With Christmas Lights everywhere, Long Island turns into a winter wonderland!
There are so many events – Christmas light shows, decorating contests, and more – you can really make the Christmas season special! So would you like to add a few amazing experiences to your calendar? 
Long Island Christmas Lights You Have To See
Here's a list of some awesome Christmas-related events happening on East End this December. 
Spirit's Promise Equine Rescue
This is amazing place. We visited for this first time this past summer and was blown away by all that they do! Spirit's Promise Equine Rescue is inviting you for a Holiday Farm Lights walking tour. During the 30-minute tour, you'll see various light displays, Santa's workshop, Santa's reindeer, and more. 
Hurry up and buy your tickets, as this Long Island Christmas lights show is open only three days a week – Thursday, Friday, Sunday. The last day you can attend the event is December 19. An early-bird ticket costs $18 per car, but if you aren't an early bird, you'll have to pay $22. 
Learn more about its schedule by calling 631-875-0433 and buy tickets here: spiritspromiserescue.org/.
2746 Sound Avenue, Riverhead, L.I., N.Y. 11901
Riverhead Holiday Light Show
The largest drive-through Light Show in Suffolk County, Riverhead Holiday Light Show is ready to re-introduce you to the Christmas spirit and put a smile on your face with its Christmas-themed LED light displays and music. It's a great please to check out Long Island Christmas lights, for sure.
This Christmas attraction will be open until December 30. You can visit it from 5 p.m. to 11 p.m. on Fridays and Saturdays or from 5 p.m. to 9 p.m. on the rest of the days. A ticket for one car costs $23 online, $25 on-site. 
To learn more about its schedule and prices, go to riverheadlightshow.com/ or call 631-210-6711.
Long Island Sports Park, 149 Edwards Ave, Calverton, L.I., NY 11993 
1241 Old Country Road, Riverhead, L.I., NY 11901
Sag Harbor Historical Society
Are you interested in Christmas decorating contests? Then you should definitely visit the Light Up the Harbor event hosted by Sag Harbor Historical Society (SHHS). Some of the best-decorated houses will get rewards, so you can learn which houses got awarded and check them out to see if you agree with the awarding committee. You'll also enjoy a performance by The Dickens Carolers and will be able to buy local history books. The event will take place at Annie Cooper Boyd House at 2 p.m. on December 20. 
Visit sagharborhistorical.org/ or call 631-725-5092 for more information.
174 Main Street Sag Harbor, L.I., NY 11963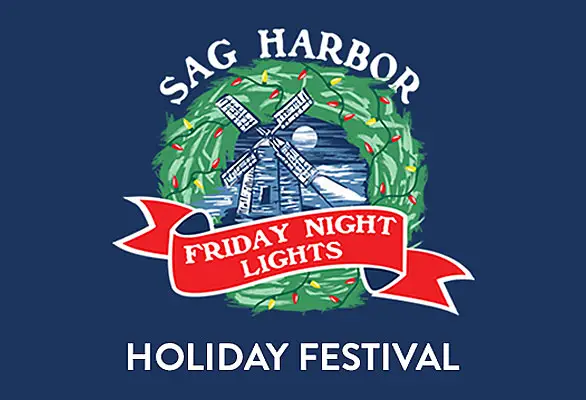 Sag Harbor Chamber of Commerce
Don't know what to do on Friday night? Head over to Sag Harbor to enjoy Friday Night Lights Holiday Festival. Each Friday, there will be different events, including Tree Lightning, Santa available for photos, and more. 
And why not mix business with pleasure? While you are enjoying the festive atmosphere, you can buy Christmas gifts for your loved ones, especially since there will be discounts and gifts. 
For more information on the event schedule and discount offers, visit sagharborchamber.com/.
Greenport Village
If you not only like Christmas decorating contests, but you also enjoy winning prizes, you can participate in the Greenport Winter Wonderland & Design Contest by voting for the most beautifully decorated shop. One lucky voter will win the Grand Prize Raffle Basket that consists of various gift certificates from Greenport shops.
Of course, before you can vote, you should visit Greenport Village and check out the decorations. Votes are accepted until December 31, so you have plenty of time to choose your favorite. 
For more information, visit greenportvillage.com/.
East Hampton Chamber of Commerce
East Hampton Chamber of Commerce, along with East Hampton Village, is organizing their own Santa's Storefront Decorating Contest. This year, the contestants will go out of their way to make the experience special, as it's the hundredth anniversary of East Hampton Village. 
You won't be able to vote for your favorite decorations, but that shouldn't stop you from enjoying the free light show. And you can always play a little "Guess who will win this year" game with your family. 
For more information on the contest, visit easthamptonchamber.com/ or call 631-324-0362.
Southhampton Chamber of Commerce
Enjoy another free display of Long Island Holiday Lights when you visit Southhampton Village. Apart from wonderful decorations, the shops there offer you amazing holiday gifts made by local artists. So if you choose this destination as your go-to shopping place, you won't only support local businesses, but you'll give your loved ones unique gifts. 
To find out more, visit southamptonchamber.com/ or call 631-283-0402.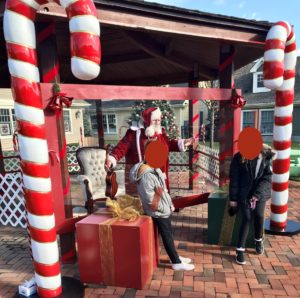 The Shoppes at East Wind
The Shoppes at East Wind is fully prepared to make your shopping experience a magical one. Winter Fest Holiday Shopping every Saturday and Sunday will allow you to buy all the presents quickly and hassle-free.
And on Saturdays, Santa is available for a free photo (reservations are required). And if your kid isn't satisfied with just a photo, they can also have a brunch with Santa. Isn't that amazing? 
To make a reservation, call 631-846-2335, and to learn more about the schedule of the events, visit eastwindlongisland.com/shoppes.
5720 NY-25A, Wading River, NY 11792
Christmas House Long Island
Christmas House Long Island is a family-friendly immersive attraction that shows you the beauty of this holiday as you walk through ten gorgeously decorated rooms. You'll see elves, gingerbread men cookies, Christmas-themed cakes, and more. And Santa will be there, too, to take a picture with you for $30. 
The Christmas House is open until January 10th. Adult tickets cost $20-30, and children's tickets will cost you $15-25 depending on what day you choose to visit the attraction.
To learn more about its schedule and prices, go to christmashouselongisland.com/ or call 631-591-0455.