Are you looking to celebrate the start of spring at Waterdrinker Long Island? I think you should be! Waterdrinker Family Farm and Garden should be on your calendar this April. What's the occasion? The fantastic Long Island Tulip Festival! This has quickly become a beloved institution here on Long Island, as you can tell by the massive amount of wonderous tulip field pics on Instagram and Facebook! It's quite a sight to see, something truly unique and exceedingly beautiful on Long Island!
Waterdrinker is your source of fresh-cut flowers, organic herbs, and veggie plants on Long Island. And for the second time since the opening, the farm offers you the incredible experience of walking among over 500,000 blooming tulips. With so many colors surrounding you – yellow, purple, pink, red – you'll feel like you are in the middle of a rainbow.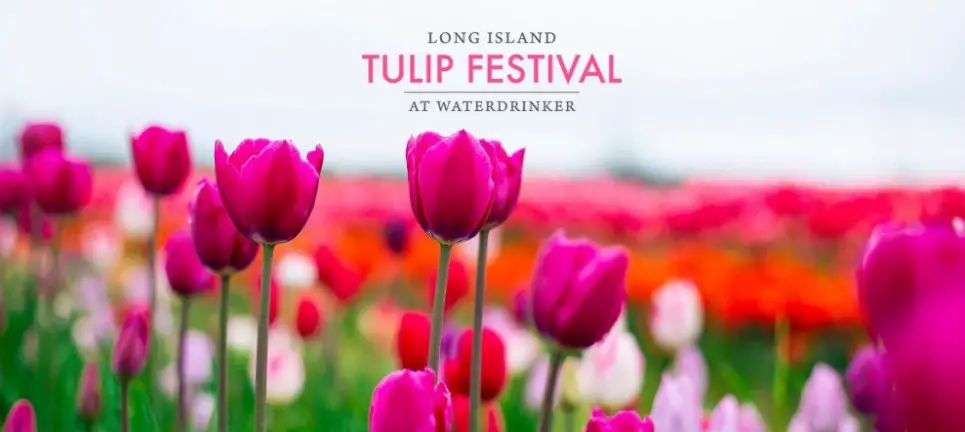 Tulip Festival Schedule and Ticket Prices
The farm's greenhouse and barn are opening on the 24th of March, and the field will be available to the public from the middle of April for the Tulip Festival. As you might know, tulips usually bloom somewhen between March and May, but it's impossible to know the exact time. So the festival start and end dates depend entirely on Mother Nature's will and these capricious flowers.
However, the farm expects the tulips to open up around April 15th and hopes that once they do, they might stay for a while (even up to a month). Follow Waterdrinker on Facebook and Instagram to be among the first ones to know when to visit.
The ticket prices are to be determined, but you can use the 2019 festival's admission as a reference. For children under 10, the admission was free; for everyone else, it was $5. But then again, during that year, there were only 100,000 flowers to see. This year there are five times more flowers, so the ticket price might be around $15.
The farm will be open seven days a week from 9 p.m. to 5 p.m.
Long Island Tulip Festival Activities
Waterdrinker Family Farm and Garden has the word family in the name for a reason. Their festivals are great for families as everyone will find something they want to do.
Your kids might have way more fun than you, though. Why? Because there is so much they can do at the festival. There is a wooden playground, bull riding pen, and tractor pedal cars. And since children love animals, they'll enjoy watching alpacas, Kunekune pigs, sheep, and goats walking around the barn.
Your older kids will like Instagram-ready spots among the flowers and photo ops, which include a windmill, enormous wooden shoes, and more. Family activities include a mini-golf and a jumbo jump pad. On weekends, there will also be food trucks and live music.
Oh, and of course, you'll have an opportunity to take a bouquet of tulips home. The farm will arrange designated U-pick Tulips areas. One stem costs $1.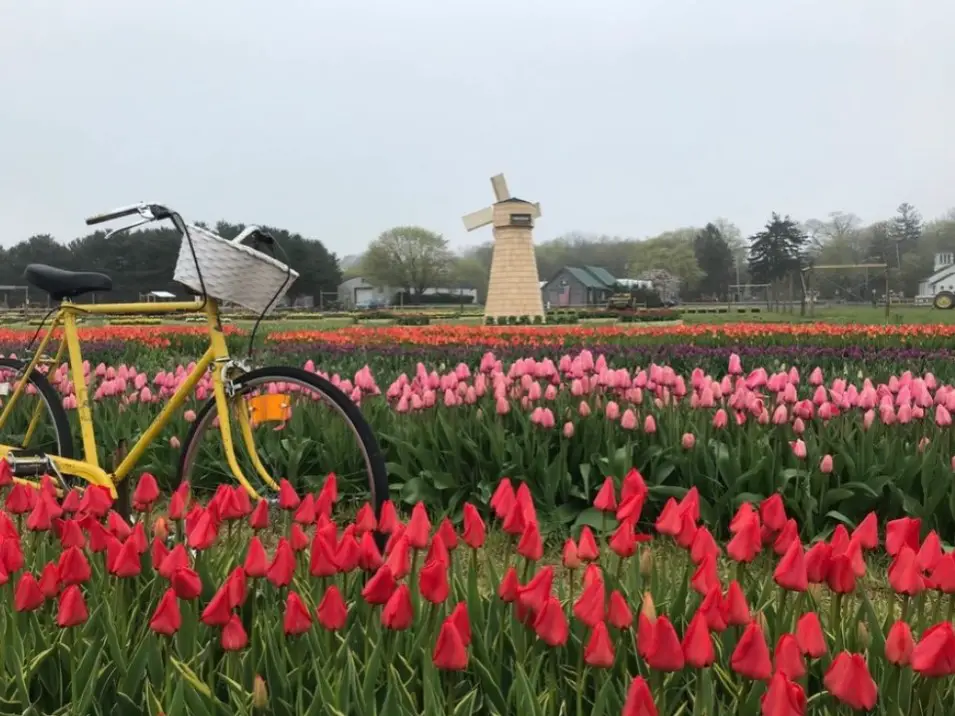 Easter Egg Hunt and Other Festivals
Tulips aren't the only thing why you should remember Waterdrinker. It's also one of the Long Island sunflower fields and pumpkin picking areas. All this you can enjoy when you visit the farm during their Fall Festival.
They also have a vintage car show in August and ice skating and U-Pick Christmas Trees in winter.
The closest holiday, though, is Easter, and the farm welcomes you to celebrate it with them. It will take place on April 3rd at 11 a.m. Admission is free for everyone.
Waterdrinker Long Island Important Info
Before you start googling the directions to the farm, there are a couple of rules you need to know. Everyone older than 2 has to wear a mask and practice social distancing. While the farm is a pet-friendly place, you have to keep your dog on the leash. And no outside food is allowed.
That's all; enjoy your day at Waterdrinker – possibly Long Island's most beautiful attraction.
663 Wading River Road, Manorville, L.I., NY 11949
Find out more about Waterdrinker Family Farm & Garden by visiting water-drinker.com/ or calling 631-878-8653.
Places to Stay on Long Island
If you wanted a bunch of different options to stay on Long Island, be sure to check out these great places to stay in Montauk, this Guide to Shelter Island hotels, 10 Hamptons hotels, 10 North Fork Long Island hotels, and this Guide to Sag Harbor hotels!
Find Out About Long Island Wine
If you're on the Island or staying on Fire Island…maybe you can consider a trip out East to mix in some rural farm vibes with your beach days?! In addition to great Long Island bagels, Long Island wines are wonderful and just keep getting better and better! If you're in the mood for great wine, be sure to check out our Complete List of Long Island Wineries and Long Island Vineyards.
Check out the absolute best Long Island Wine Tours!
If you can't make it to a tour, why not do some wine tasting at home with Bedell Cellars!
I know you're getting hungry, so be sure to also check out the best wineries on Long Island for some great food!
While you're in the area, be sure to check out these 9 relaxing things to do in the North Fork!
When you're done with all of this wine drinking and relaxing, how about making it a weekend? Here are 10 great North Fork Long Island hotels to enjoy as well.
More From The Long Island Local
The bounty of great food on Long Island seems endless! From great steakhouses on Long Island to great Greenport restaurants and Long Island bagels…there's so much to enjoy. Or maybe check out some Long Island oyster farms!  
Be sure to find out about more things to do on Long Island as well as more great spots to eat and drink and wonderful places to stay on Long Island!
There are many great farms on Long Island's land, including Long Island Oyster Farms, the only fresh snail farm (Peconic Escargot) in America, one last duck farm, Christmas Tree farms, pumpkin patches, and apple orchards! If you are looking for delivery, check out these Long Island farms! Here's my guide to Long Island Farmers and their farms!