Are you interested in learning which of the beautiful Long Island boardwalks are best for taking a romantic stroll for a date? Or perhaps, you are looking for the best place to jog – with a stunning view to keep you company and an ocean breeze to cool you down. Or maybe, you are a parent of a kid who'd like to learn how to ride a bike – some of the wooden walkways on Long Island are great for that purpose, too.
That's the beauty of a boardwalk – it's suitable for so many things. Some use it to have a coffee and a chat with a friend they haven't seen for a while, others like to sit there and read a book, or listen to some music, or walk while reflecting on their life. To each person, boardwalks mean something different, but one thing is certain – everyone loves them.
Long Island boardwalks are a part of life here. Some of them are great for all of the things mentioned above, some are great for exercise, and others are the best for relaxing. And if one boardwalk gets too crowded, you can always visit another. Whatever your love or purpose, it's a wonderful way to take advantage of what we have here on our beautiful island!
16 Beautiful Long Island Boardwalks To Enjoy
Here's the Long Island Local guide to 16 beautiful Long Island Boardwalks!!!! Enjoy it!
Nassau County, Long Island Boardwalks
Here are 5 wonderful Long Island boardwalks to enjoy in Nassau County!
Atlantic Beach Boardwalk
The Atlantic Beach boardwalk is 22 feet wide, open year-round, and stretches from Albany to Putnam. It's the place to be if you want to exercise in a peaceful beautiful environment.
There are also plenty of benches along the way in case you get tired or just feel like sitting and taking in all the views, the sounds, and the smells of the ocean. And if you decide to come with your kids, you'll be happy to know that there are several playgrounds that can keep them occupied while you enjoy your time on the beach and boardwalk.
Atlantic Beach, L.I., NY 11509
Learn more by visiting villageofatlanticbeach.com/ or calling 516-371-4600.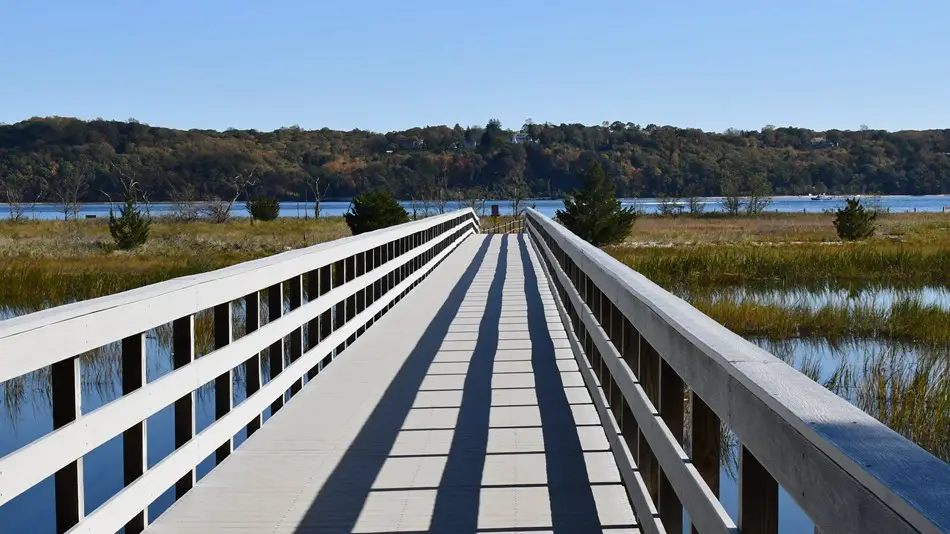 Eel Creek Boardwalk
The Eel Creek Boardwalk is also called the Sagamore Hill boardwalk. It is a 366-foot-long walkway that provides access to the beach and salt marsh on Cold Spring Harbor. The boardwalk was damaged by Hurricane Sandy in 2012, but luckily, in 2014, it was repaired. The entire substructure was improved. So now you can once again walk the path Theodore Roosevelt and his family used to frequent!
20 Sagamore Hill Road, Oyster Bay, L.I., NY 11771
Visit nps.gov/sahi/index.htm or call 516-922-4788 to find out more.
Jones Beach State Park Boardwalk
One of the busiest and most well-known of the Long Island boardwalks, the boardwalk in Jones Beach State Park has become a favorite for many Long Islanders. It's easy to see why. The 2-mile wide walkway is open for biking, jogging, walking year-round.
In summer, you'll find many concession stands that will keep you going with their delicious food and ice cream. And if you get tired of exercising, you can always switch to the fun side: mini-golf, paddle tennis, table tennis, corn hole, basketball, pickleball, concerts, and other activities are available.
RELATED: Check out The Long Island Local's Instagram for a great Reels showing off what Jones Beach has to offer!!
If you have the NY State Empire Passport, parking will be free; if you don't have the pass, parking costs $8 ($10 during the peak season) per car.
2600 Ocean Parkway, Wantagh, L.I., NY 11793
To learn more, visit parks.ny.gov/parks/jonesbeach or call 516-785-1600.
Long Beach Boardwalk
Long Beach Park, a 4-mile beachfront property, features a 2.2-mile wide boardwalk (also known as Ocean Beach Park boardwalk) suitable for strolling, jogging, biking, and rollerblading. It's one of the places where you feel and appreciate the true vibe of Long Island: on one side, the buzz of people swimming, surfing, going about their business, and on the other side, the mighty presence of the ocean and nature, and both sides coexist peacefully and complement each other.
Long Beach also offers you an indoor pool, playgrounds, fishing pier, marina, and free concerts in summer. To enter the beach, you'll need a Beach Pass, which you can buy online or at Gazebo or Beach Park Trailer.
Nevada Avenue, Long Beach, L.I., NY 11561
To learn more, visit longbeachny.gov/beach or call 516-431-1021.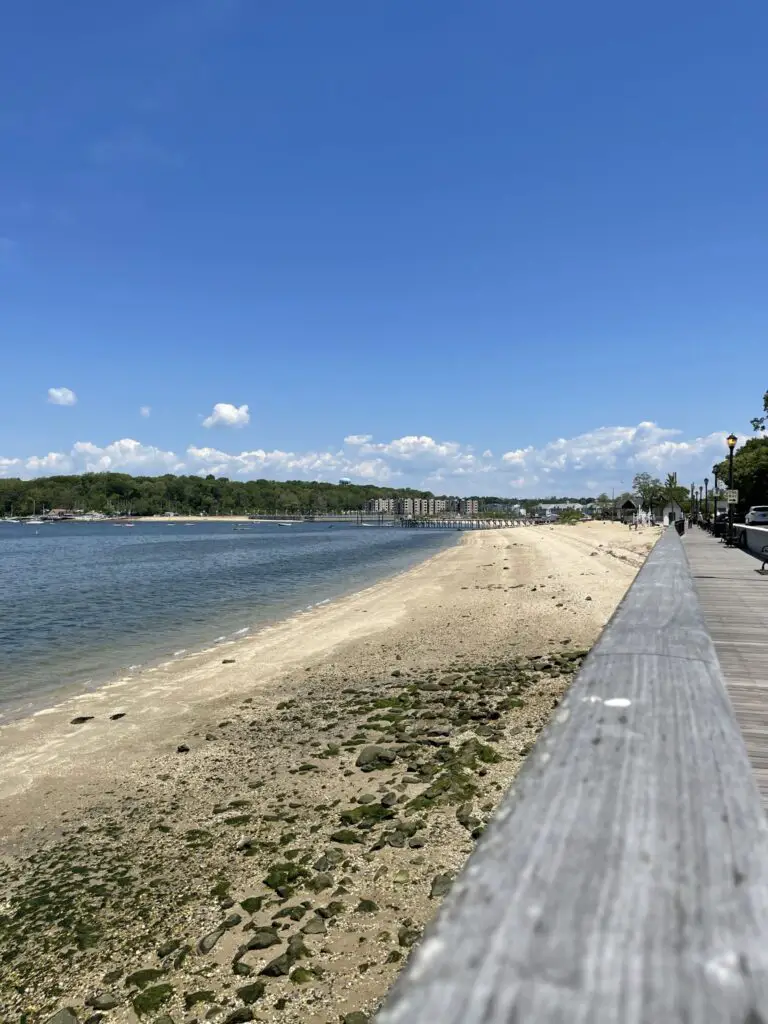 Sea Cliff Boardwalk
The 1,000-foot-long wooden walkway was built in 2007, but it wasn't the first one in this area. The first one was destroyed by a hurricane in 1944, along with the old steamboat landing. It's a wonderful spot with great views of estates, boats, and new development in Glen Cove.
It's also a labor of love. For 63 years, the residents of Sea Cliff wished for a new boardwalk! It took them 15 years to gather the funds to have it built. But it's awesome now.
Today, the Sea Cliff Boardwalk is open for everyone for free. It's definitely a must-visit Long Island boardwalk for a family picnic! Also a great spot to watch the sunset with your partner on your date night.
36-98 The Blvd Sea Cliff, L.I., NY 11579
For more information, visit seacliff-ny.gov/parks-recreation or calling 516-671-0080.
Suffolk County, Long Island Boardwalks
Here are 6 wonderful Long Island boardwalks to enjoy in Suffolk County!
Amityville Municipal Beach Park Boardwalk
The boardwalk of Amityville Municipal Beach Park is the perfect setting for jogging, walking, romantic dates spent watching sunset or sunrise, or just taking a break from screens and work. The park also has all the amenities – restrooms, a concession stand, a parking lot, and more – for a comfortable visit.
328 Grand Central Ave, Amityville, L.I., NY 11701
Find out more by visiting amityville.com/amityville-parks-and-public-areas or calling 631-264-6000.
Bay Shore Marina Boardwalk
The Bay Shore Marina boardwalk is a lovely spot to watch sunrise or sunset, get the sunshine vitamin, or walk and think about life. The boardwalk is situated right next to Benjamin's Beach, which has a picnic area, playground, basketball court, and food stand. So if you get hungry or bored from your reflection time on the boardwalk, you'll have many recreational activities and food choices to help you with that. It's one of the busier, more commercial of the Long island boardwalks.
However, to access Bay Shore Marina, you'll need the Town of Islip Recreation Card.
S Clinton Ave, Bay Shore, L.I., NY 11706
To learn more, visit longisland.com/business/bay-shore-marina.html or call 631-224-5411.
Captree State Park Boardwalk
Captree State Park attracts Long Islanders mostly because of its perfect conditions for fishing. If you rent a boat from the park and work with the boating staff, you won't even need any equipment or license for fishing. But fishing lovers aren't the only ones who can take full advantage of the park because there is so much more to it.
Picnic areas, snack bars, restaurants, a playground, and have I mentioned the boardwalk from where you can watch the gorgeous orange-yellow-purple colors of a sunset and see Fire Island and the Fire Island Lighthouse? Words don't do justice to this place; you just have to visit it and see for yourself. There is no charge except for an $8-10 parking fee.
3500 Ocean Pkwy, Bay Shore, L.I., NY 11706
To find out more, visit nysparks.com/parks/65 or call 631-669-0449.
Cow Harbor Park Boardwalk
Cow Harbor Park is a beautiful waterfront park with playgrounds and gazebos, and its charming boardwalk can take a special place in your heart on any day, but it's especially true on the Great Cow Harbor Day Weekend. During this annual celebration of the Northport village's history, the whole park area, including the boardwalk, becomes the center of buzz, people, activities, laughter, and so much fun. There is music, a parade, a 2 and 10-km run race, art & crafts, and more. In 2021, the festival will take place from September 17th to September 19th, so save the date.
54 Woodbine Ave, Northport, L.I., NY 11768
Find out more by visiting cowharbor.org or calling 631-261-7502.
Crab Meadow Park Boardwalk
Everything about Crab Meadow Park inspires happiness and fun. This public beach that runs along the shores of Long Island Sound features calm waters perfect for swimming, a playground, a basketball court, and a boardwalk with several dining options. You also fish, canoe, or kayak at Crab Meadow if you wish.
Even though the park offers so much, it's never crowded, which is yet another reason to go for a run or an evening walk on the Crab Meadow boardwalk.
If you are a non-resident, you will have to pay a $35 parking fee; for town residents, a $40 seasonal parking permit is available at beach entrances.
Waterview St W, Fort Salonga, L.I., NY 11768
Learn more by visiting huntingtonny.gov/beaches or calling 631-351-3000.
Lakeland County Park Boardwalk
The boardwalk in Lakeland County Park doesn't offer you ocean views but the views of wetlands, waterfowl, wildlife, vegetation as it zigzags over the headwaters of Connetquot River.
At the end of the wooden walkway, you'll find a pretty Honeysuckle Pond, which changes its size like a capricious child depending on the season. Apart from the boardwalk, there are a few nature trails, picnic tables, a graffiti-filled tunnel, a playground, and a basketball court.
Lakeland County Park is fully accessible, pet-friendly (leashed pets only), and well suitable for a visit all year long.
Johnson Ave, Islandia, L.I., NY 11749
Visit suffolkcountyny.gov/Department­s/Parks/Parks/LakelandCountyP­ark.aspx or call 631-853-2727 to learn more.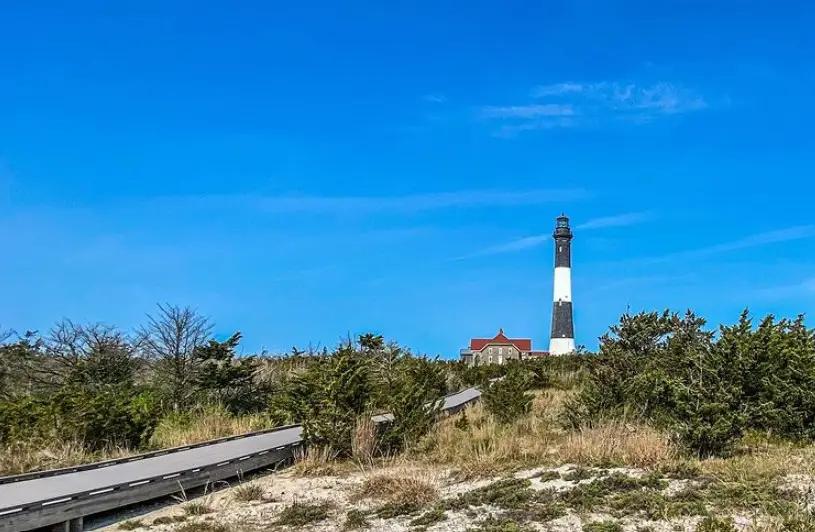 Fire Island, Long Island Boardwalks
Yes, Fire Island is in Western Suffolk, but it's a world away, isn't it? So, here are 2 wonderful Long Island boardwalks to enjoy on Fire Island!
Fire Island National Seashore & Robert Moses State Park
Well, if you know Fire Island, almost the entire barrier island is boardwalks! Boardwalks that let you enjoy magnificent ocean views, the chilly ocean breeze, and colorful sunsets are amazing, but this kind of walkways you can find anywhere. The boardwalk on Fire Island also features stunning views and, on top of that, leads you to the 168 feet high Fire Island Lighthouse, the tallest on Long Island.
Your journey starts at Robert Moses State Park (park at field 5), which is a beautiful destination itself. Enjoy a short walk on a renovated mile-long boardwalk, and when you arrive at the lighthouse, buy the $10 tour. There is so much history to learn there, and – if you are lucky enough – you'll be able to see the New York City skyline.
Fire Island, L.I., NY 11706
For more information, visit fireislandlighthouse.com, parks.ny.gov, and nps.gov/fiis or call 631-583-5901.
Sunken Meadow State Park Boardwalk
Sunken Meadow State Park features one of the best Long Island boardwalks. It's a ¾ mile-long walkway that allows you to easily achieve your 10,000 daily steps in a peaceful environment with the tranquil views of Long Island Sound. And if the weather is clear enough, you'll even get to see the shoreline of Connecticut.
The state park itself is also a great place for some family quality time; whether you go for a swim, picnic, or hike, you'll enjoy it tremendously.
With the Empire Pass, parking is free; if you don't have it, then it'll be $8-10 for a car, depending on the season.
Rte. 25A and Sunken Meadow Parkway, Kings Park, L.I., NY 11754
For more information, visit nysparks.com/parks/37/details.aspx or call 631-269-4333.
RELATED: While you're enjoying Fire Island, check out these great Fire Island restaurants! Or maybe spend some time at the Fire Island Boatel and make it a true vacation!
North Fork, Long Island Boardwalks
Here are 3 wonderful Long Island boardwalks to enjoy on the North Fork!
Norman Klipp Park Beach Boardwalk
Norman Klipp Park Beach, which you may know as Gull Pond Beach, is a perfect place for a fun beach day with your family. It features a fishing pier, a picnic area with grills and benches, restrooms, a playground, and a small boardwalk overlooking Shelter Island. A boat ramp inside the park provides easy access to water for snorkeling, sailing, kayaking, scuba diving, and canoeing.
There is a parking fee for non-Southold Town residents.
3303 Manhanset, Greenport, L.I., NY 11944
Visit greenportvillag­e.com or call 631-765-5182 to find out more.
Orient Beach State Park Boardwalk
You might come to Orient Beach State Park to check out its boardwalk, but you'll stay longer than you expect because it has so much to offer you. Views of Gardiner's Bay and the maritime forest of red cedar, black-jack oak, and prickly pear cactus are enough to make anyone fall in love with the place.
On top of this beauty, the park has plenty of amenities great for relaxing, picnicking, kayaking, fishing, hiking, biking, windsurfing, and more. It's also a favorite spot of many bird watchers as Osprey, Great Blue Herons, Egrets, Black Crowned Night Herons often make an appearance here.
The entrance fee for Orient Beach State Park is $8 ($10 during the peak season) if you don't have the Empire Pass Card.
40000 Main Rd, Orient, L.I., NY 11957
To find out more, visit parks.ny.gov/parks/orientbeach or call 631-323-2440.
Peconic Riverfront Park Boardwalk
Peconic Riverfront Park, a.k.a Ammann Park, features two gazebos, picnic tables, restrooms, and a 1,600-foot boardwalk – in other words, it has everything you need to take a quick break from the noise and chaos of life.
You might not believe that you can relax being two steps away from the road and the city, but that's the beauty of the park: you don't have to go far to feel like you are far away. Make some time to sit on one of the benches on the boardwalk, soak up the sun, watch swans and ducks go about their business, and just be in the moment.
40 Peconic Ave, Riverhead, L.I., NY 11901
To find out more, visit riverheadrecreation.net/ammann-park.html or call 631-727-5744.
Check out the South Fork
These amazing gardens of Long Island are awesome! I never get tired of visiting Long Island arboretums, but be sure to take full advantage of all awesome the outdoor activities on Long Island!
The Hamptons and Montauk is a world-renowned beach resort destination for good reason! There is just so much to see, do, and enjoy! Here are just a few of them:
Check out some luxury homes in The Hamptons!
Maybe you will love it so much, you'll want to check out some Hamptons wedding venues!
Enjoy some of the world-class, amazing art in The Hamptons!
Enjoy some great Hamptons restaurants, including delivery!
Guide to the best beaches in Montauk!
Check out Shelter Island! Shelter Island is only accessible by the Shelter Island Ferry. The South Ferry connects to North Haven on the South Fork. Find out more about Shelter Island, it's different towns and more by checking out this page that includes a handy Shelter Island Map!!
Explore Long Island Wine
Depending on the boardwalk, you may be pretty close to Long Island Wine Country! It's another great part of visiting the island. If you're in the mood for great wine, be sure to check out our Complete List of Long Island Wineries and Long Island Vineyards.
Check out the absolute best Long Island Wine Tours!
If you can't make it to a tour, why not do some wine tasting at home with Bedell Cellars!
I know you're getting hungry, so be sure to also check out the best wineries on Long Island for some great food!
While you're in the area, be sure to check out these 9 relaxing things to do in the North Fork!
When you're done with all of this wine drinking and relaxing, how about making it a weekend? Here are 10 great North Fork Long Island hotels to enjoy as well.
Make It A Weekend
The East End of Long Island is a really special spot. If you think you'd want to check it out and maybe even stay a while…that wouldn't be such a terrible idea.
If you wanted to consider different options for staying on Long Island, be sure to check out these great places to stay in Montauk, 10 Hamptons hotels, 10 North Fork Long Island hotels, and this Guide to Sag Harbor hotels! Enjoy reading up on and hopefully exploring these wonderful Shelter Island hotels and let me know if you decide to make it a vacation!
More From The Long Island Local
After a fun day explore Long Island arboretums and those beautiful gardens of Long Island, you could use some relaxation! Maybe grab a freshly brewed beer at these Long Island breweries and when you've had your fill of vino!
The bounty of great food on Long Island seems endless! From great steakhouses on Long Island to great Shelter Island restaurants to Long Island lobster rolls and Long Island bagels, there's so much to enjoy. And how about all the wonderful Wölffer Estate Vineyard events and tastings?! Or maybe check out some Long Island oyster farms! How about these guides to Long Island Coffee Shops and Long Island coffee roasters!!
Be sure to find out about more things to do on Long Island as well as more great spots to eat and drink and our Guide to Long Island kayaks and paddleboards or the Guide to Long Island Arboretums and Gardens!