Are you looking to find out about The Hamptons best beaches? There are miles and miles of amazing beach Out East, so you really have to decide what type of vibe and scene you are looking for. Do you prefer peace and quiet, or do you want a party on the sand? Do you want to see families or celebrities? How about great waves to surf or do you need snack bars and showers? It's all up to you, really, as Montauk and The Hamptons pretty much offer it all.
At the East End of Long Island, a long strip of beaches stretches all the way to "The End." This world-class, historic area is collectively as "The Hamptons" or the South Fork. Montauk is "The End" and is generally not considered to truly be one of The Hamptons.
RELATED: If you want to check out Montauk, here's The Local's Guide to the Best Beaches in Montauk!
Long stretches of powdery soft, sandy beaches, backed by undulating dunes and dotted with estates in the distance are located minutes away from popular towns, where you can grab delicious meals, visit farm stands, and stay in cozy bed and breakfast inns or luxury hotels. Accommodations offer permits that will get you into local beaches, as most of them require a permit during peak season.
The Hamptons Best Beaches
Here's your Guide to The Hamptons Best Beaches! This world-renowned beach destination has so many beautiful beaches to enjoy! When you're Out East, enjoying life on one of The Hamptons Best Beaches, you simply won't believe you are a two and a half hour (with traffic) drive away from NYC!! 
At all of these beaches, parking is something that needs to be planned for in advance. Many others are permit-only, and rules are strictly enforced, so be prepared!!  
For more info on parking passes, hours of operation, etc. check out Southampton and East Hampton town beach info pages.
Check out these 13 amazing beaches where you can find a spot that fits perfectly with how you want to spend the day enjoying out beautiful island!
RELATED: And while you're at it, be sure to check out the newest and best spots to enjoy in Montauk & The Hamptons Summer 2021!!
Amagansett
Atlantic Avenue Beach
One of The Hamptons best beaches is you are looking for a younger, more party-like atmosphere. There can be a lot of people mingling at this beach so be prepared! The beach also has a really great concession stand to enjoy. There's even a sandcastle contest every year.
4 Atlantic Ave., Amagansett, L.I., NY 11930
Bridgehampton
Mecox Beach
This is a beach that's close to the placid water of Mecox Bay. As a result, it's a quiet and kid-friendly spot that's perfect for teaching the kids to swim, float, or play watersports. There are bathrooms and showers, a snack stand, volleyball nets and a fishing area.
535 Jobs Ln, Bridgehampton, L.I., NY 11932
East Hampton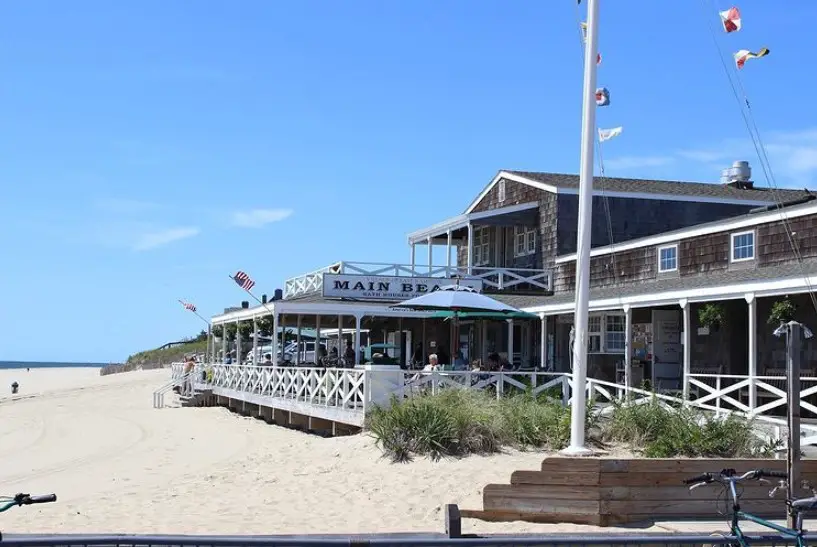 Main Beach
Arguably the East End's most popular beach, this beautiful regularly tops lists of the world's best beaches. It's very clean and well-maintained with wonderfully fine, powdery sand and very clean water. Lifeguards are on duty from 10 a.m. to 5 p.m. on days protected beaches are open.
Two Mile Hollow Beach
This more low-key sibling to Main Beach is just a short drive from the downtown area. The beach skews younger and more quiet with less kids playing. There are bathrooms, an outdoor shower, and a lifeguard stand. Dolphin pods and whales have been known to pass by what is regarded as the most gay-friendly beach in the Hamptons.
50 Two Mile Hollow Rd, East Hampton, L.I., NY 11937
Hampton Bays
Ponquogue Beach
This is busy, family-friendly, and very active beach with a newly renovated eco-friendly pavilion. The building sports a new look with additional outdoor seating and showers. There's a walk-up snack bar, lifeguards and day-rate parking.
The nearby Edward J. Warner Sr. Old Ponquogue Bridge Marine Park has a picnic area and boat launch facilities. You can enjoy some of the fresh fish you just picked up from the markets located just to the west of Lighthouse Road!
Dune Rd., over Ponquogue Bridge, Hampton Bays, L.I., NY 11946
Sag Harbor
Havens Beach
Havens Beach is a great spot, in the heart of the awesome village of Sag Harbor. This is a small beach with shallow waters on Sag Harbor Bay. Along with calm waters, this is a perfect family spot as it has a playground, changing rooms, and restrooms. Lifeguards are on duty during the summer. Seasonal parking passes are sold by the village municipality for both residents and non-residents.
Off Bay Street near Hempstead Street, Sag Harbor, L.I., NY 11963
Long Beach (aka Foster Memorial Beach)
This crescent of sand between Noyack Bay and Sag Harbor Cove is another family-friendly, placid water destination that's one of the Hamptons best beaches. This mile-long bayside beach is pebbly but perfect for kids and for watersports such as jumping on some Long Island kayaks, paddleboarding and windsurfing. Be sure to catch some really beautiful sunsets, too.
1001 Noyack-Long Beach Road, Sag Harbor 11963
Sagaponack
Gibson Beach
One of the most expensive zip codes in the U.S., Sagaponack is known for its lavish gated estates and the remaining farms that once dominated the area. This unofficial dog-friendly beach is often empty on weekday mornings. Locals go despite the "restricted parking, no amenities and terrible phone service." In other words, it's a simple, beautiful, secluded spot in an otherwise busy resort area.
Gibson Lane, Sagaponack, L.I., NY 11962
Sagg Main Beach
This breaches central location yet beach's low-key feel is difficult to find during a Hamptons summer. Of note, in addition to being a wonderful beach, Sagg Main is down a road that takes you past a great farm stand, two high-end prepared food spots (Loaves & Fishes and Pierre's Market), and the beautiful Madoo Conservancy garden. On Monday nights in the summer, there's often a drum circle with a big time following.
57 Sagaponack Dr., Bridgehampton, L.I., NY 11932
RELATED TO MADOO: The Local's Guide to Long Island Arboretums and Gardens!
Southampton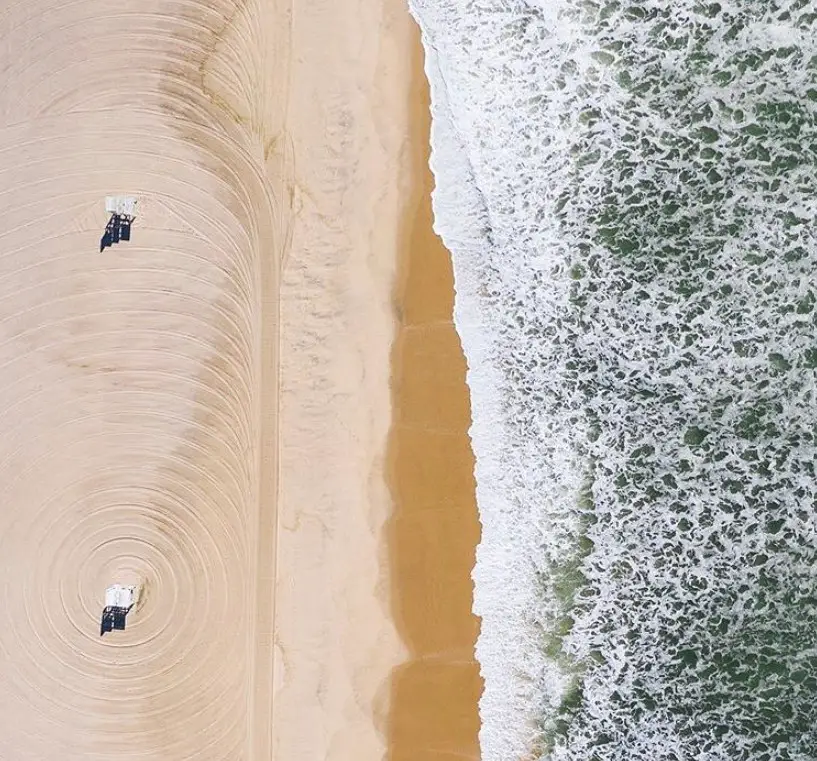 Coopers Beach
This world-class and highly regarded beach is just a short ride from Southampton Village. The beach has a super wide bright white sand beach. There are also wonderful dunes, great views and sightlines, and amenities such as lifeguards, refreshments and bathrooms. Even though it's on the Atlantic, the beach's shallow grade leads to pleasant waves and easy swims. There's even a pretty good surfing scene here.
268 Meadow Lane, Southampton, L.I., NY 11968
Wainscott
Wainscott Beach
Right next to some of the richest real estate in the Hamptons, this wide, quiet stretch of sand is favored by old-money types and those who love them. It's a great place to just relax, but this beach may have the least parking in the Hamptons. It's also great if you want to get in a workout, with spots like Barry's Bootcamp and Lift Gym right up the road. The great Wölffer Estate is close by as well.
End of Beach Lane, Wainscott, L.I., NY 11975
Water Mill
Flying Point Beach
Despite it's blue blood and staid location, you can actually expect hipsters hanging out, as well as the young and the beautiful hanging out lazing the summer away.
Flying Point Road, Water Mill, L.I., NY 11976
Westhampton Beach
Cupsogue Beach County Park
Straddling the east end of Fire Island and the west end of Westhampton Island, the 296-acre Cupsogue Beach County Park features a beautiful barrier beach that's off the beaten path. The pavilion has food concessions, showers, changing rooms, and an EMT-staffed first aid center during peak season. Between November and April, you can check out seals lounging on sand bars.
It's best to arrive early in the morning, but keep in mind that admission to the beach is free after 5:30pm (when you can catch a stunning sunset and live music on the boardwalk).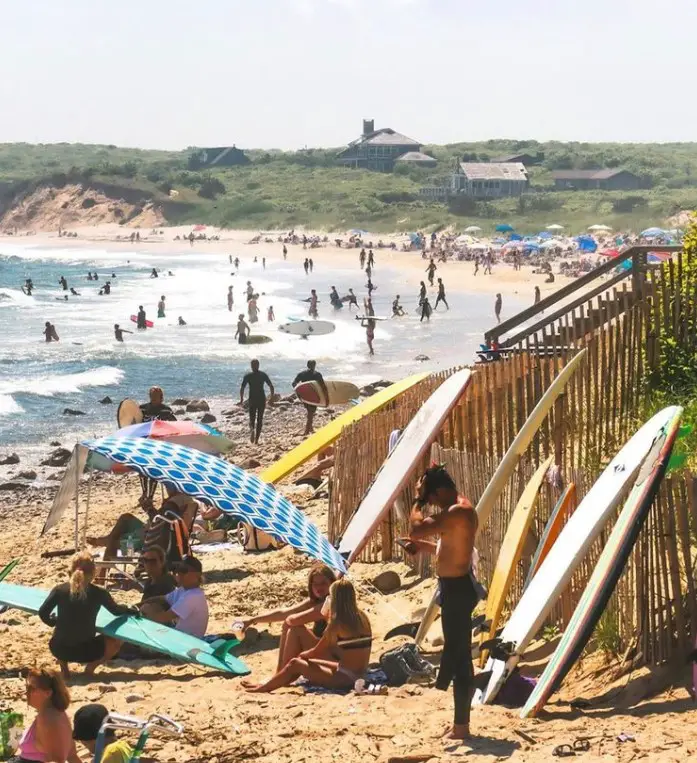 Montauk
Montauk has a well deserved reputation as a wonderful and unique place. The End is a "drinking village with a fishing problem," as some of the locals like to say. Famous for beautiful beaches, rocky cliffs, endless green, lots of top notch fishing, and a beachy care-free vibe that draws people the world over to it's ample shoreline.
All things considered, it's considered one of the best surf towns in the whole country. The wave-friendly rock bottom at Ditch Plains helps that out, too. It can get crowded, so proceed with caution on particularly good surfing days.
RELATED: Check out this Guide to the Best Beaches in Montauk!
RELATED: Also, be sure to check out this guide to find out about dog friendly beaches on Long Island!
Getting to The Hamptons
The Hamptons are approximately two-and-a-half hours by car from New York City (depending on traffic), and they can also be accessed by the Montauk branch on the Long Island Rail Road or the iconic Hamptons Jitney bus. The Hampton Ambassador or the Hampton Luxury Liner, are more upscale options, with more comfortable seats and better amenities.
More To See and Do on the South Fork
Now that you are well-versed in the Hamptons best beaches, let's make sure you find out even more about this little piece of paradise!
The Hamptons and Montauk is a world-renowned beach resort destination for good reason! There is just so much to see, do, and enjoy! Here are just a few of them:
Check out some luxury homes in The Hamptons!
Maybe you will love it so much, you'll want to check out some Hamptons wedding venues!
Enjoy some of the world-class, amazing art in The Hamptons!
Enjoy some great Hamptons restaurants, including delivery!
Check out Shelter Island! Shelter Island is only accessible by the Shelter Island Ferry. The South Ferry connects to North Haven on the South Fork. Find out more about Shelter Island, it's different towns and more by checking out this page that includes a handy Shelter Island Map!!
Explore Long Island Wine
While you're in The Hamptons, you're so close to Long Island Wine Country! It's another great part of visiting the island. If you're in the mood for great wine, be sure to check out our Complete List of Long Island Wineries and Long Island Vineyards.
Check out the absolute best Long Island Wine Tours!
If you can't make it to a tour, why not do some wine tasting at home with Bedell Cellars!
I know you're getting hungry, so be sure to also check out the best wineries on Long Island for some great food!
While you're in the area, be sure to check out these 9 relaxing things to do in the North Fork!
When you're done with all of this wine drinking and relaxing, how about making it a weekend? Here are 10 great North Fork Long Island hotels to enjoy as well.
Make It A Weekend
The East End of Long Island is a really special spot. If you think you'd want to check it out and maybe even stay a while…that wouldn't be such a terrible idea.
If you wanted to consider different options for staying on Long Island, be sure to check out these great places to stay in Montauk, 11 Hamptons hotels, 10 North Fork Long Island hotels, and this Guide to Sag Harbor hotels! Enjoy reading up on and hopefully exploring these wonderful Shelter Island hotels and let me know if you decide to make it a vacation!
More From The Long Island Local
Maybe grab a freshly brewed beer at these Long Island breweries and when you've had your fill of vino!
The bounty of great food on Long Island seems endless! From great steakhouses on Long Island to great Shelter Island restaurants to Long Island lobster rolls and Long Island bagels, there's so much to enjoy. And how about all the wonderful Wölffer Estate Vineyard events and tastings?! Or maybe check out some Long Island oyster farms! How about these guides to Long Island Coffee Shops and Long Island coffee roasters!! Check out these 16 Long Island Boardwalks! Take the ferry over and enjoy these Fire Island restaurants!
Be sure to find out about more things to do on Long Island as well as more great spots to eat and drink! Maybe take a stroll in one of these amazing Long Island arboretums and gardens! There's even this great Long Island kayaks and paddleboard guide to explore!