Are you looking for the newest and best spots to enjoy in Montauk & The Hamptons Summer 2021?? Eat, drink, and shop with this guide to some of the great restaurants, bars, and shops opening up this year!
NOTE: This post will be updated whenever I find out about more awesome openings.
Montauk & The Hamptons Summer 2021
There always seems to be so much activity each year Out East in the Hamptons and Montauk. Montauk & The Hamptons Summer 2021 is certainly shaping up to be a really active season! New bars, restaurants, shops, and hotels open (and close) in what seems like a constant ritual, especially in the days and weeks leading up to prime summertime.
As expected, this past year has been unlike anything ever seen Out East. COVID relocated a lot of people from NYC looking for more space and freedom. Suddenly, the East End became a year-round community. Many businesses stayed out through the winter that normally close and new businesses have been opening up to serve this expanded clientele. It's really interesting to see. Personally, I hope it sticks around. The forks are such great areas, more year rounders would be awesome and makes complete sense.
Let's talk about some of the places that you and I will be enjoying this summer, be they brand new or recently renovated or reimagined. It's bound to be another busy season ahead as New York continues to reopen at full capacity!!
Restaurants and Bars
Amagansett
Il Buco Al Mare
Chef Justin Smillie and the Il Buco Alimentari team are all-in this season. Last season was all about testing the waters via pop-up at the beautiful Marram Montauk resort. This year it's all about a local seafood and produce-driven spot with a permanent home. Don't miss the Il Buco Vita coffee shop next door (225 Main St.) to pick up pastries as well as all their classic tabletop collections and home decor, plus antiques and work from their dear friends!
231 Main St., Amagansett, L.I., NY 11930
Find out more by visiting ilbuco.com
East Hampton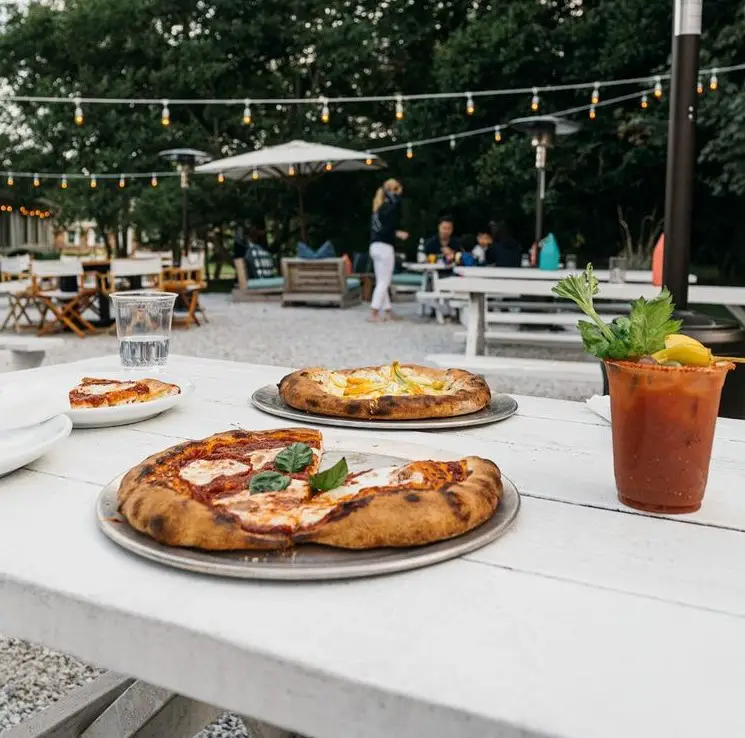 Moby's
For the 2021 season, Moby's is back in its previous home at 341 Pantigo Road between East Hampton and Amagansett. Located in a charmingly restored property from the 1880s on a quaint stretch of Highway 27 that leads to Montauk, the restaurant returns for its eighth season, adapting to the times with extensive to-go offerings, outdoor and patio seating.
Moby's coastal Italian menu of wood-fired pizza, pasta, sides and salads from Chef Kyle Koenig, along with bottled cocktails and wine, is offered for pick-up and onsite dining, including on the restaurant's expansive lawn and tent.
Coming June 2021, Moby's will add a casual daytime service in the Moby's market, as well as dinner in the restaurant Wednesday through Sunday.
341 Pantigo Road, East Hampton, L.I., NY 11937
Find out more by visiting mobysny.com.
Rita Cantina
Modern coastal Mexican cuisine in East Hampton. Rita Cantina is serving up modern Mexican dishes through a local lens, utilizing all ingredients that swim, graze and grow in Gardener's Bay and the surrounding area.
Chef Eric Miller's food is perfectly paired with an extensive agave-focused bar program run by Adam Miller.
28 Maidstone Park Road, East Hampton, L.I., NY 11937
Find out more by visiting ritacantinahamptons.com.
Hampton Bays
Sundae Donuts 
Donuts and ice cream together. How can that be a bad thing? This donut infused ice cream bar is located inside Salvatore's of the Hamptons.
149 West Montauk Hwy, Hampton Bays, L.I., NY 11946
Find out more by calling or by visiting sundaedonuts.com
Sagaponack
Old Stove Pub
This legendary steakhouse and true classic Hamptons restaurant has been popular in the area since the 60s. Recently reborn with a new menu including sushi, there's more changes coming. On Tuesday nights, diners will be able to enjoy the work of visiting chefs series called Pop Up Nation. Among the list of heavy-hitting chefs who will each prepare a multi-course meal using local ingredients are: Marc Murphy, Michael Symon, Alex Guarnaschelli, Jonathan Waxman, Josh Capon, Esther Choi, and Leah Cohen. 
3516 Montauk Highway, Sagaponack, L.I., NY 11962
Find out more by visiting oldstovepub.com or by calling 631-537-3300.
Southampton
Buddha Lounge at Blu Mar
 This new spot to grab sushi from Zach Erdem. Dine under the tent in this more casual spot withing the more upscale Mediterranean spot Blu Mar. This is all about drinks and lighter appetizers.
136 Main Street, Southampton, L.I., NY 11968
Find out more by calling 631-488-4570 or by visiting blumarhamptons.com
Lobster Roll aka Lunch
Exciting news for lobster roll lovers like me! The Silver Lining Diner building at the corner of Southampton Village and Water Mill will soon reopen its doors as the second location of the Lobster Roll aka Lunch!!
32 Montauk Highway, Southampton, L.I., NY 11976 
Find out more by visiting lobsterroll.com
Manna Waterfront Restaurant and Bar at Lobster Inn
The Lobster Inn, will reopen under new ownership, management team, and MO. Think sustainable seafood including shrimp scampi, lobster roll, sushi, skate, and porgy.
The owners are also involved in something even bigger than this space. Manna Fish Farms is pioneering to be one of the first U.S. permitted open ocean finfish farms, in federal waters. Utilizing the latest in submersible net pen technology, Manna Fish Farms will build and operate a sustainable commercial fish farm growing finfish and researching IMTA (Integrated Multi Trophic Aquaculture) with macroalgae (kelp) and shellfish (sea scallops, mussels, oysters). Pretty fantastic stuff I'd say.
5 Inlet Road West, Southampton, L.I., NY 11946
Find out more by visiting mannarestaurant.com.
Montauk
Blade + Salt
Blade + Salt, just steps from town center and adjacent to Montauk Brewery, to share a culinary experience that is pure Montauk. Pizza and artisanal foods in a variety of colors, textures, and tastes offered to take-out in a space designed to stimulate the senses and foster community. Freshly prepared in small batches daily, seasonally sourced and locally grown when possible.
54 S Erie Avenue, Montauk, L.I., NY 11954
Find out more by visiting bladeandsalt.com or by calling 631-668-1601
Bounce Beach Montauk
Bounce Beach Montauk will feature brunch, lunch, dinner, rosé and crafted cocktails in its oceanfront main room and on its outdoor decks. There will also be a take-out window steps from the beach offering lobster rolls and frozen margaritas and frosé. 
Bounce Beach Montauk comes to you from the Bouncegroup of Flatiron, Chicago, and Delray Beach. It's taking over the former Sloppy Tuna space. 
148 Emerson Avenue at Main Beach, Montauk, L.I., NY 11954
Find out more by visiting bouncebeachmtk.com.
La Fin Kitchen and Lounge
La Fin Kitchen and Lounge is a gorgeous French Farm-to-table Kitchen & Lounge, situated on the docks of Montauk Harbor on Eastern Long Island.
In a setting inspired by the seaside destinations of St. Barth's and St. Tropez, and embracing Montauk's unspoiled oceanfront beauty – at La Fin Kitchen & Lounge, guests can lounge, drink & dine, enjoying the finest seasonal, farm-to-table French cuisine. 
French-trained Executive Chef James Tchinnis' contemporary coastal cuisine draws from his extensive background and experience at some of the top restaurants in New York City, including Le Cirque, The Grand Havana Room and Osteria del Circo. Working with more than 20 local farms, the menu at La Fin Kitchen highlights seasonal ingredients, delicate homegrown herbs, sustainably caught fish and responsibly sourced meats. He's all about the bounty of Long Island's farms and waters, and it shows!
 474 West Lake Drive, Montauk, L.I., NY 11954.
Find out more by visiting lafinkitchen.com or by calling 631-668-8344.
Mostrador Marram
Chef Fernando Trocca & restaurateur Martin Pittaluga. Mostrador Marram offers abundant counter service featuring savory meats, local seafood, local vegetables, and freshly baked goods that enable guests to indulge in the here & now.
Martin Pittaluga & Fernando Trocca share a passion for relaxed and unstudied fine dining. Their restaurants in José Ignacio, Uruguay are La Huella, La Caracola, and Mostrador Santa Teresita. These spots are globally recognized for their laid-back excellence in asado cooking on the Atlantic. marram is the northern counterpart to their beachside legacy.
21 Oceanview Terrace Montauk, L.I., NY 11954
Find out more by visiting marrammontauk.com or by calling 631-668-2050.
Ruschmeyer's
For nearly 70 years, Ruschmeyer's has been an important part of the Montauk community and new ownership has just taken over in time for the summer 2021 season! Jeremy Morton is said to be the new owner. Morton is also behind Morty's Oyster Stand, at the former Cyril's Fish House location on Napeague, and Provisions Natural Foods Market & Cafe in Water Mill.
The on-premise restaurant is highlighted by local seafood, fresh artisan pastas, Neopolitan wood oven pizzas, and slow cooked meats from a smoker. If you're looking for the perfect Summer escape, you've found it. Come create memories at Ruschmeyer's!
161 Second House Road, Montauk, L.I., NY 11954
Find out more by visiting ruschmeyersmontauk.com.
Springs
Sí Sí
Part of the EHP (formerly East Hampton Point) Resort and Marina and inspired by coastal Mediterranean dining experiences. Si Si immerses you in the sun-kissed flavors of Italy, Greece, Spain, Morocco and beyond. Both innovative and timeless, this is food that celebrates vibrant, seasonal and local ingredients that elevate dishes like Si Si's signature Paella, Roasted Striped Bass or Bucatini Verde with Lobster.
Both day and night become unforgettable as you gaze out on Three Mile Harbor with a glass of world-class wine or a handcrafted cocktail from their signature Sunset Hour menu. Sisi is helmed by former Gurney's chef Dane Sayles. 
295 Three Mile Harbor Hog Creek Road, Springs/East Hampton, L.I., NY 11937
Find out more by visiting ehpresort.com.
Westhampton
Cafe Volo
Next to Gabreski Airport in Westhampton Beach, this new spot is serving up breakfast favorites serves a menu of breakfast favorites including eggs benedict, omelets, avocado toast, breakfast burritos, and scratch made stacks of pancakes, french toast, or waffles.
335 Sheldon Way, Westhampton Beach, L.I., NY 11978
Find out more by calling 631-998-3573 or by visiting cafevolowhb.com
Virtual Hamptons & Pop-Ups
Not every awesome new spot for this Montauk & The Hamptons Summer 2021 is an ACTUAL place! This particular hotspot is all virtual, all the time. Also, there are a number of spots that will be popping up for the summer 2021 season, so enjoy them while you can!
Crazy Shake by Black Tap
Forget the burgers! Starting June 18, this dessert-only spot with pop-up at the Clubhouse. Available weekends through Labor Day, over-the-top milkshakes along with new items like a s'mores CrazySundae and churro CrazyCone.
174 Daniels Hole Road, East Hampton, L.I., NY 11937
Find out more by visiting blacktap.com.
@popupbagels
@popupbagels has partnered with two local Hamptons kitchens to offer their bagel and schmear packages available by subscription and advance sale only. The Westport, CT bagelry will be around for customers to order and pick-up at designated times through the summer.
The bagels are very popular and usually sell out DAILY. These light and crisp bagels are real NY bagels. Only the finest flour, cream cheese ingredients, and smoked fish is used.
Find out more by visiting @popupbagels and popupbagels.com.
Ralph's Coffee
The iconic Americana-fueled brand is bringing the Hamptons a java fix at the Ralph Lauren Home cottage. et your complimentary Ralph's Coffee cold brew and signature sweet treats at this summer pop-up.
Ralph's special blends, including Ralph's Roast, Decaf, and Espresso, feature organically grown beans from Central America, South America, and Africa, and are roasted and packaged in Philadelphia by La Colombe. Only the all-natural Swiss Water Process is used to decaffeinate.
Find out more by visiting ralphlauren.com/Ralphs-Coffee.
Multiple Hamptons Locations
Kissaki
This summer, Kissaki is looking to take over Hamptons! Its first Hamptons location, in Water Mill, has been completely gutted and renovated with plans to reopen in the middle of June. It's also added two more locations. The second, in Montauk, will open by the end of May. The third, in East Hampton, will welcome customers in June. They faired so well in their first season (better than NYC), that they are going all in for 2021!
Kissaki X Fish Cheeks
A collab with Jennifer Saesue, owner of Fish Cheeks in NYC! This pop-up at the Montauk Anglers Club will be offering Thai goodness plus full sushi menu with sake, beer, wine and cocktails to go from Memorial Day weekend through October. 
467 East Lake Drive, Montauk, L.I., NY 11954
O by Kissaki
High-quality sushi plus crudos and robata grill items for this location.
47 Montauk Highway, East Hampton, L.I., NY 11937
Find out more about all Kissaki locations by visiting explorekissaki.com.
Shopping from Fashion to Food
East Hampton
Most of The Hamptons enjoys some upscale shopping and dining. East Hampton is perhaps the luxury leader in internationally-known brands. World-famous, ultra-luxe shops typically locate in East Hampton for their East End debuts and permanent presence. 2021 is no different.
Gucci
The fashion mecca Gucci is finally opening up a permanent location in The Hamptons after a couple of successful pop-up ventures. The new 2,000-square-foot space is a two-floor boutique will showcase men's and women's ready-to-wear, shoes, beauty, children's wear, small leather goods, luggage, Gucci Decor and Gucci Beauty! Big Hamptons bonus, there will be an exclusive collection available only at the East Hampton store.
17 Newtown Lane, East Hampton, L.I., NY 11937
Find out more by visiting gucci.com.
Manolo Blahnik
This luxury brand is making it's Hamptons debut. Manolo Blahnik is known for its original, creative flair as well as timeless classic styles.
52 Main St, East Hampton, L.I., NY 11937
Find out more by visiting manoloblahnik.com or by calling 631-604-6922.
Jimmy Choo
Another luxury powerhouse is setting up shop Out East. Jimmy Choo is a leading global luxury brand with an empowered sense of glamour and a playfully daring spirit.
Jimmy Choo is excited to be back in the Hamptons with a seasonal pop up. The East Hampton the pop up will showcase the brand's latest collections for men and women, as well as a Made-to-Order menu of signature colorways, textures and finishes to help design and create your unique custom shoe or handbag.
New ways to shop this year include private and virtual appointments, contactless curbside pick-up, and Choo to You. This is an on-demand, same-day delivery service available throughout the Hamptons as well as offering in-home appointments.
17 Newtown Lane, East Hampton, L.I., NY 11937
Find out more by visiting us.jimmychoo.com.
Bergdorf Goodman and Saks Fifth Avenue
These fashion giants has rolled out a new, complimentary same-day delivery service to the Hamptons only.
Sag Harbor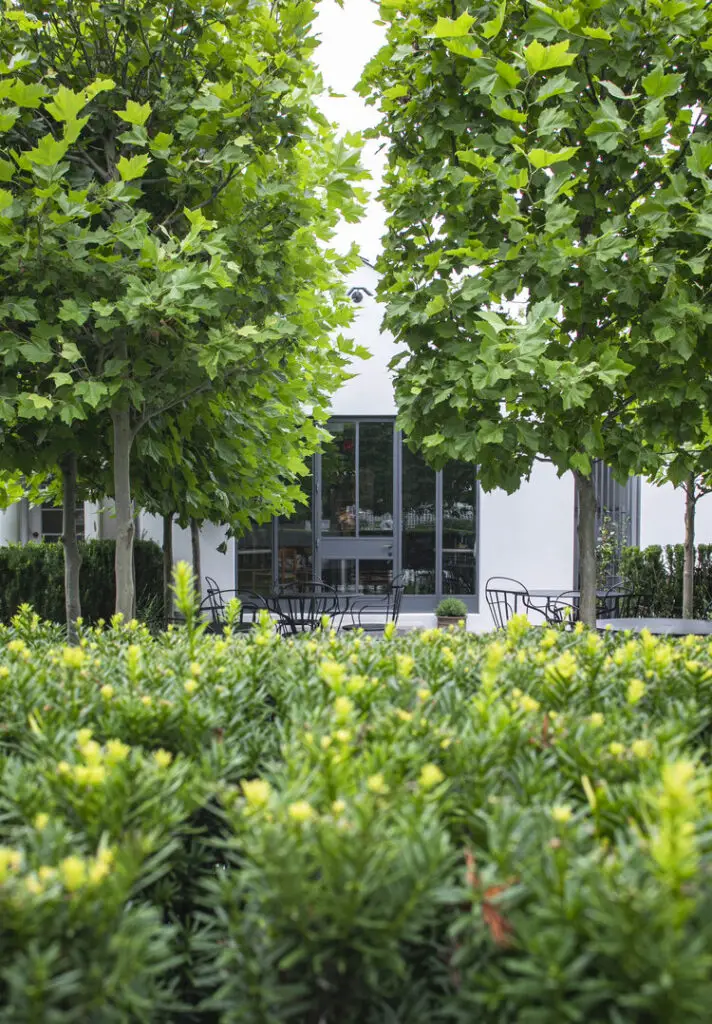 Carissa's Bakery
The hugely popular Carissa's Bakery is adding a third location of her bakery-restaurant, Carissa's Bakery, set to debut later this summer. 
3 Bay Street, Sag Harbor, L.I., NY 11963
Find out more by visiting carissathebakery.com.
Southampton
Fivestory
After a successful pop-up last year, the luxury multi-label boutique has settled into a more permanent location Out East. The 1,000-square-foot shop will carry a highly curated assortment of casualwear and "fun brands." Think swimwear and coverups from Maygel Coronel and others, along with Etro, Rosie Assoulin, Dauphinette, Muse x Muse charms, Le Sirenuse Clothing, Lug Von Siga dresses and Batsheva.
38 Jobs Lane, Southampton, L.I., NY 11968
Find out more by visiting fivestoryny.com.
Wishbone Farms
This gourmet food shop has opened in with a curated selection of locally produced small craft items and prepared foods. WBF is a sustainable, farm-to-fridge market that uses best practices to create high-quality, chef-driven prepared foods and "third wave" coffee.
54 Hampton Road, Southampton, L.I., NY 11968
Find out more by visiting eatwishbonefarms.com.
Montauk
Below The Blue
Lifestyle & Wellness. Just a little shop nestled in Montauk, NY with all natural beauty, wellness & ocean vibe goods.
Buongiorno Bakery
Say good morning to your new favorite Italian bakery and espresso bar. Energize your day and treat yourself to the finest coffee, tea, artisanal pastries, paninis and salads in Montauk. Located in the center of town, savor a Nutella croissant, custard-filled bomboloni or egg white omelet while watching the world go by on our beautiful outdoor patio. Or pick up some coffee to go, exclusively from City of Saints Coffee, or our gourmet lunch selections, such as our Italian panini or farro bowl, and walk to the beach a block away or head out for the day's adventure.
Concepted by Dane Sayles and Piero Zangarini, formally at the helm of food and beverage at Gurney Resorts and currently at the helm of SiSi at EHP Resort.
5 South Embassy Street, Montauk, L.I., NY 11954
Find out more by visiting buongiornobakery.com or by calling 631-238-5410.
More To See and Do on the South Fork
The Hamptons and Montauk is a world-renowned beach resort destination for good reason! There is just so much to see, do, and enjoy! Here are just a few of them:
Check out some luxury homes in The Hamptons!
Maybe you will love it so much, you'll want to check out some Hamptons wedding venues!
Enjoy some of the world-class, amazing art in The Hamptons!
Enjoy some great Hamptons restaurants, including delivery!
Check out Shelter Island! Shelter Island is only accessible by the Shelter Island Ferry. The South Ferry connects to North Haven on the South Fork. Find out more about Shelter Island, it's different towns and more by checking out this page that includes a handy Shelter Island Map!!
Explore Long Island Wine
While you're in The Hamptons and Montauk, you're so close to Long Island Wine Country! It's another great part of visiting the island. If you're in the mood for great wine, be sure to check out our Complete List of Long Island Wineries and Long Island Vineyards.
Check out the absolute best Long Island Wine Tours!
If you can't make it to a tour, why not do some wine tasting at home with Bedell Cellars!
I know you're getting hungry, so be sure to also check out the best wineries on Long Island for some great food!
While you're in the area, be sure to check out these 9 relaxing things to do in the North Fork!
When you're done with all of this wine drinking and relaxing, how about making it a weekend? Here are 10 great North Fork Long Island hotels to enjoy as well.
Make It A Weekend
The East End of Long Island is a really special spot. If you think you'd want to check it out and maybe even stay a while…that wouldn't be such a terrible idea.
If you wanted to consider different options for staying on Long Island, be sure to check out these great places to stay in Montauk, 10 Hamptons hotels, 10 North Fork Long Island hotels, and this Guide to Sag Harbor hotels! Enjoy reading up on and hopefully exploring these wonderful Shelter Island hotels and let me know if you decide to make it a vacation!
More From The Long Island Local
Maybe grab a freshly brewed beer at these Long Island breweries and when you've had your fill of vino!
The bounty of great food on Long Island seems endless! From great steakhouses on Long Island to great Shelter Island restaurants to Long Island lobster rolls and Long Island bagels, there's so much to enjoy. And how about all the wonderful Wölffer Estate Vineyard events and tastings?! Or maybe check out some Long Island oyster farms!
Be sure to find out about more things to do on Long Island as well as more great spots to eat and drink!