Are you looking forward to a wonderful Long Island spring this year? I think this will be a really special one, with businesses and life getting back to normal, God willing. This was been a difficult year for all of us. It's been especially difficult for restaurants, bars, clubs, and other socially-focused businesses.
Thankfully, spring has finally sprung! Warmer, longer days and greener lawns will hopefully lead to sunnier days for us all. It's that time of year when waterfront and other seasonal restaurants and bars start to open it all up again. Long Island is…an island…and when the weather warms, the coastal vibes really start to shine. These are the bars, restaurants, hotels, and just plain awesome spots we all love and crave when the weather gets nice! Long Islanders and visitor alike love to get out and enjoy the beaches, shoreline, and more!
Time to enjoy all those great spring activities we all love so much, like the Tulip Festival at Waterdrinker Long Island! A really big thing for me…enjoying all those great Long Island lobster rolls! How about all the wonderful restaurants on the water Long Island?!
It's also a time for farms and their farm stands to spring (pun intended) back to life with local produce, flowers, cheese, pies, and more!! Sign up for a CSA on Long Island and really take full advantage of our local bounty! Long Island spring is when our beautiful Island really spreads it's wings and shows off how amazing it can be. It's a great time, really, and I'm so happy that Long Island spring 2021 is here!
Long Island Spring 2021 Openings & Reopenings
Here's a list of some Long Island spots that opened recently in April or plan to sometime in May! Let's get outside and enjoy it!
There are so just so many places, it's really difficult for me to cover it all, as much as I try to. If there is a spot that needs to be added here, please let me know at [email protected]!!!
Nassau County
Here's a list of some Nassau County spots that opened recently in April or plan to sometime in May!
The Boat Yard Waterfront Bar & Grill
The Boatyard is your next spot to spend the summer at Tobay Beach! The spot opens at 4pm on Monday through Friday and at 12pm on Saturday and Sunday! They'll have live music 7 days a week with some of the biggest bands on Long Island stopping by every weekend. At The Boatyard, they feature five separate food locations inside including a taco bar, raw bar, pizza bar, salad bar and an American Bistro! Whether you're dining or hitting the dance floor, you're guaranteed to have a wonderful time at The Boatyard!
Tobay Beach, 1 Ocean Parkway, Massapequa, L.I., NY 11758
Find out more by visiting theboatyardny.com or by calling 516-324-8474.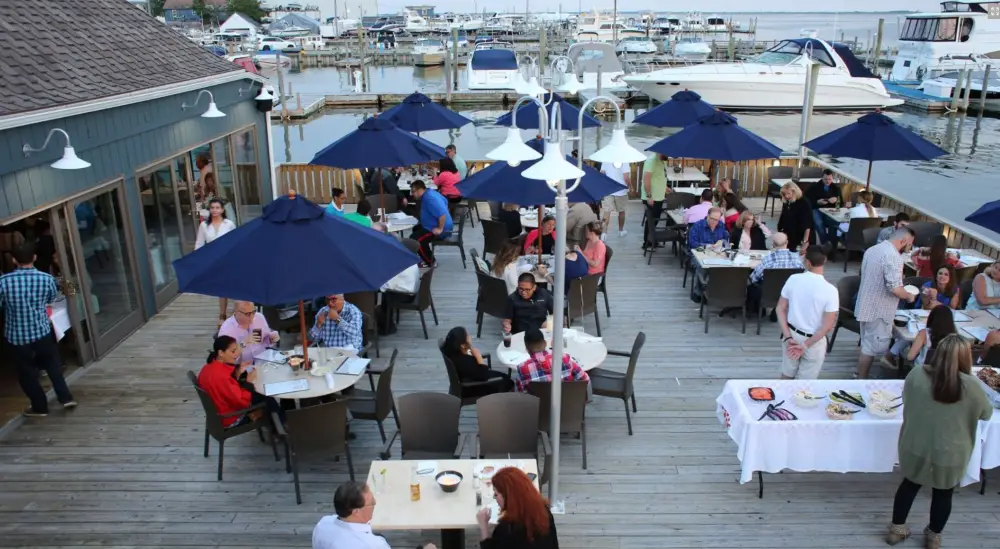 Salt on the Water
SALT pairs modern new American cuisine with fresh seasonal cocktails in a casual waterfront atmosphere. Come by car or boat to enjoy indoor or outdoor dining featuring a culinary menu with dishes from land and sea. Guests can enjoy a relaxing night in the lounge, happy hour, live music, dinner and brunch on the bay every Sunday.
Opening May 6th!
3100 Whaleneck Drive, Merrick, NY 11566
Find out more by visiting saltonthewater.com or by calling 516-442-7470.
Surf Shack Flip Flop Coastal Kitchen
Flip-flop coastal dining! The Surf Shack is a full-service restaurant and newly constructed tiki bar! Dine and drink inches away from the sand and the bay. Entirely outside and with delectable hand helds and exquisite entrees and come as casual as you desire…or not! The newly constructed beachfront tiki bar is just steps away from the sand and finally offers Tobay Beach goers some flip flop fun under the sun for all ages!
Tobay Beach, 1 Ocean Parkway, Massapequa, L.I., NY 11758
Find out more by visiting surfshackny.com or by calling 516-468-6874.
Suffolk County
Here's a list of some Suffolk County spots that opened recently in April or plan to sometime in May!
JT's on the Bay
Mellow waterfront locale offering traditional seafood dishes, beer & cocktails, plus live bands.
Opens Friday, May 7.
1 Curtis Road Blue Point, L.I., NY 11715
Find out more by visiting jtsonthebay.com or by calling  631-363-2205.
Bodhi's Beach Shack
Right in the heart of Corey Beach in Blue Point, Long Island – Bodhi's is your summer staycation. Drinks, Eats, Cornhole Tournaments, and more… Pull up your boat and grab a drink or come enjoy the beach spray park & grab a bite to eat. 
1 Corey Ave, Blue Point, L.I., NY 11715
Already open on weekends weather permitting. Opens full time the Friday of Memorial Day weekend, May 28.
Find out more by visiting facebook.com/bodhisbeachshack.
Salt Shack Seaside Grill
Come experience the largest outdoor happy hour by the sea you've ever seen! They've got Monday margarita nights, 2fers on all your favorite beers, and live music every single night! Discover what kind of summer fun you'll get into tonight!
Cedar Beach, Ocean Parkway, Babylon, L.I., NY 11702
Find out more by visiting saltshackny.com or by calling 631-422-7222.
Dublin Deck
Seven days a week, they offer awesome food & drink specials and a new taste of the tropics! Gather your friends & family and come join them on a mini vacation escape right here on Long Island, at the one and only Dublin Deck. Smack on the Patchogue River, where everyday is a getaway!
325 River Avenue, Patchogue, L.I., NY 11772
Find out more by visiting dublindeck.com or by calling 631-207-0370.

Nicky's on the Bay
Visit their indoor or outdoor waterfront casual dining rooms for a great lunch or dinner. Hang out at their friendly bar and enjoy a delicious cocktail or one of our extensive selection of beers. You'll be surrounded by the beautiful water views of the Great South Bay and Bay Shore Marina while you dine on any one of our burgers, salads, Italian entrees or seafood specials.
Enjoy a live lobster, or taste the freshest fish brought in from our local fisherman. Whatever you have, it's like being on vacation when visiting Nicky's – it's the perfect place to stop by before or after your day on the bay. Hang out for a perfect end to a perfect day and enjoy our famous sunset view!
Pull your boat up to Nicky's and fill up on some gas, too! They have added even more boat docking with a 100′ floating dock.
150 South Clinton Ave, Bay Shore Marina, Bay Shore, L.I., NY 11706
Find out more by visiting nickysonthebay.com or by calling 631-206-3311.
Nicky's Clam Bar
This casual unassuming restaurant seats 30 and has a busy take out window catering to the dashing ferry patrons, all eager to get to their summer homes on Fire Island.
Inside Nicky's Clam Bar you're greeted with a newly renovated dining area and bar – bright and airy, accented with a nautical decor.
99 Maple Ave, Fire Island Ferry Marina, Bay Shore, L.I., NY 11706
Find out more by visiting nickysclambar.com or by calling 631-665-6621.
Katch Drinks & Eats
Providing Long Islanders with the best family-owned and operated beach side food, beverage, service and entertainment all summer long. Come eat, drink and dance the night away at one of our newly renovated locations!
Opens sometime in May and will be open throughout the summer. 
Venetian Shores
850 Venetian Blvd, Lindenhurst, L.I., NY 11757
Sully's Wharf
400 Baylawn Ave, Copiague, L.I., NY 11726
Find out more by visiting katchli.com.
Tiki Joe's Beach Club
All of the 6 Tiki Joe's locations offer a special crowd pleasing menu that will re-define your definition of "beach food". From fresh seafood classics to creative pasta dishes, a meal at Tiki Joe's is an experience you'll never forget.
They've also curated a drink menu to revolutionize your view on a "beach drink" to quench your summer thirst!
Join them at our Smith Point, Cupsogue, Tobay Beach, Captree and Meschutt locations for an exciting calendar of live entertainment, too.
6 locations

Find out more by visiting tikijoesbeachclub.com or calling one of the numbers listed above.
Key West Restaurant at Islip Town Beach
Voted as one of the top five best water-views on Long Island, The Sunset Restaurant, offers breakfast, lunch, and dinner next to a beautiful ocean view!
Come join The Sunset Restaurant any day of the week and enjoy delicious food next to a beautiful beach side view. The Sunset Restaurant is open from 8am to 9pm for breakfast, lunch, and dinner serving a variety of Italian and Traditional American cuisine. Great for families, groups, and people of all ages! Enjoy live entertainment on the weekends while eating their famous Baked Crabs and grab a drink at their new tiki bar!!
600 S Bay Ave, Islip, L.I., NY 11751
Find out more by visiting facebook.com/Keywestrestaurantatislip or by calling 631-277-5500.
Fire Island
Fire Island is a wonderful and unique part of Long Island. Not to be too cliché, but it's so close yet a world away. You really, truly feel like you are getting away to another place, almost another time. I mean, check out this Fire Island Map and see why!
Click here for a list of some Fire Island restaurants that opened recently in April or plan to sometime in May!
North Fork
Here's a list of some North Fork spots that opened recently in April or plan to sometime in May!
1760 Homestead Farm
For flowers, herbs, eggs, produce, local provisions, sweet treats, and Greek specialties head to 1760 Homestead Farm. This recently renovated farm stand is as inviting and cute as it gets! Their signature Concord grape pie is a must-have item.
5412 Sound Ave., Riverhead, L.I., NY 11901
Find out more by visiting their page on facebook.com or by calling 631-831-1653.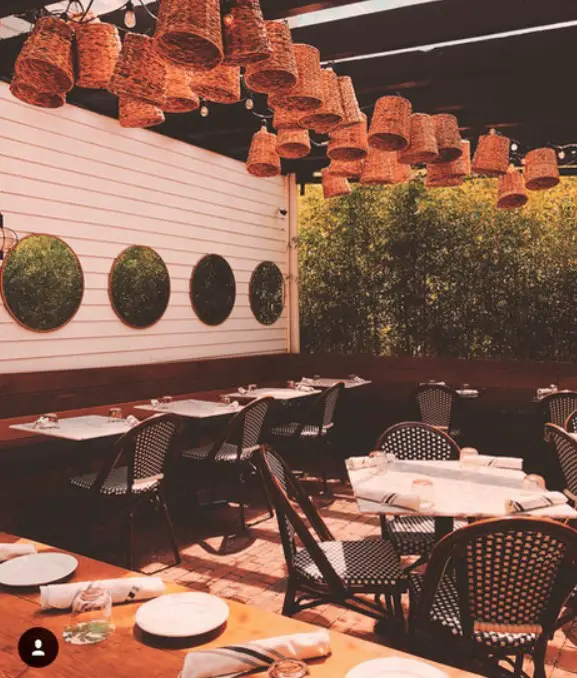 American Beech
We are a boutique luxury hotel nestled in the historic Stirling Square, located at 300 Main Street. Our neighborhood is home to a variety of local businesses that benefit from our aquatic surroundings; we're bookended by the Great Peconic Bay on our south side, and the Long Island Sound to our North.
The American Beech Hotel reception and boutique can be found closest to the Main Street entrance of Stirling Square. We are the only retail location for Alex Vinash's eclectic and elegant fashion line. Guests can shop, eat, drink, and spend the night—all within arms' reach! Stirling Square can be quite lively at night; please consider this before booking.
We have eleven rooms, two of which are two-bedroom apartments. The first five rooms are situated above our American Beech restaurant, and rooms six through eleven are dispersed throughout Stirling Square. One of our King Bedrooms is ground floor accessible and conveniently located next door to our reception.
Find out more by visiting americanbeech.com or by calling 631-477-6571 for the hotel and 631-477-5939 for the restaurant.
Also, check out their sister spot, The Aqua Beach Hotel in Aquebogue by visiting aquahotelbeachclub.com.
Bakewicz Farms
Visit this Wading River farm for fresh produce and so much more! Pick up flowers, cheeses, local honey, jams, sauces, pies, and doughnuts, too. The farm stand will be open Saturdays and Sundays from 10 a.m. – 5 p.m.
291 NY-25A, Wading River, L.I., NY 11792
Find out more by visiting their page on facebook.com.
Browder's Birds
In addition to the farm stand's usual organic poultry, eggs, and more, they will also be a pick-up location for Jamesport Sourdough & Coffee Co. CSA. Their products are available at a number of locations on the East End (both North and South Forks).
4050 Soundview Ave., Mattituck, L.I., NY 11952
Find out more by visiting browdersbirds.com or by calling 631- 477-6523/631-599-3394
Case's Place
Family friendly, waterfront dining on our extensive outdoor deck, or perhaps choose to dine indoors. Enjoy the magnificent view from the main dining room with it's expanse of large picture windows overlooking Little Peconic Bay, or in our cozy fireplace room, with it's more intimate atmosphere. Dine-in, Carry-out, Pull-up in the boat.
650 1st St., New Suffolk, L.I., NY 11956.
Find out more by visiting casesplace.com or by calling 631-734-8686.
Catapano Dairy Farm
What started as a tiny goat farm in Mattituck is now the North Fork's source for quality goats' milk products.
With a passion for making the best cheese and skincare products around, this farm is satisfying your goats' milk cravings with their selection of cheese, yogurt, soap, cream, and more. The farm prides itself on taking great care of all their animals, knowing they deserve a happy and secure life. Whether you'd like to stop by our shop or tour the farm, you can count on finding happy goats and taking home some delicious cheese, natural moisturizing skincare, and more!
33705 County Rd. 48, Peconic, L.I., NY 11958
Find out more by visiting catapanodairyfarm.com or calling 631-765-8042.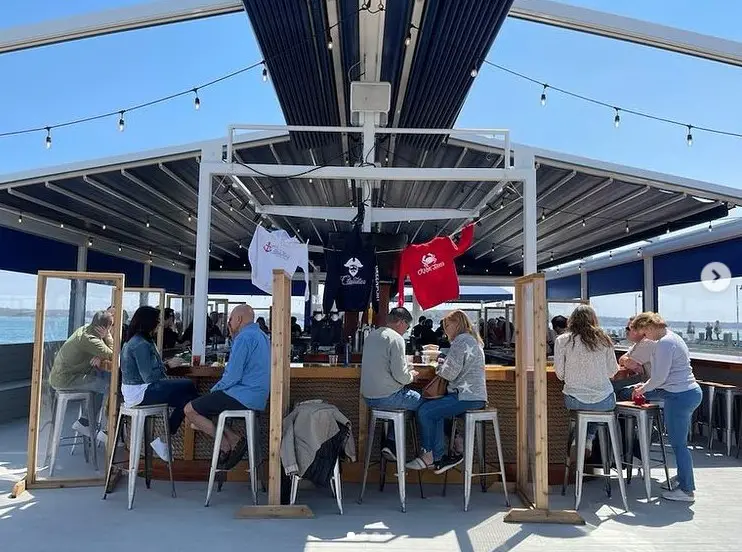 Claudio's
Manuel Claudio fell in love with Greenport in 1854 when the ship he was working on docked in its beautiful harbor. Sixteen years later in 1870, Manuel permanently set foot ashore, never to sail again and opened Claudio's Tavern. Throughout the years, the tavern has undergone numerous changes from the installation of  a magnificent Victorian bar in 1886. It staying in the same family (the longest run by one family in America) until new owners took over recently.
This vibrant waterfront complex is great just to come by and see for yourself! It's in the perfect spot right in the heart of downtown Greenport.
Claudio's Pizza and Waterfront is open now. The main restaurant will open mid-May, as will Crabby Jerry's.
111 Main St, Greenport, L.I., NY 11944
Find out more by visiting claudios.com or by calling 631-477-0627.
Duryea's Orient Point
Bringing Duryea's to the North Fork of Long Island, Duryea's Orient Point is open for the season. Set in a large marina with stunning views of the water, the sea salt breeze and sunshine transport you to the Mediterranean coast.
Duryea's Orient Point brings you the classic dishes made famous in Montauk and introduces you to new, Greek inspired plates to match the scenery.
Opening May 20th.
40200 Main Rd, Orient, L.I., NY 11957
Find out more by visiting duryeaop.com.
Goodale Farms
While we're not even sure if this farm stand closed for the winter (thank you, contactless pick up at the farm stand), we're glad to visit with the baby kid goats and pick up delicious produce and products including milk, butter, yogurt, cheese, and ice cream. Their self-serve farm stand also stocks meat, handmade pierogies, and breads. 
250 Main Rd., Riverhead, L.I. , NY 11901
Find out more by visiting goodalefarms.com or by calling 631-901-5975.
Jedediah Hawkins Inn
Surrounded by 22 acres of fragrant gardens and farmland, Jedediah Hawkins Inn is a luxurious boutique hotel on the North Fork of Long Island, celebrated for its history, genuine hospitality and delicious food and wine. Here you will want to stroll the gardens, savor a glass of local wine in the gazebo and explore the neighboring vineyards, farms and beaches of the North Fork. The beautiful property and historic buildings are a spectacular stage for a wedding or special event.
The restaurant and inn is open for indoor and outdoor dining as well as takeout.
400 S. Jamesport Ave., Jamesport, L.I., NY 11947
Find out more by visiting jedediahhawkinsinn.com or by calling 631-722-2900.
KK's the Farm
KK's The Farm is a fantastic, family-owned organic and biodynamic farm that pickles, sauces, and jars their produce to ensure that they taste farm-fresh beyond the summer picks of heirloom plants, flowers, and produce.
The farm is owned by Ira Haspel who has planted over two thousand tomato plants including twenty-five different species in the greenhouses and fields at the biodynamic farm. Interestingly, when they acquired the farm, their objective was not to venture into agriculture. Instead, they were looking for an escape from their busy and sometimes exhausting construction/architect practice during the weekends. When they landed their eyes on a beautiful five-acre piece of land with a barn and a home, they immediately acquired it. This property would later become KK's The Farm. Shop greenhouse-grown mustard greens, Swiss chard, kale, lettuce, spinach, and more.
59945 Route 25, Southold, L.I., NY 11971
Find out more by visiting kkthefarm.com.
McCall Wines
McCall Wines have been growing and selling grapes on Long Island's North Fork since the mid 1990s in the hamlet of Cutchogue, where they have their family home. Russ McCall planted the first vineyard knowing he would wait until the vines were mature and time was right to release his first wines. He wasn't interested in putting our family name on a bottle unless it was worthy.
Quality begins with farming. Their sustainable, low-yield vineyard practices allow the winemaker to work with only the finest grapes, the foundation of any distinguished wine.
They raise Charolais cattle, a historic breed of cattle from France, at McCall Ranch in Cutchogue, using organic and natural practices to make this beef available to the community. No antibiotics, steroids, or hormones will ever be given to this herd. They reproduce naturally and feed on the wild grasses growing on the 100 acre farm. 
McCall Wines tasting room is now open seven days a week from 11 a.m. – 6 p.m. for wine tastings by the glass and cheese and charcuterie. While walk-ins are welcome, reservations are highly recommended.
22600 NY-25, Cutchogue, L.I., NY 11952
Find out more by visiting mccallwines.com or by calling 631-734-5764.
Porto Bello Restaurant
This open and airy spot has Outdoor and indoor waterfront dining located just outside the Historic Maritime Village of Greenport in Safe Harbor's Greenport Marina. Porto Bello serves as the perfect spot to relax on our outdoor patio overlooking the marina, enjoy cocktails and indulge in fine Italian cuisine.
1410 Manhanset Ave., Greenport, L.I., NY 11944
Find out more by visiting portobellonorthfork.com or by calling 631-477-1515.
Sang Lee Farms
Sang Lee's goal is to provide the highest quality vegetables and exceptional service for their customers. To accomplish this goal they are committed to using Certified Organic Growing Practices with every effort made to farm sustainably and responsibly as stewards of the earth. 
Today, the farm is growing more than 100 varieties of specialty vegetables, heirloom tomatoes, baby greens, herbs. We continue to feature Asian produce, growing many varieties of Chinese cabbages, greens, and radishes. 
To compliment their Fresh-Lee-Cut ® produce,  the farm has developed its own full line of Loca*Lee® prepared value-added products. What started with dressings and dips to complement the vegetables, evolved into an extensive line of prepared products that are made in their on-site Certified Organic Kitchen.  Pestos, pickled products, jellies, fermented vegetables, vegan soups, cooking sauces, roasted veggies, vegetable packs, prepared salads are now available.
25180 County Rd. 48, Peconic, L.I., NY 11958
Find out more by visiting sangleefarms.com or by calling 631-734-7001.
Sep's Farm
This East Marion farm stand is not only open but had even braved the winter chill reopening in mid-February. The fourth-generation farm stand is stocked with locally made products and provisions in addition to the farm's own preservatives, homemade soups, and more. As far as produce goes, this week you'll find freshly picked baby lettuce, beets, radishes, and parsley.  
2935 Main Rd., East Marion, L.I., NY  11939
Find out more by visiting sepsfarm.com or by calling 631-477-1583.
Tea And Tchotchkes
Tea and Tchotchkes is a boho lifestyle gift shop offering local goods and hand crafted artisan pieces from around the world. Located in the heart of Greenport, this boutique is back for the season. Visit the shop Friday through Monday 10 a.m. through 6 p.m.
120 Front St., Greenport, L.I., NY 11944
Find out more by visiting teaandtchotchkes.net or by calling 631-333-2575.
Shelter Island
Much like Fire Island, Shelter Island is a wonderful and unique part of Long Island, too. This is also another place where it seems like time stands still and that you are really getting away and seeing someplace special. Check of this Shelter Island Map to see why it's "sheltered."
Click here for a list of some Shelter Island restaurants that either opened recently in April, plan to sometime in May, or are open year round!
South Fork/Hamptons/Montauk
Here's a list of some South Fork/Hamptons spots that opened recently in April or plan to sometime in May!
The Clam Bar
Did you know that 2021 is an important year for The Clam Bar roadside seafood shack? Well, it is. It's the 40th anniversary season for the shack. For 40 years this lovely eatery has been feeding us succulent lobster rolls and other delicious seafood dishes. Some of you might even take seeing Clam Bar open its window as a sign that those warm summer days are close.
Whether you are on the way to the beach or coming back from it, the roadside shack will make sure you don't stay hungry for long and will do so splendidly with their freshest meals and friendly staff.
RELATED: Click here for a more detailed article about The Clam Bar Amagansett.
2025 Montauk Highway, Amagansett, L.I., NY 11930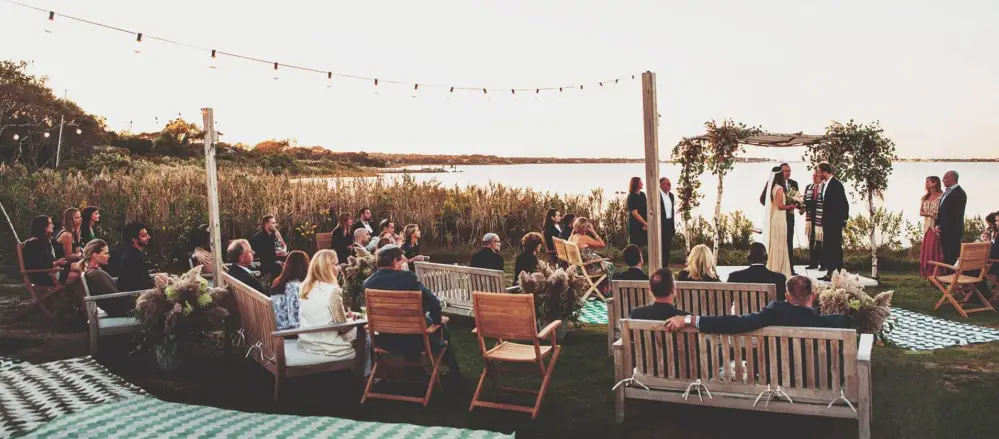 The Crow's Nest
The Crow's Nest restaurant and Inn will reopen Friday, May 21st.  The cottages are currently open and available for booking.
4 Old West Lake Dr, Montauk, L.I., NY 11954
Find out more by visiting crowsnestmtk.com or by calling 631-688-2077.
Docker's Waterside Marina & Restaurant
Dockers Waterside is what summer in the Hamptons is all about. Our casual, relaxing & friendly environment is by design with an "on vacation" feeling. The food, the view and the live entertainment are all part of the overall experience for over 29 years.
All of the seats overlook the water and with two outdoor waterside living rooms plus three bars Dockers pleases at every level.  The menu is an eclectic mix of creative American cuisine with an emphasis on fresh seafood, steaks and lobsters.
Good news though from us over here at Dockers Waterside, we're opening our alfresco outdoor dining services is open.  The restaurant will be open weekends for dining and cocktails too! Dockers on the Rocks food truck is already open so check out the lighter side of Dockers – a family and dog friendly part of Dockers.
94 Dune Road, East Quogue, L.I., NY 11942
Find out more by visiting dockerswaterside.com or by calling 631-653 – 0653.
Duryea's Montauk – May 13th
Duryea's Montauk is an amazing, destination seafood restaurant with incredible water views and even more incredible lobster roll. Actually, it's one of the best rolls on Long Island, I dare say. But even if you aren't interested in trying the most delicious lobster sandwich (why, though?), there are plenty of fresh seafood meals that are just as terrific.
Related: Check out this more detailed article on Duryea's Montauk location!
On May 13th, 2021, Duryea's Montauk is going to open its doors! We will once again get to enjoy its wonderful views and delicious food. And once the summer season officially begins, the Dureya's restaurant will stay open every day! They will be open Monday through Sunday, from noon to 10 p.m. But they don't accept any reservations – walk-in seating only. Since the place is quite popular, it's better to head there on a weekday.
The farmer's market doesn't work on Tuesdays and Wednesdays, but during the rest of the days, it is open from 8 a.m. to 7 p.m.
65 Tuthill Road, Montauk, L.I., NY 11954
To learn more, visit duryealobsters.com or call 631-668-2410.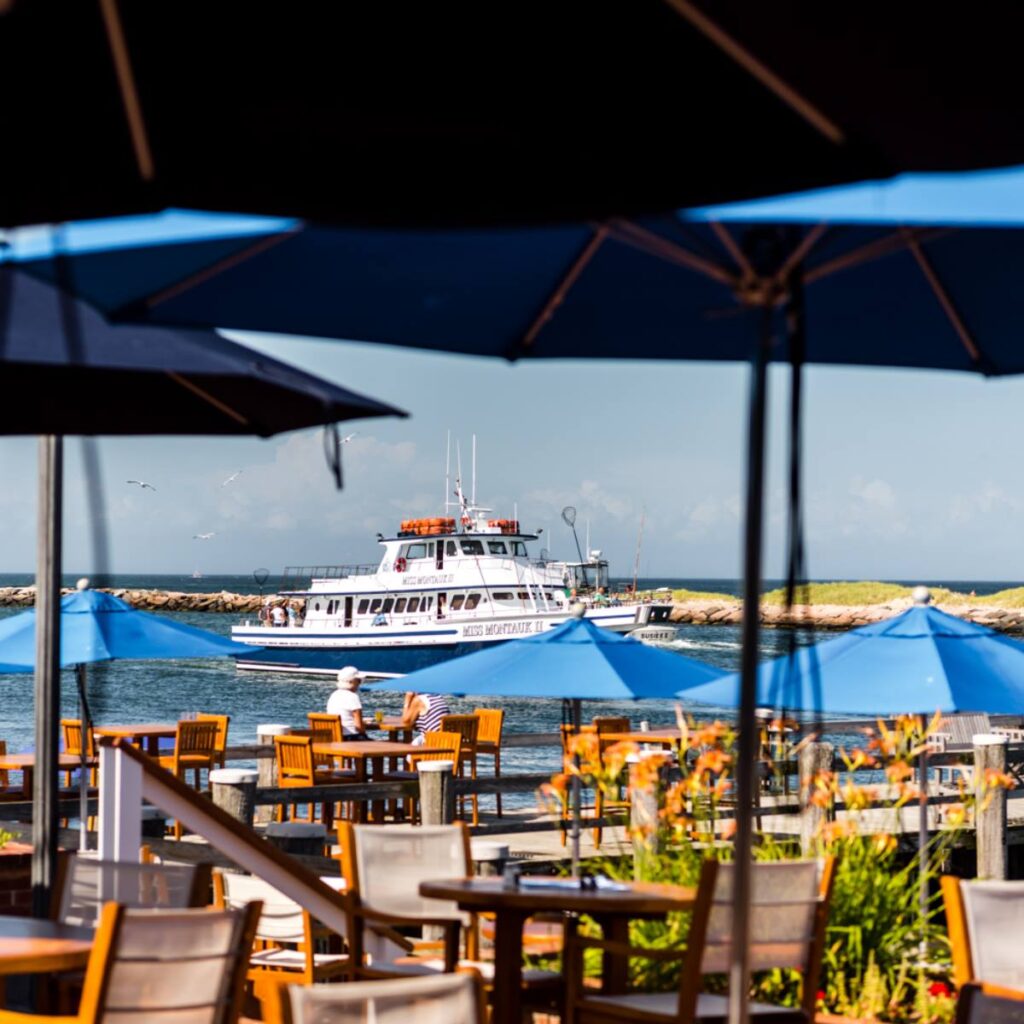 Gosman's Dock
Located on the water at the edge of the entrance to Montauk Harbor. Spectacular views, specialties, lunch dinner and drinks in a casual atmosphere. Walk-Ins Welcome. Good For Groups. Good For Kids. Take Out available. Waiter Service, outdoor seating, ample parking.
This is an amazing dock complex with a ton of options! Choose from Gosman's Restarant, Gosman's Topside, Inlet Seafood & Sushi Bar, Gosman's Clam Bar, and Gosman's Gourmet Fish Market.
Gosman's Dock, Montauk Harbor, West Lake Drive, Montauk, L.I., NY 11954
Find out more by visiting gosmans.com or by calling 631-668-5330.
The Lobster Roll (Lunch)
The Lobster Roll Amagansett is a pretty little beach shack that serves the most delicious seafood ever. The little eatery is everything that you associate with summer – bright colors, picnic tables, sand dunes, flowers, umbrellas, summer treats, and amazing lobster rolls. It has outdoor and indoor seatings, an extensive menu, and plenty of food options for children.
Whether you visit The Lobster Roll Amagansett with friends or family, you're in for a good time, so much so that you'll leave knowing that you'll be coming back.
RELATED: Click here to find a more detailed article about Lunch: The Lobster Roll Amagansett!
Opens May 13th.
1980 Montauk Hwy, Amagansett, L.I., NY 11930
To learn more, visit lobsterroll.com or call 631-267-3740.
Navy Beach
Montauk's Navy Beach is located on a 200-foot private beach looking west over Fort Pond Bay and Gardiner's Island, with breathtaking views over the water during the day, and spectacular sunsets at night.
Established in 2010, Navy Beach quickly became Montauk's Favorite Beachfront Restaurant. Positioned on 200-feet of private beach overlooking Fort Pond Bay, the laid-back, family-friendly eatery has also become a hot-spot for yachts and a sought-out destination wedding venue. The restaurant offers casual coastal cuisine paired with an eclectic wine list, including one of the largest selections of rosé wines in the Hamptons.  Add in the unforgettable sunsets and it's understandable that Newsday named Navy Beach one of the top five water-view dining spots on the East End. The restaurant's philanthropic efforts center around its support of the Navy SEAL Foundation, for which Navy Beach has raised over $175,000 since 2013.
With it's Montauk success, you can now enjoy Navy Beach in St. Thomas (USVI) and St. Maarten (Dutch Caribbean).
16 Navy Road, Montauk, L.I., NY 11954
Find out more by visiting navybeach.com/montauk/ or by calling 631-668-6868.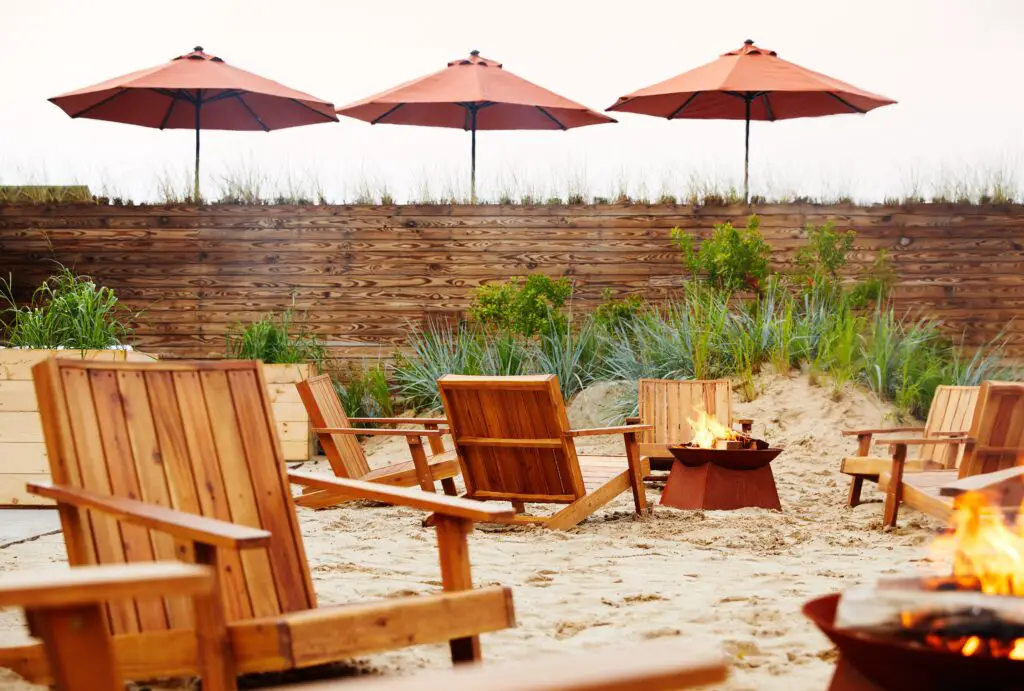 Places to Stay on Long Island
There's a slew of great spots already open or opening up for the spring/summer season. If you wanted a bunch of different options to stay on Long Island, be sure to check out these great places to stay in Montauk, this Guide to Shelter Island hotels, 10 Hamptons hotels, 10 North Fork Long Island hotels, and this Guide to Sag Harbor hotels!
Find Out About Long Island Wine
In addition to great Long Island bagels, Long Island wines are wonderful and just keep getting better and better! If you're in the mood for great wine, be sure to check out our Complete List of Long Island Wineries and Long Island Vineyards.
Check out the absolute best Long Island Wine Tours!
If you can't make it to a tour, why not do some wine tasting at home with Bedell Cellars!
I know you're getting hungry, so be sure to also check out the best wineries on Long Island for some great food!
While you're in the area, be sure to check out these 9 relaxing things to do in the North Fork!
When you're done with all of this wine drinking and relaxing, how about making it a weekend? Here are 10 great North Fork Long Island hotels to enjoy as well.
More From The Long Island Local
The bounty of great food on Long Island seems endless! From great steakhouses on Long Island to great Greenport restaurants and Long Island bagels…there's so much to enjoy. Or maybe check out some Long Island oyster farms! 
Be sure to find out about more things to do on Long Island as well as more great spots to eat and drink and wonderful places to stay on Long Island!