Are you looking for a pretty famous seafood shack called Lunch, or The Lobster Roll Amagansett? Well, it can get a little confusing I suppose. The Lobster Roll in Amagansett is typically referred to as just plain old Lunch. When you visit and see the sign, you'll understand why I think (see below).
The Lobster Roll Amagansett is a pretty little beach shack that serves the most delicious seafood ever. The little eatery is everything that you associate with summer – bright colors, picnic tables, sand dunes, flowers, umbrellas, summer treats, and amazing lobster rolls. It has outdoor and indoor seatings, an extensive menu, and plenty of food options for children.
Whether you visit The Lobster Roll Amagansett with friends or family, you're in for a good time, so much so that you'll leave knowing that you'll be coming back.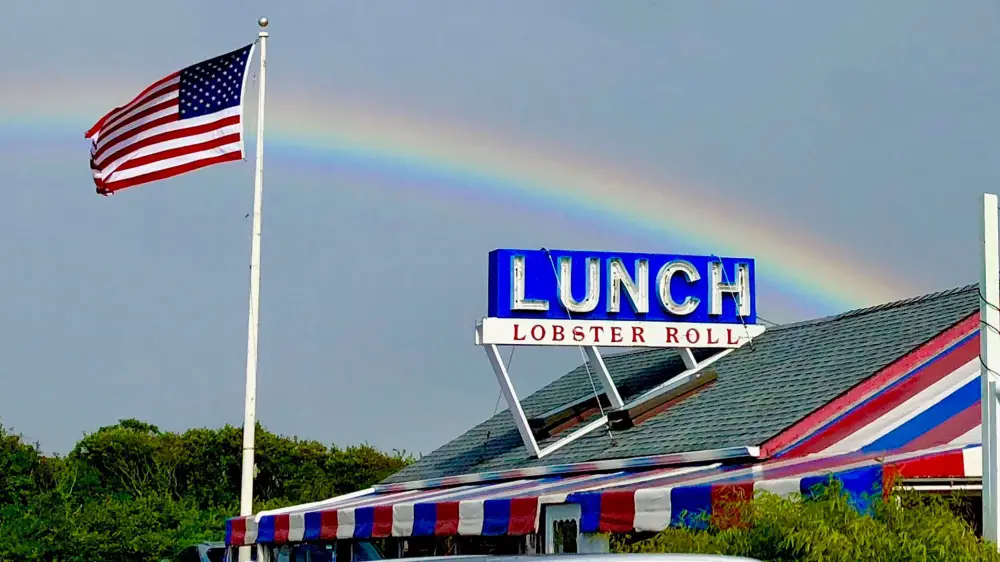 Lobster Roll Amagansett
It would have been a sad-sad reality if a place named The Lobster Roll served unworthy lobster sandwiches. Luckily for us, it's not the case. As expected, the eatery serves one of the best lobster rolls on Long Island.
First of all, they use 100% pure cold water lobster meat, which means more tender meat. Second, no dish of theirs contains any artificial flavoring, fillers, or imitation seafood products, which means everything you eat is as fresh as it gets. And of course, the fact that they put their soul into every one of the sandwiches means their lobster rolls couldn't be anything less than exquisite.
You want it hot or cold, gluten-free or standard roll, with french fries or creamy coleslaw – The Lobster Roll got you covered. They also can accommodate your desire to eat a roll with a minimum amount of carbs; just order Lobster Salad Bowl with your favorite dressing. And if you want to eat the sandwich but also want to have space for other things, Lobster Salad Slider (a mini version of the roll) will come to the rescue.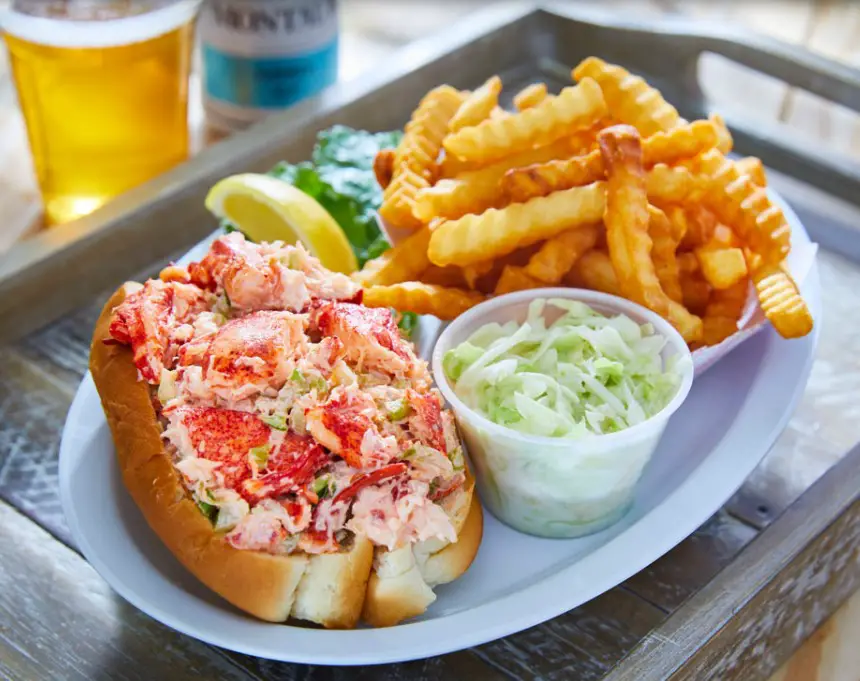 The Menu
You might be wondering what other menu items could possibly be worth downsizing the great lobster roll of The Lobster Roll. Glad you asked. Start with fried calamari served with zesty marinara sauce or hot sauce and blue cheese. Continue with the creamy New English clam chowder with tons of clams. There are beef and chicken burgers and hot dogs, and while they are awesome, they can be found throughout the year, right? So for the short period that The Lobster Roll Amagansett is open, you probably should go all seafood. So maybe add fish n' chips if you can eat more, but you should definitely save some space for dessert. Andrea's desserts (a co-owner of Lunch) – especially those cupcakes – are finger-licking good!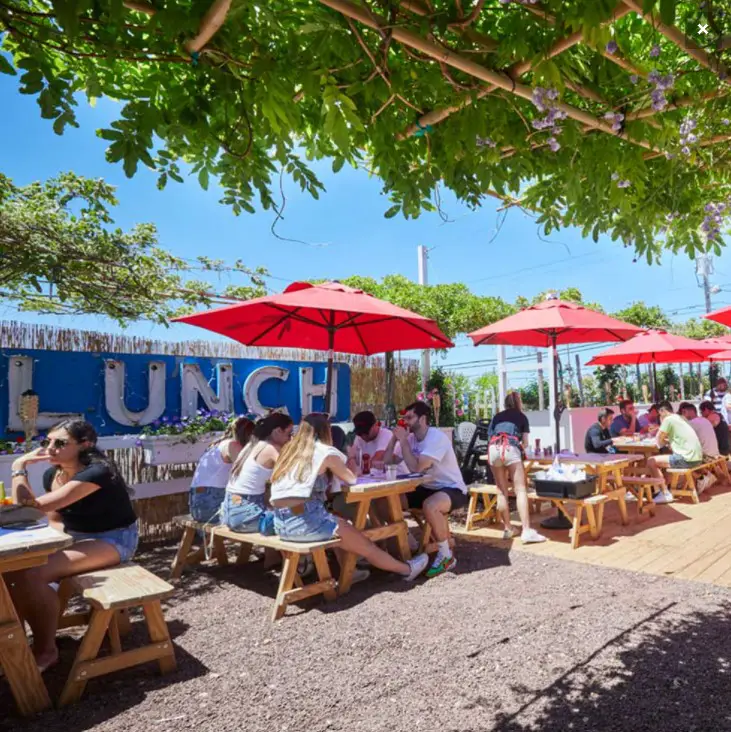 Operating Hours
The 2021 season for this friendly beach shack in Amagansett, The Lobster Roll, starts from April 30th, so it's just a few more days till you can enjoy their awesome food.
If you are a regular at the eatery, I'm sure you know their schedule by heart now, but I'll refresh your memory anyway. The shack is closed on Tuesdays, Wednesdays, and Thursdays. On Mondays, they are open for a few hours only – from 11:30 a.m. to 4 p.m – so better to head there early. On Fridays and Saturdays, it's open from 11:30 a.m. to 9 p.m. And on Sundays, The Lobster Roll in Amagansett works shorter hours from 11:30 to 8 p.m.
Pick Up Some Merchandise
Getting something with your favorite restaurant's logo is like a whole new level of patronizing. So if you think The Lobster Roll shack deserves your support (and it truly does), then get a long sleeve or short sleeve T-shirt, a zip hoodie, or a snapback from their shop and declare your undying love for Lunch boldly.
1980 Montauk Hwy, Amagansett, L.I., NY 11930
To learn more, visit lobsterroll.com or call 631-267-3740.
More Long Island Lobster Rolls
After you enjoy your Lunch…be sure to really getting into the lobster roll spirit! There are so many great Long Island Lobster rolls, just click and check them all out! Some other great ones right in that Amagansett/Montauk area are Duryea's Montauk and The Clam Bar Amagansett!
Places to Stay on Long Island
If you wanted a bunch of different options to stay on Long Island, be sure to check out these great places to stay in Montauk, this Guide to Shelter Island hotels, 10 Hamptons hotels, 10 North Fork Long Island hotels, and this Guide to Sag Harbor hotels!
Check Out Some Long Island Wine
While you're on Shelter Island, you're so close to Long Island Wine Country! It's another great part of visiting the island. If you're in the mood for great wine, be sure to check out our Complete List of Long Island Wineries and Long Island Vineyards.
Check out the absolute best Long Island Wine Tours!
If you can't make it to a tour, why not do some wine tasting at home with Bedell Cellars!
I know you're getting hungry, so be sure to also check out the best wineries on Long Island for some great food!
While you're in the area, be sure to check out these 9 relaxing things to do in the North Fork!
When you're done with all of this wine drinking and relaxing, how about making it a weekend? Here are 10 great North Fork Long Island hotels to enjoy as well.
More From The Long Island Local
Maybe grab a freshly brewed beer at these Long Island breweries and when you've had your fill of vino!
The bounty of great food on Long Island seems endless! From great steakhouses on Long Island to great Greenport restaurants to Long Island Bagels… there's so much to enjoy. And how about all the wonderful restaurants on the water Long Island?! Or maybe check out some Long Island oyster farms!
Be sure to find out about more things to do on Long Island as well as more great spots to eat and drink and wonderful places to stay off of Shelter Island!