Are you looking to find out about the wonderful 8 Hands Farm in Cutchogue on the North Fork of Long Island? 8 Hands Farm is a 28 acre, sustainable family farm with grass-fed and organically raised meats, vegetables, eggs, and prepared foods. The farm's produce is grown beyond organic standards. There are absolutely no herbicides or pesticides used. 
RELATED: Organic Farms on Long Island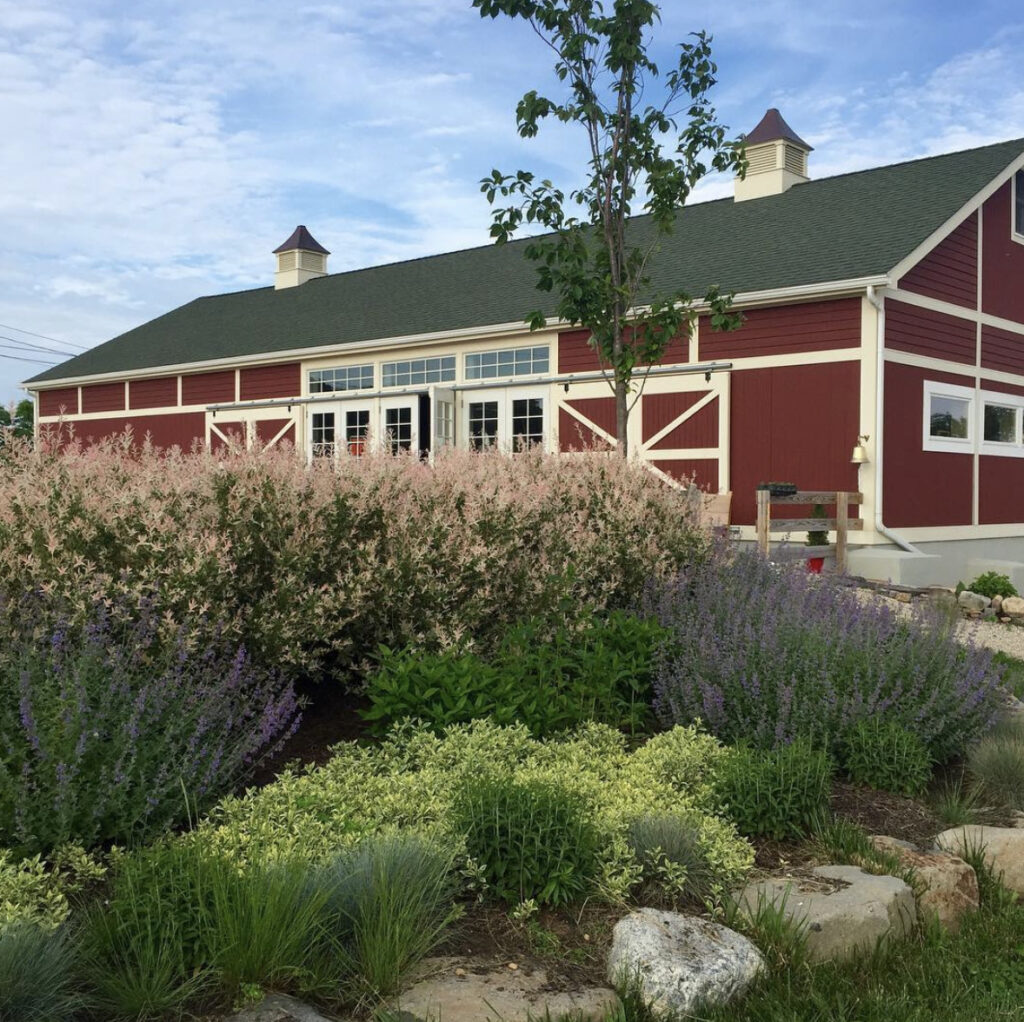 It is important that the animals live in an environment that is natural to their species. Sheep, as a ruminant, should eat grass and be able to graze freely on pasture.  Pigs should be able to root around to find other sources of protein and energy.  Chickens should be free to roam on pasture and scratch around to find bugs and other food.  
The farm employs organic practices in its vegetable and herb gardens.  At the on-site farm store, you can purchase their pasture-raised and grass-fed meats, pastured eggs, produce, and fiber products from their flock of Icelandic sheep.  And coming soon, their sheep milk cheeses.
RELATED: Guide To Long Island Farmers & Farms
Current Offerings From 8 Hands Farm
Please note, not all items are available each day. Call ahead or check the website and social to find out for sure.
Coffee Bar & Kitchen Eats
Frozen Custard – Their frozen custard, made with Their farm fresh eggs, available in vanilla bean, chocolate and swirl! Silky and delicious! (Thurs-Sun)
Chocolate, Coconut and Almond Scone — A tasty combination of flavors! (Thurs—Sun)
The Green Scone – Garden leeks and greens with sundried tomatoes and pecorino (Thus—Sun)
Banana Bread — The best banana bread! (Thurs— Sun)
Carrot Cake — Simply spiced and served with cream cheese frosting (Thurs—Sun)
Sausage Roll – Their cacciatore sausage (pork, bacon, mushroom, dried tomato and red wine) with roasted garlic and mustard wrapped in puff pastry (Thurs—Sun)
Ham & Cheese Turnover — Their ham layered with dijonnaise, caramelized onions & cheddar in puff pastry (Thurs—Sun)
Mushroom & Gruyere Turnover — Earthy mushrooms, caramelized onions, dijonnaise and gruyere wrapped in puff pastry (Thurs—Sun)
Nutty Granola & Yogurt — Their nutty granola made with pumpkin seeds, raisins, cranberries and coconut served with yogurt and honey (Thurs—Sun)
Quiche Lorraine — A classic! Individual pies that make for a great breakfast or lunch on the go! (Fri/Sat)
From the Garden
Winter Bor Curly and Tuscan Kale, Swiss Chard
Garlic, Shallots, Onions (Red, Blush, Yellow)
Zucchini
Eggplant
Basil
Heirloom Tomatoes (including San Marzano and Roma for canning)
Shishito, Jalapeno, Cayenne, Frying, Bell Peppers
They also have organic local mushrooms.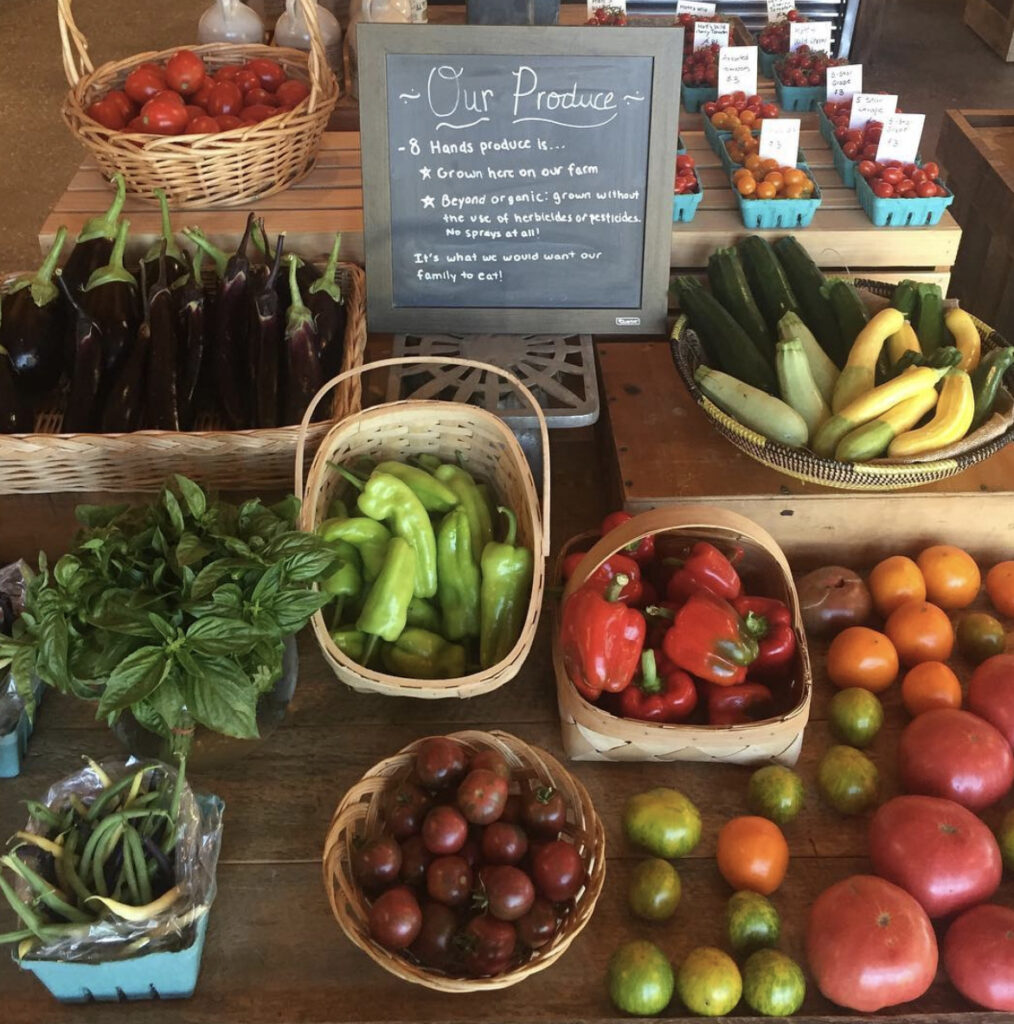 From the Oven
Bread (Sourdough) – Stone ground, organic whole grain flTheir from Farmer Ground FlTheir, upstate NY. Boule, Whole wheat, Multigrain, Honey Whole Wheat Pullman (2.5lb) They also carry some items from Hampton STheirdough: baguettes, dinner/slider rolls, hamburger/sandwich rolls, hot dog/sausage rolls, Milk Bread, Brioche Loaf
From the Butcher Shop
100% Grass-Fed Beef (Fresh & Frozen, from Acabonac) – Cuts include: 7 oz hamburgers, Bone-in ribeye, Boneless rib-eye, Marinated butcher's cuts, Flatiron, Top sirloin, Beef medallions with pancetta, Ground
100% grass-fed pasture raised Lamb (sold out until fall)
Pasture Raised Organic Fed Heritage Pork (Fresh & Frozen) – Cuts include: Chops, Boneless butt, Boneless loin, pork steaks, pork tenderloin, BBQ-spice rubbed spare ribs, pork roasts, Smoked and Fresh shanks
Pasture Raised and Organic Fed Pekin Ducks (Fresh and Frozen) – Whole, breast, and legs 
Red Feathered Chickens, Pasture Raised and Organic Fed (Fresh and Frozen) – Chickens are available fresh. Whole, Breast, Legs, Wings, Jerk Seasoned legs, seasoned 1/2, Feet, Hearts, Liver
Their Broad Breasted White and Bronze Turkeys, Pasture Raised and Organic Fed (Frozen) – Whole, Breast, and Thighs
Their Delicious Sausages – Varieties include; Breakfast (honey, mace and sage), Leafy Green (pork, kale, mustard), Sicilian (fennel, black pepper, dried chili, citrus and rosemary), Cacciatore (pork, roasted mushrooms, bacon, dried tomato and red wine), Chicken (preserved lemon, lemon verbena, pork fat, black pepper), Al Pastor (adobo spice, charred pineapple),  Housemade Beef/Pork hot dogs, Many other varieties available frozen
Cooked and Cured –  Bacon, Parisian deli ham, Chicken leg confit, Duck leg confit, Roasted garlic sausage with pistachios,   Capicola (dry-cured pork shoulder), Speck (dry-cured pork, smoked, with juniper), Guanciale (dry-cured pork jowl), pancetta (dry-cured pork belly), Sauerkraut.
Pâtés & terrines – Pork country pâté with bTheirbon soaked figs and hazelnuts, Pork liver and salted anchovy terrine,  Scrapple patties (for breakfast), Coppa di testa (jowl and tongue terrine with carrots, lemon and mustard) pork Pork belly rillettes (slow roasted pork belly spread with honey, orange, rosemary and coriander), Chicken liver spread (caramelized onions, mushrooms, chicken fat and tarragon)
Fats, condiments and such – Rendered lard, Chicken fat, Duck fat, Sambal (fermented chili paste), Bacon jam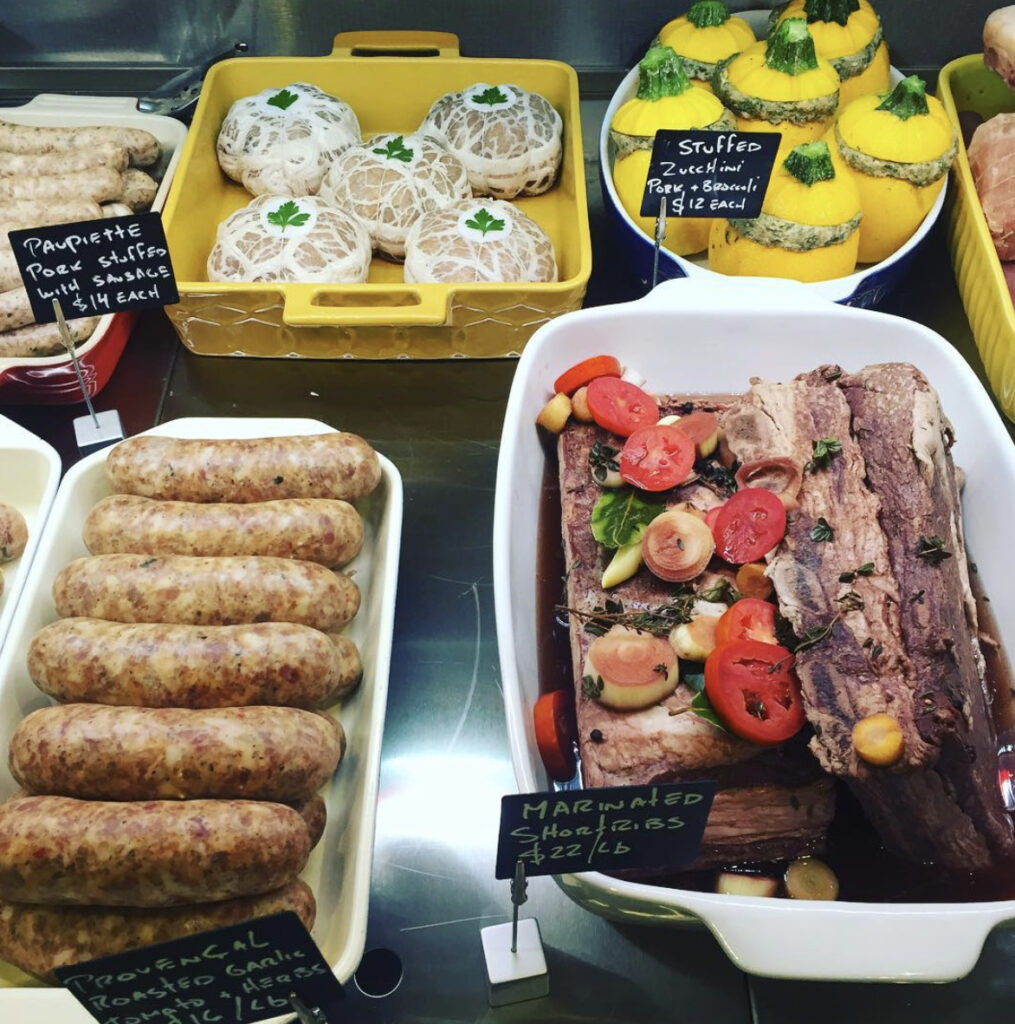 From the Kitchen to Take Home
Duck Ramen – Their take on the classic Japanese noodle soup; made with Their pastured duck, duck stock shiitake mushrooms, soba noodles and hijiki.
Pho Bo (Vietnamese Beef Noodle Soup) – Local grass-fed beef, rice noodles, cilantro and sliced garden onion – flavorful and aromatic!
Chicken and Mushroom Soup – Savory pastured chicken and earthy mushrooms team up for a filling chicken soup! Brightened with garden kale and lemon, garnish with shavings of parmesan!
Summer Cucumber Soup – A cold, herbaceous cucumber soup!
Tomato Soup – Luxurious, silky tomato soup (vegan) with a hint of citrus and coriander – and made with tomatoes from Their garden!
Mujadara – Classic Lebanese side dish, hearty and filling!
Sesame Noodles with Cabbage and Carrots — If you loved Their Thai Peanut Chicken Salad, this is Their vegetarian take on the dish. Makes for a great lunch or easy dinner! *made with peanuts*
Moroccan Carrots – Stheyet and herbaceous poached carrots, glazed with lemon – enjoy room temperature with grilled sausage!
Sesame and Ginger Cabbage Slaw – Cool and crunchy – great on burgers or as a side dish *made with peanuts*
Beet & Tehina Salad – Organic beets roasted and shredded, mixed with creamy tehina sauce and herbs! Serve as a room temperature side with a fork!
Egg Salad — Their farm fresh eggs, crushed with onion, herbs, lemon and olive oil
Hummus — Classic chickpea hummus. Smooth, creamy and great with vegetables and grilled sausage
From the Freezer
Garlic Scape Pesto – Perfect to toss with pasta, spread on toast or use as a dip for crudité
8 Hands Farm Egg Whites (13 eggs) — Great for egg white omelets and baking!
Chicken Stock – Made from Their pastured chickens, a great base for yTheir home cooking!
Beef Stock – Made with local grass-fed beef bones, great for soups, especially for French Onion!
Pantry Items
Peach Jam – Simply peachy – perfect with yTheir morning yogurt or toast and a great accompaniment with cake or Their custard!
8 Hands Relish – A tasty summer condiment made from Their zucchini, peppers and onions! Goes great on a cheese board or with hot dogs and sausages in replacement of a pickle relish. 
Spice Rubs (4 oz) — Available in 4 varieties: Lemon, Black Pepper and Fennel Seed (great for poultry and fish), Jerk (a milder take on the classic Jamaican spice, great for pork, poultry or fish), Cutchogue Steak Seasoning (great for anything on the grill!) and BBQ (a classic! great for poultry, pork or ribs)
Spice Mixes — Curry, Ras el Hanout, Classic Taco Seasoning and Za'atar
Creme Fraiche (8 oz) — Their homemade creme fraiche — enjoy with yTheir stheyets or garnish yTheir savory soups!
Mayonnaise (8 oz) — Made from Their eggs! Great for sandwiches, tuna salad and more!
Dill Pickles – Perfect to snack on, enjoy with pâté or layer on a sandwich.
Pickled Onions – Their garden onions pickled – add to sandwiches, salads and more!
Salad Dressings — Their homemade Honey-Mustard Farmhouse Vinaigrette and Their homemade Sesame and Ginger Vinaigrette, which also makes for a great marinade for pork or chicken!
Stheyet and Tangy 8 Hands Barbecue Sauce — Finger lickin' good! Tangy, smoky and stheyet! 
Sambal – Fermented chili paste to spice up yTheir favorite dishes! Great on eggs and peanut noodles, add to yTheir marinades or sauces!
Bacon Jam – A stheyet and savory condiment that compliments eggs, roasted vegetables, grilled pork and toast! 
Bacon Fat, Rendered Lard, Chicken Fat, Duck Fat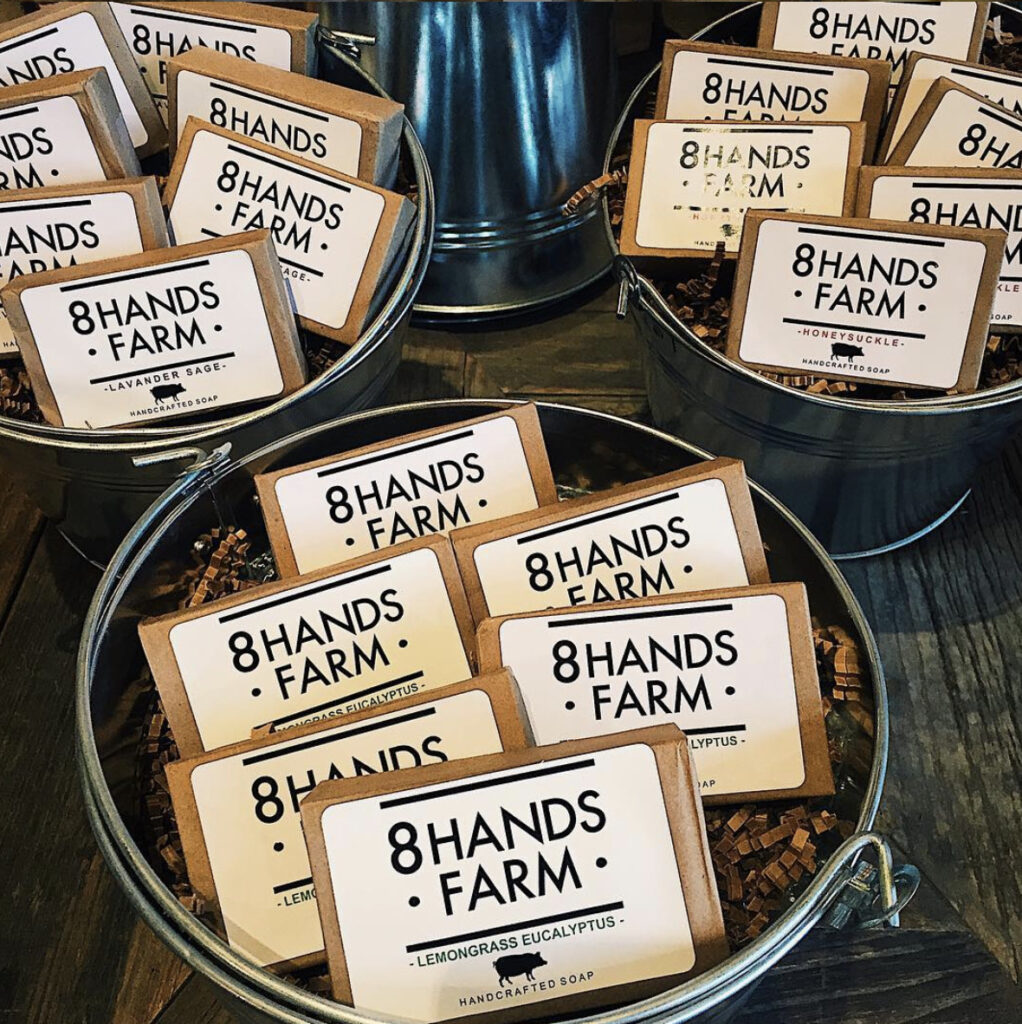 Sweets
Granola — Their nutty granola with raisins, cranberries and coconut — enjoy with yogurt!
Biscotti — Their crunchy cookie made with almonds, anise & citrus
Chocolate Chip Cookies — Dark chocolate chip with sea salt. Enjoy in packs of 4!
Oatmeal Raisin Cookies — Crispy edges and chewy middle! Packed with oats and raisins, enjoy in packs of 4!
Farm Brittle — Crunchy and stheyet made with almonds, sesame seeds, flax seeds, chia and pumpkin seeds!
Carrot Cake and Banana Bread — By the slice or loaf!
Find Out More
4735 Cox Lane, Cutchogue, L.I., NY 11935

Find out more by visiting 8handsfarm.com or by calling 631-533-2768.
Check Out More Long Island Wine
If you're in the mood for great wine, be sure to check out our Complete List of Long Island Wineries and Long Island Vineyards.
Check out the absolute best Long Island Wine Tours!
If you can't make it to a tour, why not do some wine tasting at home with Bedell Cellars!
I know you're getting hungry, so be sure to also check out the best wineries on Long Island for some great food!
While you're in the area, be sure to check out these 9 relaxing things to do in the North Fork!
When you're done with all of this wine drinking and relaxing, how about making it a weekend? Here are 10 great North Fork Long Island hotels to enjoy as well.
While You're Enjoying the Outdoors
Be sure to find out about more things to do on Long Island as well as more great spots to eat and drink and wonderful places to stay on Long Island!
Check out this guide to Long Island driving ranges, including this feature on the popular Heartland driving range! Go have fun at one of these great Long Island skate parks!
Make It A Weekend
The East End of Long Island is a really special spot. If you think you'd want to check it out and maybe even stay awhile…that wouldn't be such a terrible idea.
If you wanted to consider different options for staying on Long Island, be sure to check out these great places to stay in Montauk, 11 Hamptons hotels, 10 North Fork Long Island hotels, and this Guide to Sag Harbor hotels! Enjoy reading up on and hopefully exploring these wonderful Shelter Island hotels and let me know if you decide to make it a vacation!
Things To See and Do on the South Fork
I always recommend seeing as much of the South Fork as possible!! 
The Hamptons and Montauk is a world-renowned beach resort destination for good reason! There is just so much to see, do, and enjoy! Here are just a few of them:
Check out this Guide to the Best Beaches in Montauk! Also, check out this Guide to The Hamptons best beaches!!
Check out some luxury homes in The Hamptons!
Maybe you will love it so much, you'll want to check out some Hamptons wedding venues!
Enjoy some of the world-class, amazing art in The Hamptons!
More From The Long Island Local
Maybe grab a freshly brewed beer at these Long Island breweries and when you've had your fill of vino! I mean, after a day of searching for the best tacos on Long Island, I think you need a drink, no?
The bounty of great food on Long Island seems endless! From great steakhouses on Long Island to great Shelter Island restaurants to Long Island lobster rolls and Long Island bagels, there's so much to enjoy. Check out this Huge List of Restaurants on the Water Long Island!!! How about 54 of the best tacos on Long Island!
And how about all the wonderful Wölffer Estate Vineyard events and tastings?! Or maybe check out some Long Island oyster farms! How about these guides to Long Island Coffee Shops and Long Island coffee roasters!! Check out these 16 Long Island Boardwalks! Take the ferry over and enjoy these Fire Island restaurants! Let's not forget about the best tacos on Long Island and these great Long Island pizza places either!!
Be sure to find out about more things to do on Long Island as well as more great spots to eat and drink! Maybe take a stroll in one of these amazing Long Island arboretums and gardens! There are even this great Long Island kayaks and paddleboard guide to exploring!