If you are in an eating glorious food, drink, and shopping kind of mood, then I think it might be a good idea to check out Tanger Outlets in Deer Park this Labor Day weekend. The Famous Food Festival is back and looking as awesome as ever!!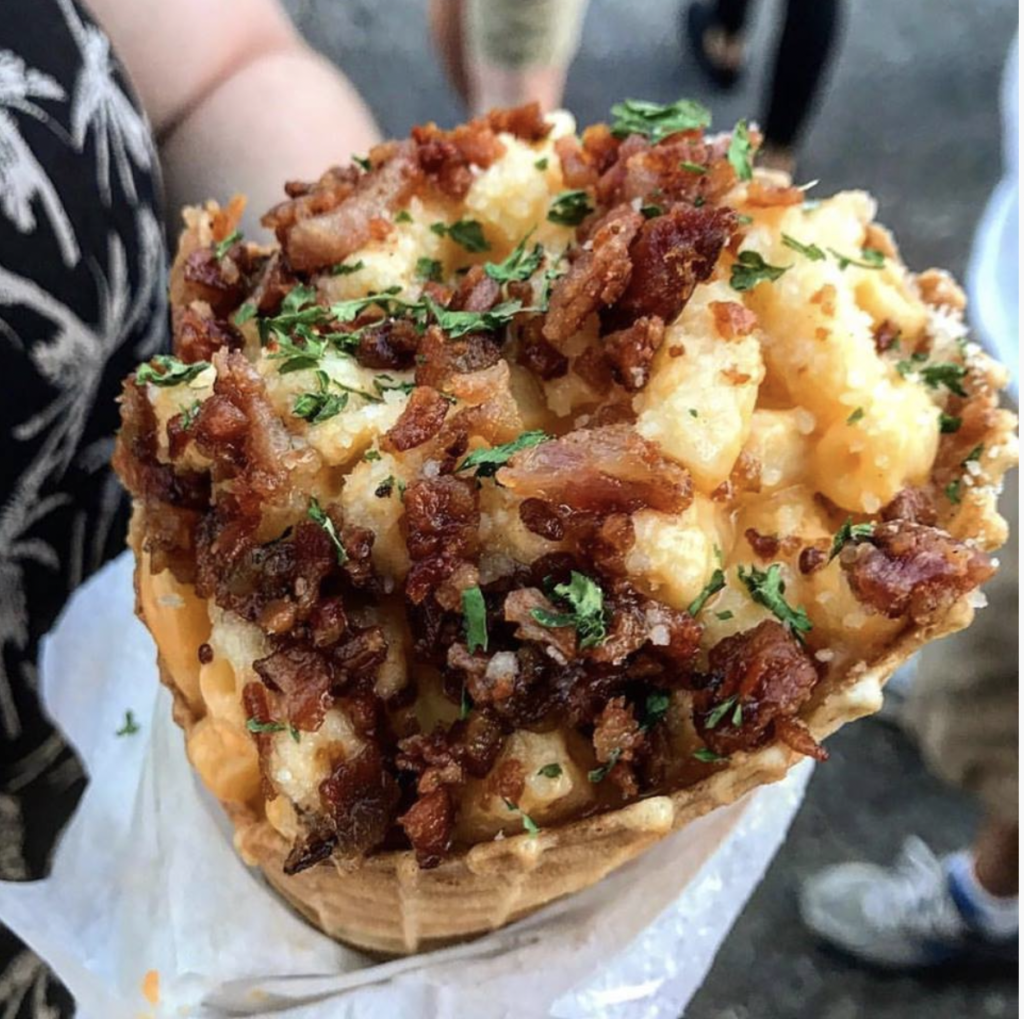 Come "Taste The World"
The Famous Food Festival is a distinctive food festival experience delivering the opportunity to taste the world and blend together all of the most delectable and flavorsome ingredients stemming from a myriad of different cultures and food.
The Famous Food Festival brings to you new and well-known foods from all over the world. The foods are created by "new to the scene" and experienced chefs who are thrilled to showcase their works of culinary art to the local community.
The Famous Food Festival in Tanger Deer Park Outlets will feature over 60 Food Vendors in its culinary village. This is all about bringing you some of the best New York, Tri-State, and Long Island has to offer. There are just so many delicious food inspirations to try out here!
There will also be more to enjoy than just delicious food at this family event! Think live music with seating, a beer and wine garden, cooking demonstrations, craft vendors, food trucks, local artist galleries, a vampire escape room, ax throwing, kids' attractions, a unique mobile man-cave tailgating experience, and more. This is kind of a Long Island bucket list check-off for local foodies. This may be the largest event of its kind on Long Island (though that's just a guess).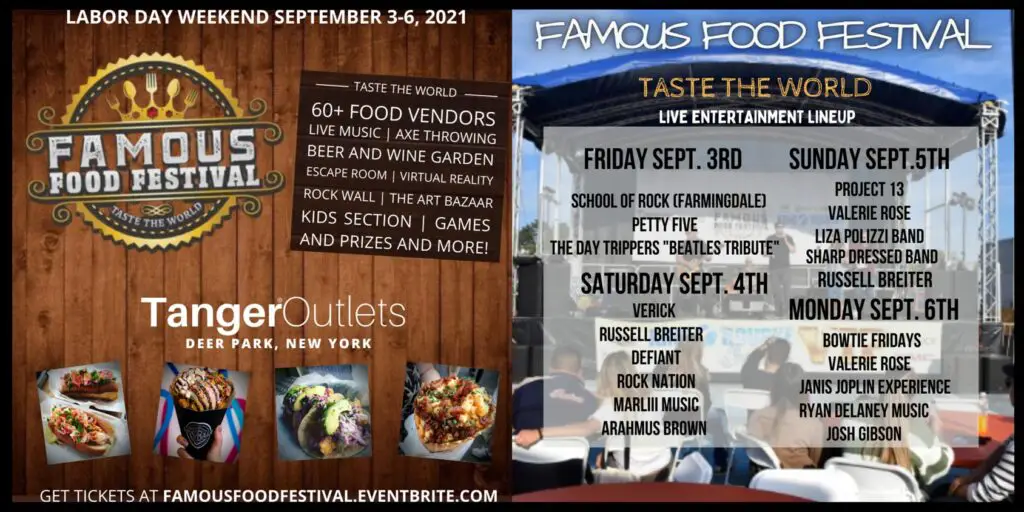 Famous Food Festival Hours of Operation
The 2021 Famous Food Festival is a four-day extravaganza that runs during the following hours:
Friday, Sept. 3rd from 3 PM – 9 PM
Saturday, Sept. 4th from 11 AM – 8 PM
Sunday, Sept. 5th from 11 AM – 8 PM
Monday (Labor Day), Sept. 6th from 11 AM – 8 PM
More Information
This all-ages family-friendly event is only $6 to attend each day and discounted for multiple-day entry! Tickets are $12 at the door. Children 10 and under are FREE.
The organizers are taking into account all COVID-related safety measures recommended by the CDC.
These exciting events are taking place at Tanger Outlets, located at 152 The Arches Circle in Deer Park, L.I., NY 11729. Look for Nieman Marcus Department Store Parking Lot. It's not too far from the LIRR Deer Park station.
The Famous Food Festival is the ultimate culmination of a traveling organization and event production company based in NYC that provides both new and well-known vendors a chance to showcase their creative and delicious works of art while bringing together their culinary culture and the local community.
For more information be sure to visit famousfoodfestival.com.
Visit Eventbrite to see the complete vendor list and to pick up your tickets.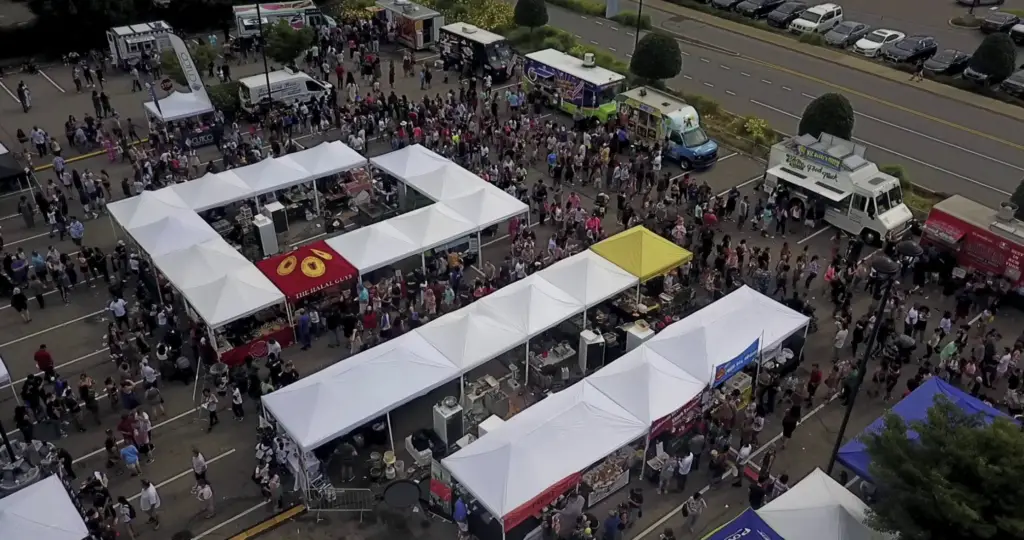 While You're Enjoying the Outdoors
Be sure to find out about more things to do on Long Island as well as more great spots to eat and drink and wonderful places to stay on Long Island!
Check out this guide to Long Island driving ranges, including this feature on the popular Heartland driving range! Go have fun at one of these great Long Island skate parks!
Check Out Long Island Wine
If you're in the mood for great wine, be sure to check out our Complete List of Long Island Wineries and Long Island Vineyards.
Check out the absolute best Long Island Wine Tours!
If you can't make it to a tour, why not do some wine tasting at home with Bedell Cellars!
I know you're getting hungry, so be sure to also check out the best wineries on Long Island for some great food!
While you're in the area, be sure to check out these 9 relaxing things to do in the North Fork!
When you're done with all of this wine drinking and relaxing, how about making it a weekend? Here are 10 great North Fork Long Island hotels to enjoy as well.
Make It A Weekend
The East End of Long Island is a really special spot. If you think you'd want to check it out and maybe even stay awhile…that wouldn't be such a terrible idea.
If you wanted to consider different options for staying on Long Island, be sure to check out these great places to stay in Montauk, 11 Hamptons hotels, 10 North Fork Long Island hotels, and this Guide to Sag Harbor hotels! Enjoy reading up on and hopefully exploring these wonderful Shelter Island hotels and let me know if you decide to make it a vacation!
Things To See and Do on the South Fork
I always recommend seeing as much of the South Fork as possible!! 
The Hamptons and Montauk is a world-renowned beach resort destination for good reason! There is just so much to see, do, and enjoy! Here are just a few of them:
Check out this Guide to the Best Beaches in Montauk! Also, check out this Guide to The Hamptons best beaches!!
Check out some luxury homes in The Hamptons!
Maybe you will love it so much, you'll want to check out some Hamptons wedding venues!
Enjoy some of the world-class, amazing art in The Hamptons!
More From The Long Island Local
Maybe grab a freshly brewed beer at these Long Island breweries!
The bounty of great food on Long Island seems endless! From great steakhouses on Long Island to great Shelter Island restaurants to Long Island lobster rolls and Long Island bagels, there's so much to enjoy. Check out this Huge List of Restaurants on the Water Long Island!!! How about 54 of the best tacos on Long Island!
And how about all the wonderful Wölffer Estate Vineyard events and tastings?! Or maybe check out some Long Island oyster farms! How about these guides to Long Island Coffee Shops and Long Island coffee roasters!! Check out these 16 Long Island Boardwalks! Take the ferry over and enjoy these Fire Island restaurants! Let's not forget about the best tacos on Long Island and these great Long Island pizza places either!!
Be sure to find out about more things to do on Long Island as well as more great spots to eat and drink! Maybe take a stroll in one of these amazing Long Island arboretums and gardens! There are even this great Long Island kayaks and paddleboard guide to exploring!