Long Island wineries and Long Island vineyards have come a long way in just a short amount of time. The East End of Long Island is a great place to make great wines!
Long Island produces over 500,000 cases of wine annually. This helps New York to be the 3rd largest wine growing region in America. Tourism is a huge business, with the area seeing more than one-million people visit the wineries each year.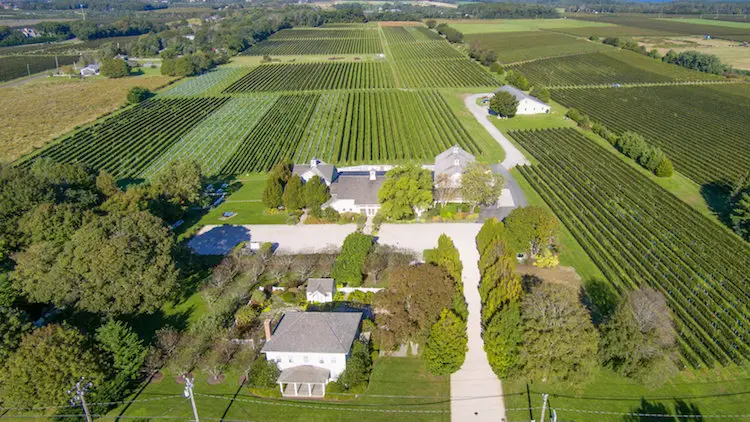 Long Island Wineries
Within the region, there are over 60 wineries and the list seems to keep growing. These great wines that are making a name for themselves around the country!
Wine lovers know that the East End is rocking. There is a very homey, organic, and artisan feel to the area and it's businesses. Becuase of this, many liken it to the "olden days" of Napa and Sonoma.
The maritime climate has the most sun and latest frost in New York. As a result, this is a place that is beautiful but can also grow some awesome grapes! The winemakers on are making Long Island wineries that have a little something for everyone.
With a wide range of grapes that successfully grow in Long Island's climate, the region remind many of Europe. The wines generally pair very well with food and have moderate alcohol and crisp acidity. These are not the "bombs" you may think of when you think of California wines.
Since LI wines generally pair so well with food, an increasing number of wineries are offering some really fantastic food on-site for it's customers to enjoy.
A Sampling of Long Island Wineries
Long Island is loaded with many great spots to visit. Here's a feel for just some of the fantastic wines and experiences you can have visiting Long Island wineries!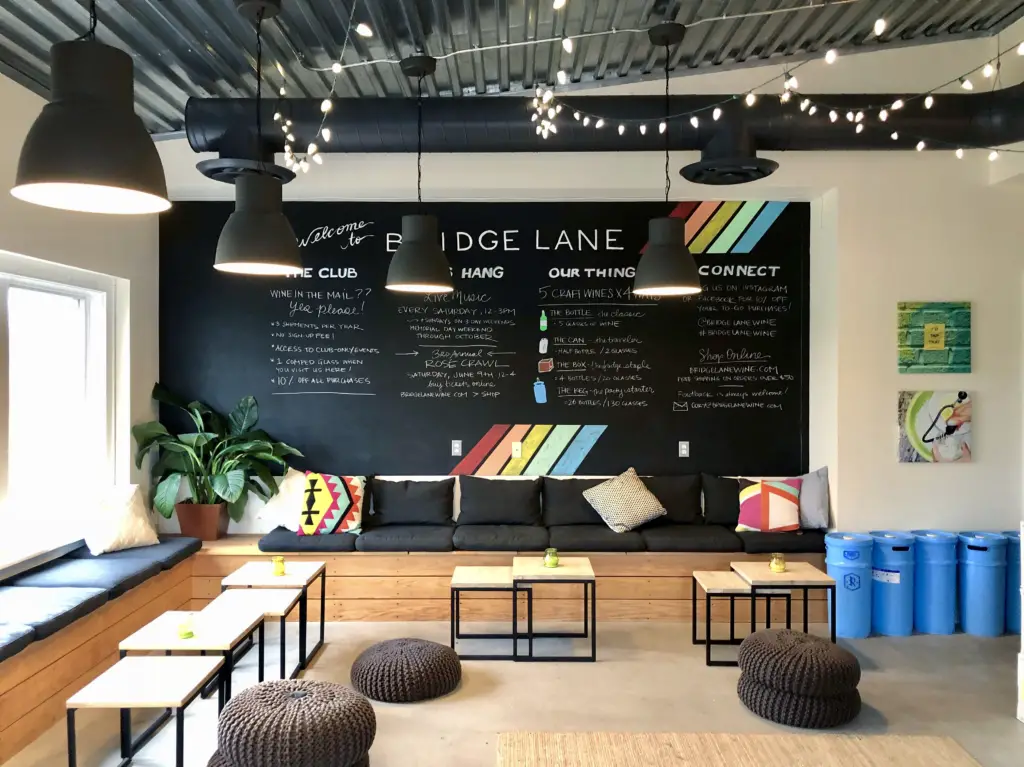 Bridge Lane Tasting Room
35 Cox Neck Road, Mattituck, NY 11952 
(631) 298-1942
http://bridgelanewine.com
Summer Hours:  Wednesday – Monday, 12-7 PM. Closed: Tuesday. (Memorial Day weekend – Labor Day weekend). Fall/Winter/Spring Hours:   Friday – Monday, 12-7 PM. Closed: Tues, Wed, & Thurs.
Lieb Cellars Mattituck, now named "Bridge Lane Wine Tasting Room," is attached to Premium Wine Group and is the official home of our Bridge Lane series of wines.
At this tasting room you will find a lush green front yard with picnic tables, and a modern but warm and inviting indoor tasting room. Our tasting menu has 10 different wines to choose from, and there will surely be something for everyone to enjoy.
During the summer, you can enjoy live music, and feel free to bring a lunch to enjoy picnic-style on the lawn.
Lieb offers a wine tasting  flight of 5 Bridge Lane wines for $15 (White Merlot, Chardonnay, Sauvignon Blanc, Rosé, and Red Blend). They also offer all Bridge Lane wines and a limited selection of Lieb Cellars wine by the glass & bottle.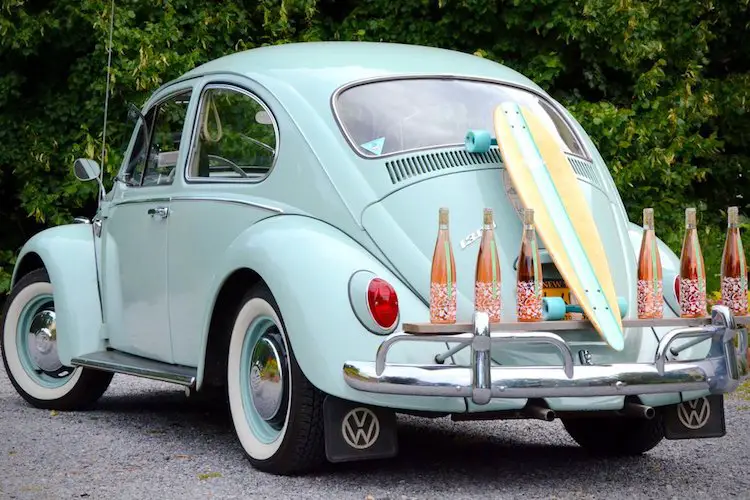 Croteaux Vineyards
1450 South Harbor Road, Southold, NY
(631) 765-6099
http://croteaux.com
Rosé all day, Rosé all day! Croteaux makes Rosé, and only Rosé. Founded by Michael Croteau in 2003, this is the only vineyard in the United States to do so.
Made from estate grown Merlot, Cabernet Franc, and Sauvignon Blanc our wines combine the traditional tastes of southern France with the distinct seaside style and agrarian history of the North Fork.
Their efforts, from vine to bottle, are focused on making dry, crisp, fun-to-drink wines, every sip filled with the distinct natural flavors of each varietal.
Group size is limited to 8 people maximum. Well behaved dogs are welcome.
"Rosé On The Run", their 1977 Citroen HVan market truck is available for private parties off site and for special events at your location. The truck comes stocked with Rosé, serving staff and and will feature "Frozé" in 2019.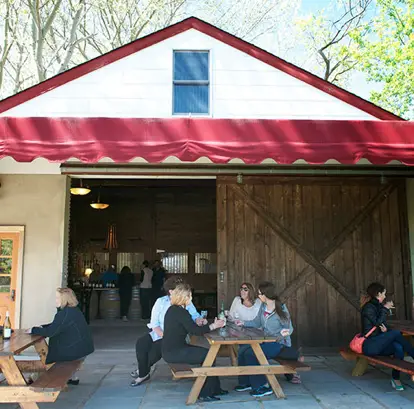 McCall Wines
22600 Main Road, Cutchogue, New York 11935
(631) 734-5764
http://mccallwines.com
The home of McCall Wines is an old potato barn previously used as a horse stable. The concrete buttresses reinforcing the walls are a constant reminder of the North Fork's agricultural past.
Patrons of our Tasting Room have the opportunity to sample and purchase everything they're pouring as well as some very special library wines.
Reservations are available for parties of six or more.
McCall does not permit outside food or drink onsite but cheese plates are available for purchase in our Tasting Room. However, you can visit them on Friday evenings at 5pm during spring and summer for Burger Night. The burgers are made with meat from the cows they raise on the ranch! You are also able to sample some great food from the North Fork Food Truck.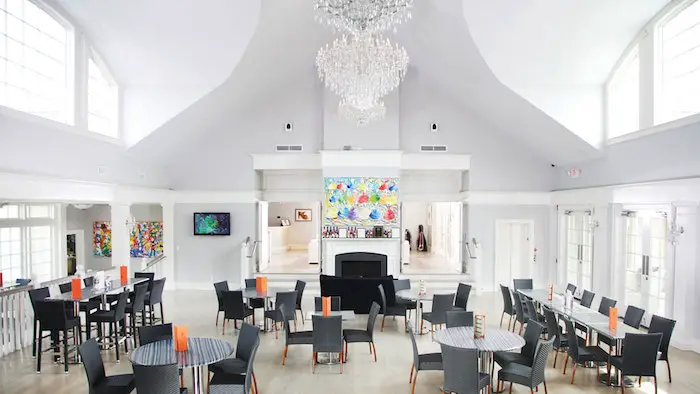 Sparkling Pointe
39750 County Road 48, Southold, NY 11971
(631) 765-0200
http://sparklingpointe.com
Hours: 11am – 5pm Sunday – Friday, 11am – 6pm Saturday
(Check Visit/Closures Tab for Private Event Abbreviated Hours and Full Day Closures)
Reservations required for buses, limos, and groups of 6 or more
Pop the bubbly baby!! Sparkling Pointe produces sparking wines in the traditional Methode Champenoise. The wines are sustainably grown on three vineyard sites comprising 40 acres within the North Fork of Long Island American Viticultural Area.
Sparkling Pointe's state of the art winemaking facility was completed in the Summer of 2010. Dedicated to the exclusive production of Méthode Champenoise Sparkling Wines.
A reserve room holds 1,700 gallons of base wines aged in French oak and stored in stainless steel drums. The winery is the heart of the whole facility and allows visitors views of all steps of production with vistas overlooking the tank room and cellars.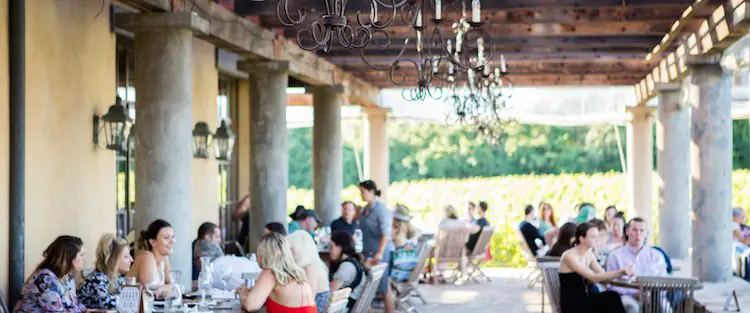 Wölffer Estate Vineyard
139 Sagg Road, Sagaponack, NY 11962
(631) 537-5106
http://wolffer.com
Hours: Open Year-Round, Sunday – Thursday 11am – 6pm and Friday & Saturday 11am – 8pm
Wölffer Estate Vineyard is located in the Hamptons and has become something of it's own brand. From the "standard" almost selling out rose' to two restaurants, a wine stand, stables, and more, this is a great spot to hit.
The estate spans approximately 470 acres including the acclaimed 55 acre sustainably farmed estate vineyard located in Sagaponack, NY, 52 acres on the North Fork of Long Island, 200 acres in Mendoza, Argentina, 2.5 acres in Mallorca, Spain and 160 acres managed in collaboration with North Fork growers.
Guests are warmly welcomed into a rustic-modern space perched on a rise overlooking the lush vineyards and gently rolling Hamptons landscape.
Guests must make a reservation to enjoy a seated tasting to learn about and sample our award-winning wines and a wonderful selection of cheese and charcuterie platters. We are able to accommodate reservations for up to 8 people. 
Complete List of Long Island Vineyards & Wineries
The region supports a number of different and diverse producers. For example, the area is home to some pretty large producers as well as smaller, more "boutique" start-ups. While the area always had a great number of farms, it has recently also become a major hub for artisinal food producers, restaurants, breweries, and more.
Check out the list of Long Island wineries and vineyards below. Each section is listed from westernmost location to easternmost! Some listings are just vineyards and don't have tasting rooms yet.
Check the websites and social to see where you can visit for tours, tastings, live music, special events, and more!
North Fork
Baiting Hollow/Riverhead/Aquebogue/Jamesport/Laurel
Baiting Hollow Farm Vineyard (Baiting Hollow)
Palmer Vineyards (Riverhead)
RGNY, formerly Martha Clara (Riverhead)
Roanoke Vineyards (Riverhead)
Comtesse Therese (Aquebogue)
Clovis Point Vineyard & Winery (Jamesport)
Diliberto Winery (Jamesport)
Jamesport Vineyards (Jamesport)
Jason's Vineyard (Jamesport)
Laurel Lake Vineyards (Laurel)
Mattituck
Bouke Wines (Mattituck)
Bridge Lane Tasting Room (Mattituck)
Gramercy Vineyards (Mattituck)
Harbes Family Farm & Vineyard (Mattituck)
Lieb Family Cellars (Mattituck)
Macari Vineyards and Winery (Mattituck)
Scarola Vineyards (Mattituck)
Sherwood House Vineyards (Mattituck)
Shinn Estate Vineyards (Mattituck)
Cutchogue
Bedell Cellars (Cutchogue)
Bidwell Vineyard (Cutchogue)
Coffee Pot Cellars (Cutchogue)
McCall Wines (Cutchogue)
Pellegrini Vineyards (Cutchogue)
Pugliese Vineyards (Cutchogue)
Reilly Cellars (Cutchogue)
Sannino Vineyard (Cutchogue)
Suhru Wines (Cutchogue)
Waters Crest Winery (Cutchogue)
Peconic
Ackerly Pond Vineyards (Peconic)
Anthony Nappa Wines at The Winemaker Studio (Peconic)
Chronicle Wines at Peconic Cellar Door (Peconic) produces the following:

As If Wines
Brooklyn Oenology
Haywater Cove
Saltbird Cellars
Vinette

Osprey's Dominion Vineyards (Peconic)
Pindar Vineyards (Peconic)
Raphael Vineyard & Winery (Peconic)
Premium Wine Group (Mattituck) * a contract winemaking facility for:

Atsby Vermouth
Baiting Hollow Farms Vineyard
Bouke
Brooklyn Oenology
Brooklyn Winery
Clovis Point Vineyard
Croteaux
Deseo de Michael
Harbes Vineyard
Hounds Tree Vineyard
Influence Wine
Leo Cellars
Lieb Cellars
Onabay Vineyards
Pumphouse Wines
Sherwood House Vineyard
Suhru Wines
T'Jara Vineyard
Southold and Greenport
The Tap Room at Corey Creek Vineyards (Southold)
Croteaux Vineyards (Southold)
Duck Walk Vineyards North Fork (Southold)
Mattebella Vineyards (Southold)
One Woman Wines & Vineyards (Southold)
Sparkling Pointe Vineyard & Winery (Southold)
The Old Field Vineyards (Southold)
Kontokosta Winery (Greenport)
South Fork
Christiano Family Vineyards (Remsenburg)
Duck Walk Hamptons Vineyards (Water Mill)
Channing Daughters (Bridgehampton)
The Grapes of Roth (Sag Harbor)
Wolffer Estate Vineyard (Sagaponack)
Nassau and Suffolk Up Island
WineUDesign (Hicksville) * make your own wine!
Del Vino Vineyards (Northport)
Harmony Vineyards (St. James)
Whisper Vineyards (St. James)
Loughlin Vineyards (Sayville)
Pindar Wine Store and Tasting Room (Port Jefferson)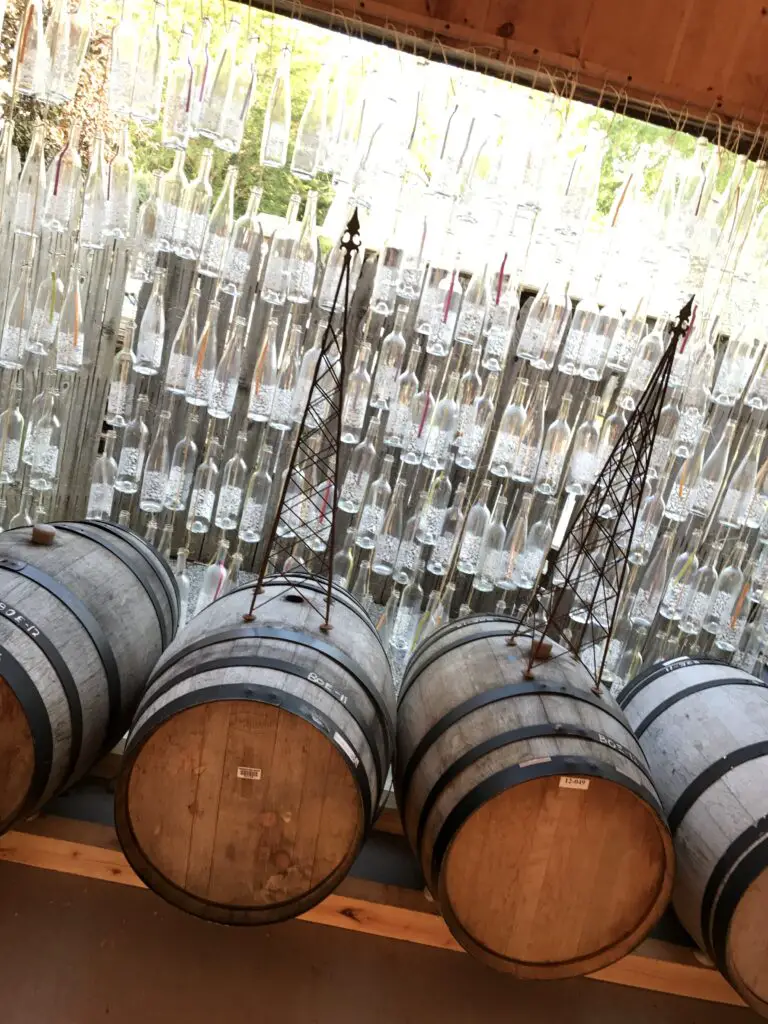 Top Quality Wines and Experiences
Long Island wineries keep getting better. From new tasting rooms to ever improving wines, it is one of America's most diverse wine growing regions.
Long Island vineyards are growing high quality grapes and Long Island wineries are producing exciting, high quality wines. It really is an exciting time to come and see what the Island has to offer!
More Long Island Wine
If you're in the mood for great wine, be sure to check out our Complete List of Long Island Wineries and Long Island Vineyards.
Check out the absolute best Long Island Wine Tours!
If you're not in the mood to go out, how about wine tasting at home with Bedell Cellars?
I know you're getting hungry, so be sure to also check out the best wineries on Long Island for some great food!
While you're in the area, be sure to check out these 9 relaxing things to do in the North Fork!
When you're done with all of this wine drinking and relaxing, how about making it a weekend? Here are 10 great North Fork Long Island hotels to enjoy as well.
More From The Long Island Local
Maybe grab a freshly brewed beer at these Long Island breweries and when you've had your fill of vino!
The bounty of great food on Long Island seems endless! From great steakhouses on Long Island to great Greenport restaurants to Long Island lobster rolls, there's so much to enjoy. And how about all the wonderful restaurants on the water Long Island?! Or maybe check out some Long Island oyster farms!
Be sure to find out about more things to do on Long Island as well as more great spots to eat and drink and wonderful places to stay on Long Island!
Pin This