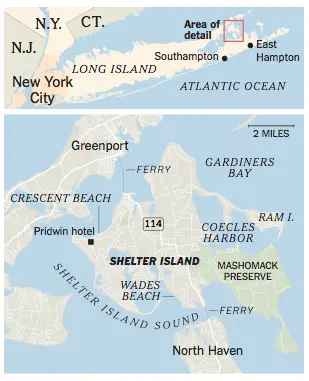 Shelter Island Map
Are you looking for a handy dandy Shelter Island Map? If so…welcome!
Shelter Island is nestled between the North and South Forks of Long Island. It is surrounded on three sides by Shelter Island Sound and on the fourth side by Gardiners Bay.
Shelter Island is around 8,000 acres (32 km2) in size. Vast tracts are protected wetlands, a nature preserve marshland. Nearly one-third of the island is owned by The Nature Conservancy to be preserved in a wild state. The Preserve has four nature and bird-watching trails, varying in length from 1.5 miles (2.4 km) to 11 miles (18 km), as well as a barrier-free Braille trail for the visually impaired.
According to the United States Census Bureau, Shelter Island has a total area of 27.1 square miles (70.2 km2), of which 12.1 square miles (31.4 km2) is land and 15.0 square miles (38.7 km2) (55.20%) is water.
Shelter Island Ferry
Shelter Island is…and island. One of the things that makes it so unique, peaceful, and quaint is that there are no bridges linking to the island. Shelter Island is only accessible by the Shelter Island Ferry. The North Ferry connects to Greenport on the North Fork and the trip takes approximately 8-minutes. The South Ferry connects to North Haven on the South Fork and the trip takes approximately 5 minutes.
On the island, car service is available from Shelter Island Go-Fors. Bikes can be rented from Piccozzi's Bike Shop.
Shelter Island Neighborhoods
Check out this list of different Shelter Island neighborhoods from Wikipedia. This should help you better understand the layout of the island and maybe lean you towards on of of the Shelter Island Hotels over the others.
Dering Harbor
Dering Harbor is located on the north side of the island of Shelter Island, east of the hamlet of Shelter Island Heights. As of the 2010 census, the village population was 11, making it the least populated village in the State of New York.
Harbor View
is on the west side of the island overlooking West Neck Harbor. The neighborhood, made up of homes built since the 1950s, was originally part of a large egg farm called "Cackle Hill." The farm house still anchors the Harbor View community and about 17 acres of woods around the former farm have been preserved as forever wild. Several of the children of the original designers of the community still own homes in the neighborhood.
Shelter Island Heights
Shelter Island Heights is on the north side of the island. The Heights was developed as a Methodist Campground in the late 1800s. A private community, it is governed by the Shelter Island Heights Property Owners Corporation, which owns the roads and the North Ferry Company. The Heights was designated on the National Register of Historic Places as a historic district in 1993. The Victorian architecture includes 141 contributing buildings and one contributing structure. This is where the largest commercial town is located on the island, with quaint shops and restaurants.
Silver Beach
Silver beach is on a peninsula on the southwest side of the island, overlooks breezy Peconic Bay to the west and West Neck Harbor to the east. Residents of Silver Beach Homeowners Association collectively own several large tracts of undeveloped property, including an 18-acre wooded preserve in the center of the peninsula that is maintained as a bird sanctuary and the access point to Shell Beach, which has a large, protected Piping Plover nesting site. Development on Silver Beach began in the post-World War II era, and many of the homes there are small cottages typical of the time, though some have been expanded.
Westmoreland
Westmoreland is on the west side of the island, was built as a private camp retreat. It is home to one of the Island's few remaining equestrian farms and has a private airstrip.The home of the late New York Governor Hugh Carey is on Westmoreland, as is the summer home of comedian Louis C.K.
Nostrand Parkway
Nostrand Parkway runs along the west coast of the island, facing the open waters of Peconic Bay. Several prominent older homes there date to a development in the late 1800s known as West Neck Park. The main road, Nostrand Parkway, takes its name from the developer of West Neck Park.
Shelter Island Hotels
I'm sure all this information on Shelter Island is really making you consider a visit. I get it, I'm the same way. There's just something about the place. If you are getting an itch to visit, check out this handy Guide to Shelter Island Hotels!!
Things To See and Do on the South Fork
There are so many amazing houses things to do on Long Island! I always recommend seeing as much of the South Fork as possible!! 
The Hamptons and Montauk is a world-renowned beach resort destination for good reason! There is just so much to see, do, and enjoy! Here are just a few of them:
Check out this Guide to the Best Beaches in Montauk! Also, check out this Guide to The Hamptons best beaches!!
Check out some luxury homes in The Hamptons!
Maybe you will love it so much, you'll want to check out some Hamptons wedding venues!
Enjoy some of the world-class, amazing art in The Hamptons!
Check Out More Long Island Wine
You're so close to Long Island Wine Country! It's another great part of visiting the island. If you're in the mood for great wine, be sure to check out our Complete List of Long Island Wineries and Long Island Vineyards.
Check out the absolute best Long Island Wine Tours!
If you can't make it to a tour, why not do some wine tasting at home with Bedell Cellars!
I know you're getting hungry, so be sure to also check out the best wineries on Long Island for some great food!
While you're in the area, be sure to check out these 9 relaxing things to do in the North Fork!
When you're done with all of this wine drinking and relaxing, how about making it a weekend? Here are 10 great North Fork Long Island hotels to enjoy as well.
While You're Enjoying the Outdoors
Be sure to find out about more things to do on Long Island as well as more great spots to eat and drink and wonderful places to stay on Long Island!
Check out this guide to Long Island driving ranges, including this feature on the popular Heartland driving range! Go have fun at one of these great Long Island skate parks!
Make It A Weekend
The East End of Long Island is a really special spot. If you think you'd want to check it out and maybe even stay awhile…that wouldn't be such a terrible idea.
If you wanted to consider different options for staying on Long Island, be sure to check out these great places to stay in Montauk, 11 Hamptons hotels, 10 North Fork Long Island hotels, and this Guide to Sag Harbor hotels! Enjoy reading up on and hopefully exploring these wonderful Shelter Island hotels and let me know if you decide to make it a vacation!
More From The Long Island Local
Maybe grab a freshly brewed beer at these Long Island breweries and when you've had your fill of vino! I mean, after a day of searching for the best tacos on Long Island, I think you need a drink, no?
The bounty of great food on Long Island seems endless! From great steakhouses on Long Island to great Shelter Island restaurants to Long Island lobster rolls and Long Island bagels, there's so much to enjoy. Check out this Huge List of Restaurants on the Water Long Island!!! How about 54 of the best tacos on Long Island!
And how about all the wonderful Wölffer Estate Vineyard events and tastings?! Or maybe check out some Long Island oyster farms! How about these guides to Long Island Coffee Shops and Long Island coffee roasters!! Check out these 16 Long Island Boardwalks! Take the ferry over and enjoy these Fire Island restaurants! Let's not forget about the best tacos on Long Island and these great Long Island pizza places either!!
Be sure to find out about more things to do on Long Island as well as more great spots to eat and drink! Maybe take a stroll in one of these amazing Long Island arboretums and gardens! There are even this great Long Island kayaks and paddleboard guide to exploring!