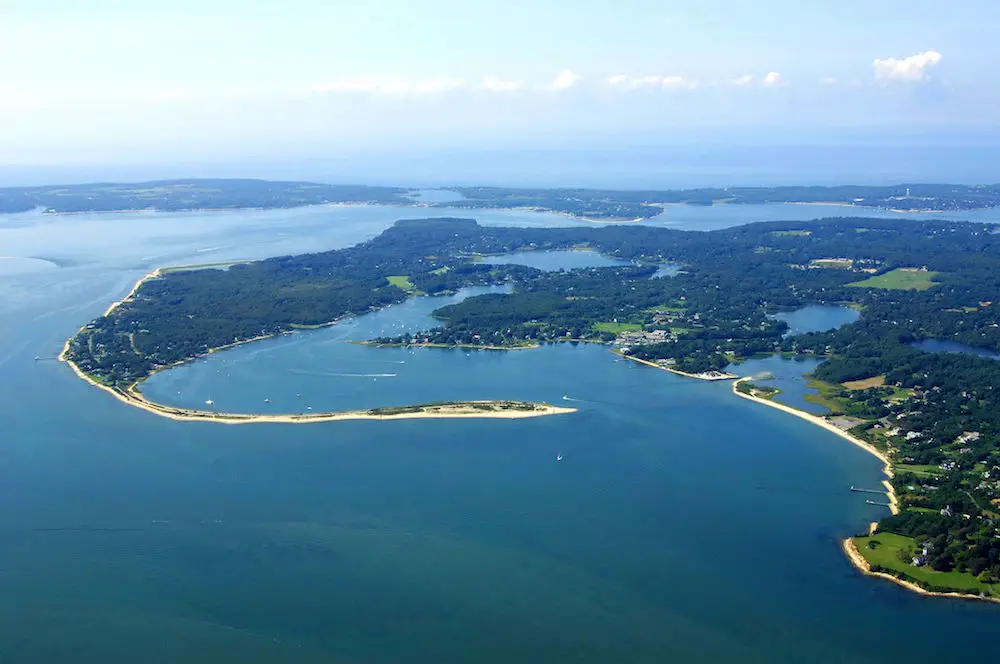 Shelter Island is a small island on Long Island accessible only by a Shelter Island Ferry. This small island is sheltered by the North Fork and the South Fork on the East End. It's become more and more popular over the years, especially in 2020, but the charm of the place never seems to be altered.
While there is a small town with shops, restaurants, and a few nice hotels, that's not what Shelter Island is all about. It's really about something else – a calm, hasteless environment with gorgeous scenery. As you walk those streets, you'll be able to take it a little slower, see your life from a new point of view, and come back to the world refreshed. 
Sounds promising? Then here is what you should know about the transportation that'll get you to this wonderful place. There's only one way…and it's via a short ferry ride from either the North Fork or the South Fork. Here's the Shelter Island ferry info you need.
Getting to Shelter Island
Shelter Island is, literally, an island. And it's an island steeped in history and tradition. There's a way things are done, and the ferry ride to the island is no different. It's a quick, scenic, and very enjoyable ride that automatically gets you into the right mindset.
Yes, taking a ferry to Shelter Island is your only option. You can't drive there as the island doesn't have any bridges that connect it to the mainland. You can take either the North or South Ferry; it depends on your departing point and destination. Both port towns are wonderful and the ride itself is great as well.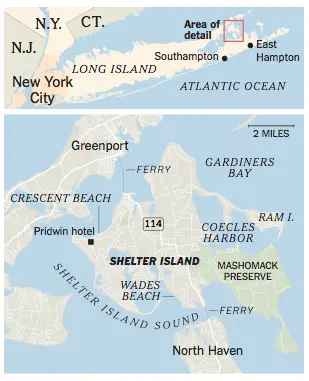 Shelter Island Ferry Schedule
The North Ferry is what you would take if you're in Greenport or somewhere nearby on the North Fork. The South Ferry to Shelter Island leaves from from North Haven/Sag Harbor on the South Fork. These boats are operated independently, so the ticket prices and schedules may be different.
South Ferry Shelter Island
The South Ferry departs from the beautiful village of Sag Harbor, which many people think is the best on the South Fork. Sag harbor is a wonderful area of the Hamptons loaded with great shops and restaurants to explore.
The South Ferry schedule is as follows: 
From North Haven: you can head for the island as early as 5:50 in the morning or as late as 11:50 p.m.
From Shelter Island: the first ferry is at 5:40 a.m, and the last boat departs at 11:45 p.m. 
During the day, you'll only have to wait 10-15 minutes for another ferry to board. 
One-way tickets cost $2, and same-day round trip tickets are $3 for you if you're traveling without a vehicle. 
If you want to take your car with you, you'll have to pay 15 dollars. It's $8 for a motorcycle and $4 for bicycles. You can buy these tickets online and pay with your credit card.
Even though the website requires you to choose a date when you'll take the ferry, it's not set in stone. If you can't make it on the day you picked, you can take the ferry on any other day within a year without additional fees. 
South Shelter Island Ferry also offers multi-day and commuter passes, but you can't buy those online.
135 South Ferry Road, Shelter Island, L.I., NY 11964.
Find out more by calling 631-749-1200 or visit southferry.com.
North Ferry Shelter Island
The North Ferry departs the beautiful village of Greenport, which is the unofficial hub or downtown of the North Fork. Greenport is another great town with a lot of shops and restaurants to enjoy. Also, some really great wineries, breweries, and farms are very close by.
The North Ferry schedule is slightly different on weekdays and weekends. But the change only affects the departure time of the first boat.
From Greenport: the first boat leaves at 5:15 a.m from Monday to Friday. On weekends, it's 5:45 in the morning. The last North ferry to Shelter Island leaves Greenport at midnight. 
From Shelter Island: on weekdays, the first ferry to Greenport is at 5 in the morning. On weekends, it's 5:30 a.m. And if you want to leave the island on the same day, you have to board the last ferry before 11:45 p.m. 
You can't buy or book the tickets for North Ferry online, but you don't have to worry about not getting a spot. You'll have to wait 30 minutes between the first and the second ferries, but for the rest, it won't take longer than 10-20 minutes.
You can pay for tickets with cash and checks, but they don't accept cards.
One-way ticket fares are pretty cheap. If you are traveling without a car or a bicycle, you'll only have to pay $2. For a car with one passenger, you'll pay 12 dollars. It's $4 for boarding with your bicycle and $8 for a motorcycle. 
12 Summerfield Place, PO Box 589, Shelter Island Heights, L.I., NY 11965
Find out more by calling 631-749-0139 or visit northferry.com.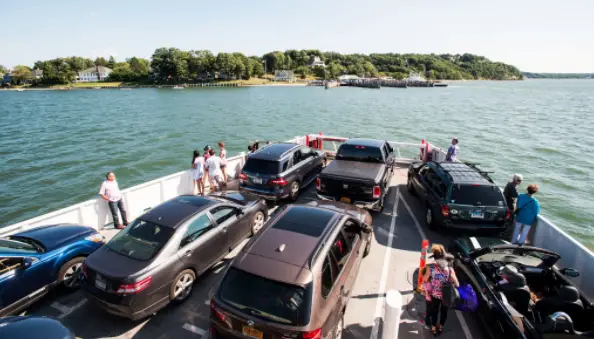 Travel During COVID-19
Although the pandemic of 2020 affected many lives and businesses, the North and South ferries keep providing their services without hesitation. 
But there are a few things they require from you. To board the ferries, you have to wear a mask. 
The South Ferry company also encourages you to keep holding your ticket when the staff is checking it. It'll reduce the risk of infection for you and the staff as nobody except you will touch it. 
COVID-19 and its consequences might have been very tough on you, so it's another reason to change the scenery. Shelter Island is a beautiful place with a relaxed vibe, and it'll help you distance yourself from your daily worries, even it's just for one day. 
And the best thing is, the whole ferry ride won't take more than ten minutes. 
Enjoy the ride and enjoy Shelter Island. It's a great escape and a trip back to the way things were. Remember, leave your worries and your hustle behind…you're moving onto island time.
Shelter Island Hotels
I'm sure all this information on Shelter Island is really making you consider a visit. I get it, I'm the same way. There's just something about the place. If you are getting an itch to visit, check out this handy Guide to Shelter Island Hotels!!
Check Out Some Long Island Wine
While you're on Shelter Island, you're so close to Long Island Wine Country! It's another great part of visiting the island. If you're in the mood for great wine, be sure to check out our Complete List of Long Island Wineries and Long Island Vineyards.
Check out the absolute best Long Island Wine Tours!
If you can't make it to a tour, why not do some wine tasting at home with Bedell Cellars!
I know you're getting hungry, so be sure to also check out the best wineries on Long Island for some great food!
While you're in the area, be sure to check out these 9 relaxing things to do in the North Fork!
When you're done with all of this wine drinking and relaxing, how about making it a weekend? Here are 10 great North Fork Long Island hotels to enjoy as well.
More From The Long Island Local
Maybe grab a freshly brewed beer at these Long Island breweries and when you've had your fill of vino!
The bounty of great food on Long Island seems endless! From great steakhouses on Long Island to great Greenport restaurants to Long Island lobster rolls, there's so much to enjoy. And how about all the wonderful restaurants on the water Long Island?! Or maybe check out some Long Island oyster farms!
Be sure to find out about more things to do on Long Island as well as more great spots to eat and drink and wonderful places to stay off of Shelter Island!