Did you know that Long Island vodka is actually made from crops grown on the Island? It's also fermented, distilled and aged on the North Fork as well! Yes! You don't have to travel far to get some of the best spirits anywhere in the world.
Long Island is known for a lot of things: Fire Island and the Hamptons. Egg sandwiches and "caw-fee." Bagels, pizza, and miles of beaches. How about Long Island vodka, too!
Tourists and locals alike have long known about the wineries of Long Island. They are beautiful and fragrant and a heck of a lot closer than the vineyards of France or even California. The North Fork boasts over 70 wineries thanks to a temperate climate similar to the Bordeaux region in France.
There are also a number of great breweries, cideries, and distilleries as well! One of the most popular distilleries in the area is Long Island Spirits.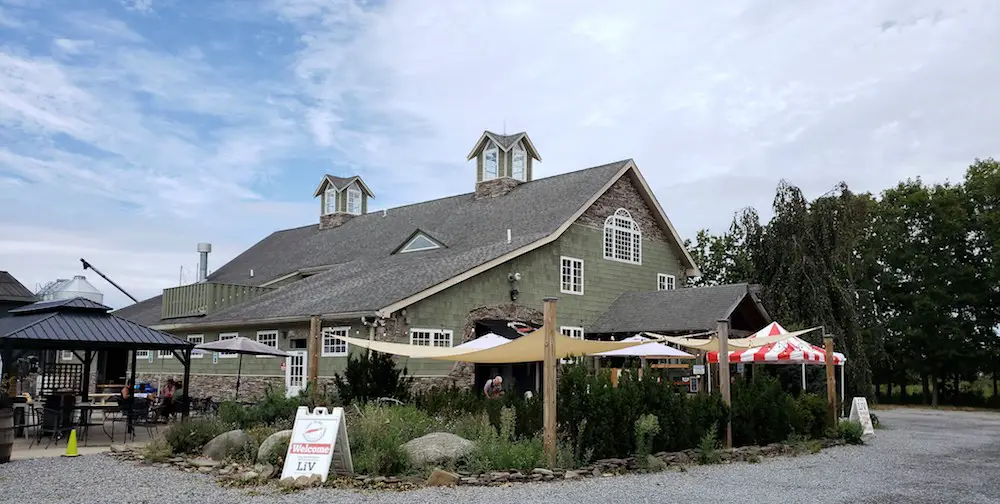 What is Long Island Spirits?
In 2007, Long Island Spirits became the 100th Licensed Distillery in the USA. Since then, the company Long Island Sprits has been making craft vodka and other spirits at their headquarters in Baiting Hollow, New York. It is the first craft distillery on Long Island since the 1800's.
Long Island Spirits is located on the North Fork of Long Island, flanked by dozens of centuries old corn, rye and potato farms. They have brought back the proud tradition of vodka-distilling to produce Long Island vodka, or LiV. They use innovative blending, distilling and fermenting processes they have pioneered. All of their products are made in a sustainable distillery and are non-chill filtered.
The company produces LiV Vodka, Rough Rider Bourbon & Rye, Pine Barrens American Single Malt, Deepwells Gin and Sorbettas. There is even a line of canned spirits as well. The Distilleries Patio Shoppe will also continue to sell their LiV FDA Approved 80% ABV Hand Sanitizer for the rest of 2020. 

What is the process of making Long Island vodka?
When the potatoes are harvested in the fall, farmers typically cleanse the field by planting winter rye. This crop is unique because of its deep roots and how it helps to preserve the open spaces Long Island is known for. Once the crops are harvested and the fermenting process has started, Long Island Spirits uses a variety of innovative techniques. While it may be more costly and add time to the fermentation, the results reveal unique flavors that make these spirits delicious.
Long Island Spirits uses custom-made copper pot stills for the distillation process once the fermenting is done. They bring them to the right proof with water taken directly from the Pine Barrens ecosystem adjacent to their property. Each spirit then goes on its own journey to become a single malt whiskey, a seasonal liqueur, an 80 proof Long Island vodka or any of the varieties Long Island Spirits produces. 
Why is Long Island such a good region of making wine and spirits?
There is a reason why you can find 40 wineries and 3,000 acres of planted vineyards on the North Fork: climate. This peninsula of Suffolk County's East End is benefits from moderating influence of three bodies of water. These are the Long Island Sound, Peconic Bay and the Atlantic Ocean. These water sources help to even out fluctuations in temperature found elsewhere in New York.
The growing season for grapes, rye and potato can last up to a month longer than other places in the state. The area, which includes both Nassau and Suffolk counties, is called the Long Island AVA (American Viticultural Area). The most planted varieties of grapes in this area include Cabernet Franc, Chardonnay and Merlot. 
It is not a new phenomenon that the east end of Long Island provides the region with significant crops. There has been a strong agricultural community here for hundreds of years, starting with the Native American tribes that inhabited the area prior to the arrival of Europeans. As recently as the 1940's, there were over 200,000 acres of potatoes grown in the area to feed the exploding population of New York City. Now, there are still over 5,000 acres of farmland, with potato, corn, barley, and rye crops being the most popular. The loamy soil and moderate climate continues to provide the area, and the country, with the perfect ingredients for smooth Long Island vodka, gin, brandy and other spirits. 
What's in a Long Island Iced Tea?
Throughout the country though you most often hear Long Island called out to a bartender at closing time on a Saturday night or at halftime of a game when your team is killing it. The Long Island Iced Tea is said to have been created on Long Island. 
The drink is created by mixing equal parts of five liquors (triple sec, gin, tequila, rum, and vodka) with just a splash of cola. The cola gives it the amber coloring that makes it look like the porch-sipping version made of traditional sweet tea. It's often finished with a straw and a lemon to complete the look. Using Long Island vodka, or LiV, is the perfect ingredient to make this drink officially a Long Island cocktail.
Long Island vodka is made by Long Islanders, with ingredients cultivated on Long Island. Support your local economy in general and Long Island farmers in particular! Consider including some Long Island Spirits in the next round you order.
2182 Sound Avenue, Calverton, NY 11933
Find out more by calling 631-630-9322 or visit lispirits.com.