What could be better during stay-at-home quarantine than beer delivery? Some of the best breweries on Long Island are now offering home delivery so you can get that Long Island craft beer you need. This is some of the best news I've heard all month long and I am all about taking them up on this offer.
Beer Delivery
While it really is fantastically easy to get some fantastic Long Island craft beer right now, there are some basic rules you need know. In order for you to accept beer delivery, you have to have someone who is 21 and over accepting the delivery. They must have also be ready to present their ID at that time of the beer delivery.
Also, be sure to always check the websites and Instagram accounts for availability.

Long Island Craft Beer
Nassau County
Garvies Point Brewery
Garvies Point in Glen Cove is offering very local same-day delivery options to the following zip codes: 11542, 11579, 11560, 11576, 11577, and 11545. Minimum order is $50 for beer delivery. 64-ounce growler fills are $20 (whereas 32-ounce crowlers are $15, and cans are $16 to $20 per four pack). Local pick-up is available.
You can order online or by phone, Monday – Saturday between 1 p.m. – 7 p.m. and Sunday between 1 p.m. and 5 p.m. Orders will typically be delivered after 5 p.m. with orders received after 5 p.m. being delivered the following day.
Find out more by calling 516-277-2787 or visiting garviespointbrewing.com
Lithology Brewing Co.
Lithology in Farmingdale will deliver within a five-mile radius in early evening, Wednesday to Saturday, after the tasting room closes. You can order online for 32-ounce crowlers  ($13 to $15), mix-and-match four-packs or DIY IPA Pizza Kits, with IPA-infused pizza dough, which include a four-pack of Loyal to the Soil IPA. 
Find out more by calling 516-962-0585 or visiting lithologybrewing.com.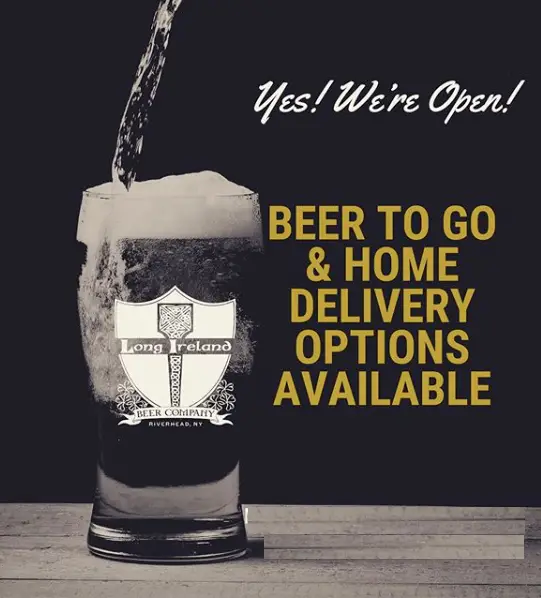 Suffolk County
Destination Unknown Beer Co. (DUBCO)
DUBCO in Bay Shore is taking orders via Instagram, their website and email. Deliveries are regularly scheduled for Suffolk and most of Nassau. The beer options are listed on beermenus.com.
There is a $30 minimum for delivery and $13 for to-go crowler cans. Payments can be made via Venmo, PayPal and Zelle.  
Find out more by calling 516-343-7898 or visiting destinationunknownbeercompany.com.
Harbor Head Brewing Co.
Harbor Head in Northport: will deliver growlers, crawlers, and cans locally multiple times per week. Growlers are priced at $20 to $24. 
Find out more by calling 631-815-5588 or visiting harborheadbrew.com.
Long Ireland Beer Co.
Long Ireland in Riverhead: offers same day delivery from Nicolls Road to the west to Riverhead in the east, Miller Place down to Shirley. The beers available are listed on their website and can be purchased as four-packs, growlers, and slim kegs (about five gallons of beer). Minimum order is $50. 
Find out more by calling 631-403-4303 or visiting longirelandbeer.com.
Sand City Brewing Co.
Sand City in Northport offers limited delivery options to the Northport area. The tasting room is open for can and $18 growler pick-up. Check for delivery schedule and beers available. schedule. A $50 minimum is required, with a $5 delivery charge. 
Find out more by calling 631-651-2767 or visiting sandcitybeer.com.
Saint James Brewery 
Saint James brewery in St. James are offering bottles and growlers to go, as well as home delivery in St. James only.
Find out more by calling 631-250-9545 or visiting saintjamesbrewery.com. 
Secatogue Brewing Co. 
Secatogue in West Islip is offering local delivery Friday to Sunday. Orders are taken online or via text at 631-228-8914. Also visit secatoguebrewing.com for more information.
Spider Bite Beer Co.
Spider Bite in Holbrook is offering crowler cans (starting at $11) and four-packs for deliveries on Wednesday to Mondays in Suffolk County. Beers offering is listed on the website, where you place your order. Text them at 631-942-3255 to tell them you want delivery. $30 minimum. You can also check out spiderbitebeer.com.
Pin This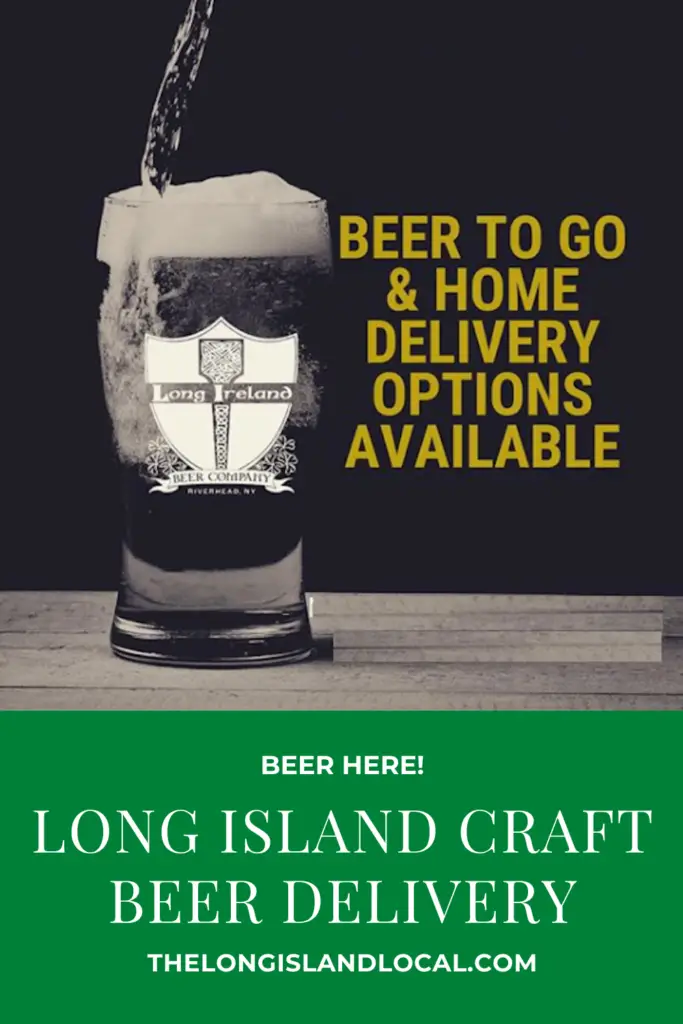 Long Island Restaurant and Farm Delivery and Pick-Up Options
I've also created lists for restaurants offering delivery in Nassau County, Western Suffolk County, The North Fork, and the Hamptons/South Fork! also, Long Island farms offering delivery and pick-up, too! Take advantage of all of it!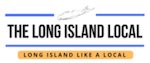 Get More Long Island Local
If you like this and want to get more Long Island Local information, be sure to Find, Like, Follow, and Chat with us on social media!