Are you searching for the best steakhouses on Long Island? There are a number of contenders that could be considered. Depending on your own personal taste, many people think they know the best steakhouse on Long Island! At times, it could be a pretty lively debate, with each side extolling the virtues of the creamed spinach or the feel of the bar.
No matter what type of steakhouse you prefer, say more traditional or more modern, it's difficult to argue that Long Islanders love this type of dining experience. May of these premiere steakhouses also offer fresh seafood and sushi in addition to all the steakhouse classics you love. I know I do, as it's one of my favorite ways to dine out, in spite of the generally high price tag. Many steakhouses also do a great job of supporting many of the great breweries, cideries, and distilleries on Long Island, which I am all about!
While there will be disagreements on which of the following is the best steakhouse on Long Island, I think most would agree that this list is pretty representative of the best steakhouses on Long Island overall.
Also, please check out my expanded coverage of Insignia Steakhouse, Blackstone Steakhouse, and Prime Steakhouse Long Island!!!
Best Steakhouses on Long Island
Nassau County
Bryant & Cooper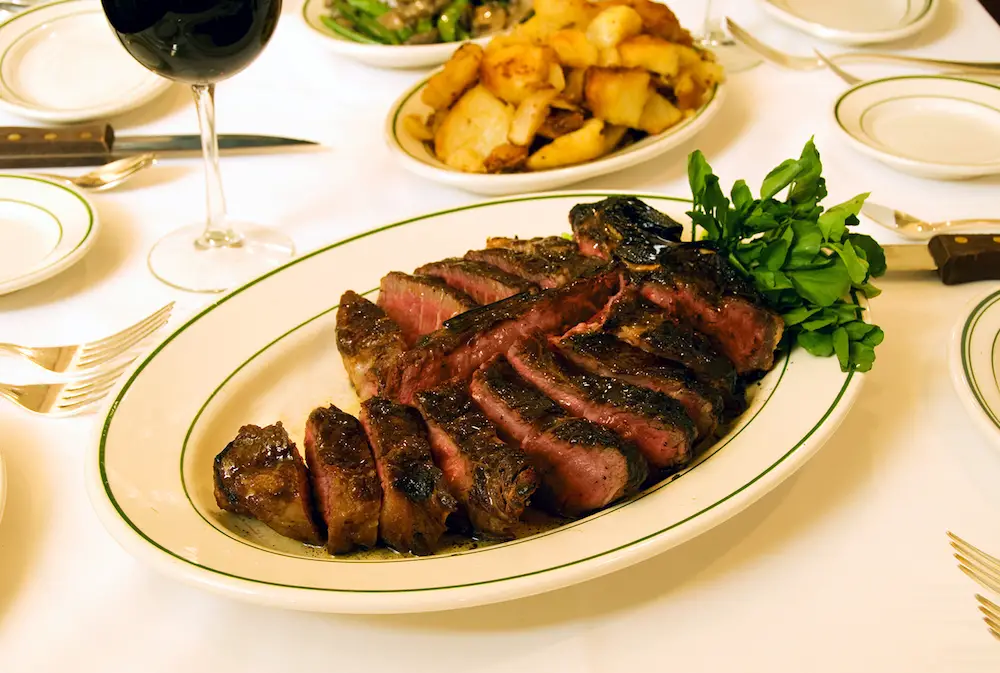 Part of the Poll Restaurant Group since 1986, this is an All-American, classic steakhouse. Old school, clubby setting, down to the professional staff, the dark wood, and the chalkboard specials. The bar area is always a great spot, even to have your meal.
Great grilled fish and seasonal seafood offerings are good, as are shellfish options and even linguine with white clam sauce. The porterhouse for two, three, or four is the premier cut of steak, as it is with most of the best steakhouses on Long Island. Don't forget about the sirloin, rib steak, and filet mignon, either. If you're not into steaks or seafood, be sure to check out the chicken parmigiana, veal piccata, or broiled lobster.
The expected and loved steakhouse sides are done very well, as the cottage fried potatoes, the baked potato, and the mashed potatoes are all good. Creamed spinach is also very good.
There is also a great on-site butcher shop as well as an online shop to help you get your prime, aged-beef fix.
2 Middle Neck Rd., Roslyn, L.I., NY 11576
Find out more by calling 516-627-7270 or visit pollrestaurants.com.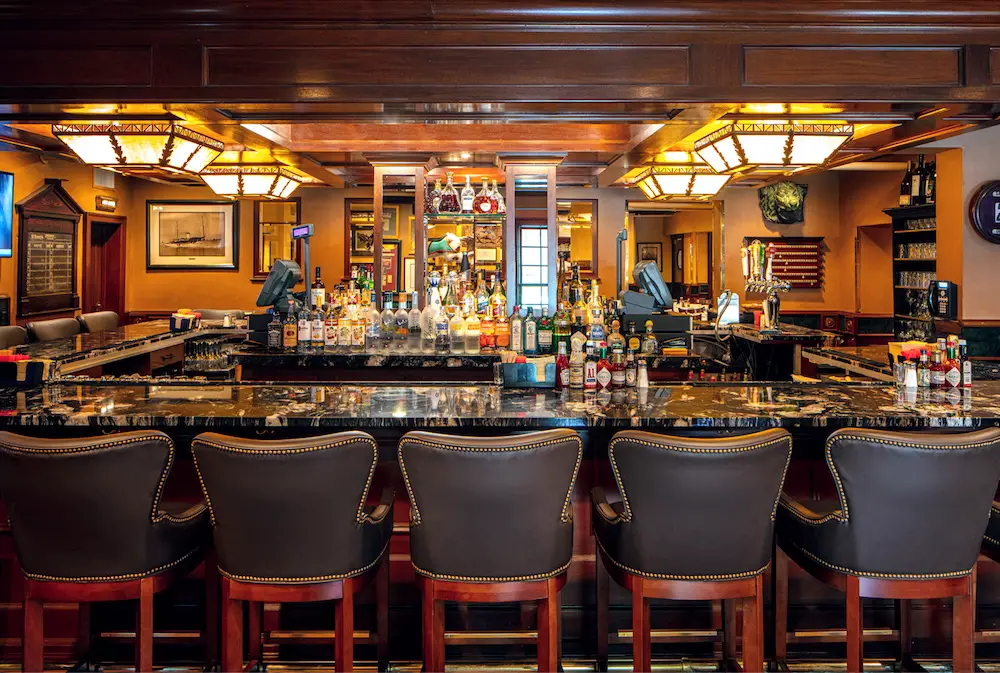 The Capital Grille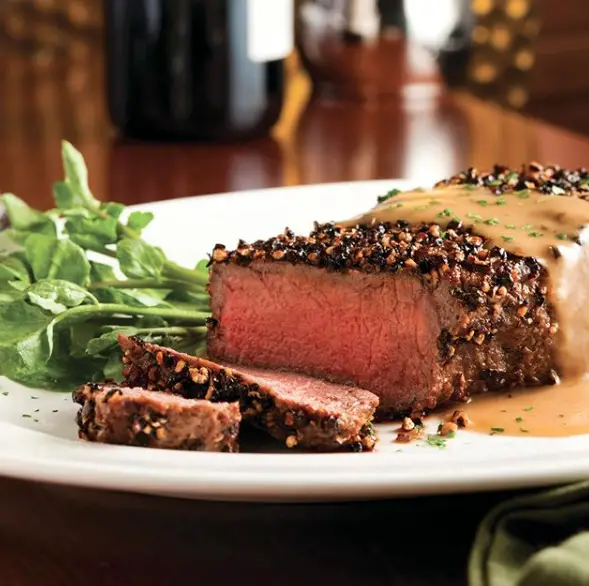 This is one of two chains that made the cut (yep, meant to do that) as one of the best steakhouses on Long Island. Roosevelt Field's always improving "restaurant row" is the spot for this high-quality spot.
The porterhouse is great, so is the steak au poivre. The bone-in, Kona coffee-rubbed, dry-aged New York strip with shallot butter is a standout, with the coffee really adding a complexity in flavor that really works.
The seafood, including the broiled lobster, oysters, and shrimp cocktail, is dependably good. Sides are well done as well, especially the soy-glazed Brussels Sprouts with bacon, the parmesan truffle fries, and the au gratin potatoes.
630 Old Country Rd., Roosevelt Field Mall, Garden City, L.I., NY 11530
Find out more by calling 516-746-1675 or visit thecapitalgrille.com.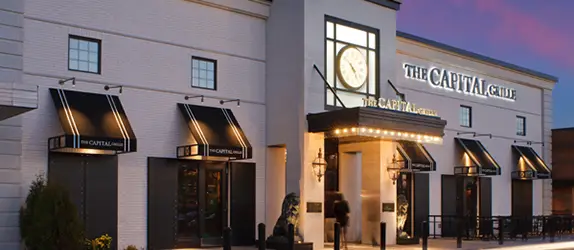 Opus Steakhouse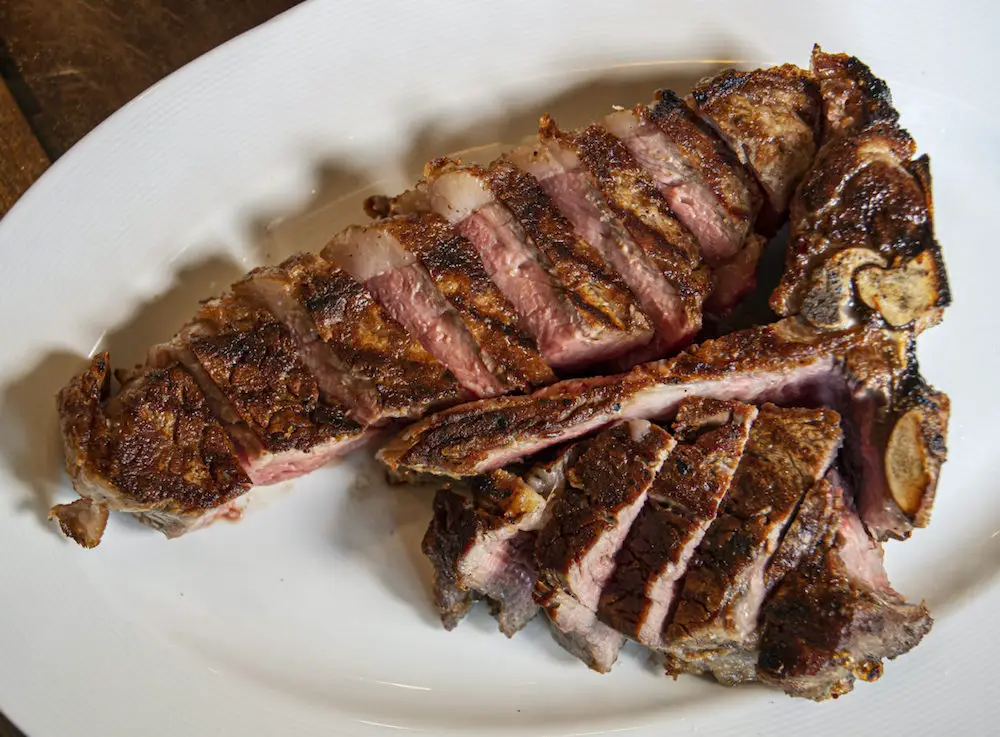 The latest culinary creation of Anthony Scotto, Opus Steakhouse joins sister restaurants – Insignia Prime Steak & Sushi, Blackstone Steakhouse, RARE650 Prime Steak & Sushi & One10 – as one of Long Island's preeminent dining experiences and event venues.
Located in Jericho, Opus Steakhouse is a refreshing departure from the "typical", featuring dramatic dining spaces with gracefully curved walls, soaring architectural ceilings, and an endless panorama of glass providing gorgeous views to lushly landscaped grounds and plush outdoor terraces.
Bask in the warmth of our spectacular floor-to-ceiling Carrara marble fireplace. Or, cozy up to our 40-foot oval quartz bar for a signature cocktail that always invites good conversation and great times.
4 Old Jericho Tpke, Jericho, L.I., NY 11753
Find out more by calling 516-605-1400 or visit opussteakhouse.com.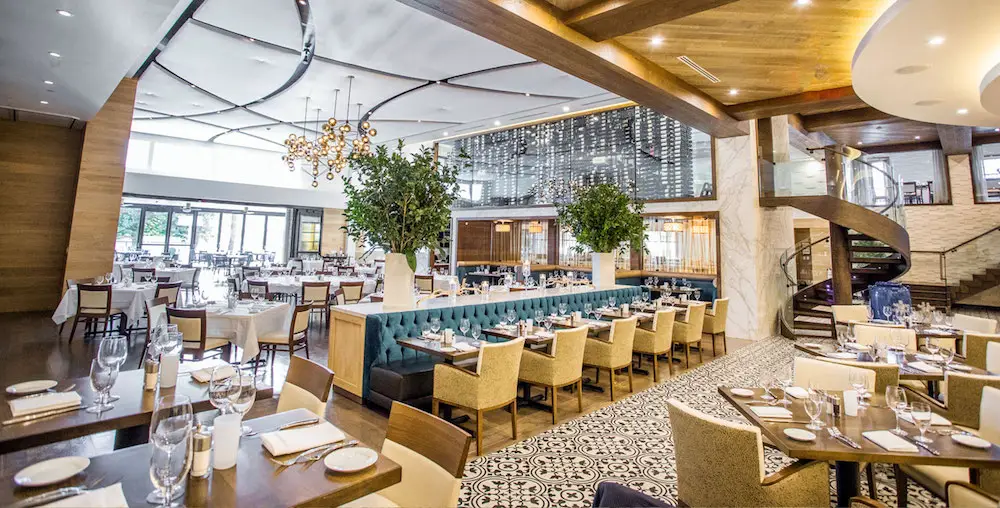 Peter Luger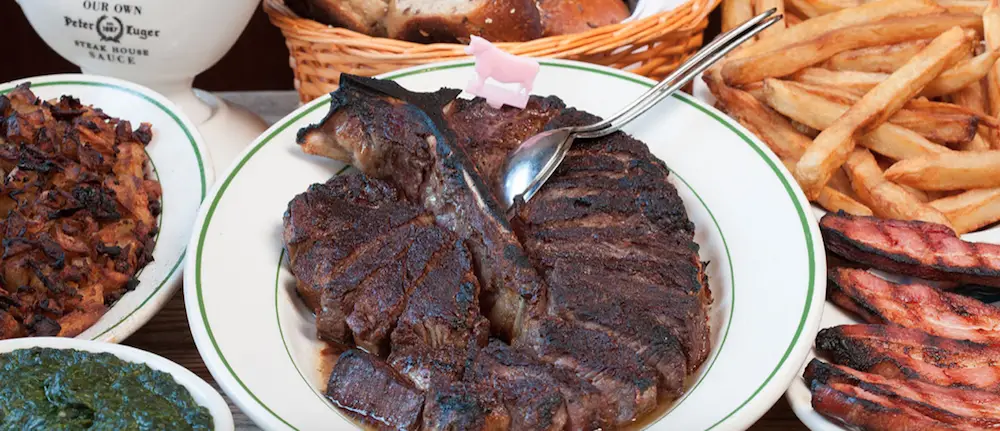 What can you say about Peter Luger that hasn't already been said 100s of times? The Great Neck location of the 1887 Brooklyn beef institution has been going strong since 1960.
The space is similar to the original, but perhaps not quite as bare. The Luger steaks are literally known the world over for its quality, flavor, and preparation. The porterhouse for two, three, or four is where it's at and the table side presentation of slicing, spreading, and tilting the steak to marinate in its own juices is worth the trip. The lamb chop is actually quite good as well. Pro-tip, a wonderful, basic burger is sold for relatively cheap only during lunch.
Start with the classic wedge salad, the thick slab of ham-like bacon, and the surpassingly good tomatoes and onion with that famous Luger steak sauce. On the side, you simply have to get the crispy German-fried potatoes and creamed spinach. For dessert, get anything with the ultra-rich homemade Schlag or the hot fudge sundae.
Pay only with cash or the Luger credit card. You can do things like that when you are a legend.
255 Northern Blvd., Great Neck, L.I., NY 11021
Find out my by calling 516-487-8800 or visit peterluger.com.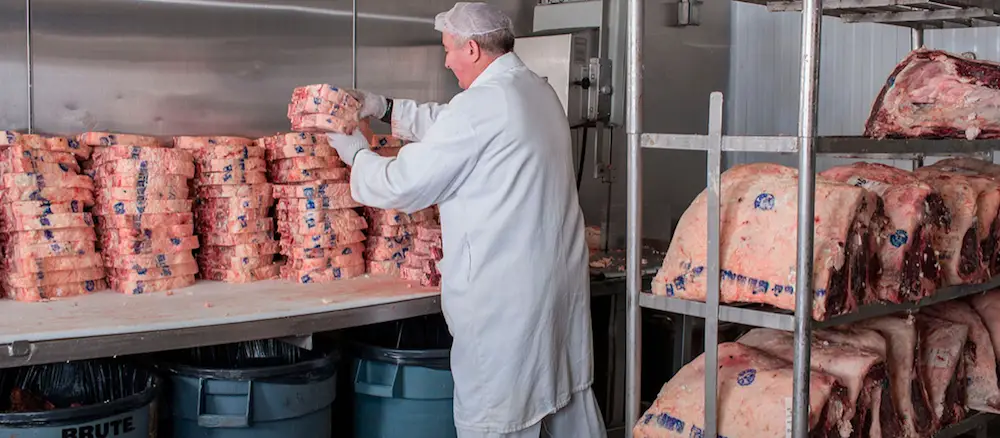 Prime: An American Kitchen & Bar
Huntington's Prime: An American Kitchen & Bar is perfection on the harbor front! This gorgeous restaurant with a stunning water view, attentive service, magnificent decor, indoor and outdoor dining areas, serves equally delicious food and drink. They are just as much substance as there are style.
You can choose to sit inside in a cozy wood lounge with a fireplace or an intimate Vine Room. You can also choose to enjoy the fantastic outdoor seating that includes the unforgettable view of Huntington Harbor from the restaurant's Wave Bar, Fantail, or a covered porch.
To find out even more about Prime: An American Kitchen & Bar, please check out my article on this Prime steakhouse Long Island experience!
117 North New York Avenue, Huntington, L.I., NY 11743
Make a reservation by visiting huntington.restaurantprime.com or calling 631-385-1515.
Primehouse Steak & Sushi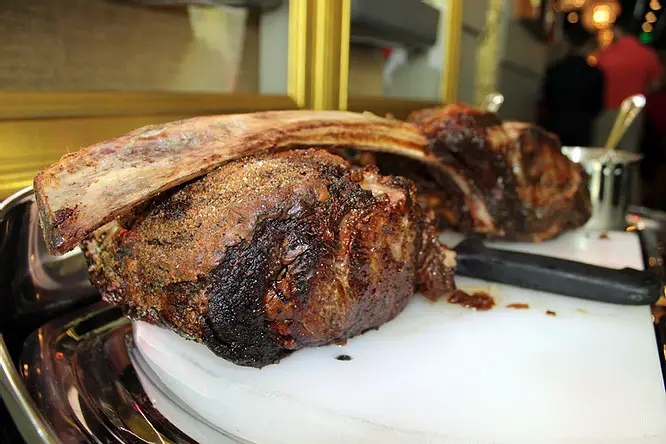 A new and somewhat glitzier addition to the race for best steakhouse on Long Island. This spot comes from the group that brought you Chadwicks American Chop House and Salsa Mexicana Kitchen & Cocktails in Rockville Centre.
The menu features prime and aged steaks, top-quality seafood, raw bar and amazing sushi.  Creative New American entrees, salads, and homemade desserts round out an impressive menu that's sure to please any palate.
The restaurant features a delicious prime rib cart and an amazing 40-foot bar. Enjoy daily dinner specials, weekday Happy Hour, and weekend brunch. Primehouse also sports private dining and custom catering in their lower-level Reserve Room as well as heated outdoor seating both in front and in back of the restaurant.
910 Franklin Avenue, Garden City, L.I., NY 11530
Find out more by calling 516-416-4264 or visit primehousegardencity.com.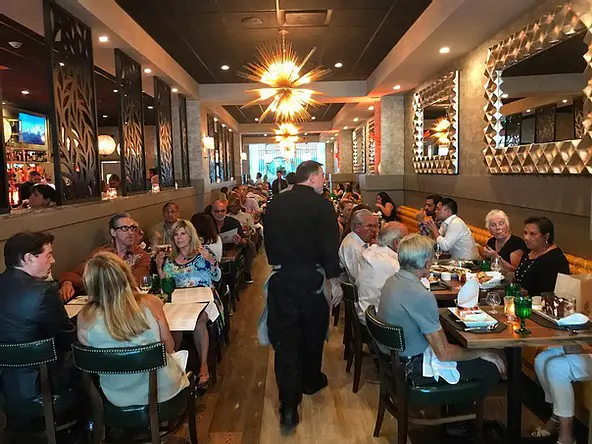 RARE650 Prime Steak & Sushi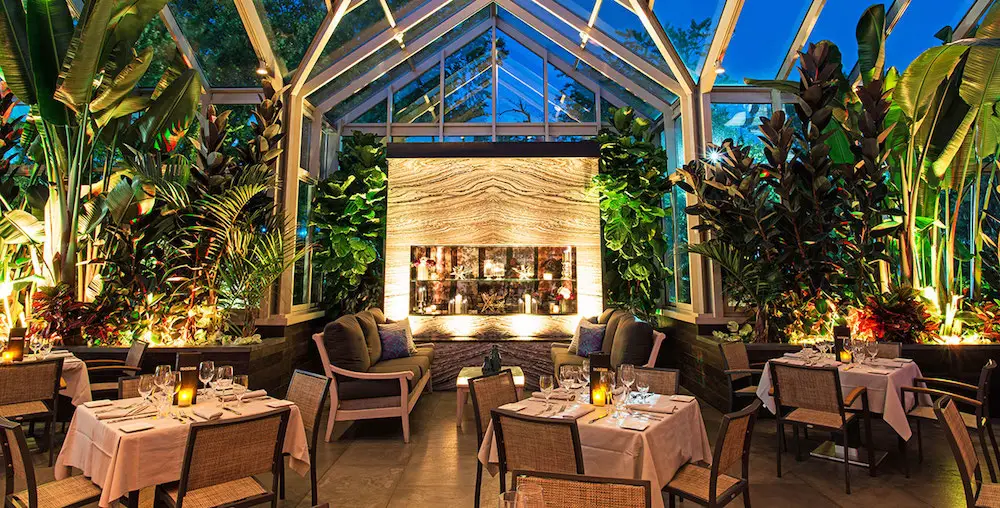 Another modern sushi and steak-focused Anthony Scotto restaurant, this steakhouse may be the best steakhouse on Long Island for the nightlife vibe, modern and bright design, and scene.
The sushi, sashimi, and shellfish cocktails are very well done and presented. The starters are very good as well, including braised wagyu short rib, and a Japanese-seasoned mini-wagyu burger flight. For the main event, it's still all about the porterhouse for two or four. The filet mignon, sirloin, rib-eye, and T-bone are also excellent. Lobsters in lieu of steak, along with sides of mashed potatoes and creamed spinach are perfect compliments.
650 Jericho Tpke., Syosset, L.I., NY 11791
Find out more by calling 516-496-8000 or visit rare650.com.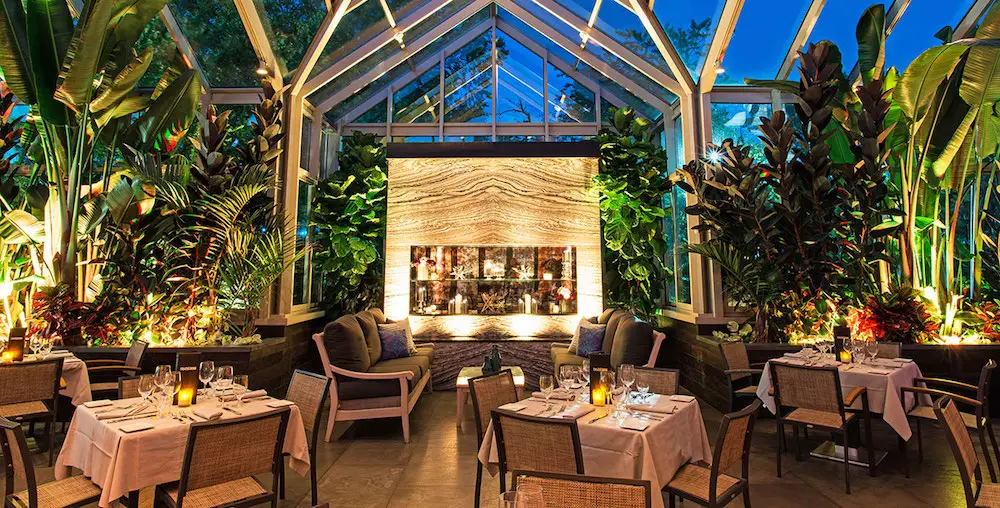 Red Salt Room by David Burke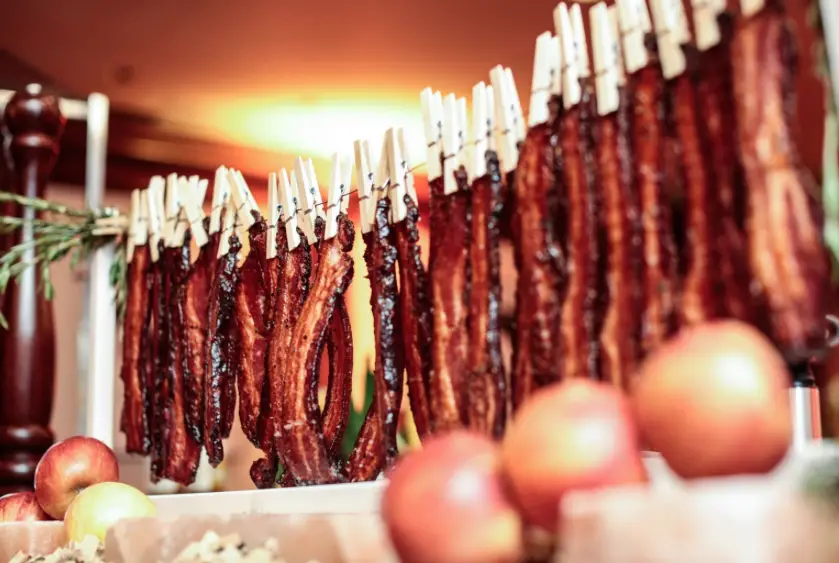 While this isn't a true "steakhouse" per se, this is a great spot that delivers a prime, dry-aged steakhouse roster of deliciousness…along with the chef's delicious candied bacon hanging on a clothesline.
Located in the nicely renovated Garden City Hotel, legendary chef David Burke's signature whimsical approach and seasonally driven menus are destined to make Red Salt Room the most sought-after restaurant reservation on Long Island. Red Salt Room hums with style, sophistication, and creativity.
Don't miss the stunning floor-to-ceiling backlit sea salt brick wall, a decorative nod to Burke's patented Himalayan sea salt dry-aging technique. The porterhouse for 2, 20 oz. bone-in ribeye, sirloin, and 12 oz. filet are all excellent. The seafood is great, including a 2 lb Maine lobster and broiled branzino, along with mains like honey-glazed braised short rib and wagyu flatiron steak frites. Sides are all there, including crispy Brussels sprouts and a lobster baked potato.
45 Seventh Street in the Garden City Hotel, Garden City, L.I., NY 11530
Find out more by calling 877-549-0400 or visit gardencityhotel.com/dining/red-salt-room.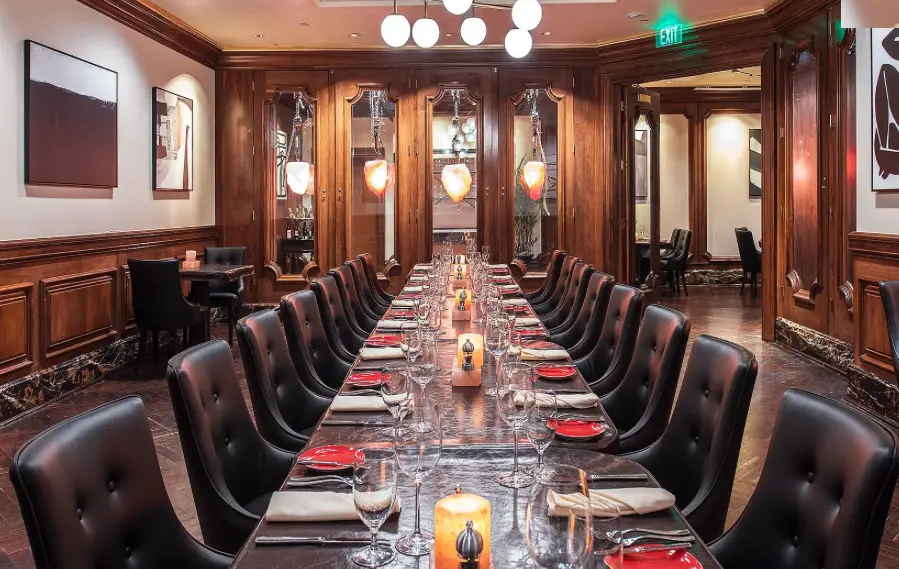 Rothmann's Steakhouse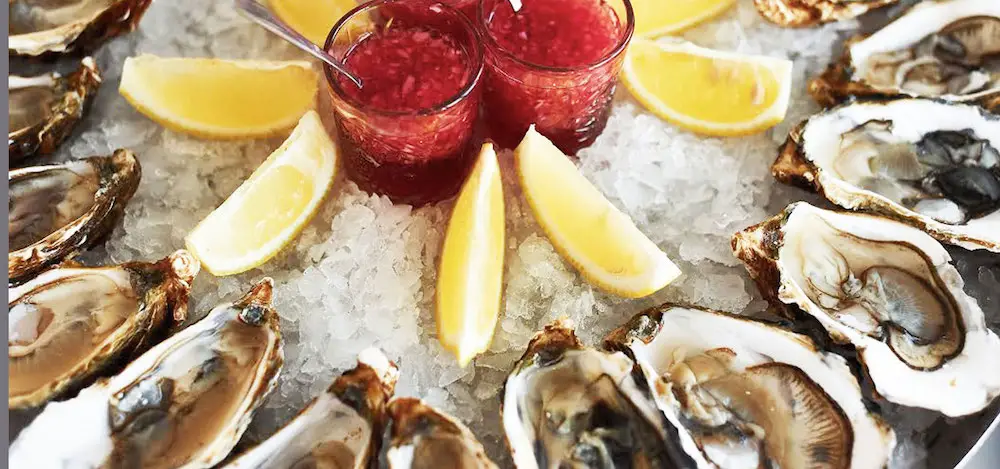 Rothmann's has been around since 1907 but hasn't lost a step! I mean, this place served former President Theodore Roosevelt and was Burt Bacharach's eatery at the East Norwich Inn during the 1970s. The history is palpable, but the space has aged gracefully. It's a classic steakhouse in all the best ways with classic dishes mixed with very well-done modern dishes as well.
The kung pao calamari is some of the best calamari I've had, and the yellowtail jalapeno is spot on and fresh. The special sushi rolls are great, so are the sushi and sashimi. The raw oysters were top-notch.
The porterhouse for two, three, or four are excellent as is the tomahawk rib-eye, bone-in filet mignon, bone-in strip steak, and Kobe strip steak. The Berkshire pork tomahawk chop is awesome for pork lovers like me. Sides like creamed spinach and hash browns are great.
As most of these steakhouses offer a great wine list with knowledgeable sommeliers to guide you, I particularly liked how this spot is all about the beer, too. Their "beer guy" (who also knows wine and spirits quite well) was well versed and passionate, and the place offered very good options as well as hard-to-find and "top 10" level beers. It was a great surprise for a craft beer lover like me.
6319 Northern Blvd., East Norwich, L.I., NY 11732
Find out more by calling 516-922-2500 or visit rothmannssteakhouse.com.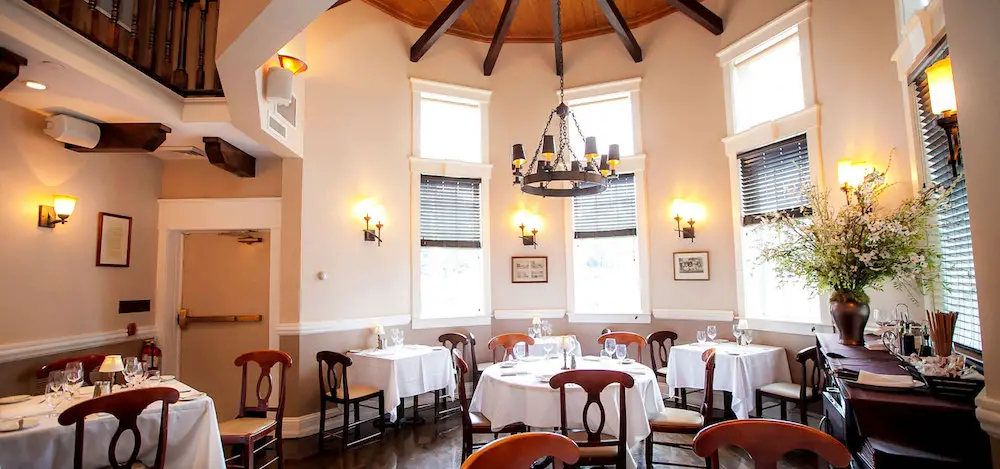 Ruth's Chris Steak House
Ruth's Chris is famous for its sizzling hot, 500-degree plate that comes to your table, bubbling with butter. This is a national chain that really makes the, uh, cut here on Long Island.
Pretty much all of the steaks you crave deliver. Enjoy the porterhouse, 40-ounce tomahawk rib-eye for two, the bone-in filet mignon, and New York strip steaks. For something a bit more modest, check out The T-bone for one and the "petite" filet mignon. The classic is great and done well. Giant onion rings never hurt. Get the mashed potatoes and creamed spinach with the cheesecake for dessert.
600 Old Country Rd. (next to Roosevelt Field Mall), Garden City, L.I., NY 11530
Find out more by calling 516-222-0220 or visit ruthschris.com.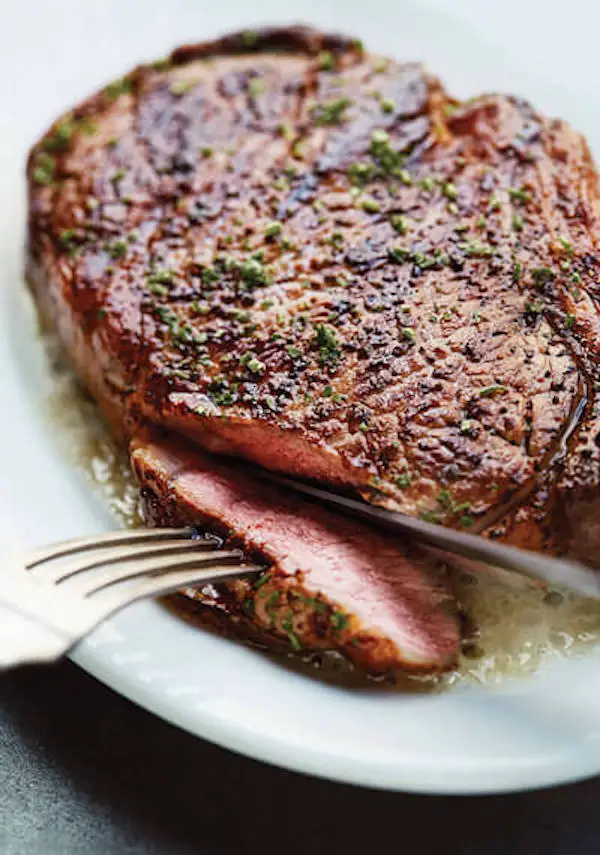 Suffolk County

Blackstone Steakhouse
When Blackstone came on the scene, it immediately made an impression and took its place towards the head of the class. Blackstone is one of three Anthony Scotto restaurants on the Top 10 list of steakhouses and it gives that feel if you've had the pleasure of eating at any of them.
As good as the sushi, the lobster and the Japanese pork chops are, it's still all about the 45-day prime dry-aged steaks for me. The porterhouse for two or four is wonderful as is the bone-in rib-eye, sirloin, and filet mignon. Mashed potatoes and creamed spinach on the side are great. White mushrooms in brandy and sauteed baby boy chow are unique. Banana cream pie and key lime pie are great desserts.
Check out the full review article on Blackstone Steakhouse here!!!
10 Pinelawn Rd., Melville, L.I., NY 11735
Find out more by calling 631-271-7780 or visit blackstonesteakhouse.com.

Insignia Prime Steak & Sushi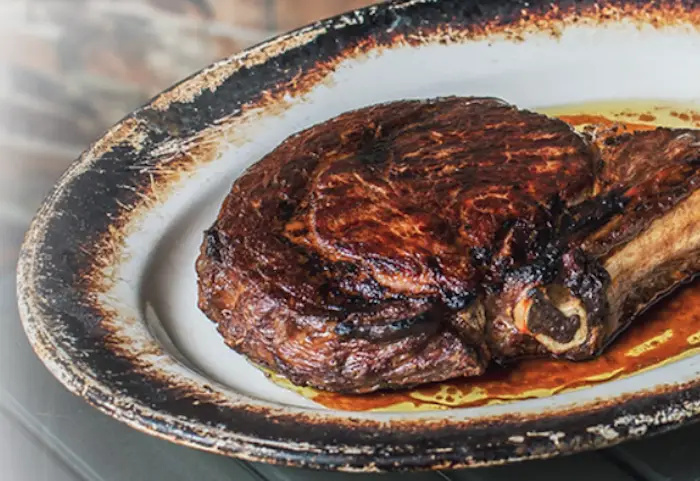 Another Scotto steak and sushi stunner, Insignia is the biggest of the bunch. It's on the traditional side, but somewhat less so than Blackstone.
Be sure to try some of the sushi and rolls as they get top billing along with the delicious steaks. The raw bar and other seafood dishes (think crabcakes) are also well done.
As with Scotto's other places, you simply can't go wrong with the steaks. The bone-in rib-eye, filet mignon, and porterhouse for two to four are all great. Splurge on some Japanese Kobe beef.
The traditional sides do well here, but so do the more unique sides like. The hefty alternative is a two-pound steamed lobster, which vies with sea scallops with pistachio-cream risotto and candied orange zest. Black truffle macaroni and cheese with lobster and roasted brussels sprouts with onion bacon jam are great, too. For dessert, the tiramisu cheesecake is always a good idea, but so is the pumpkin croissant bread pudding and the wild Maine blueberry skillet pie.
610 Smithtown Bypass, Smithtown, L.I., NY 11787
Find out more by calling 631-656-8100 or visit insigniasteakhouse.com.

The Palm at the Huntting Inn

This steakhouse is part of The Palm chain, but the East Hampton location really makes it pop. It's located in The Hunting Inn, a popular bed and breakfast on one of the country's most beautiful Main Streets. As with the other locations, this is almost like an Italian and Italian-American steakhouse. In addition to the prime steaks on offer, think baked clams oreganata, veal and chicken parmigiana, and gnocchi bolognese.
The New York strip steak, grass-fed filet mignon, the bone-in rib-eye steak, and the lamb chops are all excellent. The seafood options are also very good.
Get the classic sides like creamed spinach and whipped potatoes. Potatoes au gratin is a personal favorite of mine whenever I can get it. For dessert, get the cheesecake or the and creme brulee.
94 Main St., East Hampton, L.I., NY 11937
Find out more by calling 631-324-0411 or visit thepalm.com.

Tellers: An American Chophouse

Tellers is a stunner of a restaurant. The 1927 bank is gorgeous, with over 25-foot ceilings, massive windows, and wonderful stone. But the place isn't good looks only. The food actually matches its theatrical environment.
The porterhouse for two and the bone-in filet are great. The signature cuts, though, are probably the 40-ounce rib-eye and the 28-day, 16-ounce, dry-aged Akaushi beef wagyu steak. Both outstanding.
Duck-fat fries are a highlight as is the raw bar and the unique wedge. Excellent sides include the tater tots, burnt broccoli, and scalloped Parmesan potatoes.
The Tartufo and cheesecake are my favorite desserts. Junior's fudge layer cake is very good as well.
605 Main St., Islip, L.I., NY 11751
Find out more by calling 631-277-7070 or visit tellerschophouse.com.

Things To See and Do on the South Fork
I always recommend seeing as much of the South Fork as possible!! 
The Hamptons and Montauk is a world-renowned beach resort destination for good reason! There is just so much to see, do, and enjoy! Here are just a few of them:
Check out this Guide to the Best Beaches in Montauk! Also, check out this Guide to The Hamptons best beaches!!
Check out some luxury homes in The Hamptons!
Maybe you will love it so much, you'll want to check out some Hamptons wedding venues!
Enjoy some of the world-class, amazing art in The Hamptons!
Check Out More Long Island Wine
You're so close to Long Island Wine Country! It's another great part of visiting the island. If you're in the mood for great wine, be sure to check out our Complete List of Long Island Wineries and Long Island Vineyards.
Check out the absolute best Long Island Wine Tours!
If you can't make it to a tour, why not do some wine tasting at home with Bedell Cellars!
I know you're getting hungry, so be sure to also check out the best wineries on Long Island for some great food!
While you're in the area, be sure to check out these 9 relaxing things to do in the North Fork!
When you're done with all of this wine drinking and relaxing, how about making it a weekend? Here are 10 great North Fork Long Island hotels to enjoy as well.
While You're Enjoying the Outdoors
Be sure to find out about more things to do on Long Island as well as more great spots to eat and drink and wonderful places to stay on Long Island!
Check out this guide to Long Island driving ranges, including this feature on the popular Heartland driving range! Go have fun at one of these great Long Island skate parks!
Make It A Weekend
The East End of Long Island is a really special spot. If you think you'd want to check it out and maybe even stay awhile…that wouldn't be such a terrible idea.
If you wanted to consider different options for staying on Long Island, be sure to check out these great places to stay in Montauk, 11 Hamptons hotels, 10 North Fork Long Island hotels, and this Guide to Sag Harbor hotels! Enjoy reading up on and hopefully exploring these wonderful Shelter Island hotels and let me know if you decide to make it a vacation!
More From The Long Island Local
Maybe grab a freshly brewed beer at these Long Island breweries and when you've had your fill of vino! I mean, after a day of searching for the best tacos on Long Island, I think you need a drink, no?
The bounty of great food on Long Island seems endless! Freat Shelter Island restaurants to Long Island lobster rolls and Long Island bagels, there's so much to enjoy. Check out this Huge List of Restaurants on the Water Long Island!!! How about 54 of the best tacos on Long Island!
And how about all the wonderful Wölffer Estate Vineyard events and tastings?! Or maybe check out some Long Island oyster farms! How about these guides to Long Island Coffee Shops and Long Island coffee roasters!! Check out these 16 Long Island Boardwalks! Take the ferry over and enjoy these Fire Island restaurants! Let's not forget about the best tacos on Long Island and these great Long Island pizza places either!!
Be sure to find out about more things to do on Long Island as well as more great spots to eat and drink! Maybe take a stroll in one of these amazing Long Island arboretums and gardens! There are even this great Long Island kayaks and paddleboard guide to exploring!