Are you looking to check out some fresh, delicious seafood straight from Long Island Oyster Farms? I have a great list of spots for you to try on your journey. Long Island's waters are perfect to support oysters, clams, and other great seafood!
Oysters are being seeded in close to record numbers as waters around The Island continue to get cleaner and cleaner. In fact, the more oysters that are in the local waters, the cleaner the water will become! Oysters naturally filter many gallons of water each day as they grow to maturity. It's one of the most ideal win-win situations I've ever heard of! I love oysters and creating this guide made me really proud to call Long Island home.
There are many great farms on Long Island's land, including one last duck farm, the only fresh snail farm (Peconic Escargot) in America, Christmas Tree farms, pumpkin patches, and apple orchards! But isn't it great to also support Long Island Oyster Farms operating in our waters today?? Plus, more keep opening up! Hope you enjoy the guide.
Long Island Oyster Farms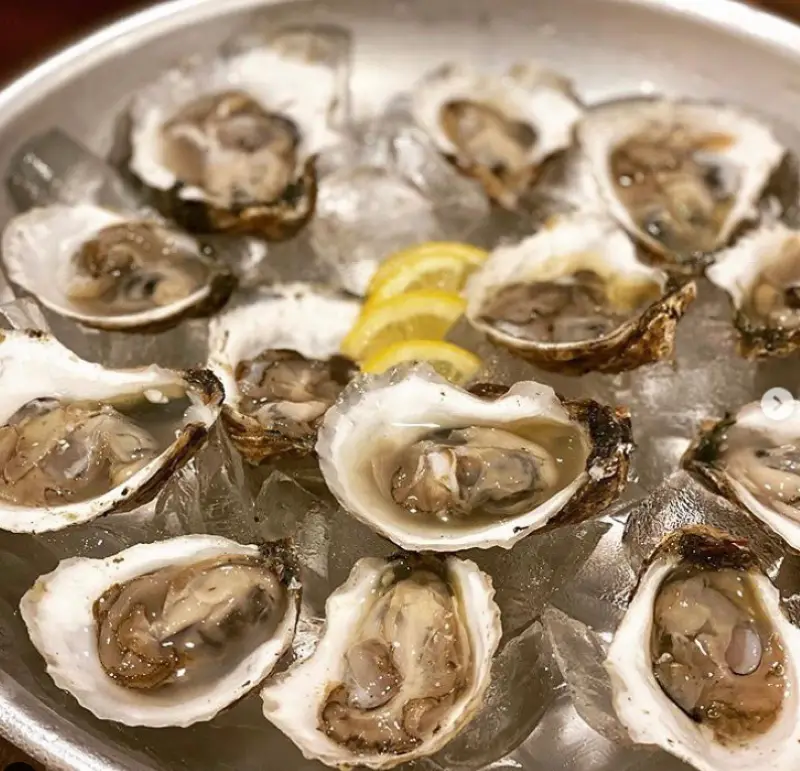 Founders Oyster Farm
Founders Oyster Farm uses an underwater rack & bag system to grow the Eastern Oyster, Crassostrea virginica. If you'd like to buy the oysters from Founders Oyster Farm, you can do so at their roadside self-service stand at 140 Founders Path in Southold, which is open during the weekends. A pack of dozen oysters costs $15. 
Every Saturday, you can find the Founders Oyster Farm's oysters at Pindar Vineyards. And several other places on Long Island, including Sparkling Pointe, Greenport Harbor Brewery, First & South, also offer them on their menus. 
140 Founders Path, Southold, L.I., NY 11971
Learn more about Founders Oyster Farm by visiting www.foundersoysterfarm.com/ or calling 201-960-2005.
Great Gun Shellfish 
Located in Moriches Bay, the Great Gun Shellfish offers you two kinds of oysters – Great Gun Oysters and Great Gun Grillers. Their Great Gun Oysters have a sharp up-front brine and sweet-garlic finish. The Great Gun Grillers are jumbo-sized oysters perfect for grilling, frying, and roasting, but these are available only in late fall and early winter. Both types are harvested daily and are sold in the farm's online shop. 
You can have the oysters delivered to your home. Free local delivery covers the area from Sayville to Westhampton. The delivery to Sayville and Mastic takes place on Wednesdays. And if you live in the Hamptons, your oysters will be delivered to you on Friday. 
The Great Gun Shellfish stand sometimes makes an appearance on other farms, such as Lenny Bruno Farm and Garden Of Eve Farm. But the schedule is not set in stone so follow them on Instagram or Facebook to get timely updates. 
32 Driftwood Lane, East Moriches, L.I., NY 11940
To learn more about Great Gun Shellfish, visit greatgun.com/ or call 631-896-0766.
Hampton Oyster Company
The first deepwater-floating oyster farm on Long Island, Hampton Oyster Company grows delicious oysters, known for their petite size and smooth finish. 
Hampton Oyster Company offers shuck-at-home kits that include a shucking knife and instructions. A 25 oyster kit costs $45, and 50 oysters cost $60. You can order these sets by contacting the company through their Instagram account or buying them from the Peconic Escargot online shop. 
Peconic Bay, L.I., NY
To find out more about the Hampton Oyster company, visit www.instagram.com/hamptonoysterco/.
Little Ram Oyster Co.
Little Ram Oyster Company is a family oyster business situated on the North Fork of Long Island and owned by two women farmers, Elizabeth Peeples and Stefanie Bassett. You can buy the delicious oysters grown by them (25 items for $30 plus a complimentary lemon) at their farm stand. 
The farm also offers CSA programs and monthly oyster kits, which include all the shucking tools you need. For CSA, you have two options – a 15-week program for $173.33 per month and a 31-week one for $180 per month.
From June 2021, Little Ram Oyster Company will be selling its monthly kits. You can subscribe and receive all the sets up until December or buy a single kit. 
The farm also provides catering services.
12710 Soundview Ave, Southold, L.I., NY 11971
Find out more about Little Ram Oyster Co. by visiting https://www.littleramoysters.com/ or calling 631-896-0766.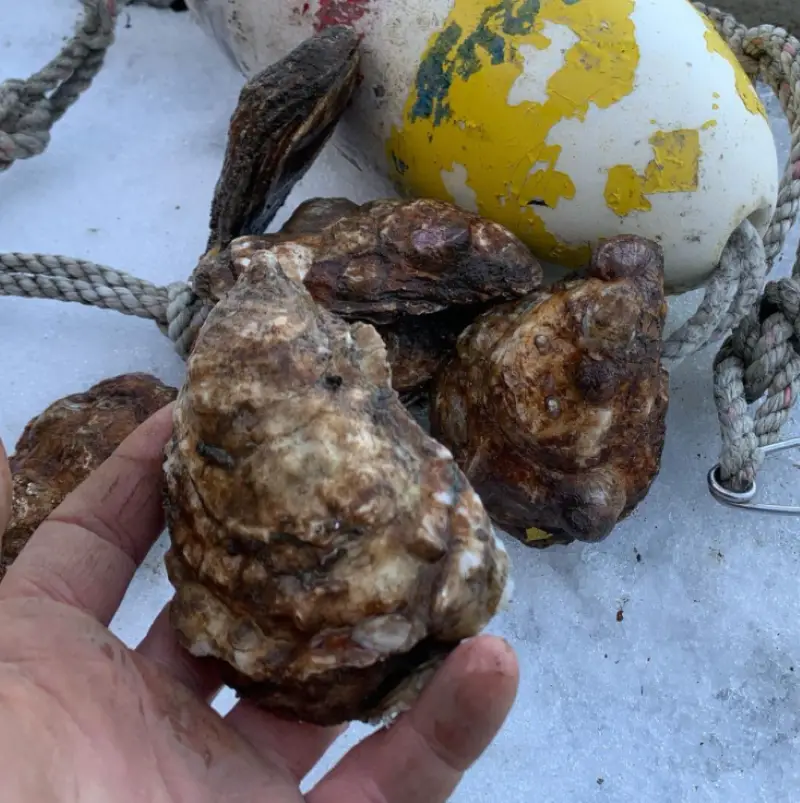 Peconic Gold Oysters
Open since May 2013, Peconic Gold Oysters is a small farm located in Great Peconic Bay. Its owner, Matt Ketcham, and his team use mesh cages to grow their unique oysters that have a sweet flavor, creamy texture, and smoky finish. 
Apart from oysters, the farm sells oyster kimchi and quiche. These amazing products are available in their online shopand roadside stand at 21125 County Road 48, Cutchogue.
21125 County Rd 48, Cutchogue, L.I., NY 11935
Learn more about Peconic Gold Oysters by visiting www.peconicgoldoysters.com/ or calling 631-495-7061.
Pelican Island Shellfish
Sold at Mastic Seafood, 1951 Mastic Rd., Mastic, L.I., NY 11950
Find out more about Pelican Island Shellfish by visiting masticseafood.com or by calling  631-281-9608.
Southold Bay Oysters
Located in the waters of Southold Bay, this oyster farm grows Eastern Oysters called Southold Shindigs. Their oysters have a bit of a sweet and mineral finish. 
You can buy Southold Shindigs in the farm's online shop. A dozen of unshucked oysters cost $15. There you will also find their face cream, shucking knives, and a free tutorial that will teach you how to shuck oysters. Or you can check their self-serve stand on Ackerly Pond Lane in Southold if you don't want to wait for the delivery. 
And if you would like to know more about the Southold Bay Oysters' farming process, they offer a farm tour for $75 per person. 
10273 N Bayview Rd, Southold, L.I., NY 11971
Find out more about Southold Bay Oysters by visiting www.southoldbayoysters.com/ or calling 914-602-3339.
Violet Cove Oysters 
The farmer of Violet Cove is Sue Wicks, who uses a floating cage method of farming oysters. Someone once said that when you eat the Violet Cove oysters, it's as if you are eating the sea. So if you are interested in tasting the sea, you can order the oysters from Violet Cove's online store. 
Moriches Bay, East Moriches, L.I., NY–
To learn more about Violet Cove Oysters, visit violetcoveoysters.com/ or call 917-767-2818.
West Robins Oyster Co.
The owners of West Robins Oyster Company pride themselves on their sustainable and environment-friendly farming practices. They use certified disease-free oyster seeds from shellfish hatcheries. They harvest and ship their products on the same day to minimize food waste. And those are just some examples of their environmentally responsible ways. 
In the online shop of West Robins Oyster Company, you can buy small, medium, and jumbo-sized oysters. The minimum order value is $50, and if you place your order by Thursday, you'll receive it on Saturday morning. The home delivery covers the area from Westhampton to Montauk. 
The company also has a mobile oyster bar that you can book for any private event. 
30 Mariner Dr, Southampton, L.I., NY 11968
To find out more about West Robins Oyster Co., visit www.westrobins.com/ or call 631-292-0260.
Yennicott Oyster Company
Coming from a line of Long Island farmers and fishermen, the owners of Yennicott Oyster Company strive to continue the family traditions and grow authentic NY oysters. 
Their products are available for pickup at KK's Farm at 59945 Main Rd, Southold, NY 11971. You can subscribe to the Yennicott Oyster Co.'s newsletters for the dates when their stand is open. 
Another way to get your share of delicious oysters is to sign up for the farm's CSA program. They offer weekly and monthly deliveries ($975 and $300 respectively). 
You can also book Yennicott's catering services for your special event.
Little Peconic Bay, L.I., NY
For more information, visit www.yennicottoysters.com/ or email [email protected]
Enjoy Your Long Island Oyster Farms
That's it. Are you as excited as me to get out there and enjoy the bounty that Long Island's waters provide? Support local aquaculture, help keep the water clean and the ecosystem working, all the while supporting local fisherman and the local economy. Fantastic, isn't it?