It's Fall on Long Island! That means cooler weather, kids back in school, and leaves changing color. It also means Long Island corn mazes, apple picking, hayrides, drinking hard cider and more! It's still a time of enjoying the outdoors with you family!
While you are getting out there to enjoy Long Island corn mazes and more, be sure to check each farm beforehand to see what they are offering and what is open. From farm stands with apple cider, apple cider doughnuts, and roasted corn to bounce castles, petting zoos, and hayrides…they family farms have become true entertainment destinations. But, remember, these great places are still farms at heart…so take advantage of all that local produce and freshly prepared food!!
Here's a list of the Long Island corn mazes I think you and your family will really enjoy! Have fun!
Great Long Island Corn Mazes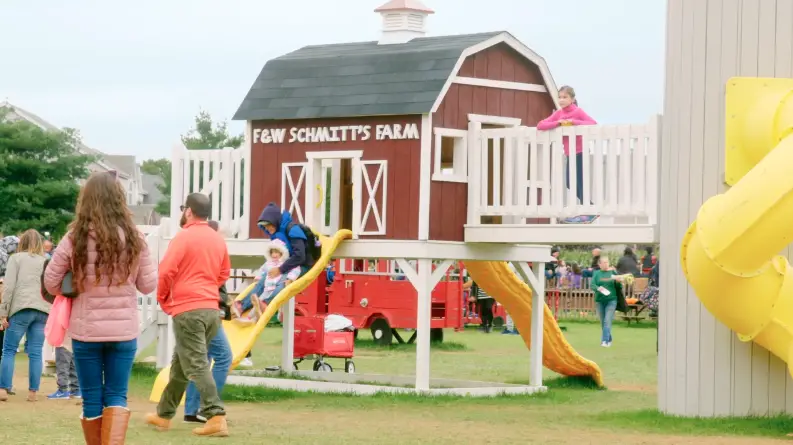 F & W Schmitt's Family Farm
The annual fall festival and 7-acre Long Island corn maze is just part of family fun. The family can also enjoy pumpkin and vegetable picking as well as a farm stand selling jams, cider, honey, pies, apples and fall decor. There's also a straw pyramid, playground, inflatables, mini golf, and pony rides.
The whole family can enjoy pumpkin and veggie-picking together, and parents will enjoy purchasing fresh apples and fall decor. Hayrides at Schmitt's delight the young and old and are included with the $10 admission. Corn maze requires an additional fee.
The annual fall festival and 7-acre corn maze begins Saturday, September 19 and is open  Monday to Friday 12pm – 4:30pm and Saturday & Sunday 10:00am -5:00pm
 26 Pinelawn Rd, Melville, L.I., NY 11747
Find out more by calling 631-271-3276 or visit schmittfarms.com
Gabrielsen's Country Farm
Gabrielsen's Fall Festival kicks off September 19th and includes a bunch of family friendly attractions including a wagon ride, train ride, pumpkin picking, and live music. There are also pedal tractors and a kid-friendly corn maze.
There is also a farm stand and greenhouses selling plants, flowers, and vegetables!
The farm is open 7 days a week (including holidays) from Mid-March thru December 24th from 8:00 AM – 6:30 PM.
200 Herricks Lane, Jamesport, L.I., NY 11947
Find out more by calling 631-722-3259 or visit gabrielsenscountryfarm.com/
Elwood Pumpkin and Christmas Tree Farm
Long Islands most western pumpkin and Christmas Tree farm have a wonderful children's corn maze, hayrides, and pumpkin picking of pumpkins grown in their fields. You are invited to pick off the vine and experience how fresh a pumpkin can be.  
When the weather cools, you can cut your own 6 to 25 foot Christmas Tree on their 22 acre farm.
The farm is open weekends in September and October from 10AM to 5PM, Columbus Day 10AM to 5PM, and weekdays from 3PM to 5PM or by appointment.
1500 E Jericho Turnpike, Huntington, L.I., New York, 11743
Find out more by calling 631-368-8626 or visit elwoodpumpkinfarm.com/
Fairview Farm "The Maize"
This is the 20th year of the aMAIZing (yep, just did that) Fairview Farm "maize." This is 8 acres of winding paths through beautiful stalks of corn that is 10-12 feet tall. Sign markers and maps are available to help ensure people don't get lost in all the fun.
The farm does it all! Come for the Maize, stay for the goodies! They raise and sell heritage pork, and pastured chickens and ducks for both meat and eggs. Their farm kitchen produces famous homemade pies, quiches, and challah as well as a multigrain bread, jams and jellies, granola, cookies, rotisserie chicken and duck and more! Check out the site to see all the amazing variety!
Two bridges within the maze offer views of the surrounding farmland, Mecox Bay, and the Atlantic Ocean.
The maze is open weekends Friday, Saturday, and Sunday from 10AM-6PM. and runs through November 8th.
19 Horsemill Lane, Bridgehampton, L.I., NY 11932
Find out more by calling 631-537-6154 or visit fairviewfarmatmecox.com/
Glover Farms
U-Pick Pumpkins, a 10-acre Corn Maze, & more fall fun will be open this season on September 26th. Other attractions include hayrides, farm animals, and a picnic area. Snack on fresh roasted corn, fresh baked goods, lemonade and more goodies. The farm is open seven days a week from 10AM – 5:30PM.
641 Victory Avenue, Brookhaven, L.I., NY 11719
Find out more by calling or visit gloverfarmsbrookhaven.com
BB & GG Farm & Nursery
Enjoy U-pick pumpkins, corn maze, hayrides, roasted corn, plants, and more every weekend until October 31st from 9AM – 6PM.
625 N. Country Rd., St. James, L.I., NY 11780
Find out more by calling 631-862-9182 or visit facebook.com/
Borella's Farm Stand
Enjoy U-pick pumpkins, hayrides, roasted corn, corn maze, live music and inflatable bounce houses. Open Monday – Saturday 10AM – 6PM, Sunday 10AM – 5PM now through October 31st.
485 Edgewood Ave., St. James, L.I., NY 11780
Find out more by calling 631-862-7330 or visit borellasfarmstand.com
Fink's Country Farm
Spend the day at this secluded family farm, where you can put your worries aside and enjoy some wholesome down-home fun!! Bring your family and friends for a day full of fun activities, including hay rides, corn maze, U-pick pumpkins, kiddy train ride, combine slide and much more!
There is also a picnic area to enjoy their food and refreshments including roasted corn and hot cider. Explore their Long Island farm stand, filled with fresh local vegetables, fruits, potatoes, corn stalks, holiday decorations and more!
The fall festival activities run weekends only Mid-September thru October/November. Admission is $17 for children ages 3-16; $15 for ages 17 and older. Children ages 2 and under enter for FREE. 
6242 Middle Country Road Wading River, L.I., NY 11949
Find out more by calling 631-886-2272 or visit finksfarm.com/Fall-Farm-Stand
Garden of Eve
Enjoy organic fruits, vegetables, and flowers plus fresh-squeezed lemonade, organic hot dogs, craft beer, and mums on weekends in October. There's pumpkin picking, farm animals, a pedal cart track, corn maze, and lavender labyrinth.
October 17-18, Sat-Sun 10AM-5PM, come for Oktoberfest
Enjoy the end of fall with live music, vendors, pumpkin picking, hayrides, locally brewed beer and special Oktoberfest Menu featuring hearty Kielbasa, Kraut, and more! Free festival admission, Fun Fields admission just $7.95 per person includes hayride (11-5), Giant Hay Pyramid, farm animals, Bounce Pad, Pedal Kart Track, and more. All activities weather permitting.
Open Daily from April 1 – Halloween from 9AM-6PM
4558 Sound Avenue, Riverhead, L.I., New York 11901
Find out more by calling 631-722-8777 or gardenofevefarm.com/festivals/
Hank's Pumpkintown
In addition to three corn mazes, there is a lot for families to enjoy! Think hayrides, tractor and corn trains, jump pad, duck races, a combine slide, a pedal cart race track, and a super long tube slide. Admission includes all attractions.
Also, be sure to check out the farm stand market for delights like roasted corn, apple cider, and homemade pies. Open from 9:30AM-6PM daily.
240 Montauk Hwy., Water Mill, L.I., NY 11976
Find out more by calling 631-726-4667 or visit hankspumpkintown.com/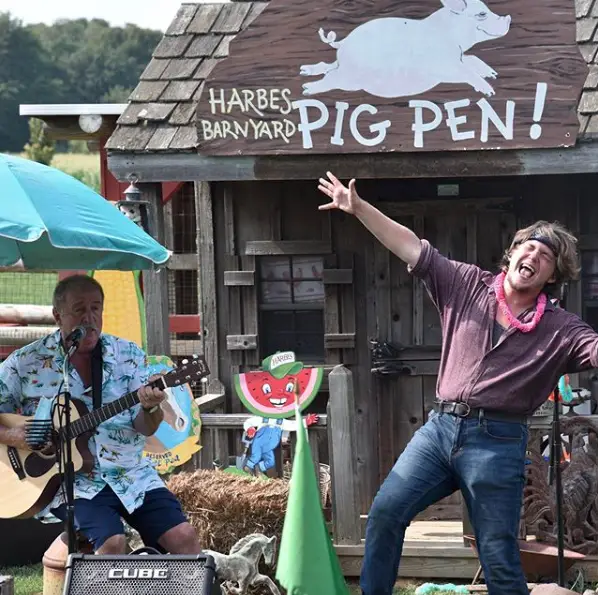 Harbes Family Farm
Harbes Barnyard Adventure
Harbes Barnyard Adventure is the paid admission area of Harbes Family Farm in Mattituck. There are 8 acres (the same as 6 football fields put together!) for visitors to explore. At this family-friendly attraction, you'll discover hands-on learning experiences including farm animals and chicken and bee observatories. There are also fun and games for all ages such as our Gnome Hedge Maze, trike track, Jumbo Jumpers, sports zone, and so much more. Weekends, holidays, and summer Fridays they offer pig races, singing hayride tours and hosted interactive activities.
715 Sound Ave, Mattituck, L.I., NY 11952
Find out more by calling 631-482-7641 or visit harbesfamilyfarm.com
Lewin Farms
This 5-acre maze boasts a new design every year. The design is fun, challenging but doable for any age group. It takes approximately 20-35 minutes to complete.
Open on weekends and holidays in the fall. There's also pick-your-own apples, pumpkins, tomatoes, and peppers to enjoy. The Farm Stand is open through late October from 9AM to 5PM every day except Tuesday. Call each day for U-Pick times.
812 Sound Avenue, Calverton, L.I., NY 11933
Find out more by calling 631-929-4327 or visit lewinfarm.com/corn-maze/
May's Farm
Go out into their pumpkin patch, enjoy a tractor drawn hayride, and find your way through May's Amazing Corn Maze. On some weekends, there are pony rides, faces painting and pumpkin decorating.  Enjoy some ice cold apple cider, hot buttered ear of roasted corn, and some Long Island potato chips while you're there.                                                                                    
If you are looking to pick up some decorations, check out their greenhouse for Halloween and Autumn decorations of all types, as well as straw bales, corn stalk bundles, gourds, mums, and much more.
Visit the farm stand to enjoy fresh picked NY apples and pears, broccoli, cauliflower, butternut and acorn squash, ice cold fresh apple cider , Mays Farm jams and jellies, as well summer fruits and vegetables.
6361 RT. 25A, Wading River, L.I., NY 11792
Find out more by calling 631-929-6654 or visit maysfarmny.com/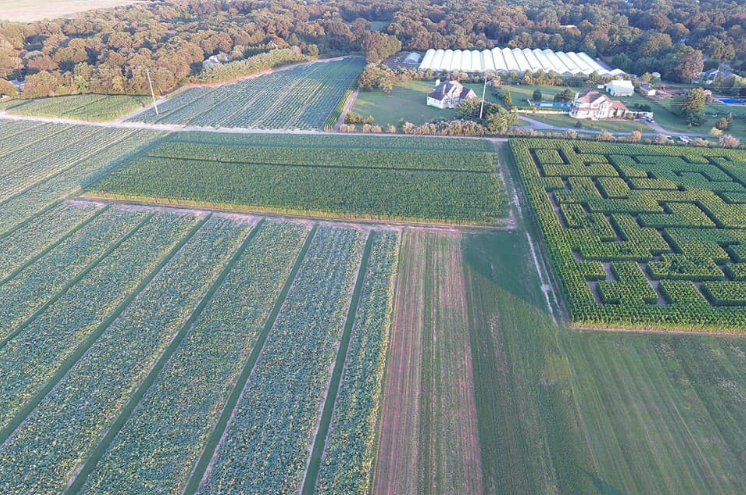 Stakey's Pumpkin Farm
Stakey's is a great spot and really feels "country" with music playing and so much to do. Enjoy Stakey's trivia-guided corn maze, enjoy a hayride around the pumpkin patch, and more. Kids can expend some energy in their Scooby-Doo bounce house or relax with some face painting.
There are food stands as well as stands to buy decorations, flowers, and more. The kicker for me is the almost impossible selection of pumpkins and gourds. I truly never knew pumpkins came in so many colors and shapes. It's worth a trip just to see them!
270 West Lane, Aquebogue, L.I., NY 11931
Find out more by calling 631-722-3467 or visit stakeyspumpkinfarm.com/
There is a lot to do and enjoy in this list. It's just a sample of wonderful Fall experiences waiting for you on The Island. Sure, summer is awesome, but there's just as much to love about this place in the Fall! Have a great time!