Disset Chocolate is all about artisanal, handcrafted, gourmet chocolate. It's about creating beautiful treats that are works of art in their look, their color, and their taste. Ursula XVII, the founder of Disset Chocolate, is a passionate chocolatier who has trained with world-renowned pastry chefs. Her background includes working at several Michelin-starred restaurants and shops in Europe and the United States.
The now Cutchogue-based Chocolatier Ursula XVII opened her brick-and-mortar shop, Atelier Disset, in Cutchogue on the North Fork earlier this year in March of 2021 so both chocolate aficionados and novices alike can really take in and experience the artisanal chocolates in an amazing retail shop (not just online).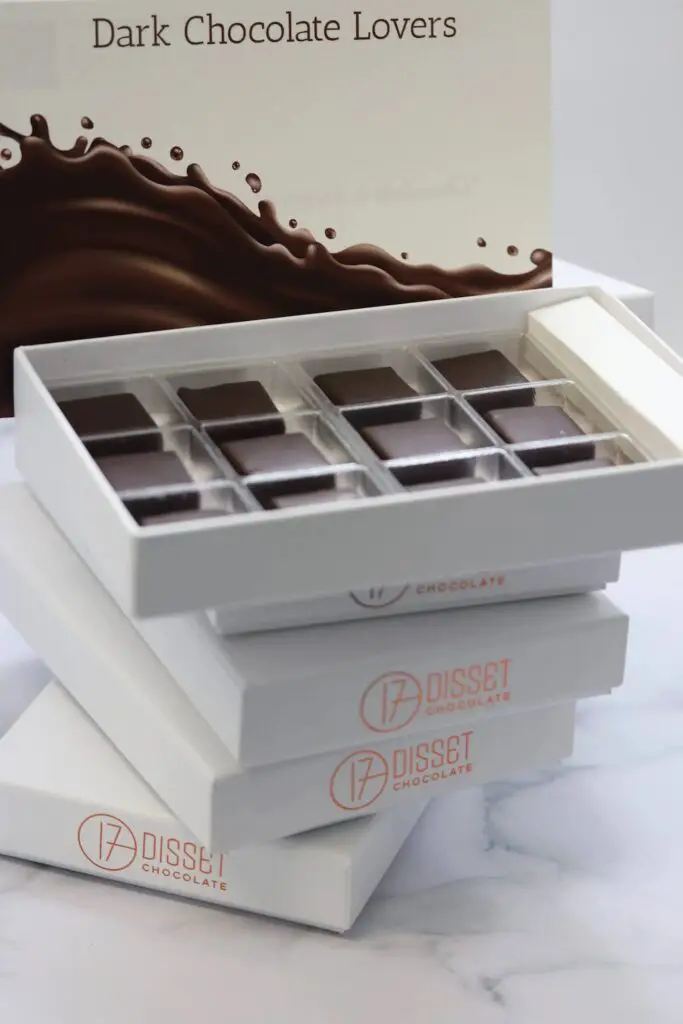 The Beginnings
Ursula XVII grew up in New York City. She spent most of her time after school baking muffins, cookies, and especially, playing all things chocolate.
While enjoying summers in Barcelona, she realized she was happiest in the kitchen. She decided to pursue formal training at The French Pastry School in Chicago and became a Pastry Chef. She began her career at a Michelin Starred restaurant. Her career took her to various roles at several restaurants and shops. When the time seemed right, she decided to continue her training in Europe under world-renowned chefs, like Albert Adria, on her way to becoming an acclaimed pastry chef in her own right.
She really started to know the art of chocolate after heading the pastry team at a farm-to-table restaurant in Catalonia, Spain. From there, she was recruited to help implement pastry and chocolate programs at a large upscale resort in the Hudson Valley, NY. This is where her local for exceptional flavor and Disset Chocolate was born as an e-commerce business.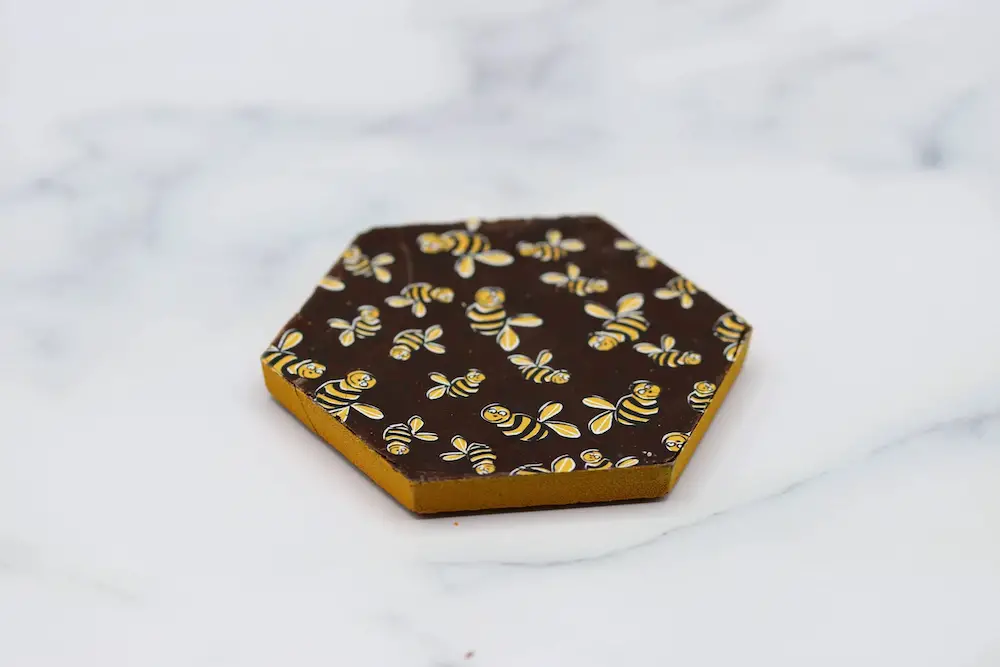 Disset Chocolate
Disset means "seventeen" in Catalan. Catalan is Chef Ursula XVII's native language and seventeen is her second name "XVII."
When Ursula XVII arrived on the North Fork three years ago, she brought all of her amazing experiences as a pastry chef and chocolatier. She trained under Claudia Fleming, the James Beard Award-winning and renowned pastry chef and then-owner of the North Fork Table & Inn in Southold, to put her skills, experience, and upcoming chocolate company over the top.
The chocolate here is always beautiful and always delicious. Only the finest ingredients are used and the utmost attention to detail are given. There's a wonderful chocolate bar collection, Disset's Signature Collection, and so many decadent bonbons. There are s'mores and build-your-own chocolate bar kits and snack-sized bars, too. You can pick up seasonal flavors in their special holiday assortments. You can even pick up some hot chocolate bombs and chocolate spreads as well.
A unique offering is the Honey & Chocolate Hive. These two simple, ingredients, pure honeybee honey, and cocoa have always captivated people all over the world. These two tastes are combined in a delicious presentation that will dazzle you. Dark Chocolate, Milk Chocolate, Honey, Heavy Cream, Butter, Salt are the only natural ingredients used. It's just one of those taste-bud wowing flavor combinations. What more could you ask for?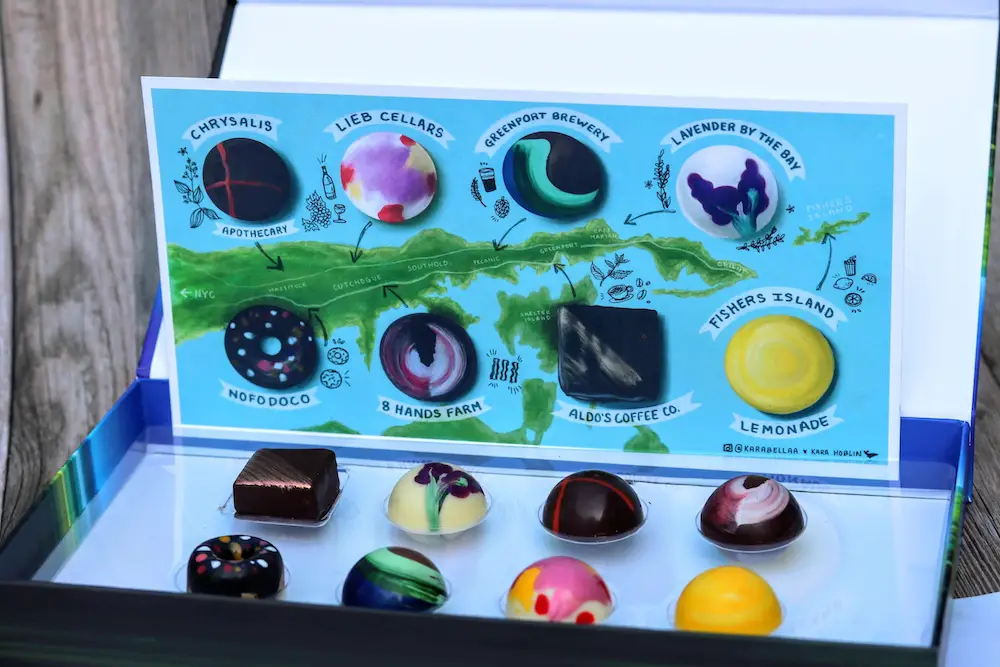 Ode To The North Fork
Disset Chocolate creates a number of 'Signature' boxes of bonbons, with limited release boxes additionally introduced around holidays, season-specific themes, or special collaborations. From Chocolate Lovers to a Holiday Collection, there's a lot to enjoy.
I'm a huge fan of what Disset Chocolate is doing with its Ode to the North Fork collection. It's a personal favorite. Sure, these are beautiful, delicious chocolates, yes. But it's also a very personal tribute to the North Fork and all of its bounty. From Aldo's Espresso to Spiked Lemonade from Fishers Island. From Black Duck Porter from Greenport Brewing to Lavender by the Bay's purple wonders, there's a lot going on. This unique collection is a souvenir of the wonders and decadent flavors of the North Fork.
Visit the Atelier or Find Out More About This Chocolate Destination
One thing seems to be better than the next. These treats have complex flavors that always seem to deliver. I think it's pretty safe to say that you will not go home disappointed after taking this journey in chocolate. This is a chocolate shop with a passion for chocolate that's so easy to admire.
28080 Main Road in Cutchogue, L.I., NY 11935
Find out more by visiting dissetchocolateonline.com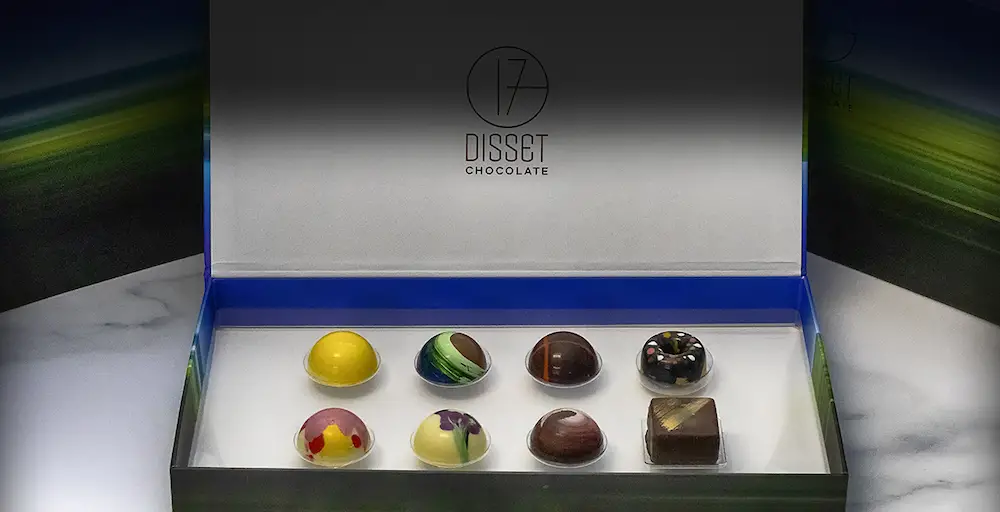 More From The Long Island Local
Maybe grab a freshly brewed beer at these Long Island breweries!
And how about all the wonderful Wölffer Estate Vineyard events and tastings?! Or maybe check out some Long Island oyster farms! How about these guides to Long Island Coffee Shops and Long Island coffee roasters!! Check out these 16 Long Island Boardwalks! Take the ferry over and enjoy these Fire Island restaurants! Let's not forget about the best tacos on Long Island and these 32 great Long Island pizza places either!! Here are 21 great spots to enjoy Long Island Gelato!
Be sure to find out about more things to do on Long Island as well as more great spots to eat and drink! Maybe take a stroll in one of these amazing Long Island arboretums and gardens! There are even this great Long Island kayaks and paddleboard guide to exploring!
Long Island Farm Guides To Explore
Suffolk County agriculture includes over 560 farms with 4,600 people that generate more than $226 million in sales annually. Long Island knows farming as well as Long Island farmland preservation!! How about enjoying some wonderful Long Island hiking trails!
Check out more Long Island Farm coverage on The Long Island Local!
Explore our Guide to organic farms on Long Island and our Guide to CSA on Long Island.
Read about great events like the Tulip Festival at Waterdrinker Farm and all that the Golden Earthworm has to offer!
What about this massive list of Long Island farmers and farms you need to visit!
How about Long Island Oyster Farms, the last Long Island Duck farm, or the only fresh American snail farm Peconic Escargot!
When the season's right, explore our Long Island Christmas Tree farm guide and our list of great Long Island pumpkin picking farms!
Check Out Long Island Wine
If you're in the mood for great wine, be sure to check out our Complete List of Long Island Wineries and Long Island Vineyards.
Check out the absolute best Long Island Wine Tours!
If you can't make it to a tour, why not do some wine tasting at home with Bedell Cellars!
I know you're getting hungry, so be sure to also check out the best wineries on Long Island for some great food!
While you're in the area, be sure to check out these 9 relaxing things to do in the North Fork!
When you're done with all of this wine drinking and relaxing, how about making it a weekend? Here are 10 great North Fork Long Island hotels to enjoy as well.
Things To See and Do on the South Fork
I always recommend seeing as much of the South Fork as possible!! 
The Hamptons and Montauk is a world-renowned beach resort destination for good reason! There is just so much to see, do, and enjoy! Here are just a few of them:
Check out this Guide to the Best Beaches in Montauk! Also, check out this Guide to The Hamptons best beaches!!
Check out some luxury homes in The Hamptons!
Maybe you will love it so much, you'll want to check out some Hamptons wedding venues!
Enjoy some of the world-class, amazing art in The Hamptons!
While You're Enjoying the Outdoors
Be sure to find out about more things to do on Long Island as well as more great spots to eat and drink and wonderful places to stay on Long Island!
Check out this guide to Long Island driving ranges, including this feature on the popular Heartland driving range! Go have fun at one of these great Long Island skate parks!
Make It A Weekend
The East End of Long Island is a really special spot. If you think you'd want to check it out and maybe even stay a while…that wouldn't be such a terrible idea.
If you wanted to consider different options for staying on Long Island, be sure to check out these great places to stay in Montauk, 11 Hamptons hotels, 10 North Fork Long Island hotels, and this Guide to Sag Harbor hotels! Enjoy reading up on and hopefully exploring these wonderful Shelter Island hotels and let me know if you decide to make it a vacation!