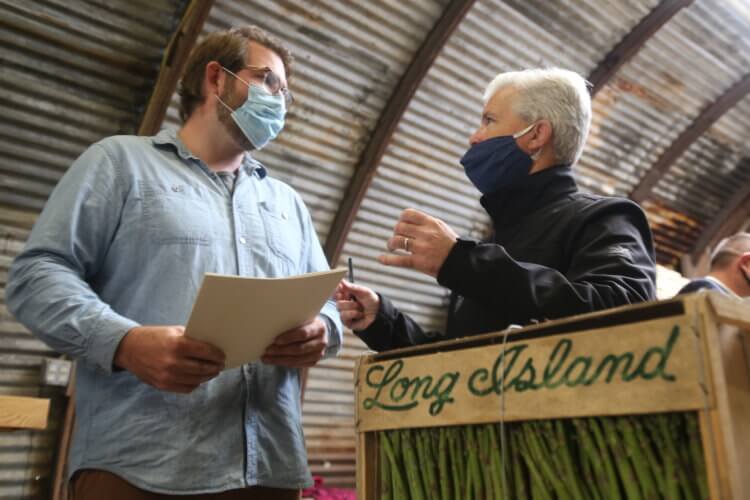 I have some very good news for everyone out there that loves to see more Long Island farmland preservation!! Suffolk County has purchased the development rights to over 11,000 acres of farmland over the years. It's a pioneer and model for other such programs. And they have done it once again!
Long Island Farmland Preservation
As reported in Behind The Hedges, the 11.16 acres of the Wells Homestead Acres farm in Aquebogue has been a family farm for 360 years. Yes, you read that correctly, 360 years as a family farm. Since 1661, it's been farmed by 12 generations of North Forkers and it won't stop just yet!!! Suffolk County purchased the land for $613,800, preventing it from any potential future development.
The farm, located at 4945 Sound Avenue, is known to grow the finest asparagus in the region. Fittingly, the necessary deeds were signed a top an asparagus crate on the farm during the press conference.
In January, Suffolk County closed on two land acquisitions, preserving almost 140 acres of open space and farmland along the historic Sound Avenue corridor in the Town of Riverhead.
Purchasing development rights not only prevents potential development that can lead to higher property taxes. It also protects water quality and quantity. The farmers make some money up front and they can rest easier while continuing to farm their land as they've done for centuries. The rest of of get to enjoy the beautiful views and the bounty of their hard work. Sounds like a win-win-win now doesn't it?
Long Island Farm Guides To Explore
Suffolk County agriculture includes over 560 farms with 4,600 people that generates more than $226 million in sales annually. Long Island knows farming as well as Long Island farmland preservation!!
Check out more Long Island Farm coverage on The Long Island Local!
Explore our Guide to organic farms on Long Island and our Guide to CSA on Long Island.
Read about great events like the Tulip Festival at Waterdrinker Farm and all that the Golden Earthworm has to offer!
What about this massive list of Long Island farmers and farms you need to visit!
How about Long Island Oyster Farms, the last Long Island Duck farm, or the only fresh American snail farm Peconic Escargot!
When the season's right, explore our Long Island Christmas Tree farm guide and our list of great Long Island pumpkin picking farms!
Check Out Some Long Island Wine
While you're on the North Fork, you're in the middle of Long Island Wine Country! It's another great part of visiting the island. If you're in the mood for great wine, be sure to check out our Complete List of Long Island Wineries and Long Island Vineyards.
Check out the absolute best Long Island Wine Tours!
If you can't make it to a tour, why not do some wine tasting at home with Bedell Cellars!
I know you're getting hungry, so be sure to also check out the best wineries on Long Island for some great food!
While you're in the area, be sure to check out these 9 relaxing things to do in the North Fork!
When you're done with all of this wine drinking and relaxing, how about making it a weekend? Here are 10 great North Fork Long Island hotels to enjoy as well.
More From The Long Island Local
Maybe grab a freshly brewed beer at these Long Island breweries and when you've had your fill of vino!
The bounty of great food on Long Island seems endless! From great steakhouses on Long Island to great Greenport restaurants to Long Island lobster rolls and Long Island bagels, there's so much to enjoy. And how about all the wonderful restaurants on the water Long Island?! Or maybe check out some Long Island oyster farms!
Be sure to find out about more things to do on Long Island as well as more great spots to eat and drink and wonderful places to stay off of Shelter Island!