Are you looking specifically for organic farms on Long Island to visit and buy wonderful produce and other products from? Well, thankfully, there are a number of wonderful places to choose from, with more being added to the list all the time it seems!! Organic farming is good for the earth and it's good for us as well, producing natural foods for us to enjoy. Take a look at this and let me know if you have been to any of these wonderful farms. If not, let me know which ones pique your interest!!
If you want to find out more about these organic farms on Long Island or other conventional farms click this link to support our great Long Island farmers!!!! Also, here's a great list of CSA on Long Island available.
Support Long Island Farmers & Their Farms
The Long Island farming community strives to provide the best and the freshest products for your table, and their efforts are worth praising. Not only do they farm responsibly and sustainably, but they also make sure that you know as much as you want about what you buy. And there are so many things you can buy. There are vegetables, fruits, oysters, snails, chickens, ducks, turkeys, cheese, milk, and more. 
This guide is meant to help you find your farmer and provide you with all the knowledge you need about them – the hows, whens, and wheres. 
There are many great farms on Long Island's land, including Long Island Oyster Farms, the only fresh snail farm (Peconic Escargot) in America, one last duck farm, Christmas Tree farms, pumpkin patches, and apple orchards! If you are looking for delivery, check out these Long Island farms!
Organic Farms on Long Island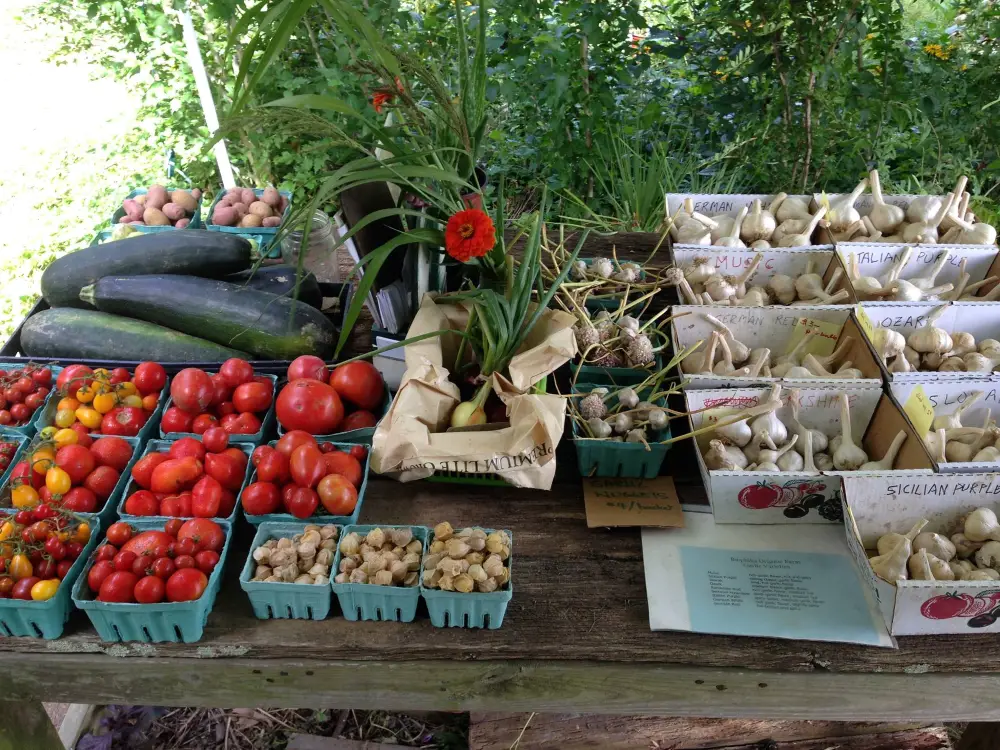 Biophilia Organic Farm
Biophilia is a beautiful 14-acre, preserved farm in Jamesport. They grow a wide variety of vegetables, herbs, and fruits. Because they want to grow the highest quality, most nutritious vegetables while taking care of this piece of earth, they are committed to growing everything on our farm organically. All of their produce is certified by NOFA-NY Certified Organic, LLC.
Members can visit the farm, share in the labor if desired, and attend special CSA events, such as the annual Tomato and Garlic Tasting, Potluck lunches, and, possibly, cooking and preserving classes. There is also a "Young Farmers" program for children and grandchildren of CSA members. They also sell certified organic vegetable and herb plants in the spring and Christmas trees in December (call for hours).
211 Manor Lane, Jamesport, L.I., NY 11901
Find out more by visiting facebook.com/BiophiliaOrganicFarmJamesportNY
Browder's Birds
Located on the North Fork of Long Island, the Browder's Birds farm raises and sells chicken, turkey, ducks, and sheep. Their poultry is Certified Organic by NOFA-NY and is processed in a licensed facility on the farm. In addition to meat and eggs, the owners Chris and Holly also sell honey, seasonings, and dry rubs.
4050 Soundview Avenue, Mattituck, L.I., NY 11952
Learn more about Browder's Birds by visiting http://browdersbirds.com/ or calling 631-477-6523.
Crossroads Farm at Grossman's
Billed as the closest organic farm to New York City, Crossroads is part of the Nassau Land Trust, a not-for-profit organization, composed of a volunteer board of directors working together to manage the farm through an operating agreement with Nassau County. 
The farm is an integral part of the surrounding community, and it couldn't thrive without the in-kind donation of volunteer work. We cultivate volunteerism as we cultivate our crops!
As we develop and nurture our farm community, everyone becomes intricately connected to the care of this open space. We do this through organic, biodynamic, and sustainable agricultural principles of land remediation and crop cultivation.
Crossroads Farm has continued to be a NOFA-NY certified organic farm since 2011.
Each Saturday, Crossroads hosts a farmers market of local vendors and food trucks. Sales from the farm stand provides revenue for a sustainable farm operation.
480 Hempstead Avenue, Malverne, L.I., NY 11565
Find out more by visiting xroadsfarmliny.com or by calling 516-881-7900.
Garden of Eve Organic Farm and Market
The farmers of Garden of Eve Organic Farm are probably busier than bees. And it's no wonder considering how many projects they have. It's perhaps one of the most creative Long Island farmers today.
The farm grows 70 varieties of vegetables, 20 varieties of herb, and 30 varieties of flowers. It has a farm cafe where you can try meals prepared from their veggies. There is a horse barn where you can buy or lease a horse. And the owners of the farm even make their own beer from homegrown crops. 
4558 Sound Ave, Riverhead, L.I., NY 11901
To find out more about Garden of Eve, visit gardenofevefarm.com/ or call 631-722-8777.
Golden Earthworm Organic Farm
Golden Earthworm is a small, family-owned Certified Organic farm on the North Fork of Long Island. Its owners are Matthew Kurek and Maggie Wood, who are first-generation farmers.  They operate a very popular CSA If you aren't interested in the CSA program but still would like to buy some organic vegetables grown on Golden Earthworm, there are several places where you can do that.
Get a fully detailed review, including the CSA program, at my Golden Earthworm link here.
652 Peconic Bay Blvd, Riverhead, L.I., NY 11901
Find out more about Golden Earthworm by visiting goldenearthworm.com or calling 631-722-3302.
Homecoming Farm
In 1875 a group of Dominican Sisters from Regensburg, Germany immigrated to the United States. They grew vegetables, planted an orchard raised cows, pigs and chickens. The root cellar where they stored their vegetables is on the National Historic Register.
Homecoming Farm began in 1996 as Sophia Garden, an organic garden project, when a group led by S. Jeanne Clark, OP dreamed about modeling a sustainable way of living on Long Island with a garden at its center.
Homecoming Farm has been a NOFA NY LLC, certified organic farm for over 15 years and is one of the oldest certified NOFA NY-LLC organic CSA farms on Long Island. We are celebrating our 23rd season as a CSA farm on Long Island.
555 Albany Avenue, Amityville, L.I. NY 11701
Find out more by visiting homecomingearth.org or by calling 631-842-6000 x307.
Jamesport Farmstead
Jamesport Farmstead is a 50+ acre farm on the North Fork of Long Island.  With 10 acres under cultivation and big plans on the horizon, Jamesport Farmstead is excited to serve the east end community during its second year in production. They are a Certified Organic farm.
As a no-till farm, the farmers honor the soil by building organic matter through the practices of permanent bed systems, cover cropping, composting and natural amendment applications.
The Farm: 1192 Main Road, Jamesport, L.I., NY 11901 and the Farmstand: 1146 Main Road, Jamesport, L.I., NY 11901
Find out more by visiting jamesportfarmstead.com.
Natural Earth Organic Farms
Natural Earth Farms is a Certified Organic farm located in Calverton, Long Island.  They are an organic produce farm dedicated to producing the highest quality product for their customers.  Following strict organic growing methods they have been producing a wide variety of vegetables, fruits, and cut-flowers.  We offer Community Supported Agriculture (CSA), as well as some wholesale and retail through their online market and farmers markets located on Long Island, New York.
Natural Earth Farms is an organic farm certified by the Northeast Organic Farming Association of NY (NOFA-NY). Ever since Natural Earth Farms started, it has been following the same guidelines as NOFA-NY.  As a start, the farm sought out a Certified Naturally Grown label from an organization that follows the organic guidelines outlined by NOFA. In 2013, the farm applied to be USDA Certified Organic through NOFA-NY and was approved without any obstacles. 
Our Certified Organic Produce does not contain any genetically modified organism.  It is Non-GMO.  They take care of the soil where their produce will grow.  Their Produce is grown without using harmful chemicals, pesticides or synthetic fertilizers. 
Calverton, NY 11933
Find out more by visiting naturalearthorganicfarms.com.
Organics Today Farm
A small farm in East Islip, they grow non GMO, Organic produce that you can trust. In addition to produce, they sell fresh gathered organic eggs from local chicken farms. Every Saturday morning fresh bread is baking including Banana bread , then Zucchini bread, and ending with Pumpkin bread. They also make their own honey sell garden seedling, imported Sicilian olive oil, as well as clean meat and poultry. There's also a CSA you can join.
169 Washington Street, East Islip, New York 11730, United States
Find out more by visiting organicstodayfarms.com or by calling 631-480-6497.
Orkestai Farm at Planting Fields Arboretum
At about 1 acre, we're really a Market Garden rather than a farm. However, their size allows them to…operate at a human scale while growing enough to feed dozens of families and supply various restaurants.
Their goal is not to be merely sustainable or organic, but regenerative. The farm mimics natural ecosystems, laying compost, leaves and other organic material plus some minerals, on top of the soil and planting and creating the space for a biodiverse array of plants. This regenerates the soil and can even take carbon out of the atmosphere and put it back in the Earth.
Orkestai Farm provides inclusive hands-on education in regenerative, no-till, organic farming for teens and adults of all skill levels in addition to workshops in the Arts.
 P.O. Box 653, Oyster Bay, L.I., NY 11771
Find out more by visiting orkestaifarm.org.
Red Fox Farm
Red Fox Farm is a 1.2-acre Certified Organic produce farm located in Brentwood. The farm's vegetables are available at the farm stand, which is open on Tuesday, Friday, Saturday, and Sunday. 
104a Second Ave, Brentwood, L.I., NY 11717
To learn more about Red Fox Farm, visit https://www.redfoxfarm.farm/ or call 631-553-2700.
Sang Lee Farms
The Sang Lee Farms' history started with farming quality Asian produce, including Chinese cabbage, radishes, and greens in the mid-1940s. Nowadays, it's a 100-acre Certified Organic farm that offers you more than 100 varieties of vegetables, herbs, and baby greens. They also have an on-site Certified Organic Kitchen, where they sell prepared products, such as salads, sauces, vegan soups, and more. 
25180 County Rd 48, Peconic, L.I., NY 11958
To find out more about Sang Lee Farms, visit https://www.sangleefarms.com/ or call 631-734-7001.
Thera Farms
This family-run organic farm in Brentwood. Bringing real food to western Suffolk.
1705 Brentwood Road, Brentwood, L.I., NY 11717
Find out more by visiting facebook.com/TheraFarms or by calling 631-478-5229.
Not Certified But Often Beyond Organic
Sometimes farms don't for for official organic certification. This could be done due to time constraints, cost-related concerns, or because the famers want to do even more than organic standards require, like biodynamic farming, crop rotation, cover plantings, and the use of no herbicides or pesticides at all. This is their choice and one that must be considered as the "label" doesn't always tell the whole story. Decide for yourself, but these farms are all about healthy, properly grown, natural crops and products.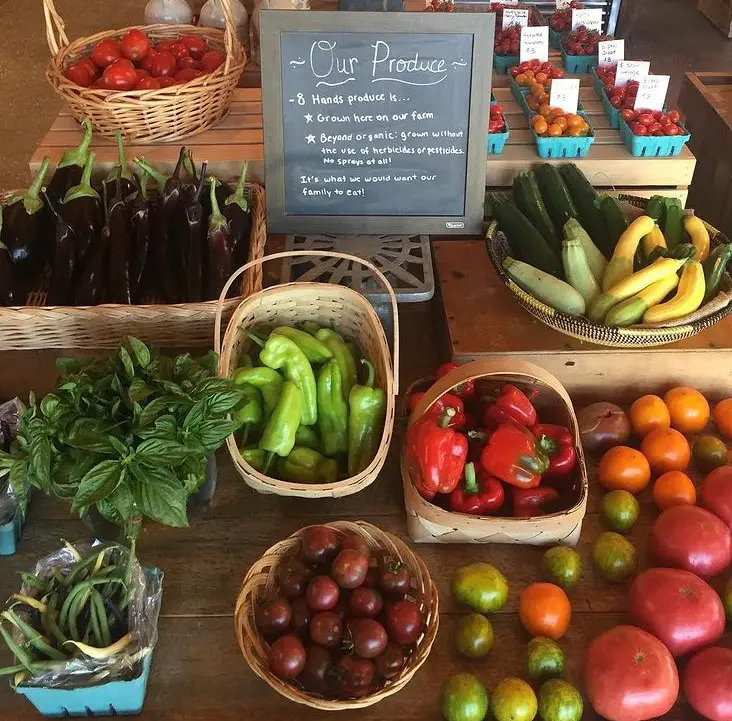 8 Hands Farm
8 Hands Farm is a 28 acre, sustainable family farm with grass-fed and organically raised meats, vegetables, eggs, and prepared foods. The farm's produce is grown beyond organic standards. There are absolutely no herbicides or pesticides used.
It is important to that the animals live in an environment that is natural to their species. Sheep, as a ruminant, should eat grass and be able to graze freely on pasture.  Pigs should be able to root around to find other sources of protein and energy.  Chickens should be free to roam on pasture and scratch around to find bugs and other food.  
RELATED: 8 Hands Farm in Cutchogue
The farm employs organic practices in their vegetable and herb gardens.  At the on-site farm store you can purchase their pasture raised and grass fed meats, pastured eggs, produce, and fiber products from their flock of Icelandic sheep.  And coming soon, their sheep milk cheeses.
4735 Cox Lane, Cutchogue, L.I., NY 11935

Find out more by visiting 8handsfarm.com or by calling 631-533-2768.
Amber Waves Farm
From farming practices to human connection, Amber Waves prizes the value of sustainability. Environmentally-sound methods nourish the land and local community with healthy food that supports a total ecosystem of wellbeing, from soil to root to eater. The Amber Waves Market only sources local ingredients and foods. The farm is dedicated to limiting waste and reducing the use of natural resources. Upholding the organic practice of seasonal eating, the farm grows over 300 varieties of vegetables and a diverse feast of perennial and annual herbs, each honoring the natural growing seasons of Long Island.
At nearly 30 acres across a patchwork of fields in Amagansett and East Hampton, Amber Waves embarks on its second decade with unlimited potential, on track to become one of the premier educational farm operations in the country. It has grown from a staff of two to more than 50 farmers and employees, boasts a CSA membership of nearly 200 families, hosts innumerable workshops and events, and features a flourishing market, kitchen, and cafe in a signature location.
Amber Waves, 367 Main Street, PO Box 2623, Amagansett, L.I., NY 11930
Find out more by visiting amberwavesfarm.org or by calling 631-267-5664
Balsam Farms
Founded in 2003 by Alex Balsam, Balsam Farms is located on the South Fork of the beautiful East End of Long Island. They started farming with ten rented acres, one tractor, and a small roadside Farm Stand. We've learned and grown a lot since then, and today we farm several fields between the villages of Amagansett and Sagaponack.
While not a certified organic farm, Balsam Farms is committed to growing in accordance with organic principles. That means taking care of our soils and using inputs and amendments that have been approved for organic production by the Organic Materials Review Institute. Sweet corn and basil are the only conventionally grown crops we grow, in fields separate from the rest of our crops. They do not grow any genetically engineered (GE) or genetically modified (GMO) crops at all, including our corn varieties.
Maintaining healthy soils is at the foundation of sustainable farming and growing quality, healthy foods. Balsam takes care of their soils through crop rotation and by growing cover crops to help build soil structure. They encourage a strong and diverse soil biology and ecology, and implement innovative pest and disease management methods.
176 Long Lane, East Hampton, L.I., NY 11937
Find out more by visiting balsamfarms.com or by calling the Farm Stand at 631-267-5635 or the Montauk Market at 631-238-5119.
Hamlet Organic Garden (HOG)
H.O.G. began as the Hamlet Organic Garden in 1996. They have since grown to a 20 acre farm in our 24th year of operation. We are located within Brookhaven Hamlet on the south shore of Long Island. We provide the community with over 300 varieties of our own vegetables, herbs, flowers and fruits through our Community Supported Agriculture (CSA) program, on-site weekend farm stands, and a growing number of local restaurants.
Their mission is to grow the most delicious and nutritious produce possible. Although they are not certified organic, they use all natural, organic soil amendments, animal feeds, and no chemical fertilizers or pesticides.
319 Beaver Dam Rd, Brookhaven, L.I., NY 11719
Learn more about Hamlet Organic Garden by visiting https://thehogfarm.org/.
Restoration Farm
Restoration Farm was founded in 2007 by husband and wife team Daniel Holmes and Caroline Fanning. The seven-acre farm is leased from Nassau County. It's located at the Old Bethpage Village Restoration, a living history museum recreateing 19th century life on Long Island.
Fresh vegetables, berries, flowers, and herbs are available to the public through a CSA (community supported agriculture) program and weekly farm stand.
Restoration Farm is firmly committed to sustainable agriculture. The farm doesn't use herbicides, pesticides, or synthetic fertilizers—ever! The farm focuses on building healthy soil through cover cropping, mulching, and minimal tillage. We labor in full view of the customers we serve and are proud to provide Long Islanders with a high standard of quality food.
140 Bethpage-Sweet Hollow Rd, Old Bethpage, L.I., NY 11804
To find out more about Restoration Farm, visit restorationfarm.com/ or email [email protected].
Treiber Farms
Father and son, Peter Treiber Senior and Junior founded the farm in 2014. They do their work by hand whenever we can, and minimize the use of machinery as much as humanly possible. That means building all of the garden beds with their own sweat power. They use broad forks to aerate the soil, rather than shredding soil fertility with a mechanical tiller or compacting the soil with the weight of a tractor. 
Though the farmers appreciate the intentions of the organic movement. They aim to go beyond the limited regulations that official organic certifications require. This means they apply absolutely zero chemical fertilizers, pesticides, or herbicides to their fields.
You can learn more about their agricultural philosophy in their Farmer's Statement. 
38320 County Road 48, Peconic, L.I., NY 11958
Find out more by visiting treiberfarms.com or by calling 516-425-1458.