Duryea's Montauk is an amazing, destination seafood restaurant with incredible water views and even more incredible lobster roll. Actually, it's one of the best rolls on Long Island, I dare say. But even if you aren't interested in trying the most delicious lobster sandwich (why, though?), there are plenty of fresh seafood meals that are just as terrific.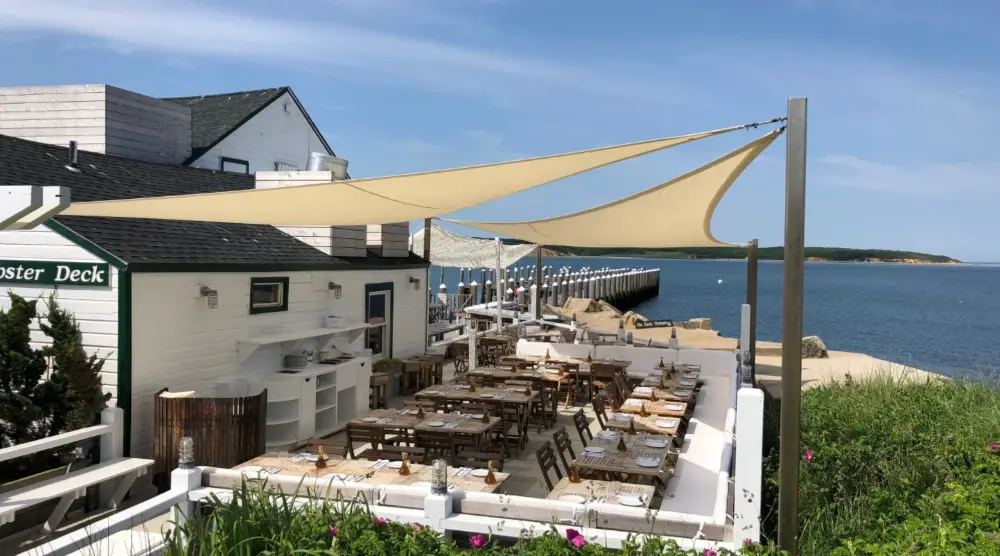 Eating at Duryea's is phenomenal dining experience is worth much more after you start enjoying your food while watching a stunning sunset. It's a simply magical location, recently renovated to really make it shine. The current owner spent a lot of time and effort polishing this spot up and making it the stunner that it is today. There are few places like it on the Island…or anywhere really. Simply put…it's a fantastic place.
After you visit Duryea's Montauk, be sure to check out this post with more great Long Island lobster rolls to enjoy! If you are a North Fork kind of person, there's a beautiful Duryea's also in Orient Point that is opening up again this season, too! When you've done that, check out the Clam Bar Amagansett for a really cool, roadside shack experience.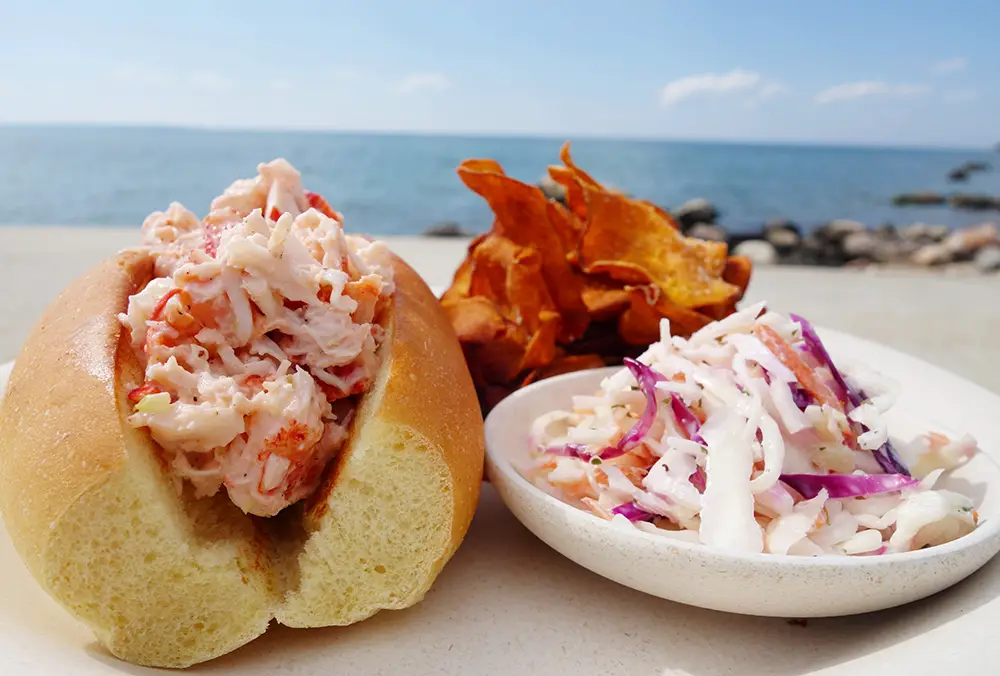 The Lobster Roll
Basking in the sunshine on Duryea's Lobster Deck, which overlooks Long Island Sound, on a hot summer day calls for a suitable food choice – a cold Maine-style lobster roll.
Duryea's lobster rolls are refreshing, energizing, and absolutely mouth-watering. The lobster chunks are gently caressed with mayo, sprinkled with a citrusy touch, and all that beauty is stuffed in a toasted top-split bun. Served chilled with coleslaw and sweet potato chips.
The Wonderful Menu
Apart from the delicious summer treat, Duryea's Montauk also serves other amazing seafood dishes. You have the raw bar with three kinds of oysters, top neck and little neck clams, shrimp, chilled lobster, and crab. And you can also order a seafood platter or tower. The mix is served with mignonette and cocktail sauces. Salads, crudités, New England Clam Chowder, tuna sandwiches, cheeseburgers, grilled octopus, skirt steak – there are so many things to try and not that much space in the stomach. That's a tricky situation, but I have a solution for you: take your whole family and order a little bit of everything for the table to share.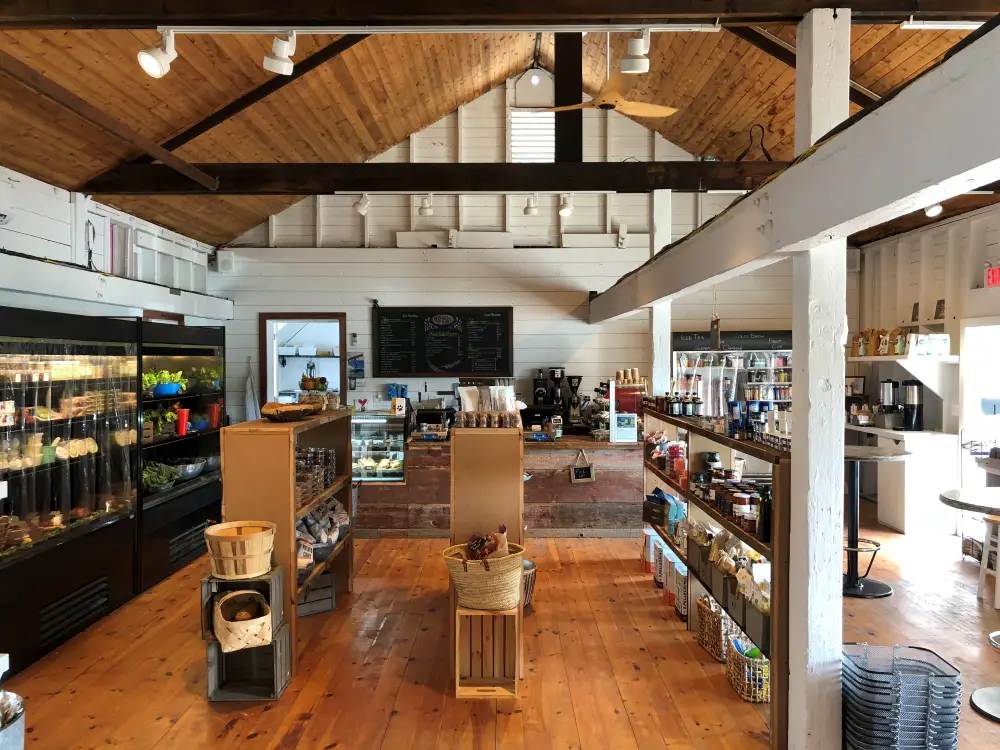 The Farmer's Market
Located right next to the Lobster Deck, Duryea's Farmer's Market is a shop, breakfast place, bakery, and coffeehouse all in one building.
In the shop, they sell Duryea's merchandise, like hoodies and caps with the restaurant's logo, bags, towels, and items for your home, such as candles, plates, glasses, and more. Everything in the store looks so charming and lovely; it might be hard to resist the urge to buy every single thing in there.
If you get hungry during the shopping, there are delightful pastries – croissants, cookies, muffins, baguettes – available. For early birds who love buying breakfast instead of making it, there are ham & cheese croissants, avocado toasts, and bagels (cream cheese, butter, bacon, smoked salmon). And since the joy of breakfast – and pastries – won't be complete without coffee, Duryea's Montauk also has a selection of cold and hot espresso drinks – Cappuccino, Americano, Latte, etc.
Well, as you can see, whatever you need, it's all there, and you don't even have to walk much.
Current Operating Hours
On May 13th, 2021, Duryea's Montauk is going to open its doors! We will once again get to enjoy its wonderful views and delicious food. And once the summer season officially begins, the Dureya's restaurant will stay open every day! They will be open Monday through Sunday, from noon to 10 p.m. But they don't accept any reservations – walk-in seating only. Since the place is quite popular, it's better to head there on a weekday.
The farmer's market doesn't work on Tuesdays and Wednesdays, but during the rest of the days, it is open from 8 a.m. to 7 p.m.
65 Tuthill Road, Montauk, L.I., NY 11954
To learn more, visit duryealobsters.com or call 631-668-2410.
More From The Long Island Local
The bounty of great food on Long Island seems endless! From great steakhouses on Long Island to great Greenport restaurants, there's so much to enjoy. And how about all the wonderful restaurants on the water Long Island?! Or maybe check out some Long Island oyster farms!
Be sure to find out about more things to do on Long Island as well as more great spots to eat and drink and wonderful places to stay on Long Island!