Are you looking to buy fresh organic vegetables from a great Long Island farm like Golden Earthworm? After all, you can only trust that the veggies you buy are truly fresh and healthy when you know where they came from and who grew them, right? Why not support one of our amazing local farms and farmers??
As a matter of fact, there are many great farms on Long Island's land, including Long Island Oyster Farms, the only fresh snail farm (Peconic Escargot) in America, one last duck farm, Christmas Tree farms, pumpkin patches, and apple orchards! If you are looking for delivery, check out these Long Island farms! Here's my guide to Long Island Farmers and their farms!
And if you don't know much about Golden Earthworm and its owners, then let me introduce you to them.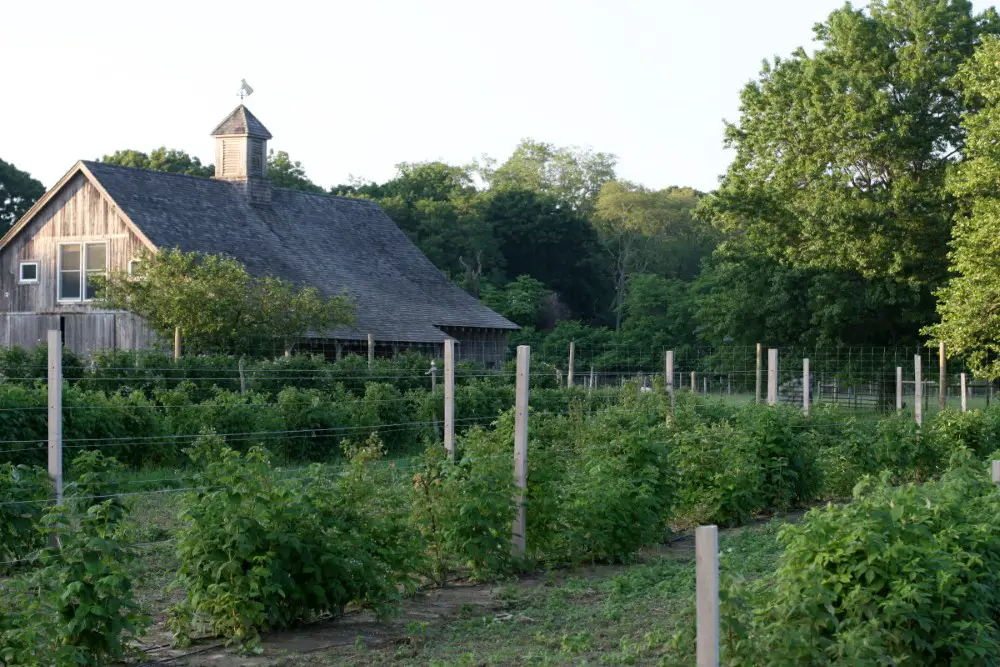 The Farm And Farming Practices
Golden Earthworm is a small, family-owned Certified Organic farm on the North Fork of Long Island. Its owners are Matthew Kurek and Maggie Wood, who are first-generation farmers. Before becoming a farmer, Matthew worked as a chef, but the passion for vegetables and sustainable agriculture determined the course of his life. His wife Maggie joined him a few years after he opened the farm in 1994.
The farm specialty is vegetables, and there are over 50 varieties of veggies growing on the fields. Matthew and Maggie also grow some fruits and flowers. Their products are available as CSA shares and in farmers' markets and the farm shop.
The owners of Golden Earthworm strongly believe that healthy soil is the foundation of healthy plants and animals. And they are committed to sustainable farming practices and food safety. They nurture their soil using cover cropping, crop rotation, and organically approved amendments and fertilizers. They monitor their crops carefully through soil testing, sap testing, and leaf tissue. They also participate in organic research projects.
But their diligent efforts to provide the best for you don't end with planting, growing, and harvesting. The farm crew takes great care in washing, packing, and delivering the goods to you.
Truly, these farmers don't ever neglect their responsibility to their farm and customers, and you'll be convinced of that when you taste the fruits of their labor.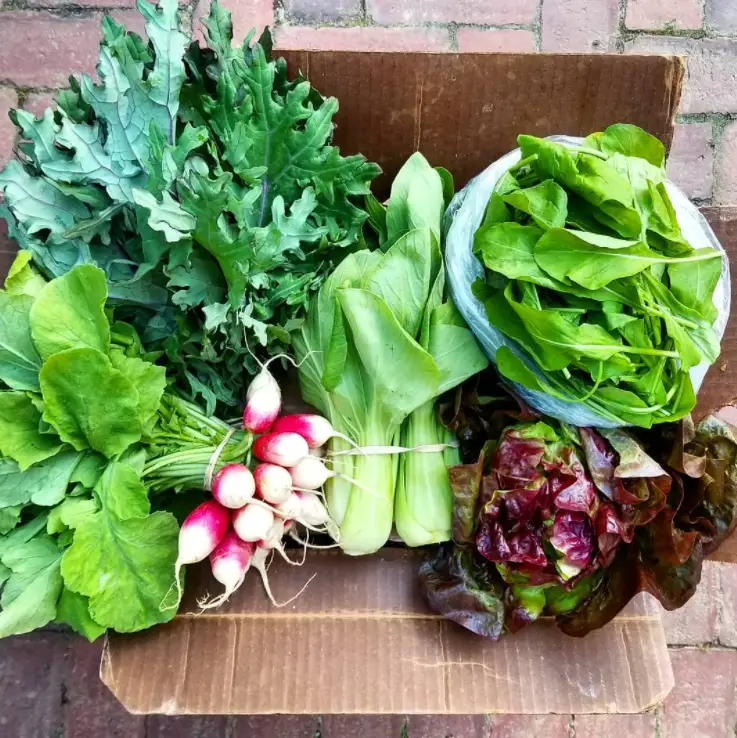 Golden Earthworm's CSA Program
What is it?
The Community Supported Agriculture (CSA) concept might be relatively new to some consumers, but it's an amazing way to support the local farms and eat healthily.
When you become a member of a CSA program, you buy a share in the upcoming harvest, ensuring that you and your family will be receiving the freshest produce for the whole season. And it's beneficial to farmers because the subscription requires an advanced payment and commitment, so your chosen farmer won't have to worry about not selling their products.
What are the benefits?
Some CSAs offer more benefits than just delivery of fresh produce, and Golden Earthworm's program is one of those. With 6-9 items of fresh vegetables, you'll also get
10% off all purchases when you buy Golden Earthworm's products at farmers' markets and the farm shop;
Special member pricing when you purchase bulk items;
Invitations to Golden Earthworm's events (U-Pick strawberries in June, for example) and farm tours;
Storage tips and recipes.
How much is it?
The CSA membership of Golden Earthworm (full share) costs $25.88 per week if you choose to pick up the goods from the farm in Jamesport. If your pickup location is somewhere else on Long Island, the share costs $26.80 per week.
You'll be getting your share of the harvest for 25 weeks, starting from June.
Is it customizable?
With this CSA, you won't be able to choose what vegetables you'll receive. Golden Earthworm harvests what's at its peak during the picking day and delivers it to all their pickup locations within 24 hours. This way, they can guarantee that the product you get is the freshest and also keep the share price down.
Each week you'll get different products, though, and Matthew and Maggie try to include all types of veggies. You can check the newsletters of the previous seasons to get an idea of what your box will contain each week.
How does the pickup work?
Every week a truck leaves the farm early in the morning and delivers vegetables to more than 50 pickup locations across Nassau, Suffolk, and Queens Counties. You can check the full list of the locations and pickup instructions here.
Most of the pickup sites are private residences. The boxes are all stored in one place, and they are the same, so you can choose any. All you'll need to do is check your name in the check-in sheet and take your share. But you'll have to bring your own bag or container because Golden Earthworm reuses the boxes.
What if you miss or are late for the pickup?
The pickup sites usually donate the boxes left after the pickup time is over, but if you know that you'll be late, you can contact Golden Earthworm and ask them to see if the site can hold your share for you. You can also ask someone to pick it up in your stead.
Where To Buy Golden Earthworm Products
If you aren't interested in the CSA program but still would like to buy some organic vegetables grown on Golden Earthworm, there are several places where you can do that.
There is the farm shop, which is open on Fridays from 9 a.m. to 5 p.m. It usually starts operating from May and is closed for winters. There you can buy farm produce, dairy products, grass-fed meats, honey, syrups, and more.
Also, the Golden Earthworm farm provides its products for two farmers' markets in Port Washington and Huntington. The markets are currently closed for the season; click here for updates and the schedule.
652 Peconic Bay Blvd, Riverhead, L.I., NY 11901
Find out more about Golden Earthworm by visiting http://goldenearthworm.com/ or calling 631-722-3302.