Are you looking for proper Long Island Irish pubs to celebrate what's one of the best holidays that ever existed – St. Patrick's Day? Or perhaps, you just want to enjoy some mouth-watering corned beef and cabbage, Shepherd's pie, soda bread, and a pint of cold Guinness. Maybe, you miss Ireland. Or maybe it's just a day that ends in a "Y" and you want to have a great time. Well, then you have come to the right place, lassie.
Long Island Irish Pubs Are Great
They are communal places that offer a warm and friendly atmosphere. You can enjoy good food and drink, maybe hear some live music or check out a soccer match. Luckily for you, Long Island has so many awesome Irish pubs you might have a hard time deciding which one to visit. In that case, there is always the pub crawl option for indecisive ones/crazy beer lovers.
There are many fantastic Long Island Irish pubs to visit and enjoy, so here are a bunch of places I really think you need to know about. Slainté!!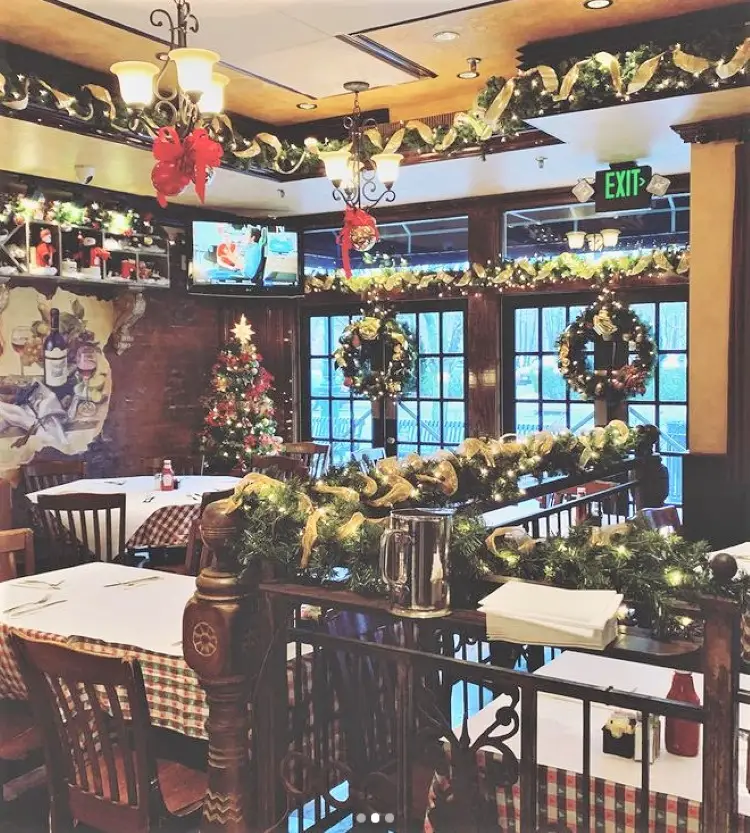 B.K. Sweeney's
B.K. Sweeney's Uptown Grille (est. 1893), or Sweeney's or Uptown, is a local Irish pub that's the center of social life for many Garden City residents. There's also a Bethpage location, B.K. Sweeney's Parkside Tavern (est. 1936). It's a warm and cozy pub with very good good and a staff that you really get to know and love. They have OTB so you can bet the horse right at the bar and never miss out of the cheese and crackers (pre and hopefully post-COVID) that are gratis up on the bar!
The best time of year, other than maybe St. Patrick's Day has to be the Christmas season where the place is beautifully and festively decorated for the holidays. It really gets you into the spirit of the season! Brunch is always packed on weekends, especially Sundays after church.
B.K. Sweeney's Parkside Tavern
356 Broadway, Bethpage, L.I., N.Y. 11714.
Learn more by visiting https://www.bksweeneysbethpage.com/ or calling 516-935-9597.
B.K. Sweeney's Uptown Grille
Learn more by visiting https://www.bksweeneysuptowngrille.com/ or calling 516-746-3075.
Buckley's Irish Pub
Are you looking for a bar with a warm and cozy vibe and tasty food? Then Buckley's Irish Pub should be the first on your mind. In this place, you're welcome anytime, and whether you are local or not, you'll feel like you belong.
The bar has a nice selection of craft beer, delicious meals, and daily specials – Burger Night on Mondays, Wine Down Wednesdays, Prime Rib Night on Tuesdays. And of course, they have Happy Hour – every weekday from 3 p.m. to 7 p.m.
Also, since no Irish establishment can ignore St. Patrick's Day and Buckley's is no exception, they have St.Patrick's Day Specials, which include everyone's favorite traditional Irish dishes.
386 Main St, Center Moriches, L.I., NY 11934
Learn more by visiting https://www.buckleyspub.com/ or calling 631- 909-8330.
Carney's Irish Pub & Restaurant
Carney's Irish Pub & Restaurant makes a great first impression on its customers. The impression is so great that they keep coming back for more. What's its secret? Attentive service, friendly atmosphere, good food, prices that make you happy, and outstanding entertainment.
Carney's welcomes you seven days a week, but you should definitely check their brunch menu on Sundays and visit during the Happy Hours (3-7 p.m.) Monday to Friday. Their drink specials, along with the reduced price on appetizers, won't leave you disappointed.
For St. Patrick's Day, the pub offers family meals for takeout, which are suitable for up to four people and include house salad and Irish soda bread.
136 Broadway, Amityville, L.I., NY 11701
Find out more by visiting https://www.carneysamityvillage.com/ or calling 631-464-4445.
Connolly Station
Named after a famous Dublin train station, Connolly Station is like a portal to Ireland with its low ceilings, wooden booths, and authentic Irish food. And if you happen to be in the bar on Sunday evening, between 6 p.m. and 10 p.m., you'll experience the magic of live Irish music.
On St. Patrick's Day, there is no other place for you to be. Just order corned beef, any of the beers they have on tap, and enjoy your day!
280 Hempstead Ave, Malverne, L.I., NY 11565
For more information, visit https://connollystationli.com/ or call 516-887-5160.
Corry's Ale House
While the food at Corry's Ale House is above average for sure (after all, it was voted #1 Irish restaurant on LI), it's only a part of a reason why you should choose it for celebrations or hang-outs with friends. The main argument is this: 20 draughts, 50+ types of bottled beer, 60 varieties of Irish Whiskey, 50 kinds of Bourbon and Scotch. And if that's not convincing enough, then Happy Hour on weekdays (3-7 p.m.) and daily specials, such as Ladies Night and Football Specials, should do the trick.
And because Corry's Ale House wants everyone's celebration to be perfect, they prolonged St. Patrick's Day, and their specials are available up until March 21st. You can dine in or opt for a family dinner take-out.
3274 Railroad Ave, Wantagh, L.I. NY 11793
To learn more, visit http://corrysalehouse.net/ or call 516-809-7818.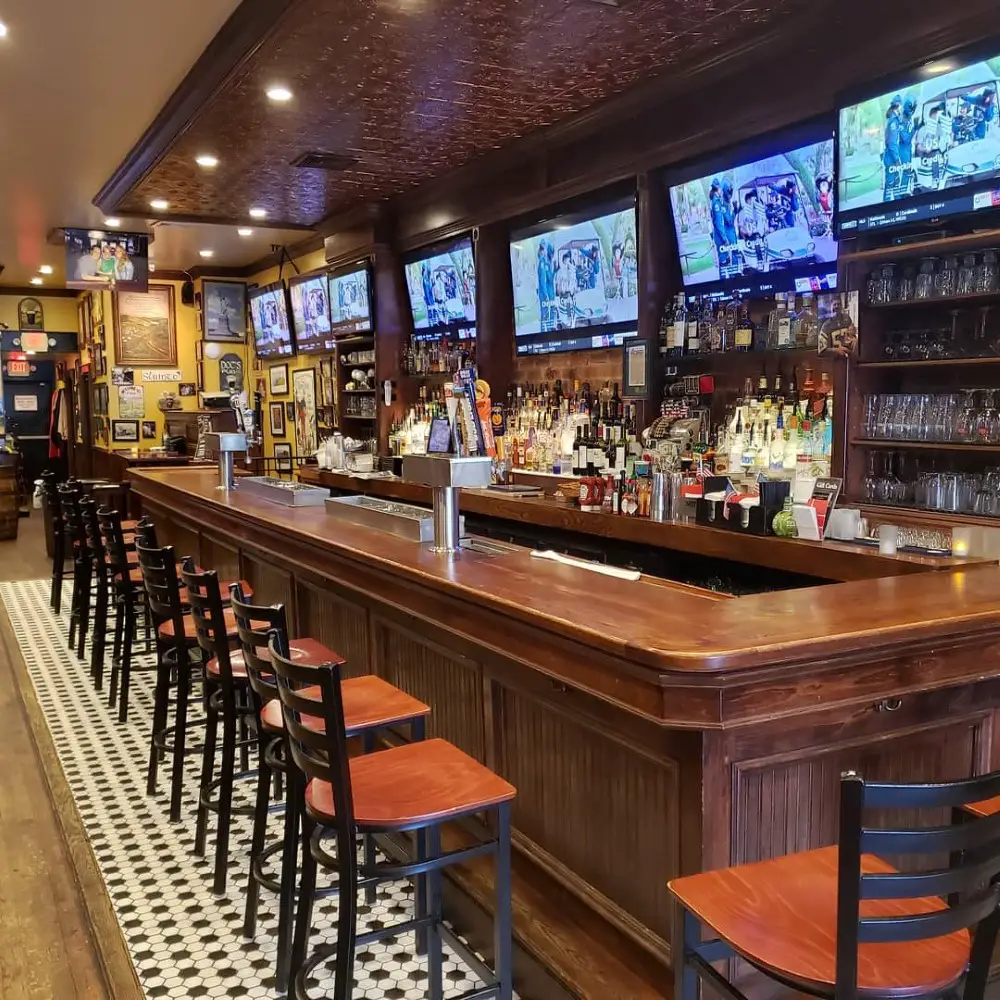 Doc O'Grady's Irish Pub
A small Irish pub in Garden City South, Doc O'Grady's has everything you need to relax and have a good time. Yummy food? Check. Amazing beer selection? Check. TVs, the friendly staff, welcoming atmosphere, fair prices? Check, check, check, check. Oh, and never forget about Happy Hour from 4 p.m. to 7 p.m. Monday through Friday. As you can see, it got all the ingredients for a happy evening.
For your St. Patrick's Day celebration, dine in or take out? Either way, if you go to Doc O'Grady's, they'll provide you with delicious Corned Beef & Cabbage, Shepherd's Pie, Bangers& Mashed, Irish Soda Bread, and more.
273 Nassau Blvd S, Garden City South, L.I., NY 11530
To find out more, visit http://www.docogradys.com/ or call 516-246-9614.
Flanagan's Pub
Flanagan's Pub is a family-owned and family-friendly place where the dining area is separated from the bar. So whether you want a quiet dinner with your loved ones or a fun night out with your girls, the pub can accommodate all your needs.
The food is amazing, drinks are fabulous, and on weekends, the pub organizes live music nights. And they treat every day like a special day. There are so many deals – Mussel Madness Mondays, Burger Night Tuesdays, Irish Wednesdays, Steak Night Thursdays, and Food Specials on weekends. Their Happy Hour is from 3 p.m. to 6 p.m. on weekdays.
451 Hawkins Ave, Lake Ronkonkoma, L.I., NY 11779
For more information, visit https://www.flanaganspubny.com/ or call 631-588-9843.
Grafton Street Pub
Named after the famous street in Dublin, Grafton Street Pub is a place where you go for delicious Irish food but stay for the friendly warm atmosphere and perfect pour of Guinness. And its hide-a-way quality makes it all the more precious.
For loyal lunch lovers, the pub has a Lunch Club deal; if you eat there a few times – like ten times – you can get a free lunch. There are also daily specials – Guinness Night Tuesday, Irish Day Wednesday, Karaoke Night Friday. Ah, and good news for all Happy Hour lovers who can't make it on a weekday – Grafton Street Pub heard your prayers, and that's why their Happy Hour is on Sundays, from noon to 10 p.m. You'll definitely make it in time!
And although every Thursday is St. Patrick's Day in Grafton Street Pub, they have a special menu for March 17th. There are outside and inside seatings available, but make a reservation just in case.
1261 Veterans Memorial Hwy, Hauppauge, L.I., NY 11788
Learn more by visiting http://www.graftonstreetpubli.com/ or calling 631-360-0761.
Jackie Reilly's Irish Pub & Restaurant
For some people, a happy place is a beach or mountains, but for those who have visited Jackie Reilly's even once, this Irish pub is the definition of a happy place.
Their food isn't what you expect from bar food; it's fantastic. If you want the pub to be your happy place, too, do try the Buffalo Wings. It'll be enough to make you the happiest person in the world.
Speaking of happiness, Jackie Reilly's has Happy Hour from 3 p.m. to 7 p.m on weekdays., and Psychic Dinner Night on Tuesdays. Yup, you read that right. On Tuesdays and with a reservation only, you get to eat delicious dinner and receive a psychic reading. Care to know what awaits you after you finish that Shepherd's Pie?
3964 Hempstead Turnpike, Bethpage, L.I., NY 11714
Find out more by visiting https://jackiereillys.com/ or calling 516-731-7544.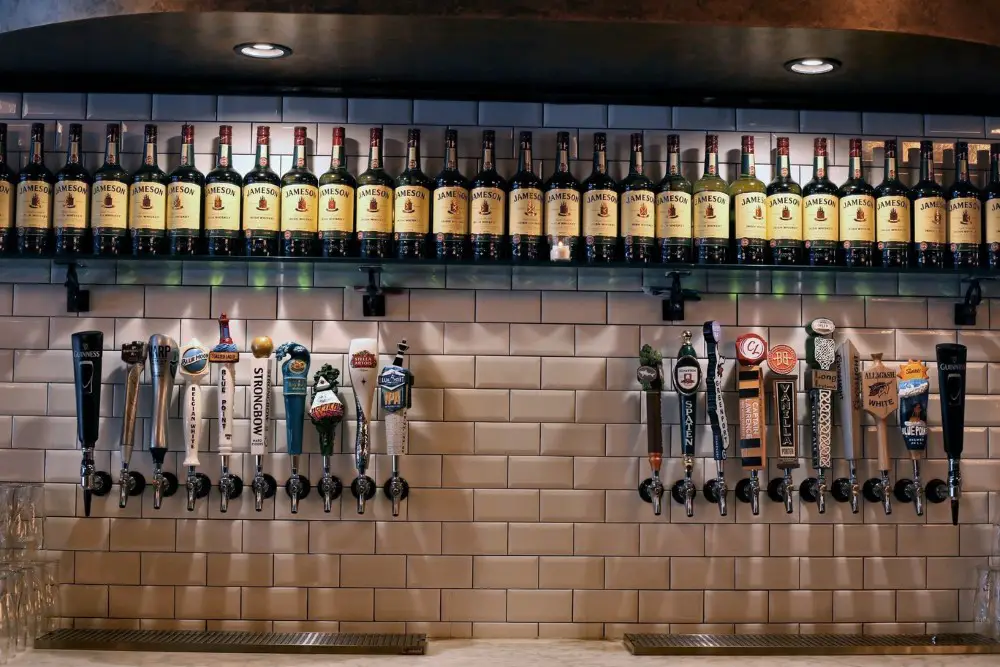 James Joyce Pub & Eatery
Named after the most famous Irish poet, James Joyce is the duality in its best form. Part pub, part restaurant, it is a mix of modern and traditional style.
The food is worth every penny, but it's not the only extraordinary thing about this place. Their wide selection of drinks – from Guinness to LI specialty brewed beer, from wine to cocktails – deserves praise, too.
To celebrate St. Patrick's Day, the pub organized a special menu that's available till March 31st. There are also family packages that include appetizers, soup, entrees, and dessert.
47 S Ocean Ave, Patchogue, L.I., NY 11772
For more information, visit https://jamesjoyceny.com/ or call 631-562-4000.
Lily Flanagan's Pub
If you've seen Rainbow Cookie Martini on Instagram and wondered where you could try it, Lily Flanagan's Pub is your answer. But don't stop at this unique Martini because the pub has so much more to offer you.
They have over 24 seasonally rotating draft beers, wine, spirits, and more handcrafted cocktails. The kitchen will amaze you with unforgettably delicious recipes, like Drunken Vodka Pizza. And the relaxed atmosphere and friendly staff will make you leave your worries behind.
The bar also has Happy Hour (4-7 p.m. weekdays), Taco Tuesdays, live music, trivia nights, and many other fun events. For St. Patrick's Day, Lily Flanagan's offers dinner packages for $125 for 6-8 people.
345 Deer Park Ave #2360, Babylon, L.I., NY 11702
Find out more by visiting https://www.lilyflanaganspub.com/ or calling 631-539-0816.
Mary Carroll's Irish Pub
Mary Carroll's pub was love at first sight for many locals. And how can you not love this combination of wood and bricks that makes you feel like you are home?
Mary Carroll's food and drinks will only make you fall more deeply in love. The menu was designed by Long Island chef Michael Meehan, and it's awesome. The bar has 26 beers on tap and over 100 varieties of whiskey. And with their daily specials – Karaoke on Thursday, Buy One Get One on Saturdays, Sunday Brunch – you'll have a great time.
121 Deer Park Ave, Babylon, L.I., NY 11702
For more information, visit https://www.marycarrolls.co/ or call 631-587-6181.
Monaghan's Irish Pub & Restaurant
Monaghan's owners Kathleen and Niall Gunn grew up in Monaghan, Ireland. They opened their pub in 2005, and ever since, they are striving to provide their customers with good food and drinks and show them true Irish hospitality.
The menu of Monaghan's is extensive, reasonably priced, and includes Irish favorites and American comfort foods. And on St. Patrick's Day, there will be corned beef and cabbage, soda bread, and Irish music. If you decide to participate, make a reservation first by calling 516-318-5948.
48 N Village Ave, Rockville Centre, L.I., NY 11570
Learn more by visiting https://www.monaghansrvc.com/ or calling 516-318-5948.
Napper Tandy's Irish Pub
Napper Tandy's Irish Pub is available in three locations on Long Island – Bay Shore, Northport, and Smithtown. The menus at each site are mostly the same, with a few exceptions. But the vibe and specials at each place are completely different, so you should check them all out.
Bay Shore
Opened in 2017, the Bay Shore pub is the newest Napper Tandy's family member. Happy Hour in this location starts at 3 p.m. and ends at 7 p.m. There are also weekly specials, including Monday's First Responders Appreciation, Tuesday Boozeday, Reggae Thursdays, Ladies Night, and Sunday Brunch.
This is a gorgeous space and one of the nicest Long Island Irish pubs around. This is a must for great drinks, food and good times!
60 E. Main Street, Bay Shore, L.I., NY 11706
To find out more, visit https://www.nappertandysbayshore.com/ or call 631-665-0040.
Northport
Napper Tandy's Northport is a place where you can enjoy daily food specials and have fun in a relaxing and pleasurable atmosphere. Their weekly events are definitely worth checking the pub out. Those include Trivia on Tuesdays, poker on Wednesdays, Music Bingo on Thursdays, Dance Party with DJ Lexx on Fridays, and live music on Saturdays.
229 Laurel Ave, Northport, L.I., NY 11768
To learn more, visit https://northport.nappertandysirishpub.com/ or call 631-757-4141.
Smithtown
Napper Tandy's Smithtown is more of a concert venue than a pub, but it doesn't mean they don't serve delicious Irish and American food and cold beer. It's also a great place to be during any sporting event.
15 EAST Main St, Smithtown, L.I., NY 11787
For more information, visit https://www.nappertandysirishpub.com/napperssmithtown/index.html or call 631-360-0606.
The Nutty Irishman
The Nutty Irishman isn't just a bar; it's an experience. During a sporting event, you can head to the pub, eat, drink, and cheer for your team. On nights when you just want to forget everything, you can dance to live music and drink until you do forget it all at the bar's concert area. And on the days when you wish you could be on a beach somewhere in the Maldives, you will find that paradise in the Nutty Irishman's Beach Club in Farmingdale.
With 26 beer taps, Long Island's best burgers under $10, and various awesome events, The Nutty Irishman guarantees you'll have a good time. For St. Patrick's Day, they arranged an Irish-themed menu and drinks; don't miss it! This is one of the more party-centric Long Island Irish pubs.
323 Main St, Farmingdale, L.I., NY 11735
For more information, visit https://www.thenuttyirishman.com/ or call 516-293-9700.
Paddy Power
Paddy Power is one of those Long Island Irish pubs, which you enter being a stranger and leave being friends with everyone who was there. Maybe, it's the simple seating arrangement or amiable staff that makes you feel at ease, or it's the crowd. Or maybe, it's all of the above plus alcohol. Well, one way to find out.
Paddy Power's Happy Hour starts at noon and ends at 8 p.m. But what's awesome about the bar is that sometimes they extend their Happy Hour until 10 p.m. And they have a fine selection of 24 tap beers and wine, and plenty of mouth-watering food choices, including pretzels with beer cheese.
On St. Patrick's Day, if you choose Paddy Power for your celebration, you'll get to taste Irish food specials, green cocktails, like Paddy's Drunken Leprechaun, and listen to live music by Michaelis & Co.
70 Merrick Ave, Merrick, L.I., NY 11566
Find out more by visiting https://www.facebook.com/paddypowerpub/ or calling 516-223-3900.
Paddy's Loft
Do you know where to find the perfect Shepherd's Pie and Guinness pint? Paddy's Loft., that's where. And while you are there, you should also try their traditional Irish breakfast served every day till 4 p.m.
Actually, you might just as well spend the whole day and night there since the bar stays open till 4 a.m. and doesn't stop serving food and drinks right until the doors close. Don't worry, you won't get bored. These days, the bar has live music and traditional Irish food to celebrate St. Patrick's Day.
1286 Hicksville Rd, Massapequa, L.I., NY 11758
To find out more, visit http://www.paddysloft.com/ or call 516-798-7660.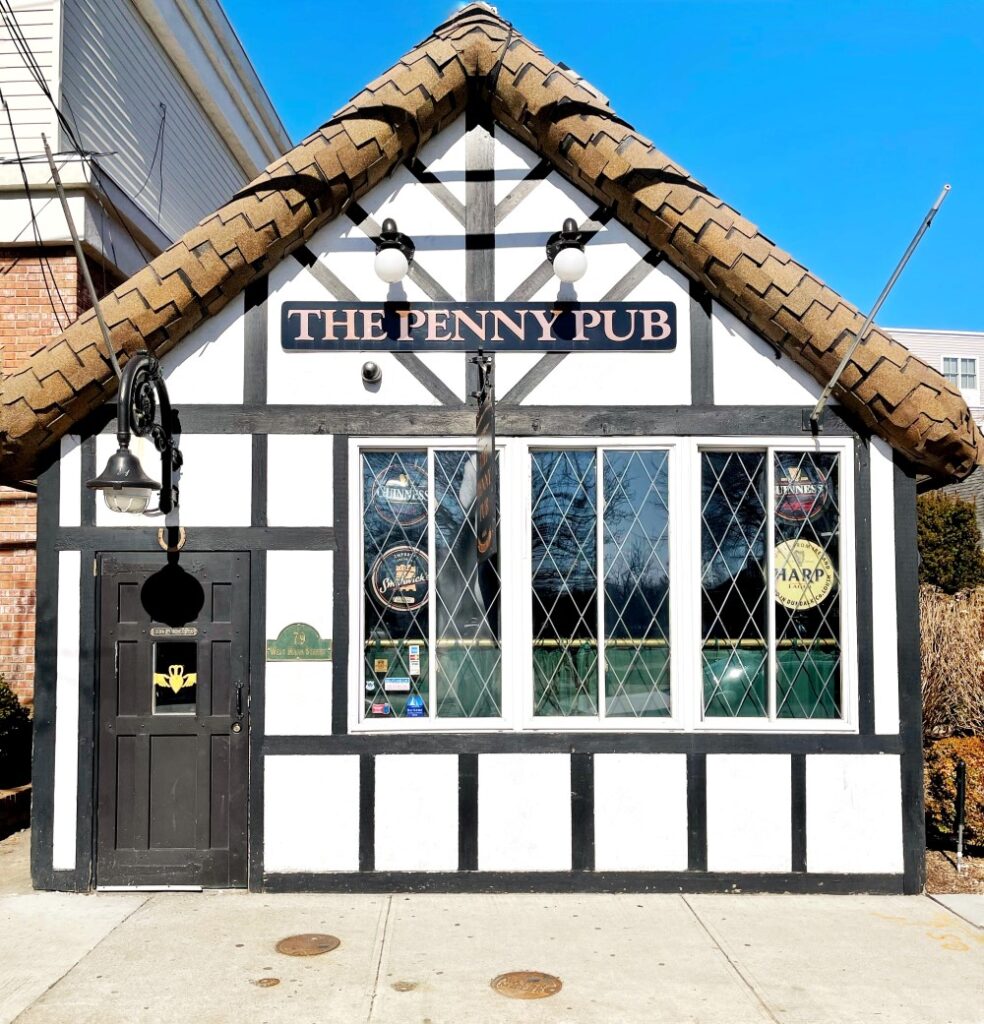 The Penny Pub
The Penny Pub has been a staple of Bay Shore dating back to the early 1900's. Originally known as "The Veterans Bar" this little pub has been a home for almost a century to everyday people veterans, locals , visitors, family and friends. It's impossible cute and feels just about perfect both inside and out.
In 2015 The present ownership purchased the pub from The Lawrence Family. Some renovations and improvements were made including the addition of a kitchen, but the main goal was to add a fresh coat of paint while still keeping the original charm. Once complete, the bar was ready to embark on its next chapter as the new and improved "Penny Pub".
The Penny Pub is open 7 days a week and pour the best Guinness in town. The Penny offers a delicious menu of pub classics as well as some creative twists on pub favorites such as our fried mac and cheese served with chipotle dipping sauce. Their kitchen is open until 3am or later.
79 W Main St, Bay Shore, L.I., N.Y. 11706
To find out more, visit https://www.thepennypub.com/ or call 631-969-4061
Recovery Room Bar & Grill
Recovery Room Bar & Grill, with its cozy, homey atmosphere, can help you recover from a hangover, heartbreak, burnout, and other troubles. Or it can be your quick stop while you are waiting for your train since the bar is located right next to Mineola Train Station. Inside the bar they have a TV with the schedule, so don't worry about missing the train. This just really feels like an authentic Irish pub…but is still one of those familiar Long Island Irish pubs were feel cozy and welcome in.
The bar serves 16 tap beers, signature cocktails, and yummy pub food. For entertainment, there is karaoke on Thursdays and DJ nights on Fridays. And if you want to celebrate St. Patrick's Day at the Recovery Room, there will be specials that'll make the celebration extra fun.
214 Station Plaza N, Mineola, L.I., NY 11501
Learn more by visiting https://www.recoveryroombar.com/ or calling 516-280-2407.
The St. James
The St. James in Mineola recently came under new undership and a whole new look. It's more modern than many Long Island Irish pubs, but the feel and spirit of the pub is still alive and well. Updated food and drinks are great.
With our 20 flat screen TV's, our JBL audio sound system, and sports packages, we're capable of playing 10 games at once, with the sound where you can feel every goal! You can watch your favorite game or sporting event with them, anytime. They have Bluetooth capability and band input for live music and DJ's as well.
The new outdoor patio and beer garden is fantastic, too.
190 2nd St., Mineola, L.I., N.Y. 11501
Learn more by visiting https://www.thestjamesmineola.com/ or calling 516-742-3040.
Shandon Court
Everything about Shandon Court says joy – the classy restaurant, the welcoming bar & lounge, and live music six nights a week. Once rated the best continental restaurant, Shandon Court serves Irish and continental fare. The bar offers you 14 beers on tap, a wide selection of Irish and Scottish whiskey and scotch, and wine. From Monday to Friday, from noon to 7 p.m. there is Happy Hour. There are also Trivia on Wednesdays and Musician Night on Mondays to entertain you. With so many things to try and enjoy, once you visit the pub, you will keep coming back for sure.
115 E Main St, East Islip, L.I., NY 11730
To learn more, visit https://www.shandoncourt.net/ or call 631-581-5678.
There are many, many more wonderful Long Island Irish pubs. If you have a favorite, please leave a comment here or send me an email to [email protected]. I'll be sure to update the post to include your suggestions!!
Be sure to find out about more things to do on Long Island as well as more great spots to eat and drink and wonderful places to stay on Long Island!