Morini Long Island is the Long Island branch of the famous and highly regarded Osteria Morini from chef Michael White, with its flagship location in Manhattan's SoHo neighborhood. With Morini Long Island, Altamarea Group is now bringing the soulful cuisine and convivial spirit of Emilia-Romagna in northern Italy to Roosevelt Field Mall and its new Restaurant Collection. This is one of my favorite spots on the Island and Osteria Morini Long Island has quickly become one of the best Italian restaurants on Long Island.
The Inspiration
Emilia-Romagna is known as the Italian Breadbasket – the birthplace of some of the flavors and ingredients most commonly associated with Italian cuisine worldwide: it's the birthplace of prosciutto, mortadella, Parmigiano, and balsamic vinegar. In Italian, "osteria" means a place where the owner "hosts" guests. And they do all of this delicious comfort food and more!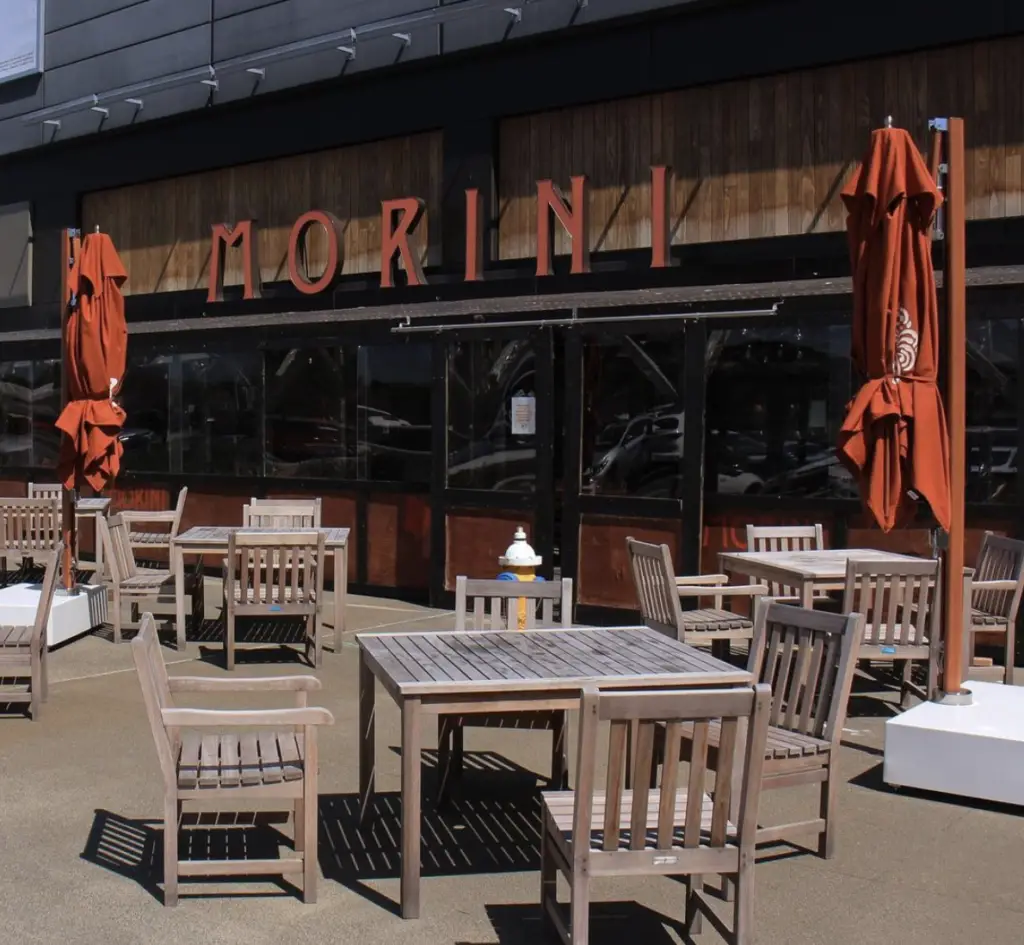 Morini Long Island Delivers a Great Experience
The restaurant is one of the nicest on the local food scene. It has a very homey feel, with touches of rustic charm mixed with a more contemporary and industrial edge. Their renowned fresh-made pasta is the star of the show. It wouldn't be the best decision to not at least share a pasta dish with the table. You can also delicious cured meats, fresh fish, and prime cuts of meat to enjoy as well. It is the perfect place to share and try different dishes with a wine list that is both approachable and varied.
The dining room is beautiful, there's outdoor dining, and now you can even now order their delectable desserts for pickup at the Morini Bakeshop!
The Food
I love Italian restaurants and I love Italian food, both Italian-American or true Italian. It's my absolute #1. Here, the focus of the menu is the foods of Emilia-Romagna, which are world-renowned. Among these amazing specialties are prosciutto di Parma, mortadella, Parmesan cheese,  balsamic vinegar, and a whole host of amazing pasta based on the "sfoglia," a freshly made sheet of egg pasta.
For appetizers, the light and crispy fried calamari, the ultra-creamy burrata, and the seared octopus were all great ways to start.
Micheal White is all about the pasta, which is very delicate and well done, with wonderful, balanced flavors. He is famous for it, and it shows. While the pasta, including the tagliatelle with bolognese ragù and Parmigiano, was excellent, the Cappelletti (truffle ricotta ravioli, butter, prosciutto) was not only the star here but one of the best pasta dishes I and my friends and family have ever had.
The entrees were all excellent as well. The surprise for me was how excellent the chicken parmigiana was. Sure, it was the basic formula of breaded chicken breast, mozzarella, and basil with rigatoni Pomodoro, but it really shined. The cutlet was ultra-light and crispy, cleared fried, and plated within minutes of being served with a bright tomato sauce.
This is delicious comfort food that's approachable cuisine in the finest of Italian traditions.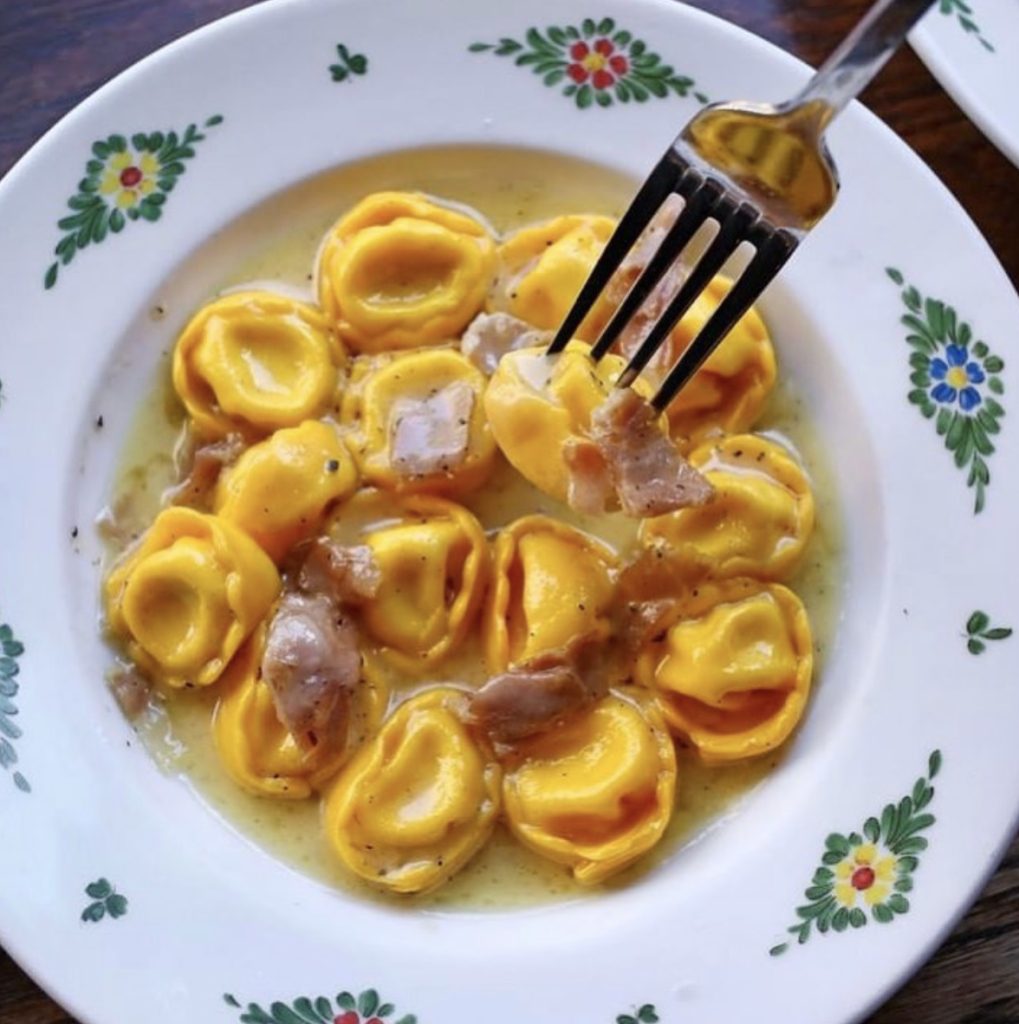 Dining at the Bar
Dining at the bar is particularly well done at this spot. The open kitchen is partially lit but open enough to enjoy all the craziness going on inside it. The bartenders and friendly staff are all quite engaged, charming, and highly professional. There are a number of negronis on tap, a really good all-Italian wine list, and Emilia-Romagna's sparkling wine, Lambrusco.
Dining at the bar is always a great way to get a nice feel for a place and this is no different. It's something I highly recommend, no matter the size of your party.
Happy Hour
One of the great aspects of Morini Long Island is its Happy Hour. Every Wednesday to Friday from 12:00 PM – 6:00 PM (that's nice), Happy Hour here is a great experience. Be prepared to nosh on a wonderful Antipasto Platter that includes 24-month prosciutto di parma Parmigiano gelato and marinated olives. There's also fried calamari, prosciutto & mortadella meatballs, three types of crostini, and parmigiano fingerling potatoes. Other than getting all three crostinis, the plates are $10 and under.
To match the light fare, enjoy $5 draft beers, $9 draft Negronis, $5 draft wines, and more. You could easily spend 6 hours here, just enjoying life. Just saying.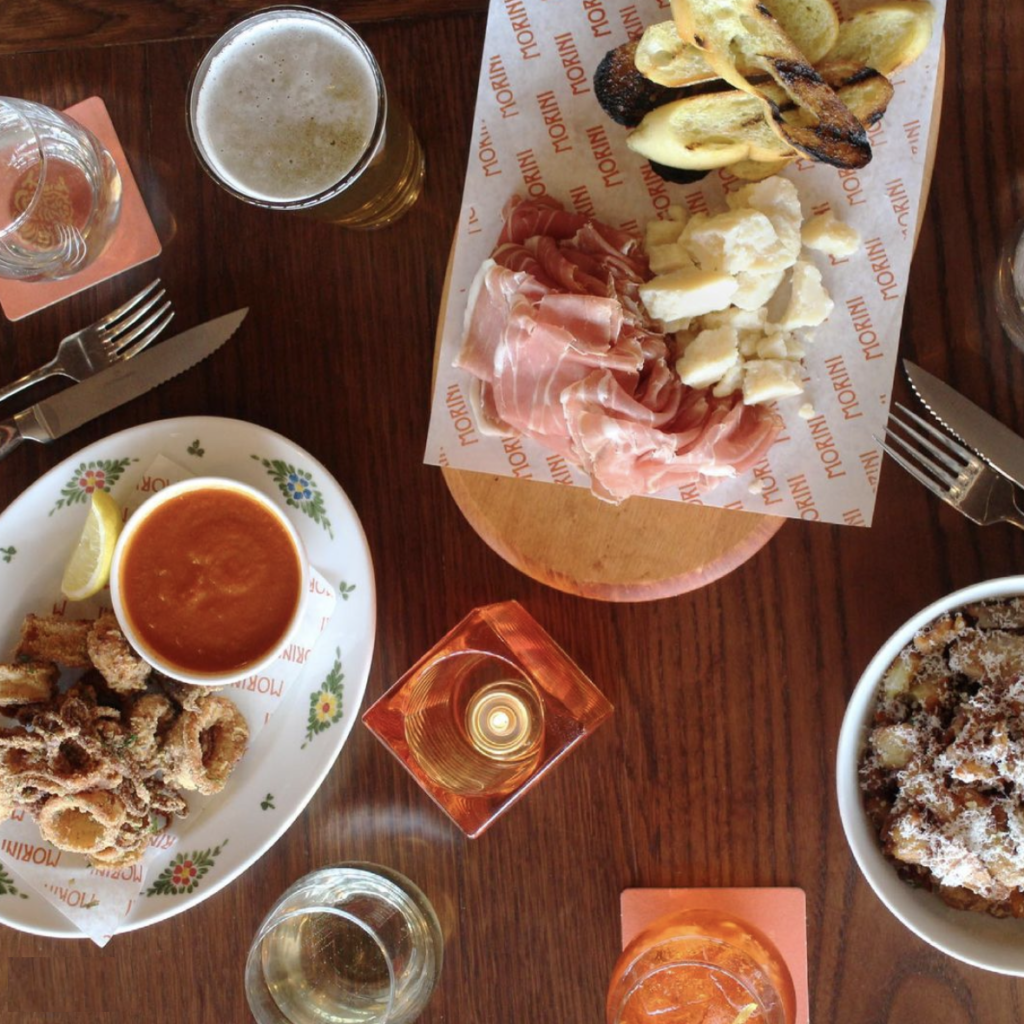 Negroni Week
Drink for a good cause from September 13th – September 19th at Morini Long Island and all Osteria Morini locations. The specially curated Negroni menu below will be served with a portion of the proceeds benefitting City Harvest.
Check out the menu:
MORINI CLASSIC $16

Bombay dry gin, Campari, Cinzano vermouth

HELL'S BELLS $17

mezcal, campari, cocchi rosa

BOULEVARDIER $15

russell's reserve 10 yr bourbon, Campari, Cinzano 1757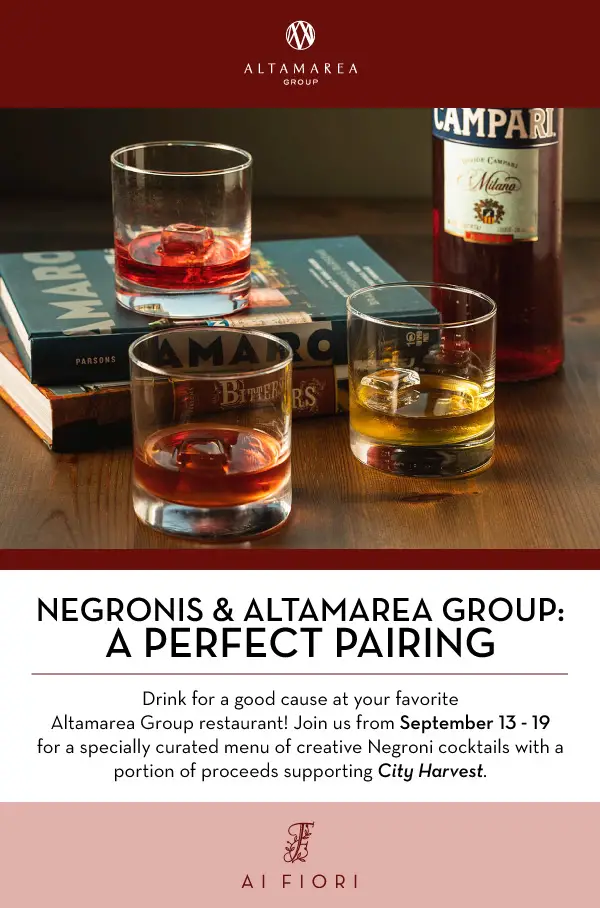 For More Information
Roosevelt Field Mall, 630 Old Country Road, Garden City, L.I., NY 11530  
Find out more by calling 516-604-0870 or by visiting osteriamorini.com/roosevelt-field.
Check Out Long Island Wine
If you're in the mood for great wine, be sure to check out our Complete List of Long Island Wineries and Long Island Vineyards.
Check out the absolute best Long Island Wine Tours!
If you can't make it to a tour, why not do some wine tasting at home with Bedell Cellars!
I know you're getting hungry, so be sure to also check out the best wineries on Long Island for some great food!
While you're in the area, be sure to check out these 9 relaxing things to do in the North Fork!
When you're done with all of this wine drinking and relaxing, how about making it a weekend? Here are 10 great North Fork Long Island hotels to enjoy as well.
Make It A Weekend
The East End of Long Island is a really special spot. If you think you'd want to check it out and maybe even stay a while…that wouldn't be such a terrible idea.
If you wanted to consider different options for staying on Long Island, be sure to check out these great places to stay in Montauk, 11 Hamptons hotels, 10 North Fork Long Island hotels, and this Guide to Sag Harbor hotels! Enjoy reading up on and hopefully exploring these wonderful Shelter Island hotels and let me know if you decide to make it a vacation!
Things To See and Do on the South Fork
I always recommend seeing as much of the South Fork as possible!! 
The Hamptons and Montauk is a world-renowned beach resort destination for good reason! There is just so much to see, do, and enjoy! Here are just a few of them:
Check out this Guide to the Best Beaches in Montauk! Also, check out this Guide to The Hamptons best beaches!!
Check out some luxury homes in The Hamptons!
Maybe you will love it so much, you'll want to check out some Hamptons wedding venues!
Enjoy some of the world-class, amazing art in The Hamptons!
Enjoy the Outdoors
Be sure to find out about more things to do on Long Island as well as more great spots to eat and drink and wonderful places to stay on Long Island!
Check out this guide to Long Island driving ranges, including this feature on the popular Heartland driving range! Go have fun at one of these great Long Island skate parks!
More From The Long Island Local
Maybe grab a freshly brewed beer at these Long Island breweries and when you've had your fill of vino! I mean, after a day of searching for the best tacos on Long Island, I think you need a drink, no?
The bounty of great food on Long Island seems endless! From great steakhouses on Long Island to great Shelter Island restaurants to Long Island lobster rolls and Long Island bagels, there's so much to enjoy. Check out this Huge List of Restaurants on the Water Long Island!!! How about 54 of the best tacos on Long Island!
And how about all the wonderful Wölffer Estate Vineyard events and tastings?! Or maybe check out some Long Island oyster farms! How about these guides to Long Island Coffee Shops and Long Island coffee roasters!! Check out these 16 Long Island Boardwalks! Take the ferry over and enjoy these Fire Island restaurants! Let's not forget about the best tacos on Long Island and these great Long Island pizza places either!!
Be sure to find out about more things to do on Long Island as well as more great spots to eat and drink! Maybe take a stroll in one of these amazing Long Island arboretums and gardens! There are even this great Long Island kayaks and paddleboard guide to exploring!